"Women's rights are not in conflict with trans rights," Labour's deputy leader has told a fringe event at the party's conference.
Angela Rayner also reaffirmed Labour's support for changing the Gender Recognition Act to make it easier for people to change legal gender.

But the subject has become a point of conflict within the party.

On Tuesday, a conference delegate said she had been subjected to transphobic abuse inside the conference centre.

Meanwhile another delegate received both heckles and cheers for defending the Labour MP Rosie Duffield.

Ms Duffield had previously said she would not attend the conference due to receiving threats for her stance on the issue.

However, she made an appearance at an event, where she told the audience "there comes a point where you have to stand up and speak."

Addressing a conference event, Ms Rayner said Labour's policy of supporting changes to the Gender Recognition Act was not going to change.

Labour also backs the Equality Act which provides for individual trans women to be excluded from some spaces in specific circumstances.

Ms Rayner said it was wrong to suggest there was choice to be made between women's and trans rights.

"My struggle is your struggle," she told the audience.

She also committed the party to fighting what she called "this Section 28 moment" - a reference to the ban on local authorities "promoting homosexuality" which Labour repealed in 2003.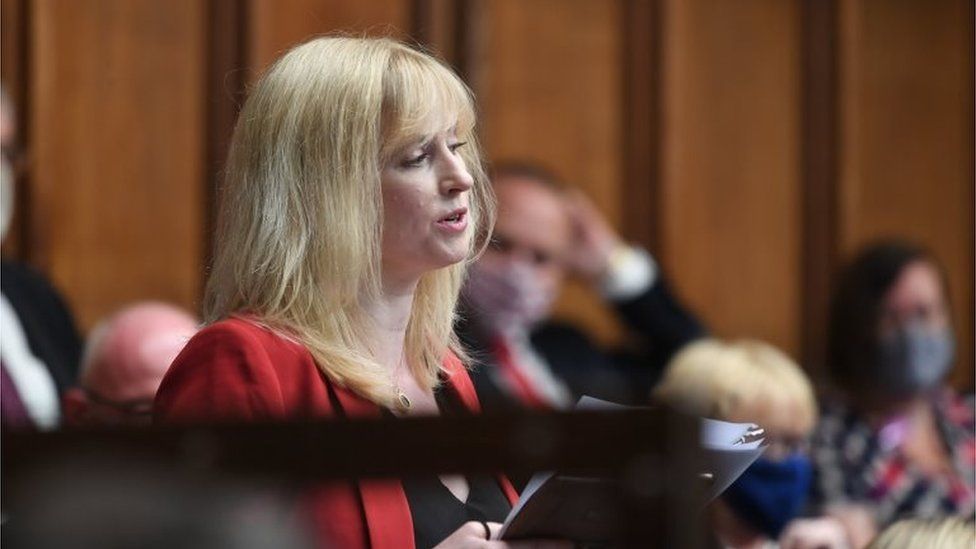 The subject has come up in the conference hall as well as at fringe events.

Canterbury MP Ms Duffield's views have prompted accusations of transphobia - a claim she rejects insisting she is supportive of trans rights.

Campaigners are also calling for the Gender Recognition Act to be changed to make the process of legally changing gender easier, for example, by allowing people to self-identify rather than having to meet certain medical requirements.

'Abuse'

At Labour conference on Tuesday, one party member Bronwen Davies told delegates that Ms Duffield had been "subjected to a vile campaign of abuse for daring to express beliefs which she is perfectly entitled to hold".

She said: "And even if I disagreed with her, I would defend to the death her right to express her views without being subjected to a torrent of misogynistic abuse."

Earlier in the day, Patricia Hannah-Wood said she had faced transphobic abuse in the toilets at the conference.

She said the LGBT+ community was "under constant attack", adding "within our own families, within our workplace, here within our conference. This is not acceptable."

Asked about the allegation, a Labour spokesperson said: "We do not tolerate abuse of any kind."