A woman with Down's syndrome has lost her appeal over a law that allows abortion up until birth for a foetus with the condition.
Heidi Crowter, 27, from Coventry said she was "angry that the judges say my feelings do not matter".

Judges at the Court of Appeal decided the Abortion Act did not interfere with the rights of the living disabled.

Abortion care provider BPAS said the case "was a full-frontal attack on pregnant women's rights".

Under current legislation for England, Wales and Scotland, there is a 24-week time limit for abortion, unless "there is a substantial risk that if the child were born it would suffer from such physical or mental abnormalities as to be seriously handicapped", which includes Down's syndrome.

Ms Crowter, who has the condition, argued that the rules were discriminatory to people with Down's. She said the legislation "doesn't respect my life" and brought a case against the government at the High Court in July 2021 with Maire Lea-Wilson, 33, from west London, whose son Aidan has Down's syndrome.

Ms Crowter said she and her team plan to "keep fighting" and take the case to the Supreme Court and "fight there".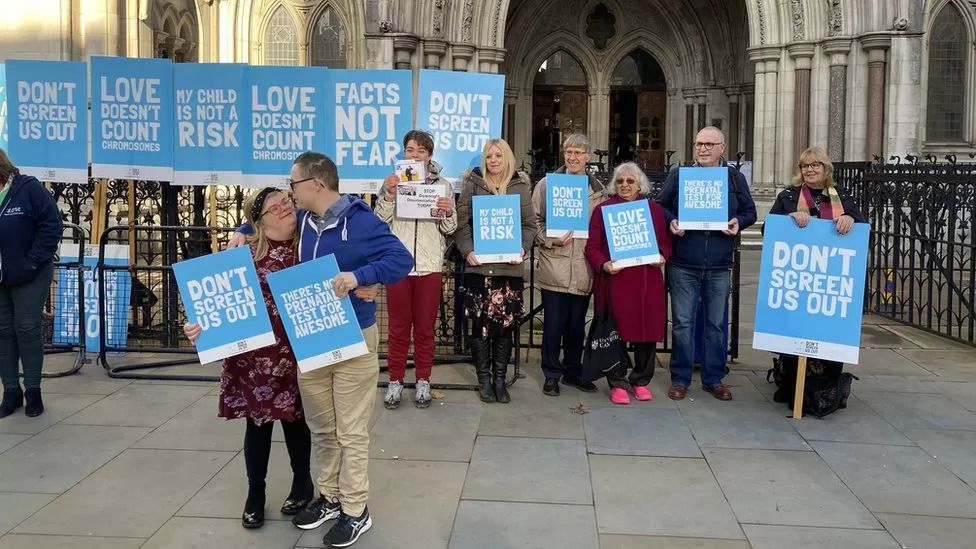 Heidi Crowter brought the case against the government over the abortion law
'Heart-breaking situations'

In a summary of the decision, by Lord Justice Underhill, Lady Justice Thirlwall and Lord Justice Peter Jackson, the judges said: "The court recognises that many people with Down's Syndrome and other disabilities will be upset and offended by the fact that a diagnosis of serious disability during pregnancy is treated by the law as a justification for termination, and that they may regard it as implying that their own lives are of lesser value.

"But it holds that a perception that that is what the law implies is not by itself enough to give rise to an interference with article 8 rights (to private and family life, enshrined in the European Convention on Human Rights)," the judges said.

Clare Murphy, chief executive of the British Pregnancy Advisory Service, BPAS, which provides abortion care services, said it supported the court's verdict.

"There is no contradiction between a society which champions the rights of disabled people and one which allows women to make difficult decisions in heart-breaking situations," she said.

"If successful, this case could have had far-reaching implications. The claimants have argued in court that foetuses should have human rights - this has never been decided in law and would go against many years of legal precedent in the UK."

Ms Murphy said the case was an attack on pregnant women's rights - "not just to abortion, but to making their own decisions during childbirth".

'Keep on fighting'

Speaking outside the Court of Appeal, Ms Crowter was visibly upset as she told family members "we lost".

She told reporters she felt "not as valuable" as a person without Down's syndrome, and that she "felt like crying".

Comforted by her husband James, who also has Down's syndrome, and mum Liz, Ms Crowter said: "I will keep on fighting because we have already informed and changed hearts and minds and changed people's opinions about the law."

She added: "The law was made in 1967, when we were not even allowed to go to school because of our extra chromosome. So, I think it's time that the judges move with the times and actually meet with people with Down's syndrome."

Ms Crowter and her team crowdfunded their legal fees, raising over £148,000.

Solicitor Paul Conrathe called the judgement "disappointing and perplexing", and said that the Court had "further diminished a fragile voice for equal value".

Abortion statistics for England and Wales in 2021 from the Office for Health Improvement and Disparities shows that 3,370 abortions (1.6%) were performed under 'ground E', the clause Ms Crowter's team says is discriminatory.

Down's syndrome is 'mentioned by medical condition' 859 times in the 2021 abortion data, with 24 mentions being at or after 24 weeks. Campaign group Don't Screen Us Out claims the true figures are likely to be much higher.

A Department of Health and Social Care spokesperson said abortion was an issue on which the government adopted "a neutral stance".

"It is for Parliament to decide the circumstances under which abortions should take place, allowing members to vote according to their moral, ethical or religious beliefs."