New Netflix film Blonde debases Marilyn's legacy with its lurid depiction of her trauma and abuse. Why does popular culture so consistently do wrong by her, asks Anna Bogutskaya.
Think about Marilyn Monroe, and certain images instantly come to mind: the red lips, slightly parted; the sleepy, siren eyes; the platinum blonde hair; and that voice, breathy, like she just woke up and can't wait for you to join her in bed. Her friend, the writer Truman Capote, described her as a "platinum sex-explosion". The cinematographer Leon Shamroy, who shot her very first screen test in 1946, famously said she was like "sex on a piece of film". Marilyn conjures up sex and – simultaneously – misery, thanks to the way her troubled personal life has been pored over from the moment she became a movie star.

Since her death from a barbiturate overdose in 1962, the elements that made Marilyn Monroe into an icon have also led people to dehumanise her, over and over again. And with the latest biopic of the movie star, Andrew Dominik's adaptation of Joyce Carol Oates' 2000 novel Blonde, her legacy has once again been debased.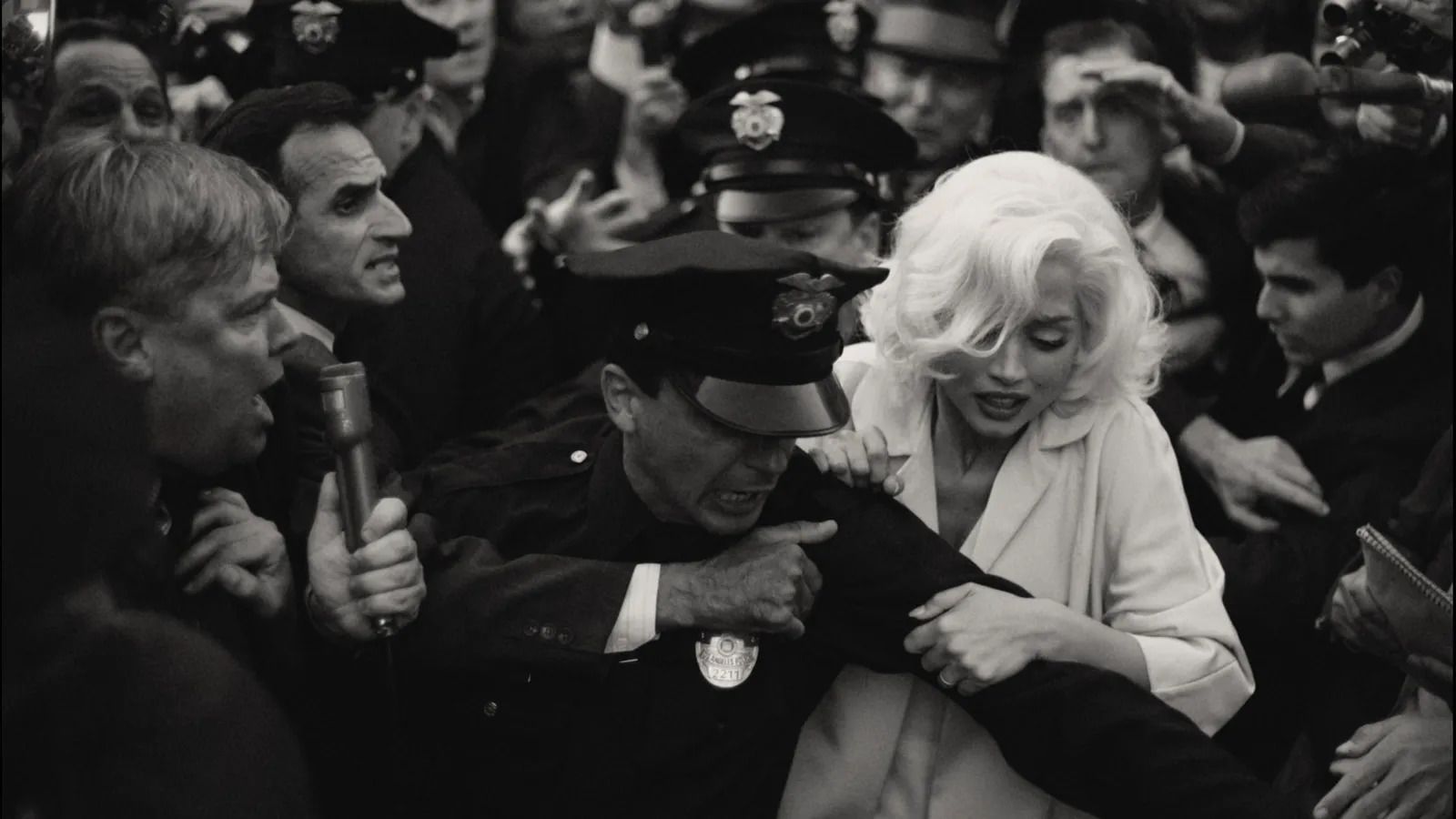 Andrew Dominik's Blonde is "torture porn with a lick of Hollywood gloss"

Oates' Pulitzer Prize-winning book is a fictionalisation of Marilyn's life, narrated from the point of view of a deeply traumatised and lonely woman, in love with movies and the idea of love, but desperately crippled with daddy issues that infect every single relationship she develops. Dominik's is not the first Blonde screen adaptation – that was Joyce Chopra's 2001 TV movie, which starred Poppy Montgomery. Chopra's version channels the cruelty of Marilyn's life without displaying the surgical coldness of Dominik's film. With each character speaking directly to the camera, verbalising their point-of-view as the scenes unfold, it's a less exploitative adaptation and a more psychoanalytical one. Both Marilyn and the men she was close to get to have their say. Montgomery plays Marilyn as an overly grateful and naive woman-child, saying please and thank you to the very men who dismiss and debase her. "Let's drop the goo-goo routine, you can't be as dumb as you look", the studio head known as Mr R (an avatar for 20th Century Fox boss Darryl F Zanuck) tells her just before he sexually assaults her. However there is, at least, an element of bratty joyfulness to this Marilyn as she enjoys her success, and the film ends without putting her (and us) through her sorrowful demise.


She stands for different narratives: the victim narrative, and the absolute essence of feminine, sexual glamour and irresistibility – Dr Lucy Bolton

Dominik turns Marilyn's story into a body horror. As Dr Lucy Bolton, a reader in film studies at Queen Mary University of London, says, the actress was often "cut up into segments in her films," with shots that focussed on her breasts, her crotch, her mouth. "It's objectification, it's fetishisation, it's ownership. It's classic Laura Mulvey stuff," she says, referring to the pioneering academic's "male gaze" theory. During her lifetime and beyond, Marilyn's body has been "used to sell a dream of desirability", posits Yhara Zayd in her video essay Selling Marilyn: A Life Merchandised, about the posthumous commercial exploitation of Monroe's image.

In Blonde, Dominik fixates on Marilyn's body to a gynaecological extent. She is not merely objectified (the first shot we see of her is her backside during the shoot of The Seven Year Itch), she is prodded, examined, raped, subjected to two forced abortions, and abused physically and emotionally. Blonde seems intent on destroying Marilyn Monroe, the woman, and perverting the image of her by showing us none of the talent, ambition or pride in her work. Almost every moment shown is agonising, and Ana de Armas (who plays Marilyn) weeps almost constantly throughout the film's two hour and 45 minute runtime. It's torture porn with a lick of Hollywood gloss.


The same old story

"Please don't make me into a joke," Marilyn said, to an unnamed interviewer near the end of her life. But Hollywood's cruel joke has been to turn her into a trainwreck, reducing her legacy to a series of messy love affairs, daddy issues and addiction. Big-screen and TV biopics have tried to explain her many times over, but they always come back to the same narrative – that of a victim, a tragic beauty. Is there really nothing else worth saying about Marilyn and her cinematic legacy?

A whole host of made-for-TV biopics like 1993's Marilyn and Bobby: The Final Affair have portrayed Marilyn in demeaning terms

According to Bolton, our enduring fascination with Marilyn Monroe is rooted in how easily she can be moulded to fit different stories: "She stands for different narratives: the victim narrative, and the absolute essence of feminine, sexual glamour and irresistibility, in her own lifetime and in retrospect. She's a pin-up as well as an actress, and a comedian. People relate to her as someone struggling and trying very hard to be taken seriously as a dramatic actress." She has been portrayed as a bimbo, a dummy, a diva and a tragedy case. Her shortcomings are often uttered in the same breath as her accomplishments, as though to diminish her charm and talent.

There is also a mystery to Marilyn, something elusive that can lead to indulgence on the part of shallow filmmakers. In the many films and limited series that have dramatised her life, most focus on her rags-to-riches story, and skip quickly to her demise, her difficult persona on set and her troubles with men of note, from her marriages to Joe DiMaggio and Arthur Miller to her affairs with the Kennedy brothers, John and Bobby. By focusing on the tragedies of her life and exaggerating the abuses she suffered, these biopics continue to disempower her, decades after her death. "There's a removal of power from her [as] if she is a victim-child, who became a victim-adult, who died a victim," says Bolton. "It undermines her abilities if we only talk about the beginning and the end. [It suggests] the impossibility of her living."


There is something in the most puritanical part of our nature that says, these people, these Hollywood people, they have so much and they deserve it so little – Farran Smith Nehme

Marilyn Monroe's life was one of extreme lows and extraordinary highs. Born Norma Jean Baker to a single, mentally ill mother who was unfit to take care of her, she was put in an orphanage and foster homes until she was emancipated by marriage. She became an actress after she was already a successful pin-up model. Marilyn's mystery is not that of her ascent, but of the extreme contradictions of her life. She was a generational talent, a movie star with undeniable charisma, charm, fantastic comedic timing and an aggressive earnestness about her that was as disarming as it was captivating. Watching her on screen, even today, is to fall under the spell of cinema. She belongs to, and at times feels created entirely for, the screen. Meanwhile, the contrast between her carefree on-screen persona and her supposedly tortured off-screen existence has become the alluring core of her narrative: the woman-girl, the success-tragedy, the self-loathing-beauty, the unlovable romantic. Her untimely death remains a favourite for conspiracy theories that most often include the Kennedys and the FBI, and which Blonde, both book and film, indulge in. "People find it hard to reconcile that someone can be so exceptional and meet such a banal end," says Bolton.

But why the endless drive to tear her down, to reduce her to a sad cautionary tale? "There is something in the most puritanical part of our nature that says, these people, these Hollywood people, they have so much and they deserve it so little," the writer and film critic Farran Smith Nehme tells BBC Culture – and so because Marilyn was the biggest star of them all, it's as if she deserves these, in Nehme's words, "relentlessly downbeat" interpretations of her life. In the wave of made-for-TV Marilyn biopics of the 1980s and 90s, as well as the TV series about other Hollywood glitterati (The Mystery of Natalie Wood , The Rat Pack ) or the Kennedys (Marilyn & Bobby: Her Final Affair , The Kennedys ) in which she features, Marilyn is presented at best as a hot mess and, at worst, as a wanton floozy. These films see her only as tragic, or completely disposable.


The Two Marilyns

Every single biopic made of her life zeroes in on the tension between Norma Jean Baker and Marilyn Monroe, the woman and the movie star. Some take this approach very literally, by casting two different actresses to play the roles, literally separating the women. The very first person to do this was the self-proclaimed "schlockmeister" Larry Buchanan, with his double bill of biopics: in Goodbye, Norma Jean (1976), Misty Rowe plays the title role, ending the film with her transformation into the blonde bombshell; and, in the follow-up, Goodnight, Sweet Marilyn (1989), noted Monroe impersonator Paula Lane plays Marilyn.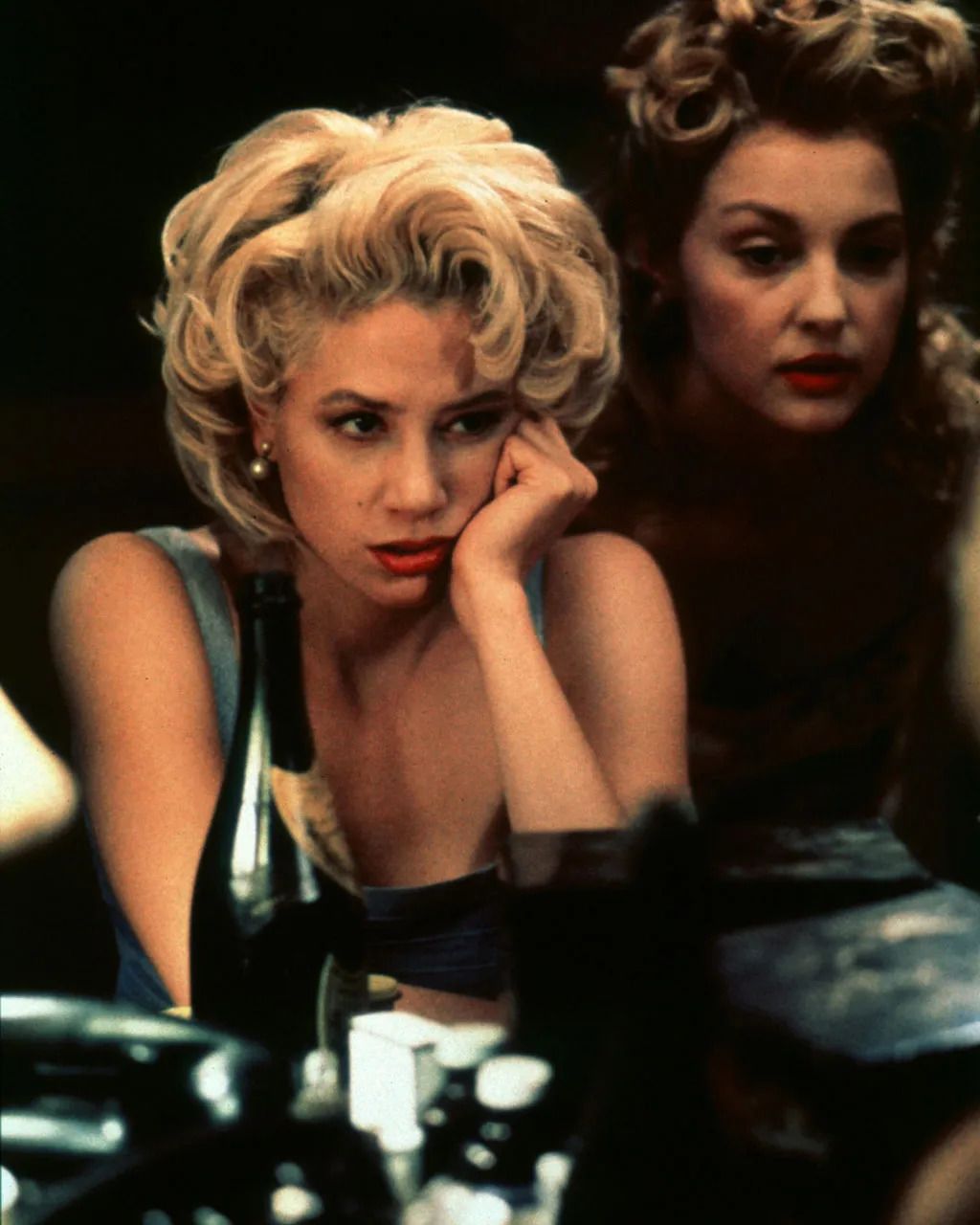 1996's Norma Jean and Marilyn took the step of having two different actresses, Ashley Judd and Mira Sorvino, play her simultaneously

In the 1996 TV movie Norma Jean & Marilyn, Ashley Judd plays Norma Jean as an aggressively ambitious young actress, fully aware of her appeal and potential, but rough around the edges. For the first time on screen, she's also a potty-mouth (something Truman Capote also suggests in his conversational portrait of Marilyn in his 1980 writing collection Music for Chameleons) with a temper, declaring angrily "Girls get movie contracts because they fuck the right people". When she is transformed into Marilyn, now played by Mira Sorvino, Norma Jean becomes an abusive sort-of ghost, an apparition that constantly belittles Marilyn and can only be drowned out with pills and booze.

Dominik's approach is a bit more subtle. As Blonde progresses, Marilyn becomes a sort of guardian angel for Norma Jean, someone she summons when she needs courage and protection. Throughout the film, she often refers to Marilyn in the third person – such as when, at breaking point, she depends on her faithful doctor to pump her full of drugs and her make-up artist to "conjure up Marilyn within the hour". In the teaser trailer for Blonde, we see Norma pray for Marilyn to appear, begging her not to abandon her amid tears and make-up touch-ups. In the mirror, Marilyn appears, with perfect hair and that trademark open-mouth smile.

In her video-essay, Zayd points out: "Marilyn Monroe is an invention. Created by Norma Jean Baker but also created by Hollywood, and created by us, the audience." The transformation of the waif Norma Jean Baker into Marilyn Monroe the movie star is akin to a superhero being gifted their power, an origin story that is recreated in every biopic. In the 2001 Blonde, her reinvention comes out of nowhere, as she is christened by a Mr R and a studio exec played by Wallace Shawn with a simple "Marilyn Monroe — it's sexy!".


Very few of the films that purport to tell us "what really happened" actually focus on the thing that made Marilyn so successful: her work

The facts are, of course, a little less cinematically simple: Marilyn chose her mother's maiden name, Monroe; studio executive Ben Lyons re-named her Marilyn because she reminded him of actress Marilyn Miller; her booking agent at Blue Bird Booking Agency suggested she dye her hair blonde so she'd get more bookings, and Marilyn herself wanted to go blonder, inspired by her idol Jean Harlow; her wide, open-mouthed smile she got from her friend and erstwhile roommate Shelley Winters ("I gave it to her with pleasure, I hated it on me", Winters wrote in her autobiography).

It's an incredible challenge for any actress, no matter how talented, to play Marilyn Monroe, because they're not only playing the person, but an idea of a person that's been manipulated and perverted over the years. "The biopics and impersonations of her have done more damage to her than the work itself," Bolton says. The challenge for any biopic, she continues, is "to convince us [its Marilyn] is a real person, because she's so reduced to a caricature so very often". Most of the actresses who have portrayed her, from Rowe to de Armas, have focused on the little-girl-lost narrative. Nehme says she would love to see an actress get past "the clichés and the mannerisms, the tricksy things that so many people imitating her go for. There's no way in hell Marilyn Monroe was like that when she was brushing her teeth or making dinner".


The beginning and the end, no middle

Very few of the films that purport to tell us "what really happened" actually focus on the thing that made Marilyn so successful: her work. Transitioning from pin-up model to actress, she was under contract at Columbia for a while but didn't quite find her footing until she got dropped and met the influential agent Johnny Hyde, to whom she would be both mistress and protégé. Hyde, who was sick when he met Marilyn, devoted the last months of his life to the fledgling actress, leaving his wife for her, talking her up around town, and making key introductions for her, so convinced was he of her star potential. It was through Hyde's guidance and contacts that her career started taking off properly: she landed supporting roles in two highly successful and acclaimed films, both from 1950, All About Eve and The Asphalt Jungle (her first collaboration with director John Huston, who would direct her in her very last role in The Misfits). Hyde negotiated a seven-year deal for her at Fox, and by 1952 she was "the atomic blonde of the box office", with three starring roles coming out the same year.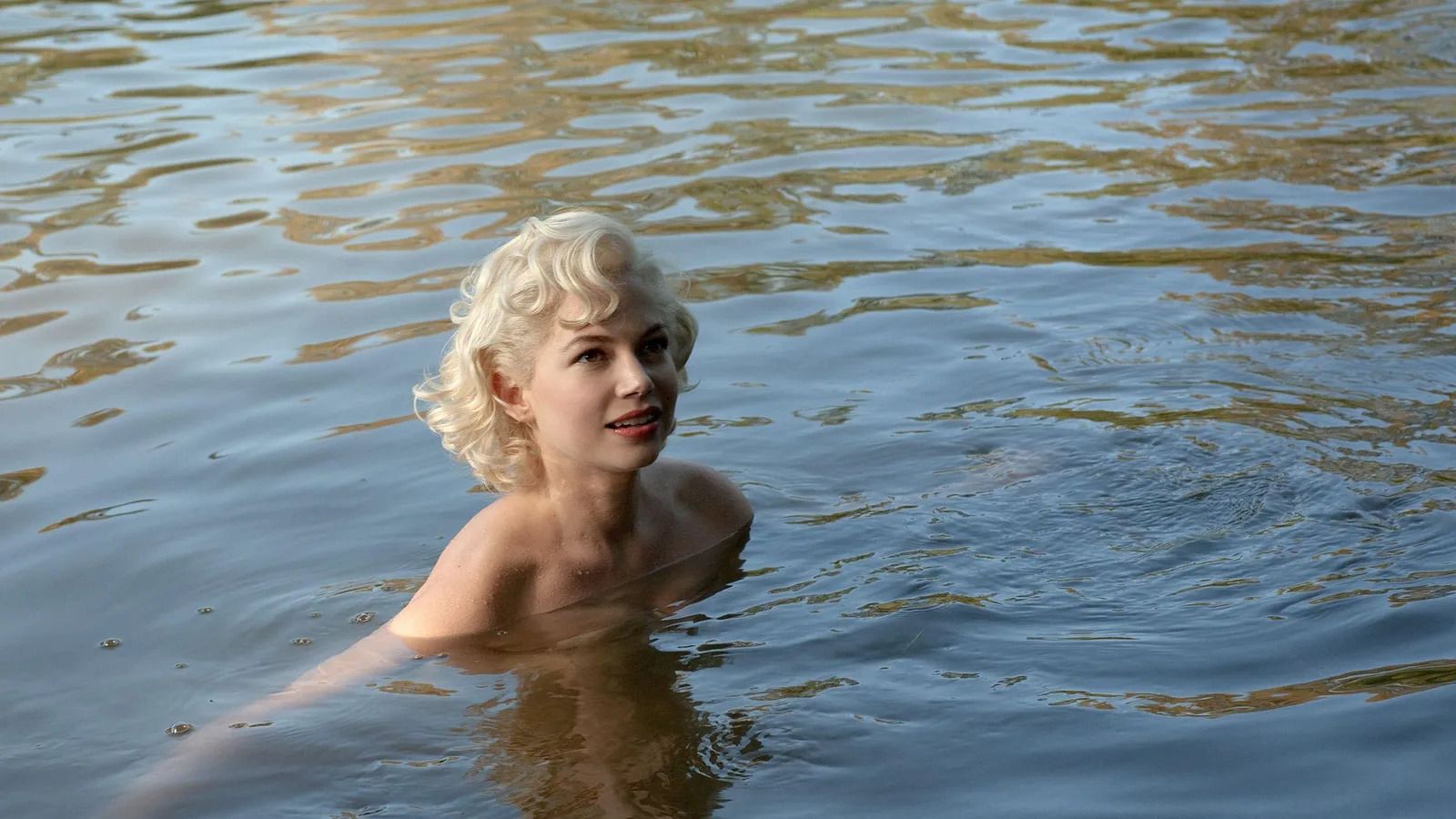 Michelle Williams in My Week with Marilyn (2011) showcases Marilyn's charm and sensuality

Hollywood amped up her sex-pot image. Promoting her starring role in Niagara (1953), the tagline was dripping with innuendo: "Marilyn Monroe and Niagara, a raging torrent of emotion that even nature can't contain". Her name was given top billing and her image a massive presence on most posters. "If you are born with what the world calls sex appeal, you can either let it wreck you or use it to advantage in the tough show business struggle. It isn't always easy to pick the right route," Marilyn said to The Chicago Tribune in 1952. The same year, one of her most enduring performances, that of endearing gold-digger Lorelei Lee in Gentlemen Prefer Blondes would cement her in the dumb blonde persona that Marilyn found so frustrating and limiting. "She's conflated with Lorelei Lee," thinks Bolton, "She felt that she was constantly being put in these dumb blonde musical comedies, but even within those roles she's clever and canny. There's something about the Monroe-isms." Her image might have made her famous, but her talent made her endure. Her determination to be taken seriously led her to New York, to the Actor's Studio and to Method Acting. Even at the height of her popularity, though, her efforts were mocked, and in 1956 a whole book (a whole book!) was published titled "Will Acting Spoil Marilyn Monroe?" The biopics choose to disempower her further by forgetting about the middle part of the story, the part where she became an extremely successful, well-paid actress, challenged Fox for underpaying her, and founded her own production company with Milton Greene, Marilyn Monroe Productions. "I'm not sure if people perceive her as an actress at all", says Nehme, while pointing out that if you look at the actual work, "you start to see how unique and how intelligent her choices are, to make it as funny as possible".

The only exception, perhaps, is My Week With Marilyn (2011), a light-touch take on the troubled making of The Prince and the Showgirl (1957), the only film produced by Marilyn Monroe Productions, told from the perspective of real-life, love-struck set assistant Colin Clark, on whose memoirs the film is based. With Marilyn played by Academy Award nominee Michelle Williams, the film is very much a part of the "Marilyn and me" sub-genre of books and films — also including Marilyn & Me: A Photographer's Memories, My sister Marilyn and on screen, Calendar Girl (1993) and Marilyn and Me (1991). However, this is the only example that even tries to recreate Marilyn's charm, not just her fickle and unreliable on-set antics. Williams captures Marilyn's sensuality without leaning into the sex-pot persona. There are hints at the darkness that will consume her in the near future, but it focuses on the work and the drive, as well as the crippling insecurity that somehow Marilyn found a way to transform into moments of pure comedic gold.

There is hope, though. Nehme believes there's a generational shift that is inspiring a reappraisal of Marilyn Monroe: "As film critics have been getting younger, they've been going back to the work. They're very interested in the role she played in creating her own persona." Dominik may have been surprised, as he suggested in a recent interview with Sight and Sound, that people still watch (and enjoy) Gentlemen Prefer Blondes – but I'm not. Her image may be universally familiar now, but discovering Marilyn's performances is always a revelation. Her feline femininity in Niagara, her coy clumsiness in The Prince and the Showgirl, and her knowing delivery of all-timer quips in Gentlemen Prefer Blondes. Marilyn's awareness of how she was perceived imbues every performance and informs every choice. While it might not capture Marilyn's star power, the best thing that Blonde can do for her is inspire more people to watch her actual work.