A woman of the world, sustainability is at the core of Alexandra Agoston's beauty routine. Here, she trials the new Nº1 de Chanel range.
It's no secret that Alexandra Agoston is a woman of the world. Both physically and spiritually, she understands deeply that our most valuable connection is with nature. It's this driving force that informs her approach to beauty, sharing that your beauty routine should "feel good". Of course, knowing Agoston, this remark doesn't just apply to the tactile experience of beauty, but is just as much about how you feel about the products you're using and what they stand for. It only makes sense then, that the new, sustainable Nº1 de Chanel collection has become a crucial part of her regime.

Nature has long been a bountiful source for solutions and promises; continuously adapting to changes in the environment and offering new perspectives on how we look at things. It's a realm of opportunity that Chanel understands deeply; harnessing and incorporating a plethora of clean and sustainable plant resources into the development of skincare and beauty that is adapted to our modern needs.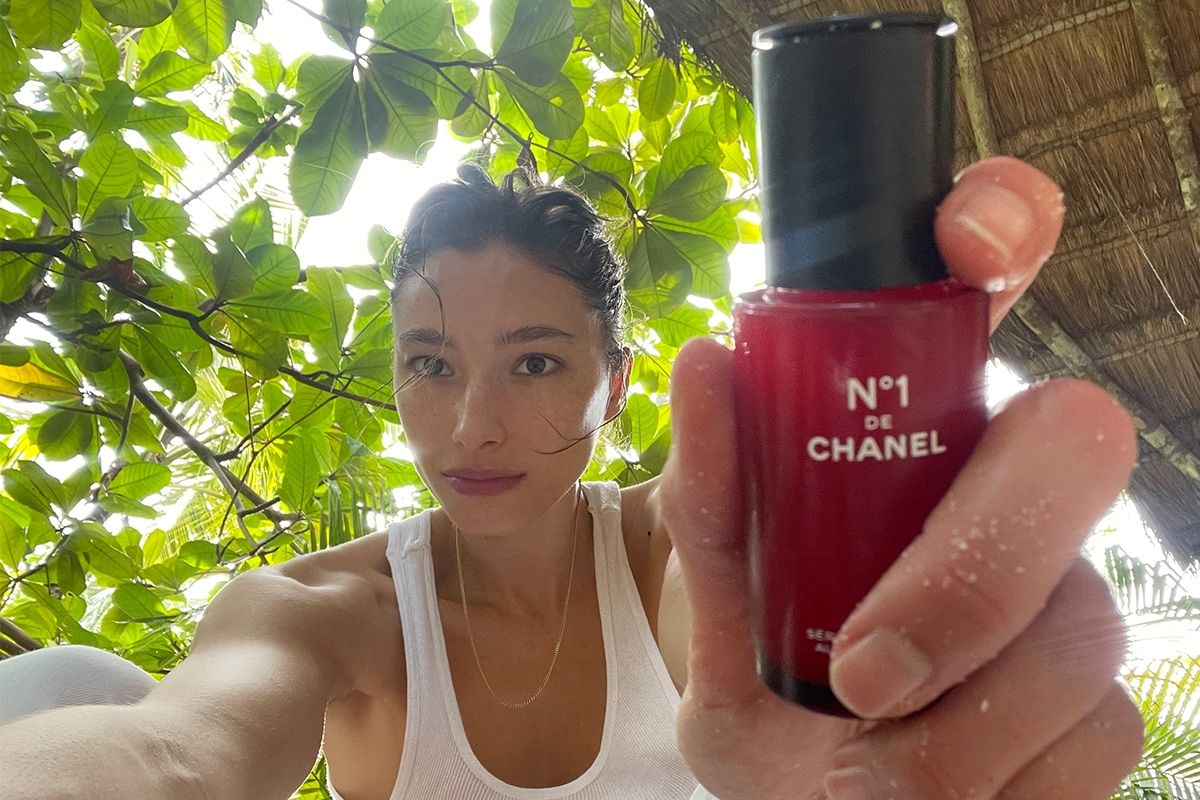 It's beauty ahead of its time – a forward-thinking attitude that unites the Nº1 de Chanel collection and Agoston in their approach to skincare and beauty. Nature influences us and in return, we also have an influence on it – a responsibility Chanel is refusing to take lightly.

As such, the N°1 de Chanel formulas honour ingredients of natural origin that are renewable and have reduced environmental impact. Containing up to 97% ingredients of natural origin1, without compromising on effectiveness, safety or the sensoriality, the collection marries environmental consideration with unmatched quality.

Packaging was also a key consideration for the collection, with the full range being eco-designed. The weight of the jars and bottles has been reduced, and 80% of the products in the range are made of glass – directly reducing the use of plastics.

N°1 de Chanel is as clear a message as ever – the future for luxury beauty has to, and can be sustainable. A champion of this vision, Agoston takes us through her beauty beliefs, how she's incorporating a cleaner approach to her regime and the products that keep her feeling revitalised.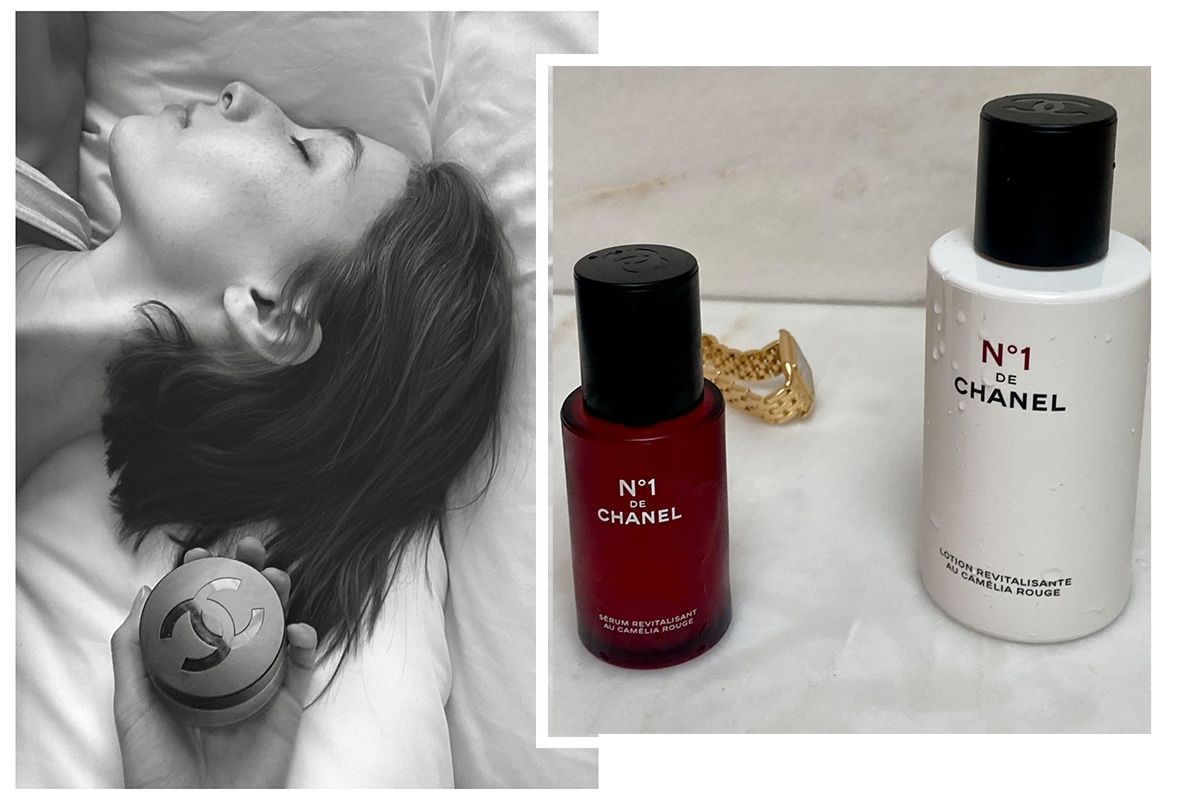 What's the first thing you do when you wake up?
Enjoy a couple of minutes extra sleep, I love that quiet moment when you are not quite awake yet and your mind is really free. First thing when I get up I have a large glass of water with lemon and walk onto my fire-escape overlooking Soho, and see what the day looks like. New York still feels like an exciting movie set after so long living there.


You have 10 minutes to get ready. What does your beauty regime look like?
I turn on my stereo, play some music – right now I'm listening to Charlotte Gainsburg Deadly Valentine remix. I splash my face with cold water and cleanse my skin with Chanel L'eau de Mousse. The formula turns from powder to foam and is beautiful and light and feels gentle on my skin. While my face is still damp, I press a couple of drops of Chanel Red Camellia Revitalising Serum onto my skin, and then massage my face using Chanel Red Camellia Revitalising Cream. I follow my jawline and cheekbones in upward movements then down the side of my neck; I have watched makeup artists do it on set and I really notice a difference in my face. I think we naturally hold tension in our face, and a beauty regime is a nice way to spend some time for yourself. A reminder to breathe and let go a little.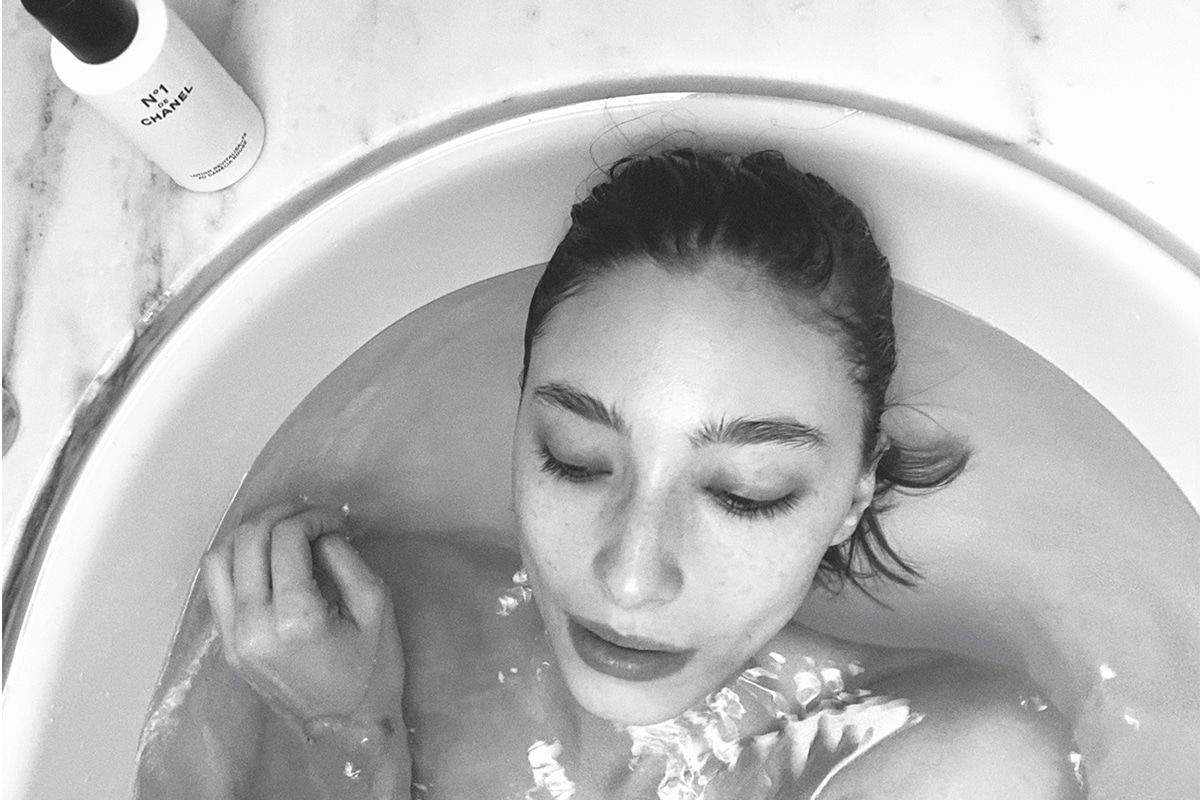 You spend a lot of time dashing between shoots and events. How do you keep your skin looking fresh and revitalised the whole day?
When I'm shooting in the studio I can have lots of different makeup looks and am under flashing bright lights. I love using the Chanel Red Camellia Revitalising Serum-In-Mist throughout the day to keep my skin fresh. It's really hydrating and smells beautiful. I always bring my water bottle to set, and some natural eye drops. My skin feels the best when I'm eating lots of fresh fruit and veggies, and keeping active. I love Pilates. It helps me feel balanced, and understand the strength of my body.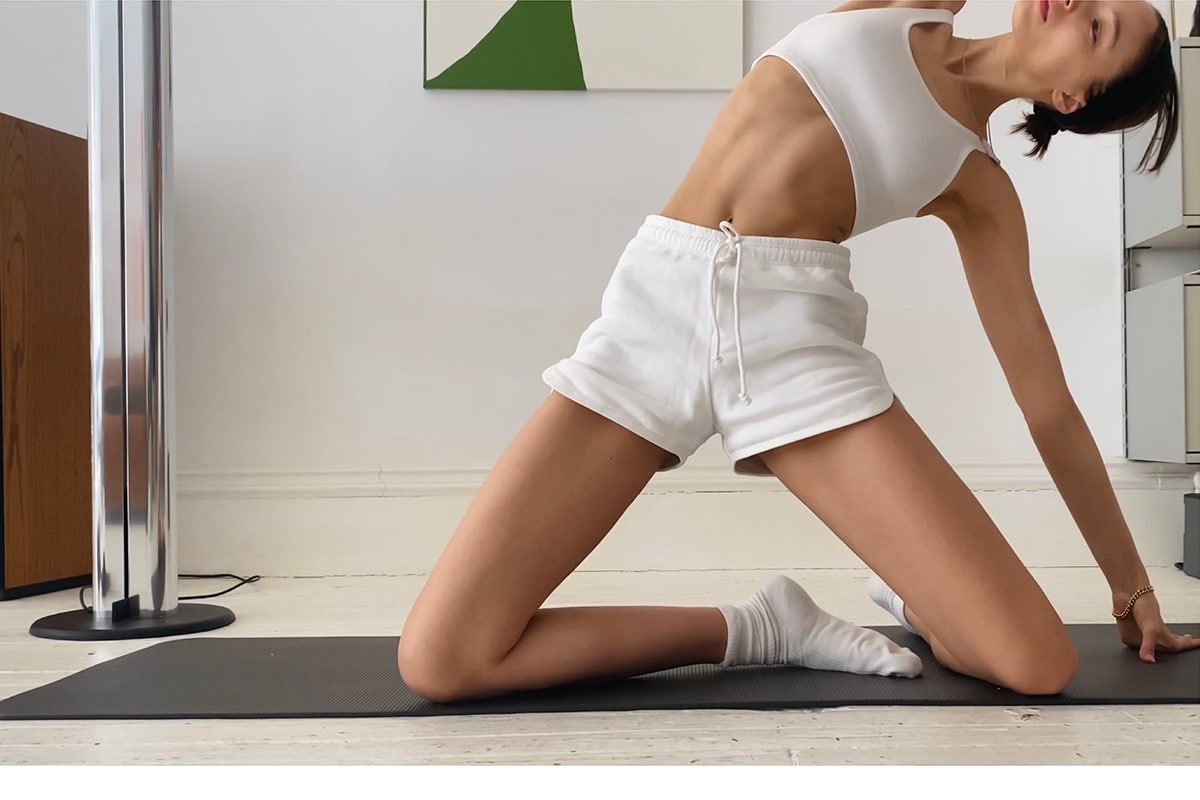 Our approach to beauty has become more simplified and considered in recent years. Do you gravitate towards products that are multi-purpose?
I travel a lot for shoots, and have noticed my beauty bag getting smaller and smaller! I like to keep it as simple and natural as possible. I don't wear makeup every day, but if I'm going to an event and feel like something really light, I love the Chanel Les Beiges Fond de teint. It feels like beautiful skincare and makeup in one.


As we become more educated about the environmental impact of our beauty and skincare products, how important is it to have our favourite brands leading the way in this space?
I live in New York, and have seen so much change in the energy of the city in the past two years, with the hardship of the world's collective challenges I think there is also a huge positive push for change, socially and environmentally. It's so exciting to see brands like Chanel lead the way in this space and support a natural, more sustainable approach to beauty.

I'm collaborating with a foundation called Parley for the Oceans, that's dedicated to protecting our oceans, and raising awareness for its beauty and fragility. I'm trying to learn as much as I can – we have power in what we decide to buy, or movements we join and support.


There is sometimes a misconception that sustainable products don't see the same results. But Nº1 de Chanel proves otherwise.
I moved to Paris when I was 18, and I think that's when I fell for Chanel. It was my first luxury purchase, a small black vintage Chanel bag. For me the brand represents timelessness, quality and luxury. The new Nº1 collection has that same feeling on your skin. The House's first natural beauty collection nurtures a more sustainable future and healthy skin!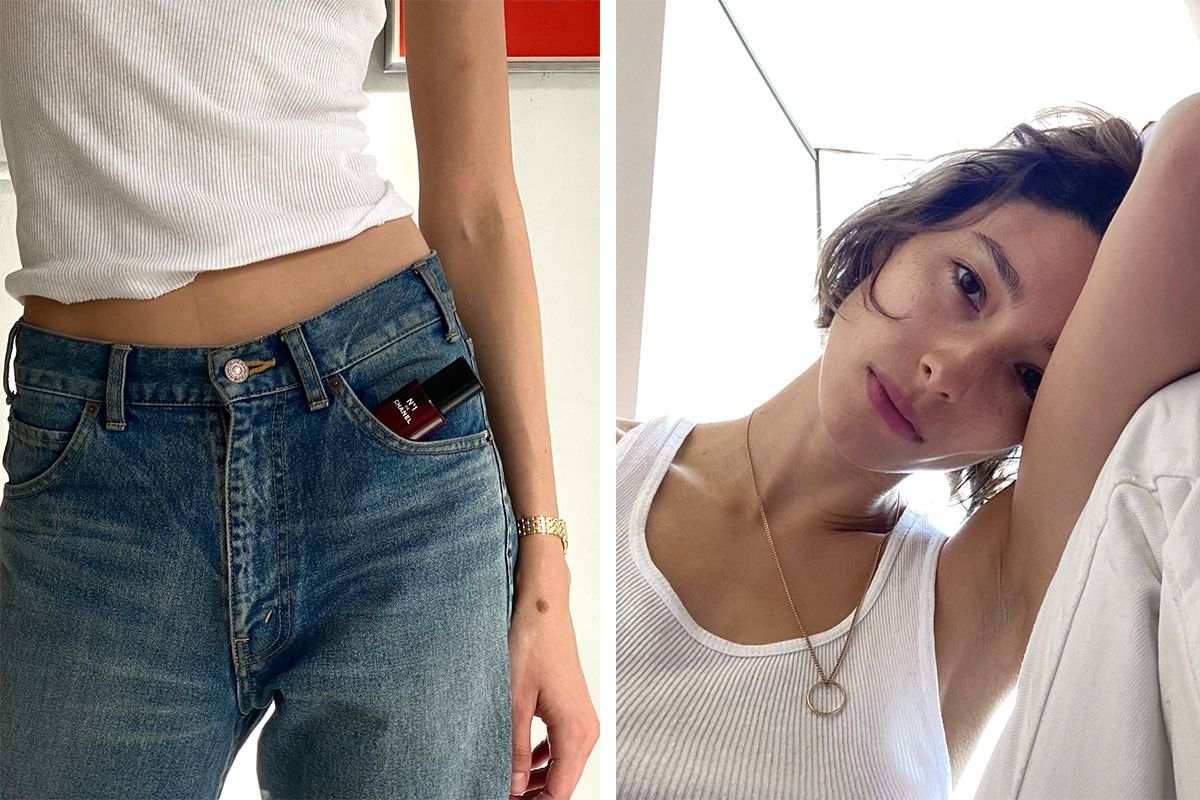 How do you end your day and do you incorporate any beauty products to help you unwind?
I take a warm shower, I will use a dry brush on my body to increase circulation and coconut oil after. I love the Creme by Chanel on my face and Chanel eye creme before I go to sleep. I always have a notebook and a novel next to my bed.