Bethan Haley is 24 and a qualified commercial pilot. Some passengers doubt her abilities. Not because of her age, but because she's a woman.
"I've had some men actually say to me: 'I'd rather go with a man," says Bethan Haley.

"I try to explain that I am more qualified than the man over there in a different aircraft."

Sitting at the controls of her aircraft, Bethan is composed, exuding an air of confidence that would calm even the most nervous flyer. She got her first taste of aviation on her 14th birthday, and since then has worked towards becoming a fully fledged pilot. Ten years later, she holds a commercial licence, teaches others to fly and is among a handful of members at her local flight club trusted to get behind the controls of its prized vintage aircraft collection.

And yet, it seems some can't see past her gender.
"People are generally supportive," says Bethan. "But I have encountered people who are not because of my gender. It's like they don't trust me because I am female."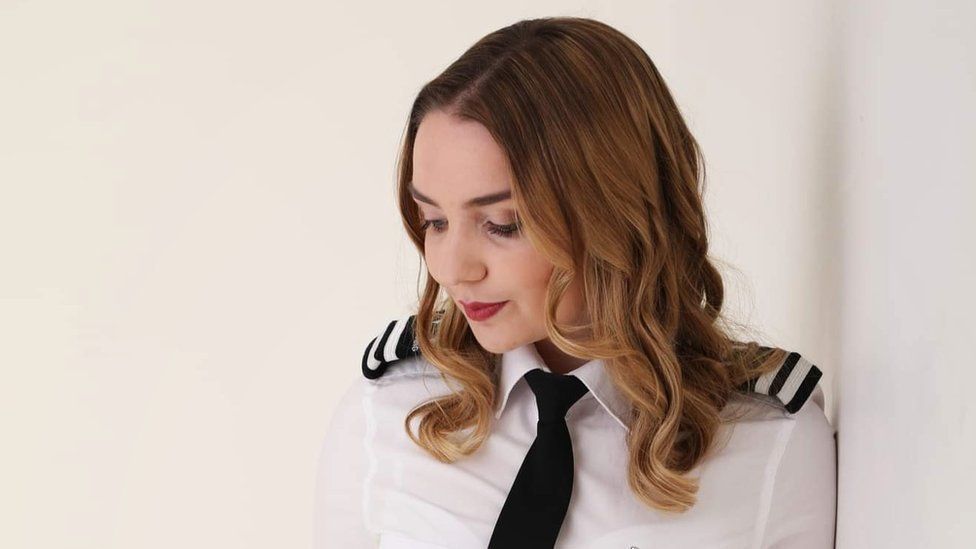 Bethan says the attitude of some passengers can be frustrating

Bethan recalls an occasion, at a Yorkshire airfield, when she was about to take a child up in a Cessna 150.

"A parent told me that they didn't want their child going up because I am a female, young pilot," she says. "You learn to accept that you're going to come across this type of thing."

When she meets this attitude Bethan says she choose to "brush it off". It is clear, though, from the shift in her voice, that it cuts deep.

"It is frustrating," she admits. "I have spent so much time and money, and put so much into my career. I want them to be confident with me both as a pilot and as a person. That's important to me.

"It's like getting into a taxi - you need to be sure that the driver is going to get you safely to the destination. I'd rather fly with someone who appreciates me as a person and a pilot."

Statistics suggest aviation remains a heavily male-dominated industry. In 2020 just 5% of pilots were women, and a mere 1.42% of captains were female, according to the International Society of Women Airline Pilots.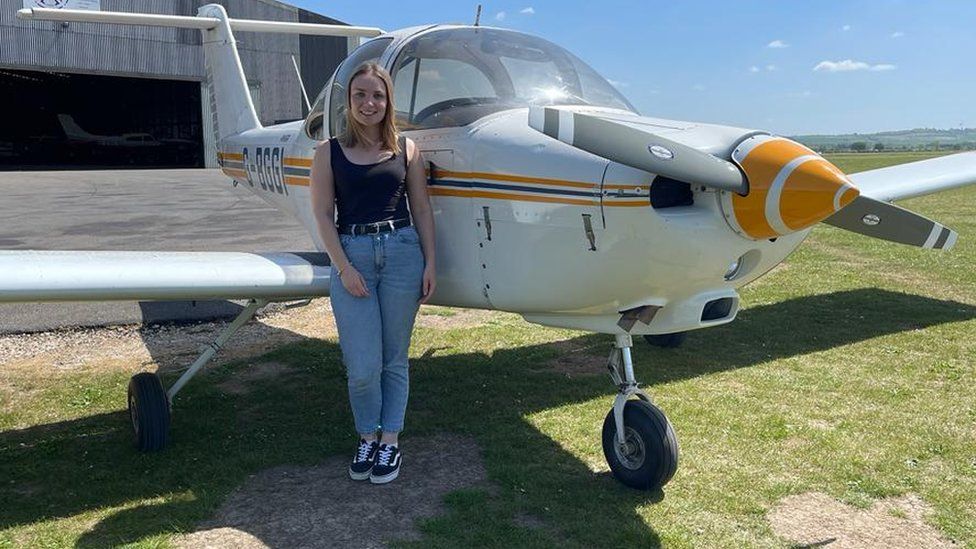 Bethan fell in love with flying as a teenager, and began training when she was 16

But Bethan's family has always encouraged her to pursue her dream, which was born ten years ago when her dad Darren bought her a glider flight at Burn Airfield, in Selby, North Yorkshire, for her 14th birthday.

"I came down a different person," she says. "It completely changed my life. It was almost like I had found, up there, my purpose in life. I realised what I needed to do with my life was fly. I then started working exceptionally hard, gaining my GCSEs and then my A-Levels."

Just before her 16th birthday, in December 2013, her parents took her to register at a local flying school.

"Mum and Dad got me in the car," she says. "They put a blindfold on me and they took me to Breighton Airfield. I was really confused. Where were they taking me? They put this thing on my lap and told me to open my eyes. It was lesson material needed to get my Private Pilot Licence."

After her A-Levels, Bethan worked odd jobs while she plotted her path into aviation, eventually finding out about an opportunity with a major airline nearby.

"I didn't think I was good enough for it, but I put my application in and got offered the job," she says. "My first job in aviation was as a flight planner at Leeds Bradford Airport. I started on my 20th birthday."

She stayed for two years, including one year in an engineering role, until 2019 when she decided to "take a risk" and go for her commercial pilot's licence.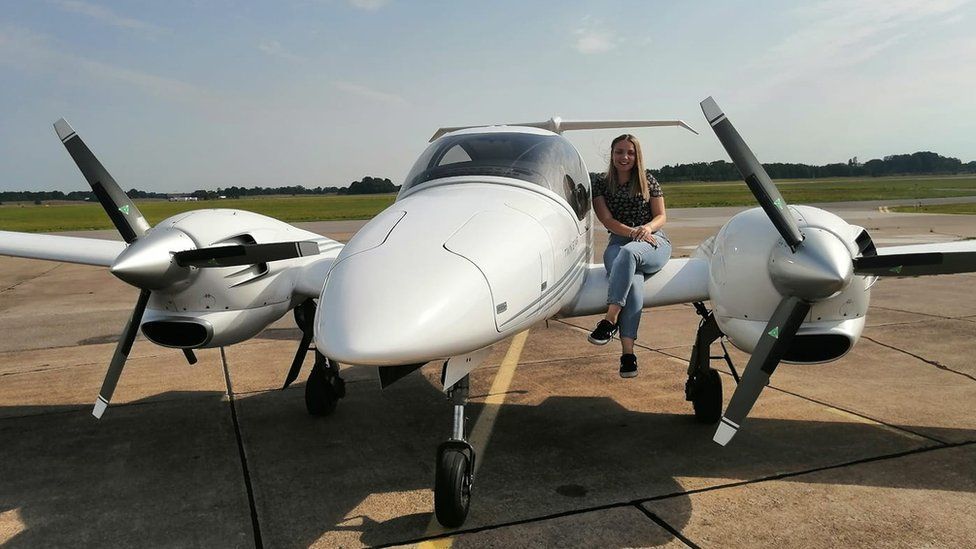 She learned to fly a Diamond DA42 aircraft during her training in Sweden

After gaining her Airline Transport Pilots Licence (ATPL) in 2021, she set her sights on Diamond Flight Academy in Sweden - her "dream flying school" - where she obtained her Multi-Engine Instrument Rating Commercial Pilots Licence and became proficient in flying the Diamond DA42, a four-seat, twin-engine aircraft.

Bethan returned to the UK and completed further training at Cambridge Airport, where she was introduced to the Boeing 737 simulator. She is now busy preparing for an interview with a major airline this summer.

Her ATPL is currently frozen - as per standard protocol - until she is officially taken on by an airline. In the meantime, she remains a popular figure at The Real Aeroplane Club, north of Howden, where she is the youngest of only five women. Bethan is one of the few of its 300 members allowed to fly their vintage aircraft.

The club's chief engineer Ian Ross is in no doubt Bethan will soon be flying passengers around the world.

"Bethan is amiable, cheerful and confident and a real example to others," he says. "We have a collection of 20 plus aircraft - they are priceless gems. They are only flown by the most trusted and competent pilots - and Bethan is one of them. Her gender doesn't come into it."

Bethan Haley is trusted with vintage aircraft at Breighton Airfield, where she is key member of its flying club

Martin Chalk, general secretary of British Airline Pilots Association (BALPA), said he was "hugely disappointed" to hear of Bethan's experiences.

He said: "This young lady has put in a lot time, energy and effort to become a pilot so it's hugely disappointing to hear that people have been discounting that, basing their opinions on this person's gender."

Since taking up his position, Mr Chalk said, he has set up a programme looking at diversity in commercial aviation.

"It is accurate to say that the vast majority of pilots are white males, often middle-aged."

Bethan is determined to play her part in challenging this, giving her time to charities for pleasure flights and offering to visit schools to promote aviation.

"I guess you have to accept that some people, no matter what you say or do, will not change their outlook," she says. "But most of the time, through explaining, you can tackle stereotypes."