Kim Sin-ae, a South Korean digital illustrator, is showcasing one of the Arab world's most beautiful and celebrated cultural features — its traditional clothing — in the style of the seminal 19th-century Austrian artist Gustav Klimt, particularly his most famous work, "The Kiss."
Sin-ae has blended Middle Eastern and North African culture with a touch of Korean writing. The end result is a new interpretation of Klimt's painting.

Klimt's "The Kiss" is the archetype of tenderness and passion with its shimmering, colorful, love scene of two faces and bodies embracing each other wrapped in a large golden cloak. This heavy embellishment protects and encircles the couple, reiterating the immortality of their love in an unbreakable embrace.

Sin-ae has incorporated 23 traditional outfits from countries including Saudi Arabia, the UAE, Syria, Egypt, Mauritania, and Morocco into her versions of "The Kiss" and has added in other cultural elements, including famous landmarks.

Sin-ae told Arab News she discovered her passion for art after visiting museums and galleries during her time as a flight attendant for Qatar Airways. She visited The Klimt Museum on a layover in Vienna and fell in love with "The Kiss."

She said that she only discovered her own artistic skills when the COVID-19 pandemic hit, and lockdowns gave her time to study YouTube videos on digital drawing, allowing her skills to surface.

"I decided to make MENA culture my main subject, since, after living with Arabs for seven years in Qatar, I learned a lot about them," she told Arab News. She also said she wanted to give Koreans a new perspective on Arabs that is different from that shown in the media.
"I chose 'The Kiss' to be the foundation of my art as it represents love and compassion," she said. "My name also includes (the Korean word for) love and I believe that it is my mission to share and live love."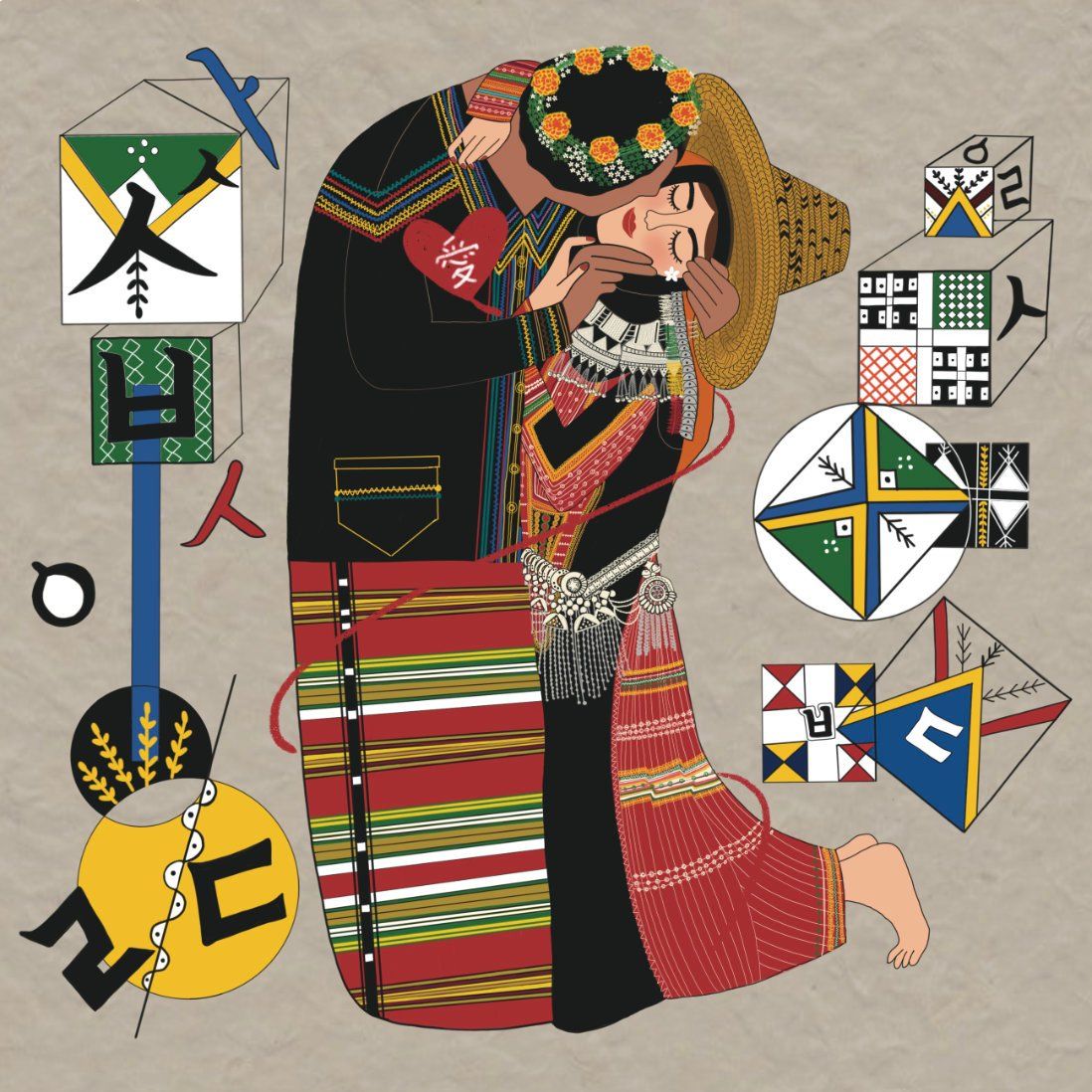 Traditional costumes of Asir.
While she used the most common cultural outfits in her drawings, she also dove into Saudi Arabia's regional cultures. She drew intricate details of traditional clothing from the western region of Hijaz, Taif, the southern region of Asir, and the Kingdom's central region.
Sin-ae said she had had a very positive impression of Saudi Arabia since she was a college student, after she met a Saudi exchange student who ignited her interest in the country.
It was one of her social-media followers who suggested drawing regional outfits and asked her to look into the different types of clothing in Saudi Arabia to tell the world more about the Kingdom's diverse culture.
"I am very grateful for the ideas given by my followers," said Sin-ae. "I think the most important thing is to find a common denominator between what people want and what I want, because I think art should inspire people."
The artist said that she reaches out to her followers to provide her with references for each outfit, as well as carrying out her own research into each culture.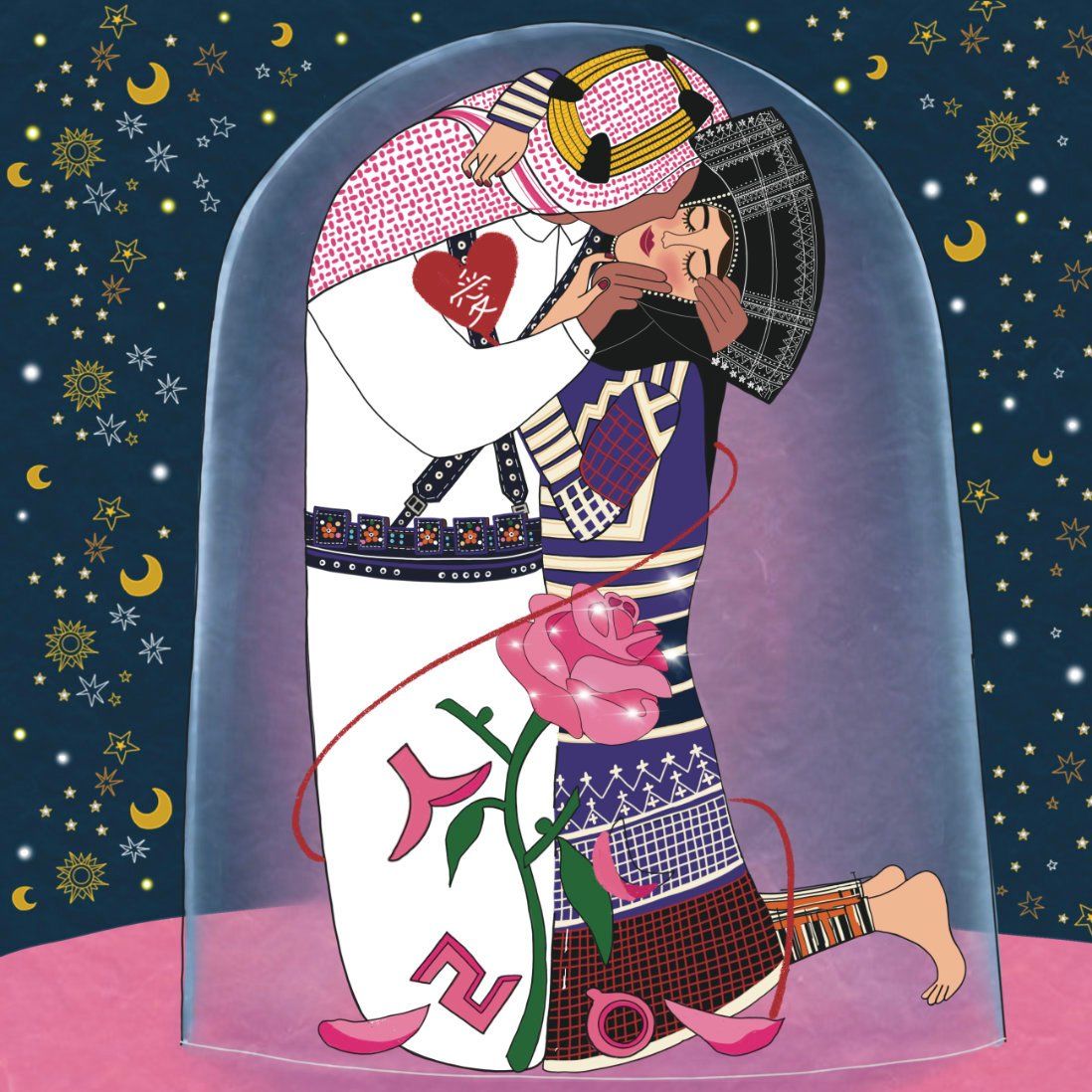 Traditional costumes of Taif.

Sin-ae has creatively included Korean words in some of her drawings. In the illustration depicting Asir clothing, for example, the Korean word for Saudi Arabia, "사우디 아라비아," is inscribed around the couple and next to symbols historically found in Asir. She added the word "사랑," meaning love, in her Taif illustration, and used the Damask rose — for which Taif is famous — and its leaves as part of the word.

Sin-ae said the outfit from Asir was particularly tricky, as she saw it as being very similar to Yemeni clothing. She asked Asiris and Yemenis for in-depth explanations of the differences between the two styles.

To further portray the beauty of cross-cultures, Sin-ae takes commissions from couples around the world who are married to a partner from a different country. So far, they have included couples with partners from Singapore and Korea, Palestine and Brazil, Saudi Arabia and Argentina, and Jordan and the US.

Sin-ae said that reactions to her work have been mostly positive but that, like all artists, she also receives some criticism. She takes the latter in her stride, saying that just as it is her "freedom to do art," so others are free to interpret it in a negative light, adding that she respects and appreciates all feelings people get from her work.