A small California yard has everything one needs for the perfect pool hang.
When landscape designer Adam Sirak saw the neglected backyard area outside a new client's house, he knew one thing it had to have: a place to take a dip—as long as it wasn't too big, that is. "I'm always championing a small pool," says Sirak, who's based in Los Angeles. "I tell clients, 'All you need is a box of water.' People think they need these big spaces but unless you're swimming laps, you're really gathering in the corner and having a drink and a chat." Even better, he adds, if the proportions are right, the pool can also look like a water feature.

The house is located in the Hancock Park area of Los Angeles, where the client works as a fashion stylist. "He's very visual," Sirak says. "He came with a lot of mood boards, which is unusual, but I love that kind of collaboration."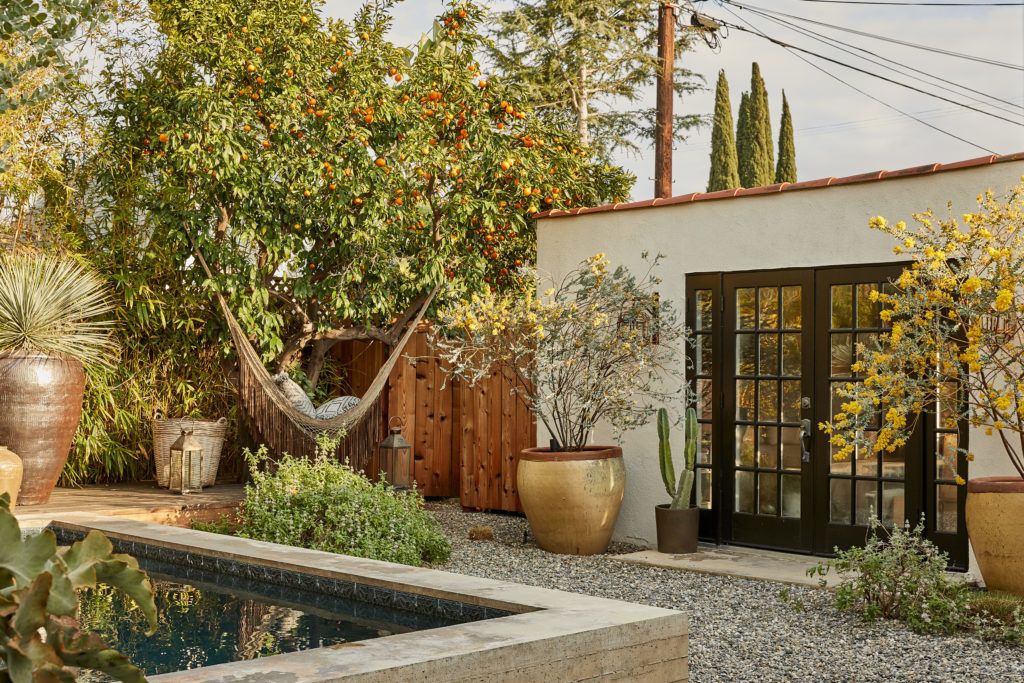 The client wanted a Marfa, Texas meets Morocco vibe, so Sirak "put that through [his] lens" and started where he always does, by figuring out the placement for three important zones: where the client would have a cocktail, where the client would have dinner, and where the pool would be located. "Those are the three key things I try to suggest to the client first," he says. "People want to know how they're going to live in the space, because at the core of it, a garden is about transforming the experience of your home."

Sirak says when working with a small yard—this one is approximately 400 square feet—it's important to include "visual destinations," so one can imagine where they'd read a book (the hammock area) or where they'd warm themselves and have a conversation (the conversation patio with Corten steel chiminea). Each destination has its own stand-out features. The pool, for example, utilizes blue vintage tile the client found on his own, while the platform daybed behind it gives it a Moroccan feel. ("I wanted a daybed-slip-into-the-pool moment," Sirak says.)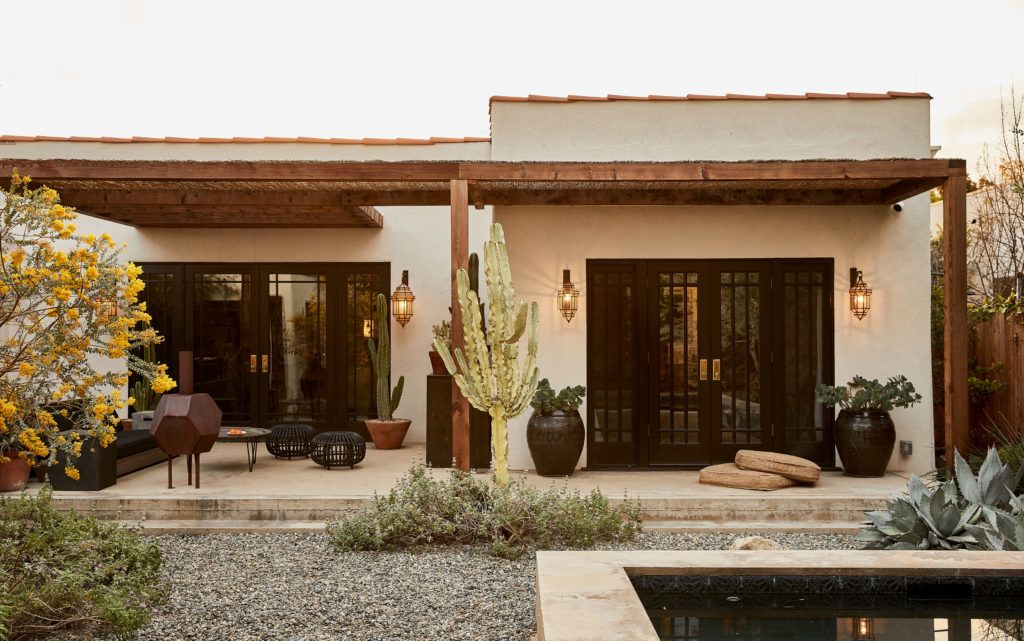 The house, meanwhile, got new vintage doors that were painted black and given bronze hardware that matches the Moroccan lanterns, which were found at a Santa Monica flea market. The house, which was originally yellow, was repainted in Shoji White from Sherman Williams.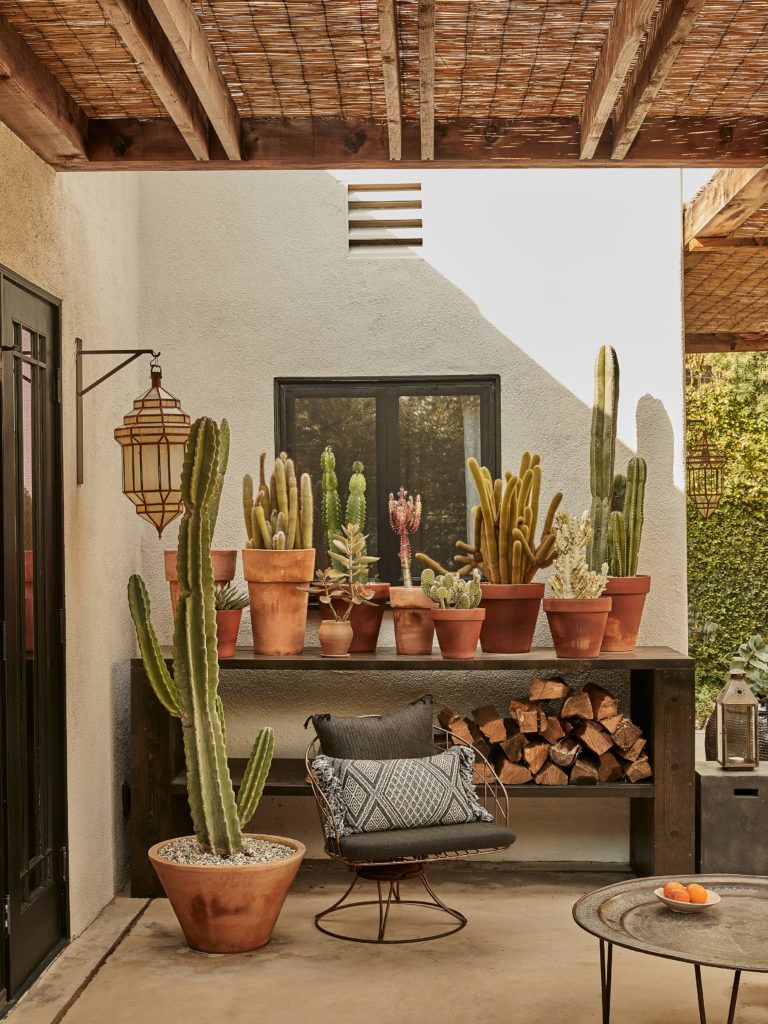 As for the plant collection on the patio, "The client wanted a cast of little creatures, the weirder the better." So Sirak bought terracotta pots and he and the client shopped together for euphorbias and cacti. The Donald Judd-inspired custom console table, meanwhile, is an homage to Marfa.

The plants, Sirak says, "are the medium that creates the emotional experience in a garden." He says he thinks of himself as an "exterior designer." (In other words, he's an interior designer for the outdoors.) "Anyone can look at a couch and be like, 'I like it' or 'I don't like it,'" he says. "But I can show a plant to someone and they always have an emotional reaction."

To achieve a tranquil southwest-desert-meets-California-Natives mood (with some Australian natives thrown in here and there), a pair of potted Yucca rostrata flank the pool, playing off icy-blue Acacia podalyriifolia trees and pre-existing bamboo that acts as a screen. Agave ovatifolia and Kalanchoe beharensis are accent plants, while the hammock hangs from a citrus tree.

Perhaps it's not surprising that, since the garden is owned by a fashion stylist, it feels, well, fashionable. But it's fun to learn that Sirack once worked in fashion himself as a shoe designer before he started designing landscapes. When he made the switch nine years ago, he says, "It just felt right. I loved the immediate creative control. Fashion is all based on illusion, but gardens and living organisms feel really, really real."