Sweeping changes to maternity services in England are expected after a report laid bare catastrophic failures at an NHS trust that may have led to the deaths of more than 200 babies.
Over 20 years, errors at Shrewsbury and Telford NHS Trust led to babies being stillborn, dying after birth or being left severely brain damaged.

Health Secretary Sajid Javid apologised to the families affected - and pledged to hold those responsible to account.

The trust has also apologised.

It said it had already made changes and promised to continue to make improvements.

The inquiry - into the UK's biggest maternity scandal - looked into nearly 1,600 incidents at the trust in Shropshire over two decades.

It found:

* repeated failures in the quality of care at the trust between 2000 and 2019 - with mothers and babies dying or suffering major injuries as a consequence

* some 201 babies could have survived had the trust provided better care - including 131 stillbirths and 70 neonatal deaths

* staff were reluctant to perform Caesarean sections leading many babies to die during birth or shortly after, and there was ineffective monitoring of foetal growth

* in many cases, mothers and babies were left with life-long conditions as a result of their care

* some babies suffered skull fractures, broken bones or developed cerebral palsy after traumatic forceps deliveries, while others were starved of oxygen and experienced life-changing brain injuries

* there were significant or major concerns over the care provided in 65 cases of cerebral palsy and 29 severe brain injuries

* babies' deaths were often not investigated and grieving parents were not listened to, meaning "failures in care were repeated"

* the deaths of nine mothers raised significant or major concerns with the care they received

The report also said the trust was not held to account by external bodies - and it either failed to undertake investigations or when an investigation did take place it was inadequate.

The reason for the failures included lack of staff, lack of ongoing training, lack of effective investigations and governance and a culture of not listening to the families involved.

The trust also had a tendency to blame mothers for poor outcomes - in some cases for their own deaths, the report found.

'Act swiftly'

It made a range of recommendations - including more than 60 for the local trust involved, 15 for the wider NHS and three for the government.

These included:

* for the Department of Health and Social Care (DHSC) to work with the Royal College of Obstetricians and Gynaecologists, (RCOG) and Health Education England to consider how to deliver a sustainable level of obstetric training posts, to enable trusts to deliver safe staffing

* a proportion of maternity budgets must be ring-fenced for training in every maternity unit

* for the trust to make the needs of families affected the primary concern during incident investigations

* a robust process to be in place to ensure that all safety concerns raised by staff at the trust are investigated

* the trust board must review the progress of the maternity improvement and transformation plan every month

* the trust must also ensure complete and accurate information is given to families after any poor outcome

Mr Javid told MPs the government was accepting all recommendations and "will act swiftly so no families have to go through the same pain in the future".

He added: "To all the families who have suffered so greatly, I am sorry.

"The report clearly shows that you were failed by a service that was there you help you and your loved ones to bring life into this world, we will make the changes that the report says are needed at both a local and national level."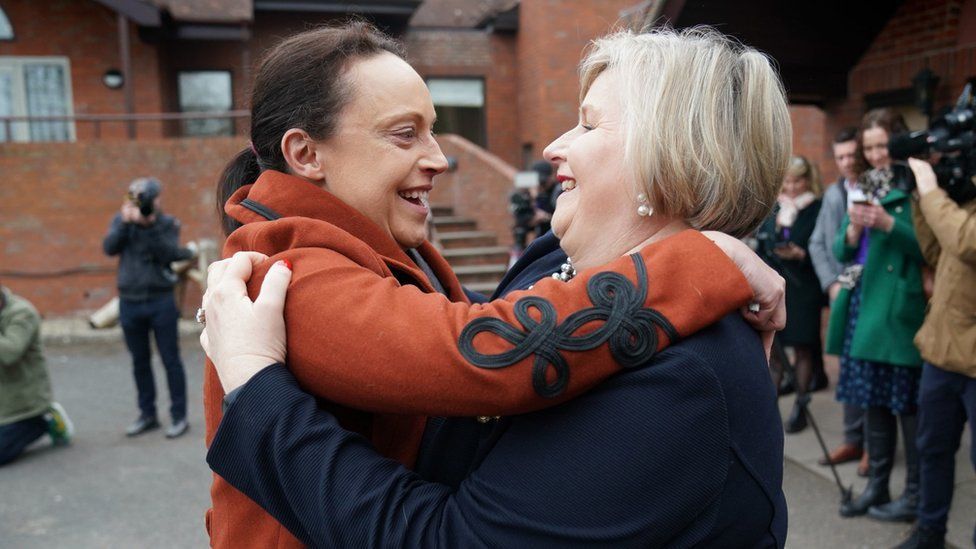 Rhiannon Davies (left) lost her daughter in 2009 - campaigning by her and others saw Donna Ockenden's review set up in 2017

The report was the culmination of an inquiry, first launched in 2017, into concerns over maternity care at Shropshire hospitals.

Initially set out to examine 23 cases, it has now examined almost 1,600 and is thought to be largest of its kind in NHS history.

Post It notes

The findings of the inquiry, Mr Javid said, were "stark and deeply upsetting".

He told of one case where he said, "important" medical information had been kept on Post It notes which were swept into a bin by cleaners which had "tragic consequences for a newborn baby and her family".

The health secretary added: "I'd like to reassure MPs that a number of people who were working at the trust at the time of the incidents have been suspended or struck off from the professional register, and members of senior management have also been removed from their posts.

"There is also an active police investigation, Operation Lincoln, which is looking at around 600 cases."

Det Ch Supt Damian Barratt said the investigation was "very much active", although no charges had yet been brought.

Two families spearheaded the campaign for the inquiry.

Richard Stanton and Rhiannon Davies's daughter Kate died hours after her birth in March 2009, while Kayleigh and Colin Griffiths' daughter Pippa died in 2016 from a Group B Streptococcus infection.

Ms Davies said: "All we ever wanted was to understand why Kate died. It was as simple as that."

While Mr Stanton said the report was a "damning account of systemic healthcare failures".

"There were regulators who should have prevented this, it shouldn't have been left to bereaved families to have uncovered the biggest tragedy in NHS history."

While Mrs Griffiths added: "It's so important that the learning is taken."

Other families affected have shared their stories, including Julie Rowlings, whose daughter Olivia died in 2002 due to injuries suffered during her birth.

"She had a haematoma the full size of her scalp," Ms Rowling said.

"Her ear was almost severed, her brain stem was almost severed.

"Every major organ haemorrhaged.

"They found brain matter in her lungs, her acid levels were through the roof which meant she was in pain."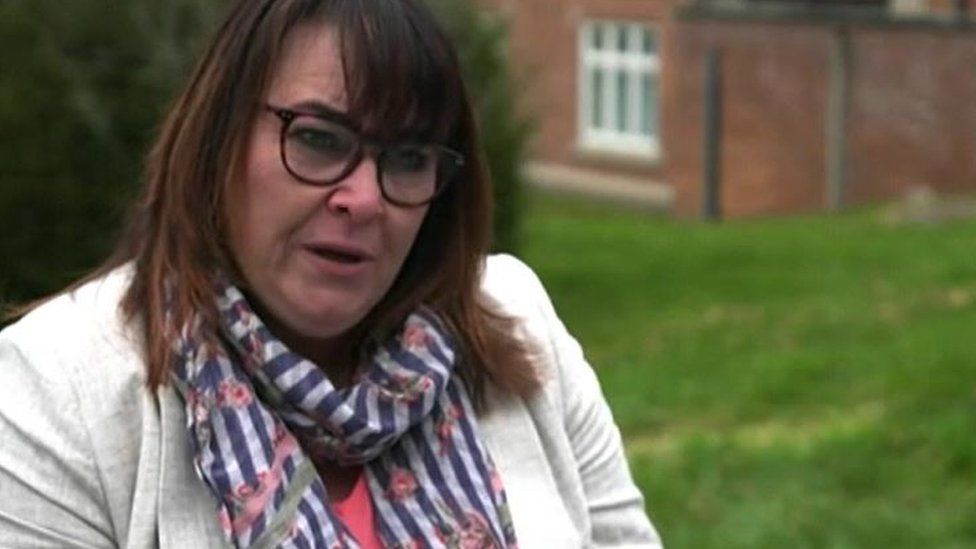 Julie Rowling lost daughter Olivia in 2002

She said the publication of the report meant Olivia "finally had a voice".

"She's been heard so it kind of gives her death a purpose and it gives all this pain and anguish which we continually put ourselves through to try and get change a purpose."

Ms Ockenden said hearing the stories had a "huge impact" on her and her team.

"There were days where I would go back to my hotel room and cry, I'm not ashamed to say that seeing the distress, seeing the grief, seeing the anger…of so many families that had been torn apart, I sat and cried, more times than I can count," she said.

Ms Ockenden said the spotlight on maternity services has "never been greater" and felt everyone in the system felt the opportunity for change.

However, she earlier said she remained "very concerned that in very recent weeks staff currently working at the trust have contacted the review team to express their concerns about maternity services at the trust in the here and now".

"No woman should ever have to face going into hospital to give birth and not know whether she and her baby will come out alive," Labour shadow health minister Feryal Clark said.

A number of health bodies have responded to the inquiry including the Nursing and Midwifery Council (NMC), which said the report's findings were "appalling".

The NHS Shropshire, Telford and Wrekin Clinical Commissioning Group (CCG) said it deeply regretted the "horrific experiences these families went through" and it would work with partners to ensure further improvements are made.

Louise Barnett, chief executive at the Shrewsbury and Telford Hospital NHS Trust, said: "We offer our wholehearted apologies for the pain and distress caused by our failings as a trust."
Senior midwife Donna Ockenden: New maternity failure reports "a grave concern"
Shropshire baby deaths: Report is a 'gift' to NHS