These gorgeous Scandinavian-inspired bedrooms are sure to inspire your next cheerful decor theme.
Waking up in a dark room can feel relaxing at times, but subdued palettes seem to lack that energizing factor that really gets the body moving. This post features bright white Scandinavian-inspired bedrooms filled with versatile design ideas you can implement right at home. Each one is tailored to make the most of the early morning sun – nature's alarm clock. While dark rooms can help residents capture a few extra hours of rest, these dazzling Scandinavian-inspired rooms are sure to bring back that early morning vigor. Are you an aspiring early riser? This collection of Nordic-themed bedrooms is for you!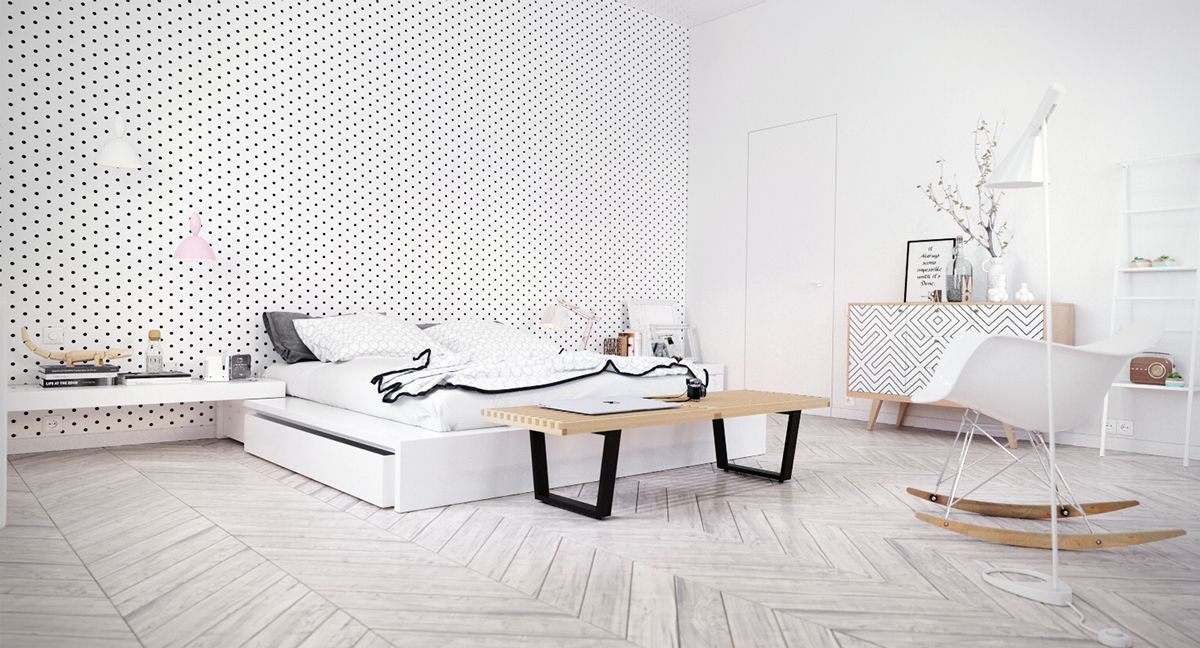 Polka dots prevent this bright bedroom from seeming overly sterile, with a mid century modern dresser adding to the palette of playful patterns. The simple accent wall print also helps to ensure the expansive walls don't overwhelm the simplicity of the interior design. Of the wooden elements, the rocking chair is the work of Charles and Ray Eames and the bench is from George Nelson.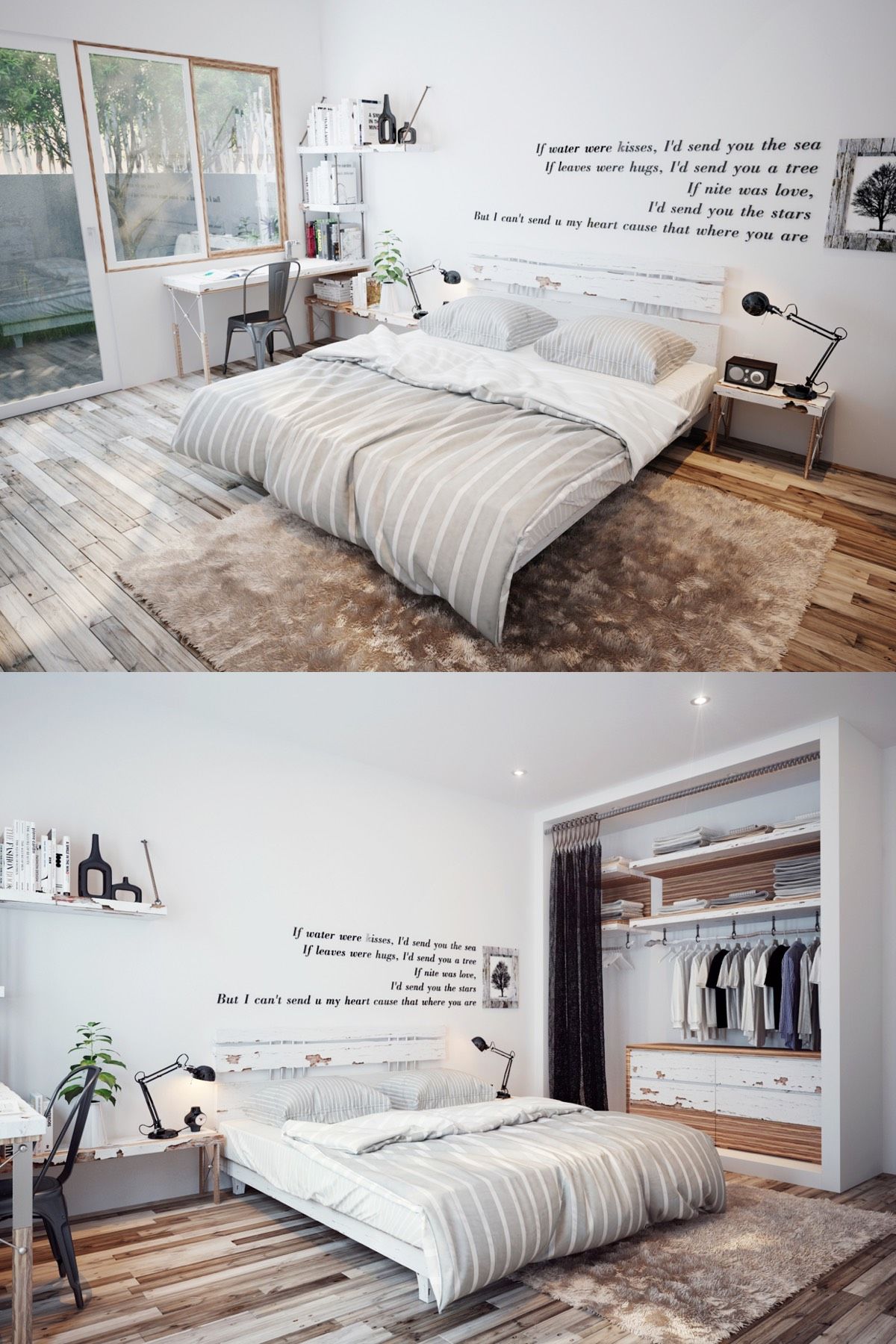 Romantic typographical decals bring a touch of modernism to this classically inspired bedroom. Highly distressed wood on the side table, dresser, and headboard enhance the contemporary design with relatably chic appeal.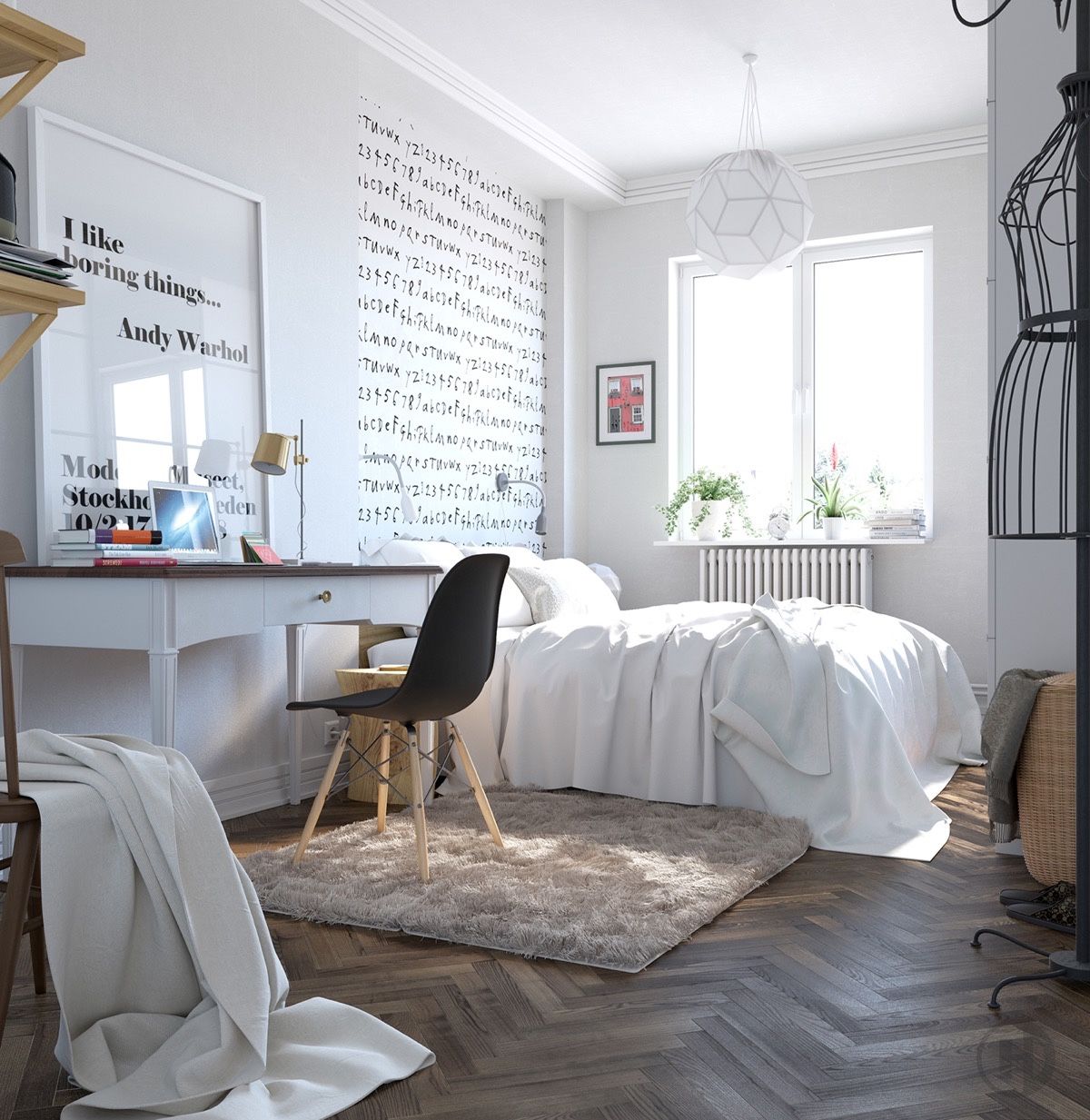 Here's some more typographic decor – the lettering in this bedroom sets up the design theme for a more mysterious attraction.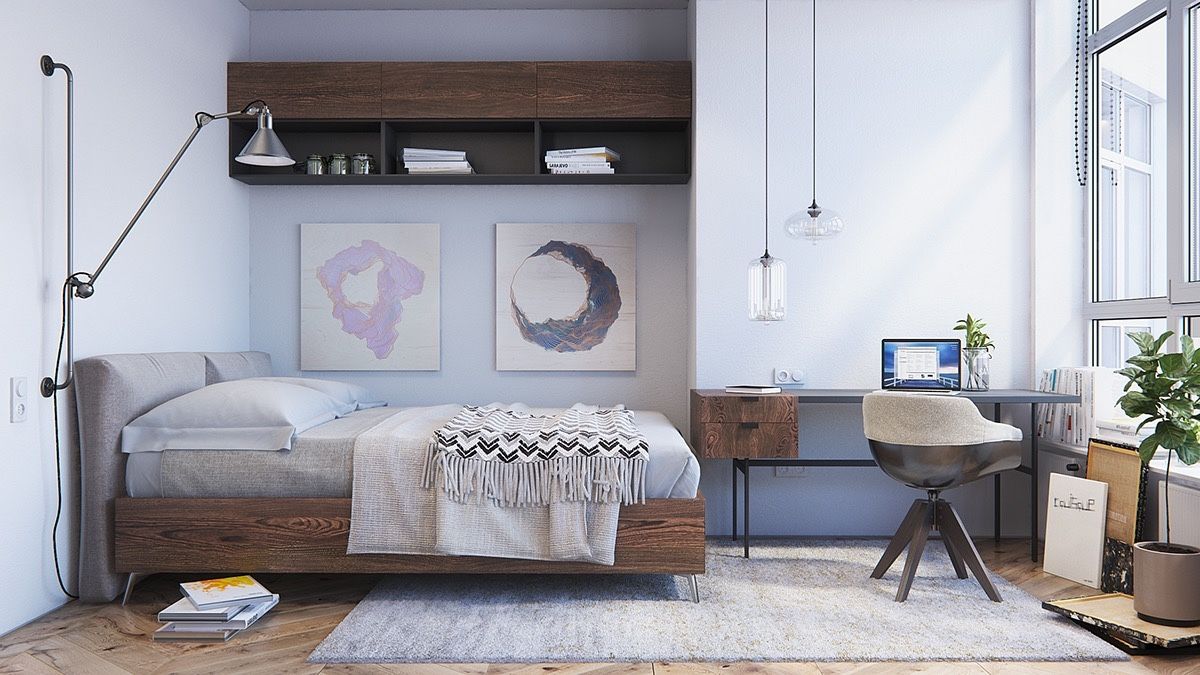 While storage and art would normally occupy a headboard wall, here it takes a prominent position at the side of the bed. The adjustable ask lamp is a versatile touch. The desk chair used here is the Flow chair by Jean Marie Massaud.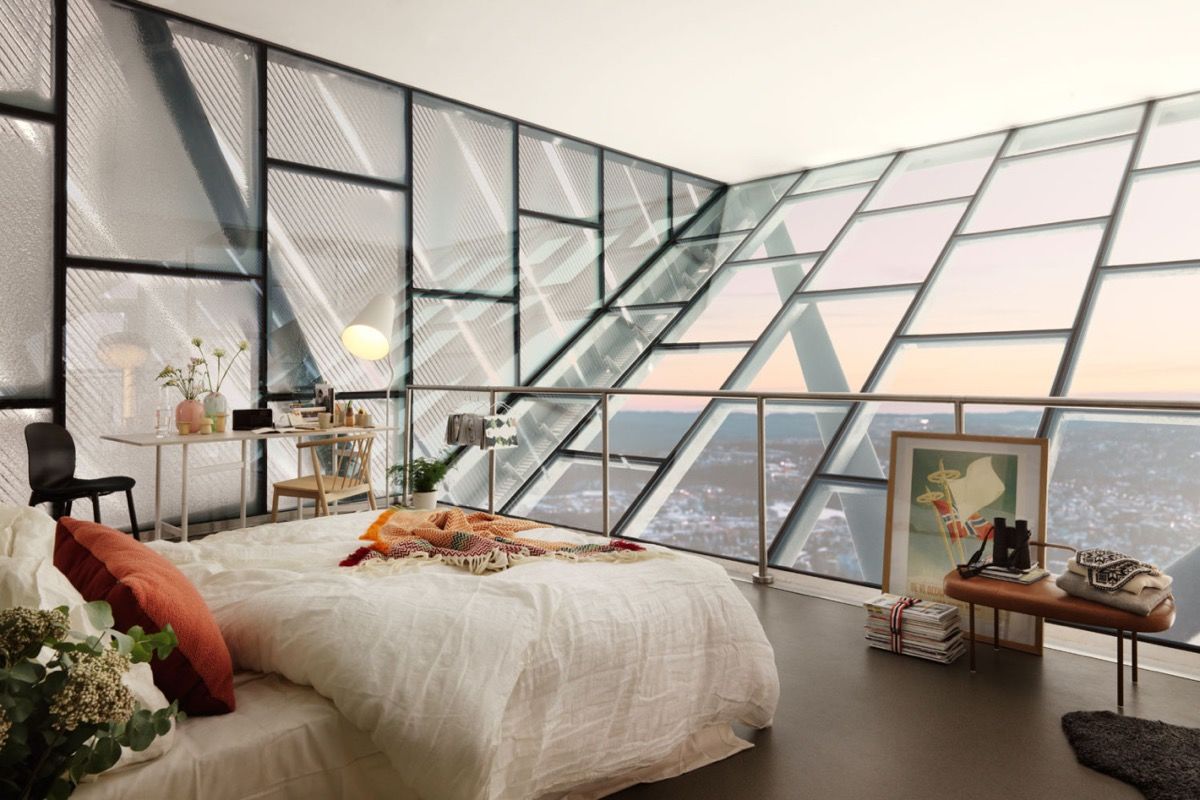 This space was decorated for a contest hosted by Airbnb, the interior accommodations created by Melissa Hegge using only Norwegian design objects – some of which are prototypes. The apartment occupied the uppermost point in the famous Holmenkollbakken ski jumping hill in Oslo as part of the limited-time contest.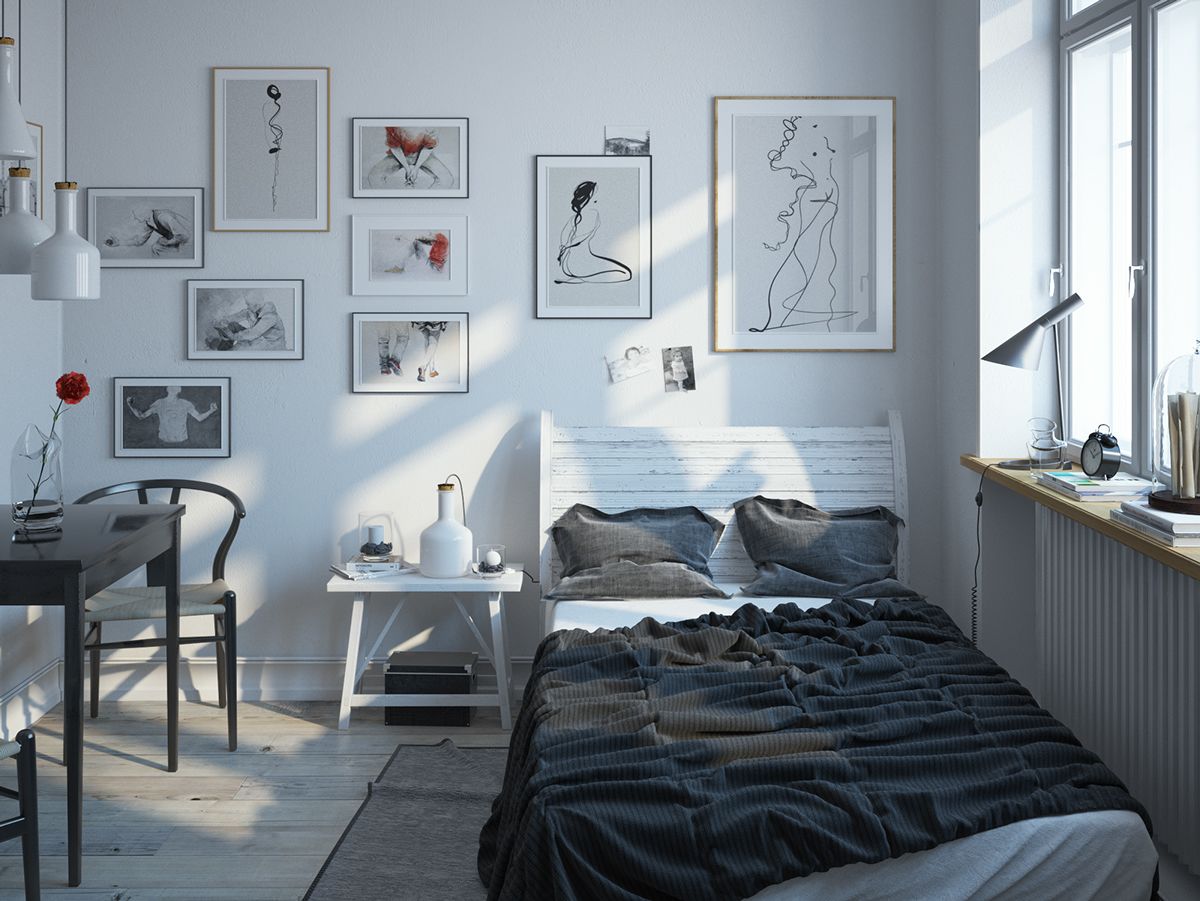 Dark bedding and furniture offer up a cozy appeal, with the trademark white walls given personality with beautiful illustrations. This room features accessories from notable Nordic designers like Arne Jacobsen (AJ table lamp) and Hans Wegner (Wishbone chair).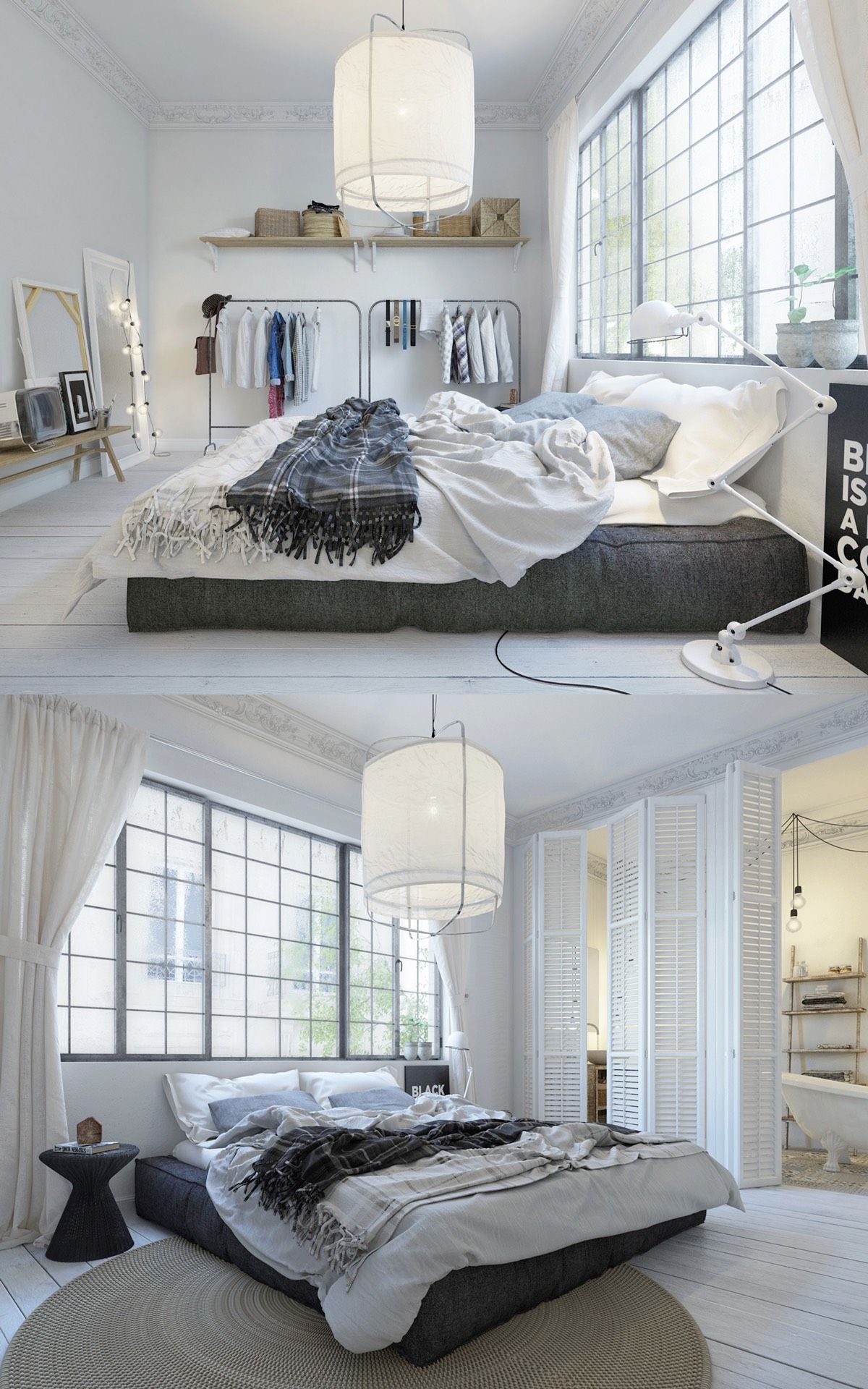 Rather than using the large walk-in space for a closet, it boasts a classically decorated bathroom instead. The clothes racks serve as a stylish substitute.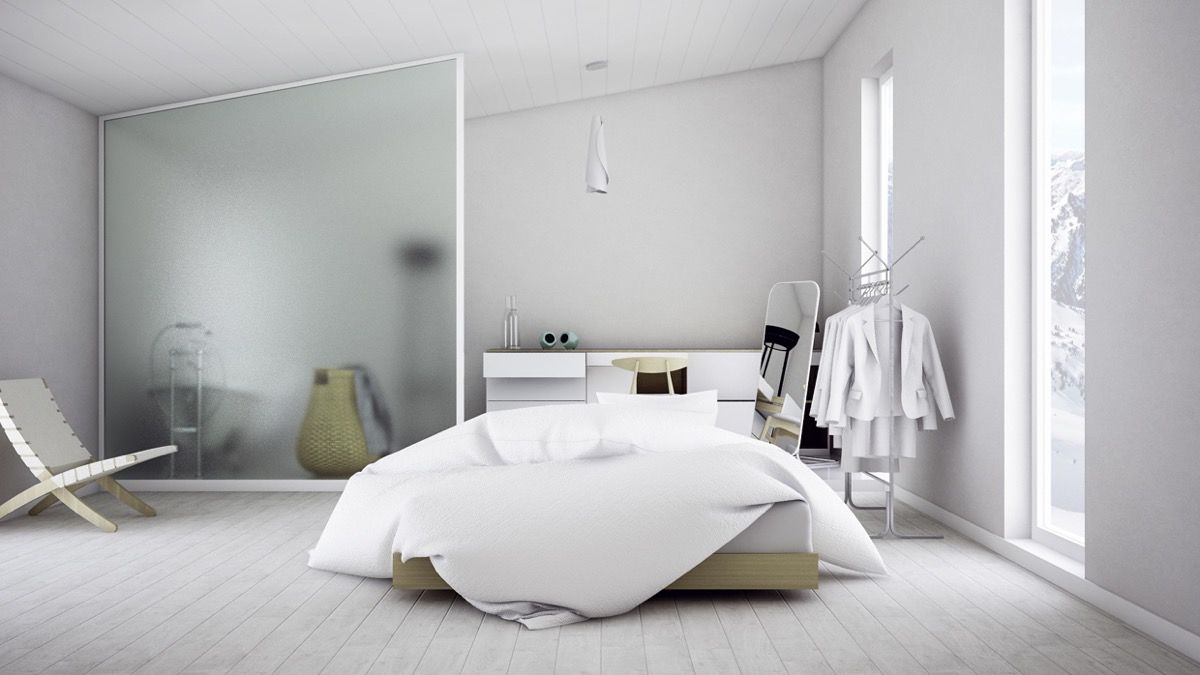 This spacious bedroom is minimalistic and charming at the same time.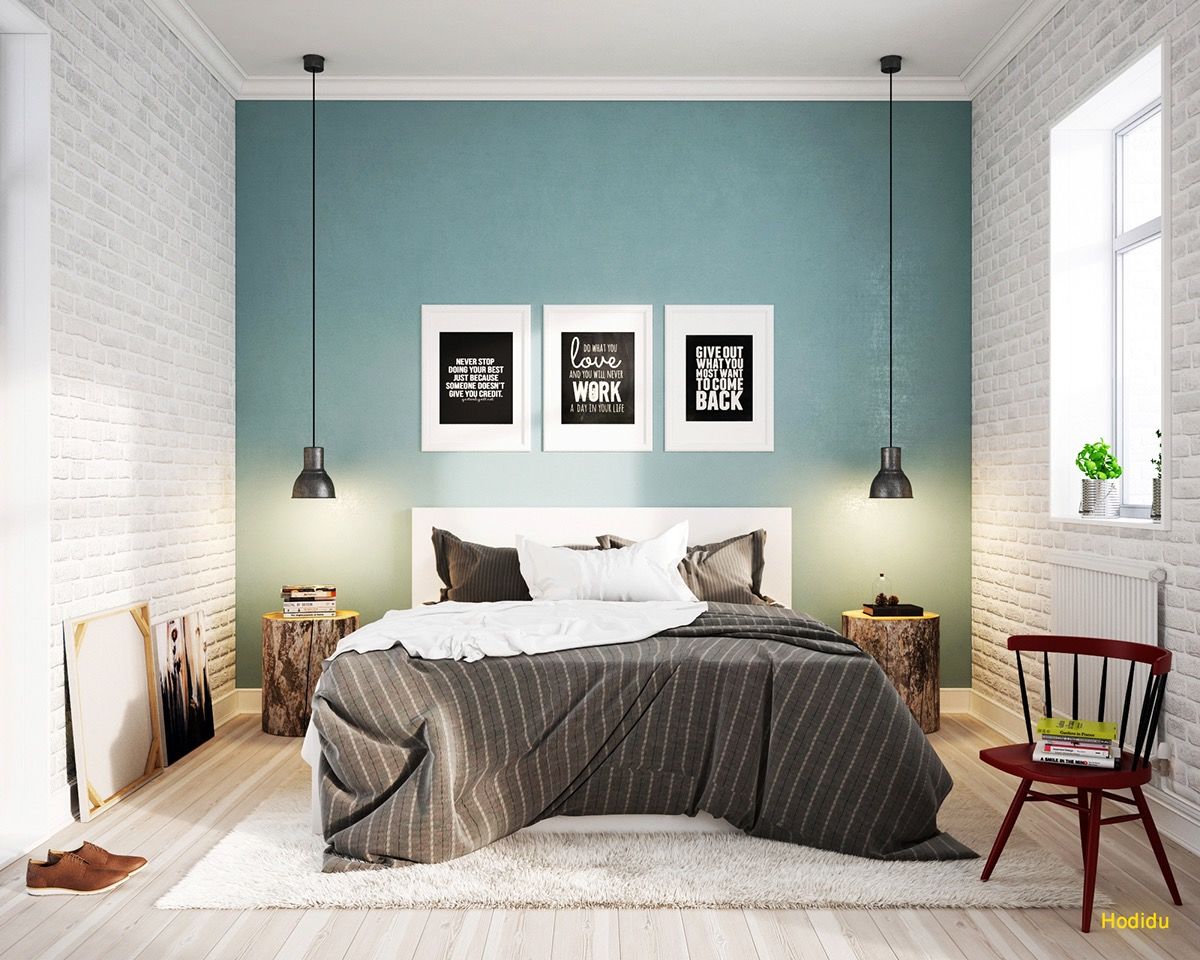 A fantastic blue accent wall boosts this room and provides a lovely backdrop for the wooden side tables and high-contrast typographic prints. Artwork is simply propped against the exposed brick to the left: a good solution when you can't drill or hammer into the walls.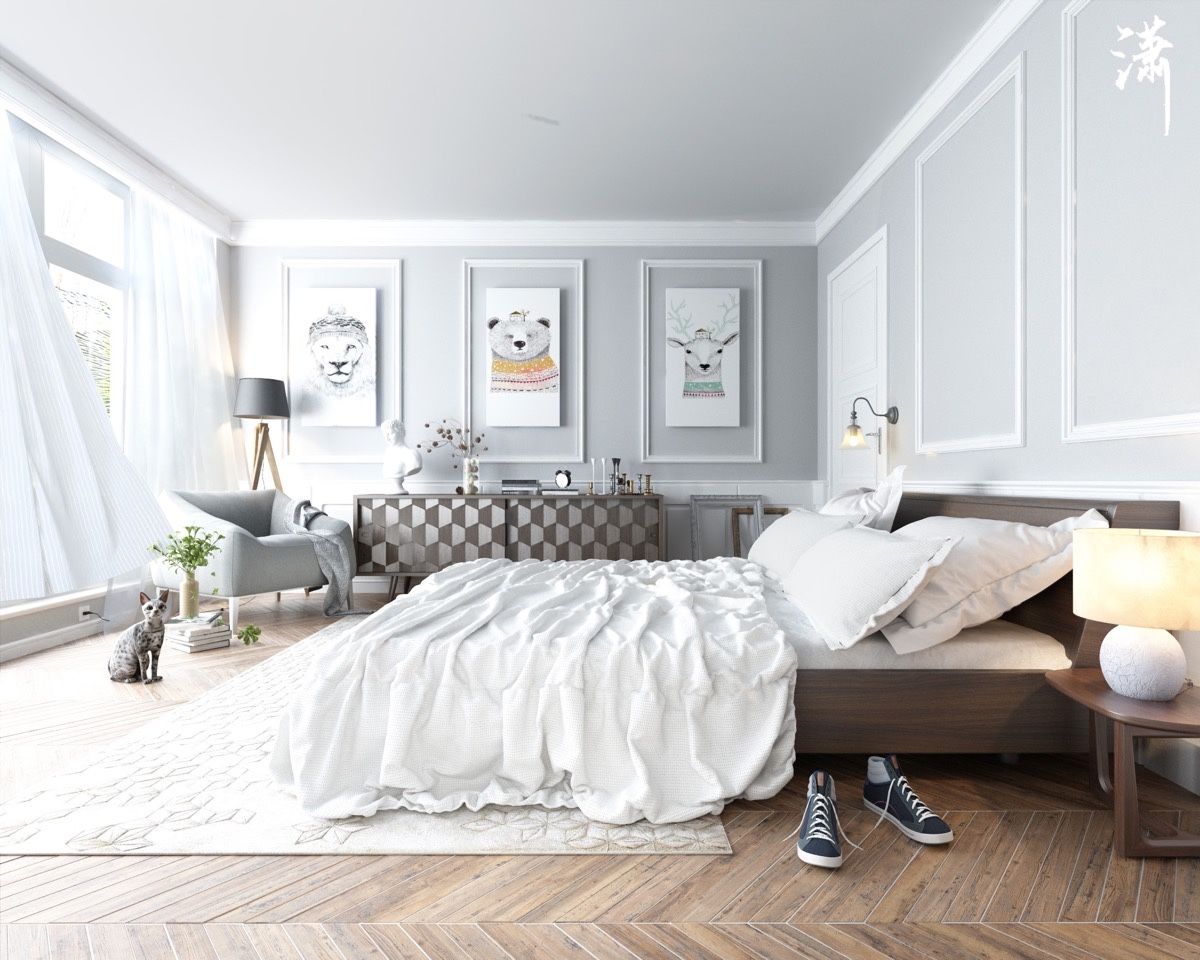 Cheerful animal prints wearing warm winter clothes helps make this traditionally decorated bedroom feel a little warmer and cozier. A midcentury-inspired sideboard cabinet centers the arrangement with a bold geometric pattern.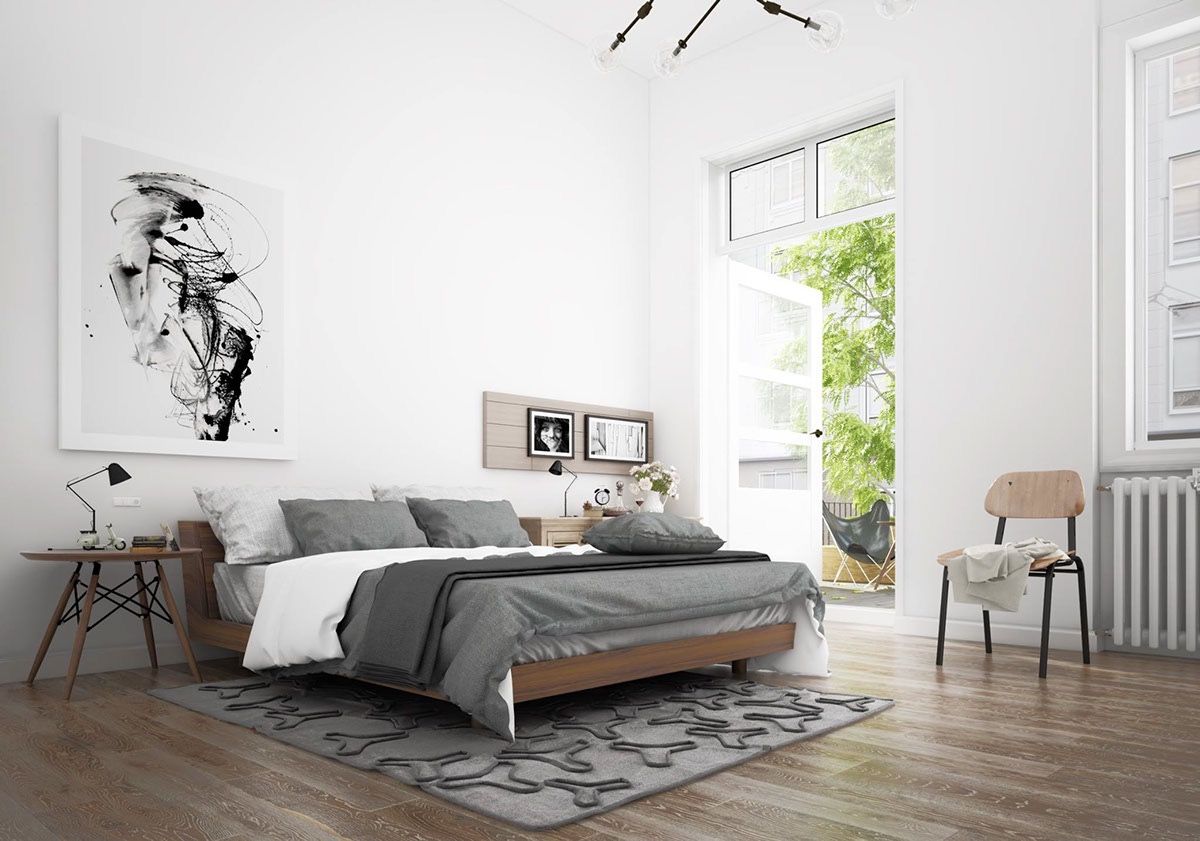 Expansive white walls required a few smart accents to check the sense of scale, readily accomplished by the tall balcony door and the abstract art print to the left.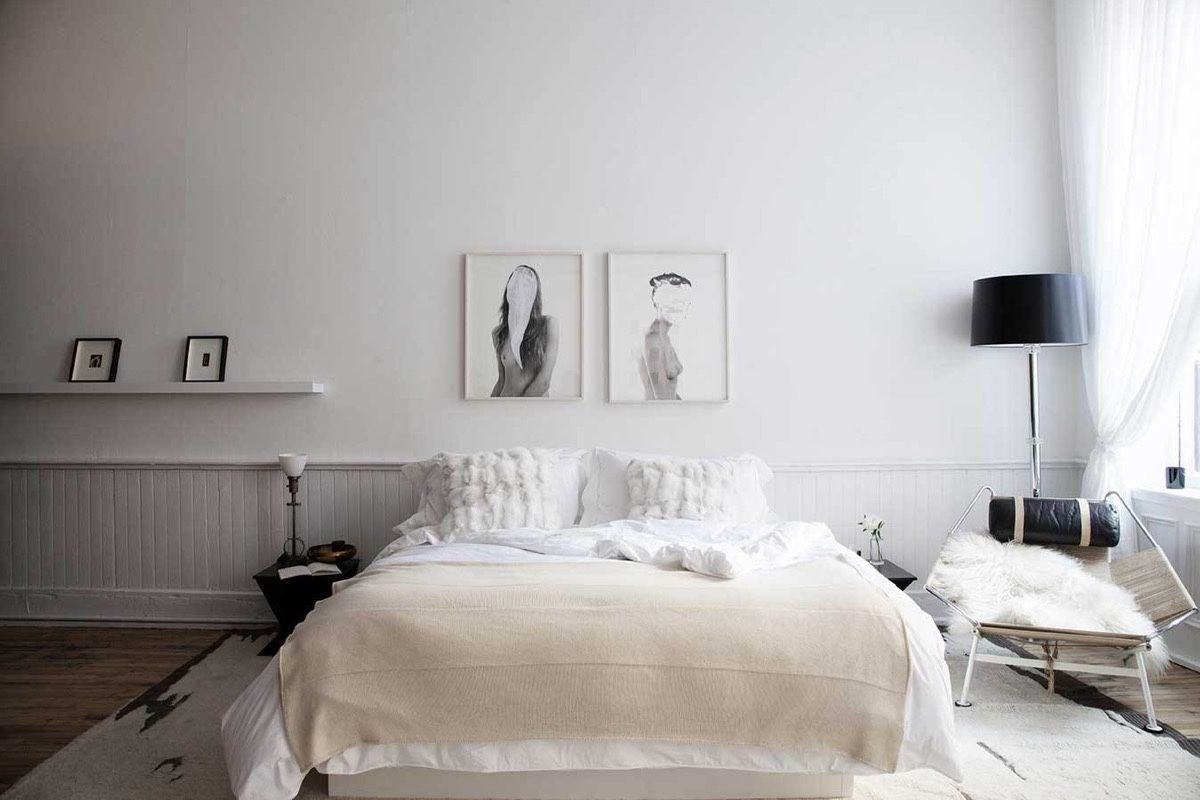 Charming, subdued, quintessentially Scandinavian. Layered textiles and warm fur complement the spare and minimalistic space. The fascinating woven chair to the right is the iconic Flag Halyard by renowned Danish designer Hans Wegner.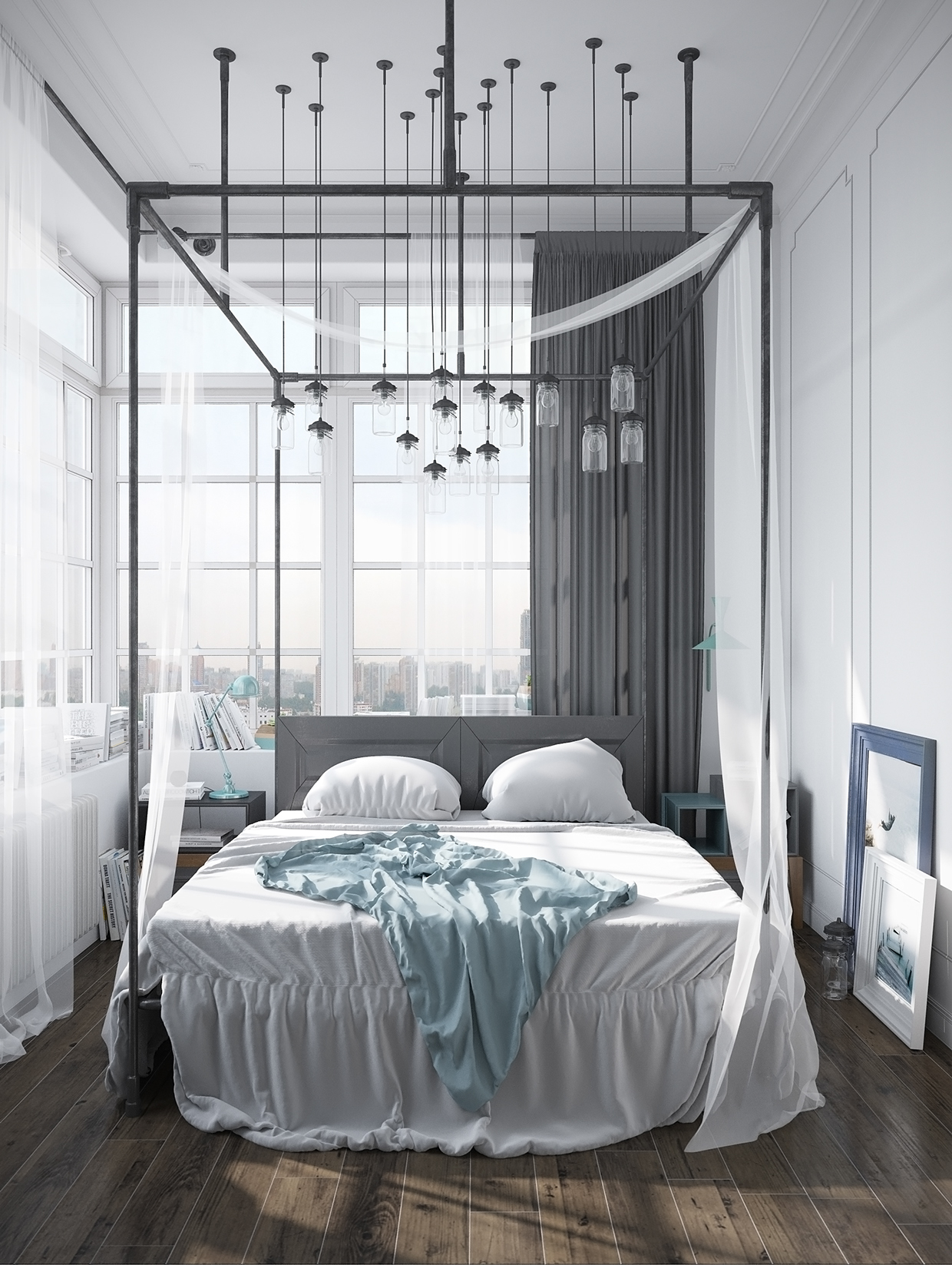 Jar-shaped lights and a delicate canopy bed frame give this bedroom a taste of the Scandinavian countryside right in the middle of the city.

Strong organic themes give this bedroom a classic and natural appeal. The live edge table is significantly lighter in color than the floor, but the light brown bedspread helps to balance the distribution of tones. The ethereal lamps hanging above are the work of photographer/designer Mark Eden Schooley.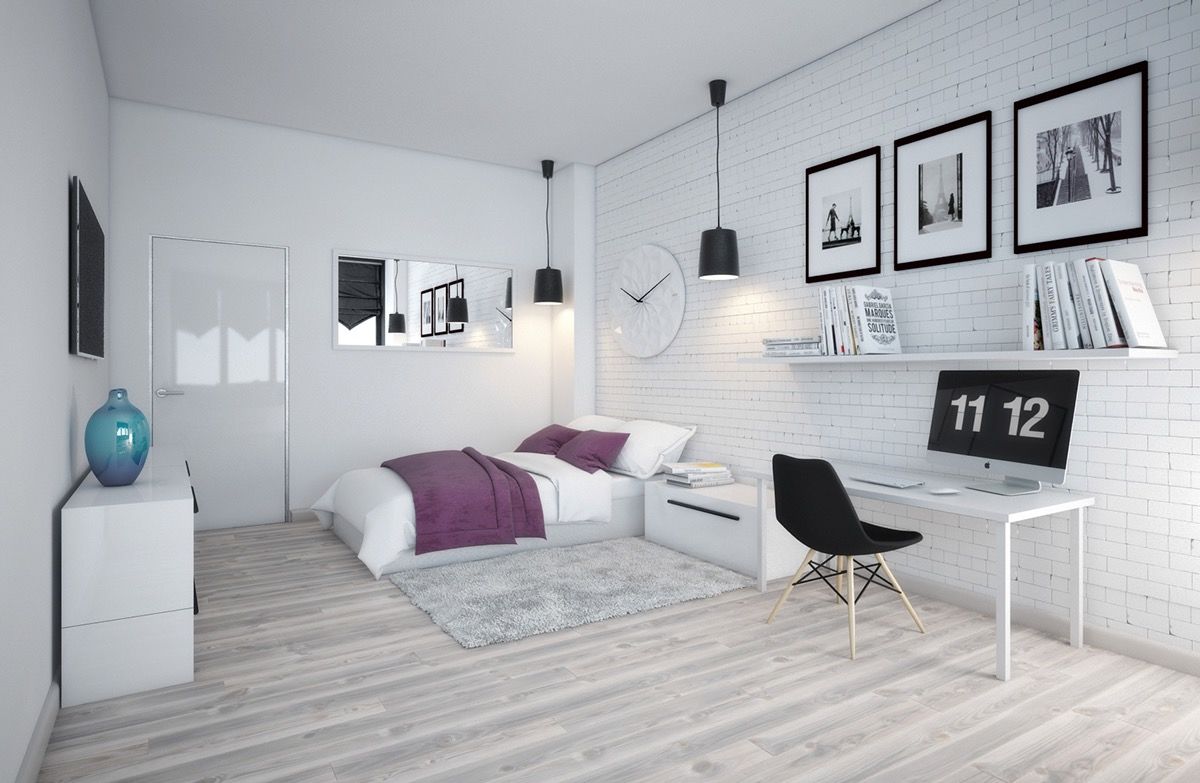 Carefully chosen color accents energize this bright white-and-black room. Purple and blue aren't the most common color themes for a Scandinavian interior but this application is quite modern and lively.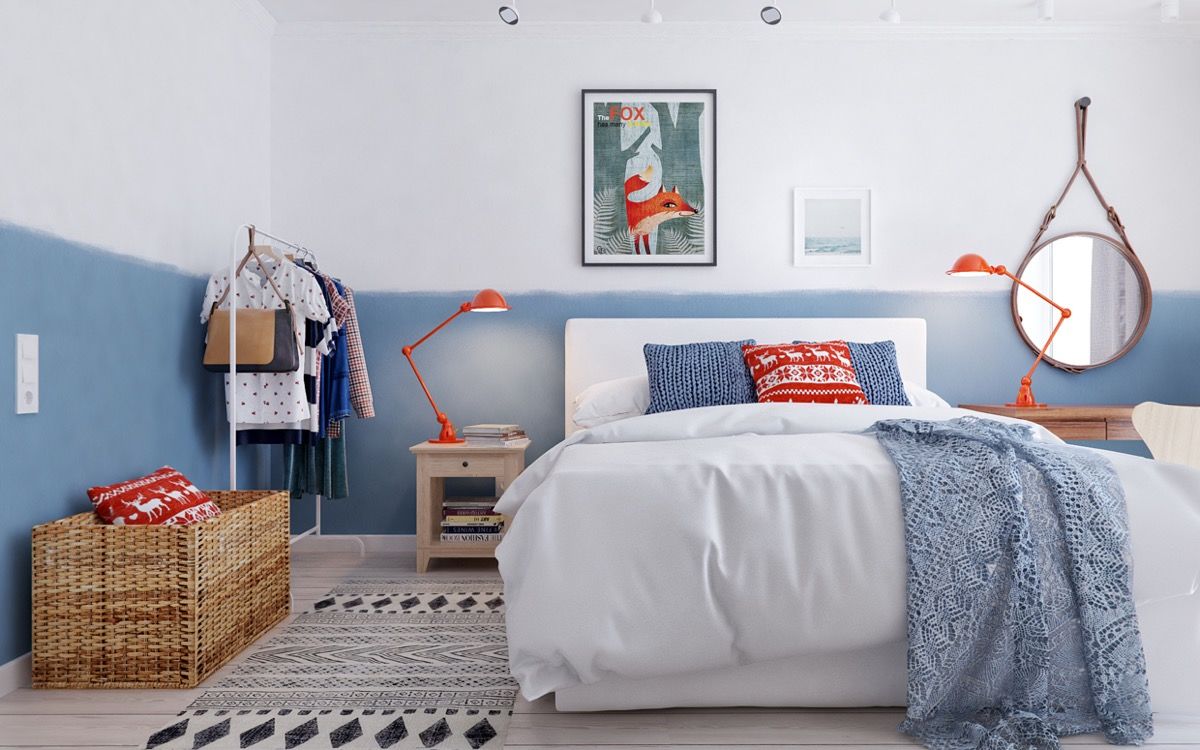 Soft cornflower blue and powerful reddish-orange make this bedroom stand out from the crowd. The theme is playful and colorful, perfect for a child or an adult.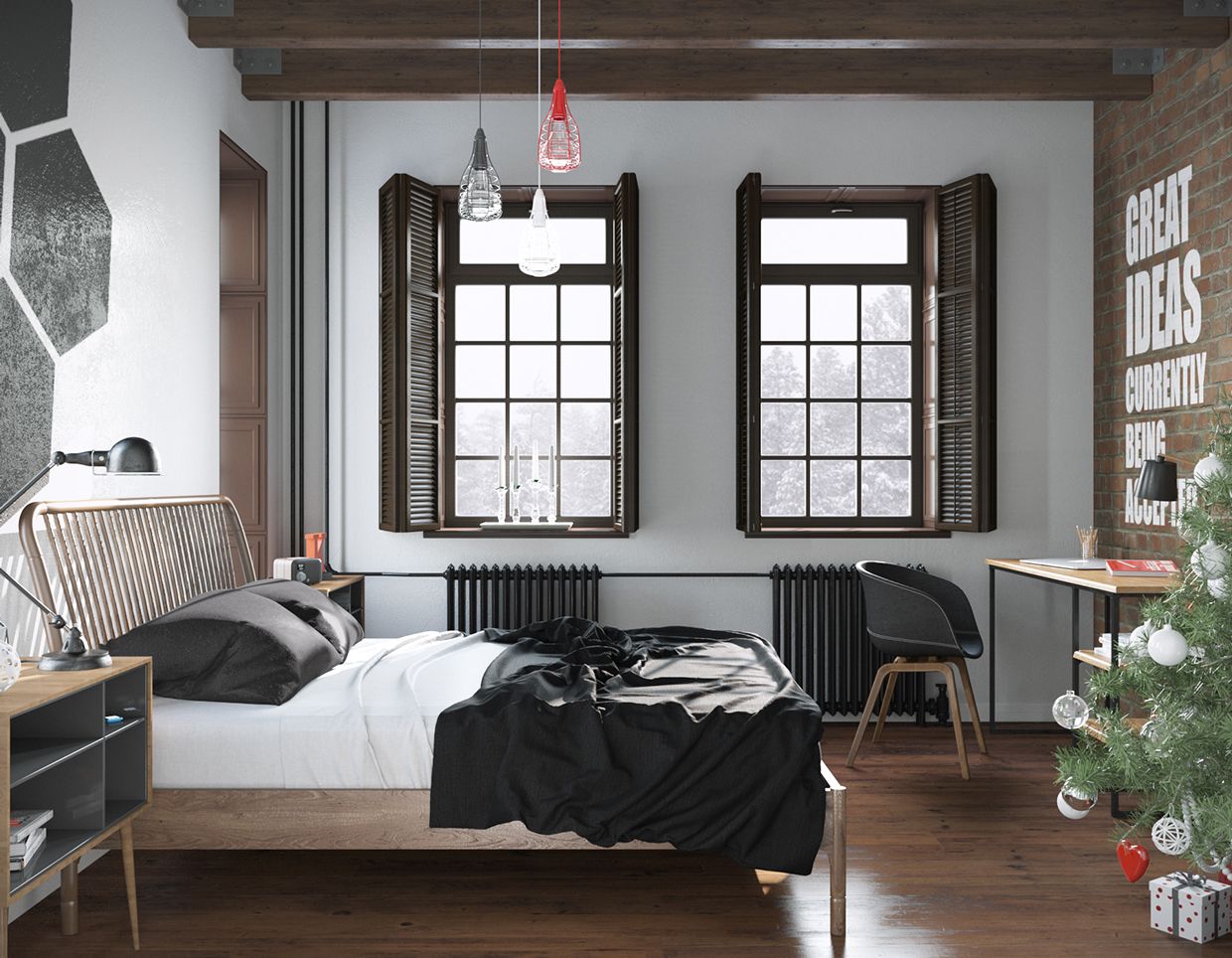 Typography and geometric patterns bring this simply appointed bedroom up to date with today's most beloved design trends. The bedframe and window shutters, on the other hand, demonstrate a charmingly traditional vibe.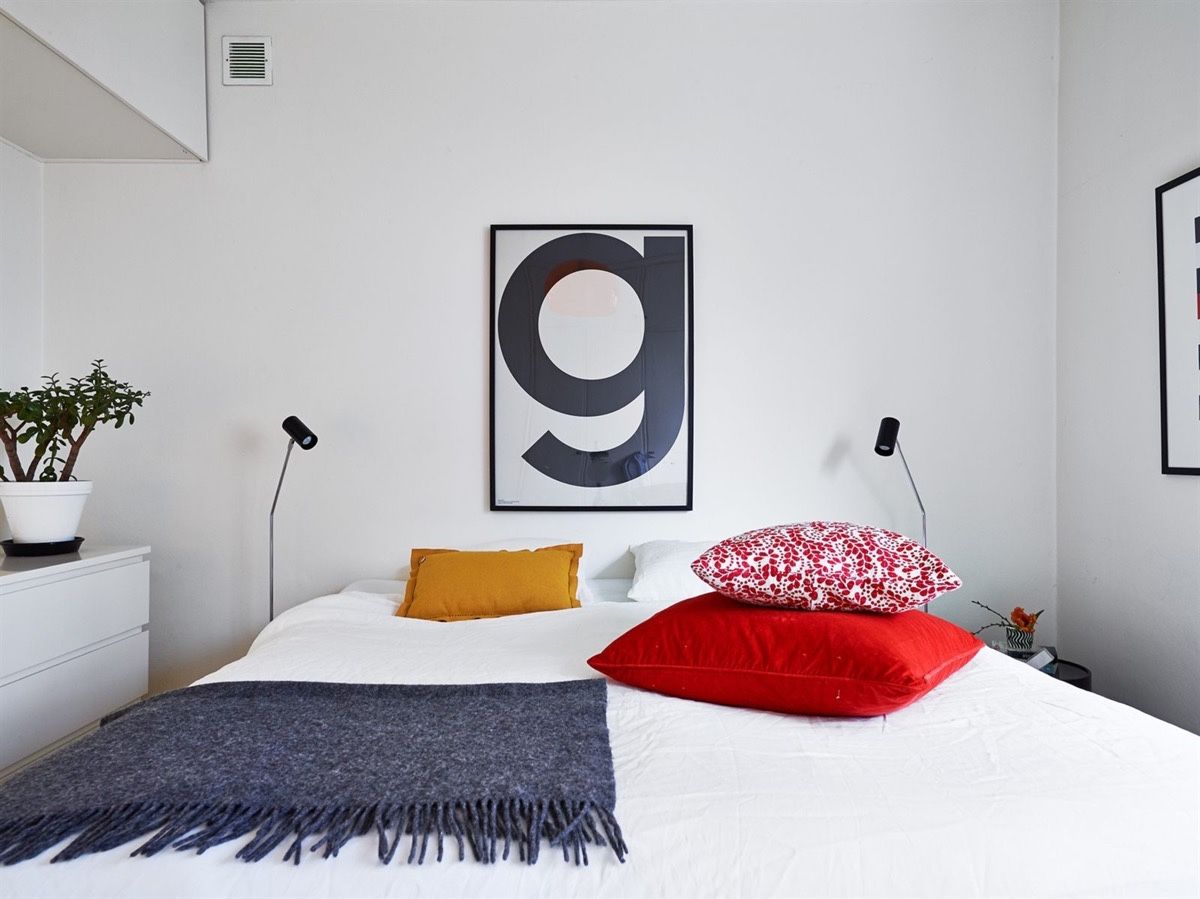 Goldenrod, bright red, and blueish-gray tones come together to create an approximation of the primary color theme of the De Stijl style, a Dutch art movement founded in 1917.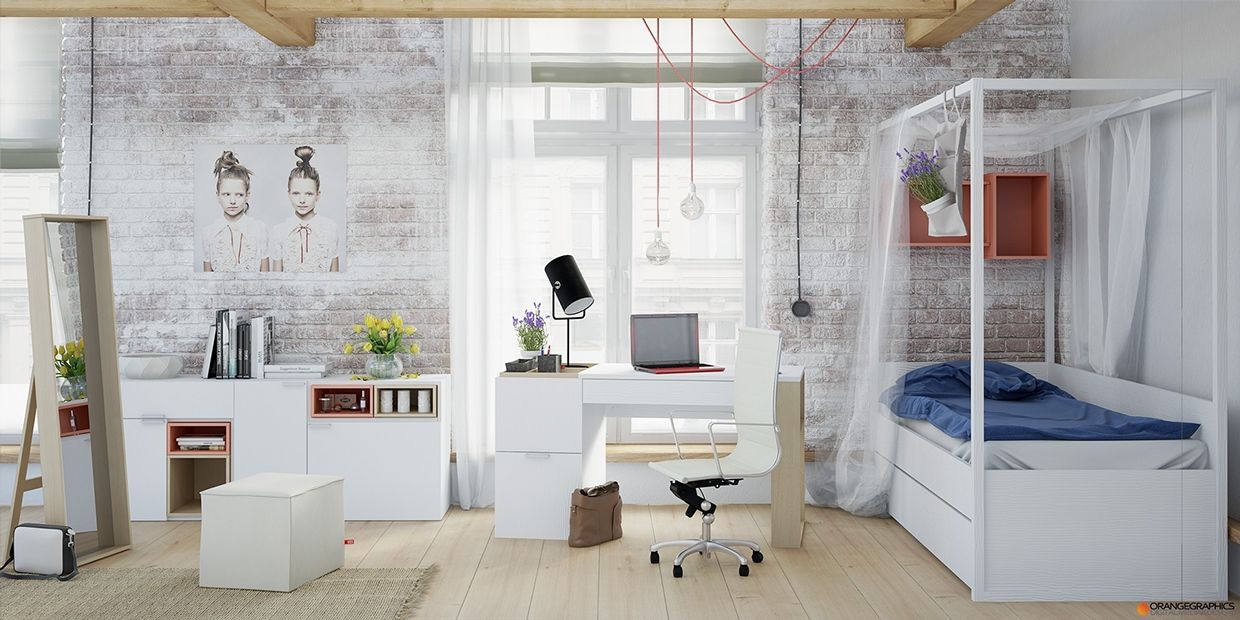 Distressed whitewashed brick and light wood give this Scandinavian bedroom a chic and urbanistic style balanced by classic ceiling beams and a playful canopy bed.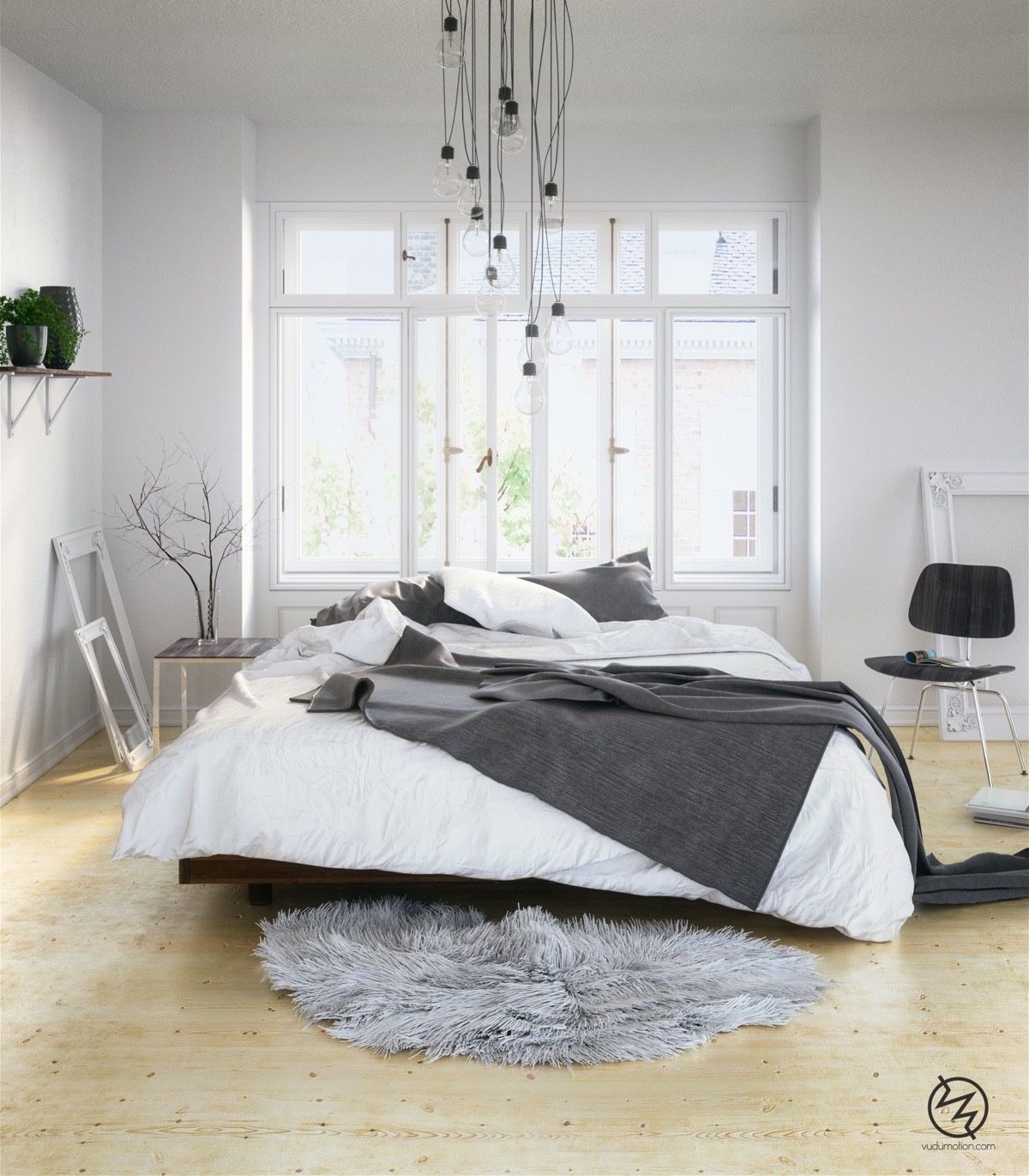 This post has already highlighted plenty of grayscale bedroom themes but it's time to examine what really makes those interior styles work. Without the layered textiles, this room might just look minimalistic – and without the chic accessories, this space would seem purely modernist.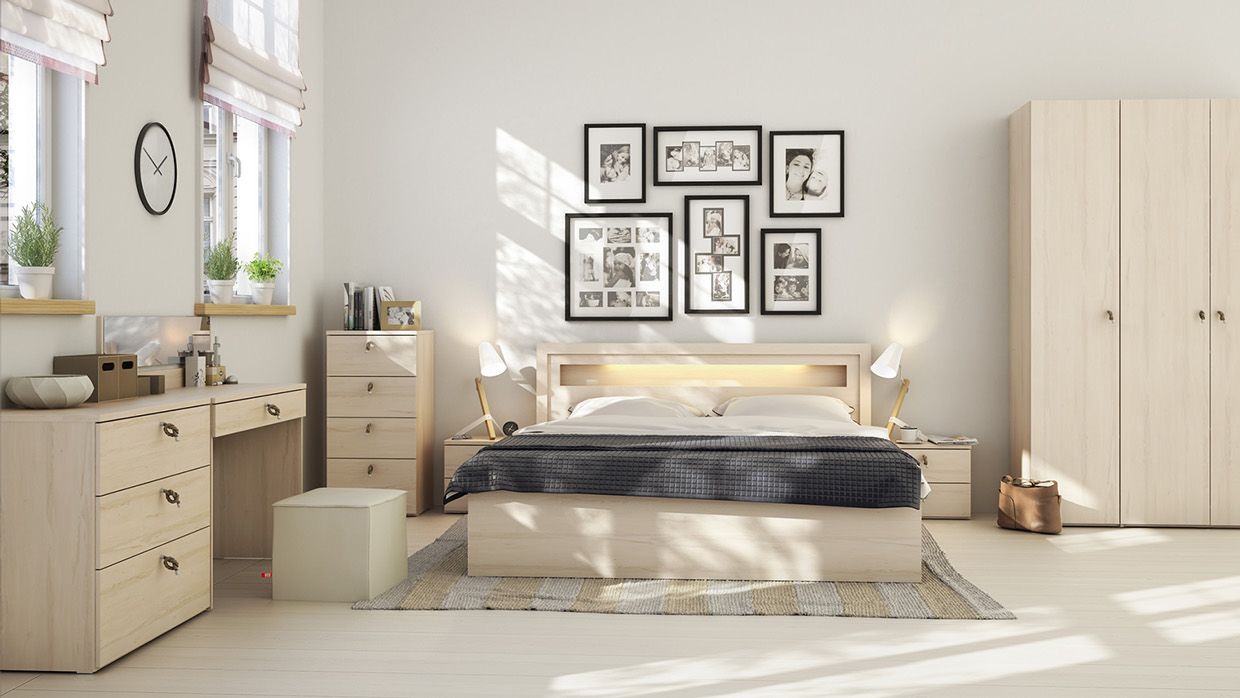 Light unfinished-looking wood helps this bedroom achieve an organic aesthetic.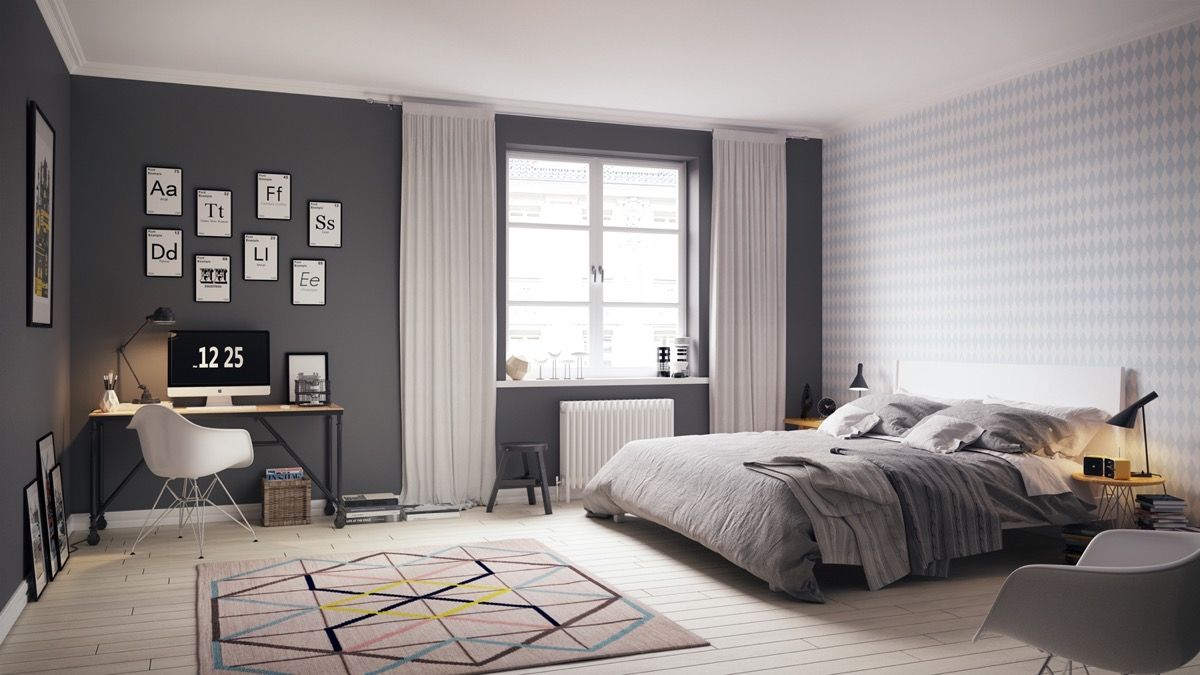 Grayscale, typography, science themes, and geometric prints… this bedroom combines the best of modernist design trends with the classically subdued aesthetics of Scandinavian decor.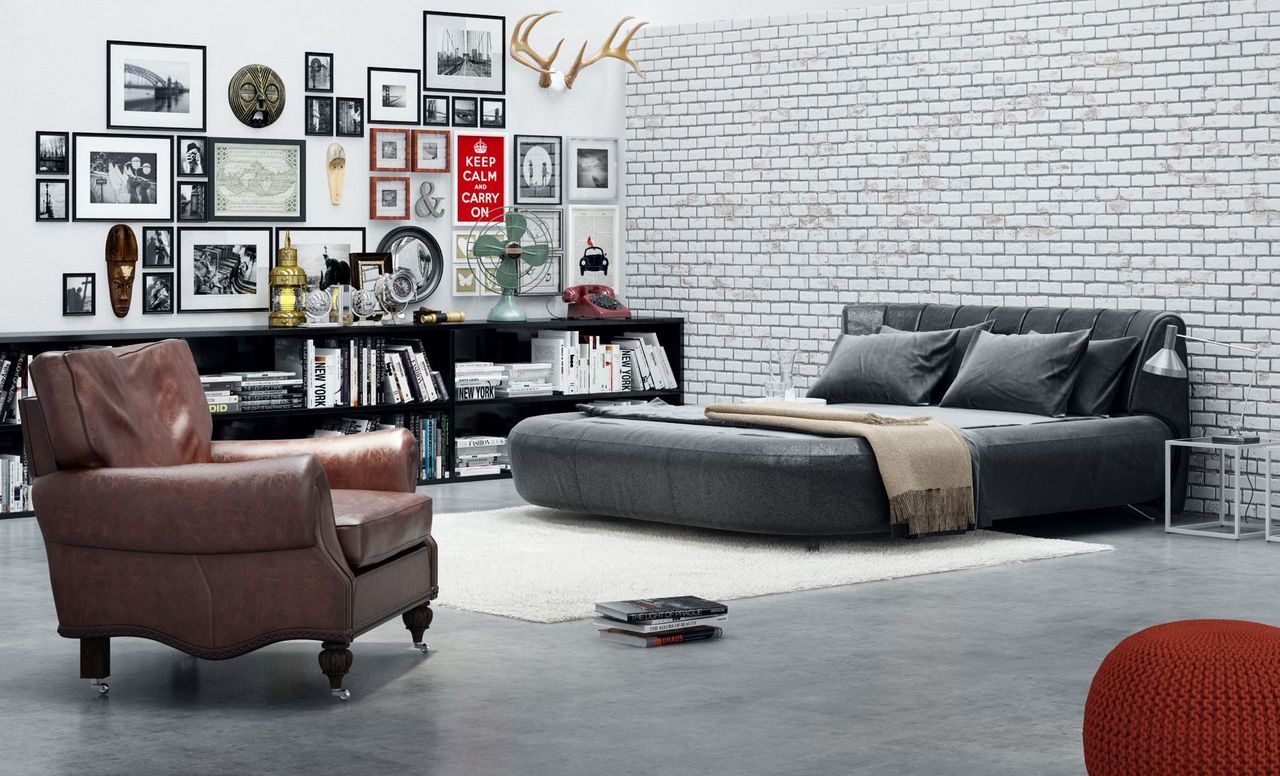 Exposed brick sets the immediate theme, somehow proving more of a focal point than the charismatic series of framed prints to its right. Note the vintage appliances as decor along the sideboard shelves – an affordable and easy to emulate style for any interior.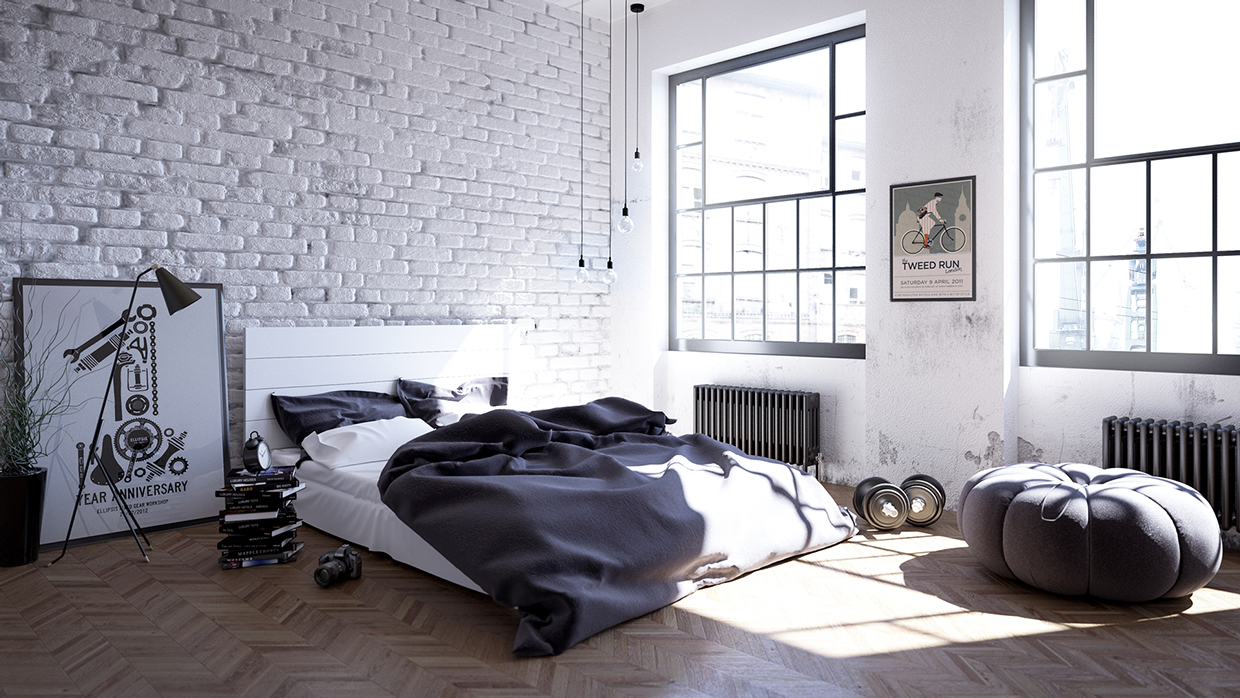 Exceptionally weathered exposed brick embraces a Scandinavian theme with a cohesive coating of white paint. Muuto pendants hang in the far corner, and lifestyle decor occupies a selective variety of empty spaces.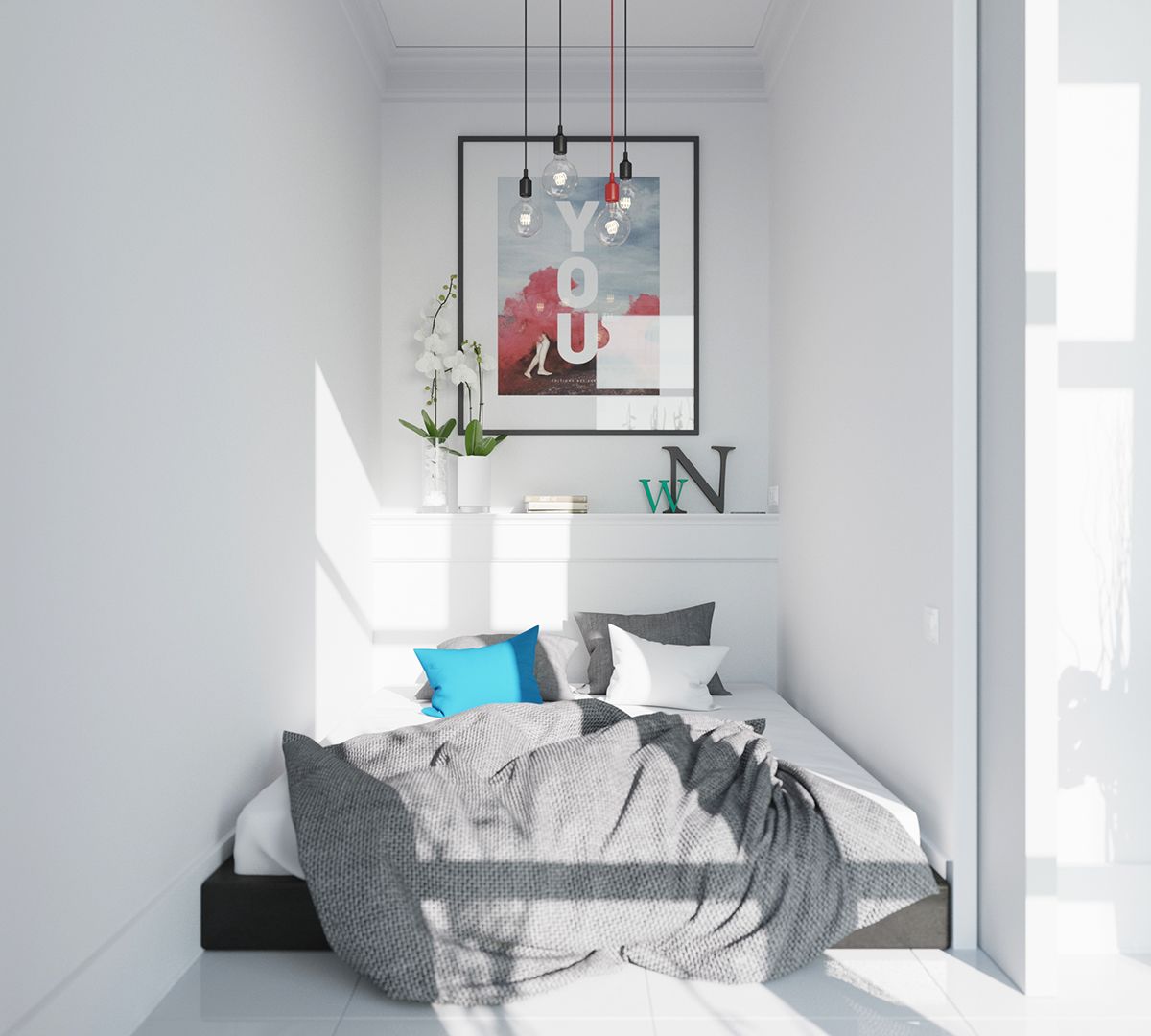 Ultra-compact, but filled with personality!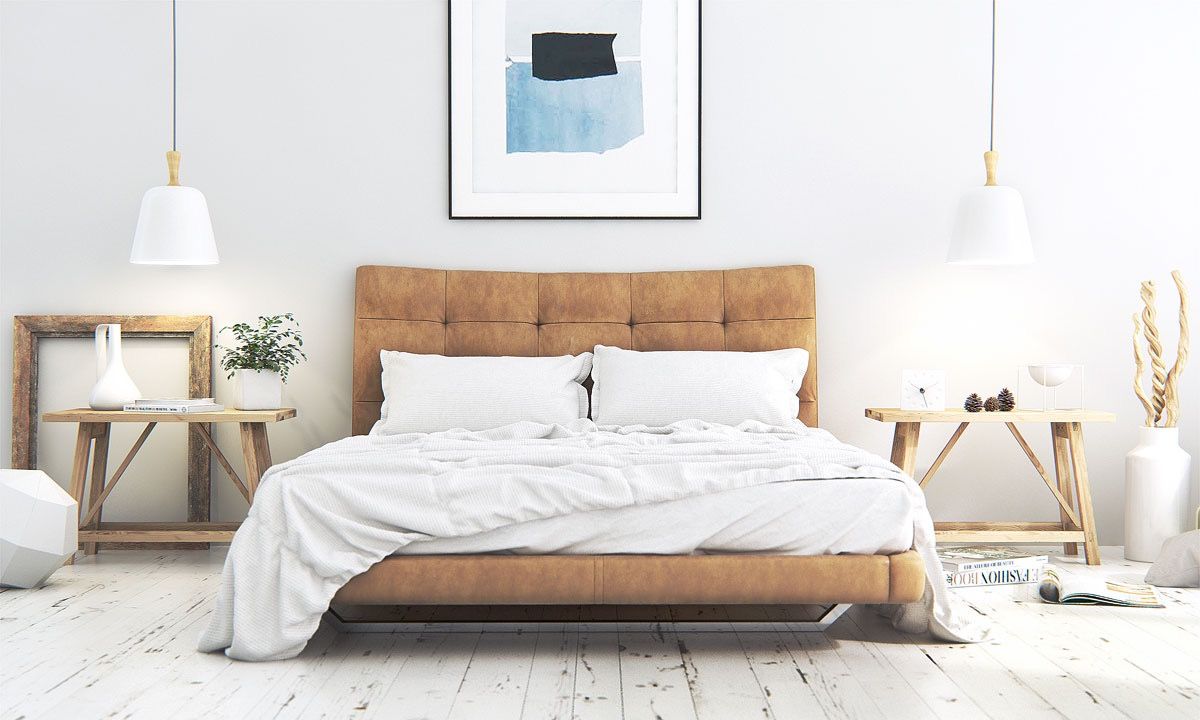 Suede and wood pair well with the distressed white paint and colorful watercolor accents used throughout this bedroom design.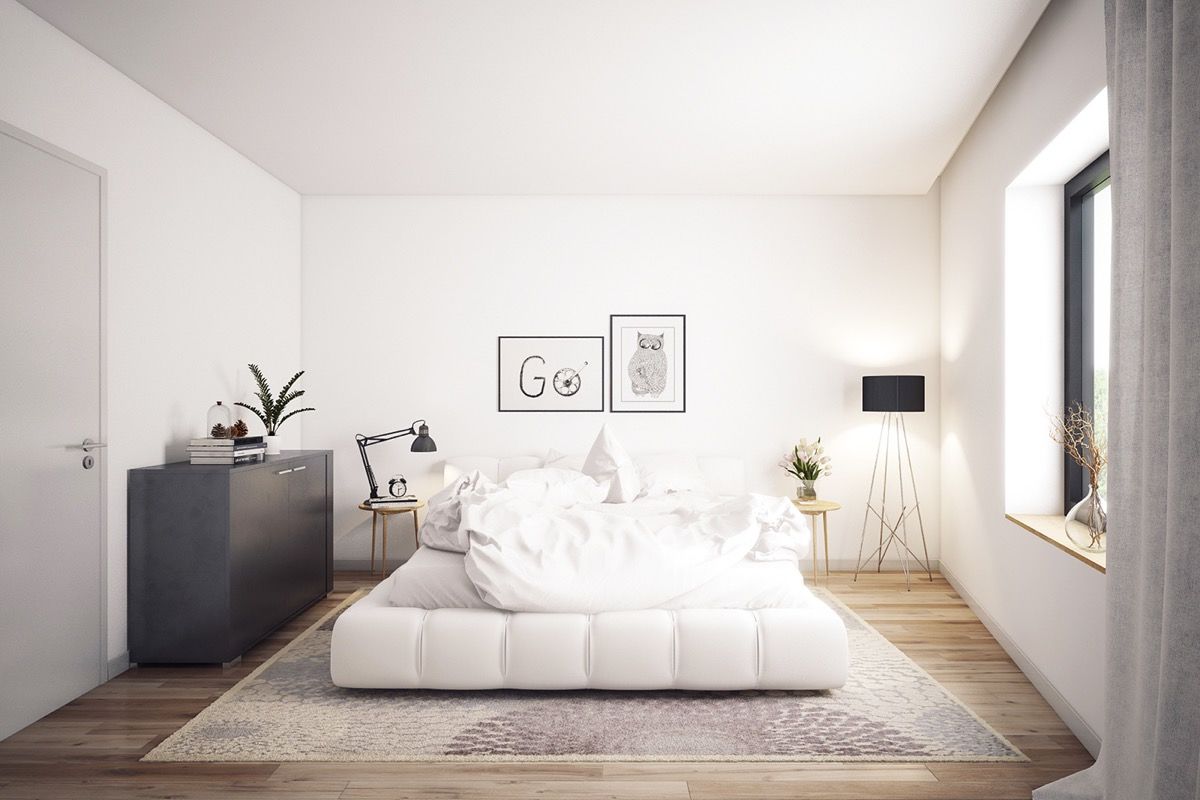 Of all the minimalistic spaces highlighted throughout this post, this interior is one of the most streamlined yet doesn't sacrifice an ounce of personality for its clean aesthetic.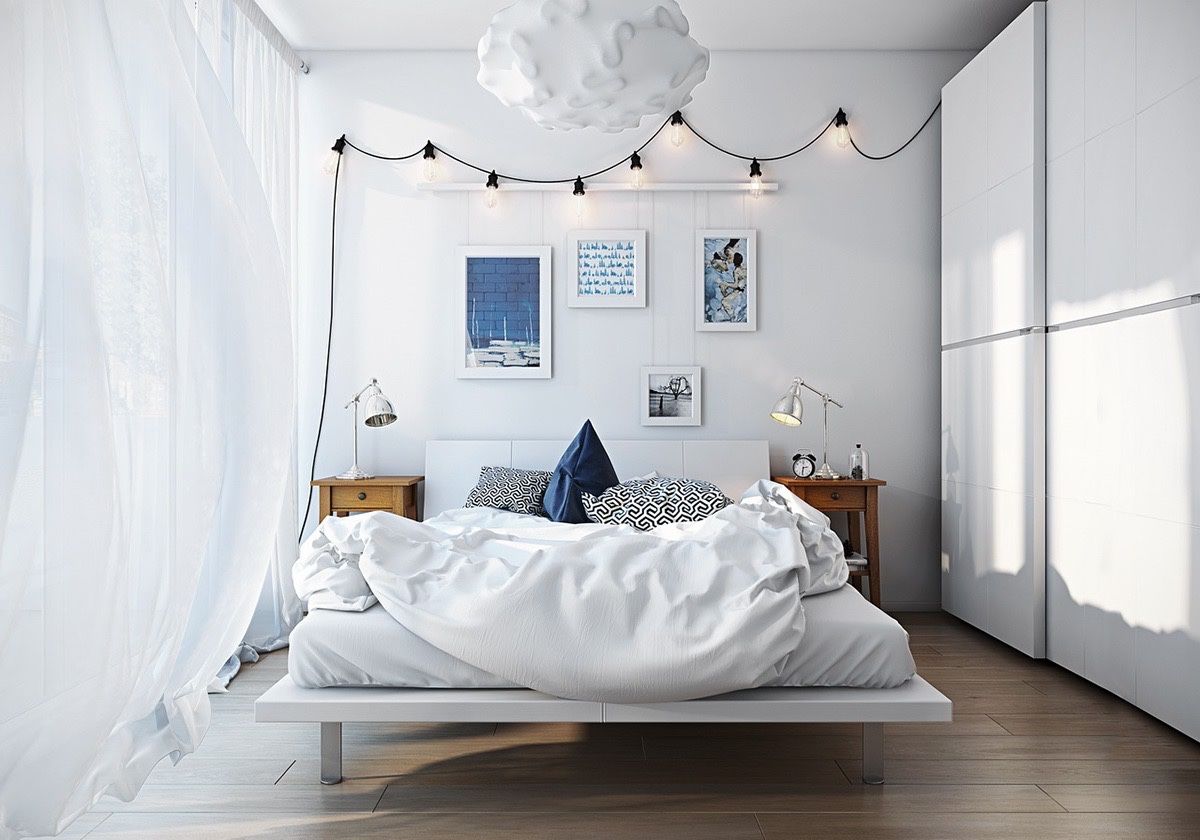 Light and weightless – this theme is embodied by the gauze-wrapped pendant lamp serving as the focal point in this simple blue and white themed bedroom.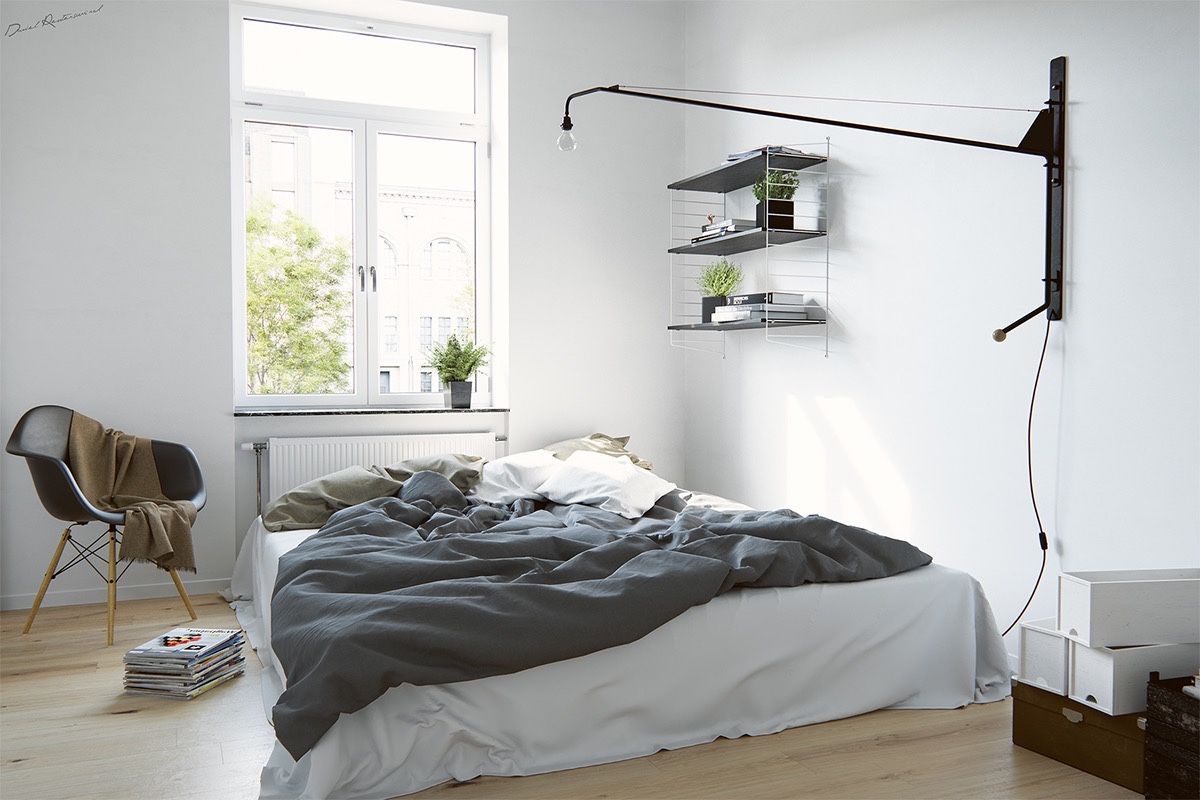 The perfect mix between chic Scandinavian decor and industrial-inspired design! This bedroom boasts a grayscale interior pared with plenty of wire. The bedroom chair you see here is the Eames molded plastic chair.