More than a million people have taken part in the 50th anniversary of the UK's first Pride parade in London.
Hundreds of LGBTQ+ community groups attended the march from Hyde Park Corner to Whitehall Palace earlier.

Revellers wearing face paint, glitter, jewels and sequins joined the celebrations as Pride returned for the first time since the Covid-19 pandemic.

The event, hailed as the most inclusive in history, included performances from Ava Max and Emeli Sande.

The parade paid homage to the original 1972 march, organised by the Gay Liberation Front (GLF), and saw revellers pass significant sites from the UK's LGBTQ+ movement.

Floats lined Park Lane ahead of the main march through the capital, which was led by GLF activists holding placards reading "I was there in 1972".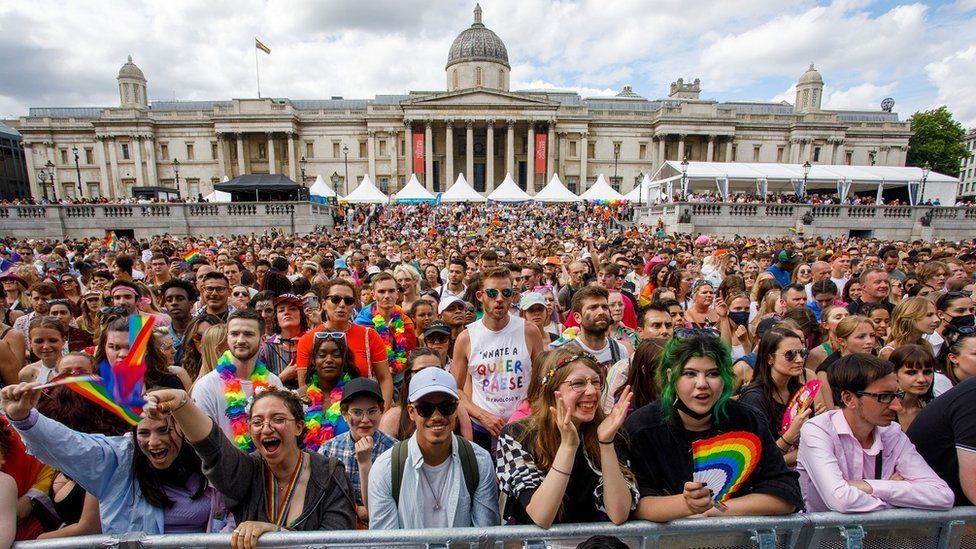 Thousands gathered in Trafalgar Square to celebrate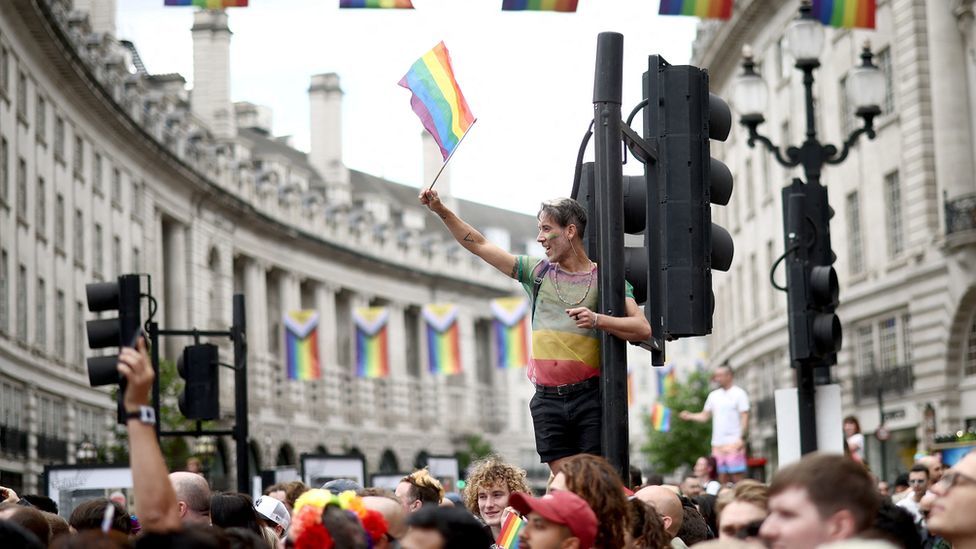 The parade paid homage to the 1972 march, passing significant sites from the UK's first LGBTQ+ movement

In Trafalgar Square, Dame Kelly Holmes told the crowd she would "never live behind that curtain again" after coming out as gay last month.

"For 34 years I have never been able to say those words until two weeks ago, due to the fear of judgement and retribution that was instilled in me since the age of 18 because the laws in the military and being in the public eye," the Olympic champion said.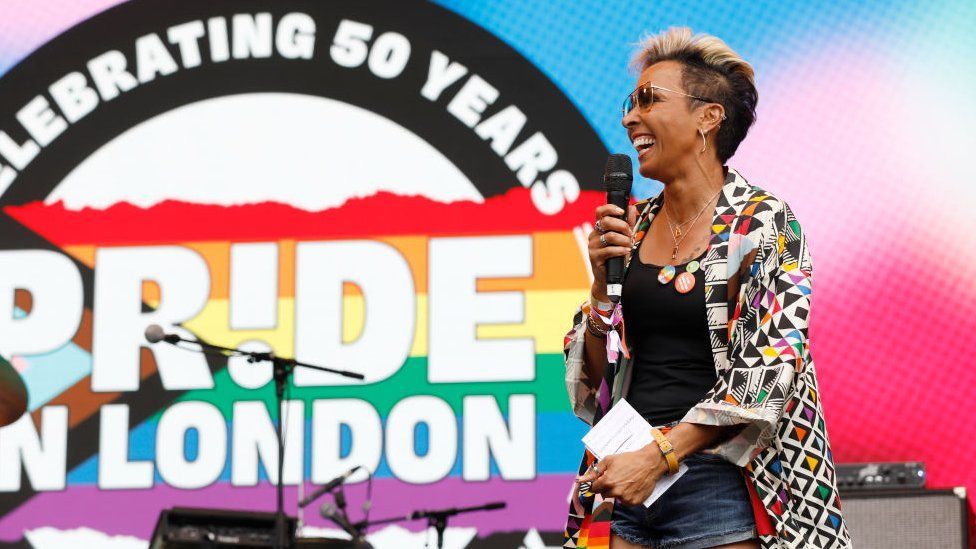 Dame Kelly, 52, shared her relief at coming out as gay last month

At the front of the parade, the star of Netflix coming-of-age drama Heartstopper, Joe Locke, said it was an honour to be celebrating "being queer when the world might not be so accepting".

Padraigin Ni Raghillig, who rode her Harley-Davidson at the front of the Pride parade as president of Dykes on Bikes London, said it felt "fantastic" to be back after two years.

And Kevin, from Uganda, said he was "so, so, so happy" to come to Pride in London.

"I'm proud to be a gay man," he said.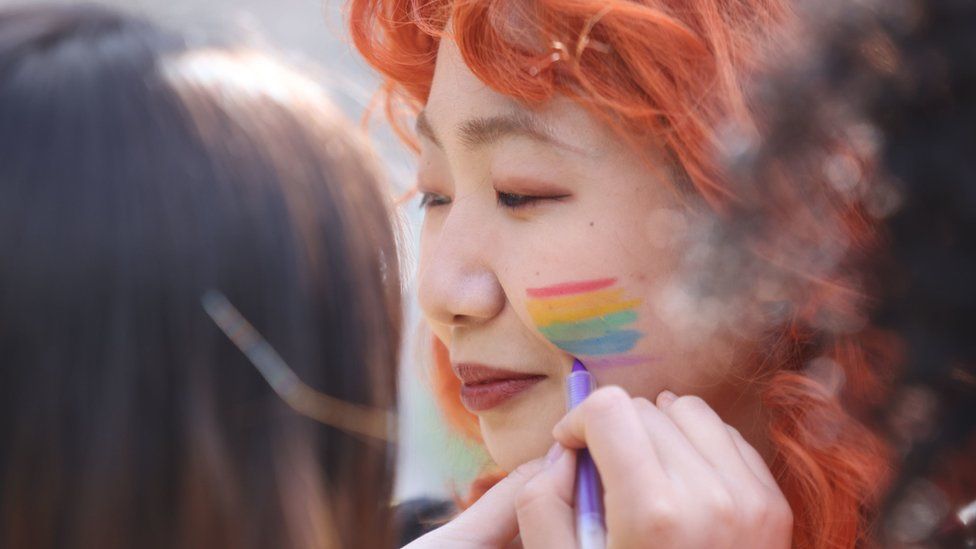 Pride volunteers add rainbow face paint to each other's faces ahead of the Pride in London parade
Loud, proud and back

By Lauren Moss, LGBT and identity correspondent, at the parade

In 2022 Pride is most definitely a party.

People were dancing in the street, throwing sweets, blowing whistles and having a great time.

An enormous rainbow flag billowed out behind the Gay Liberation Front, who organised the first protest in 1972.

There's no doubt that it's worlds away from what it was when it started with a few hundred people risking arrest for kissing each other in the street.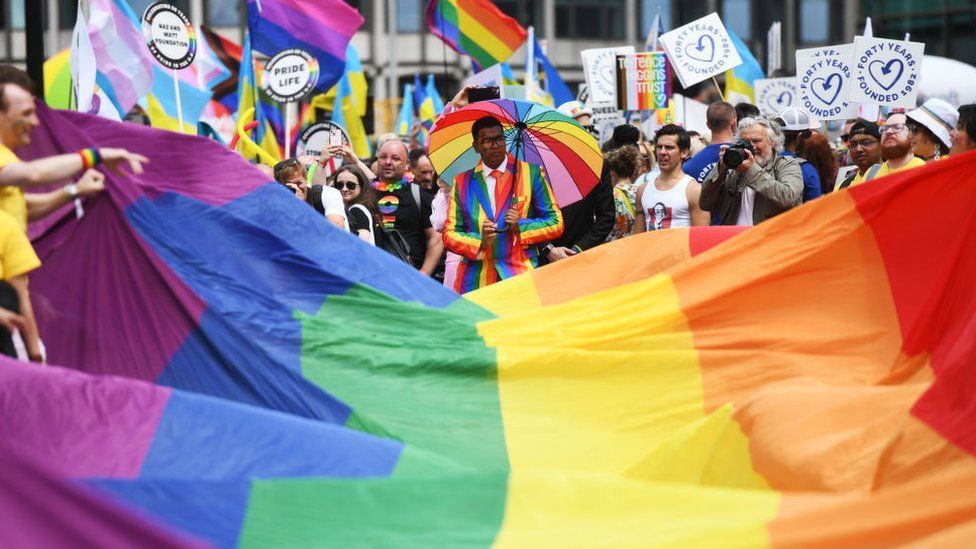 More than 600 LGBTQ+ community groups joined the march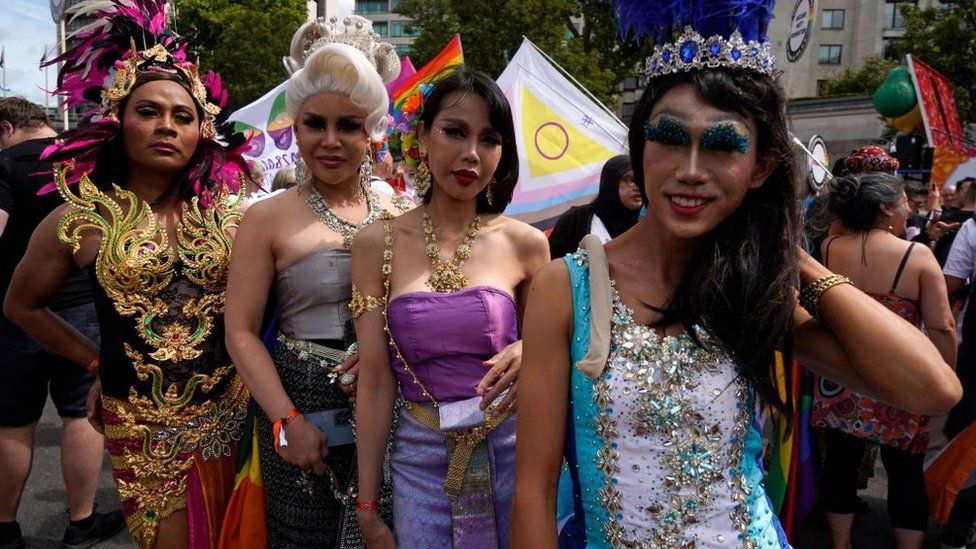 Revellers wore face paint, glitter, jewels and sequins

They're followed by thousands of people who want to make their voices heard at the place where Pride was born 50 years ago.

Mohammed Nazir, 24, from Bangladesh, from campaign group Rainbows Across Borders, said he wanted to dedicate this year's pride to those who were still forced to hide their sexuality.

"Pride is about self-affirmation, dignity and equality. It is a way to meet some other LGBTQ people," he said.

"Pride is a movement where we're still fighting for our rights."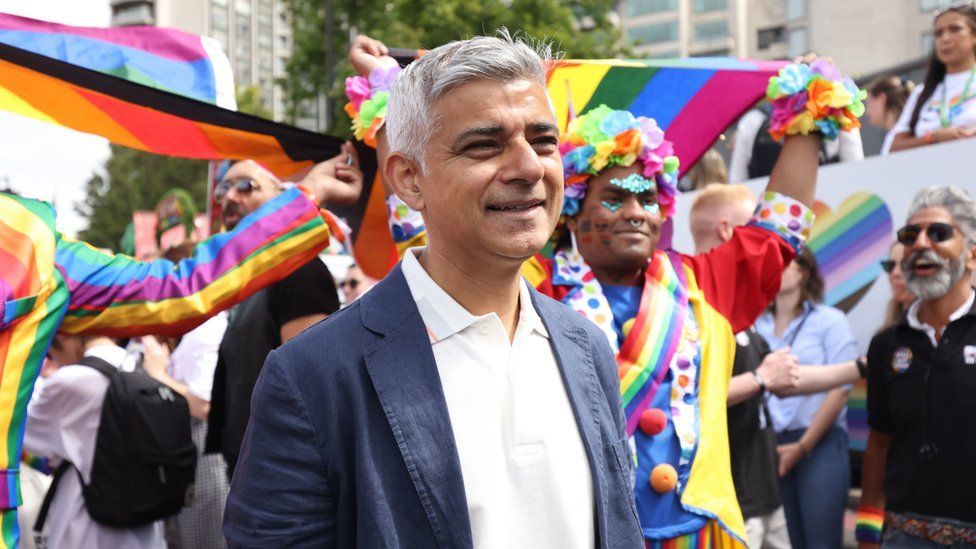 The Mayor of London said there was still a "danger" to the LGBT+ community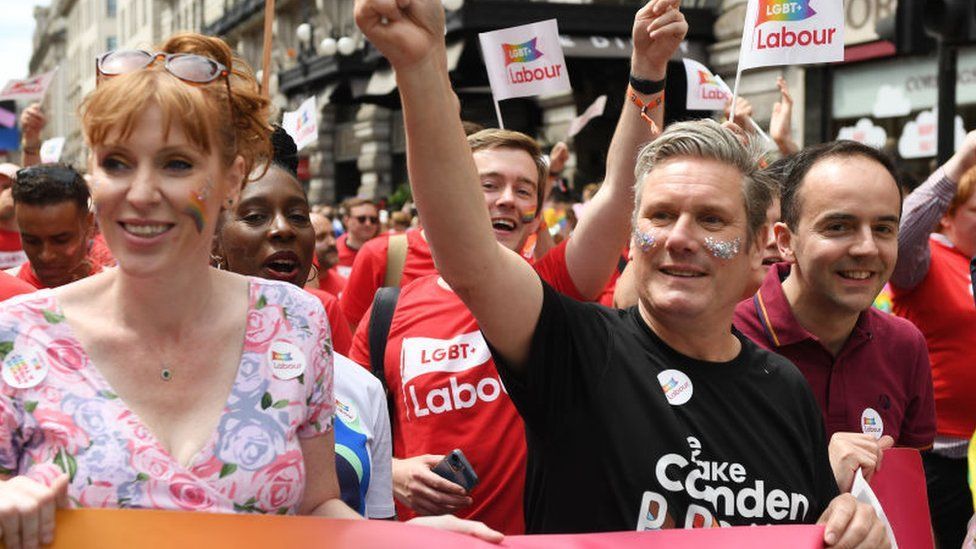 Angela Rayner and Keir Starmer also joined the parade

The Mayor of London Sadiq Khan said there was still a "danger" to the LGBTQ+ community.

"We saw this time last week an attack in Oslo just hours before that parade, where two people lost their lives and more than 20 were injured," the Labour mayor said.

"We're marching today for an open, inclusive accepting world. We're marching today for those in Oslo, for those who haven't made the progress we've made."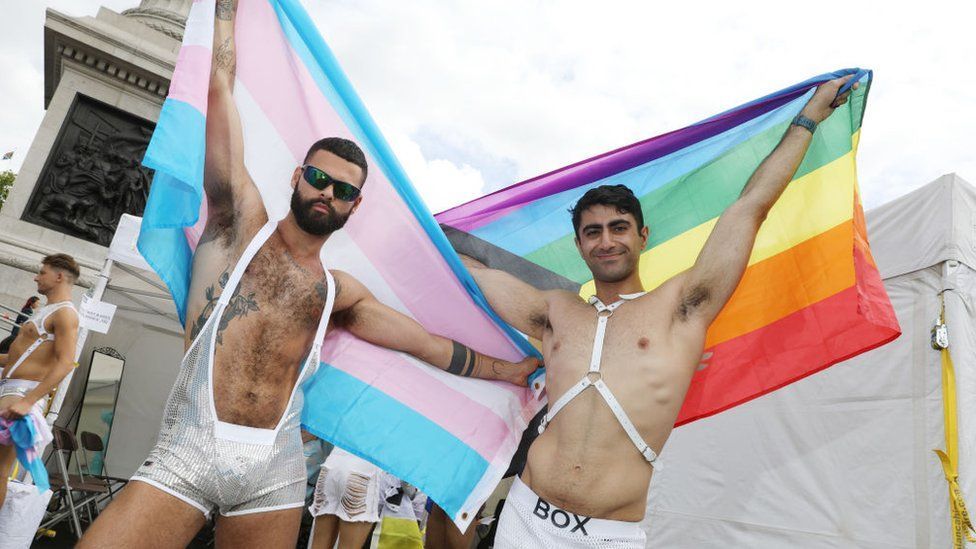 Revellers gathered in Trafalgar Square for music and entertainment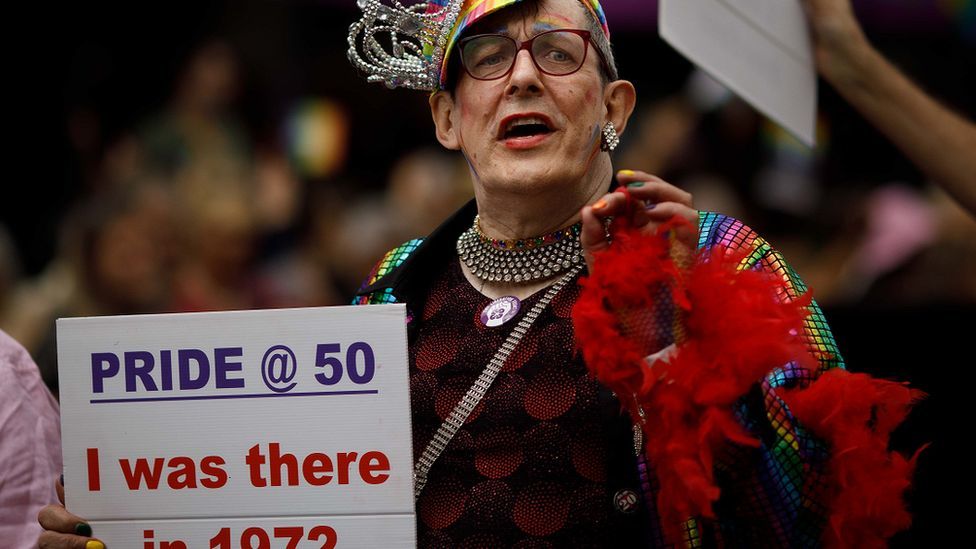 It is the 50th anniversary of the UK's first Pride parade in London

Uniformed officers from the Metropolitan Police did not join this year's parade, as they have done in past events, after organisers asked them not to take part.

Organisers said it reflected the "very real concerns" of the LGBTQ+ community - in particular over the force's handling of four murders of gay men by serial killer Stephen Port.

The force acknowledged concerns from the LGBTQ+ community in the wake of inquests which concluded police failings "probably" contributed to the deaths of the young men.

It wasn't just London that marked Pride on Saturday.

People in Shetland held their first Pride festival, the most northerly celebration of its kind in the UK,complete with burlesque dancers, a samba band and people dressed as Vikings.

Clacton, in Essex, also celebrated its first Pride event, after organiser Cheryl Pipersaid she never thought Pride would reach the town.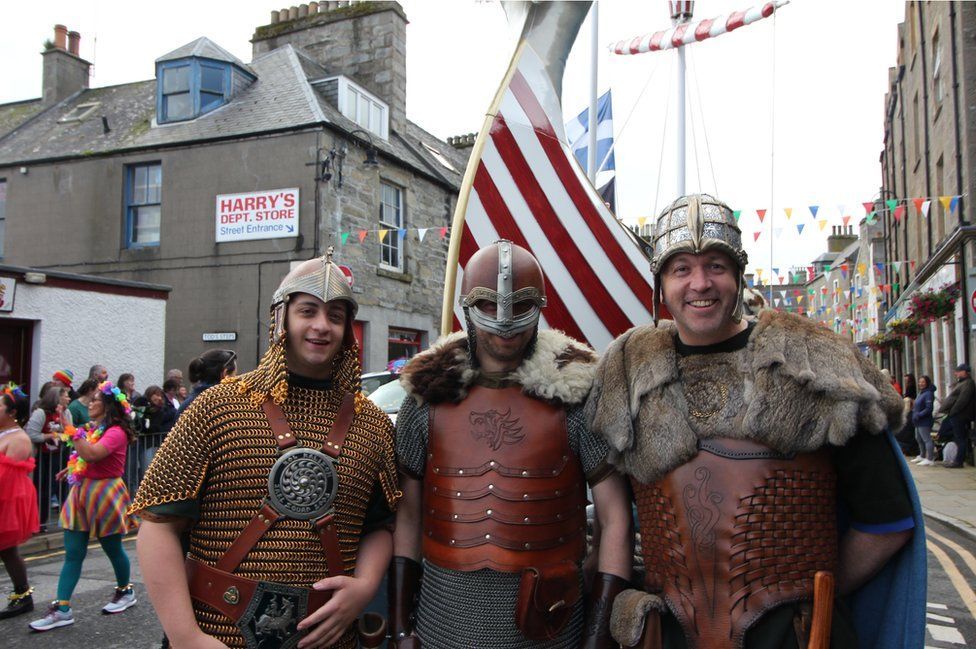 Vikings dressed up for Shetland's Pride, while drag queens travelled by ferry from Aberdeen to be there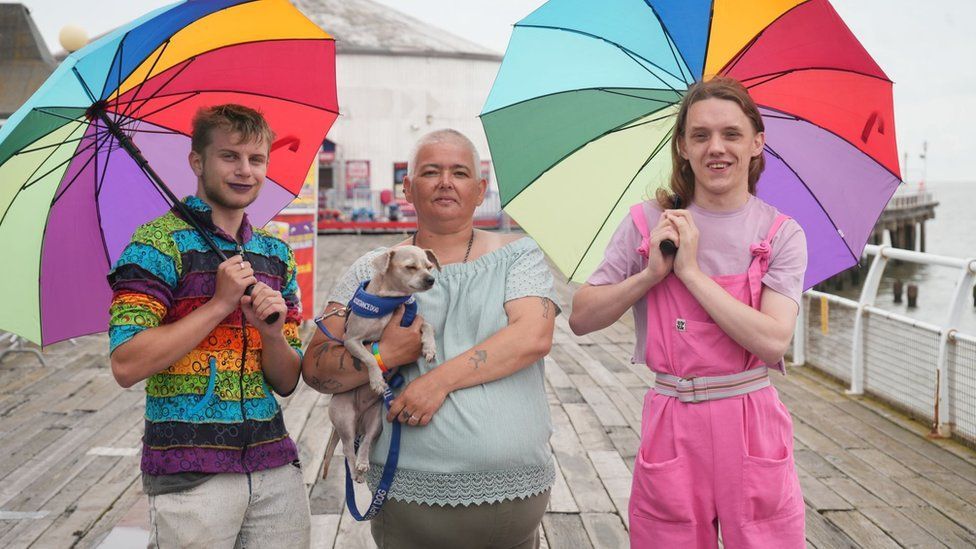 Sam Kantor, Tami Page-Langley and Gray Adams-Hall arranged the first Clacton Pride
Watch: 'What a milestone' - Pride's 50th anniversary in London
London Pride at 50: Veteran meets parade first-timer