An Israeli nurse has made headlines in Turkiye for the care she showed a child who survived the recent 7.8-magnitude earthquakes in the country.
Yosefit Moshe, 41, has been a nurse for 15 years, with 10 years of experience as a pediatric intensive care unit nurse at Schneider children's hospital in Israel.
On Feb. 8, she was part of the Israeli medical mission that arrived in Turkiye to help those affected by the recent earthquakes. Israeli search teams, meanwhile, found and rescued 19 people trapped under rubble in the region, the youngest of whom was two years old.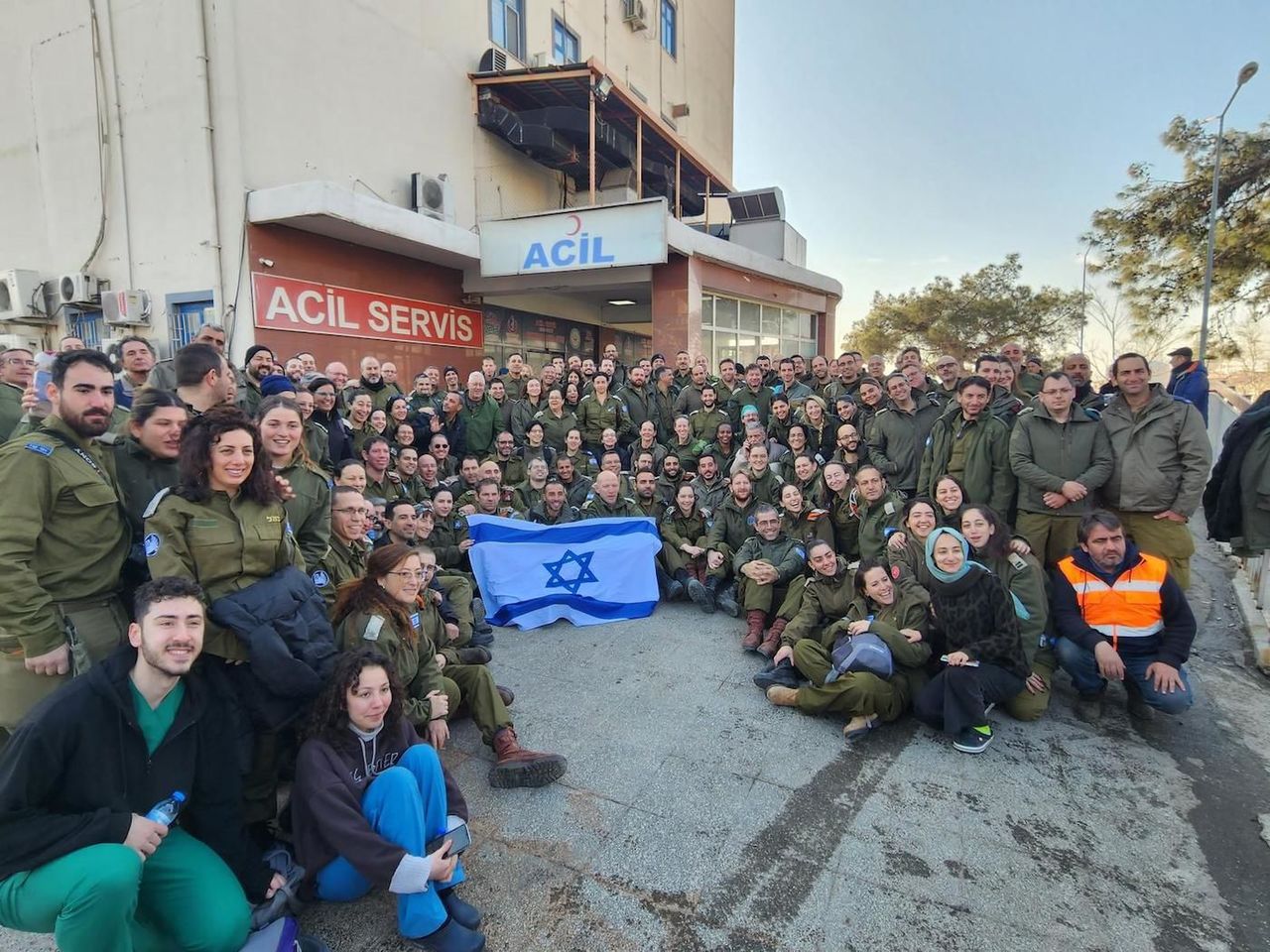 An Israeli field hospital was set up in less than 24 hours in an abandoned medical center building in Kahramanmaras.
An Israeli field hospital that was set up in less than 24 hours in an abandoned medical center building in Kahramanmaras — the epicenter of the first earthquake — extended a helping hand to about 470 survivors, including Syrian civilians.
The field hospital included trauma units, laboratories and operating rooms, while trauma specialists, pediatricians, orthopedic doctors, surgeons, anesthesiologists, ICU specialists and emergency medicine doctors were also on hand.
The Israeli teams performed ten surgical and orthopedic operations in the field hospital, while people with chronic diseases and who could not find a hospital to visit amid the ongoing chaos were also treated by the Israeli team.
Moshe, an enlisted reservist, arrived as a volunteer in the humanitarian relief efforts with the Israel Defense Forces, as part of the the medical delegation that brought with it 17 tons of medical equipment to Turkiye.
One of those brought to the field hospital was Aras, a 4-year-old Turkish boy, who had injuries across his body. He arrived dehydrated, hypothermic, and weak.
"When I first saw him, I felt devastated and desperate to help him," Moshe told Arab News.
"He was our first patient. We were eager to save him, to help and to bring hope for the dire situation."
Moshe felt relief when the Israeli rescue team found out that Aras's mother survived the earthquake as well.
The moment that Aras woke up, she said, he immediately smiled and asked to drink cola.
"He was so sweet when he spoke with a weak sad voice; we immediately brought him his cola," Moshe said.
Aras immediately touched the hearts of the Israeli team.
"Regarding the picture, which was taken after he was discharged from the ICU and was in the inpatient department, I went to visit him. I spoke to him in Hebrew, and somehow, he understood me," Moshe said.
She said she was not sure if Aras would remember her in the future, but they managed to establish a common language in a short time, though Moshe does not know Turkish and Aras cannot speak Hebrew.
"I asked him how he was and whether he was feeling any pain. He pointed to his leg. I saw how sad he was," Moshe said.
"I asked him if he wanted a hug and he simply came into my arms. We sat on the chair together and I whispered into his ear that he was a very sweet boy and if he wanted, he could fall asleep on me. He closed his eyes and fell asleep. We hugged while he slept for a while."
Aras remained in the hospital for about a week.
Moshe visited the child several times during his admission, but they did not have a proper goodbye. Moshe had to return to Israel when her term ended.
"So by this occasion, I would love to tell Aras that I wish him a beautiful, long and happy life. I hope he will be healthy and strong," Moshe said.
"I pray that he will get everything he wishes for in his lifetime. And I also wish him to be always surrounded by so much love."
It was not the first international humanitarian health assistance initiative for Moshe, who participated in a relief effort deployed to Ukraine in April 2022 with another Israeli team, which also dealt with children who were injured in the war. It will not be the last time she will be deployed abroad, either, because she is passionate about helping children to recover.
"Every encounter that I had with the Turkish people was heartwarming, including the injured and their families, the local nurses and doctors and the other civilians," Moshe said.
"It was truly an honor to be able to come and help such an amazing country," added Moshe.
"I am so proud to have been part of Israeli efforts. It was a privilege to work side by side with the local medical teams and the incredibly kind and warm Turkish people. I look forward to coming back to Turkiye in better times."
In the meantime, after years of long political disagreements, the Turkiye-Israel rapprochement process continues.
Turkish President Recep Tayyip Erdogan received Israeli Foreign Minister Eli Cohen last Tuesday in Ankara, where Cohen expressed Jerusalem's support for the victims of the earthquakes and conveyed his condolences.
As part of an aid operation dubbed "Olive Branches," Israeli civil society organizations also sent humanitarian assistance to the region, including hygiene kits, blankets, warm clothes and food items.
From the first days of the disaster, Israel deployed about 450 rescue specialists, doctors and nurses to different Turkish towns and cities to assist in the relief effort of national and international teams.