Virgin Atlantic has said its gender-neutral uniform policy does not apply to the crew on board the England team's flight to the World Cup in Qatar.
The airline announced a "fluid approach" to uniforms in September that it said allowed staff to choose their attire "no matter their gender".

But a spokeswoman told BBC News the crew for Tuesday's flight to Doha would not be able to choose their uniform.

Virgin said a plane displaying an LGBT icon would be used for the journey.

There has been criticism of human rights in Qatar and its treatment of LGBT people ahead of the World Cup.

Qatar has said all fans will be welcomed to the tournament "without discrimination".

Explaining why the gender-neutral uniform policy did not apply to Tuesday's flight, Virgin Atlantic said it was being rolled out in countries "more accepting of non-binary identities".

"Initially the UK, US and Israel are the territories where the uniform policy is being rolled out for our people, as those countries are more accepting of non-binary identities allowing more self-expression," it said.

Virgin explained that it considers safety and risk in destinations "on a case by case basis to ensure the safety and security of our people and customers at all times".

The airline, which does not usually operate to Qatar, did not set out this caveat in a press release announcing the new uniform policy in September.

A plane displaying an LGBT icon was selected for the six-hour charter flight from Birmingham airport to the Qatari capital, the airline said.

The A350 plane, named "Rain Bow" and carrying the image of a man holding a union flag wearing shoes with a rainbow motif on its fuselage, flew Gareth Southgate's team to Doha.

The Football Association (FA) said that, while it did not choose the plane, it was more than happy to fly on it.

It is illegal to be homosexual in Qatar, and same-sex relationships can be punishable by death.

Footballers, including England captain Harry Kane, have taken a stand in support of the LGBT community in recent months.

Kane has said he intends to wear his One Love rainbow captain armband during World Cup matches, even if it is not approved for use by the football's global governing body, Fifa, which runs the World Cup.

An FA spokesperson said: "We show our support for inclusion in many ways, including wearing the One Love Armband during the tournament".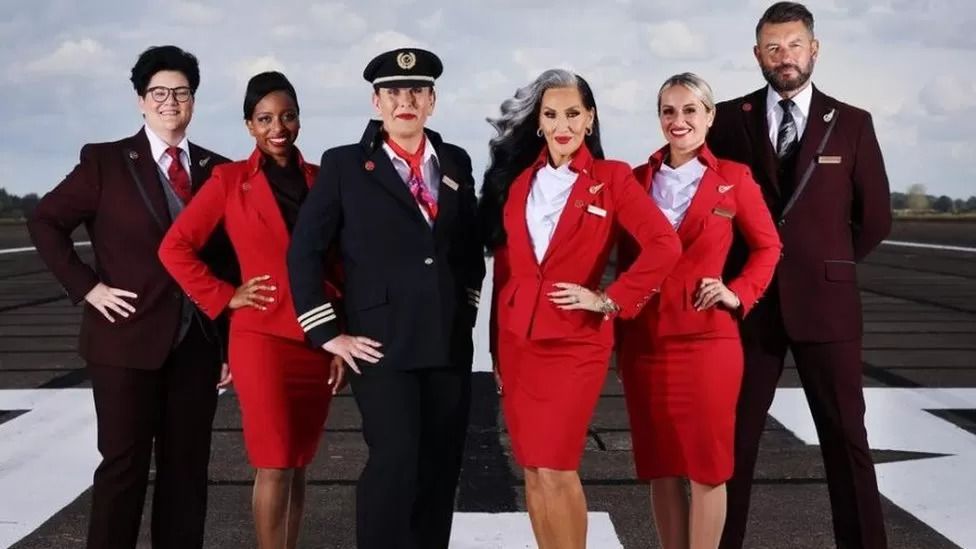 Virgin Atlantic announced in September that staff could choose their own uniforms, including a trousers or skirt
Earlier this year, LGBT organisations engaging with Fifa said "progress has been slow" in ensuring the safety of LGBT fans - and that reassurances from Qatar had "not been adequate".
In response, Foreign Secretary James Cleverly advised LGBT fans show "a little bit of flex and compromise" if they travel to the tournament.
Mr Cleverly, who will travel to Qatar, said fans travelling from England and Wales should be "respectful of the host nation".
Prime Minister Rishi Sunak's official spokesman later said LGBT fans should not be expected to "compromise who they are" if they visit Qatar for the World Cup.
Some politicians, including Labour leader Sir Keir Starmer, said they would not attend the tournament due to Qatar's human rights record.
Wales's First Minister, Labour's Mark Drakeford, is expected to attend.
The England team are expected to land in Qatar at around 20:00 local time and arrive at their team base at about 21:00 GMT.
The UK government's World Cup travel advice sets out the legal status of homosexuality in Qatar and the assurances given by its authorities.
The first match of the tournament will be between Qatar and Ecuador on 20 November. England's first game is against Iran on 21 November.
Announcing the gender-neutral uniform policy in September, Virgin Atlantic said staff, including crew, pilots, and ground teams, could choose to wear a uniform including either a trousers or a skirt.
It described the policy as one element of a campaign to allow LGBT staff and passengers to express themselves, including through optional pronoun badges for all staff and those travelling with the airline.