Nicola Sturgeon has defended her record in government during her final First Minister's Questions.
The first minister was accused of failures on education, drug deaths, NHS waiting lists and ferries in her 286th weekly session.

Ms Sturgeon said she was "very proud" of her party's eight election wins and policies including the Scottish Child Payment and progressive income tax.

However she said her successor would have a tough job ahead.

The winner of the contest to succeed Ms Sturgeon as SNP leader will be revealed on Monday afternoon.

They will then face a vote in the Scottish Parliament the next day before being confirmed as first minister.

'Truth of her legacy'

Scottish Conservative leader Douglas Ross opened the session by accusing the SNP of having "lied" to the press over its membership numbers.

The party had ridiculed a newspaper report that it had lost 30,000 members since December 2021 - but was later forced to admit its membership had fallen from 104,000 to 72,000 over that time. The party had seen its membership surge to a peak of about 125,000 by 2019 under Ms Sturgeon's leadership.

The row saw Peter Murrell - Ms Sturgeon's husband - quit as the party's chief executive, with SNP media chief Murray Foote also resigning.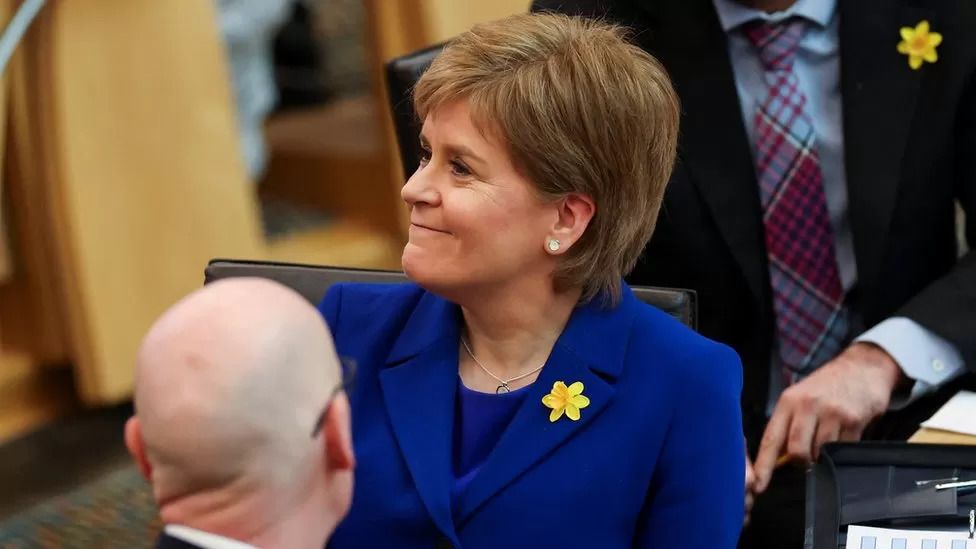 Nicola Sturgeon took part in her 286th and final FMQs

Amid rowdy scenes in the Holyrood chamber, Presiding Officer Alison Johnstone issued several pleas for members to be heard, adding: "We do not use the word 'lie' in this chamber."

Ms Sturgeon said she would "not take lectures" from the Conservatives about honesty in the same week Boris Johnson was being questioned about Partygate - and urged the Scottish Tories to release their own membership figures.

Mr Ross also questioned Ms Sturgeon's record in government, saying Scottish schools have plummeted in league tables and the attainment gap has not been closed.

He pointed to the country having highest rate of drug deaths in Europe, lengthy NHS waiting lists and a "damning report" on ferries that are currently five years late and massively over-budget.

The first minister has "ignored Scotland's priorities in favour of her obsession with independence. Isn't that the truth of her legacy?" he added.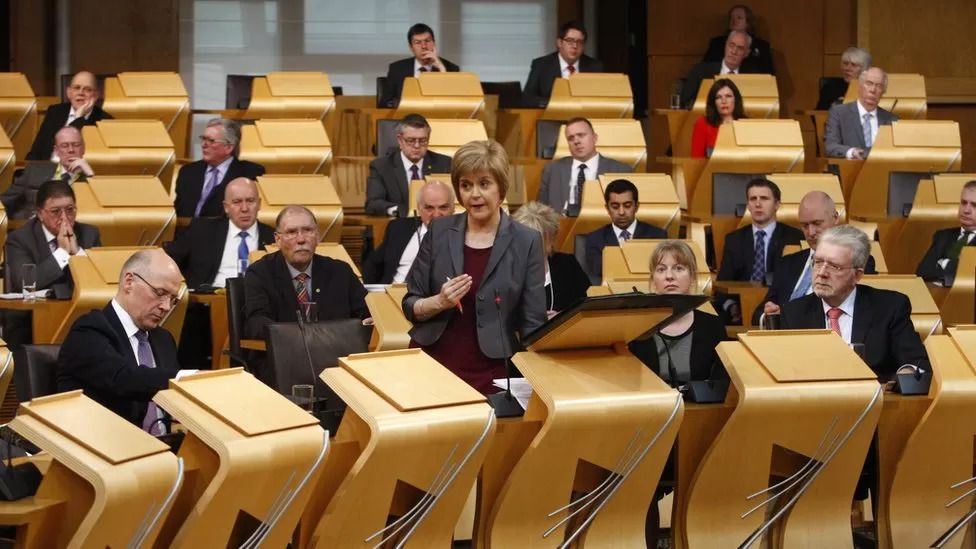 Nicola Sturgeon at her first FMQs in 2014 flanked by John Swinney, Shona Robison and Mike Russell

Scottish Labour leader Anas Sarwar also attacked the outgoing first minister's record, claiming that there was not a single Scottish institution that has been left stronger after Ms Sturgeon's eight years in office.

But Ms Sturgeon said she was proud of policies from the Scottish Child Payment and the baby box scheme to the abolishment of prescription charges and free period products - the campaign for which was led by Labour's Monica Lennon.

The first minister said the NHS had received record funding and that Scotland was leading the way on climate change.

"I could go on, and on, and on, but I'm not going to because this is my last session of First Minister's Questions," she said.

She added: "I am proud of the record of government that I have led through some of the toughest times Scotland has faced in recent history. But ultimately the only people who will cast a verdict on the record of my or future government are the people of Scotland.

"In my time as first minister they have had eight opportunities to do that and on each of these eight opportunities they have voted for me, the SNP and my government. That is a record I'm very proud to stand on.

"Does my successor have a tough job? Of course, because we live in tough times but I've got confidence that whoever my successor turns out to be, they will continue to build on that record and they will continue to retain the trust of the Scottish people."

Ms Sturgeon had served as a cabinet minister and deputy first minister under her predecessor Alex Salmond since 2007.

When the Scottish electorate rejected independence by 55% to 45% in September 2014 Mr Salmond resigned, leading to Ms Sturgeon taking the role unopposed.

She was formally sworn in on 20 November that year, after which she held her first FMQs.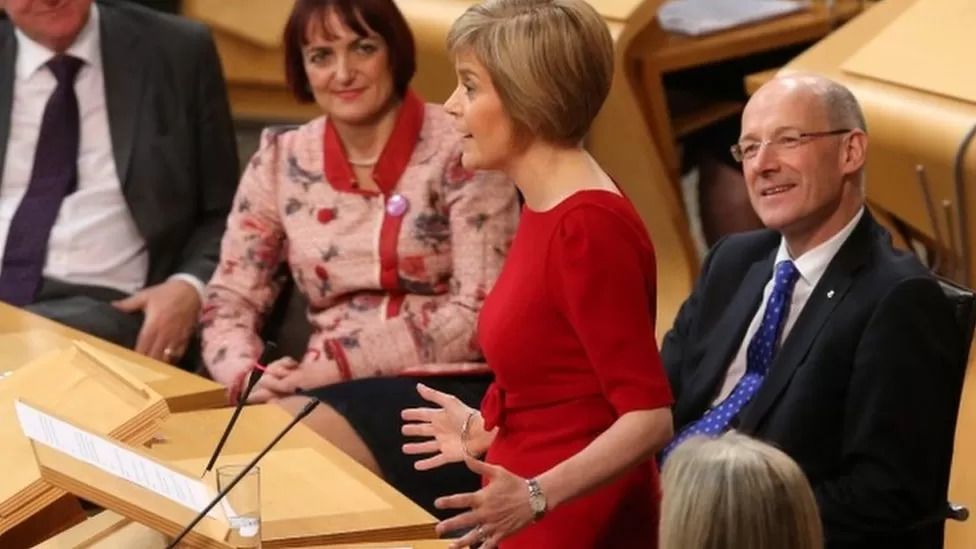 Her last official engagement as first minister will be on Friday.

Ms Sturgeon has not officially backed any of the candidates to replace her, but Health Secretary Humza Yousaf is widely assumed to be her preferred choice.

Mr Yousaf was the only one of the three leadership candidates to attend Ms Sturgeon's final FMQs, with Ash Regan and Kate Forbes both being absent from the chamber.

The leadership contest has exposed deep divisions within the SNP, with both Ms Forbes and Ms Regan casting doubt over the fairness and transparency of the election process.

Interim chief executive Mike Russell said there was "tremendous mess" in the SNP - which Ms Sturgeon denied when she appeared to the Loose Women programme on Monday.

She insisted that the party was merely going through "growing pains" which she said were "necessary but difficult".

She also said it was important for the party not to "throw the baby out with the bath water" and lose things that have made them successful in the past.