Maison Valentino challenges the rules and constructs of Couture for SS22.
Pierpaolo Piccioli had a clear vision for Maison Valentino SS22 Couture, to rewrite the rules, challenge constructs, and breathe new life into outdated idealizations. "I wanted to break these rules and embrace the idea of different proportions of body, different sizes, different ages," said the designer. "It could deliver a strong message for young people who are struggling with something. If she's beautiful, you can be beautiful."

90's Supermodel, Kristen McMenamy (if you don't know, then get to know. Seriously! Her 90's editorials are iconic) opened the show with a kiss. The veteran model blew a kiss dressed in black gloves, stockings and a flirty cocktail dress. What followed next was a refreshing collection filled with refined glamour, and cheeky hints of seduction.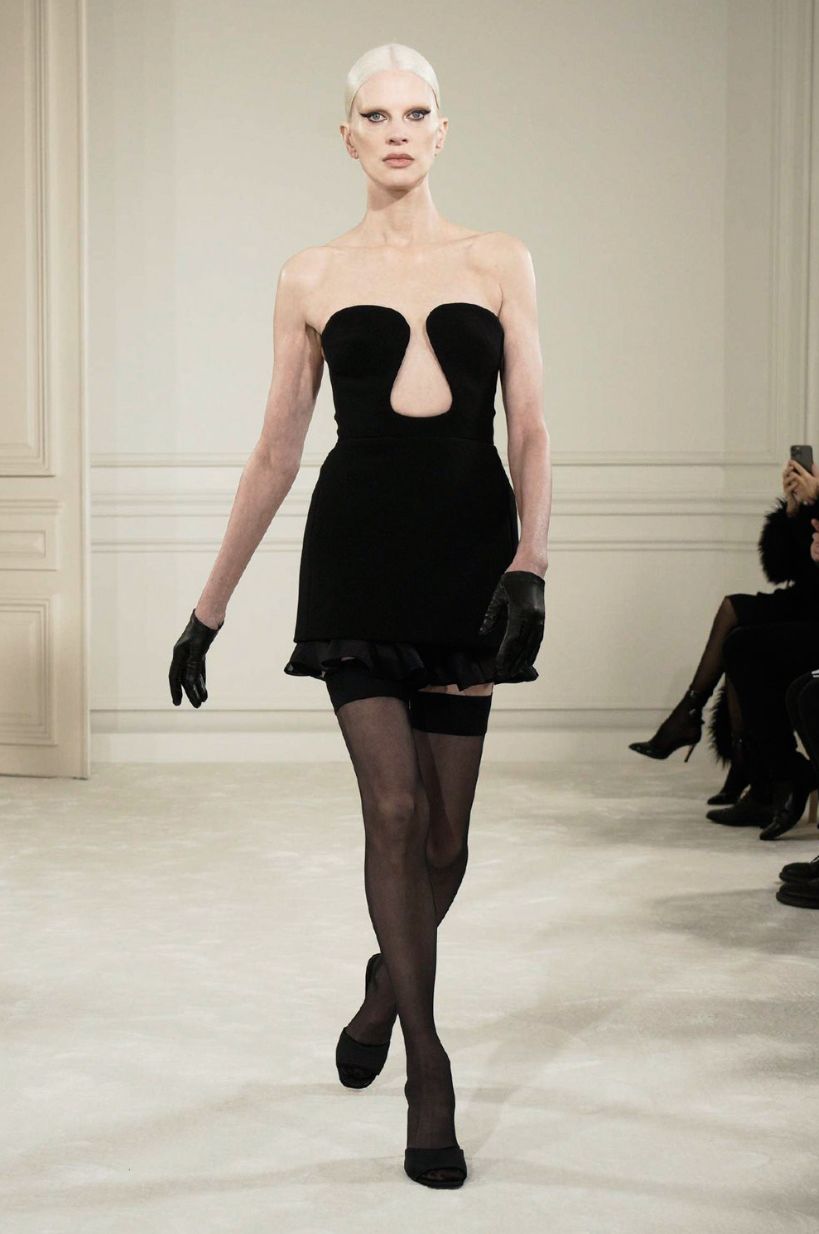 Valentino S22 Couture

The show continued with bold evening gowns, draped coats, and slouched pants. There were Menswear looks interspersed throughout before Piccioli showcased sophisticated layering, transparency and glittery embroidery. Piccioli amped up the sex appeal, showcasing mini cocktail dresses with stockings, and opera gloves. Seductive looks that were worn under a long blazer or spaghetti strap shoulders. The collection explored texture and volume, silver, gold, and champagne embroideries, embellishments and, beading were shown alongside delicate Fortuny pleating, and feathers (Piccioli signature technique, think Naomi Campbell at the 2019 'Camp' Met Gala).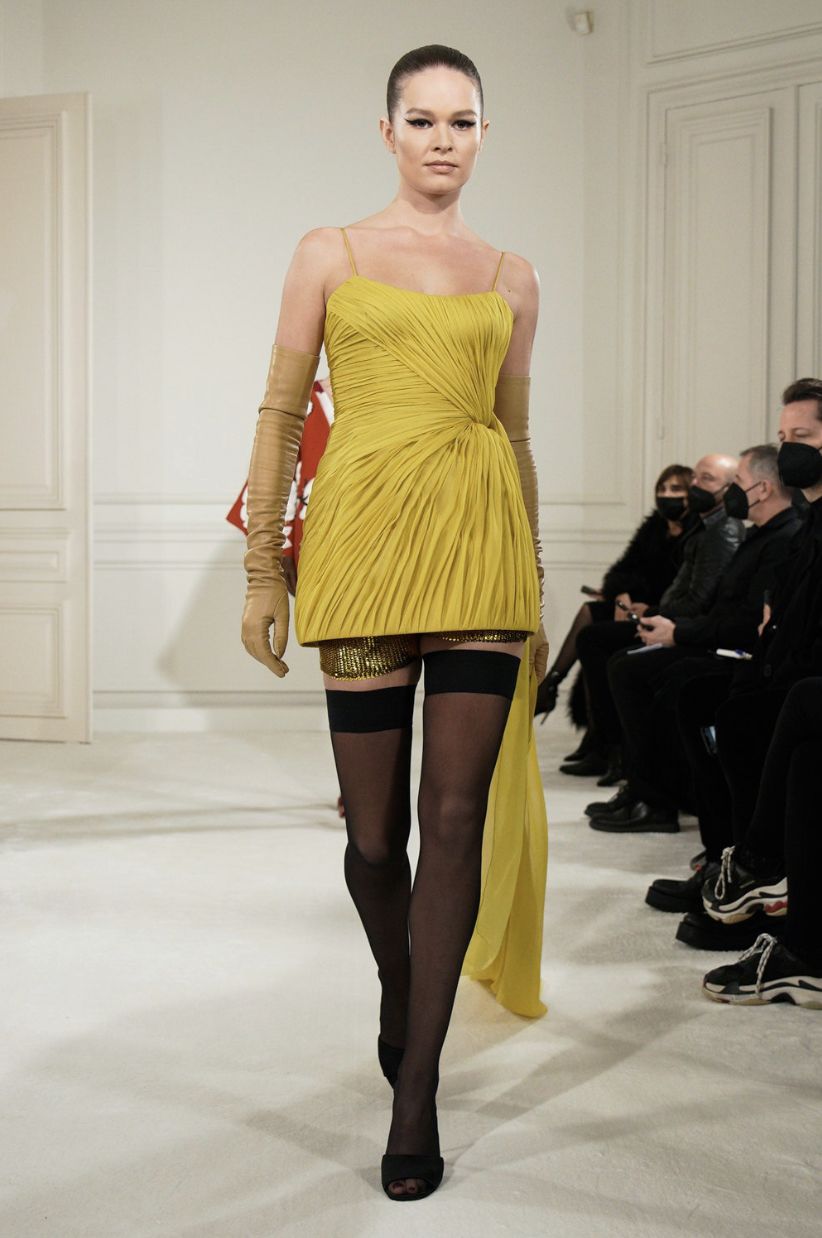 Valentino S22 Couture

The styling was clean and deliberate, hair and make-up relatively simple, cat eyes with the occasional faux winged lash. Fresh from the Schiaparelli show, Mariacarla Boscono walked the runway wearing a white dress, champagne coloured pants and vivid pink coat. There was also an appearance from V cover girl, Lara Stone. The show closed with draped evening coats worn with ball gowns and gloves. Classic silhouettes, in a delicious palette of citrus colors. Blues, greens, orange, and pink were punctuated with moments of all black, and of all white. Chartreuse and lilac looks were mixed with floral motifs. The beautifully haunting vocals of Anohni provided the soundtrack to the show, which echoed the vibe of the collection.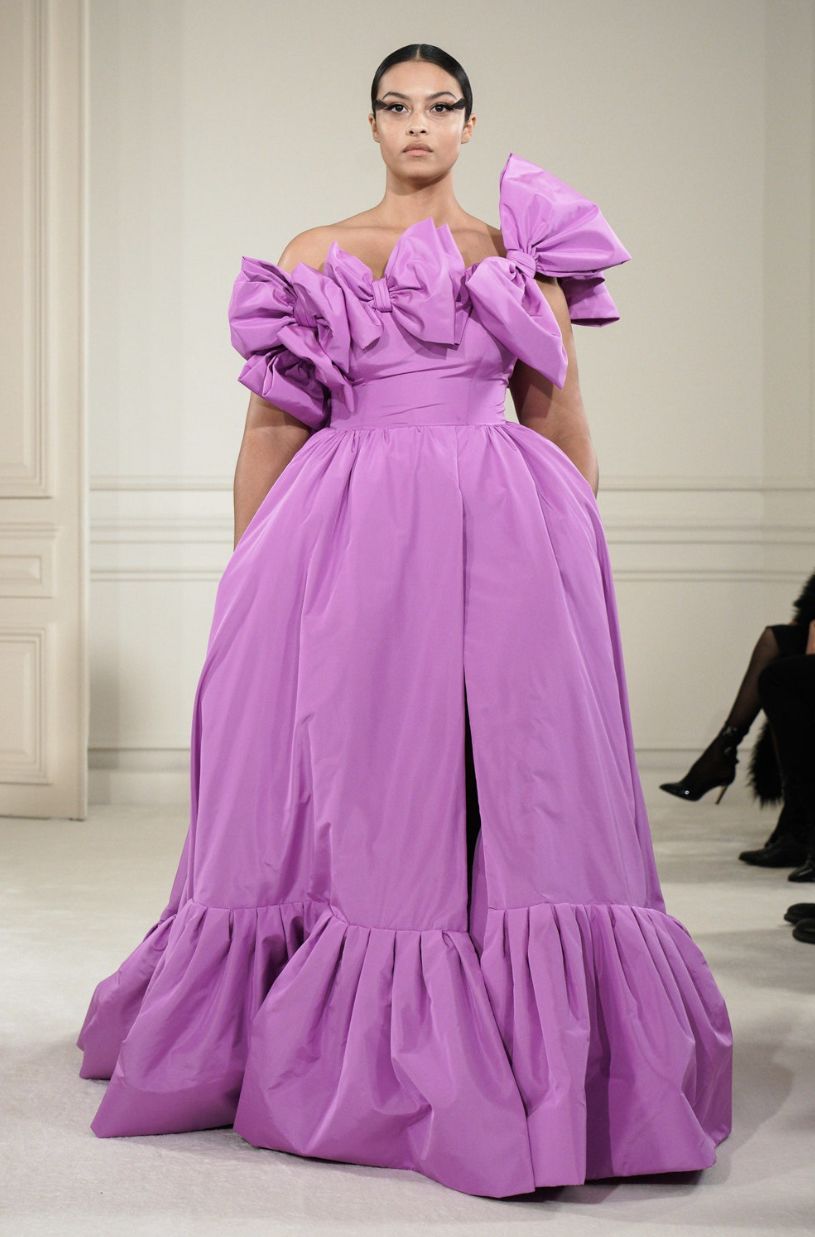 Valentino
S22
Couture

Check out the Maison Valentino S22 Couture show in the video above.