LGBT football fans who attend the World Cup in Qatar should show "a little bit of flex and compromise", Foreign Secretary James Cleverly has said.
Speaking to LBC on Wednesday, he told fans travelling from England and Wales to be "respectful of the host nation", where same-sex activity is illegal.

Within hours, the prime minister's official spokesman said LGBT fans should not be expected to "compromise who they are" if they visit Qatar for the World Cup.

Labour called Mr Cleverly's remarks "shockingly tone-deaf".

In a separate interview with Sky News, the foreign secretary reiterated his message when asked how the government was pushing for LGBT equality in Qatar.

He said: "These are Muslim countries, they have very different cultural starting point for us. I think it's important when you're a visitor to a country that you respect the culture of your host nation."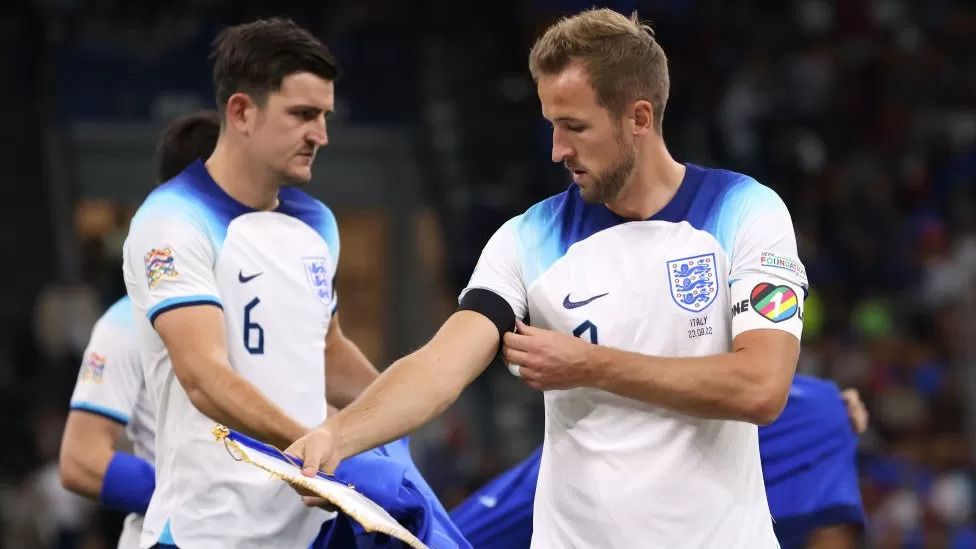 During England matches, Harry Kane wears a white One Love captain's armband, with a rainbow design in support of the LGBT community

The decision to stage the World Cup in Qatar, a country where homosexuality can be punishable by death, has been criticised by LGBT groups.

England and Wales have both qualified for the tournament, meaning they will each play three group matches, plus knock-out matches if they progress.

England's three initial matches are being played in Doha, Al Khor and - against Wales - in Al Rayyan. Wales are playing all three of their matches in the latter city.

Earlier this year, LGBT organisations engaging with Fifa said "progress has been slow" in ensuring the safety of LGBT fans - and that reassurances from Qatar had "not been adequate".

Some footballers have been taking a defiant stand in support of the LGBT community in the run-up to the World Cup. Footballer Harry Kane has said he intends to wear his OneLove rainbow captain armband during World Cup matches, even if it is not approved for use by the football's global governing body, Fifa, which runs the World Cup.

Fifa regulations state that a player's kit and other "basic compulsory equipment. must not have any political, religious or personal slogans, statements or images".

Some politicians, including Labour leader Sir Keir Starmer, said they would not attend the tournament due to Qatar's human rights record.

Wales's First Minister, Mark Drakeford, is still expected to be there.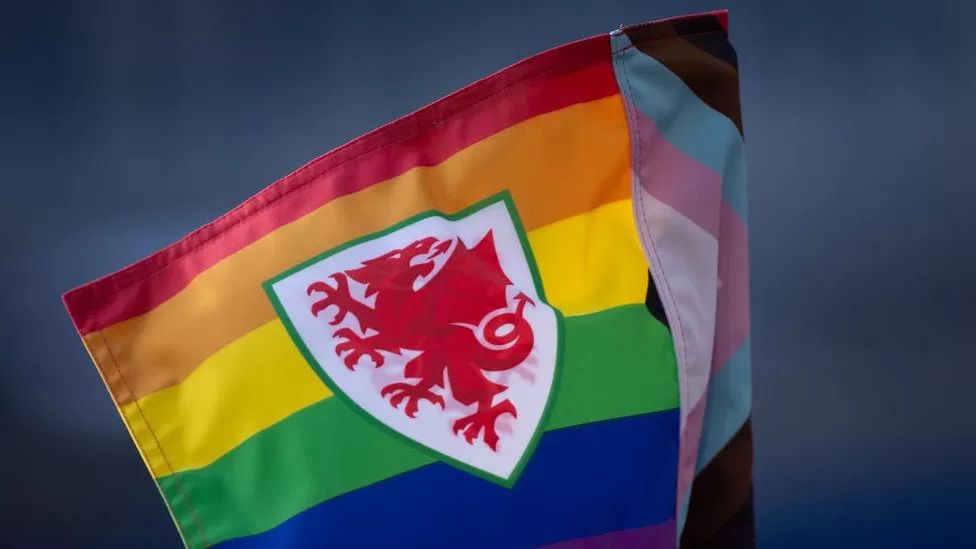 Welsh football fans will be travelling to their first World Cup since 1958 - and have unveiled a flag supporting LGBT supporters

Mr Cleverly said he would be attending the World Cup, adding that the UK has "incredibly important partners in the Middle East".

Mr Cleverly's remarks come as Qatari officials stopped UK campaigner Peter Tatchell from staging an LGBT rights protest in Doha on Tuesday.

Mr Tatchell said he was "surrounded and interrogated" by authorities following the one-man protest, believed to be the first LGBT rights protest to take place in any Gulf state.

The campaigner said the foreign secretary should not attend the World Cup, and instead "highlight the abuses being carried out by the regime".

By planning to be at the event, Mr Cleverly would be "colluding with a homophobic, sexist and racist regime", he said.

Shadow digital, culture, media and sport secretary Lucy Powell hit out at the foreign secretary's remark, describing it as "shockingly tone-deaf".

She said: "Sport should be open to all.

"Many fans will feel they can't attend this tournament to cheer on their team because of Qatar's record on human, workers, and LGBT+ rights.

"The government should be challenging Fifa on how they've put fans in this position, and ensuring the full safety of all fans attending, not defending discriminatory values."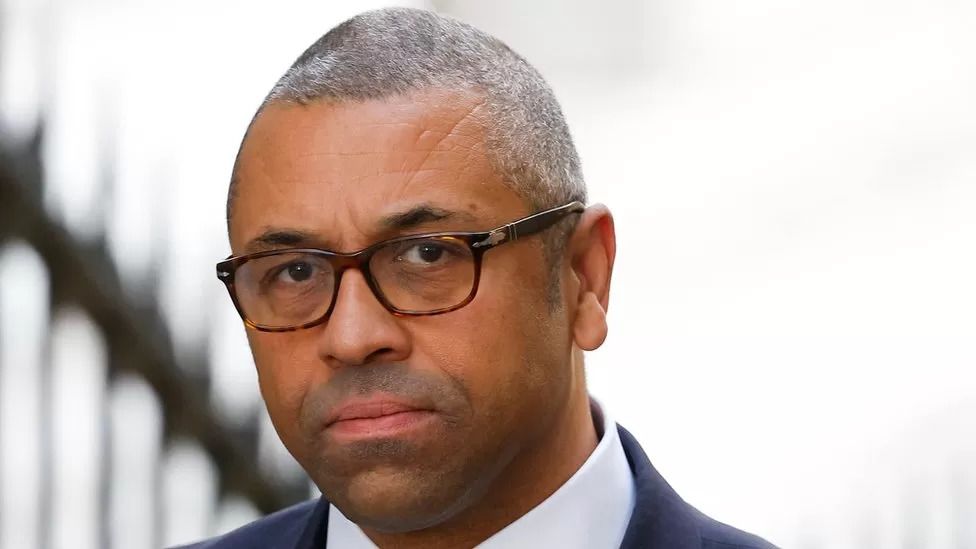 James Cleverly was appointed as the foreign secretary on 6 September by Liz Truss - and retained his position under Rishi Sunak

Liberal Democrats MP Layla Moran criticised Mr Cleverly's remarks, and said: "The World Cup should be a celebration of the beautiful game, instead it's being used by countries like Qatar to sport-wash their atrocious human rights records.

"Any UK officials who attend should be using their position to highlight human rights abuses, not endorsing the regime."

The Foreign Office, which is now headed by Mr Cleverly, has always issued and updated official online travel advice for Britons when they travel to any country in the World. For Qatar, the relevant page says: "Homosexual behaviour is illegal in Qatar. See our information and advice page for the LGBT community before you travel."
Watch: James Cleverly speaks to LBC about LGBT fans in Qatar during this year's World Cup