Targeting a variety of skin concerns, we unpack how LED light masks work and the type of results you can expect to see at home.
Our pursuit of the clearest, most supple skin can feel unending but is often a ritual in self service. Applying your skin care products at the end of the day? Wholesome. Calming. A feeling of saying 'goodbye' to the day and hello to an evening of relaxation. The ultimate elevation in this regime comes in the form of beauty technology, with LED light masks the latest tool skin care enthusiasts are spruiking for their abundant benefits. Before you run out to purchase a mask, we'll run you through the ins and outs of the technology and who should be using them.


What are LED light masks and how do they work?

Light-emitting diode (LED) masks work to target a range of skin concerns through their spectrum of light wavelengths, penetrating the skin to spark changes at a molecular level. Depending on the spectrum, the colour will change to target varying skin concerns.

The most commonly used light spectrums are red and blue:

* Red light is designed to increase circulation and collagen stimulation, ideal for those wanting to reduce fine lines and wrinkles.

* Blue light focusses on eradicating the bacteria that causes acne, which may assist in stopping frequent breakouts.

In addition to the two, yellow and green also work to reduce the appearance of redness and pigmentation on the skin.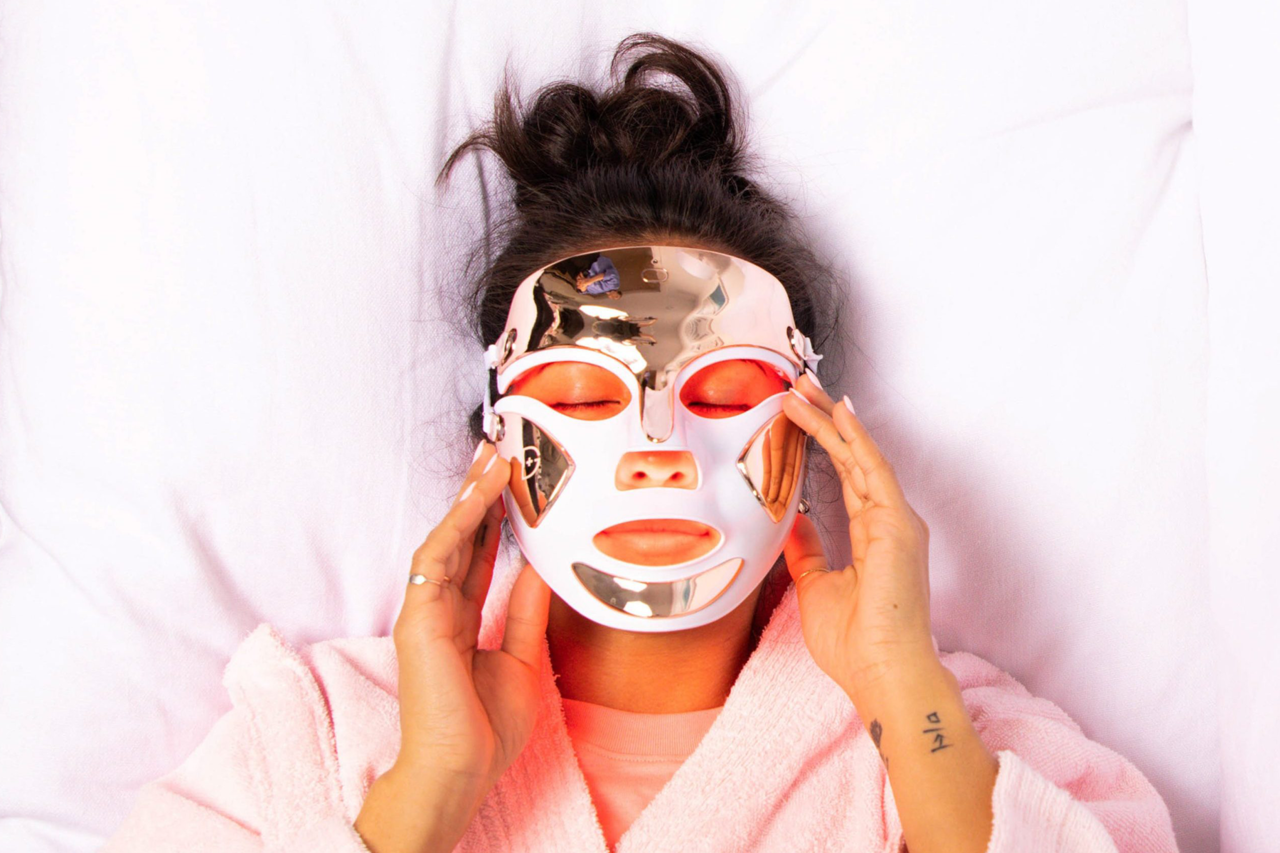 Do they produce results?

Blue light masks are shown to produce results, with frequent use and alongside a refined skin care routine. In a study of more than 50 women, it was found the red LED light treatments improved wrinkles surrounding the eye area and in an additional study, the device was also found to improve elasticity and hydration to the surface of the skin.

Blue light streams penetrate hair follicles and pores, and it has been proven that bacteria is highly susceptible to their rays. This stops the metabolisation of bacteria and kills them off, eliminating the acne-causing molecules and reduce inflammation.

As with most at-home beauty treatments, it is important to note the results may vary from dermatological-grade treatments. Not all at home devices can deliver the same strength of treatment as a clinical device, however they are a suitable alternative to an in-office treatment for those engaging with the device for the first time. It has previously been said to achieve benefits akin to that of a dermatology appointment, at-home use would need to be applied at least three times a week for 30 minutes per use.


Are LED light masks safe to use?

LED Light masks have been used by dermatologists and aestheticians for decades, however, they have risen in prominence across the last five years through their prevalence on Instagram and in high street beauty stores. Use to treat inflammation after faces, minimise breakouts and provides the skin with an overall boost in appearance.


Can anyone use an LED light mask?

Prior to using an LED light mask, it is highly recommended you speak with your dermatologist or GP. While there is research suggesting treatment can be beneficial in lessening eczema or psoriasis, it is important to talk with your health professional about usage and if the product is right for you or any current topical medication you may be applying.

If you're in the market for an LED light masks, we've chosen four of the best for you to compare and secure for at-home use.