The Princess of Wales has told students that becoming a member of the Royal Family was something she never expected - but she "fell in love".
The pupils quizzed Catherine about being a royal at a charity event in Bath, and the princess said it was something "she had to learn".

Catherine was meeting St Katherine's School students supported by the Dame Kelly Holmes Trust.

Earlier, she took on Dame Kelly at a game of bean-bag noughts and crosses.

Competing alongside the Bristol students, the princess was beaten twice.

After the first victory, the track and field star held her arms aloft and admitted she was "slightly competitive".
Catherine lost out to Dame Kelly's team twice

The princess joked back: "You would never have guessed."

When the princess later sat down for a chat with the students, she opened up the floor to questions about herself.

Dame Kelly said: "She humanised everything to say not everyone's perfect. Doesn't matter what you've got, or what you're perceived to have, as an individual you're still going to have those insecurities."

The Olympian founded her national youth development organisation on the belief that every young person needs a champion.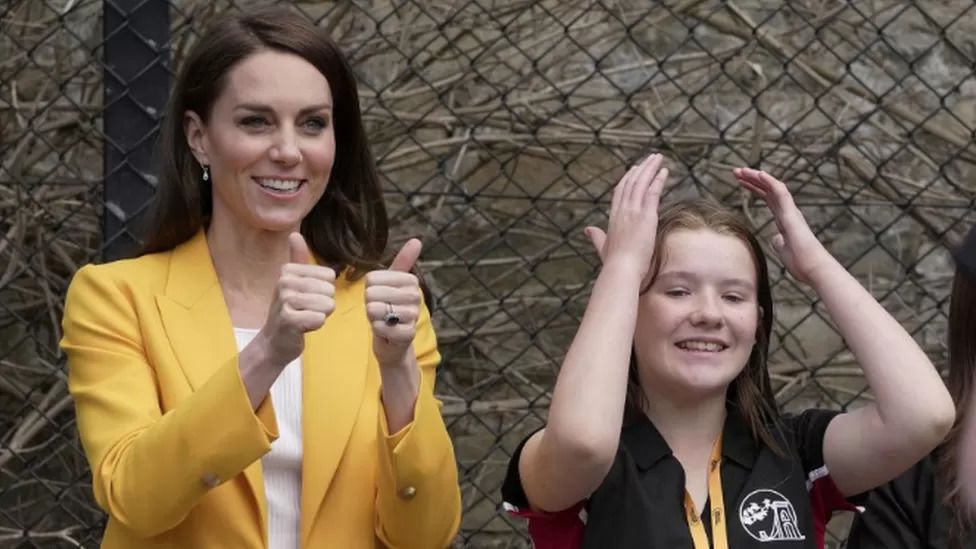 The Princess of Wales met students being supported by the Dame Kelly Holmes Trust

It pairs world-class athletes with youngsters who may lack confidence or have other issues, so the sportsmen or women can help the students develop their skills and confidence.

Dame Kelly said: "I wanted to work with young people, I wanted to make a difference and still believe that one person can make a difference.

"And I just realised that athletes have ability to draw out those real-life lessons you get in sport.

"It isn't about sport and being an Olympic champion, but it is about what sport can bring to you."