Five variations of boho interiors, including tribal decor & the arch trend, botanical decor, rustic accents, mid-century influences, and a luxury boho style.
Bohemian interiors all carry commonalities but there are many different ways in which to individually hone the aesthetic. This inspirational collection of beautiful boho interiors demonstrates five divergent takes on the vibe. Our first boho variation is a rich umber cocoon with chunky textures, tribal influences, and decor features that are inspired by the arch trend.
Home design number two is a refined modern space with green botanical accents. Rustic romance shapes boho interior number three, with a particularly dreamy bedroom. Mid-century influences lightly flavour home number four, and our final stop is an impressive, high-ceilinged abode with a decidedly luxe bohemian decor scheme, high-end furniture, and a stunning fireplace.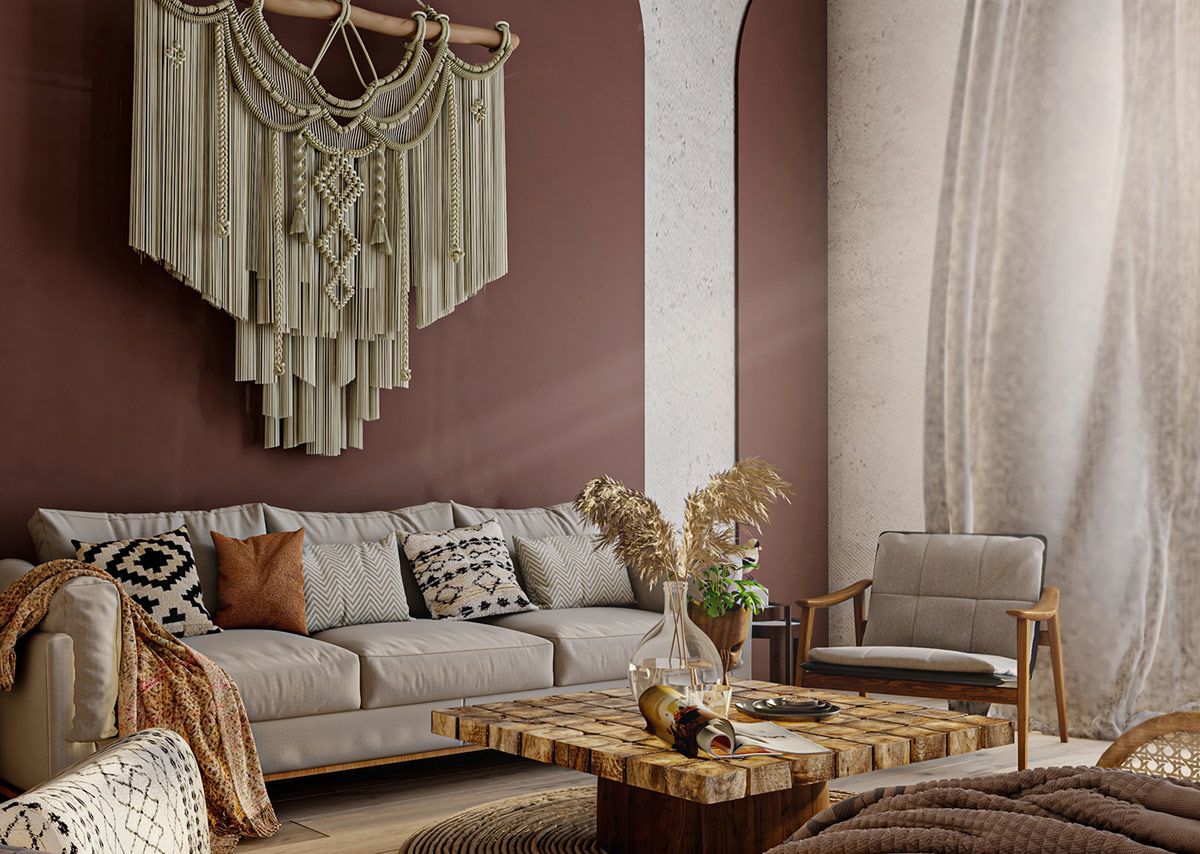 Umber accent walls add rich warmth to this cosy boho cocoon. Chunky decor elements build upon the visual warmth and depth of colour, fashioning a welcoming space to sink down into and spend a while.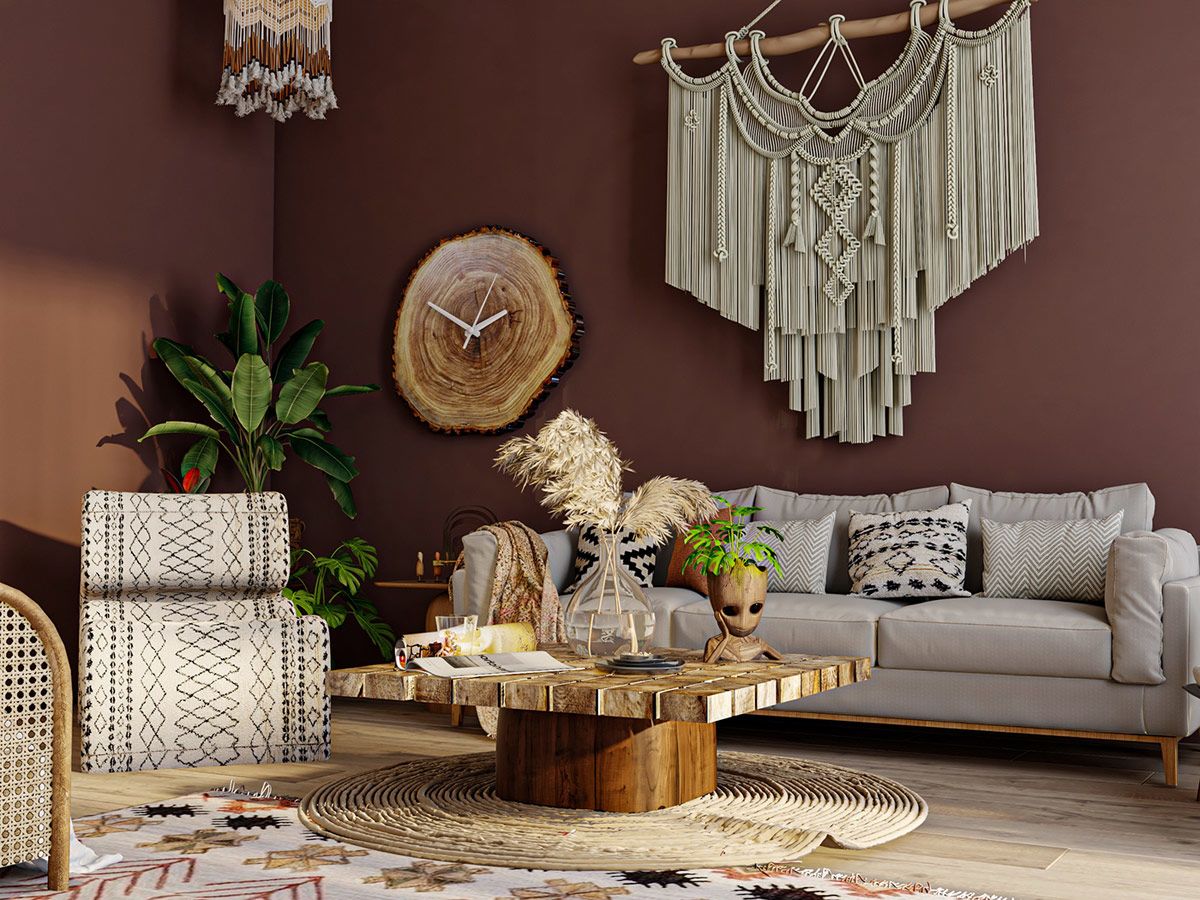 The straight edges of a square coffee table are offset by a round rug set beneath it. The combination sets up a textural column of raw wood grain and natural jute at the heart of the lounge.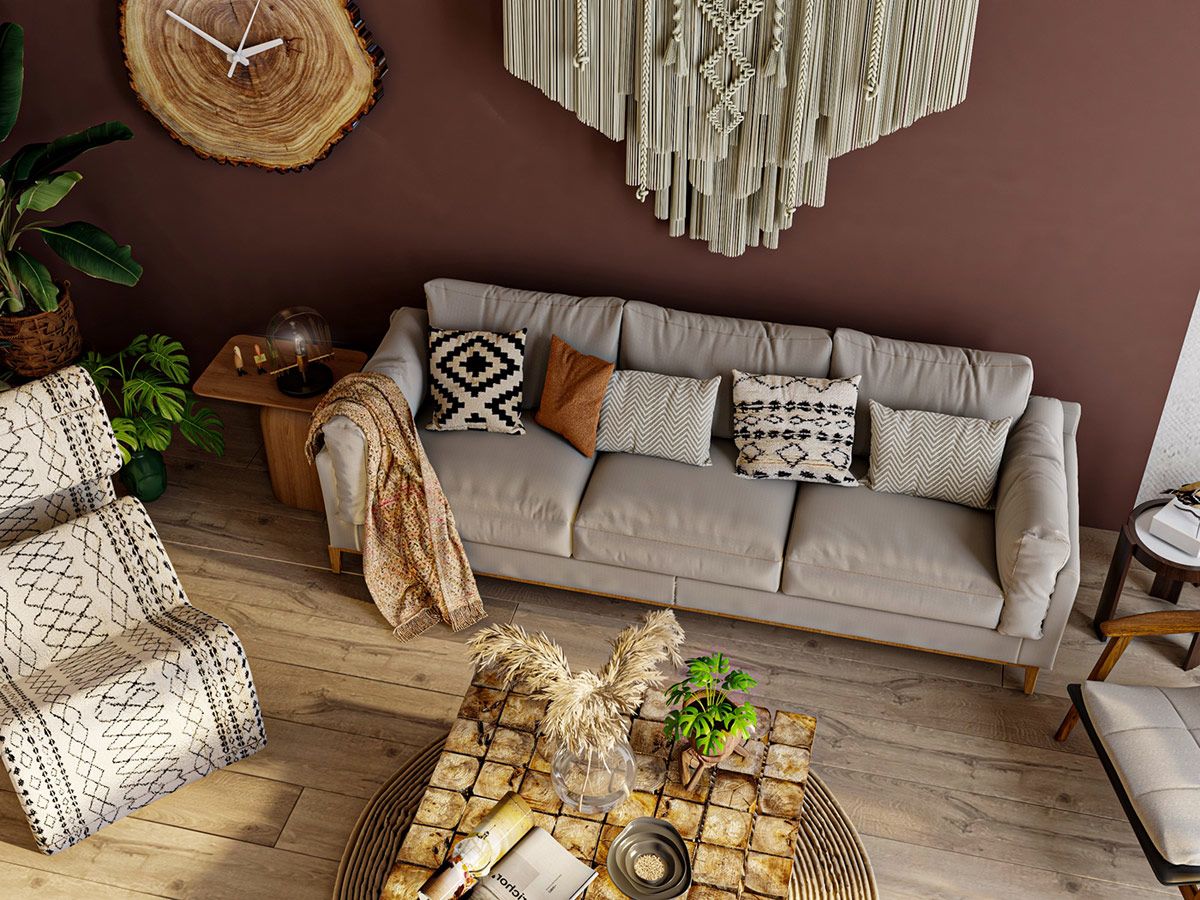 A rustic wall clock echoes the roundness of the rug and the wood grain texture of the coffee table. A huge macramé wall hanging drapes fabulously above the sofa.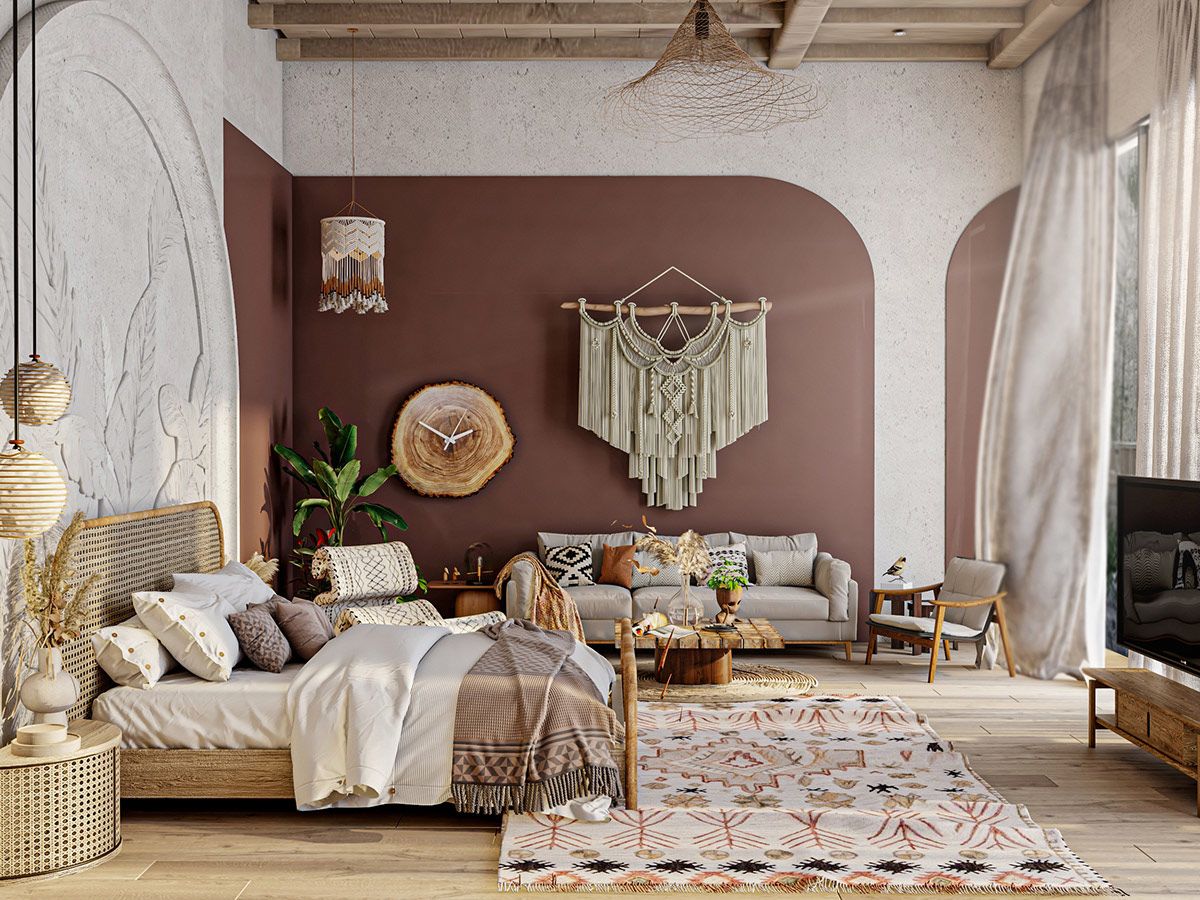 As we move through this studio apartment, we pass a bedroom rug with a beautiful tribal weave.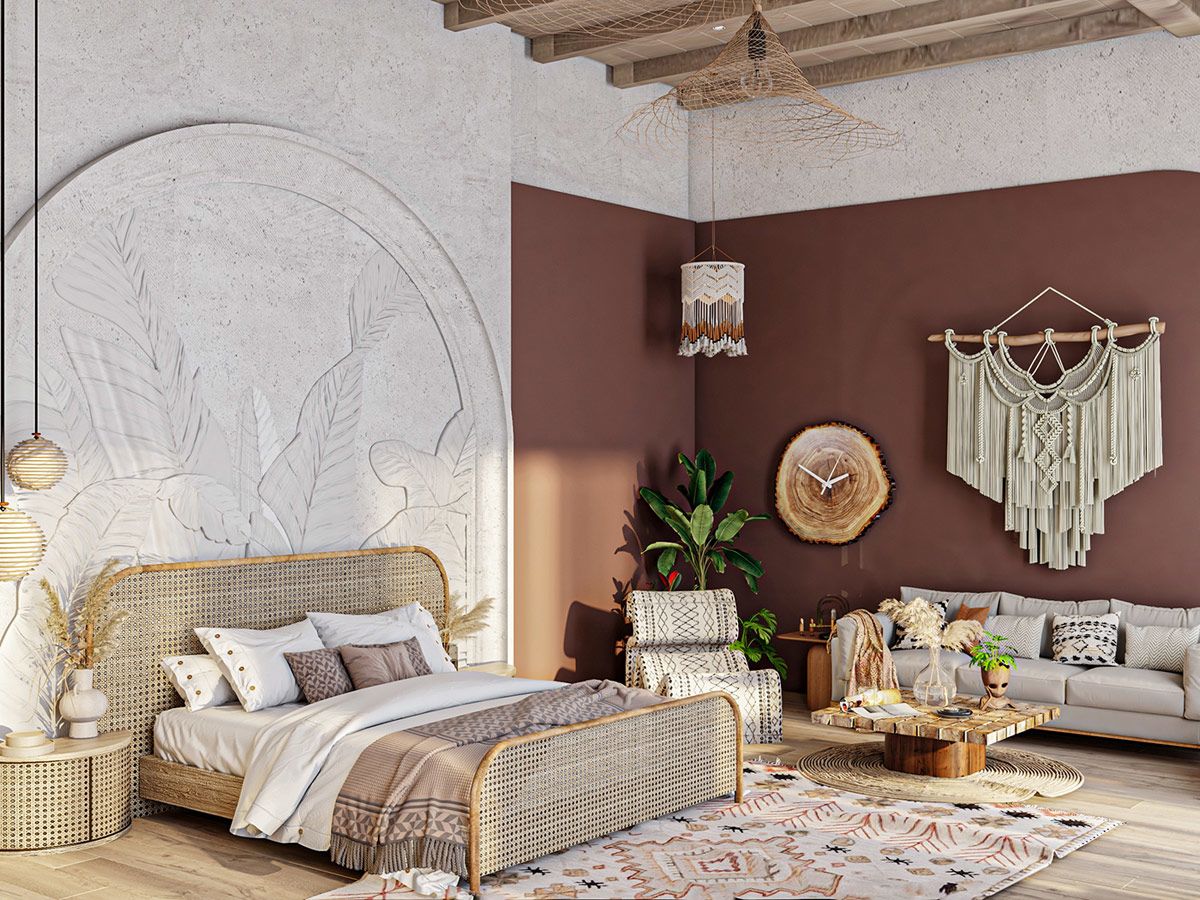 Whilst umber paintwork defines the studio's lounge area, a white stucco arch with decorative relief makes a stunning bedroom feature.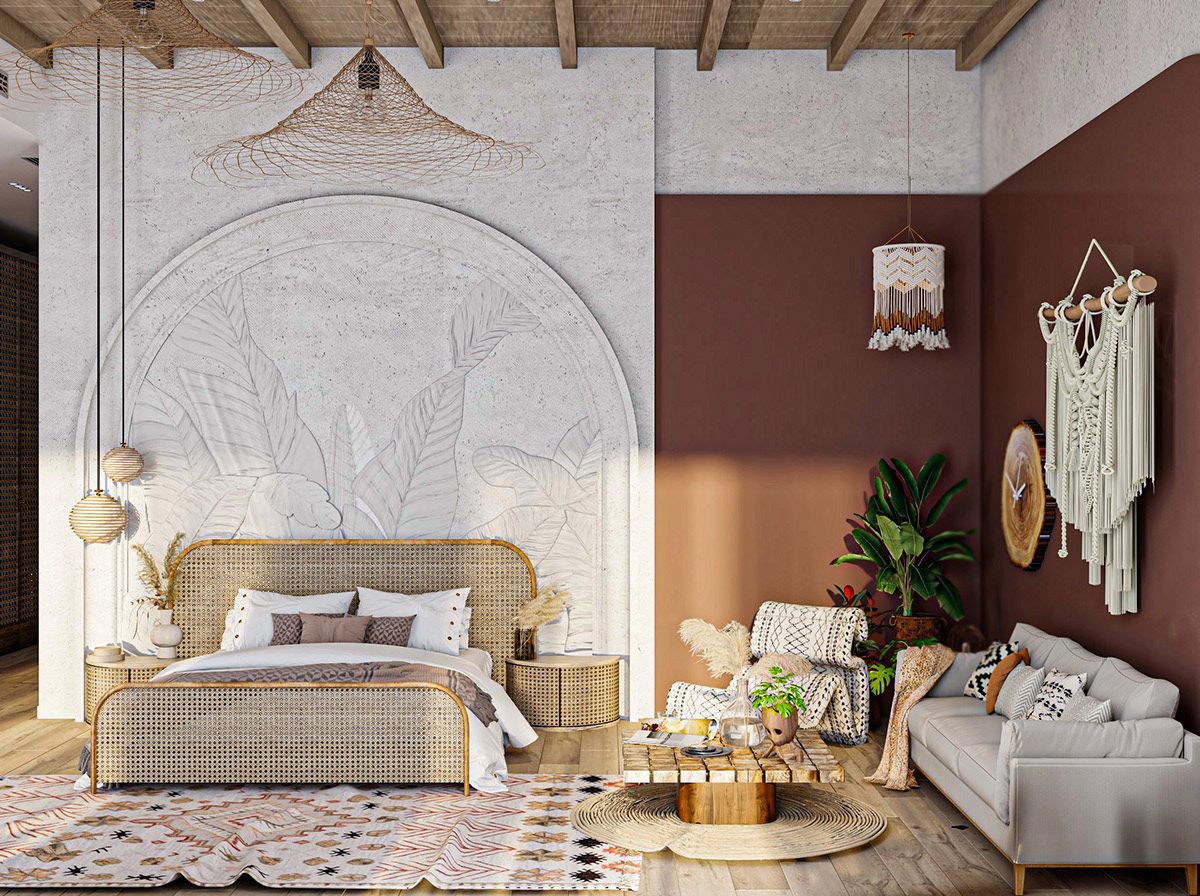 Wispy woven pendant light shades make a lightweight addition to the centre of a rustic wooden ceiling treatment with exposed beams.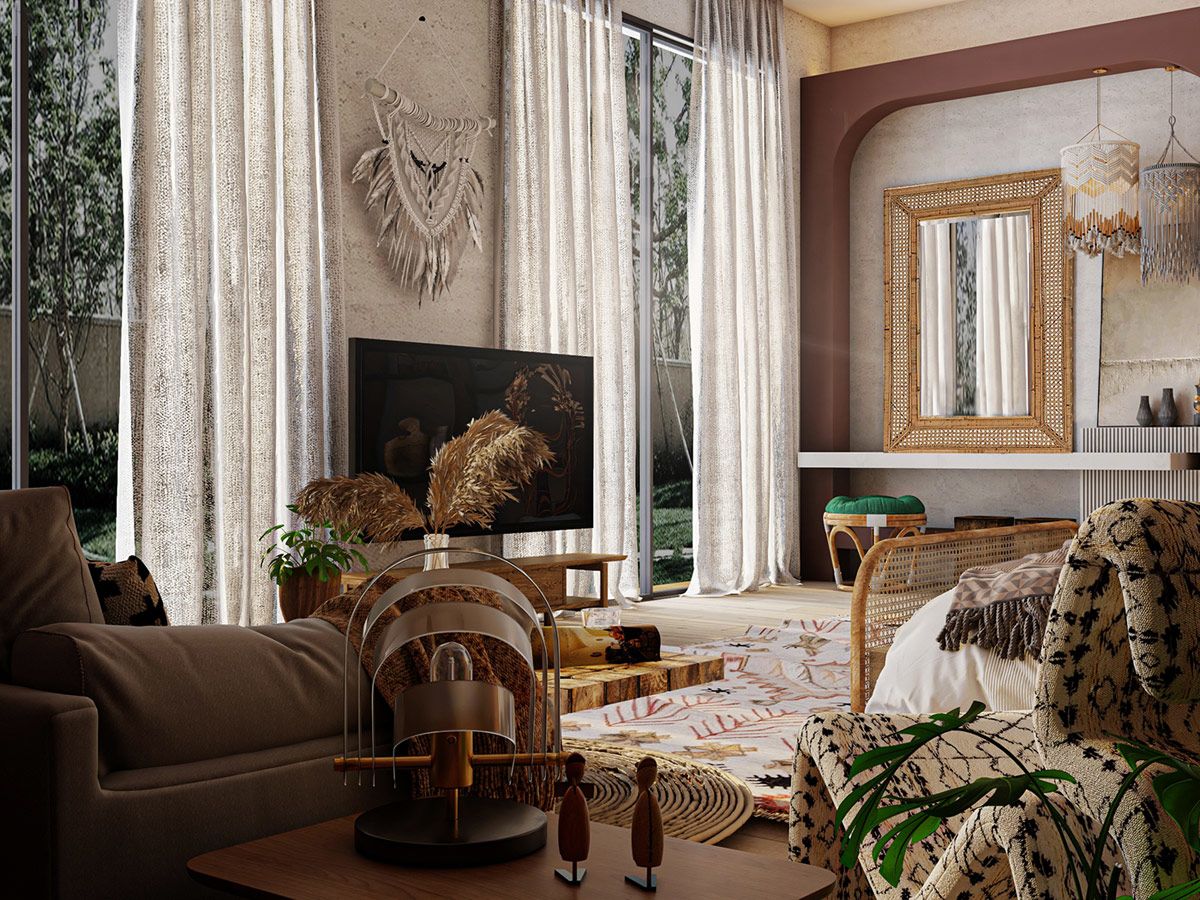 Both the bed and sofa are situated to benefit from a view of the TV, which is situated against a central column between two large windows. Boho wall decor makes an intricate focal point.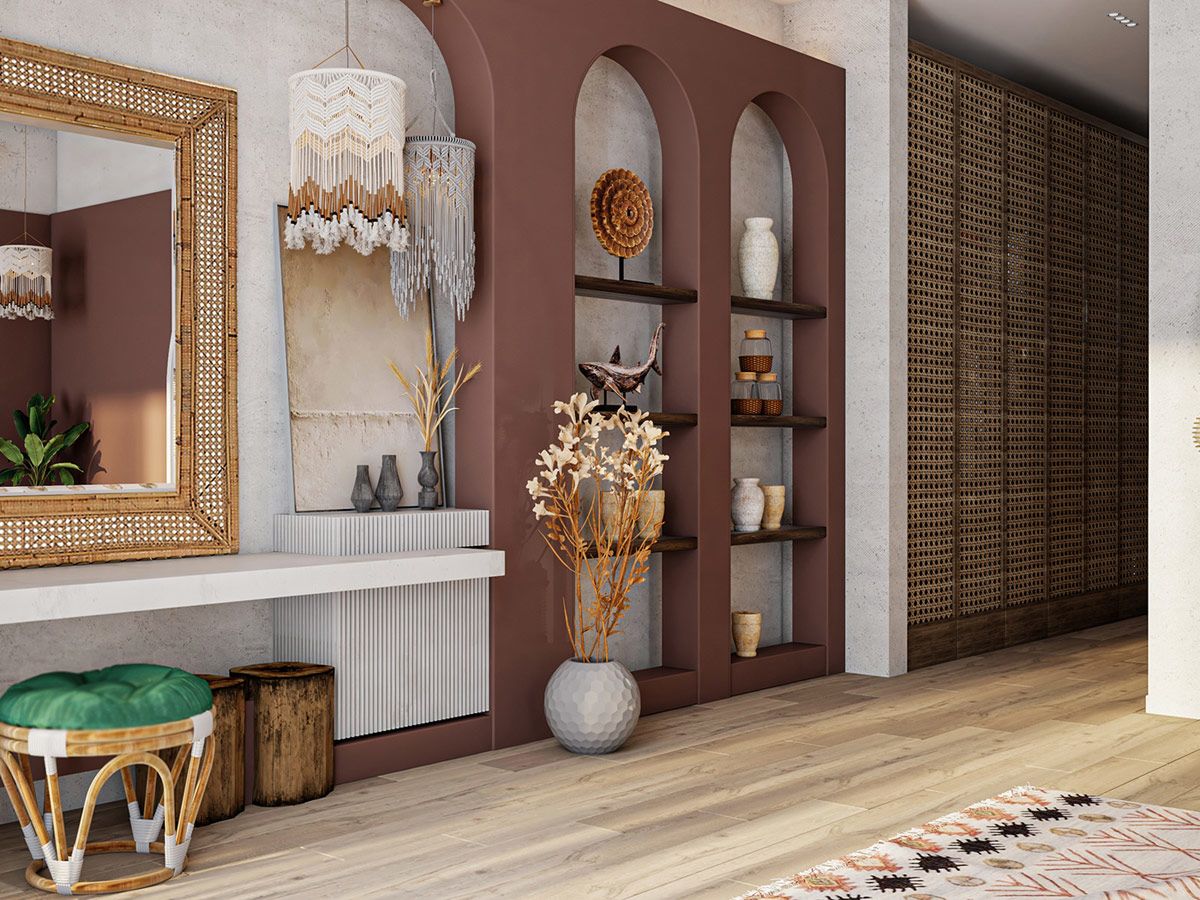 Elegant archways cut through another umber statement wall at the opposite end of the studio apartment. Decorative vases and sculptural art find a neat home inside of the cutaways.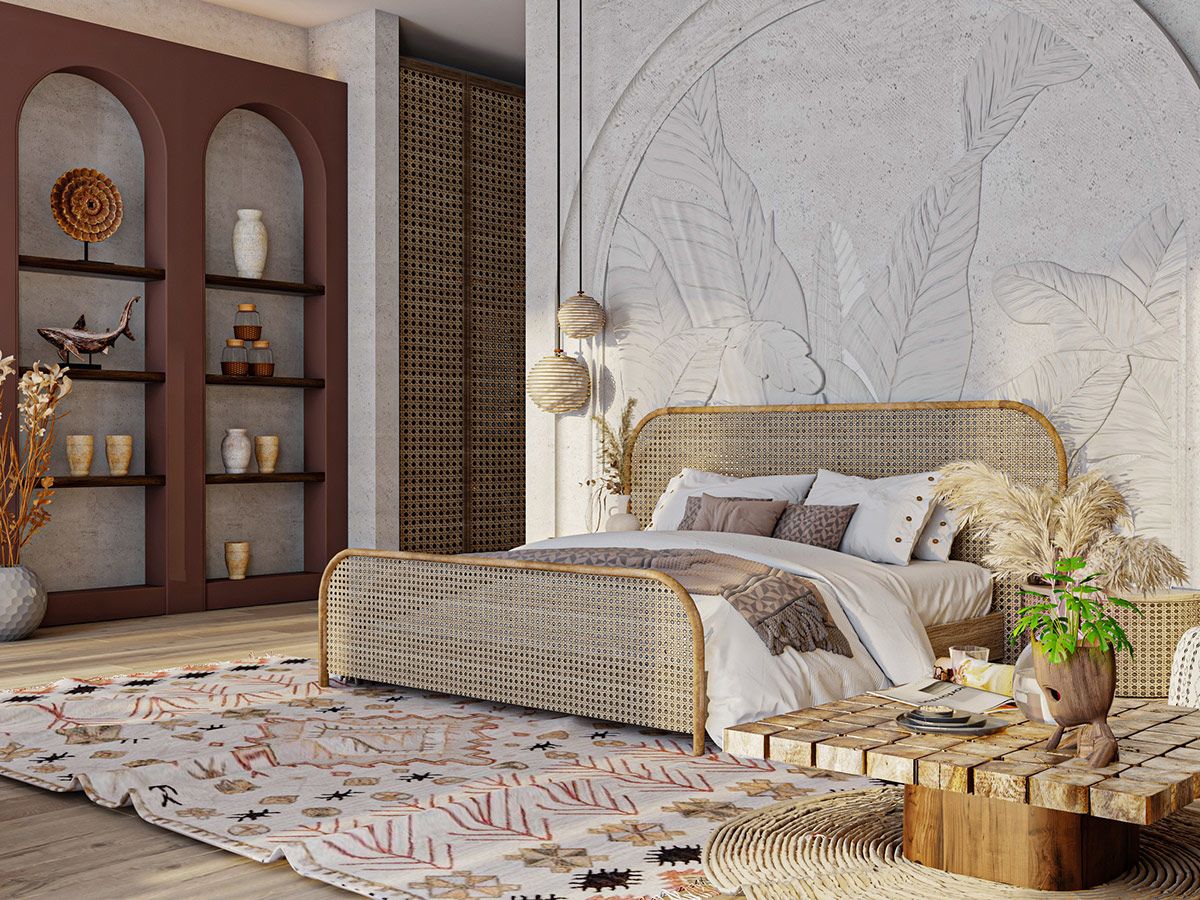 A cute Groot planter makes a playful adornment to the wooden coffee table.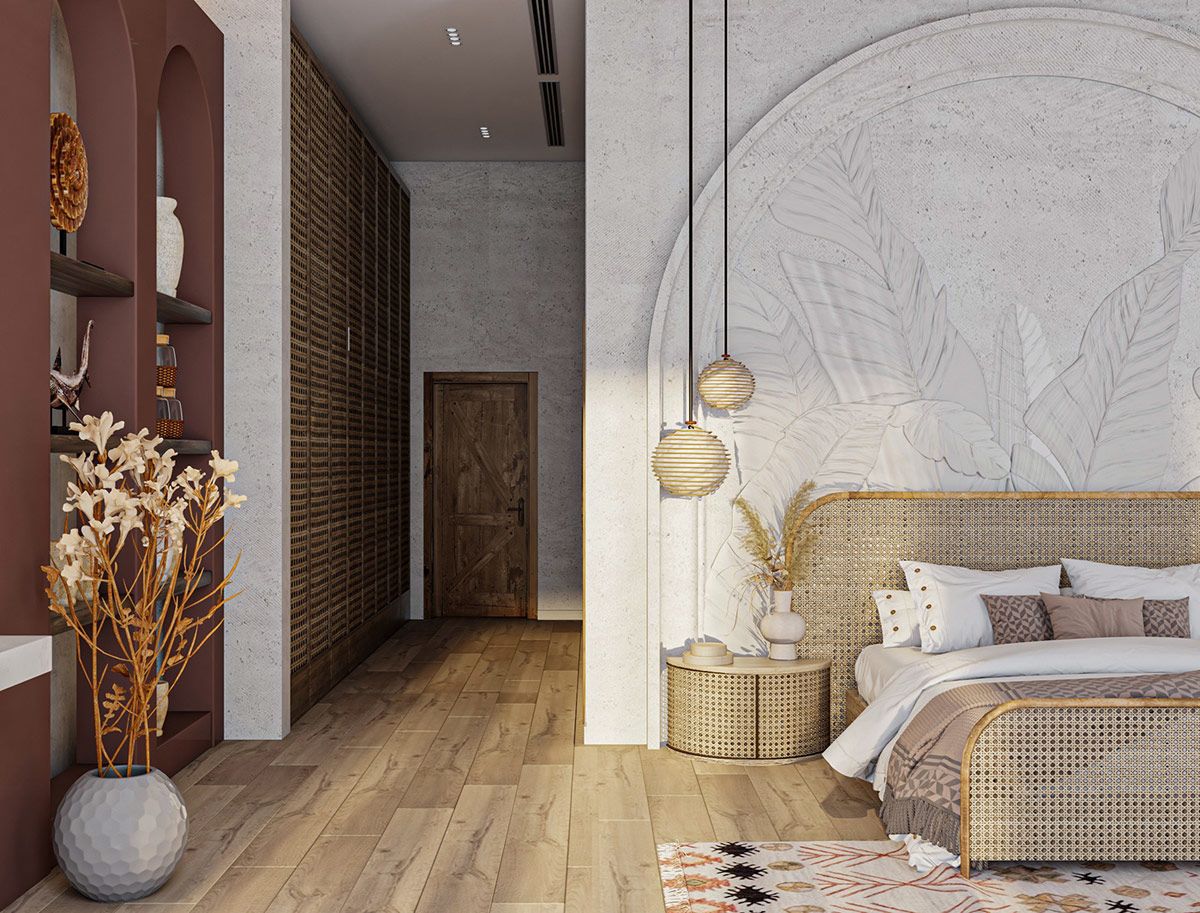 A pair of boho bedroom pendant lights dangle over a rattan bedside unit, complementing it with tone and texture.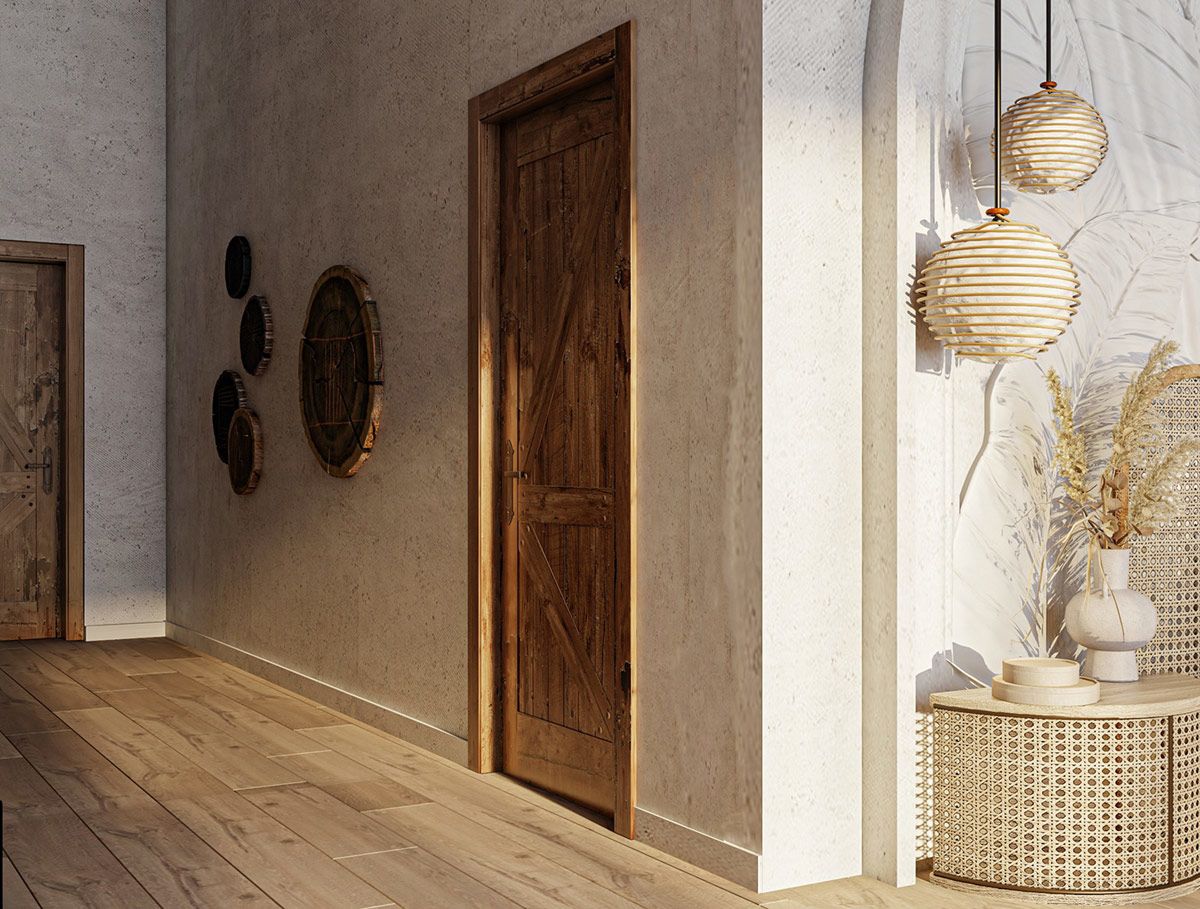 White stucco builds a textured finish behind intriguing wall hangings and around rustic wooden doors.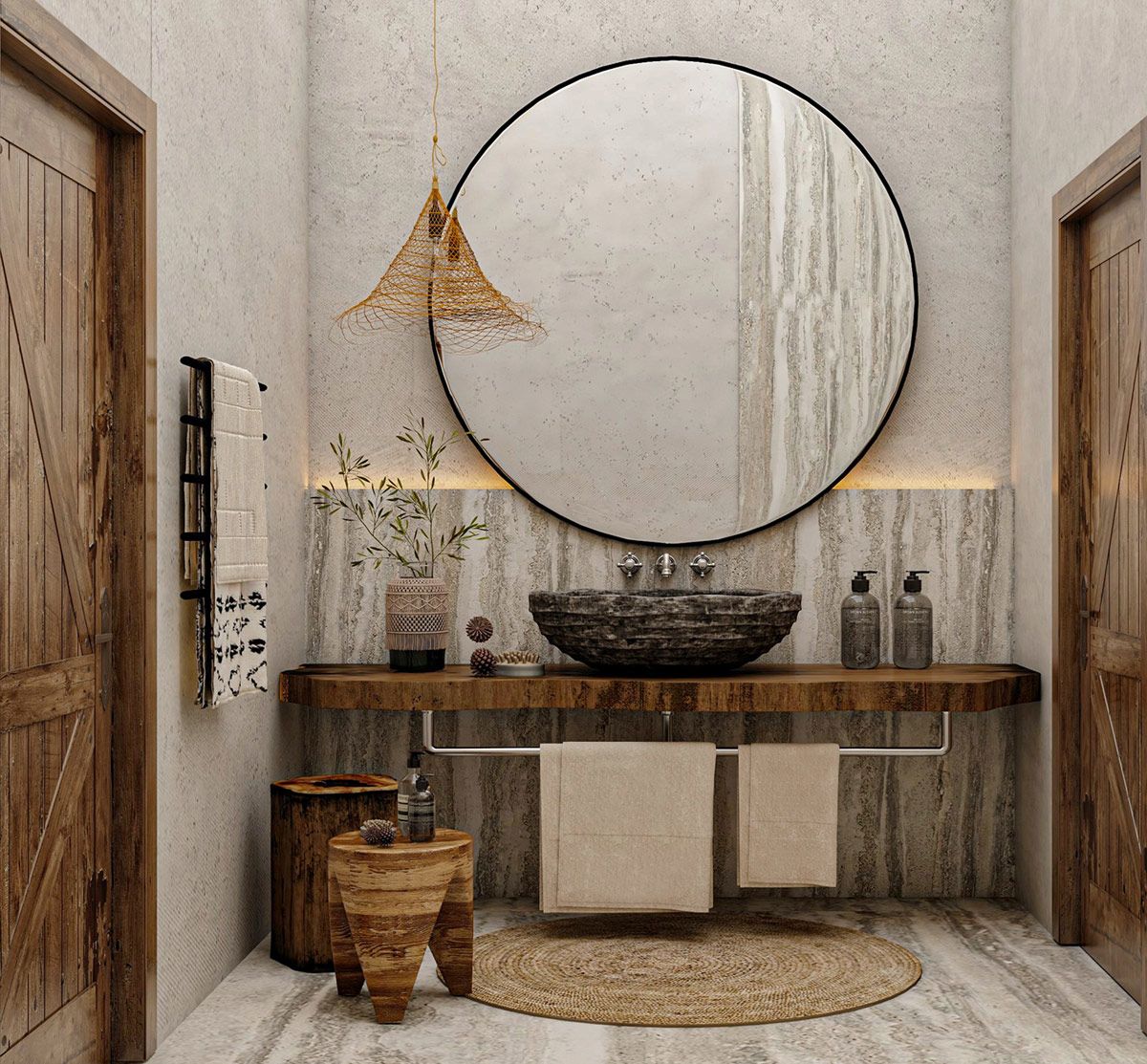 White stucco continues inside of the bathroom design, where a rich toned wood vanity shelf holds a spectacular stone basin. A huge round bathroom mirror overlaps a half-height stone backsplash, which is atmospherically lit along its top edge by a strip of golden LED light.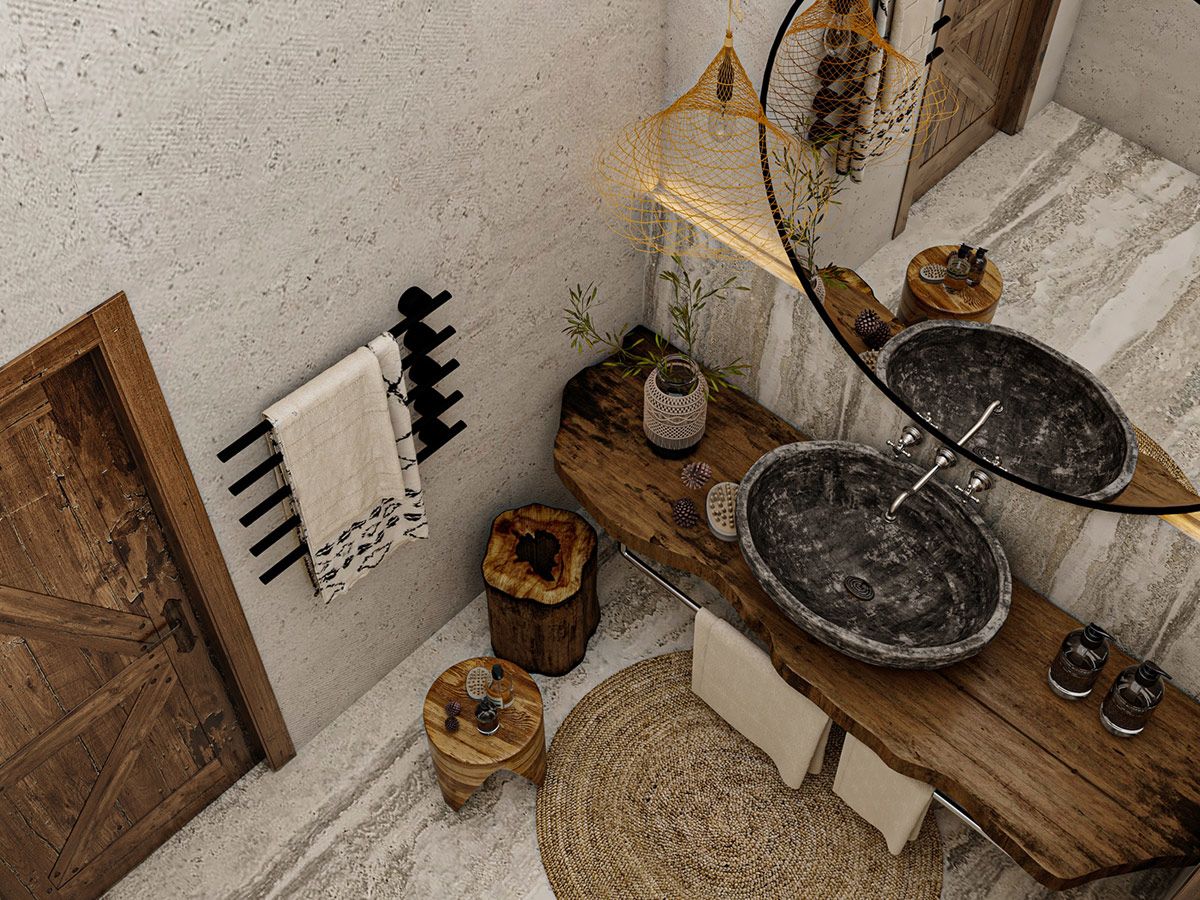 Rustic side tables and a jute rug complement the natural tone of the live-edge vanity unit.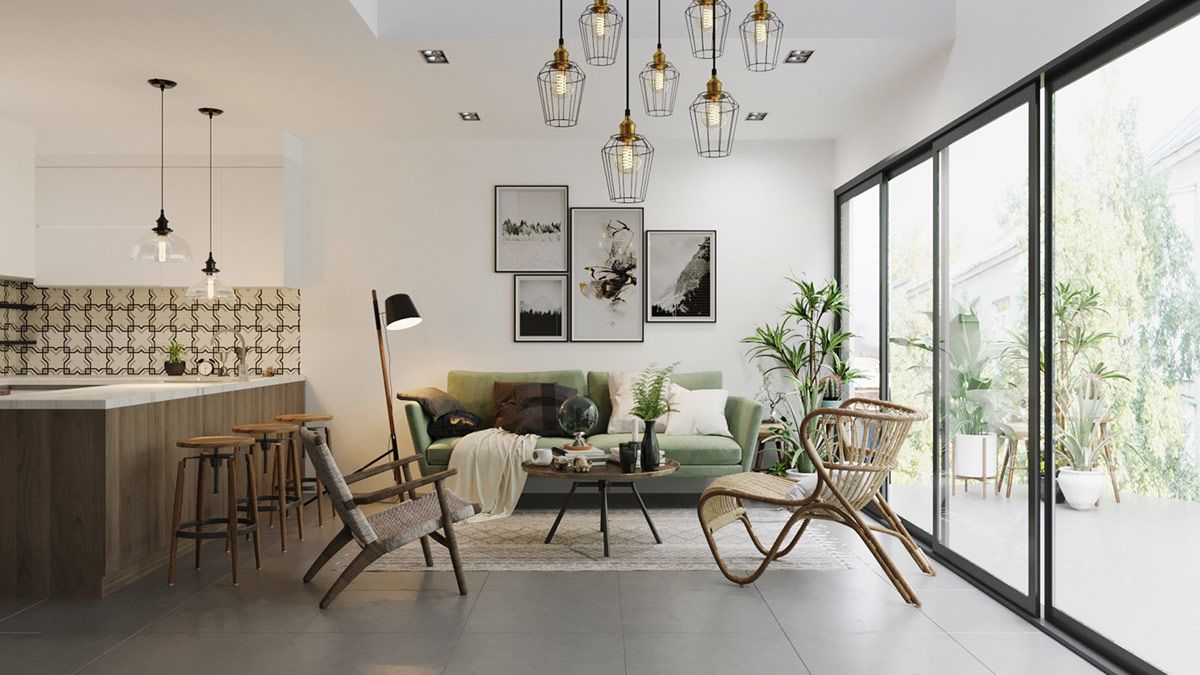 In this boho interior, an open plan living space benefits from a wide view of the garden, thanks to one entire wall of sliding glass doors. Black picture frames, a black tripod floor lamp, and two kitchen pendant lights tie in with the stark black window frames.

An industrial style lighting installation tumbles down from a double-height void over the wide walkway that leads through the living space to the garden.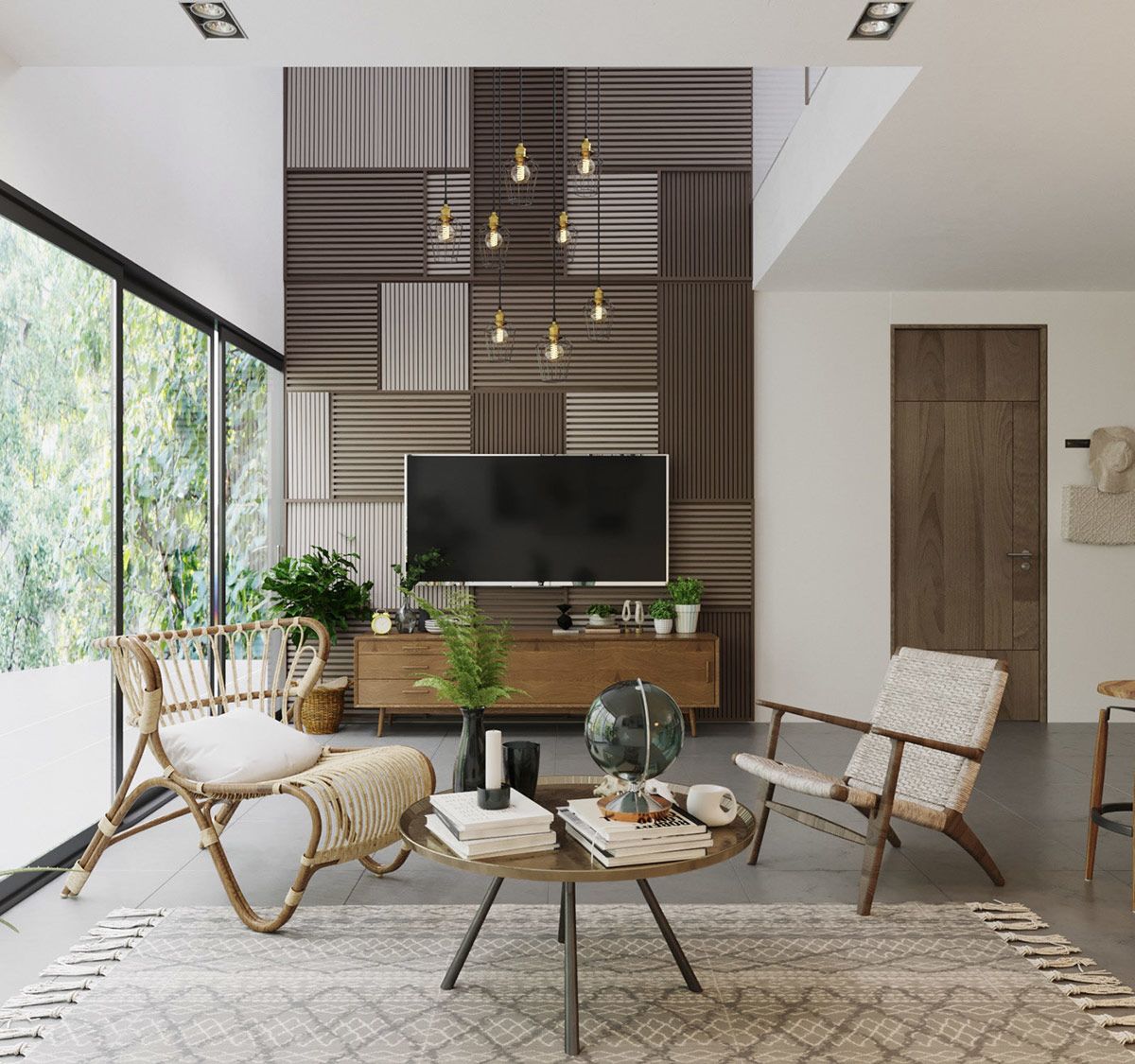 A gorgeous wicker chair is delicately framed by the graceful garden view.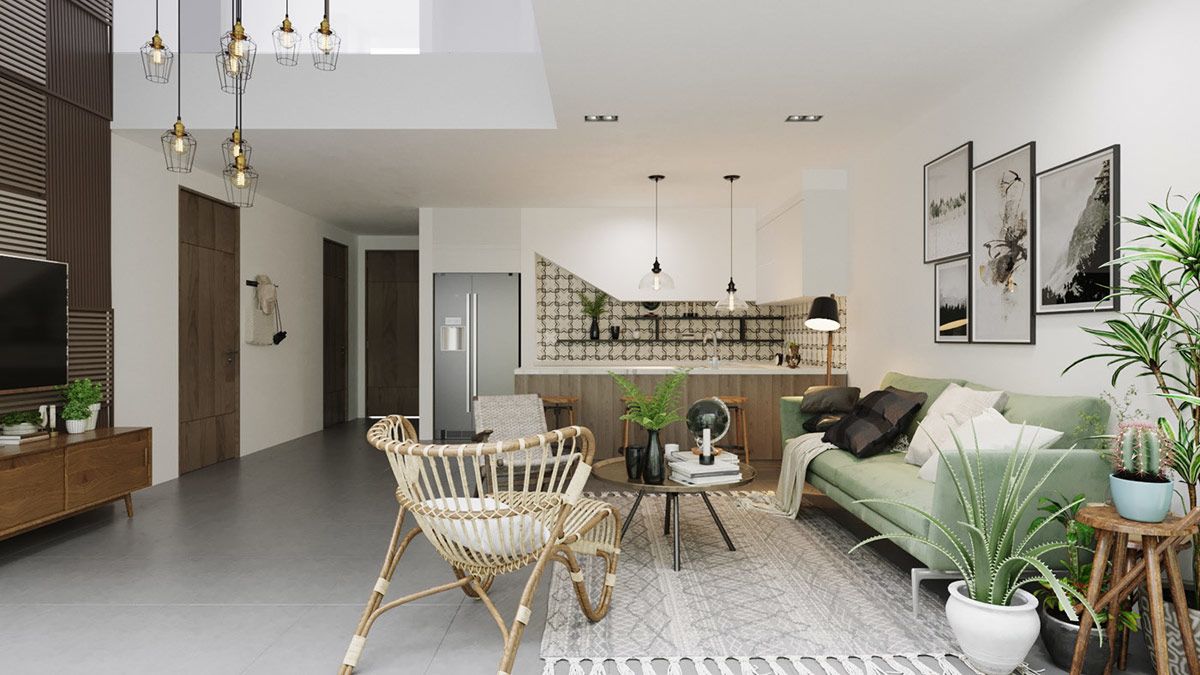 The garden views inspire a green modern sofa design, and a gallery wall of botanical art prints.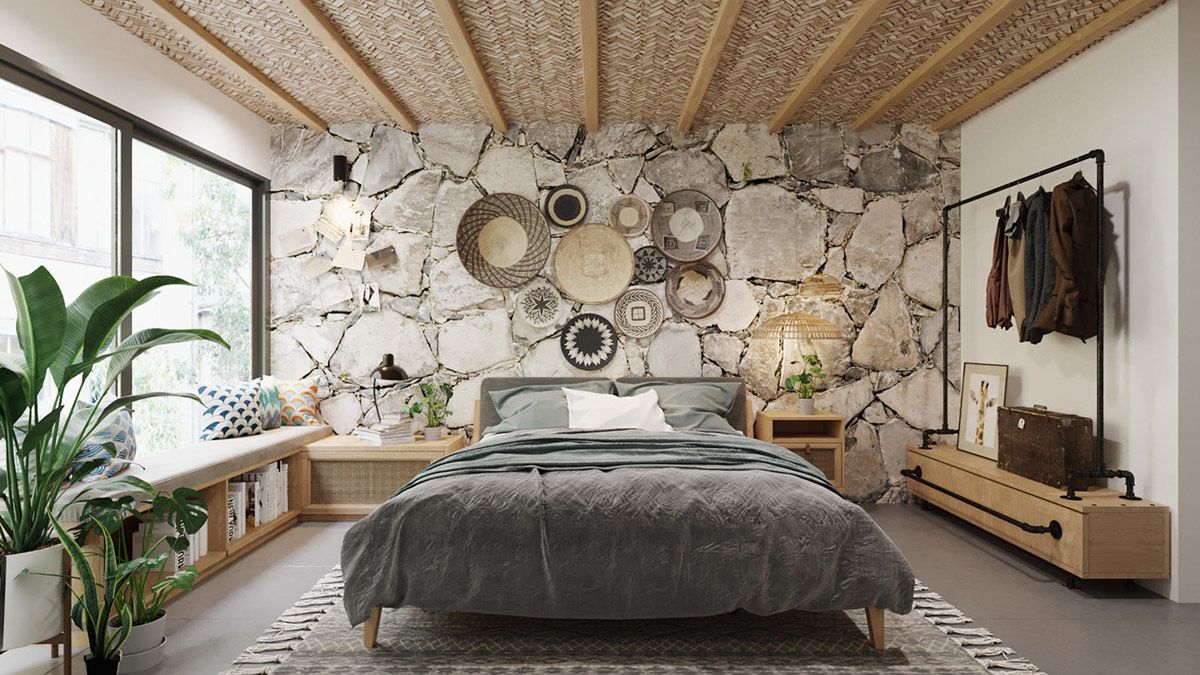 The bedroom wall decor is ruggedly rustic in spectacular stonework.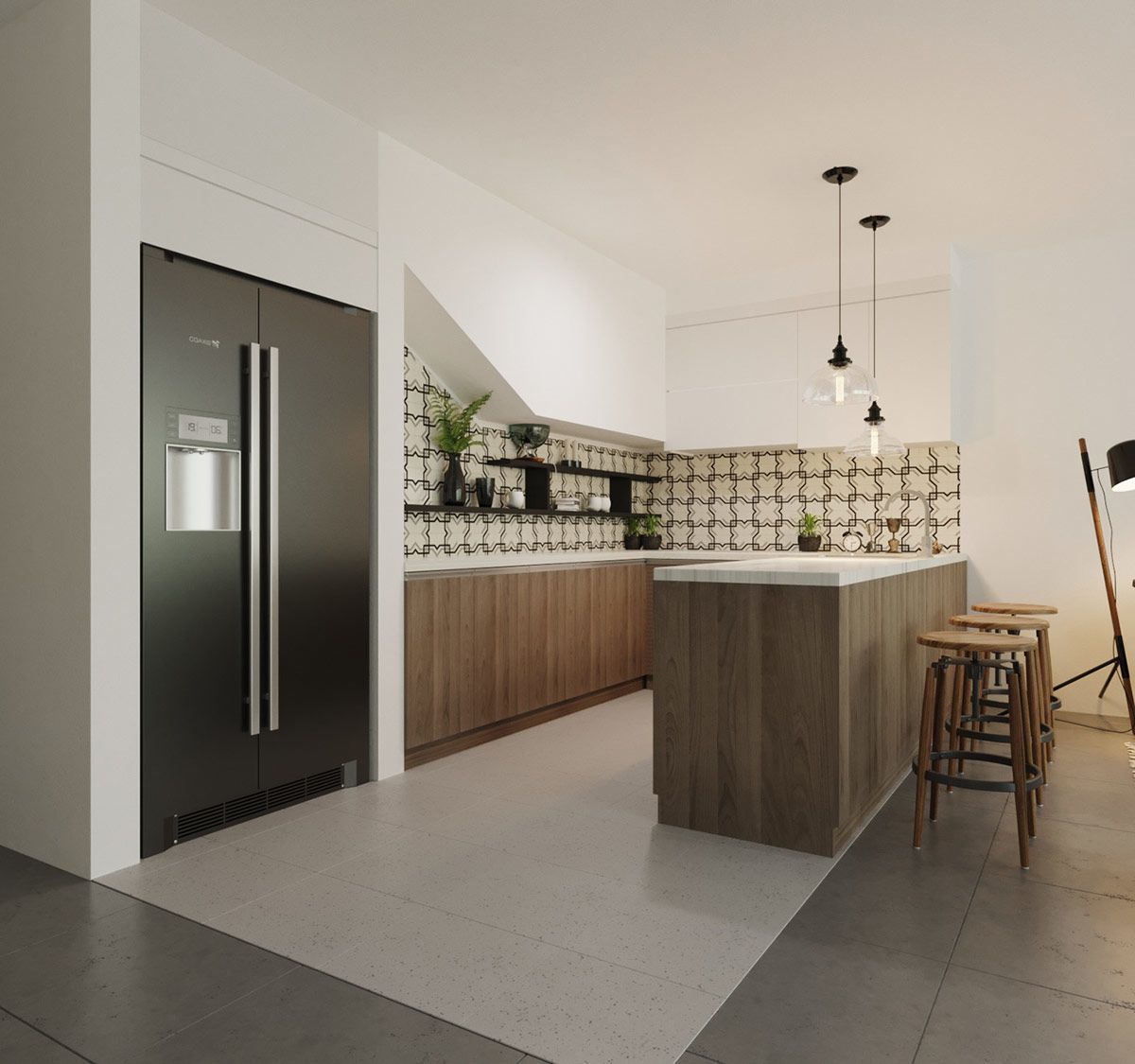 The kitchen is a refined modern space that gains character from patterned tiling.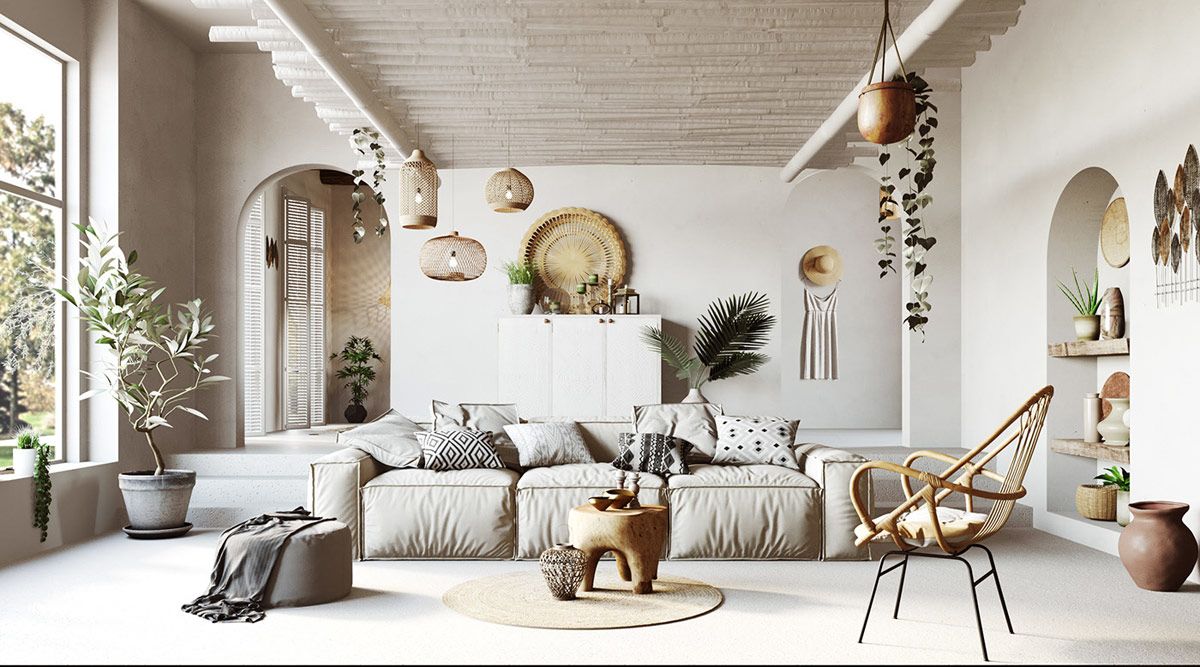 Arches and cascading hanging plants endow this boho home a romantic presence.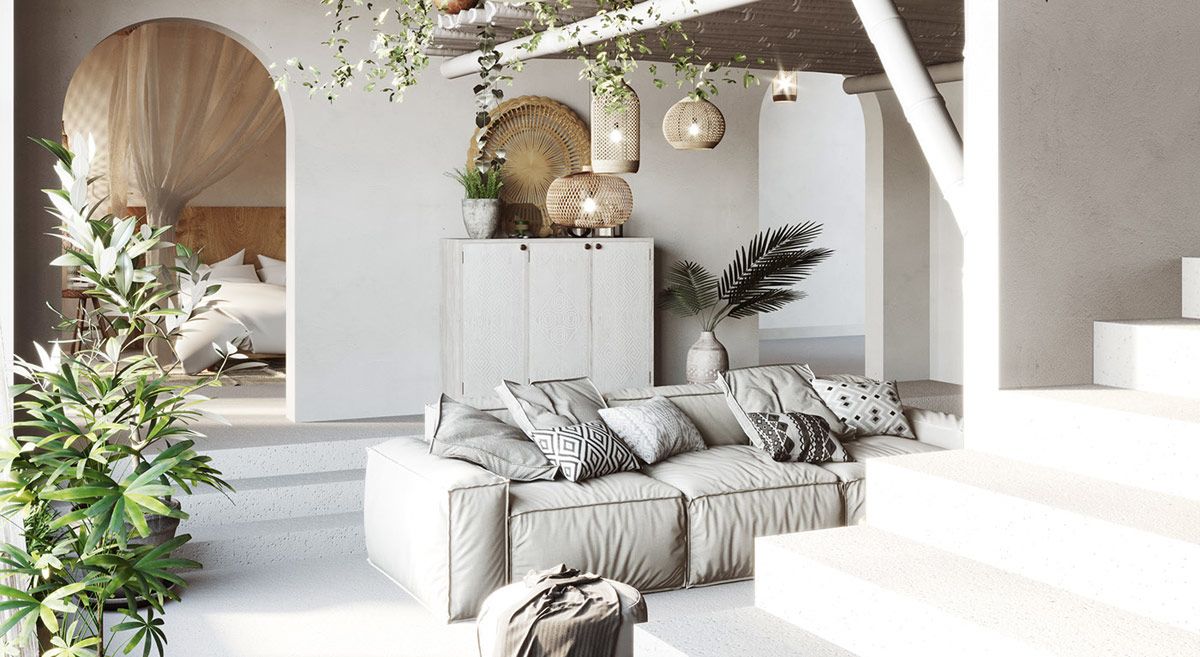 Fine leaf trails fall from the rafters to meet numerous ground planters filled with flourishing indoor plants.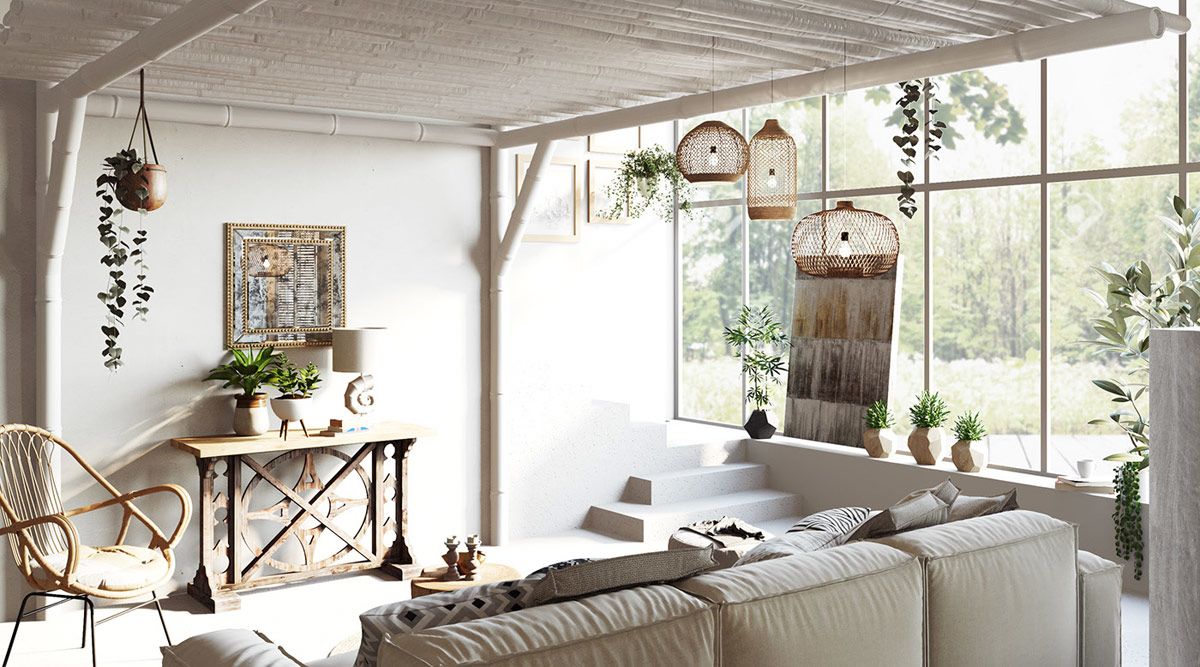 Rattan pendant lights cluster for added impact in the bright and airy white room scheme.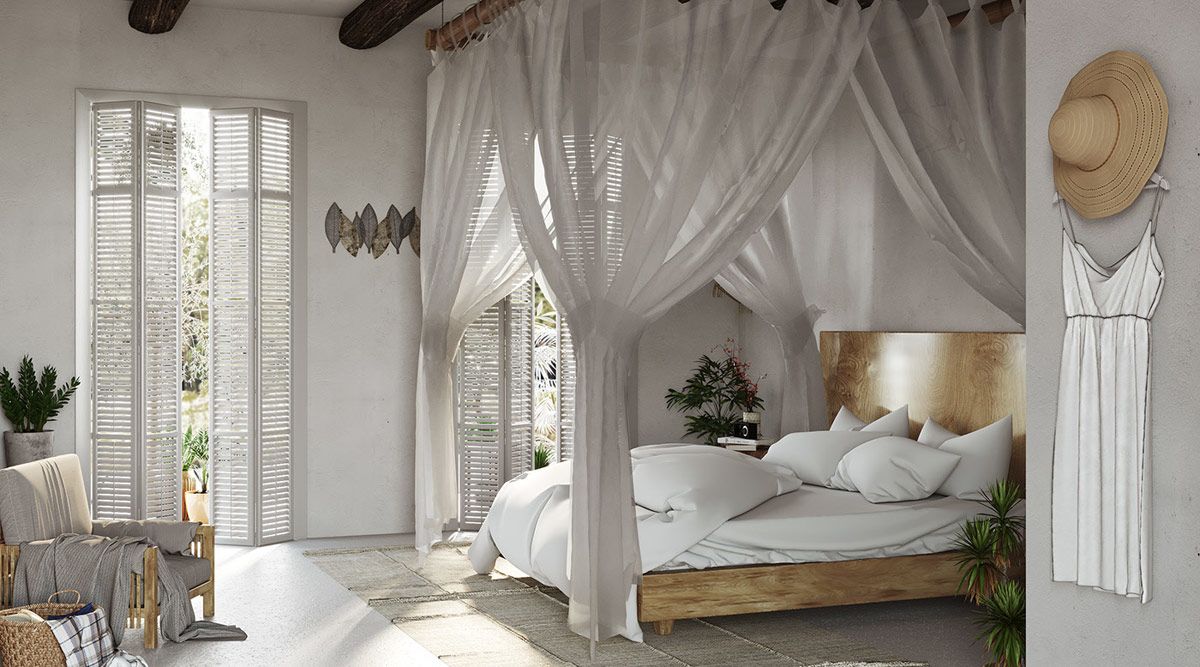 As we enter the bedroom, we uncover a dreamy four poster bed that's draped in voluminous white sheers.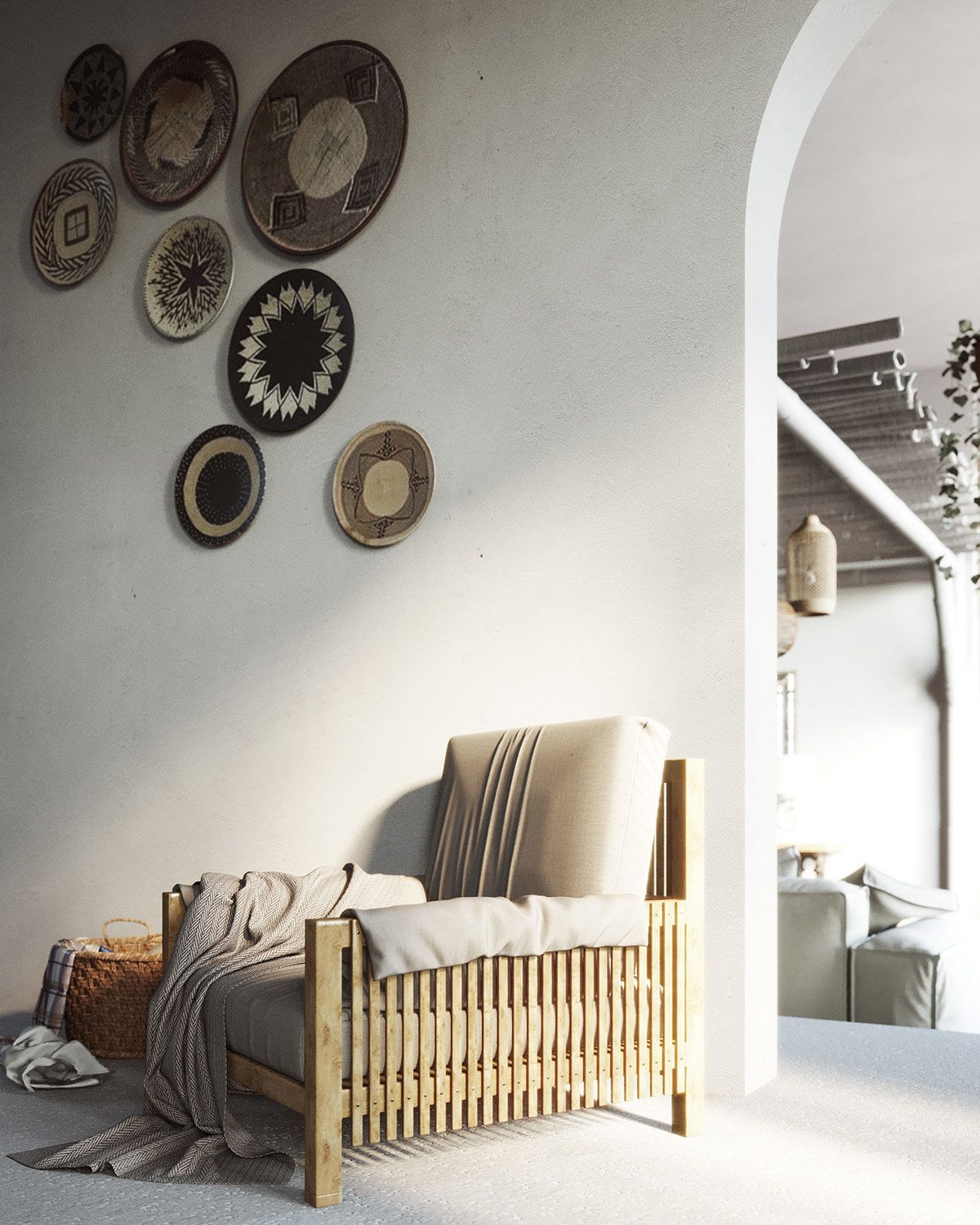 Decorative wall baskets disrupt the plain white wall stucco.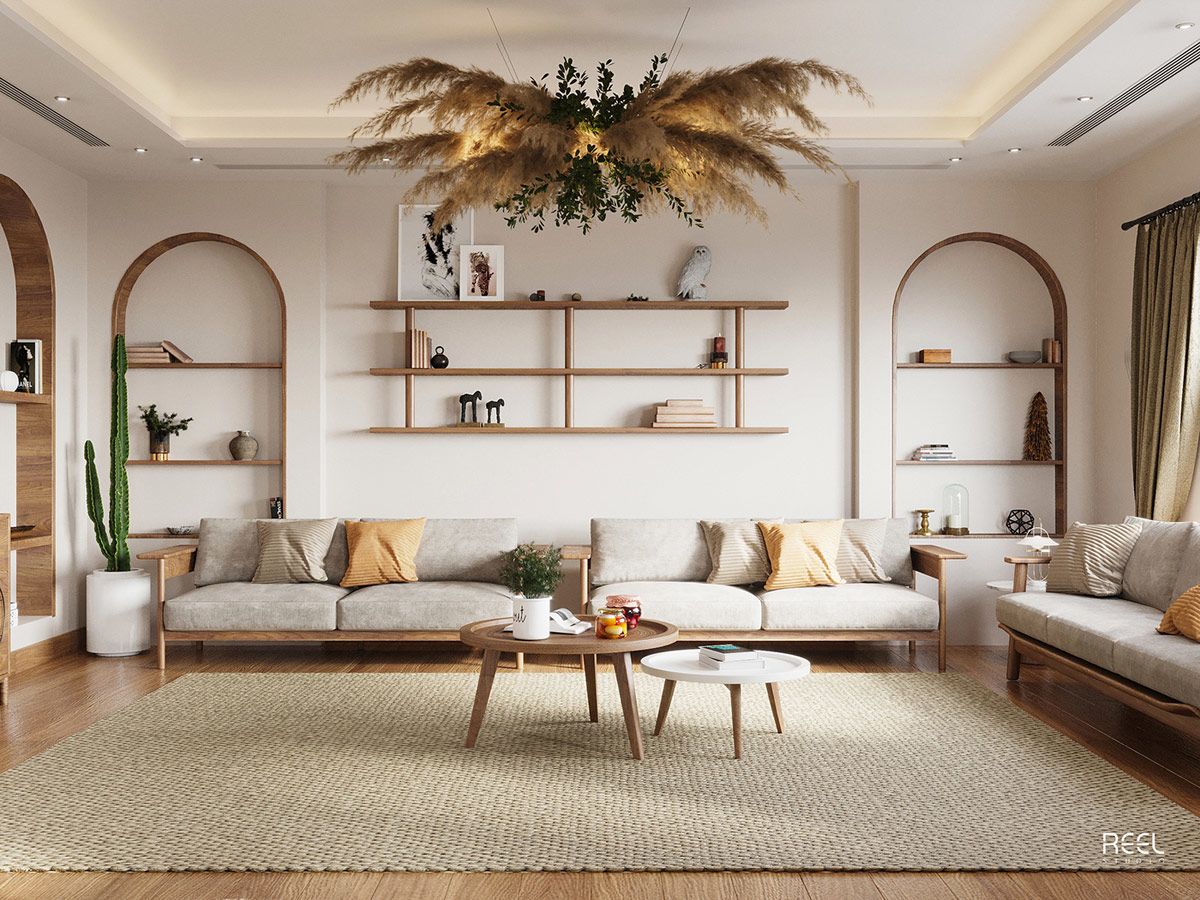 Mid-century influences lightly flavour our fourth boho home interior.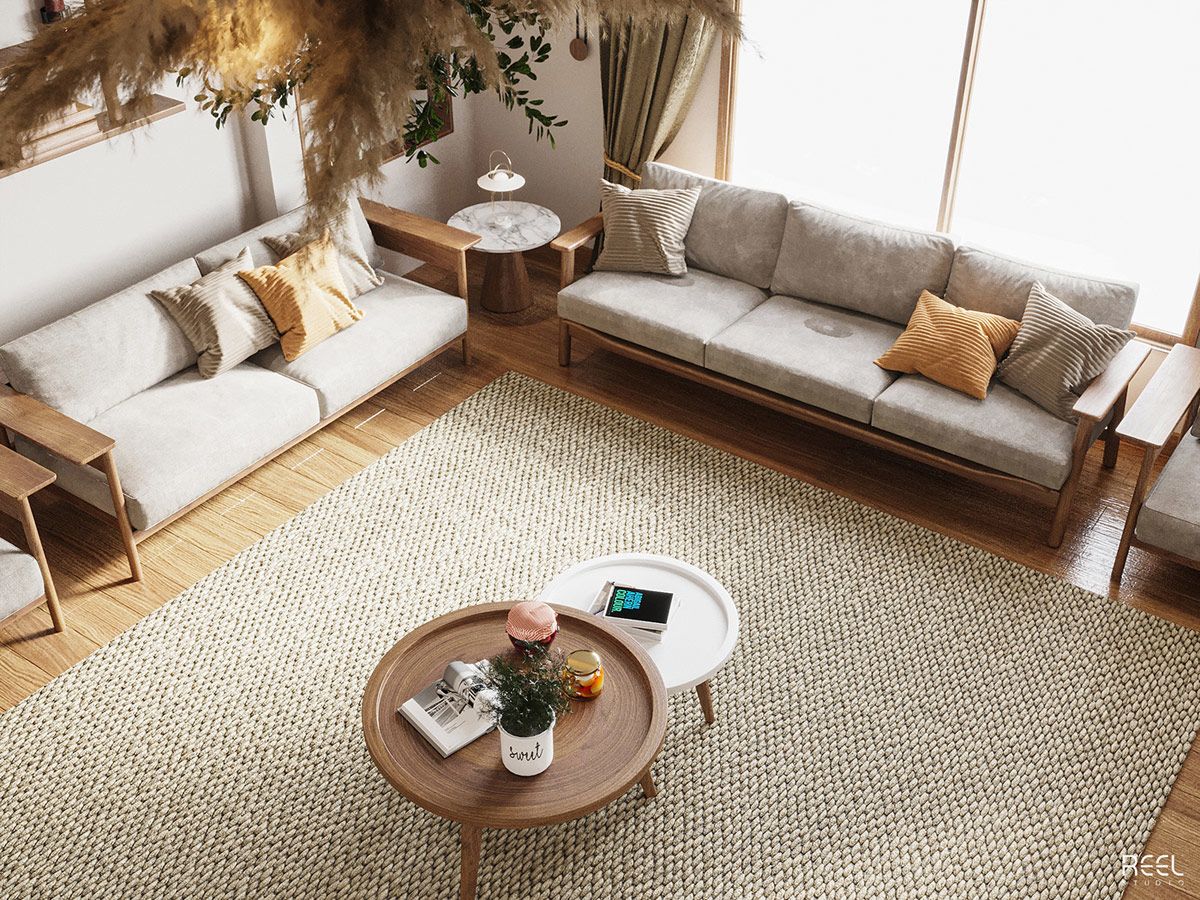 Mid-century style tapered legs shape a set of modern nesting coffee tables. A large area rug lays natural texture underneath.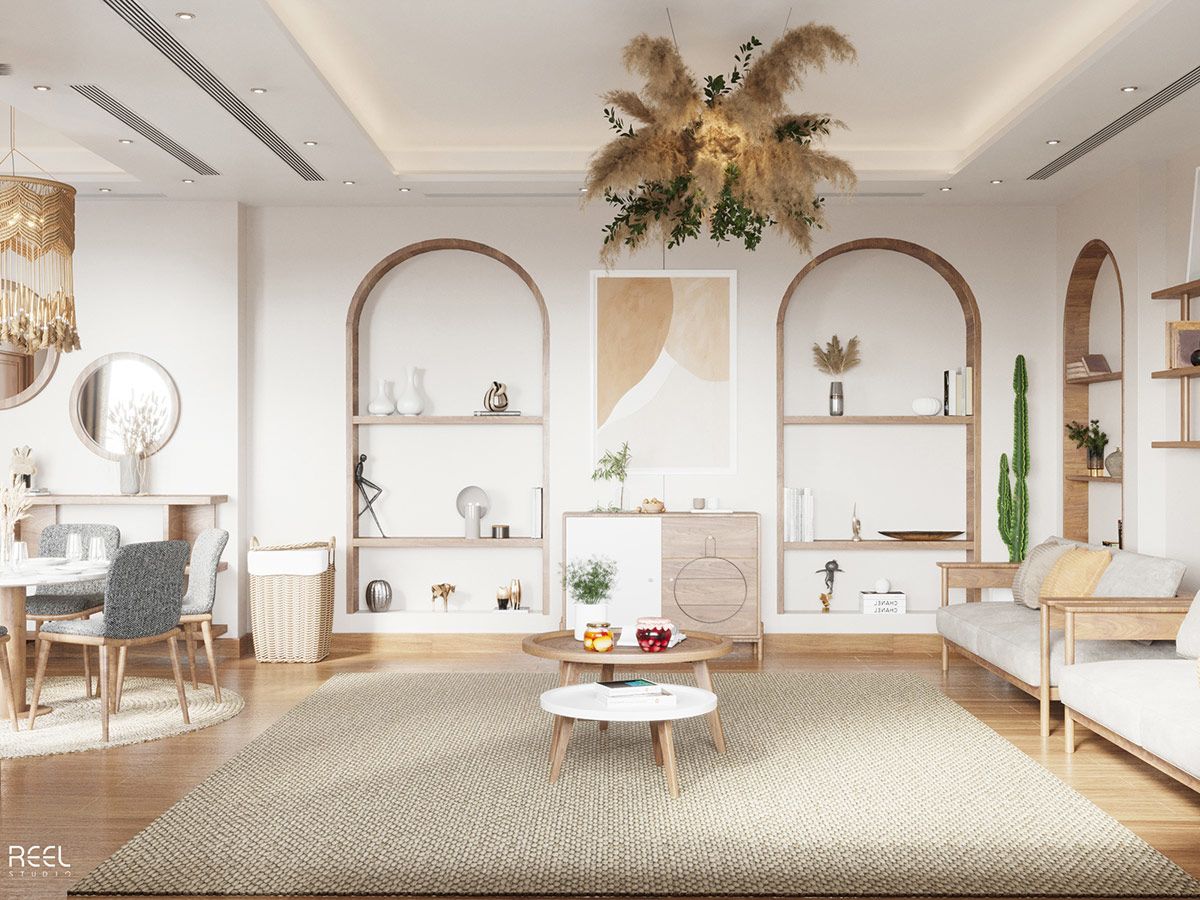 Alcoves are fashioned into arches, which encompass both contemporary and mid century aesthetics.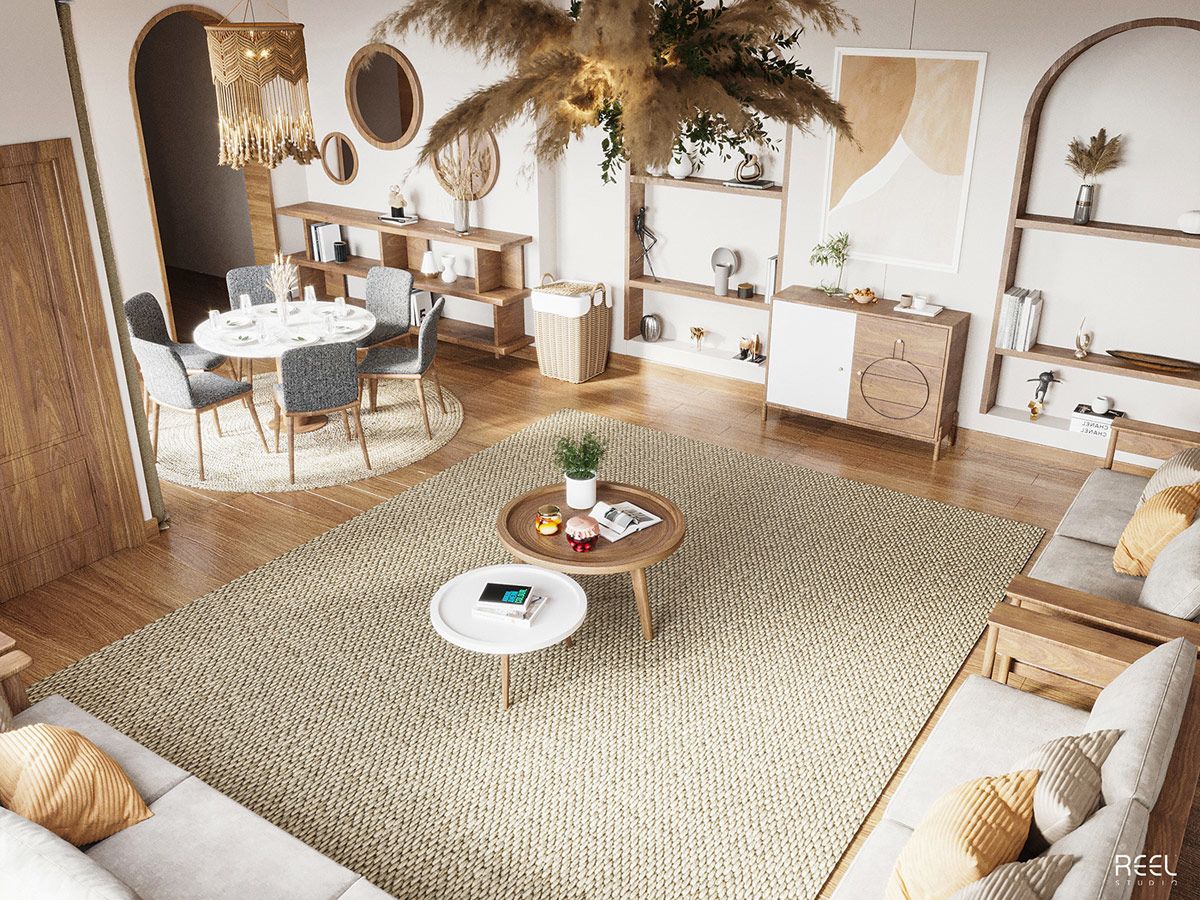 Wall art maintains the natural toned colour palette.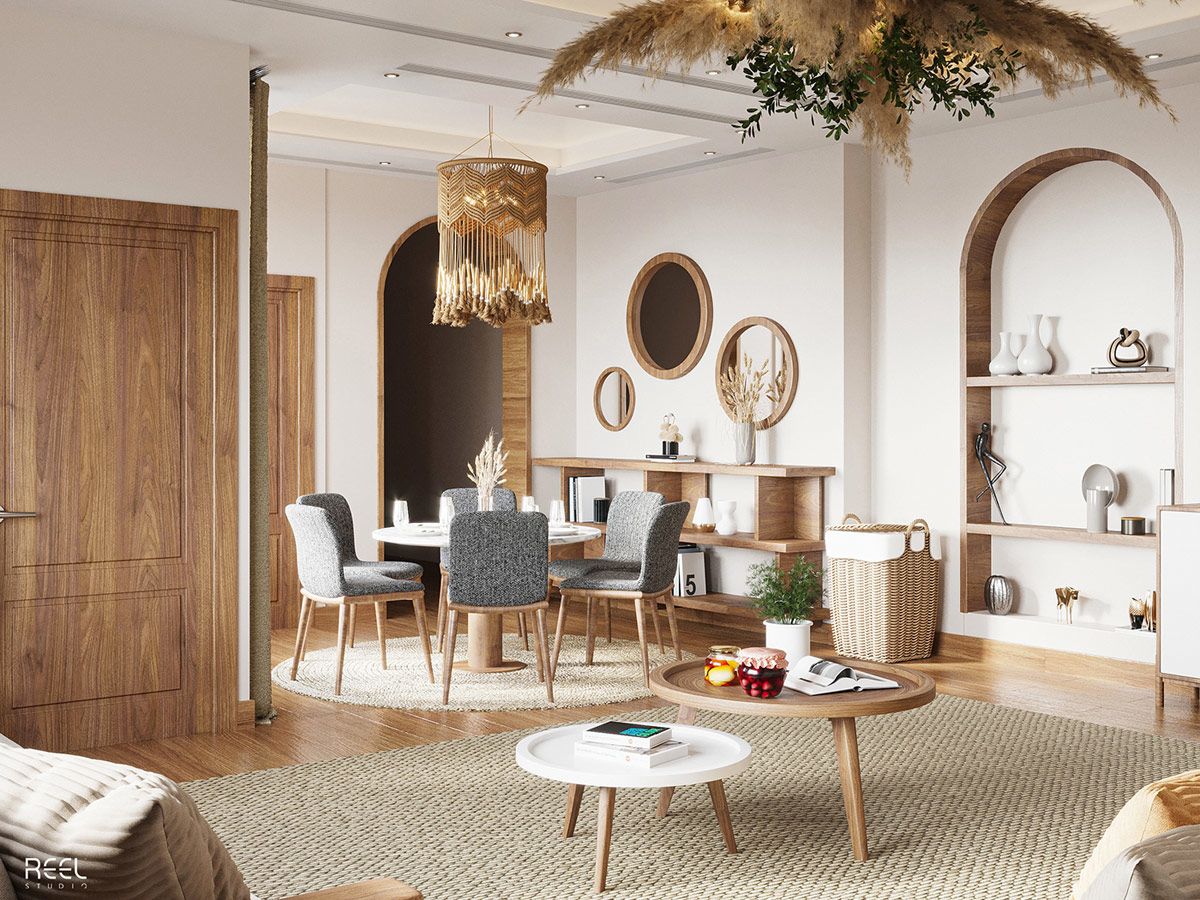 A botanical pendant light drops an explosion of texture over the nesting coffee tables.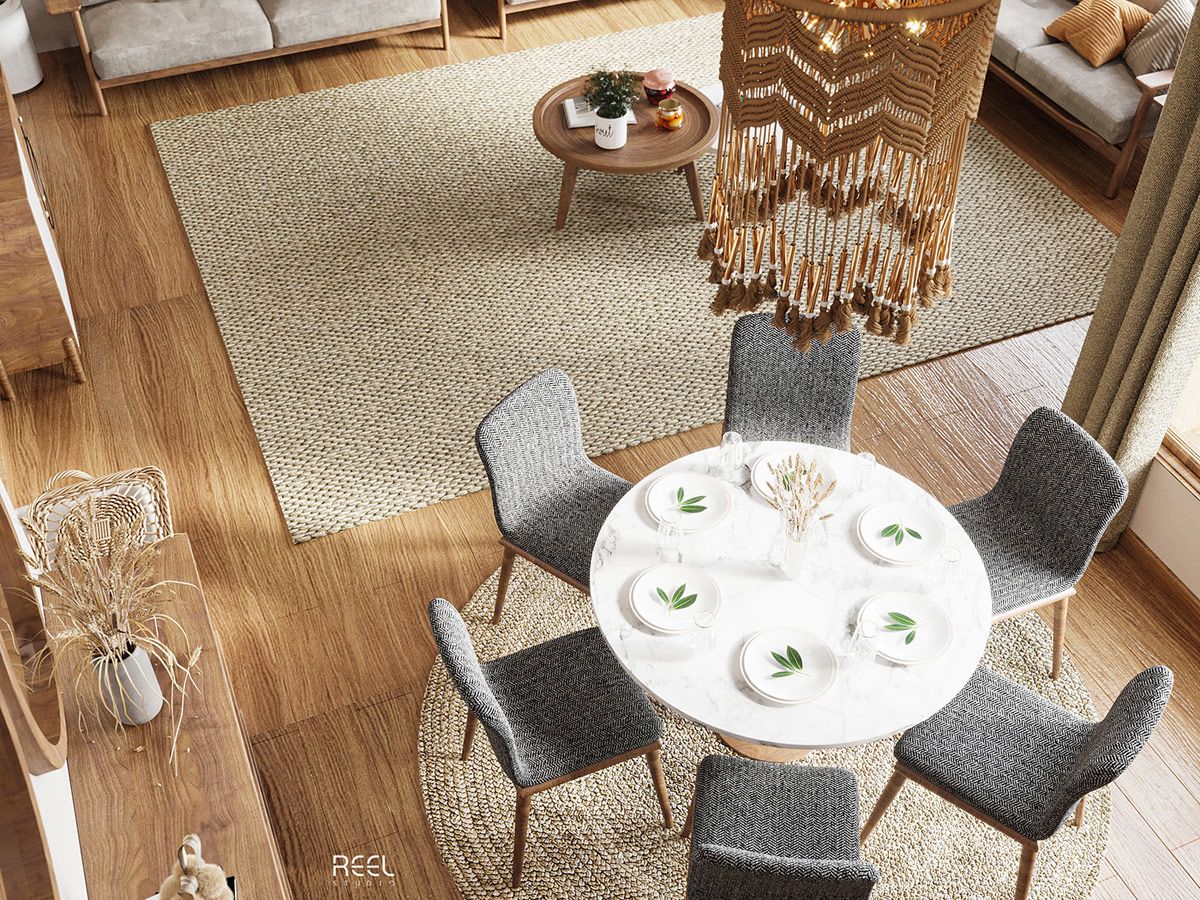 A charming macramé pendant light falls upon the round dining table.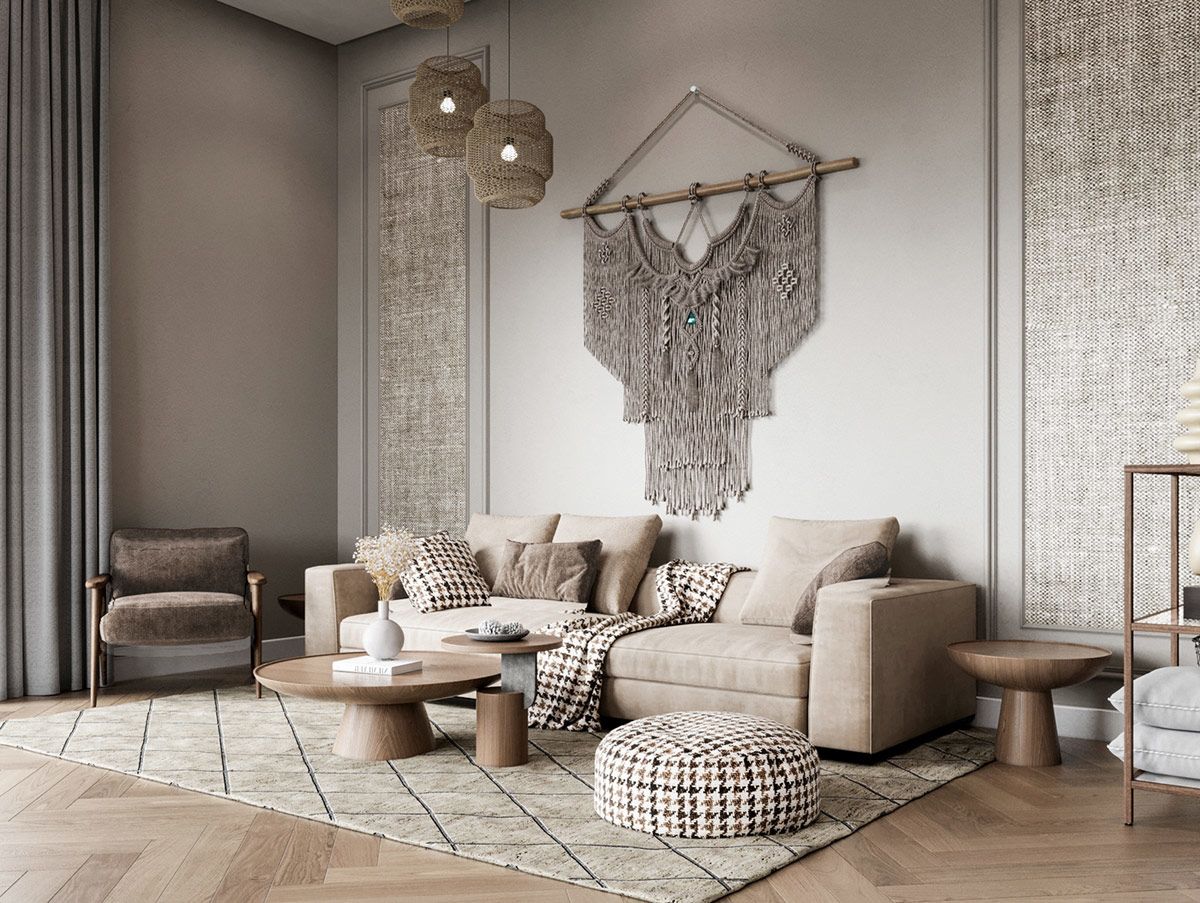 Finally, our fifth boho variation is a high-ceilinged residence with a sophisticated air. Luxe furniture meets with both boho and high-fashion decor elements.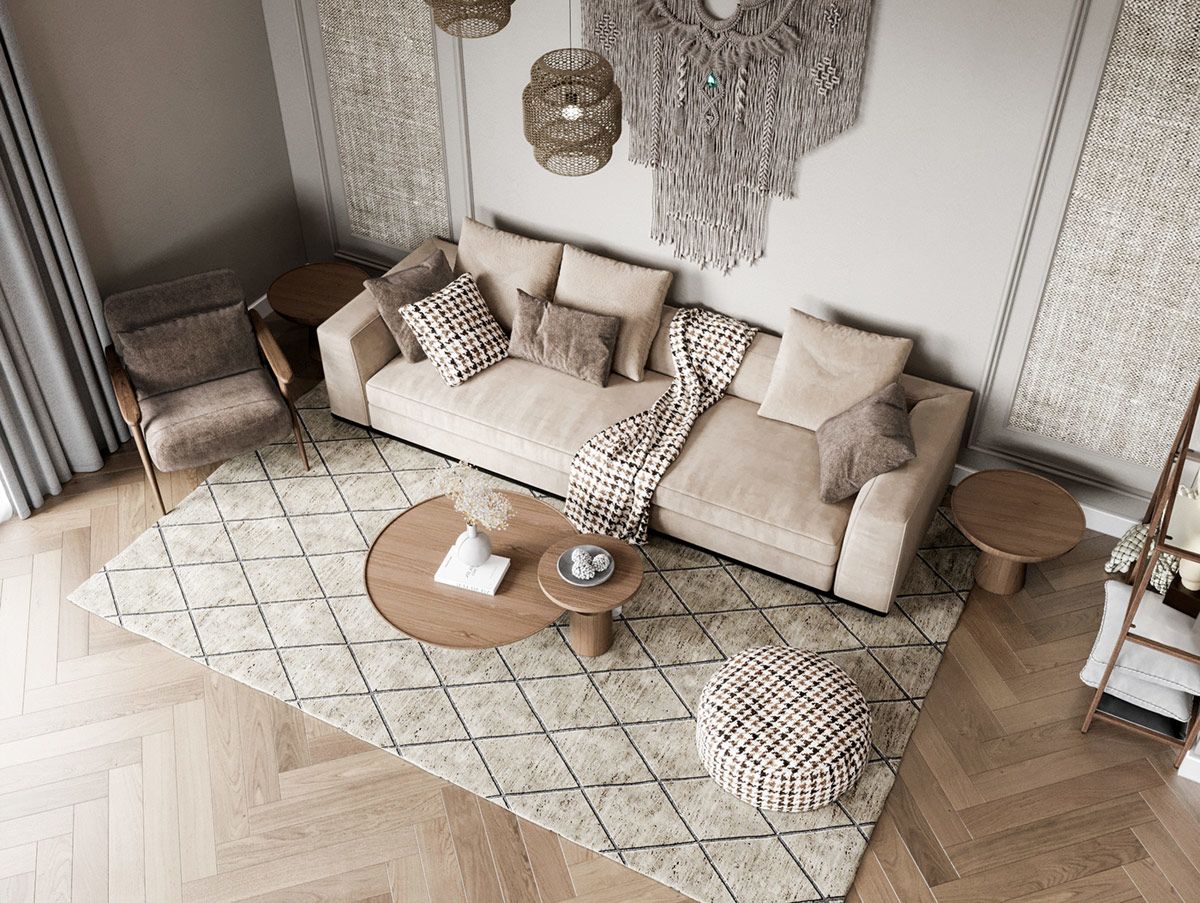 A houndstooth print pouf coordinates perfectly with the sofa scatter cushions and throw. A duo of modern nesting coffee tables form a matching set with the sofa side table.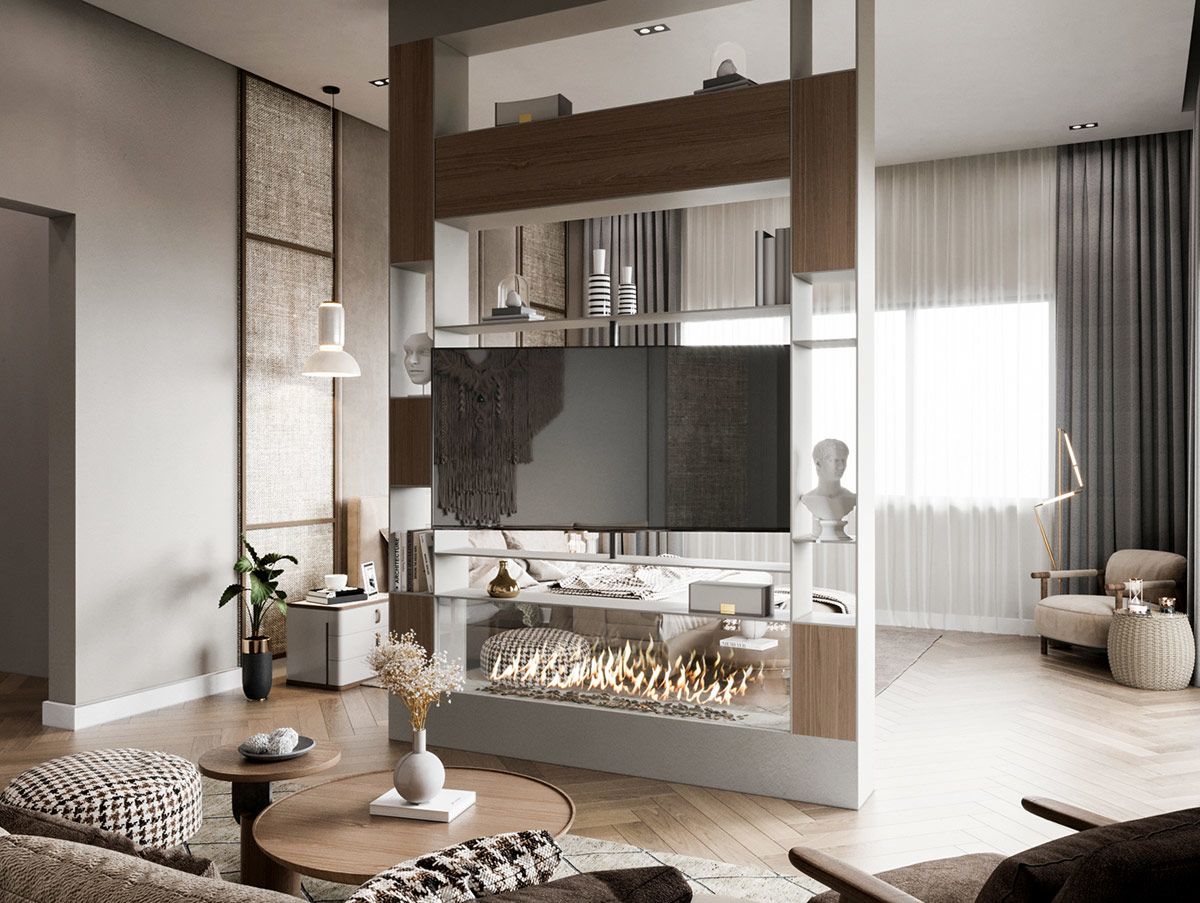 In the centre of this luxury studio apartment, a modern fireplace reflects the upmarket lounge area with its mirrored firebox.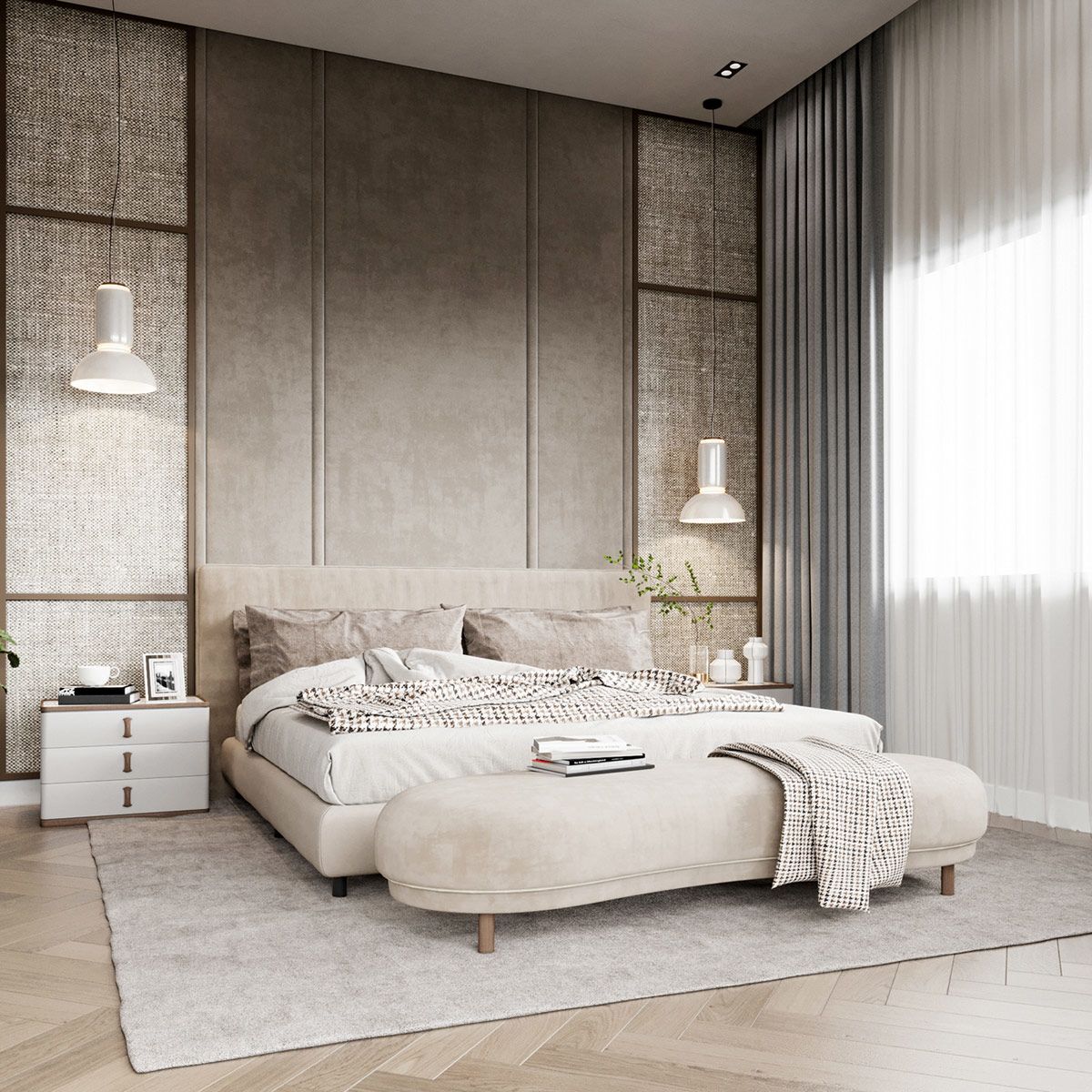 Behind the fireplace, the luxurious bedroom features a fully upholstered headboard wall. A modern upholstered bed softly melds with the statement wall.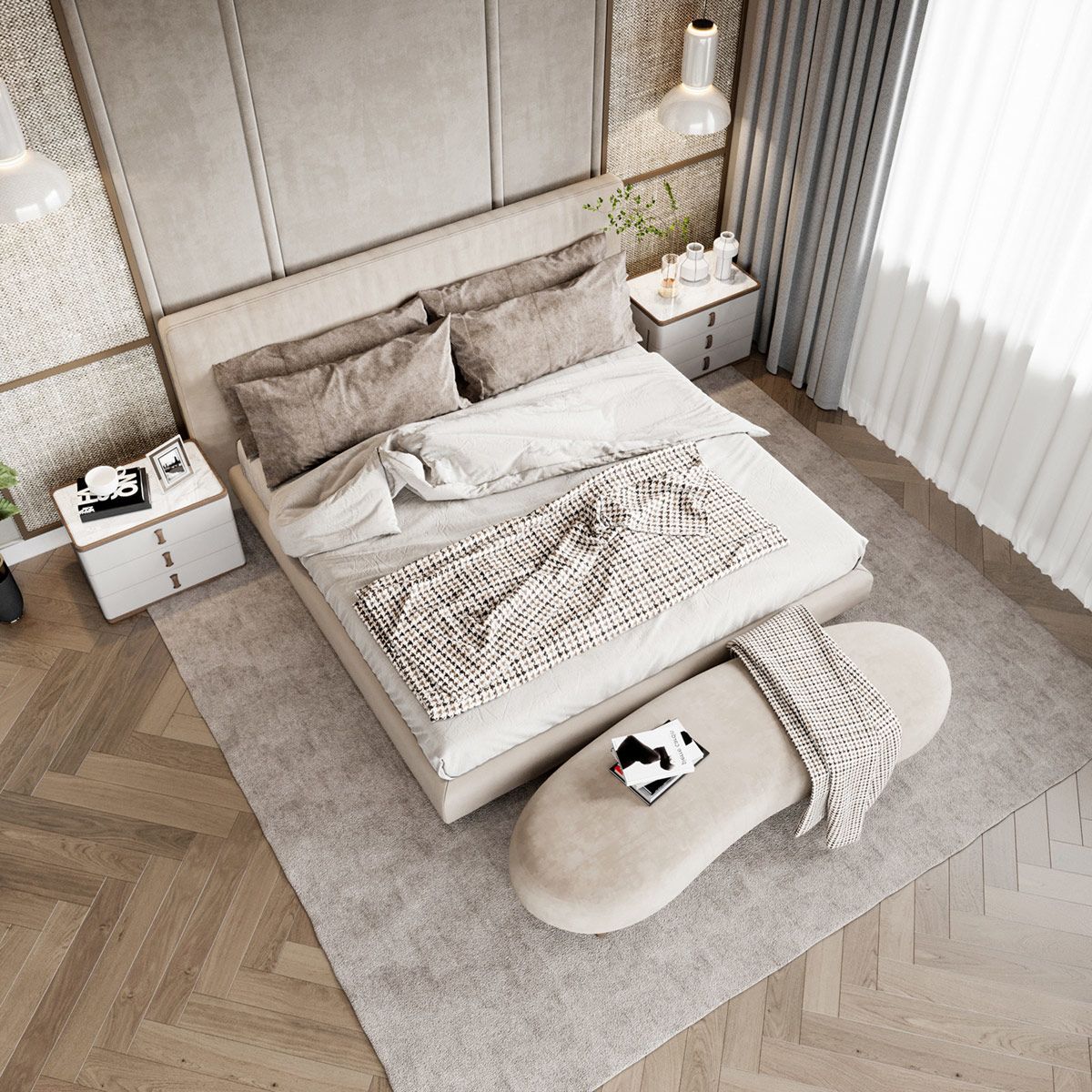 A curved end of bed bench smoothly complements the beige bed design. The bedroom rug unfurls a slightly darker shade beneath to build subtle contrast.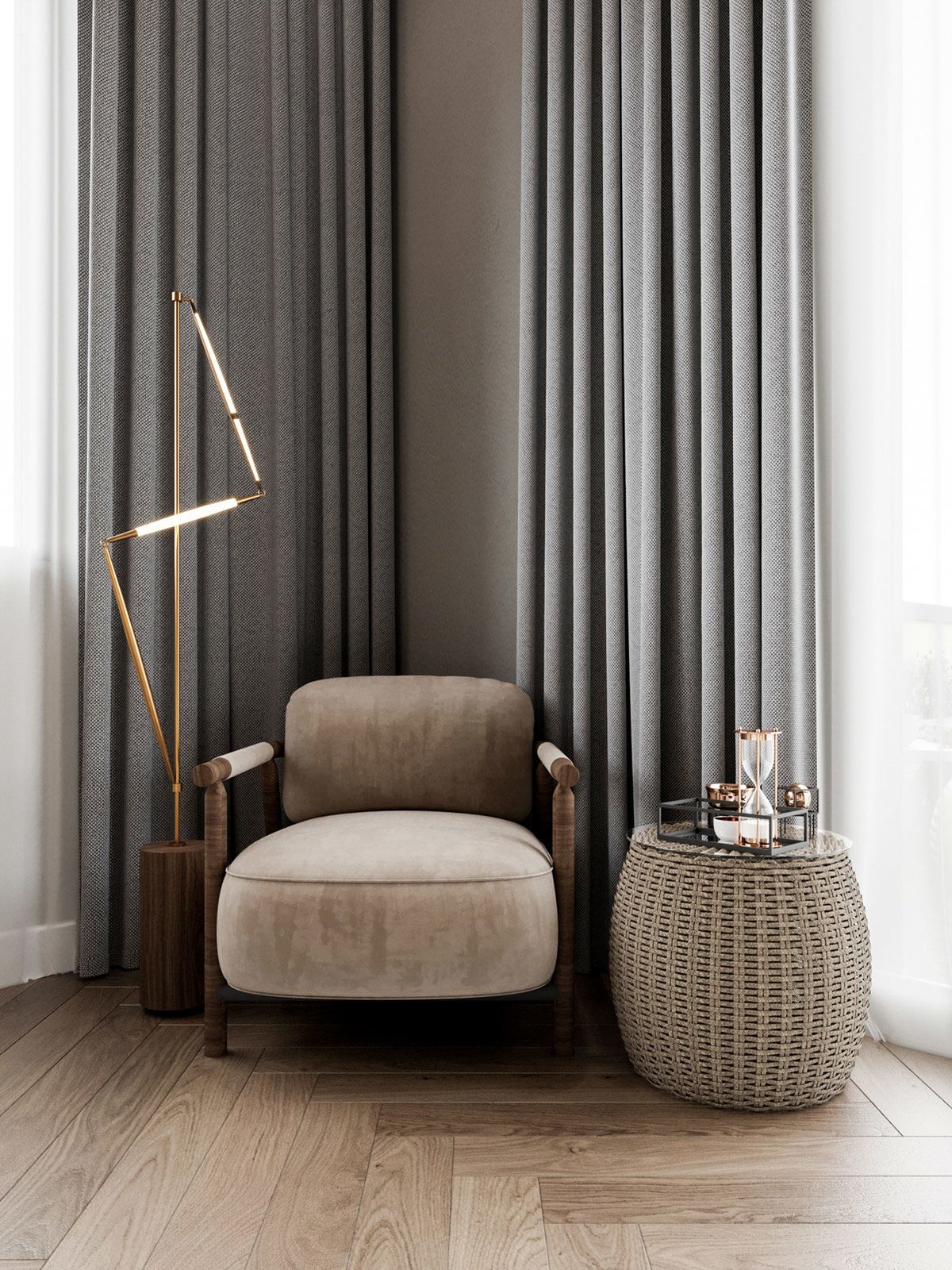 A stylish bedroom chair, a unique floor lamp and a boho side table make up an attractive reading nook by the bedroom window. Grey drapes frame the floor-to-ceiling glass.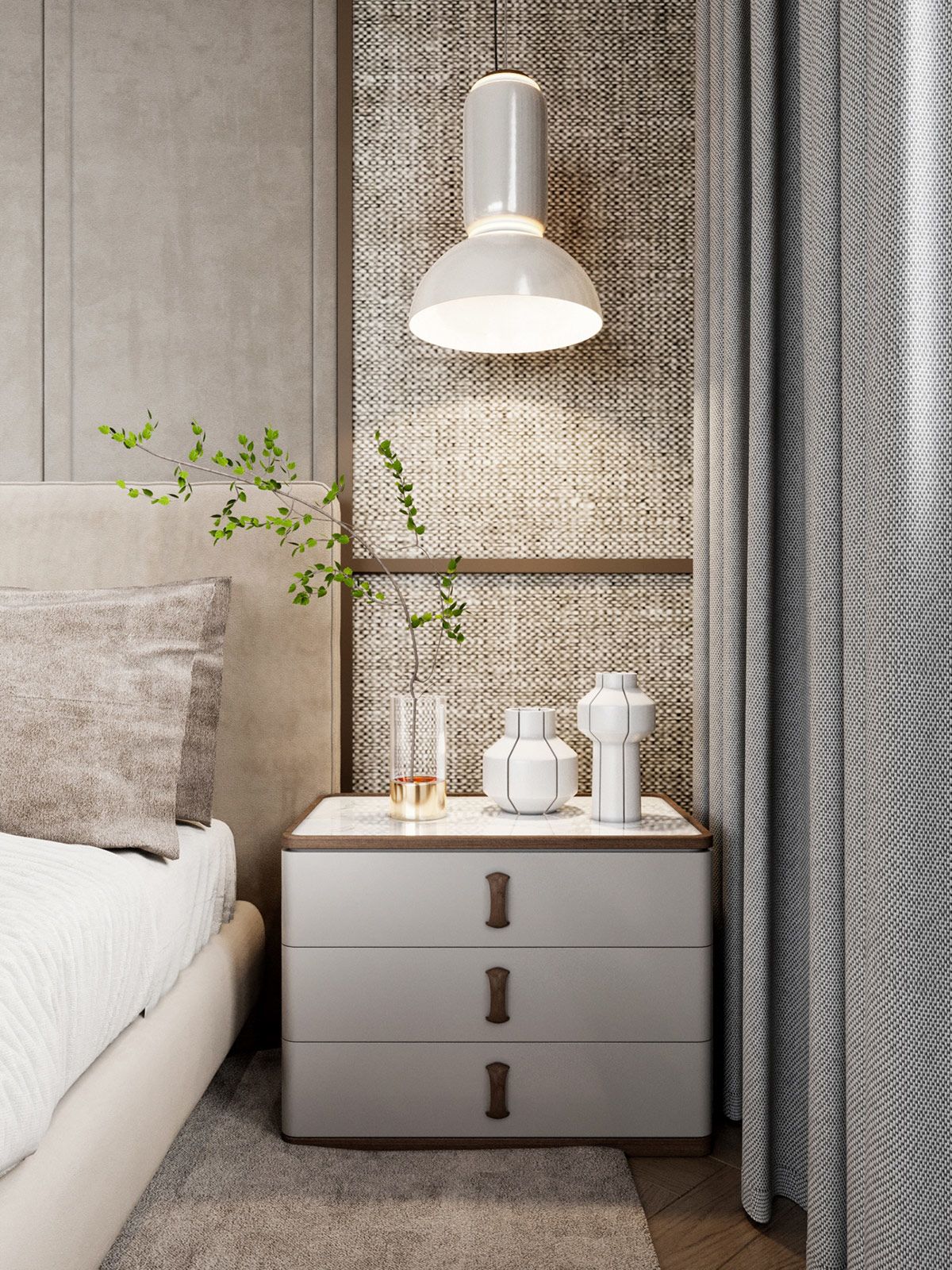 White pendant lights illuminate upholstered bedside drawer units and a display of decorative vases. A sprig of greenery boosts the peaceful bedroom scheme with an uplifting touch of nature.