The handmade cabin owned by Ido Yoshimoto (J.B. Blunk's godson) is featured in the book 'How to Get Away,' alongside retreats that dot remote forests around the world.
If you've spent time in and around Inverness, a misty, rustic Marin County enclave most famous for its community of artists, proximity to the Point Reyes Light House, and abundance of oyster farms, you may have heard of J.B. Blunk. Blunk, a Kansas-born sculptor who escaped to the wilds of Northern California to live off the grid, created his famous, organic sculptures out of wood, clay, and stone. His massive sculpture and master work "The Planet" (1969) was carved from the stump of an ancient redwood and is a must-see at the Oakland Museum of Art. His house, known simply as the Blunk House, has been preserved as a museum.

And it's become a kind of prototype, like George Nakashima's house in Pennsylvania, or Georgia O'Keeffe's house in New Mexico, for people who want to live simply and deliberately in nature, surrounded by handmade, carefully curated objects. Blunk's godson, fellow sculptor Ido Yoshimoto, is one of them. In the book How to Get Away: Cabins, Cottages, Hideouts and the Design of the Retreat by Laura May Todd (Lannoo Publishers), Yoshimoto's handmade cabin is featured alongside retreats that dot remote forests around the world, from Marrakech to the Stockholm archipelago.

One glance at Yoshimoto's simple cabin, though, and it's clear that this house could only exist in California.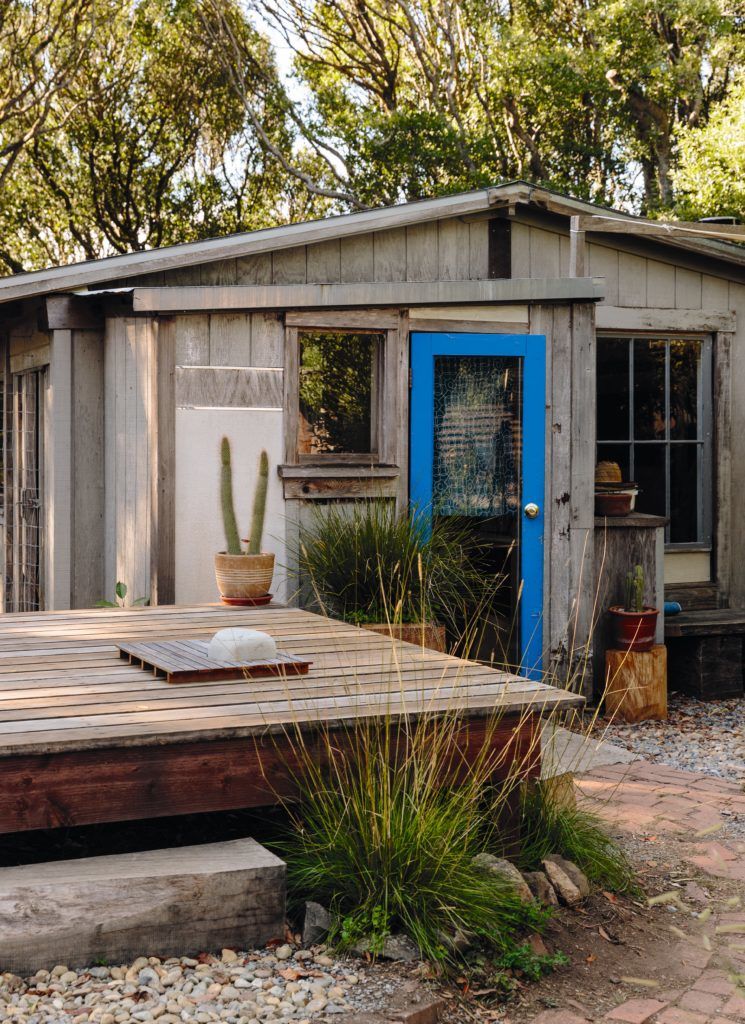 Yoshimoto was raised nearby in Marin County and followed in the footsteps of Blunk and his own father, Rick Yoshimoto, a fellow sculptor. He poured his heart and soul into the woodland retreat at the end of a dirt road, about 2.5 hours north of San Francisco but worlds away.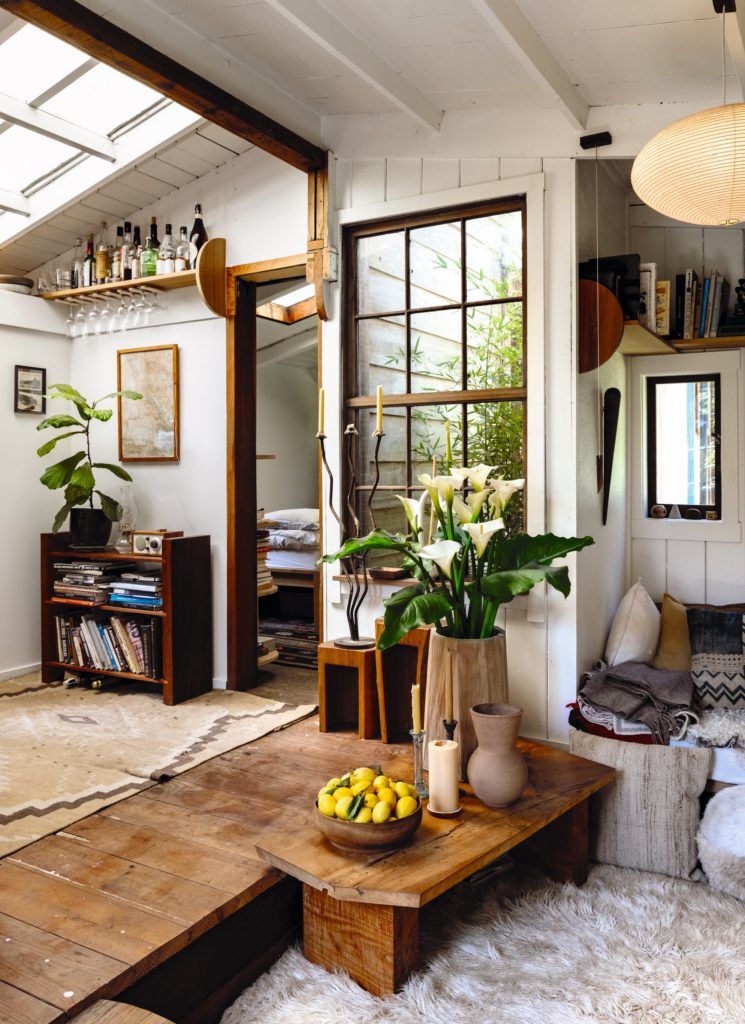 "When I took over, the building was uninhabited for many years and the forest had encroached onto the property," Yoshimoto says in the book about the existing structure, which was built in the 1980s. "There have been multiple residents and each has added on or modified the design."

He added to the original structure, from shelves and lights to tables and stools throughout the humble cabin and workshop.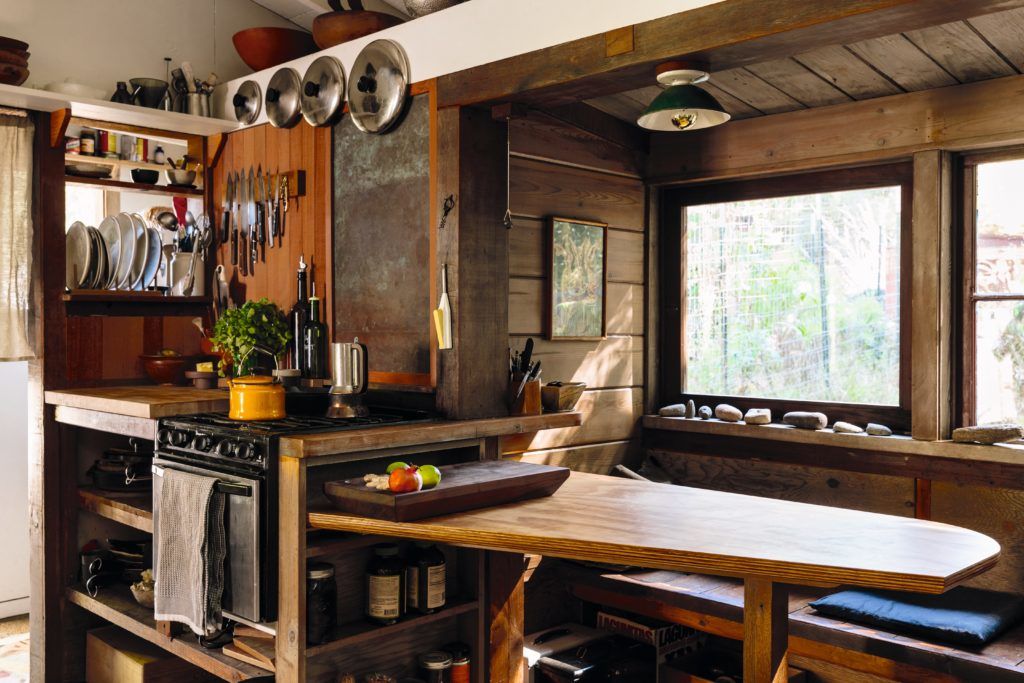 It doesn't get more rustic than this tiny kitchen, which makes space for essentials in a small corner of the structure.

"My goal was to create something comfortable and liveable while applying my aesthetic and using the materials available, most of which were reused and reclaimed scraps from my art studio," says Yoshimoto, whose artwork, which is carved from blocks of wood, has been shown in galleries around the world.

"Every plate, cup, and bowl has been made by an artist that I know or collected from travels," he says. That includes ceramic pieces made by his father and Blunk, and paintings by friend Jessica Niello and Californian artist Raymond Yelland. "I really enjoy having a personal collection. To let things curate themselves by way of connection."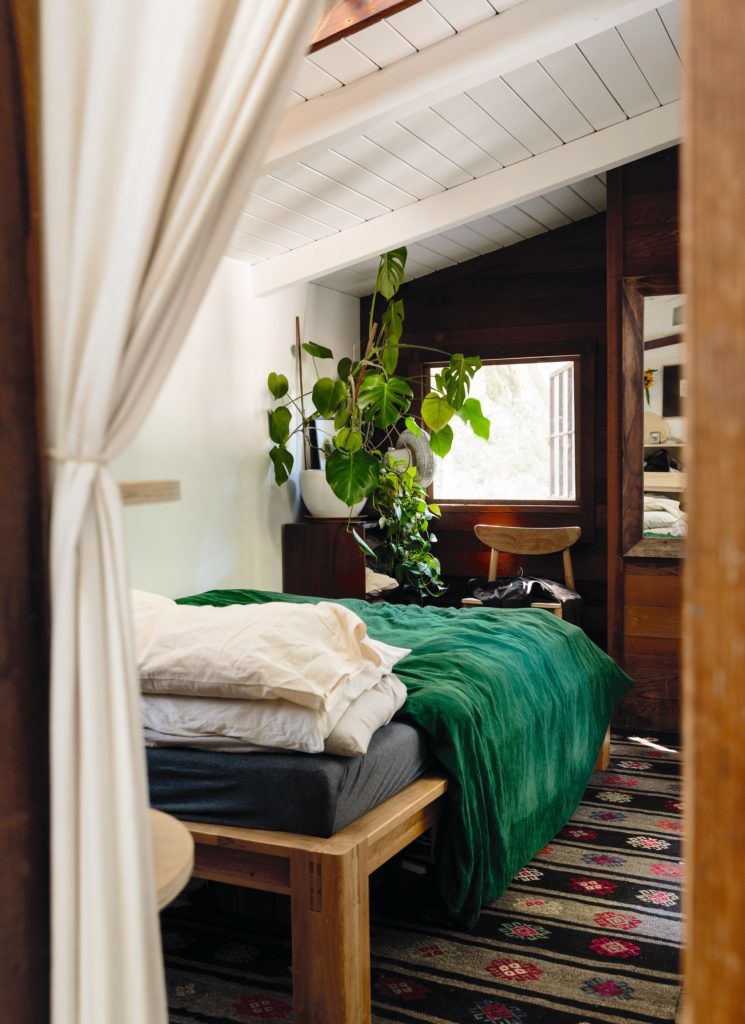 The home, like Blunk's, is an ever-changing art exhibit that will continue to evolve and age with Yoshimoto. And it embodies that rustic, time-worn, beautifully weathered aesthetic that Inverness is famous for.