As architect Lee F. Mindel demonstrates, sometimes you have to pare down to level up.
A couple of winters ago, when Herb Sambol decamped from Manhattan to a tiny Palm Beach bungalow, he was trying it on for size—literally, and without even realizing it. Already the owner of two stunning homes in New York (a 1,700-square-foot aerie in a Richard Meier–designed glass-and-steel downtown tower, as well as a four-bedroom Sag Harbor residence), the real estate entrepreneur was not shopping for a third home, much less one the size of a studio apartment. But the "cozy cabin," a short drive from the stable where Sambol keeps two horses, grew on him. At the end of his rental period, when he heard it was going on the market, he asked the owners to sell it to him.

Sambol enlisted architect Lee F. Mindel, with whom he'd worked on several apartments over 25 years, to help him reimagine the seaside getaway, which had knotty wood walls and a low ceiling. "I've done 80,000-​square-foot homes, and 8,000-​square-foot homes, but not 800," says Mindel, whose soft-spoken manner and conversational detours about everything from 1950s doo-wop to Dutch still-life paintings belie his status as one of New York's most in-demand architects. "It's a very humble project," he adds, "but humble can be majestic."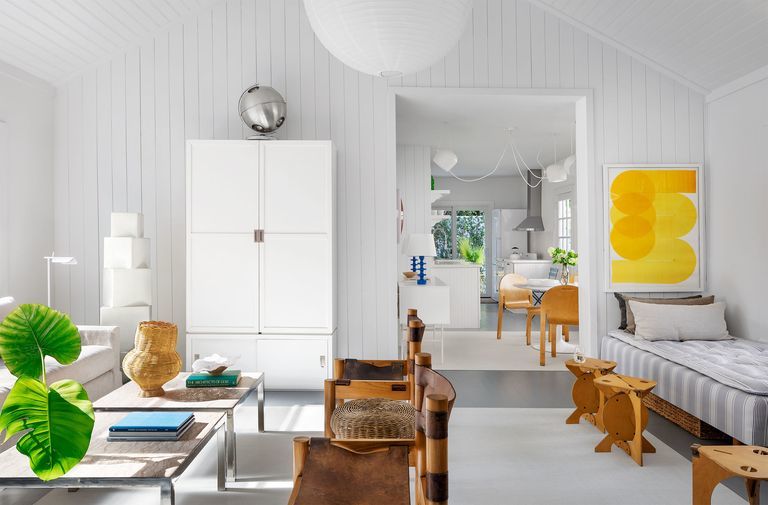 In the living room of Herb Sambol's 1920s Palm Beach bungalow, the chairs and cocktail tables are from Hemisphere, the sofa is by RH, Restoration Hardware, and the armoire is by Crate & Barrel. The daybed is by Hästens, and the floor lamps are by Flos (left) and Gandia Blasco (right). The artwork is by Thomas Trum.

Indeed, the modest bungalow tells a Palm Beach tale that's slightly different from the backstories of its neighboring ultra-​amenitized palazzos. Like the surrounding structures on Root Trail, a charming block-long enclave by the sea known for its bohemian vibe (Mr. Margaritaville himself, Jimmy Buffett, has a house on the street), the place was originally constructed to shelter the workers who labored on the town's jazz-age mansions. "It was very upstairs, downstairs—and sideways," Mindel says of the project, which he landed in the early days of the pandemic.

Unable to travel to the property at the time, he and his team had no other choice but to rely on the magic of FaceTime. With his contractor Jason Shinn masked up and socially distanced, Sambol climbed ladders with a tape measure in hand, reporting dimensions via iPhone to Mindel and his architectural designer (and husband) Jose Marty.

From their New York home office, the duo strategized. With such a small space, no design feature could be impractical, no item superfluous. "It's like when you're on a ship or a train, everything has to be functional," says Mindel. "But those are some of the nicest places—think Orient Express."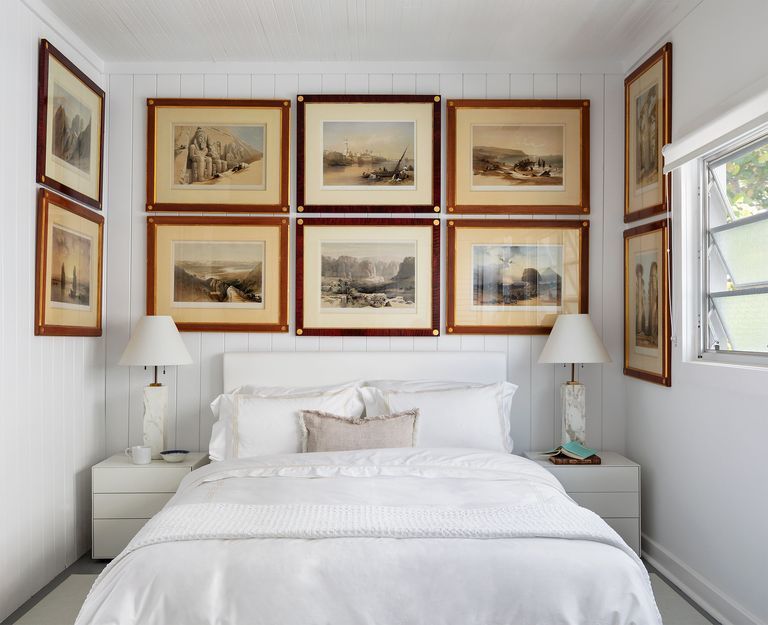 The primary bedroom's bed and linens are by Hästens, the Design Within Reach side tables are topped with vintage travertine lamps by T.H. Robsjohn-Gibbings, and the 19th-century watercolors are by David Roberts.

The remit was as simple and challenging as a Zen koan: Pare it down, level up. The answer—a home as weightless and happy as a cartwheel—started with knocking out the attic, which gave the place a cathedral-like envelope. Rebuilding the walls was another game-changing transformation. While the three main rooms stayed intact, the shells around them were reconfigured to enable flow. The bedroom, for instance, is now accessible by a doorway in the back of the house rather than one in the middle of the living area, which had given it a slightly college-dormitory feel. And the multitasking living space—call it a great room, or do as Mindel does and refer to it as "a living room, a guest bedroom, a dining room, and a kitchen"—feels far more intentional, not to mention intelligent.
The end-to-end sofas do double duty as guest beds, beneath which sliding boxes function as extra storage space for visitors. Much of the furniture is meant to be moved around, or folded up and hung on walls when Sambol doesn't need outdoor seating (in keeping with the home's modest intentions, the maximum patio capacity is four).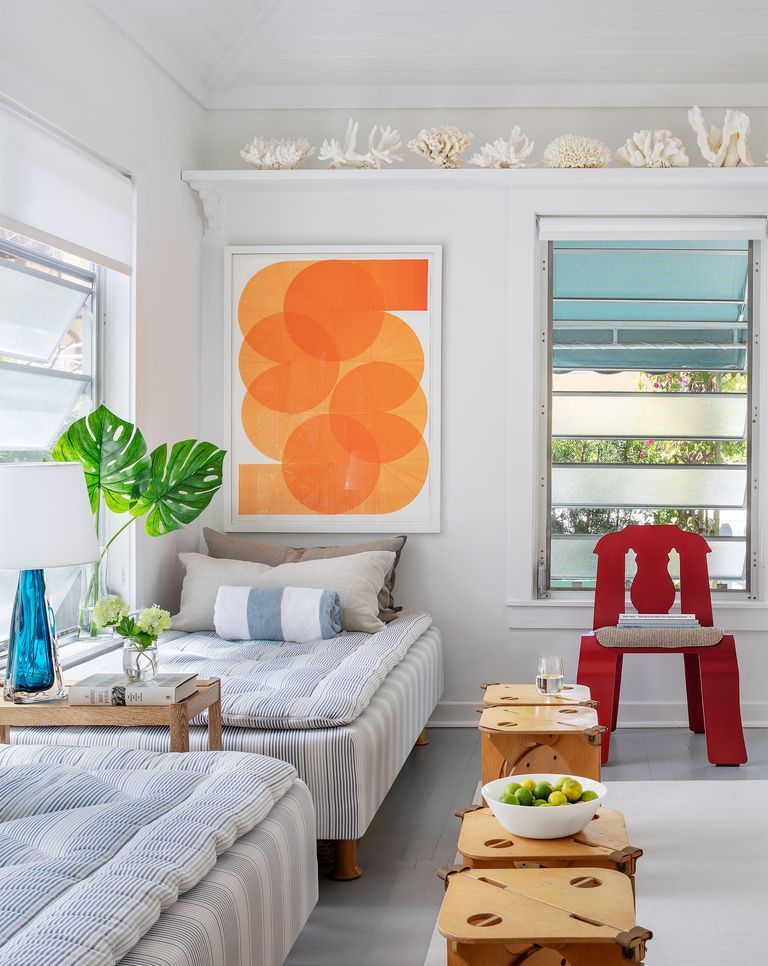 In the living room, a side table by Serena & Lily separates a pair of daybeds by Hästens, the vintage molded plywood chair is by Robert Venturi and Denise Scott Brown for Knoll, and the vintage stools are by Barry Simpson. A collection of coral lines a high shelf above artwork by Thomas Trum.

"We were focused on getting it to the bare essence and not overdoing it," says Grace Sierra, director of interiors for Mindel's firm, who took charge of sourcing the restrained and happy decor. Notable players are the pair of Popsicle-bright paintings by contemporary Dutch artist Thomas Trum that hang over the daybeds and their counterpart near the sofa. Instead of a wall mirror, Mindel chose a silver orb lamp that throws light around the already sunlight-flooded residence.

Root Trail homes are shoulder-to-shoulder, which means a sense of community is baked in. Privacy? Not so much. Working with the outdoor space—some patches of which were a mere two feet wide—Mindel created a bracket of hedges, encircling the house in an external layer and creating something of a secret garden out back.

Sambol takes his coffee every morning out there, along with his dog, Jack. "I know it's a modest home, but I have the opposite experience when I'm there," he says. "It feels spacious and open, which are qualities that are hard to find in even a much larger house."

Tour This Happy Palm Beach Bungalow



Front of bungalow : Bougainvillea frames the front facade of Herb Sambol's 1920s Palm Beach bungalow, which was renovated by the architect Lee F. Mindel.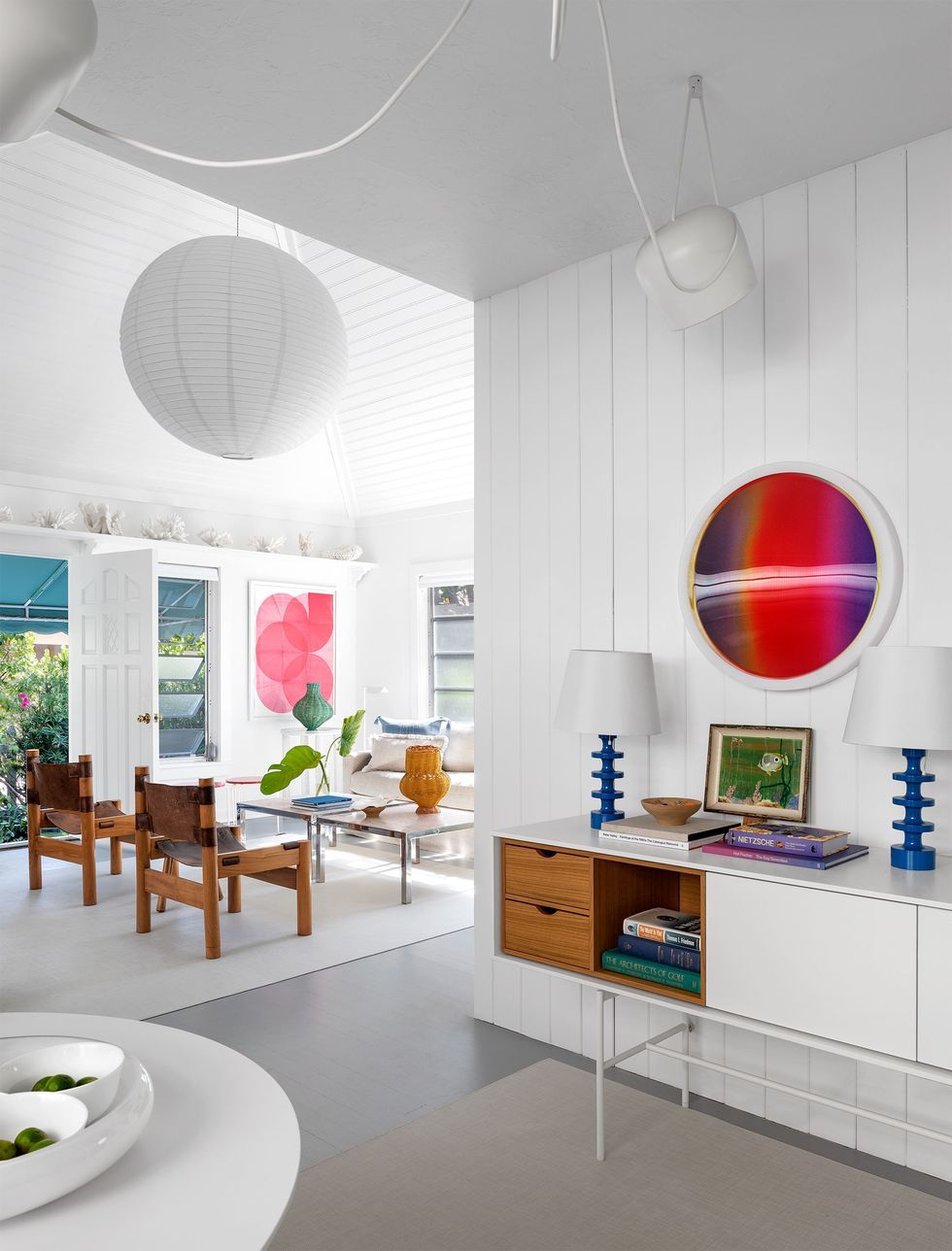 Living space : In the dining room, the console from Design Within Reach is topped with vintage lamps from Bacchus Antik in Stockholm. The pendant is by Flos, and the artwork is by Nightshop.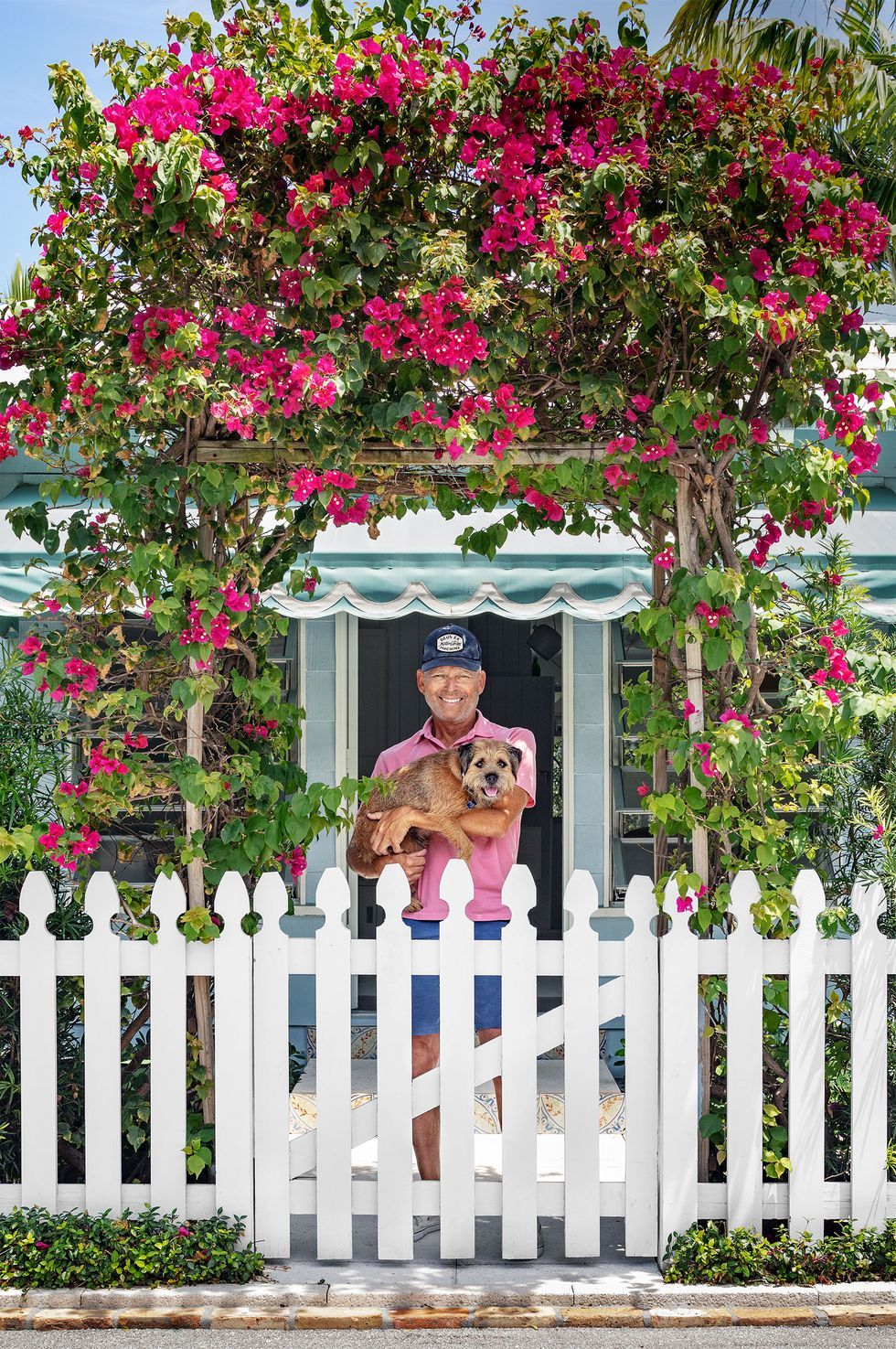 Owner Herb Sambol : Homeowner Herb Sambol with his border terrier, Jack.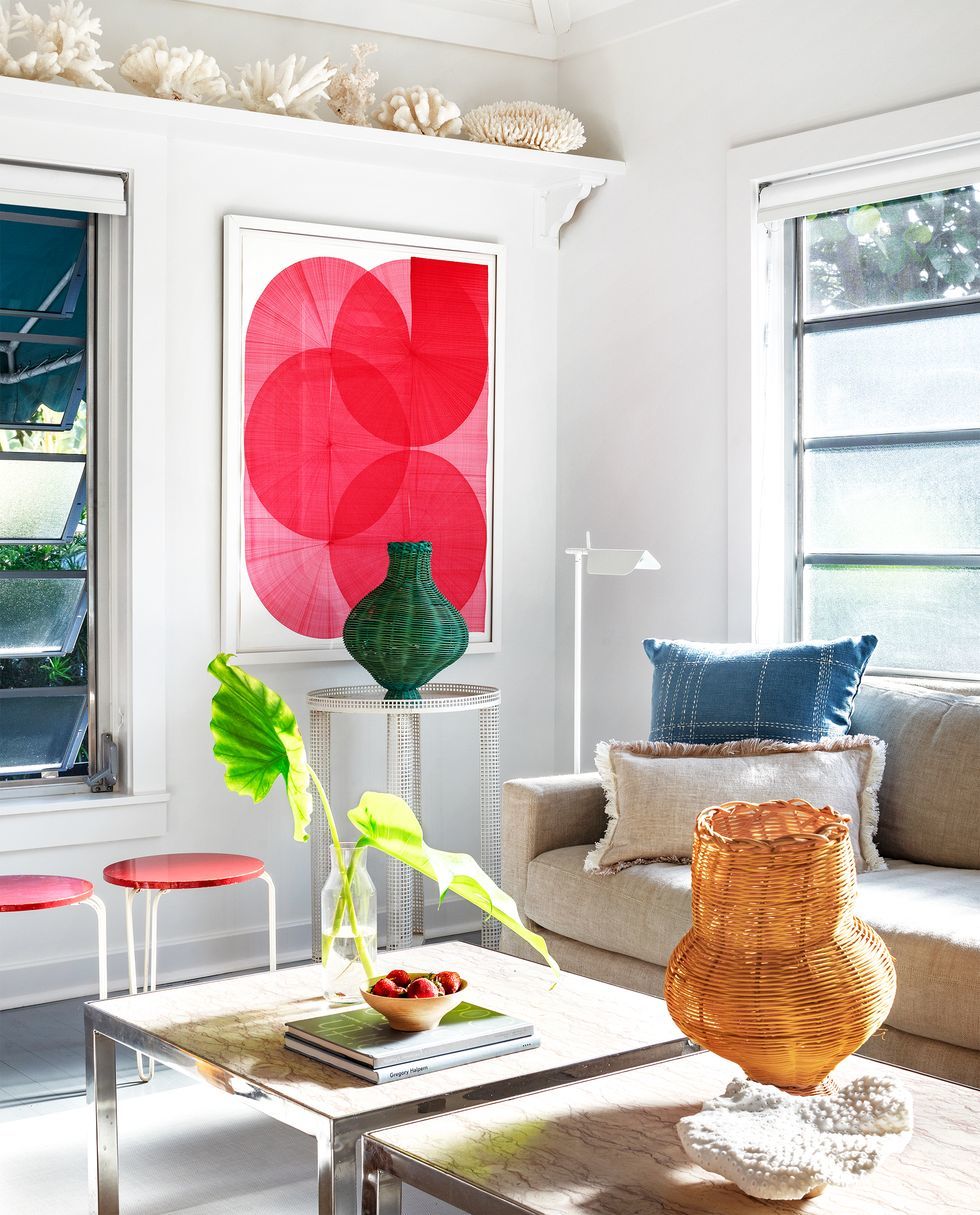 Living room : Inside the living room of the 800-square-foot bungalow.