Two years ago, Isobel, a British woman in her early 20s, went to the police and told them how a gang of men had sexually exploited her.
Warning: This story contains descriptions of violence and sexual violence

For the previous four years the gang had relentlessly trafficked her across England, driving her to towns and cities where she was raped hundreds of times in takeaways, warehouses and in empty flats, by men who paid her abusers. The gang of men, of Pakistani heritage, subjected her to extreme violence and regularly poured petrol over her, threatening to kill her if she disclosed the abuse.

Isobel, not her real name, went to the police after seeing news that a grooming gang in another part of the country had been jailed. She says after reporting what happened, however, nobody got in touch with her for three weeks. When a police officer finally did contact her, Isobel says she felt victim-blamed and was asked why she was still in contact with her abusers.

Isobel was keen to see her perpetrators prosecuted, but says when she asked police how they were going to keep her safe - by providing a safehouse during their investigation - no plan was put in place. The gang knew where she lived and despite being temporarily free, she lived in fear.

The police also failed to refer Isobel to the National Referral Mechanism (NRM), a government framework that provides victims of modern slavery - including sexual exploitation victims - with vital support to rebuild their lives, including access to safehouses, counselling, financial support and legal aid.

British nationals are more likely to be referred to the NRM than victims from overseas - 31% of potential victims who were referred in 2021 were British nationals. Of those referred to the NRM because of sexual exploitation, the BBC's File on 4 found there were 462 British girls and women in 2021 - compared with 46 non-British nationals.

But Robyn Phillips, director of operations at the Human Trafficking Foundation, says there is a perception that trafficking has to cross international borders - and it is access to safehouses that British victims find most difficult to secure.


'Let down'

The gang discovered Isobel was talking to the police and began sending her threatening messages. Isobel told the police, but when no safeguarding measures were put in place, she withdrew from the investigation and the case was dropped. She was forced back into a life of exploitation by the gang and she became pregnant. 

Isobel told her abusers she was expecting a baby, but says as one of them was the likely father, they were fearful that DNA evidence would identify them. She says the gang punched her in the stomach telling her: "I'm gonna beat it out of you - it'll be the devil child."

Isobel suffered a miscarriage and went to a Sexual Assault Centre, where she was finally referred to the NRM. She was also introduced to Jess Phillips, Labour's shadow minister for domestic violence and safeguarding, who thought Isobel's case was "so horrifying" that she went to meet her.

After talking to the MP, Isobel decided to go back to the police and try and get support from the NRM to rebuild her life. But it wasn't easy. "I asked my National Referral Mechanism worker about legal aid," says Isobel. "She started to be angry and was like 'you don't need that legal advice, because you're not an immigrant'."


The National Referral Mechanism

* The National Referral Mechanism (NRM) is a Home Office framework for identifying and referring potential victims of modern slavery and ensuring they receive the appropriate support

* A person who is suspected to be a victim is referred to the NRM from a first responder agency, which can be police forces, immigration authorities, the National Crime Agency, local authorities or charities such as the Salvation Army, NSPCC or Barnardo's

* Once a referral is made, it is assessed and someone who is believed to have been a victim of trafficking or modern slavery is first given a reasonable grounds decision and can access support before being given a conclusive grounds decision, where it is accepted they were a victim

Ms Phillips says the NRM was originally designed for victims from abroad and there is a failure to provide services for "this kind of active exploitation".

"There's victim-blaming at lots of different levels, whether that's police, whether that is the sort of service provision that's meant to sit around exploitation and trafficking, and in [Isobel's] case, it has just failed her at every point," she says.

A year after she had been referred to the NRM, Isobel still hadn't received the help she was entitled to. The police investigation, which had resumed after her miscarriage, fell apart after officers failed again to put safeguarding measures in place. Now at her most vulnerable, her abusers turned up at her home again and drove her to a town where she was raped by a group of men.

She called the police and her NRW worker, who got in touch with the Salvation Army, which runs the government's modern slavery support contract. Isobel says the Salvation Army offered her a safehouse but was told she had to give up her phone. Initially she refused to do so, and she says when she called back to say she had changed her mind she was told it was too late.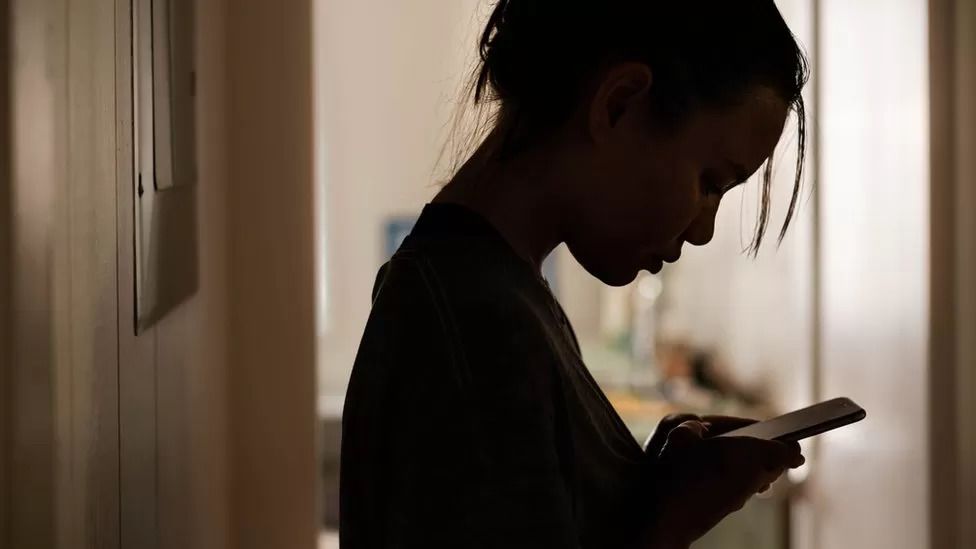 Isobel was finally offered a place at a safehouse, but was told she had to give up her phone (picture posed by a model)

Emilie Martin, from the Salvation Army, says it is not common practice for someone to be asked to give up their mobile phone, but where it does happen the individual will be issued with a replacement. She says the NRM also "provides the same needs for individuals who are British nationals and those who aren't".

The Home Office said it is "committed to tackling modern slavery and helping victims recover" and expects "police forces to investigate cases of sexual exploitation, pursue perpetrators and support victims".

The National Police Chiefs Council said a dedicated national team has been set up to improve the response to modern slavery across all police forces and ensure the "ruthless criminals behind these offences are brought to justice".

But Maggie Oliver, a former Greater Manchester Police detective, who exposed the Rochdale grooming scandal - which resulted in nine men being convicted of sex trafficking 10 years ago - says British victims of sexual exploitation in the UK are viewed differently to those being trafficked into the country.

She says authorities fail to understand that victims need protection wherever they come from. "If it happened to my daughter, I would think very, very carefully about whether I involved the police, because I think the damage victims suffer is often made ten times worse by the authorities that let them down."

Isobel's future remains unclear. She says she's constantly checking over her shoulder to see if there's anyone following her and that while she would like to see her abusers jailed, she's "got no trust in the police because they've literally just failed me from day one".

More than anything, she says she just wants to be safe.