Thinking she had coronavirus, Julie Smith took four Covid tests because she had been suffering with a persistent cough and had lost her sense of taste.
The grandmother went to her GP after returning from a family holiday to Butlins - but tests showed Julie actually had terminal lung cancer.

"From 'you're not ill' and then to be diagnosed with all this, I just can't believe it," said the 73-year-old.

Doctors now want targeted screening in Wales to catch lung cancer cases early.

Trials show it can reduce deaths by 20% and one leading cancer charity has said Wales was "lagging far behind England" because the NHS in England has offered lung health checks in some areas since 2019.

It is being considered by the Welsh government, although lung cancer screening has not been recommended by the UK National Screening Committee.

But consultants in Wales think it could save people like Julie.

'I had nothing wrong apart from a cough'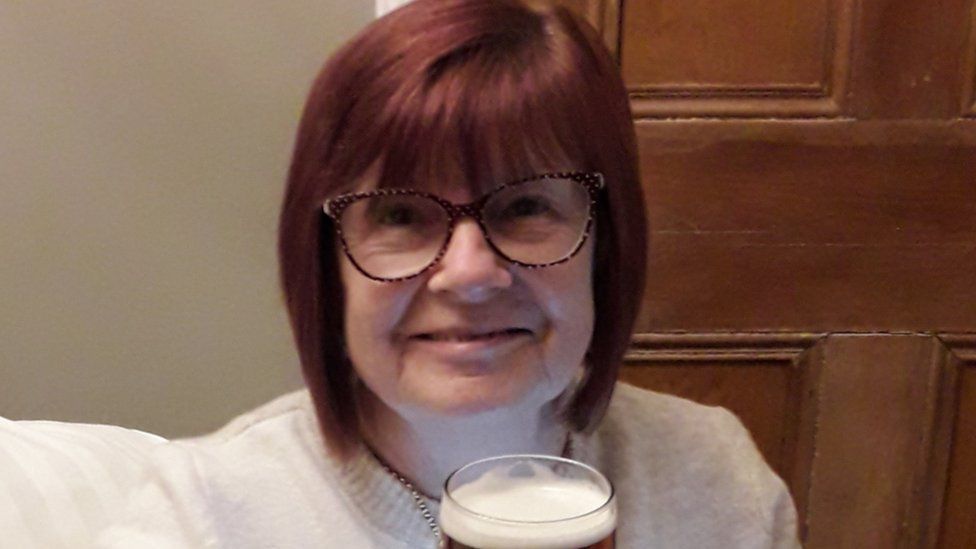 Julie Smith had numerous tests and scans revealed a mass on her left lung

And if Julie, who stopped smoking in 1989, was in one of those areas in England, she would have been eligible for a scan which might have saved her life.

"We went to Butlins with the family, I went on the big water slide and everything and then the cough started," said the grandmother-of-four from Pontypridd, in Rhondda Cynon Taf.

"I had nothing wrong with me apart from a cough and then a couple of weeks later my taste started to go. I'd had all my Covid injections so I thought 'well I'll be alright, but I'll just have Covid'."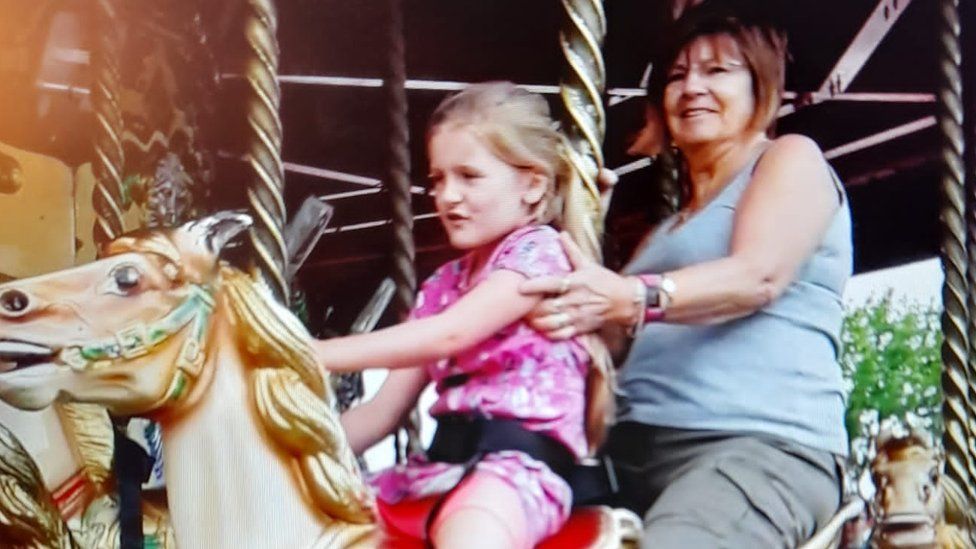 Julie Smith and her granddaughter on the carousel on their family trip

Julie had started to cough in September 2021 after a break in Minehead, but her Covid tests came back clear.

The retired hospital housekeeper went to the doctors after neighbours heard her persistent cough during the night through the walls of their terraced house.

'I've had a lot of tears'

After further scans, Julie's lung cancer was diagnosed - but it had spread to her lymph nodes and bones so treatment to cure it was no longer possible.

"I had a little tear but was in shock," Julie said, recalling receiving her diagnoses.

"My husband was sobbing, as were my son and daughter. But I've had a lot of tears since."

She added: "None of us can believe it."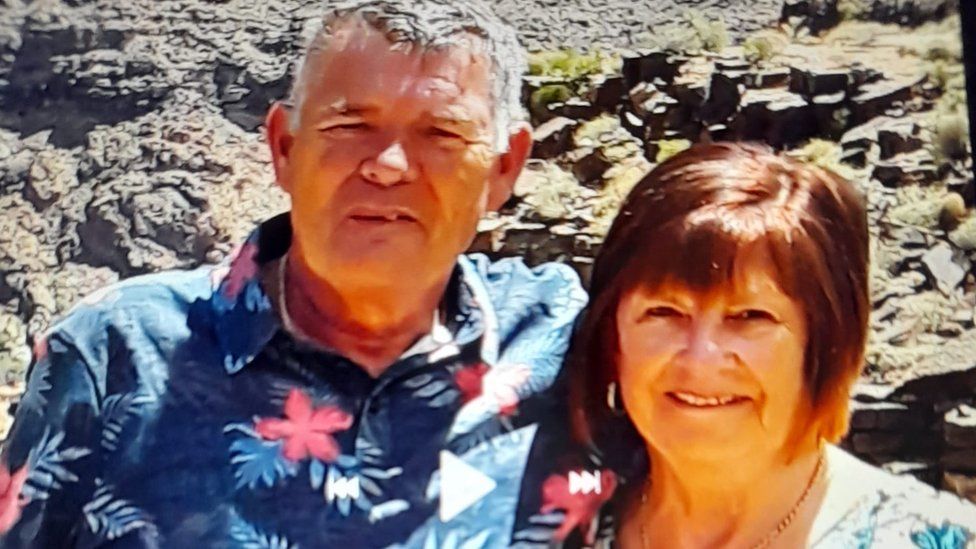 Julie's husband Jimmy has supported her through her diagnosis

The diagnosis came just four months after her ex-husband, and the father of her two children, had died of lung cancer.

Julie has had chemotherapy and is now undergoing immunotherapy - treatment which uses the immune system to help fight the cancer - in an effort to prolong her life.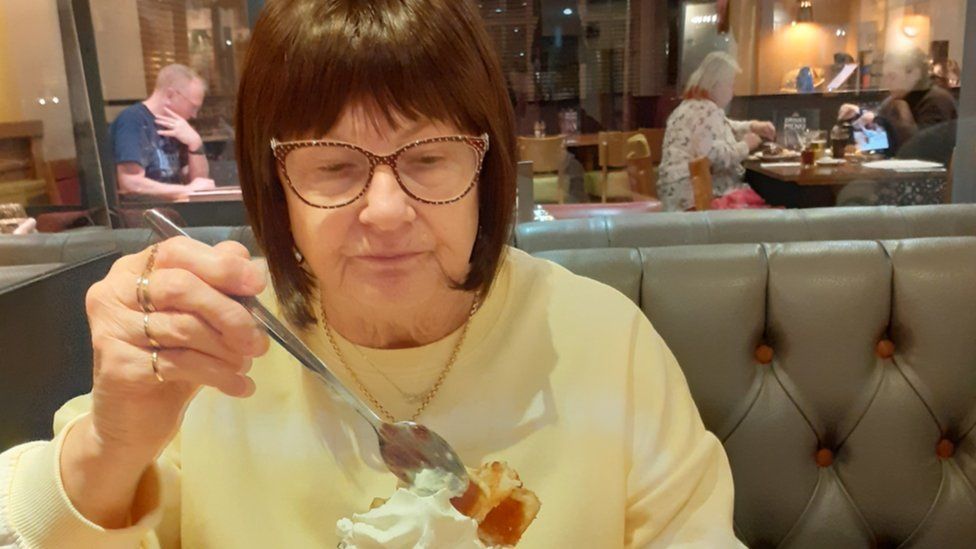 Julie says her taste has been affected, especially when eating sweet things like ice cream

"I worry about the children and how they're all going to cope," Julie added. "It's been so frightening, I just only hope with immunotherapy that I will have a lot longer."

Other cancers have a better survival rate because they are usually picked up earlier, but often lung cancer symptoms don't develop until the cancer has advanced.

Julie is now backing calls for targeted lung screening in Wales so other families do not have to go through what her family is going through.

"What was frightening is that I had no symptoms," she said. "I had nothing wrong with me except this cough. You just don't know you've got it so screening would be brilliant."

How dangerous is lung cancer?

Lung cancer is the most common cause of cancer death around the world, with 2.1 million people diagnosed in 2020 and 1.8 million deaths.

It is also the biggest cause of cancer deaths in the UK, killing more than 35,000 people a year - about a fifth of all UK cancer deaths.

Experts say the most dangerous thing about lung cancer is patients often do not have symptoms until it is too late to be cured.

What are the symptoms of lung cancer?

There are usually no signs or symptoms in the early stages of lung cancer but they do develop as the condition worsens.

The main symptoms of lung cancer include a cough that does not go away after two or three weeks and gets worse, reoccurring chest infections, aches or pain when breathing or coughing and persistent breathlessness and tiredness.

Screening is available in 23 areas of England to people aged between 55 and 74 who smoke, or have smoked.

One leading cancer charity has criticised the Welsh government for not starting a pilot in Wales already.

"In Wales, we are yet to get off the ground," said Tenovus Cancer Care Cymru chief executive Judi Rhys.

"Even though we have the go-ahead for an operational pilot, that's not going to start until later this year. We are lagging far behind England".

'I owe my life to lung cancer screening'

Jo Shoba said she owed her life to screening after stage one lung cancer was detected during a health check in December 2019 but is now "cancer-free".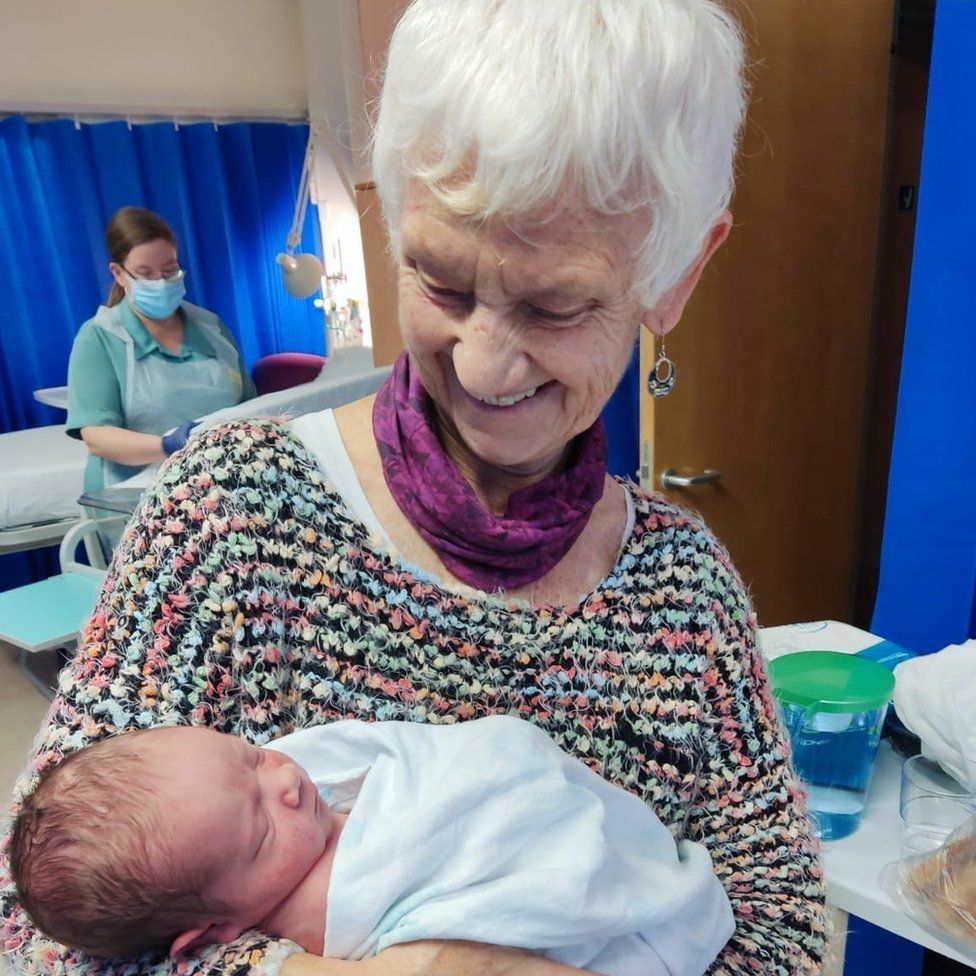 Jo Shoba had her first grandchild after lung cancer screening "saved her life"

"I was perfectly fit and healthy with no symptoms whatsoever, so it was very surprising," said the 72-year-old from Liverpool who smoked as a teenager.

"I totally owe my life to the screening. My first grandchild is now five months old and that's such a gift."

Leading doctors believe effective screening could cut lung cancer deaths by a fifth and a pilot is currently being developed to test how a national rollout could be implemented.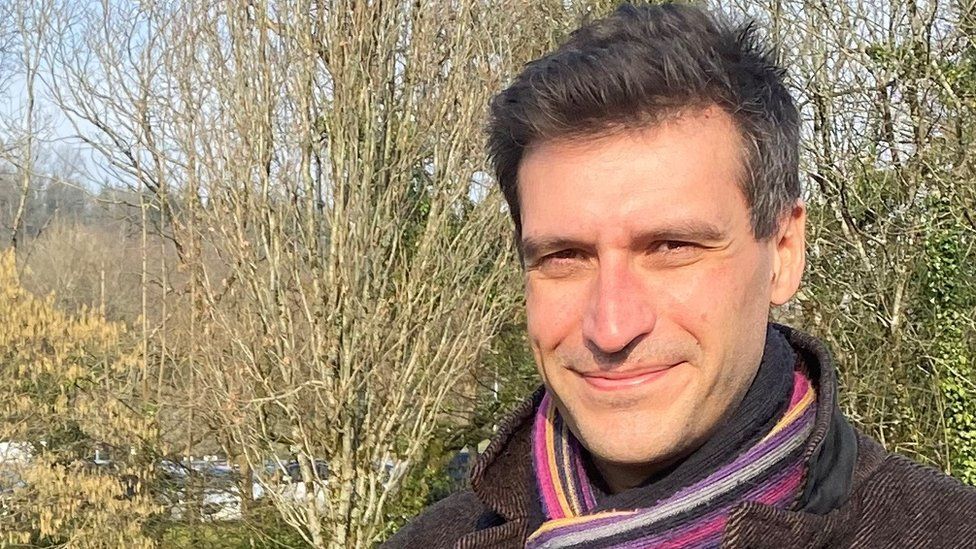 Dr Sinan Eccles is shaping Wales' lung cancer screening programme

"Bowel cancer and breast cancer have screening programmes and they've helped reduce deaths," said Sinan Eccles, Wales' clinical lead for developing lung cancer screening.

"We want to start making a dent in those lung cancer deaths in Wales by screening and curing more cases.

"We've had trials in America, and then in Europe, showing a 20% reduction in lung cancer mortality, which, when you're talking about the biggest cancer killer that we've got in Wales, is huge."

Mr Eccles, a lung cancer consultant in south Wales, wants to start by developing screening pilots in deprived areas of Wales, where lung cancer cases and deaths are higher.

'Treatments are helping people live longer'

Although lung cancer deaths are high, doctors say developments in treatments can extend the lives of patients.

"We're seeing cancer outcomes now I would never have dreamt of five to 10 years ago," said Dr Mick Button, lung cancer lead at Cardiff's Velindre cancer hospital.

"Some people are on immunotherapy for two years with their lung cancer and at the end of that they may have very little sign of cancer in their body, no symptoms and they can live for a lot longer."

The Welsh government has said that although lung cancer screening has not been recommended by the UK National Screening Committee, it is "under consideration" and a pilot was being developed.

"We have invested significant sums in diagnostic equipment and are committed to improving cancer outcomes in Wales," said a government spokesperson.

"We have also published our plan for recovering NHS services, including cancer care, backed by nearly £250m of additional funding."
A persistent cough Julie Smith thought was Covid turned out to be terminal cancer