Edinburgh's Hogmanay events have been cancelled and football matches will be effectively spectator-free as part of tough new Covid rules in Scotland.
All outdoor events will be limited to just 500 people to help slow the spread of Omicron.

Indoor events such as concerts will be limited to 200 people if they are seated, or 100 for standing.

The new restrictions come into force on Boxing Day.

They will be in place for three weeks - although there will be no limit to how many people can meet up at Christmas.

The Old Firm derby between Celtic and Rangers on 2 January and the Edinburgh derby between Hearts and Hibs the following day are among the football fixtures that will be affected by the new rules.

The government fears that last Sunday's League Cup Final in front of a capacity crowd at Hampden may have been a "super spreader" event, with Deputy First Minister John Swinney saying he regrets not making the decision to play matches without spectators sooner.

Celtic have asked for the Scottish Premiership's three-week winter break - which is due to start after the Edinburgh derby on 3 January - to be brought forward to "maximise the prospect of all supporters being able to attend matches and support the game they love."

All of the major Hogmanay events in Edinburgh - including the street party, the torchlit precession and the midnight firework display - have now been cancelled, as have many other events in towns and cities across the country.

Physical distancing of 1m will now need to be in place for all events that do go ahead under the restrictions.

Pubs and other hospitality venues selling alcohol will need to reintroduce table service from 27 December.

And indoor hospitality and leisure venues will be required to ensure there is a 1m distance between groups of people who are attending together - which could force nightclubs to close.

First Minister Nicola Sturgeon said: "This will of course make sports matches, including football, effectively spectator-free over this three week period.

"And it will also mean that large-scale Hogmanay celebrations - including that planned here in our capital city - will not proceed".

Wales had already announced plans for sporting events to be held without crowds from Boxing Day, and London has cancelled its New Year's Eve event in Trafalgar Square.

Many concerts, theatre productions and other events had already been cancelled voluntarily in Scotland.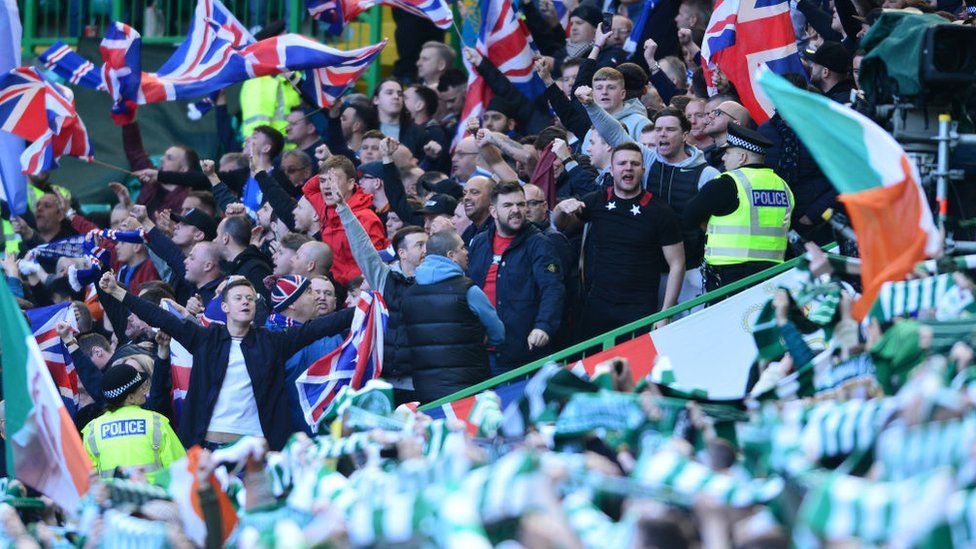 The Celtic-Rangers match on 2 January will be one of the fixtures affected by the new rules

Omicron is now thought to account for 62.9% of all Covid cases in Scotland, with the first minister saying there was "still no compelling evidence that Omicron is intrinsically milder than previous strains".

Ms Sturgeon said the much higher transmissibility of the new variant meant that large gatherings "have the potential to become very rapid super-spreader events, putting large numbers at risk of getting infected very quickly".

She added: "Limiting these events helps reduce the risk of widespread transmission. It also cuts down the transmission risks associated with travel to and from such events

"And these large events put an additional burden on emergency services, especially the police and ambulance services.

"At a time when these services are already under severe pressure and also dealing with high staff absences, limiting large scale events will help them focus on delivering essential services to the public."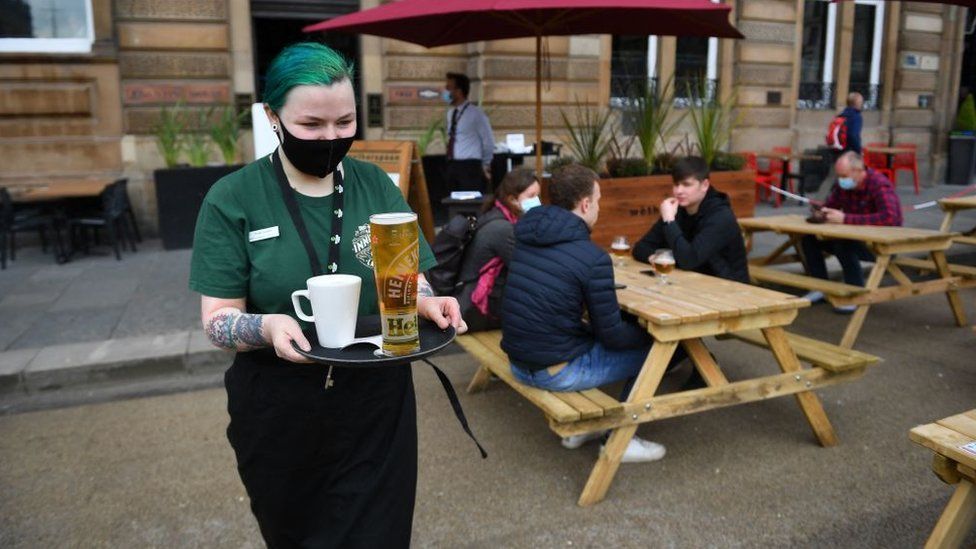 Pubs will need to reintroduce table service from 27 December

Ms Sturgeon stressed that the priority for the government was to ensure that schools re-open as normal after the Christmas holidays.

And she again urged people to cut their contacts with people in other households as much as possible ahead of Christmas, and to stay at home as much as possible.

The Federation of Small Business said the new measures would make trading "drastically more difficult for huge numbers of small businesses in Scotland".

Its policy chair, Andrew McRae, said: "The social distancing restrictions will mean shops and hospitality firms can serve fewer customers.

"And the changes to events, such as sports matches and Hogmanay celebrations, will have a knock-on impact on local economies."

The Scottish Licensed Traders Association said the restrictions would be a "knockout blow" to many businesses that were already struggling because of the pandemic.

The Scottish government will now double the £100m it had already pledged to businesses hit by new Omicron restrictions.

And Ms Sturgeon said recent announcements by the UK Treasury "give us additional spending power now of £175m" - bringing the total to £375m, all of which will be allocated to business support.


While there are no changes to the rules and advice for Christmas gatherings, significant new restrictions will take effect as we head towards the new year.

Edinburgh's Hogmanay is off for the second year in a row and big football matches can only be played before the smallest of crowds.

The return of one metre distancing indoors will reduce the capacity of pubs and restaurants, theatres and cinemas - reducing their potential turnover too.

There is fresh financial help worth £275m from the Scottish government which draws on additional funding announced by the UK Treasury at the weekend.

Even though that's on top of an initial £100m earmarked by Holyrood ministers last week - it is unlikely to be nearly enough to offset the economic damage restrictions will cause.

The first minister has renewed calls for the Chancellor to re-introduce a furlough scheme - something the Treasury has not included in the support package it announced today.

Scottish Conservative leader Douglas Ross said he understood the "frustration and anger" that many people would have over the new restrictions, but urged people to come forward for vaccination as the "best way out of this".

He also called for household contacts of Covid cases to be allowed to end their self-isolation if they test negative, saying the current rules were well-intentioned but could "grind our transport network, our economy and public services to a halt".

ScotRail cancelled more than 100 trains on Monday, largely because of crew members being affected by Covid.

Ms Sturgeon said the government was "actively considering" changing household isolation rules once the booster campaign is complete, but said it would be "counter-productive" to do so while case numbers are rising.

Meanwhile Scottish Labour's Anas Sarwar said there should be "much more significant financial support" for businesses and a "furlough-type scheme" for sectors which are effectively shut down.
Nicola Sturgeon says Scotland's large-scale Hogmanay celebrations "will not proceed"