High-end modern rustic home interiors with textured lime wall stucco, chunky wooden accent furniture, and handmade ceramic home accessories.
Handmade ceramic home accessories, chunky wooden accent furniture, and textured lime wall stucco make up earthy rustic interiors that feed the soul. In this inspirational collection of beautiful rustic residences, we're taking a tour of four different high-end homes from around the world. We'll travel to the Turks and Caicos Islands to visit a home design that mixes handmade crafts with modern interior concepts.

In Bali, Indonesia, we take a tour of a compact modern abode that's shaped with extraordinary curves. Our expedition to Turkey leads us to a spacious apartment with solid, custom-made concrete kitchen and bathroom designs, whilst our destination in Vietnam is a freeform dream.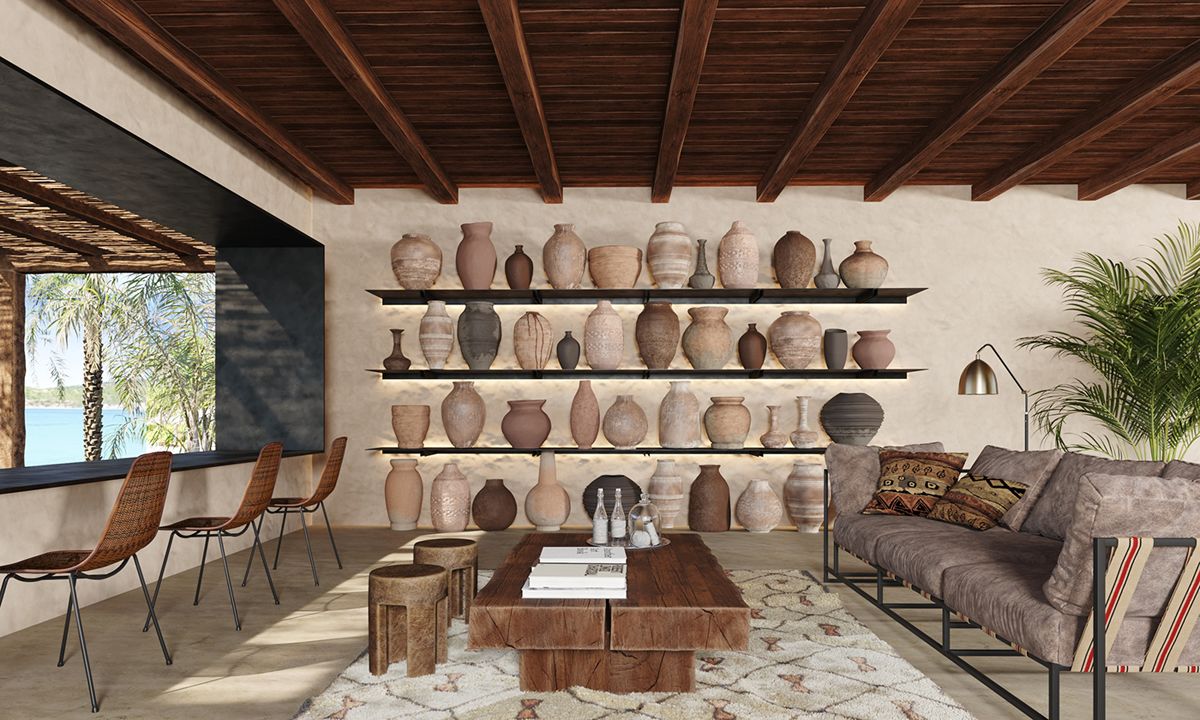 Our first rustic home design, in the Turks and Caicos Islands, offers a large and airy rustic style interior that's clad in textured lime stucco. A patterned living room rug complements the light wall treatment, whilst pulling in darker tones from the rustic wooden furniture.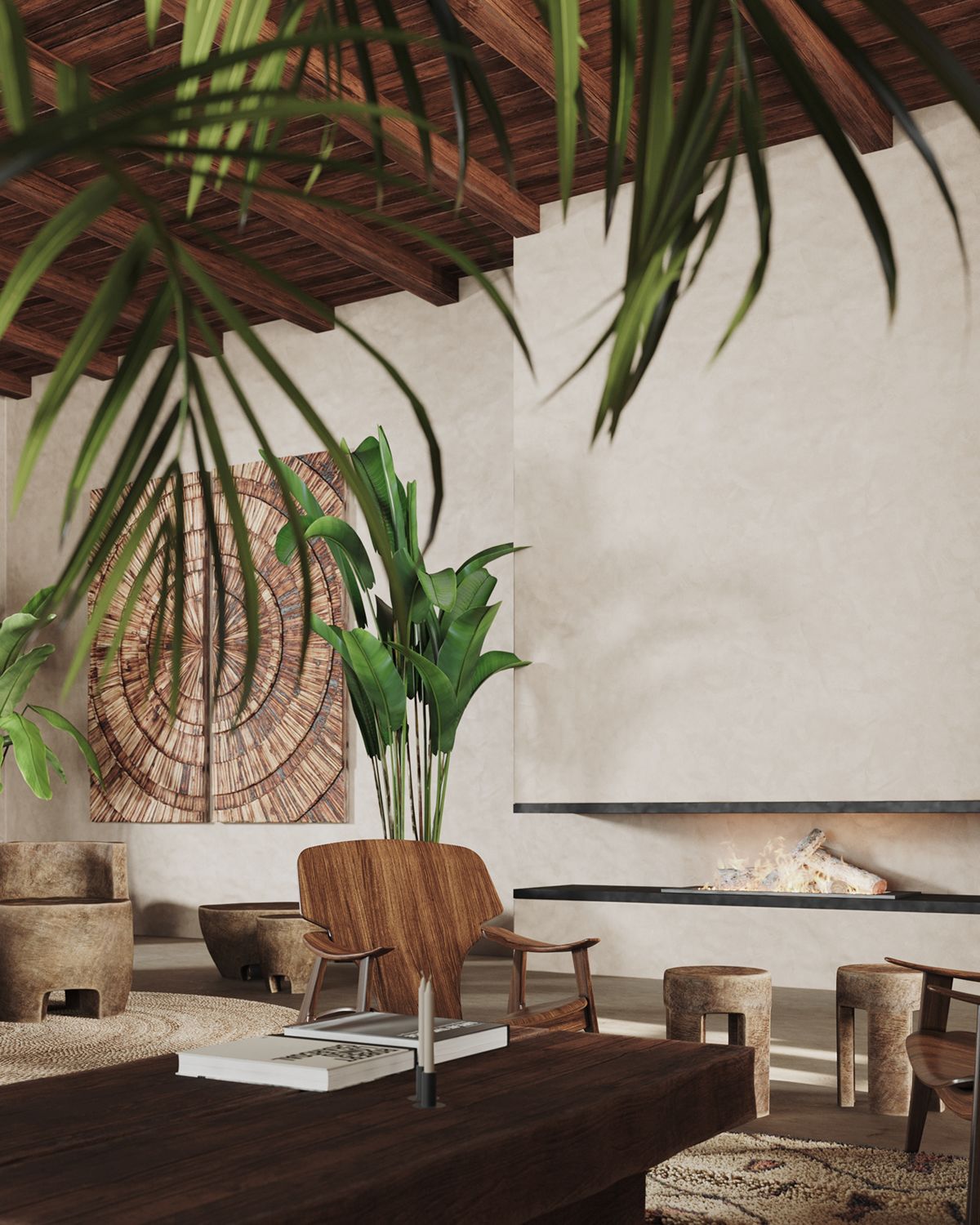 A modern fireplace blazes inside of a split chimney breast. A sleek black hearth accentuates the wide linearity of the open cutaway.

A rich, dark wood ceiling treatment caps the light room decor. A wooden chair set perfectly complements the tone.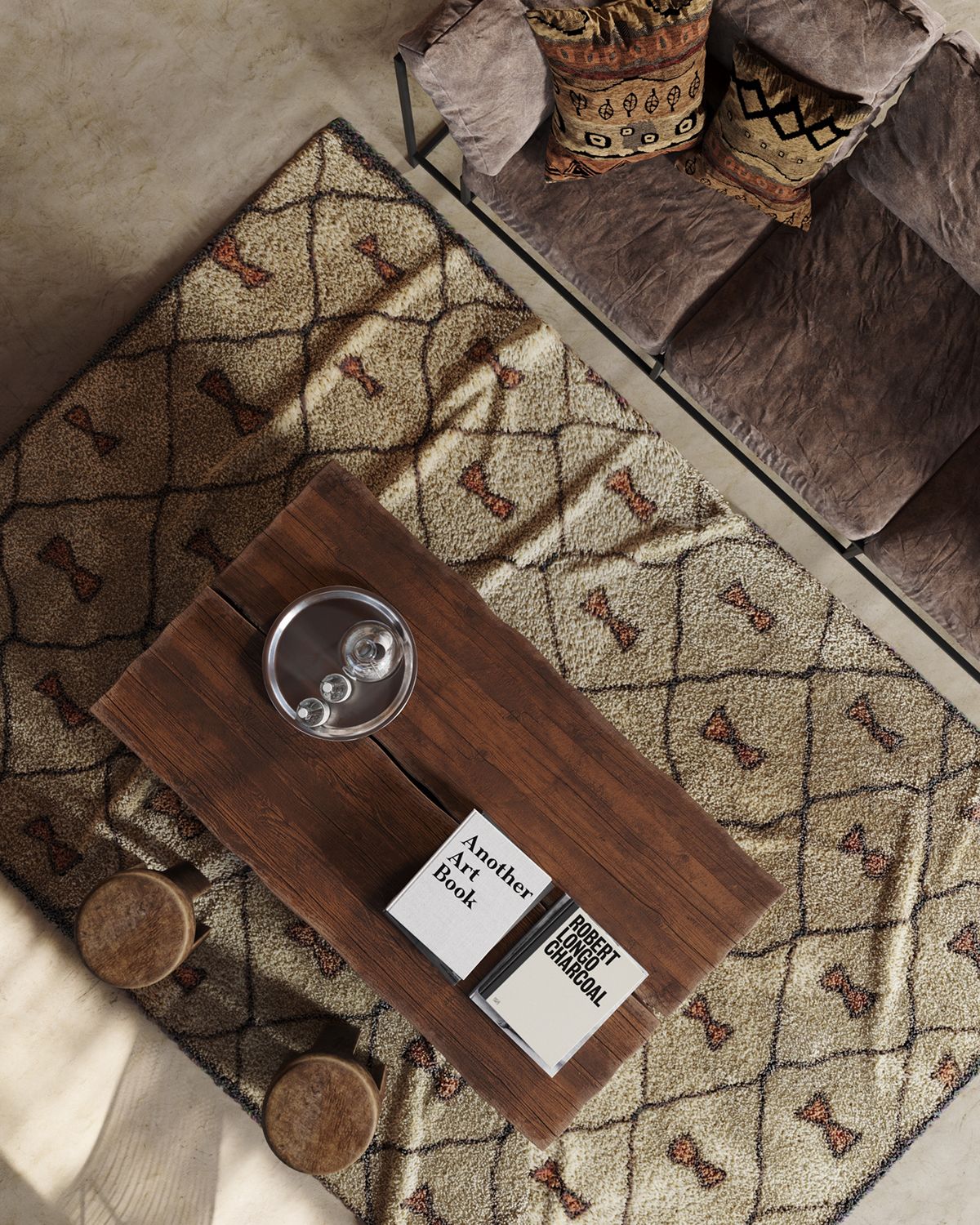 In the centre of the lounge, a rustic wooden coffee table is teamed with a couple of small stools.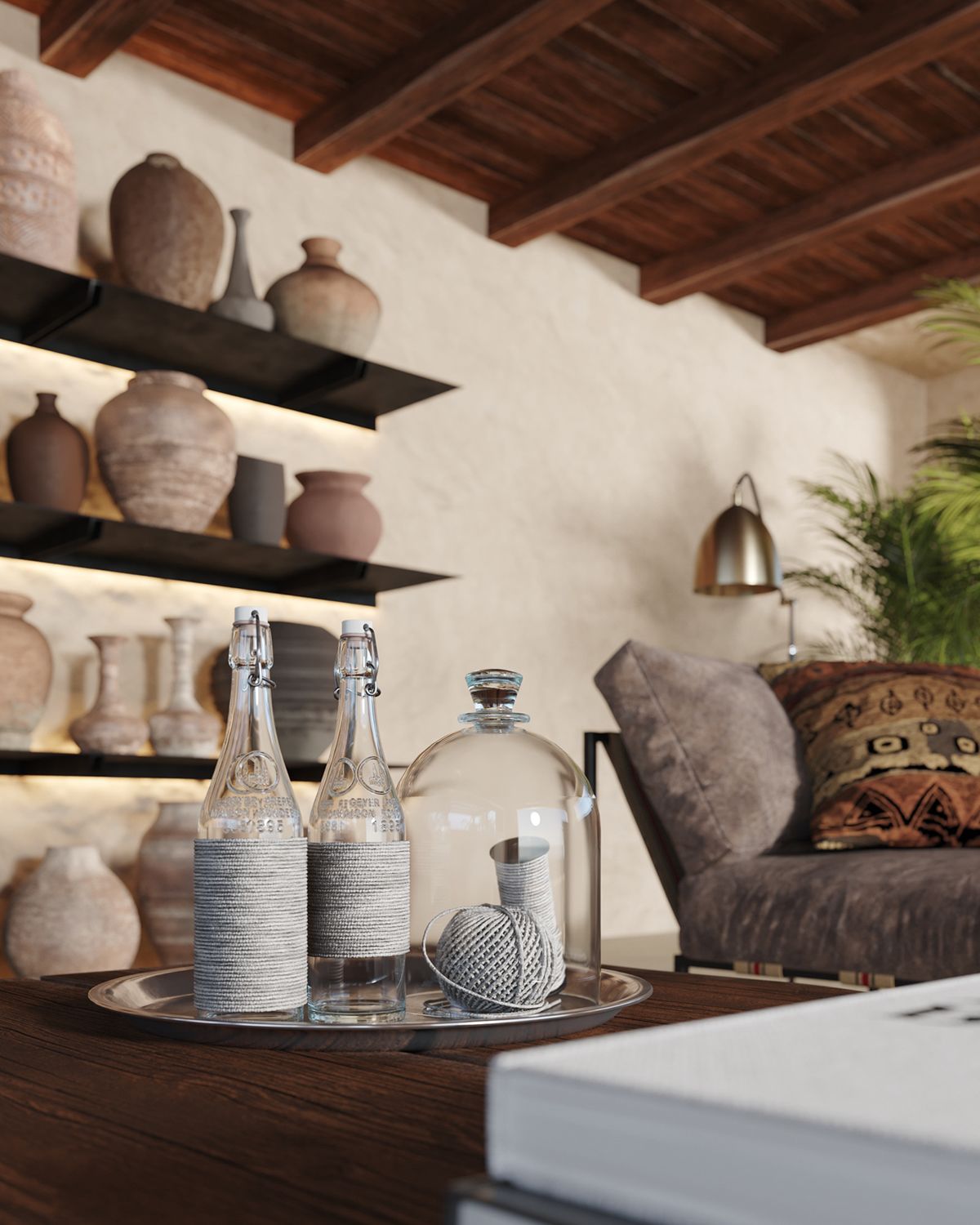 Glass bottles and a decorative tray make up an attractive table centrepiece.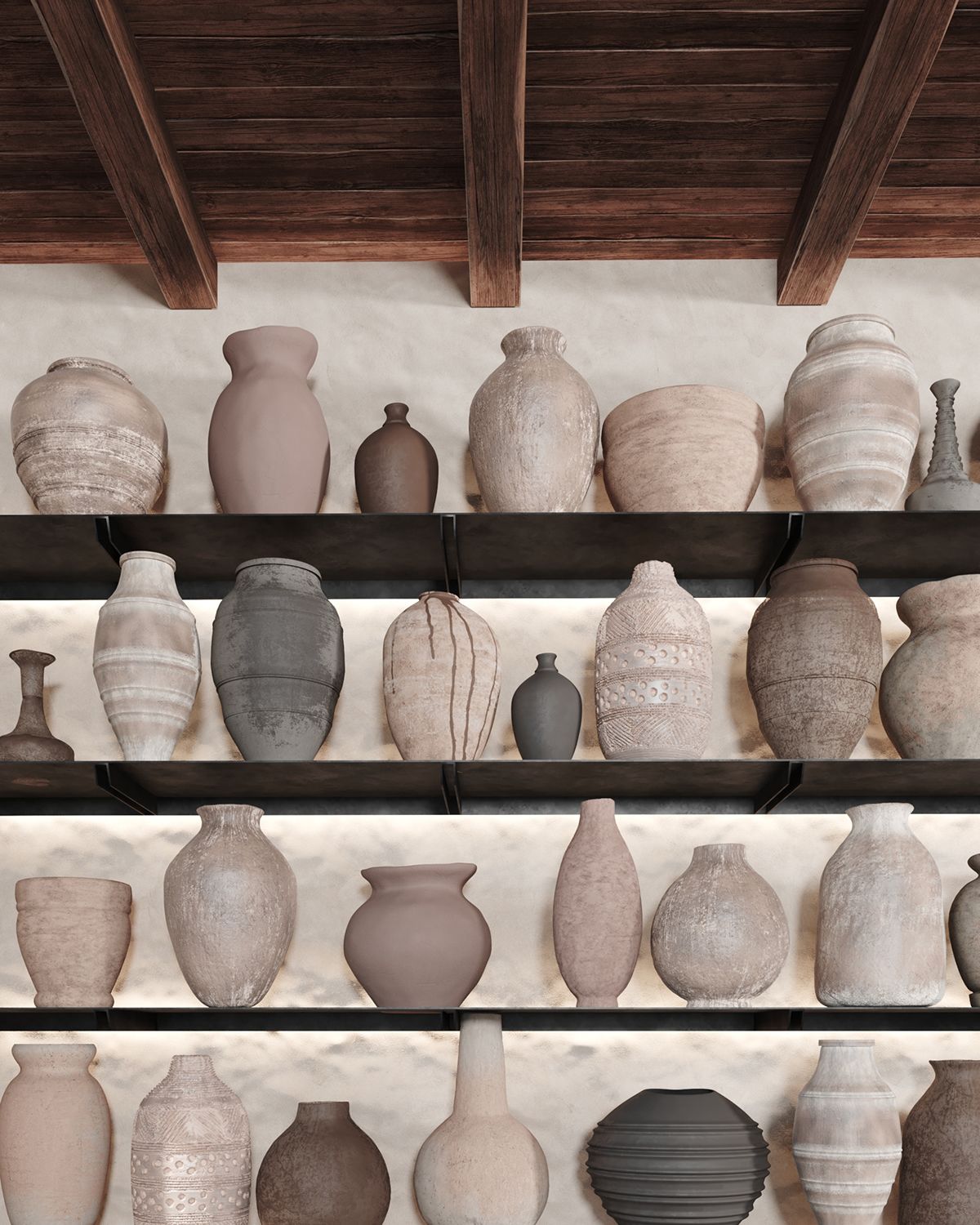 One whole wall of the living room is dedicated to a vast collection of ceramic decorative vases.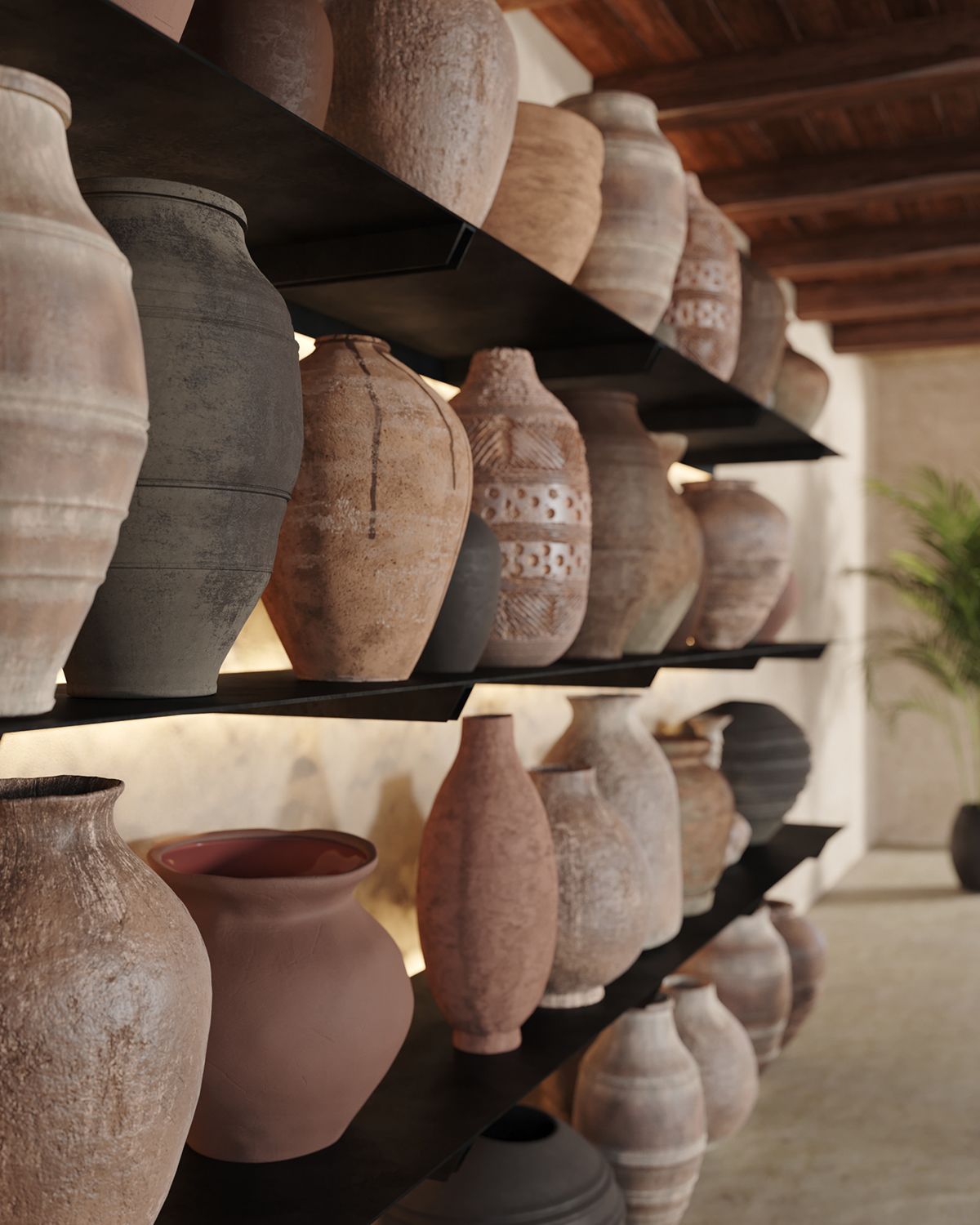 The handmade pottery is displayed over slimline black shelves and atmospherically lit by concealed LED light strips. The soft glow not only accentuates the handcrafted vases but highlights the rustic wall texture too.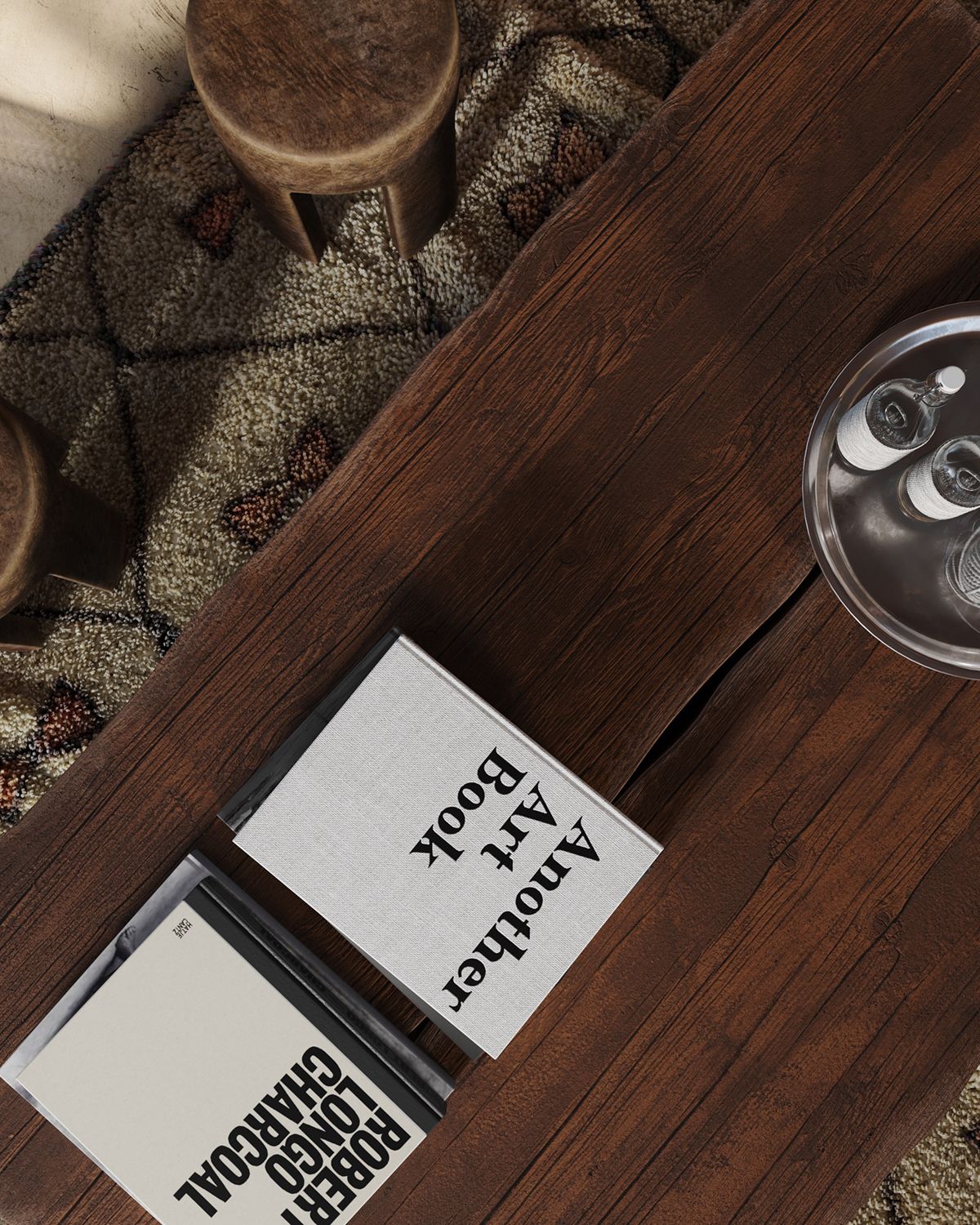 A collection of coffee table books add a modern touch to the living room decor scheme.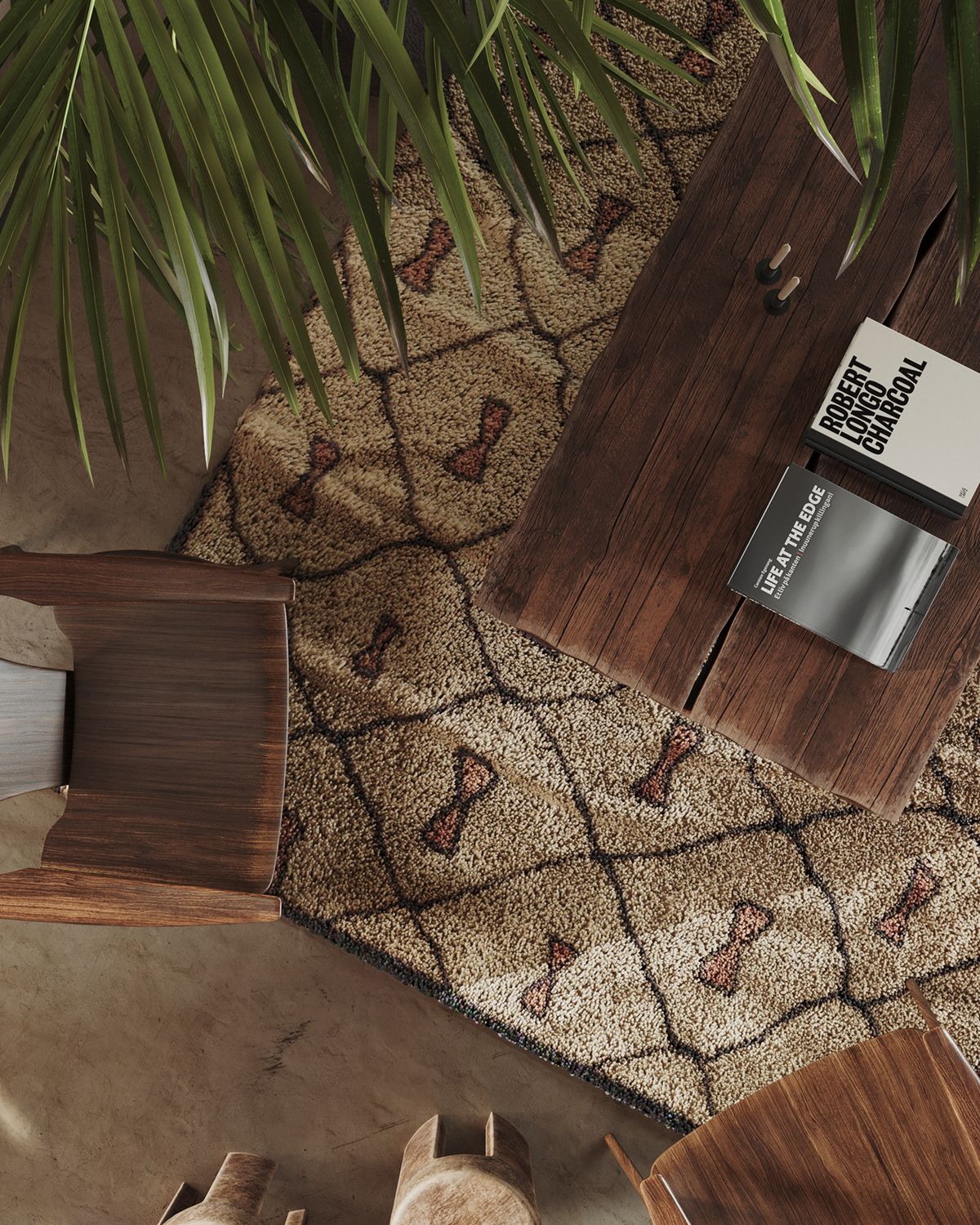 Durable polished concrete fills the floors of the rustic residence, with area rugs scattered around and about for cosy warmth underfoot.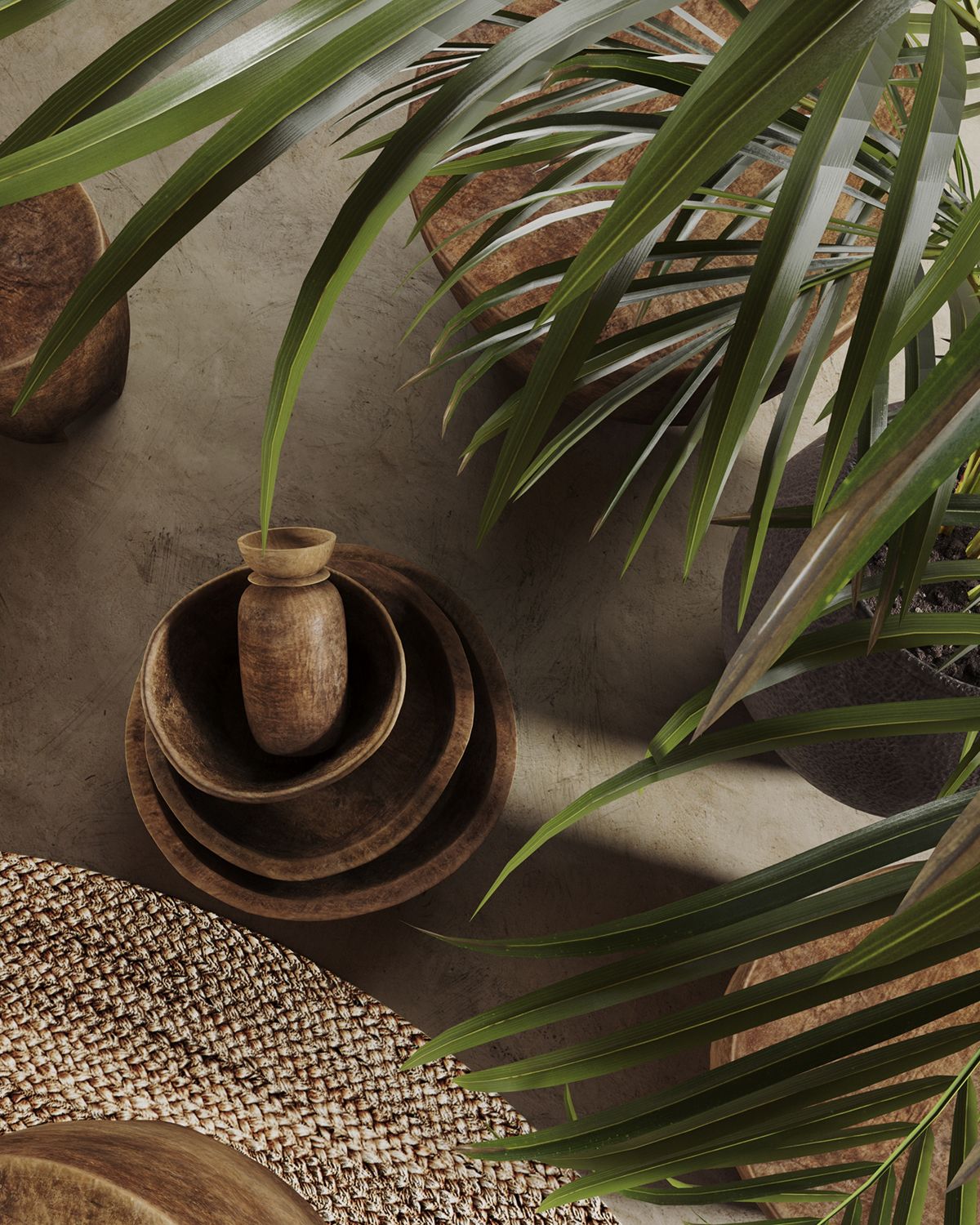 Wicker accents and wooden bowls provide moments of rustic artistry to the dwelling at every available opportunity. Indoor plants add a blast of fresh, uplifting greenery to the interior, which helps to form a connection with the tranquil nature views beyond the window panes.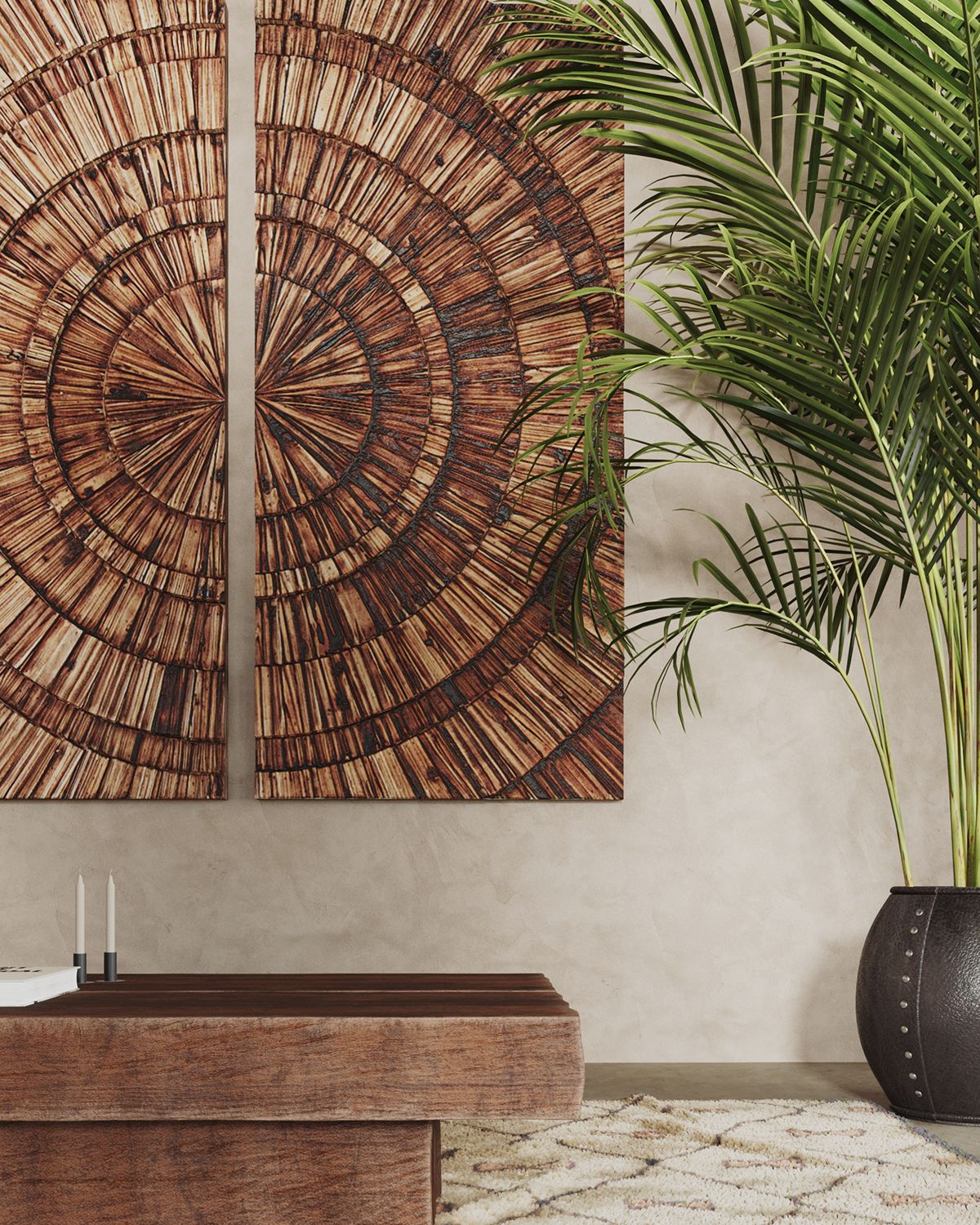 Wooden wall art in a striking diptych composition makes a stunning statement against the pale grey wall stucco.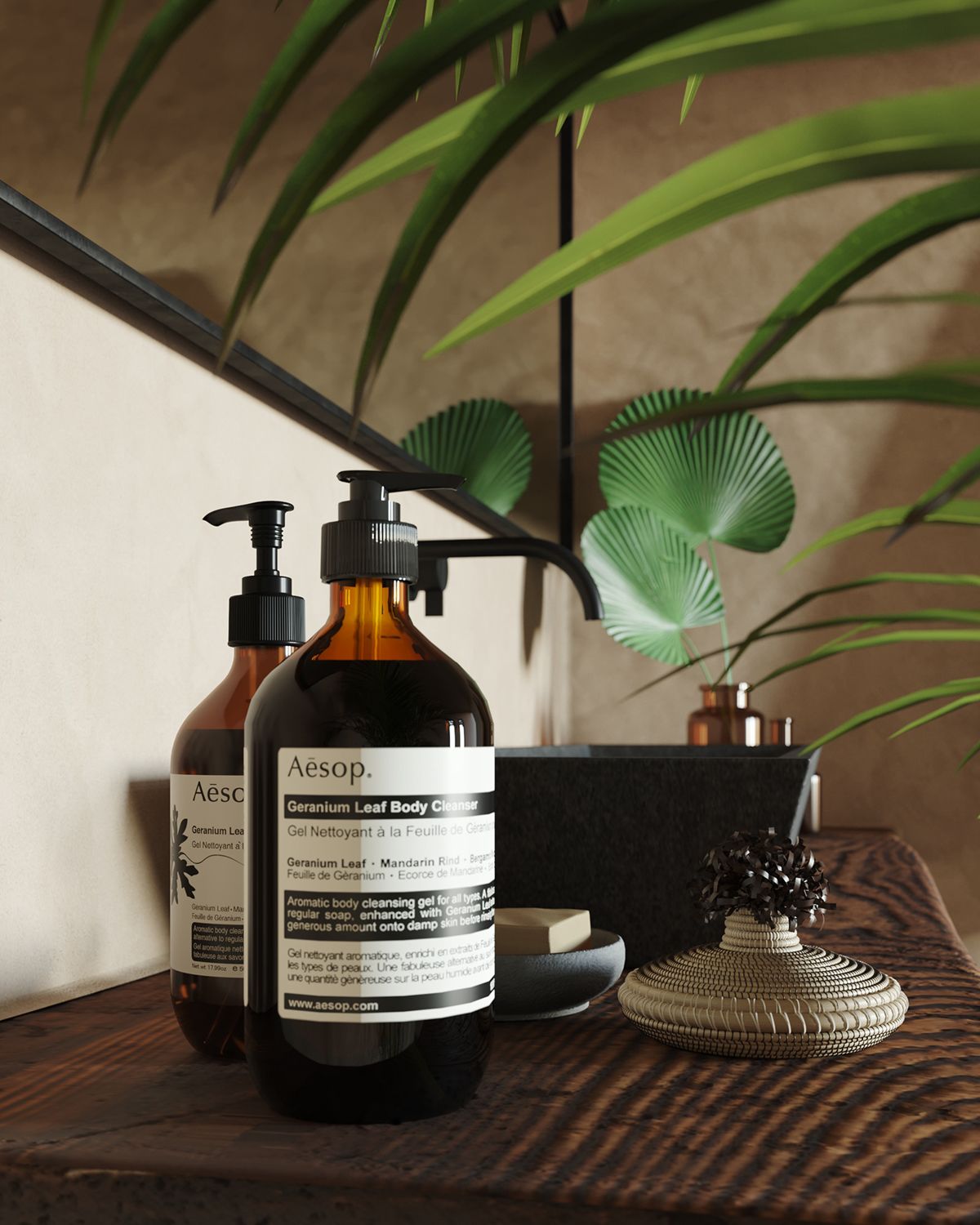 In the bathroom, amber glass vases and toiletry bottles subtly meld with a rich wooden vanity unit.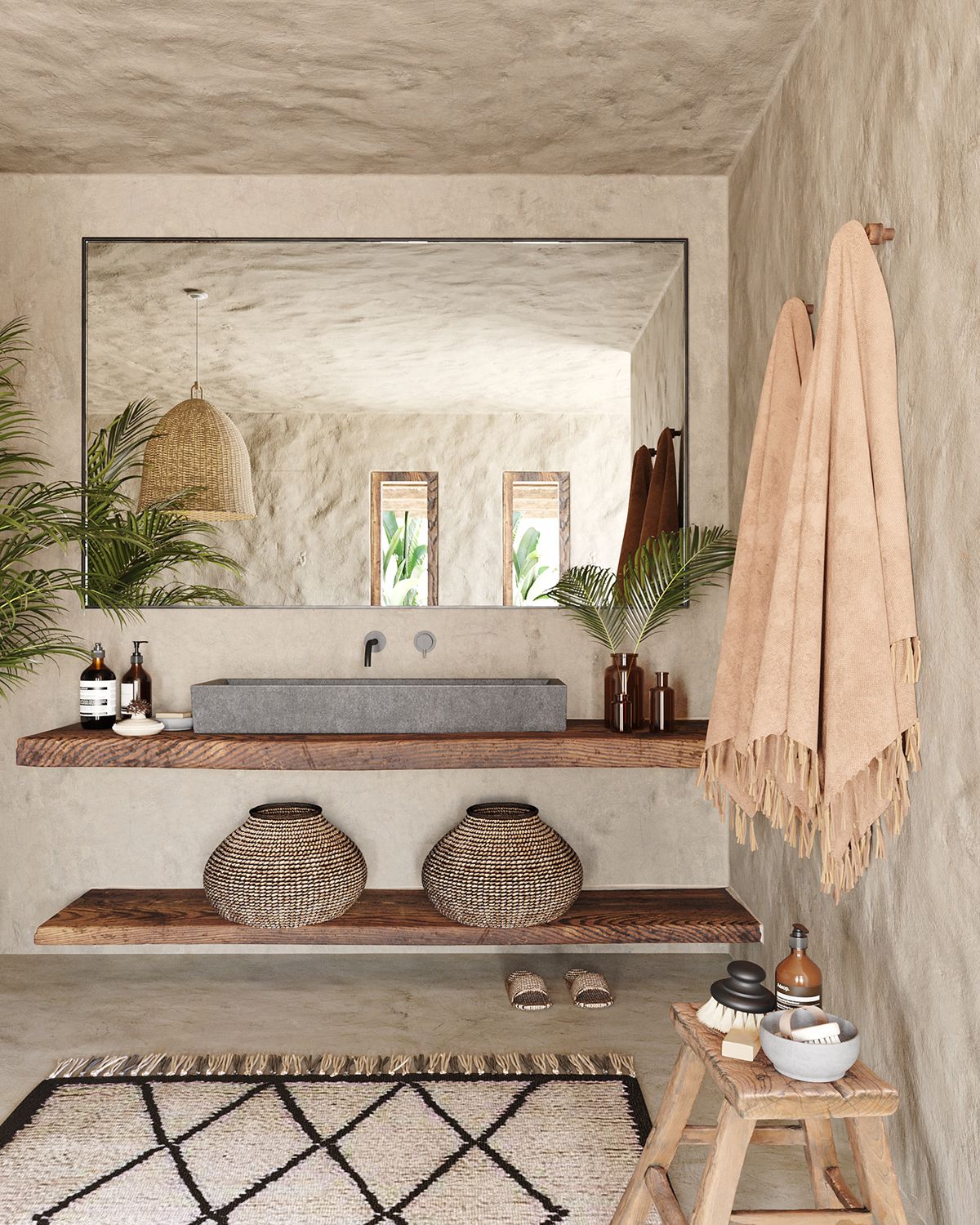 A concrete bathroom sink counteracts the natural timber vanity shelf with man made material. Wicker baskets offer a tidy and attractive storage solution under the basin, whilst a tasselled area rug softens the look of the concrete bathroom floor.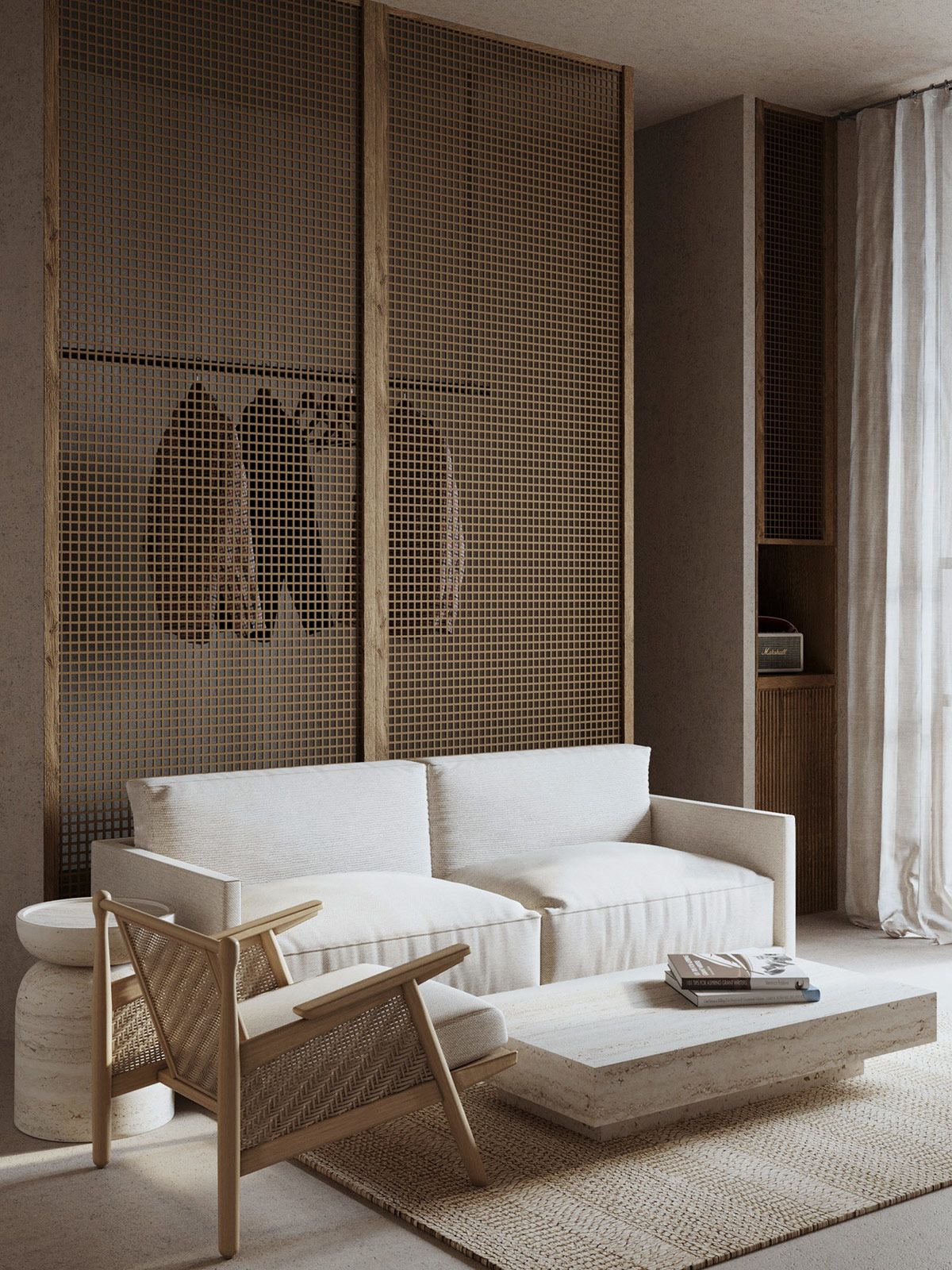 In Bali, Indonesia, we find a modern abode that is somewhat compact in its room sizes yet is largely extraordinary in many ways.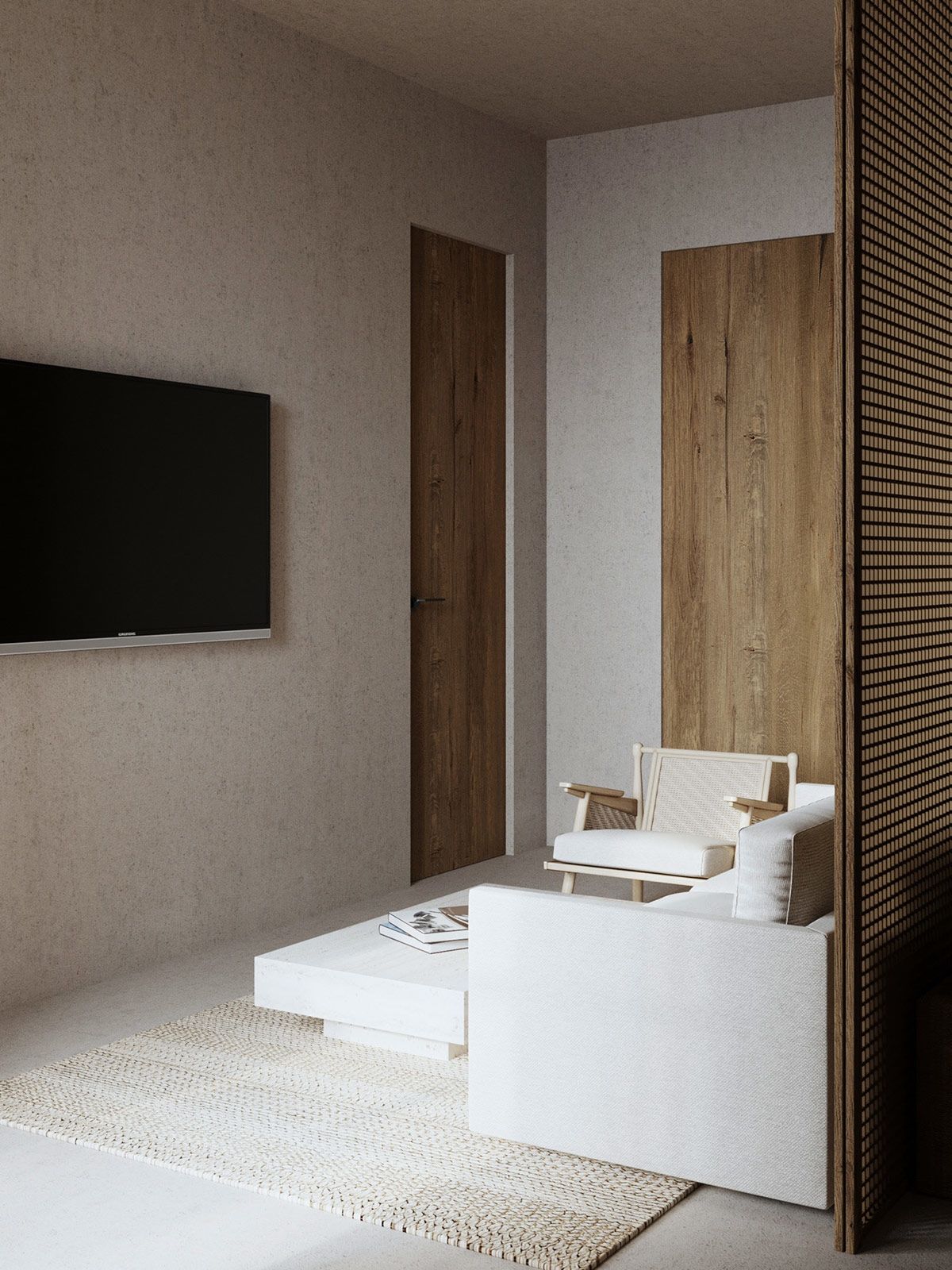 Interior walls are rendered in lime to achieve a smooth, laconic result.

In this unique living room design, a bespoke gray sofa has been shaped to fit an extraordinary curved wall. A pebble-like modern coffee table fits into the sofa's smooth embrace. Upholstery is perfectly shade-matched to the walls for a peaceful, understated finish.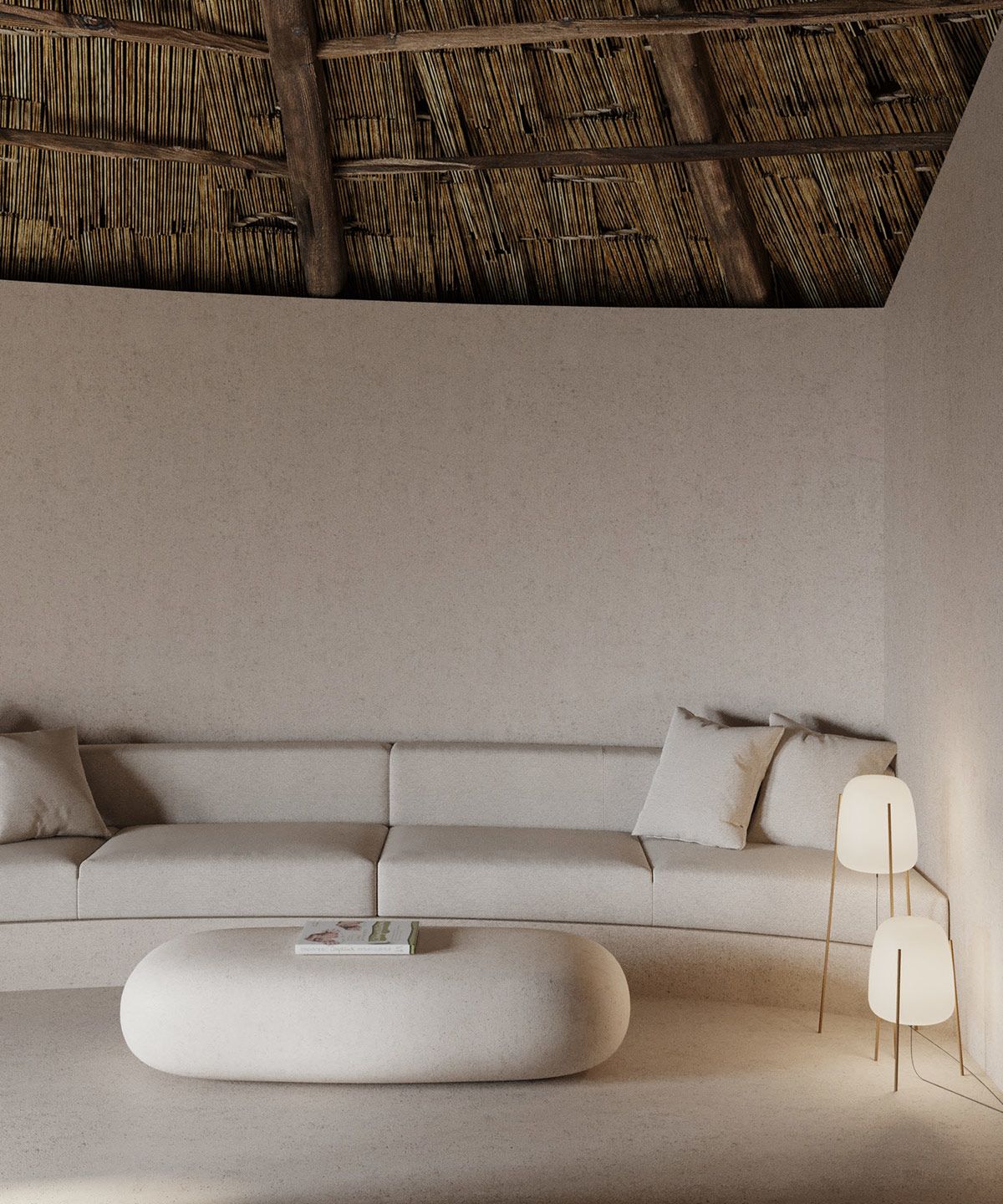 A small floor lamp duo softly highlights the curvaceous nature of the living room furniture designs.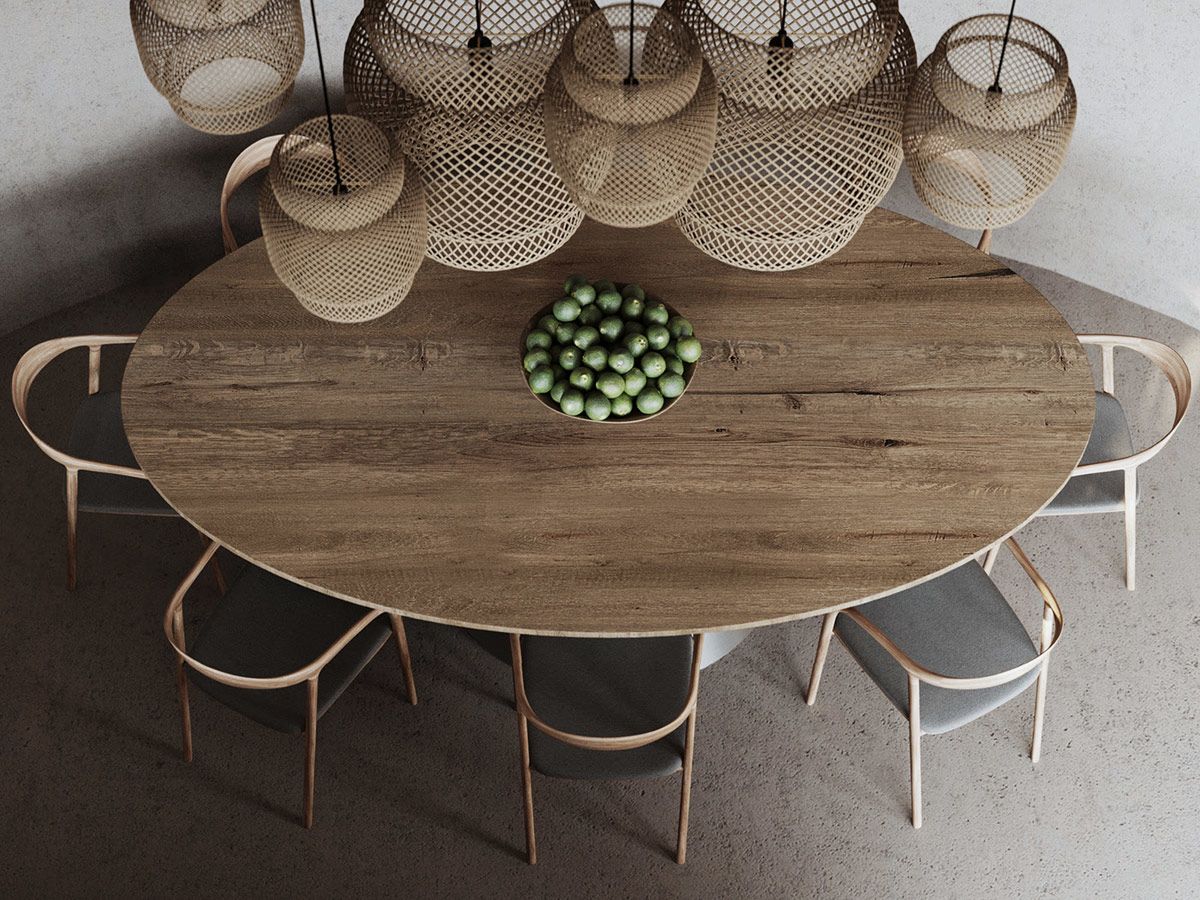 An oval dining table continues the curvaceous shape theme. Eight curved-backed wooden dining chairs encircle the wooden dining table.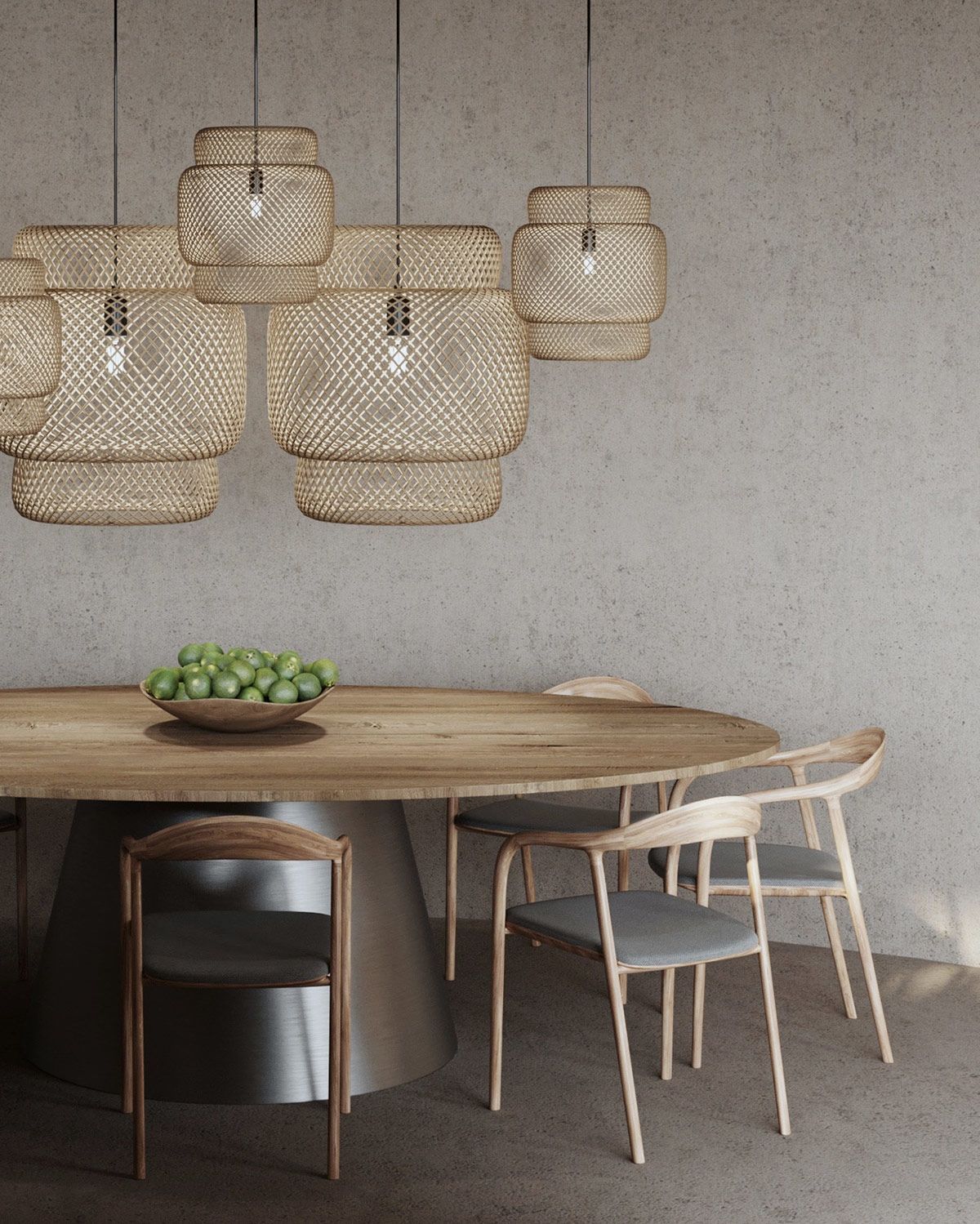 Wicker dining room pendant lights are grouped in a large composition along the length of the rustic dining table to create a show-stopping focal point and to spread even illumination. A unique modern fruit bowl serves as a rustic dining table centrepiece.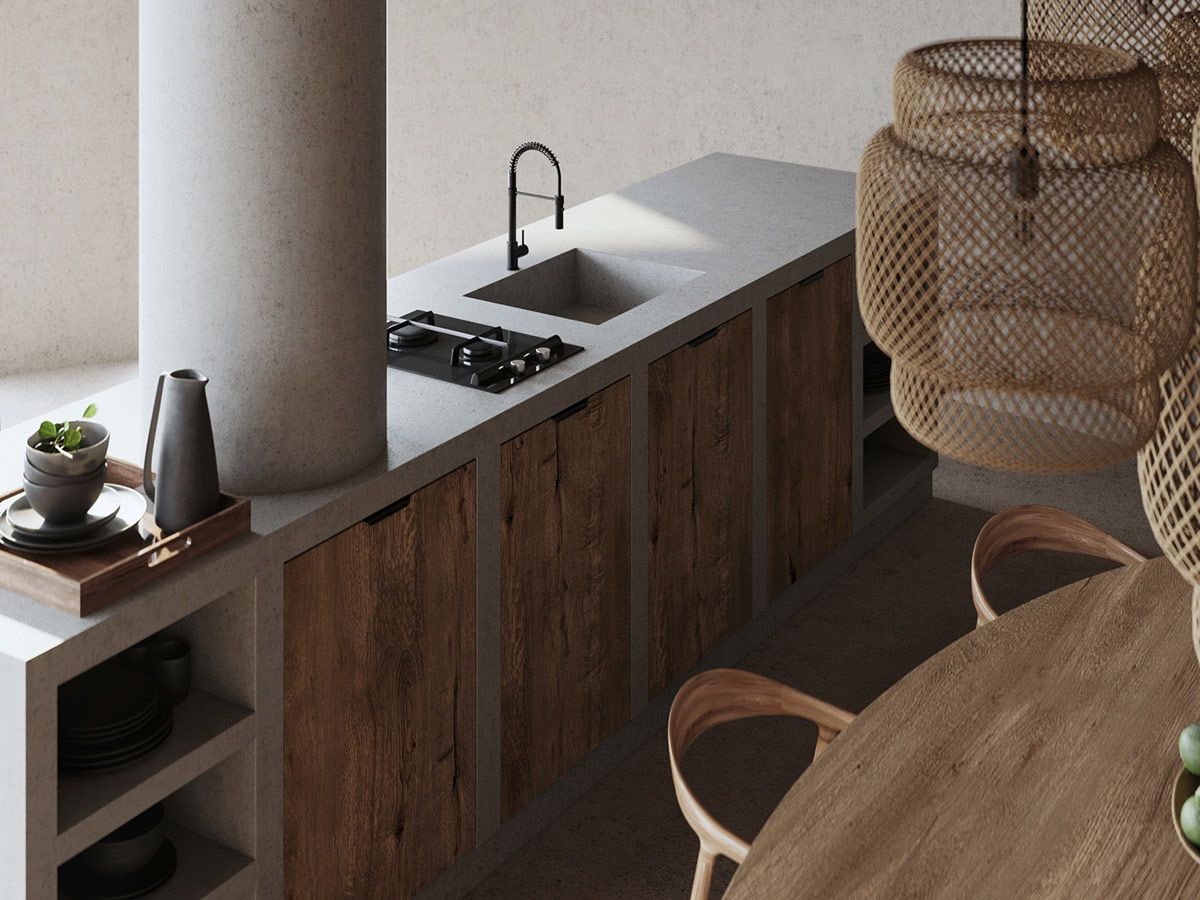 The kitchen is composed of a bespoke concrete casing, which builds an island of cabinets and an integrated worktop. Raw wooden doors front the concrete kitchen units to create a contrast of warm and cool tones.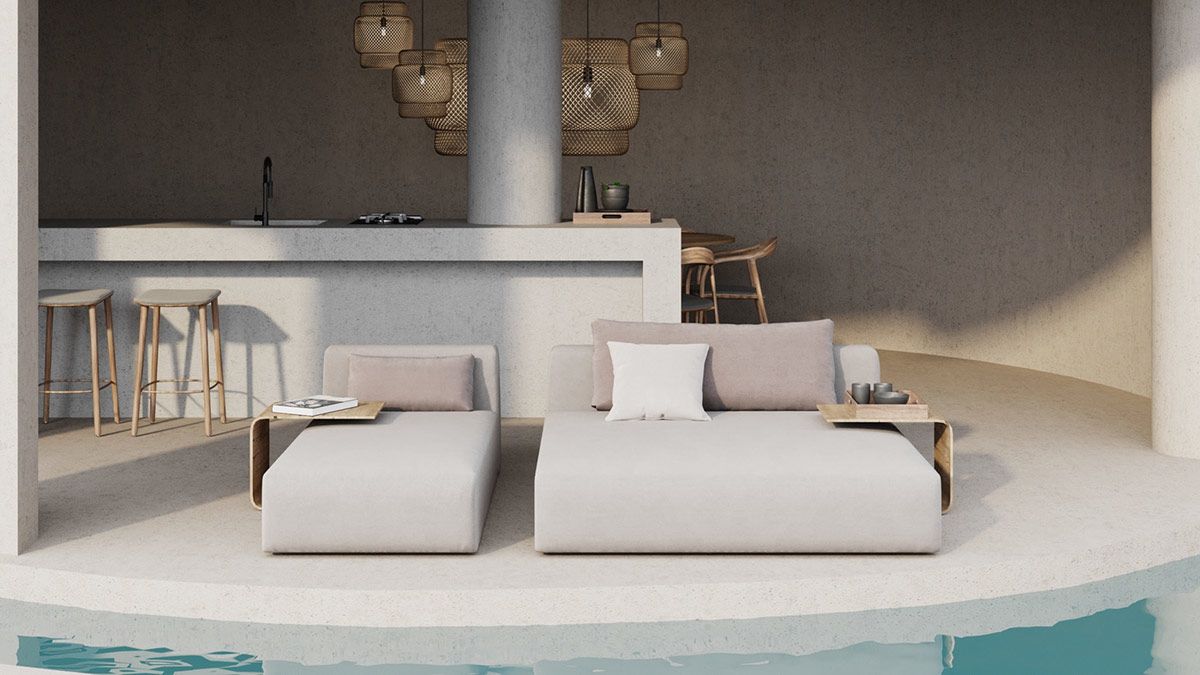 At the opposite side of the kitchen island, a modular sofa is positioned by the edge of a swimming pool, upon a wonderfully curved terrace.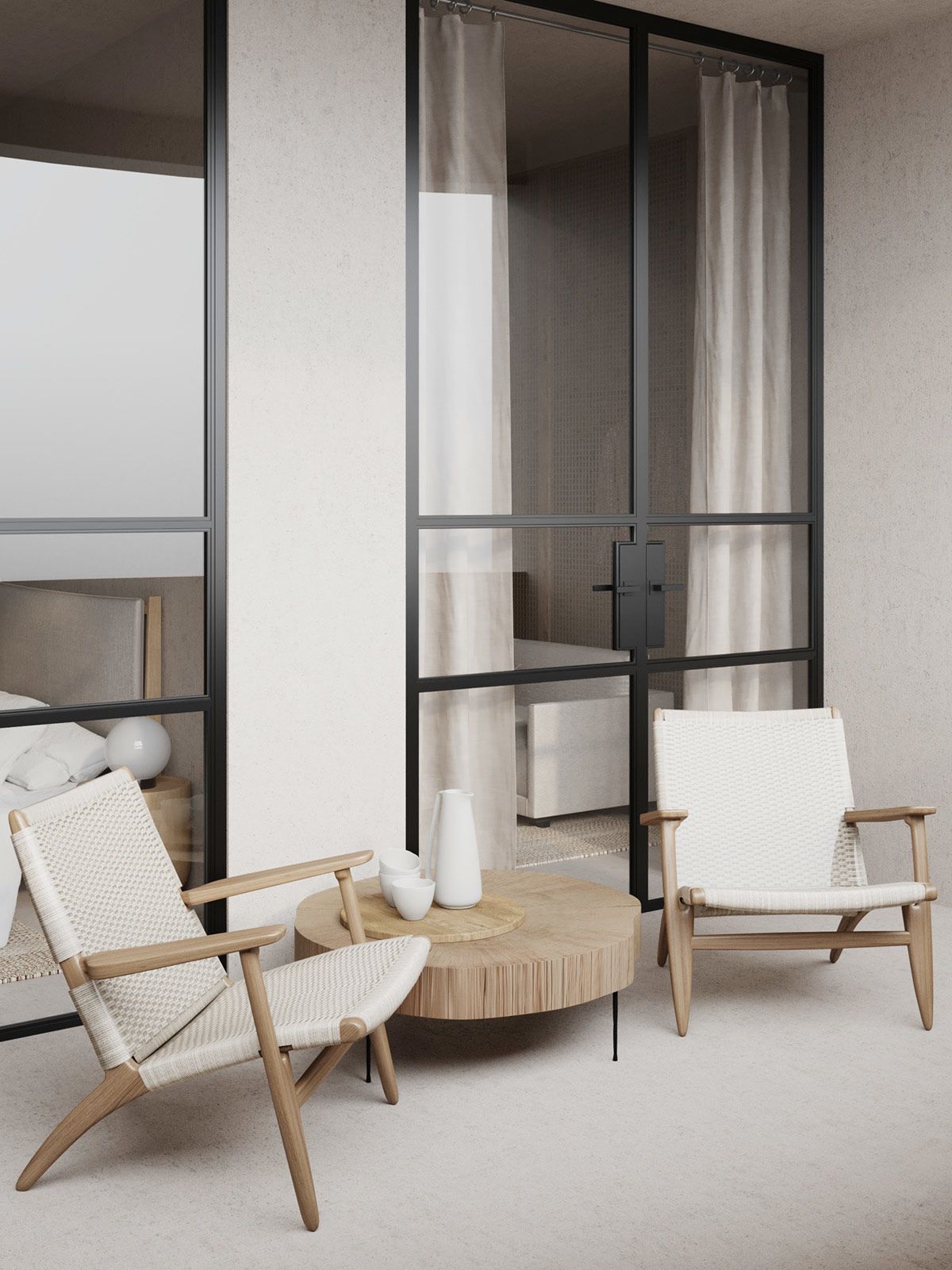 A pair of lounge chairs and a wooden coffee table furnish the bedroom balcony, providing a relaxing spot in which to enjoy a light breakfast or a cup of coffee.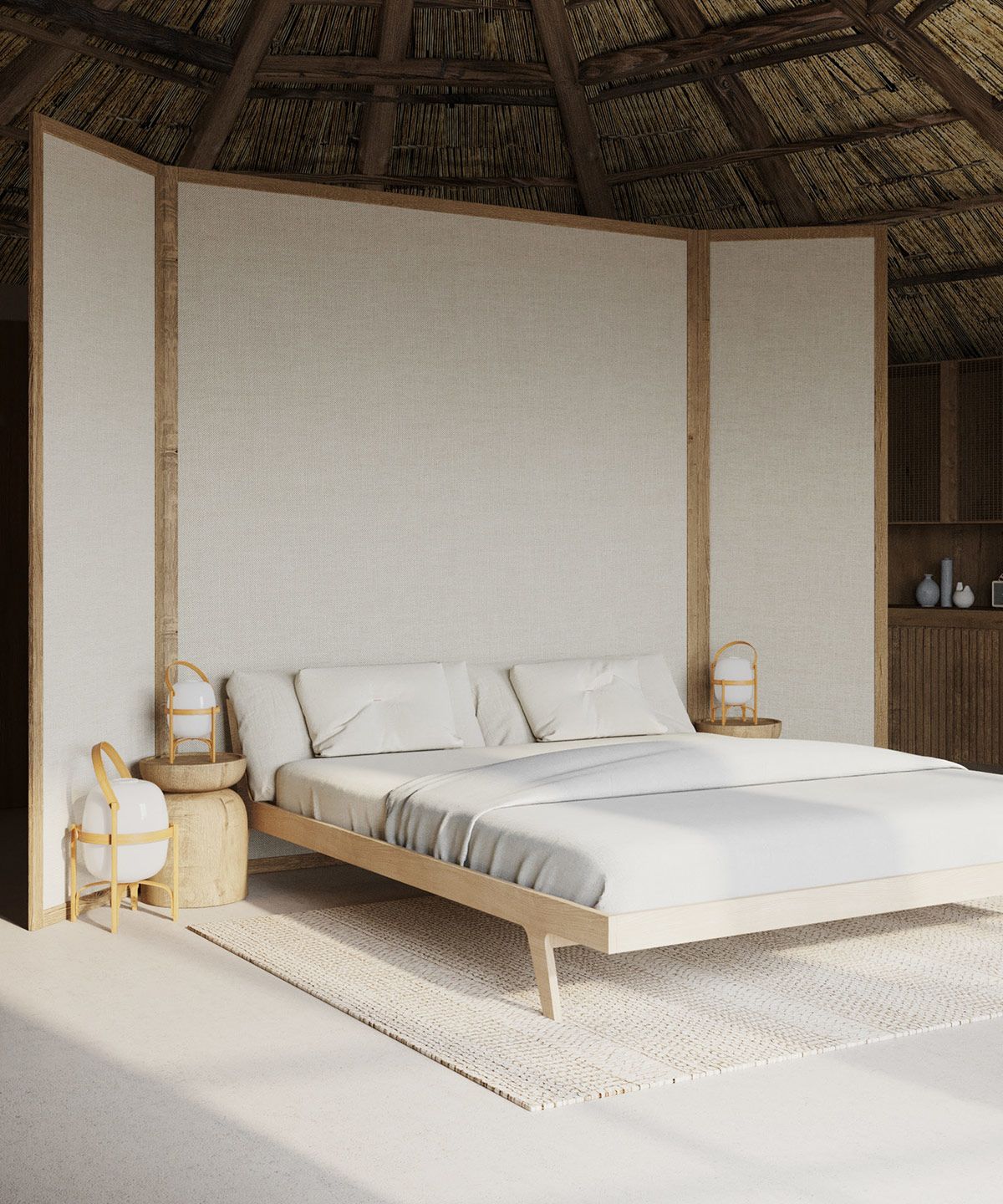 Inside the rustic bedroom, a large screen divides the room into a sleeping area and a dressing area. A modern wooden platform bed is placed out in front of the headboard partition wall, where the homeowners can benefit from the beautiful view via the balcony doors. Lantern-like bedside table lamps add a cosy glow after nightfall.

A custom-made desk follows the curved perimeter. A modern table lamp adds function and mood.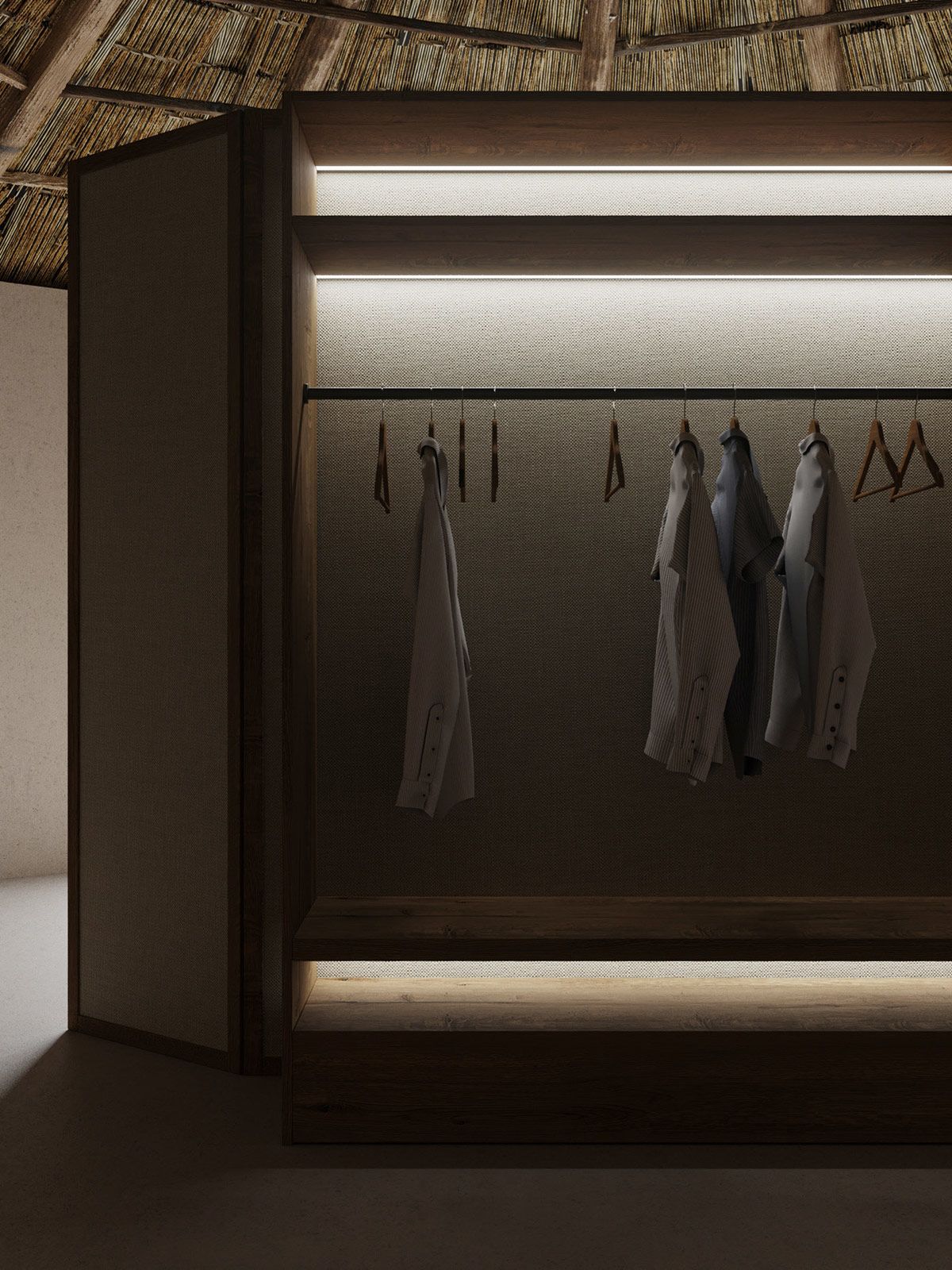 Behind the three-fold partition wall, the walk-in wardrobe is back-lit to aid the selection of garments.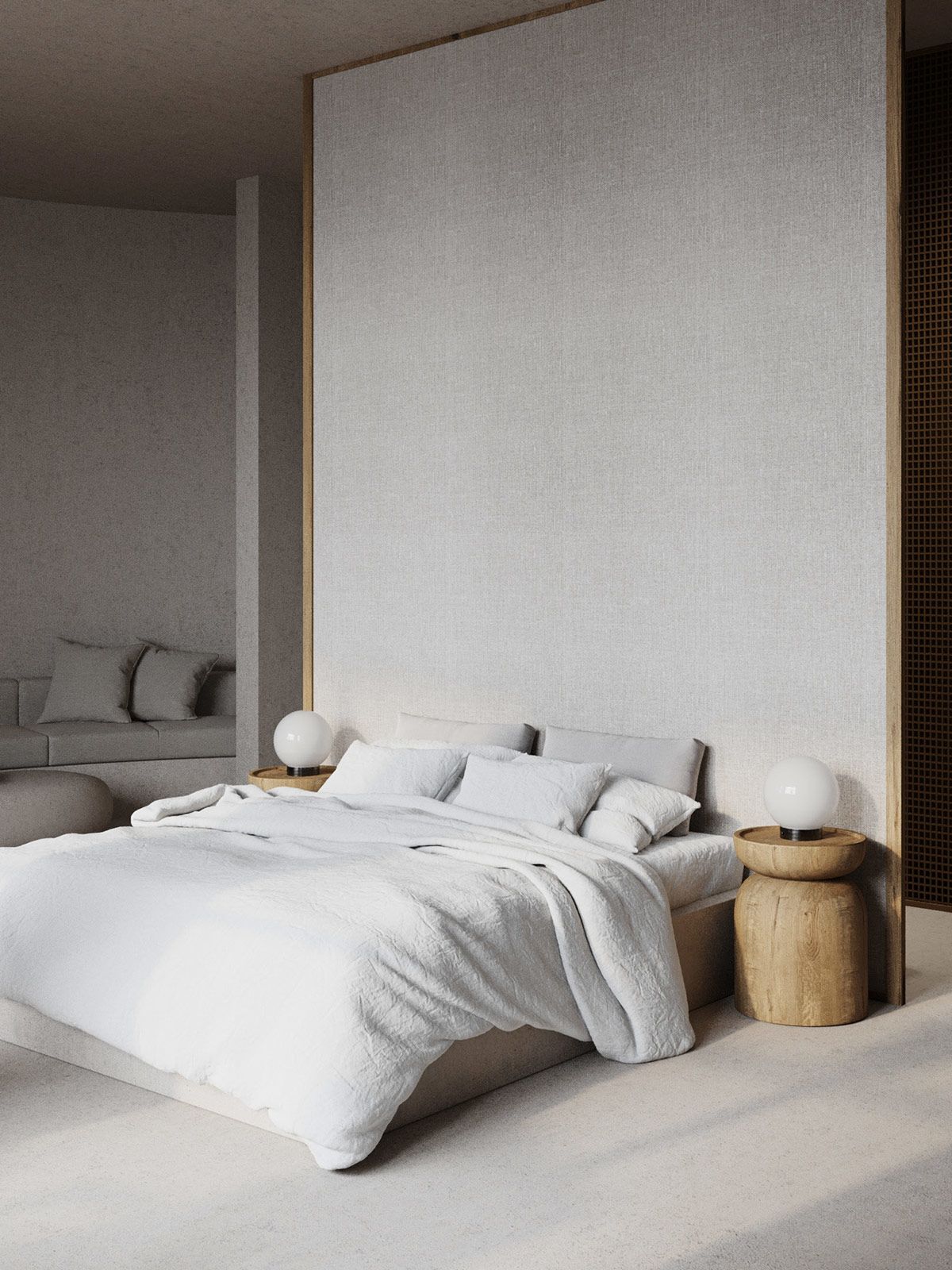 In the second bedroom, rustic bedside tables flank another headboard partition wall that separates off a dressing area.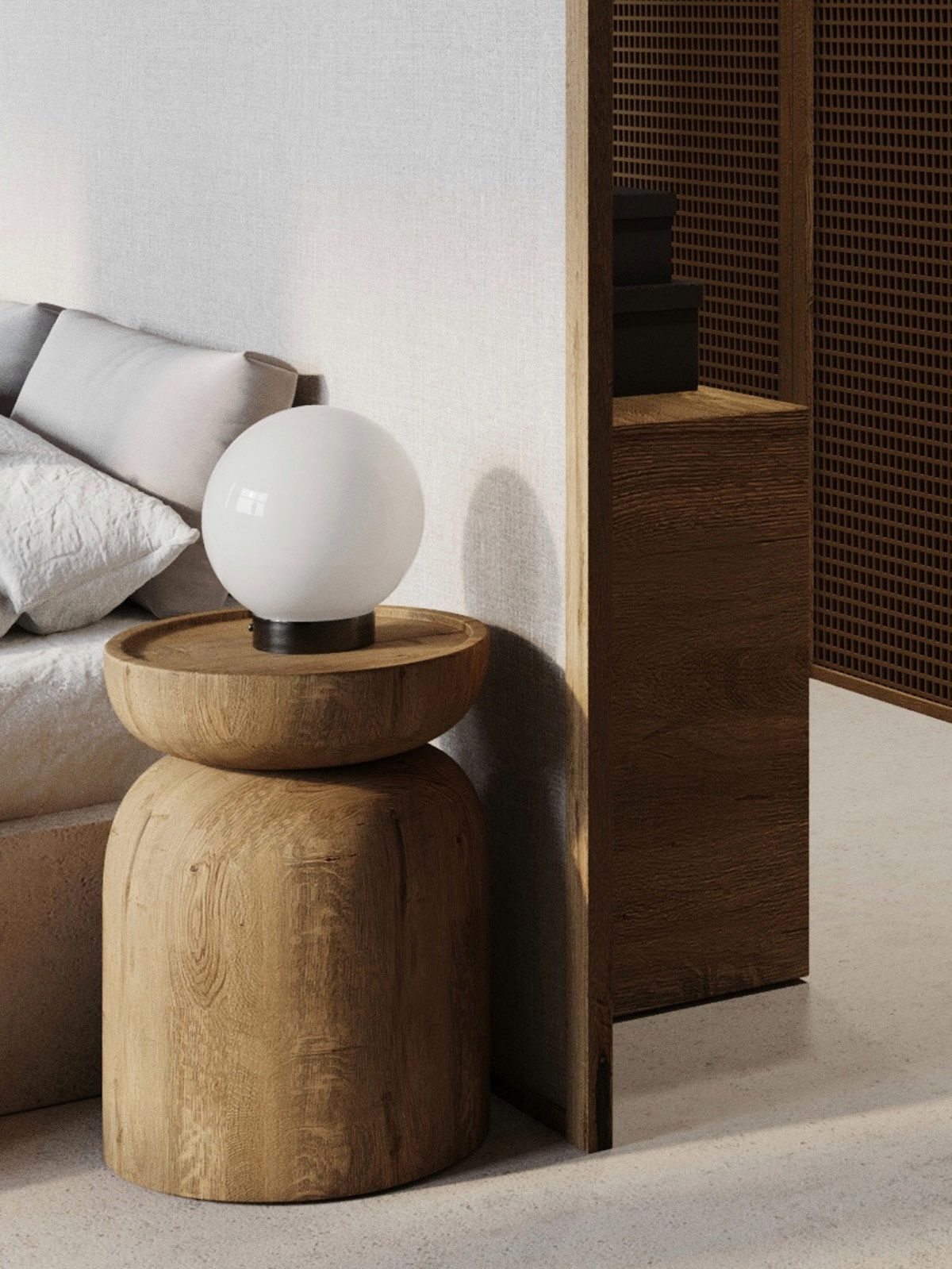 Globe bedside table lamps provide reading light.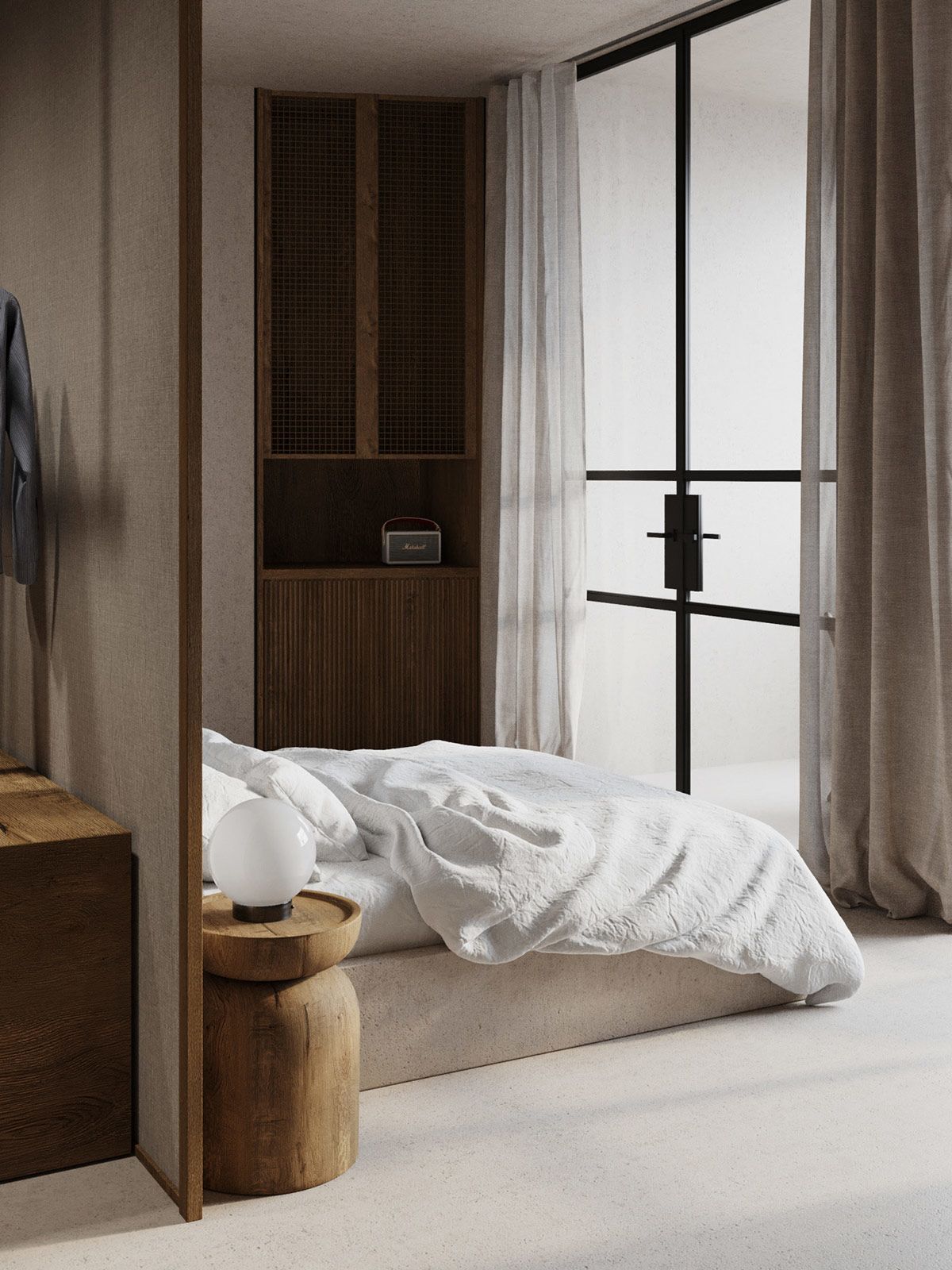 A wooden storage unit has been custom-fitted into a snug alcove to keep the room layout looking streamlined.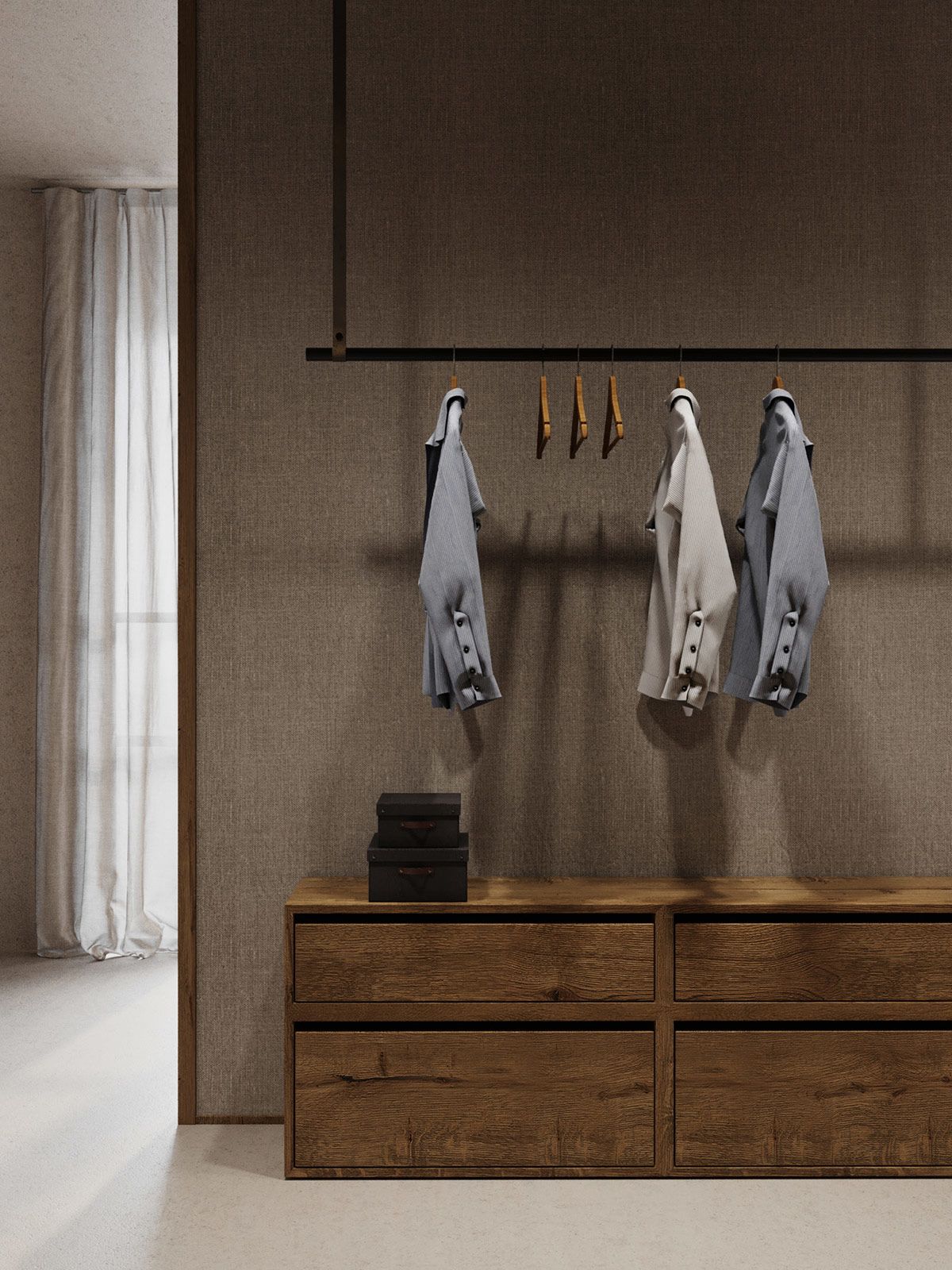 Behind the partition wall, a garment rail and a wooden chest of drawers organise clothing.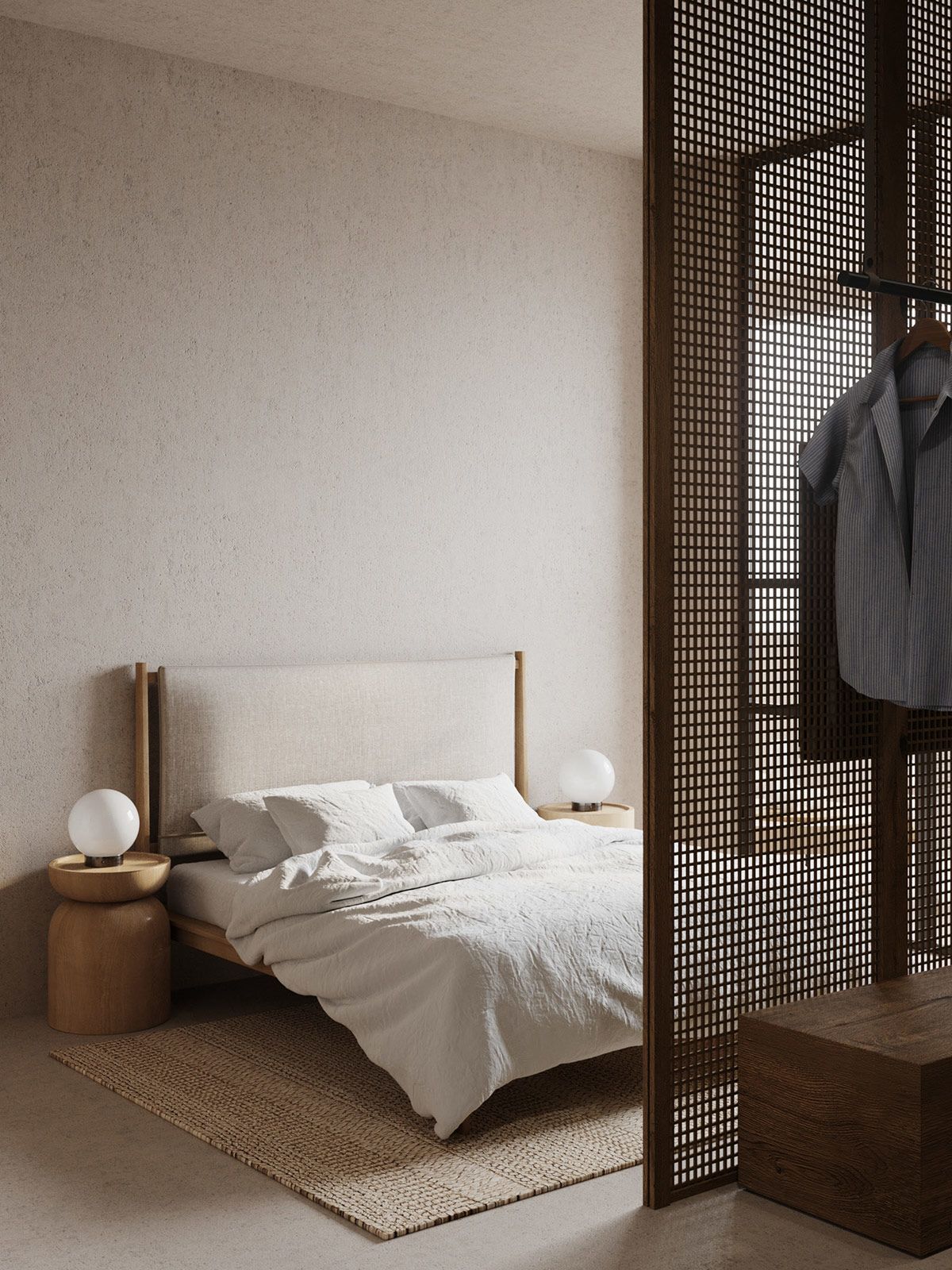 A slightly different setup is found in the third bedroom, where a walk-in wardrobe is situated at the foot of the bed behind decorative rattan screens.

The rattan screens also serve as a TV mount.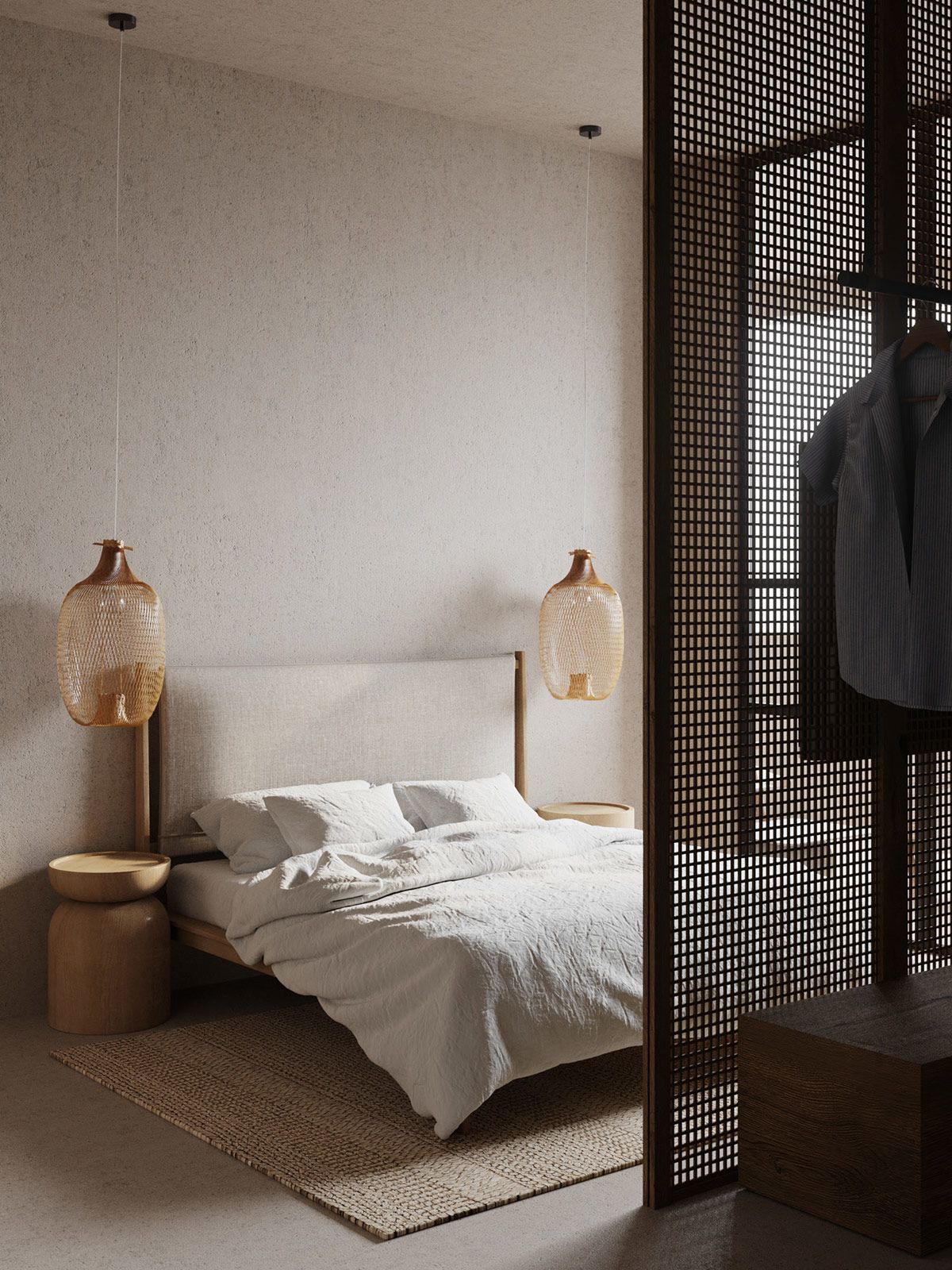 The same setup is repeated in the final bedroom, though this time a pair of wicker bedroom pendant lights provide an eye-catching feature.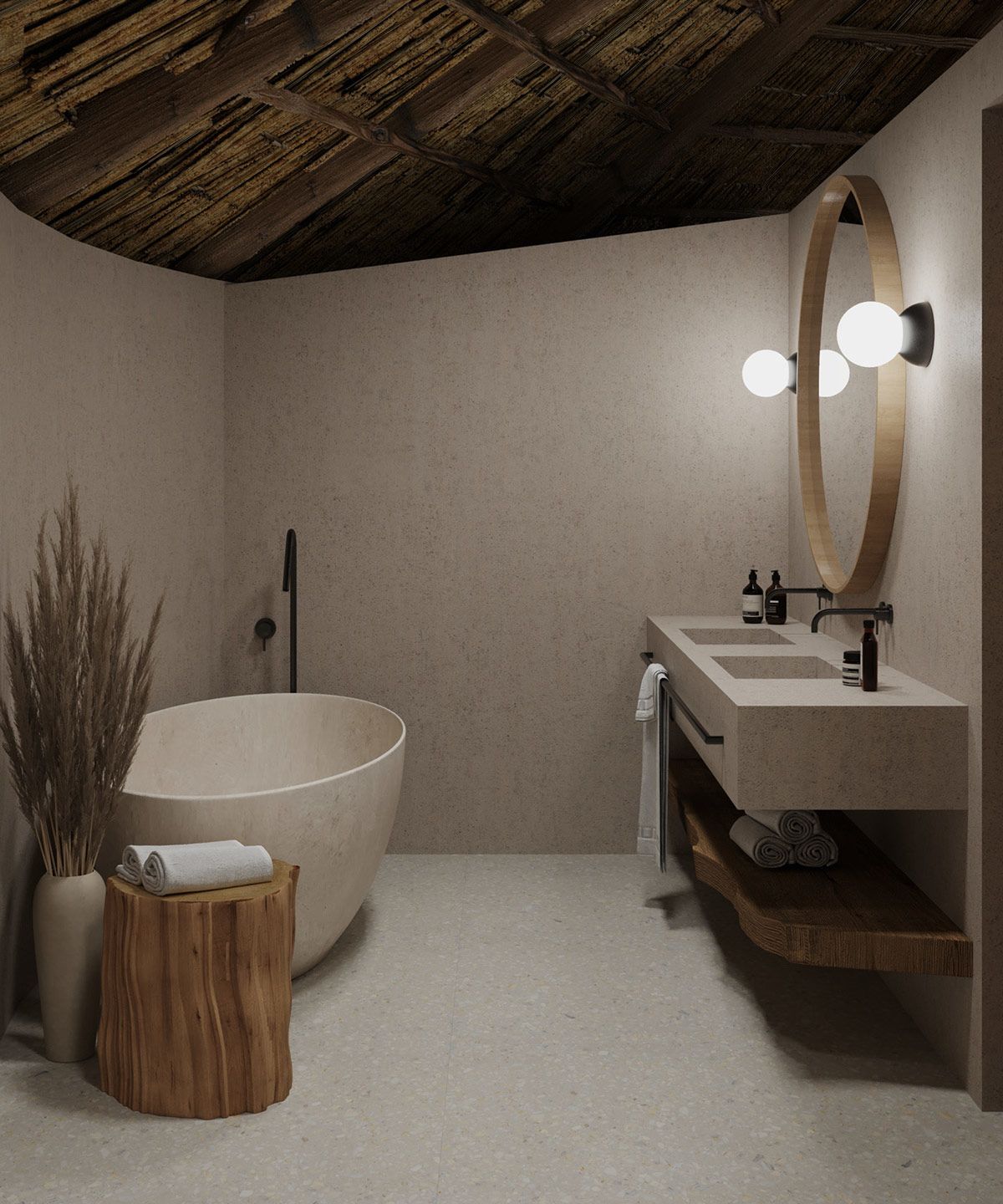 A freestanding bathtub matches lime stucco walls and a coordinated vanity unit.

Modern bathroom vanity lights flank a large round mirror above the bespoke, linear vanity unit. A live edge wood shelf underlines the stone double sink vanity, causing a warm counteraction.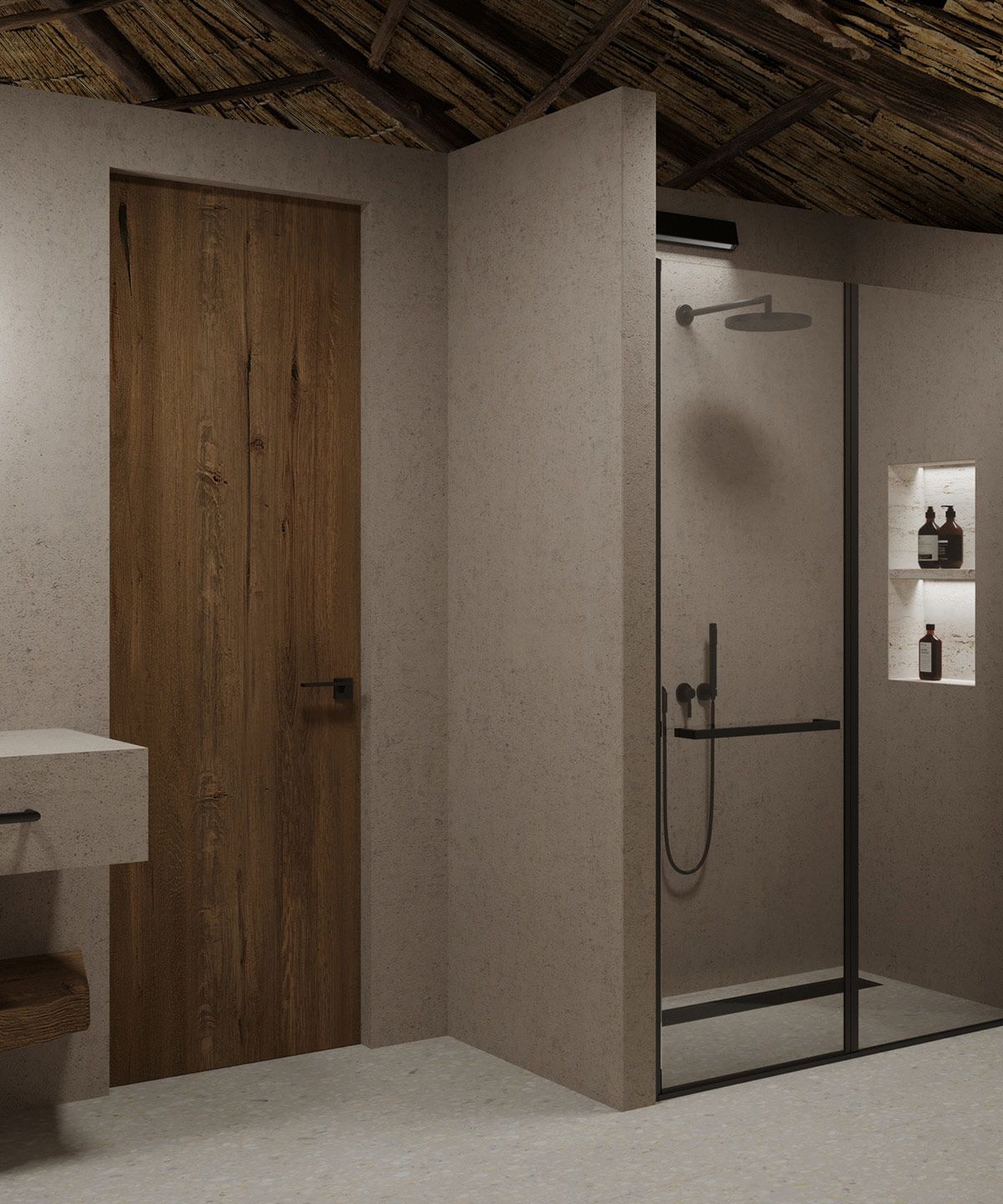 The walls of the bathroom do not fully reach the ceiling in order to accommodate its domed, thatched nature.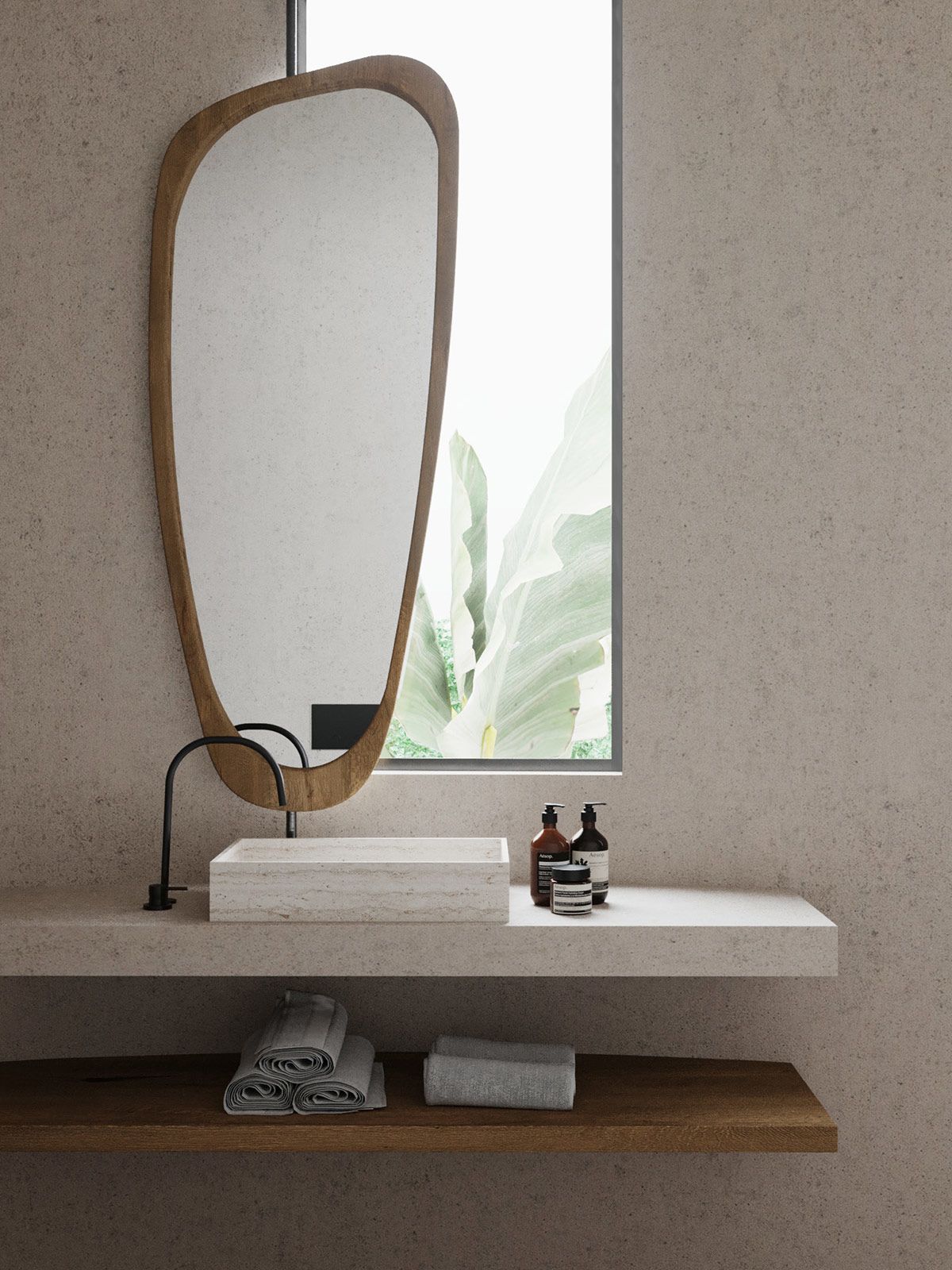 In the smaller powder room, a tall freeform mirror makes a striking companion for a small, linear stone basin.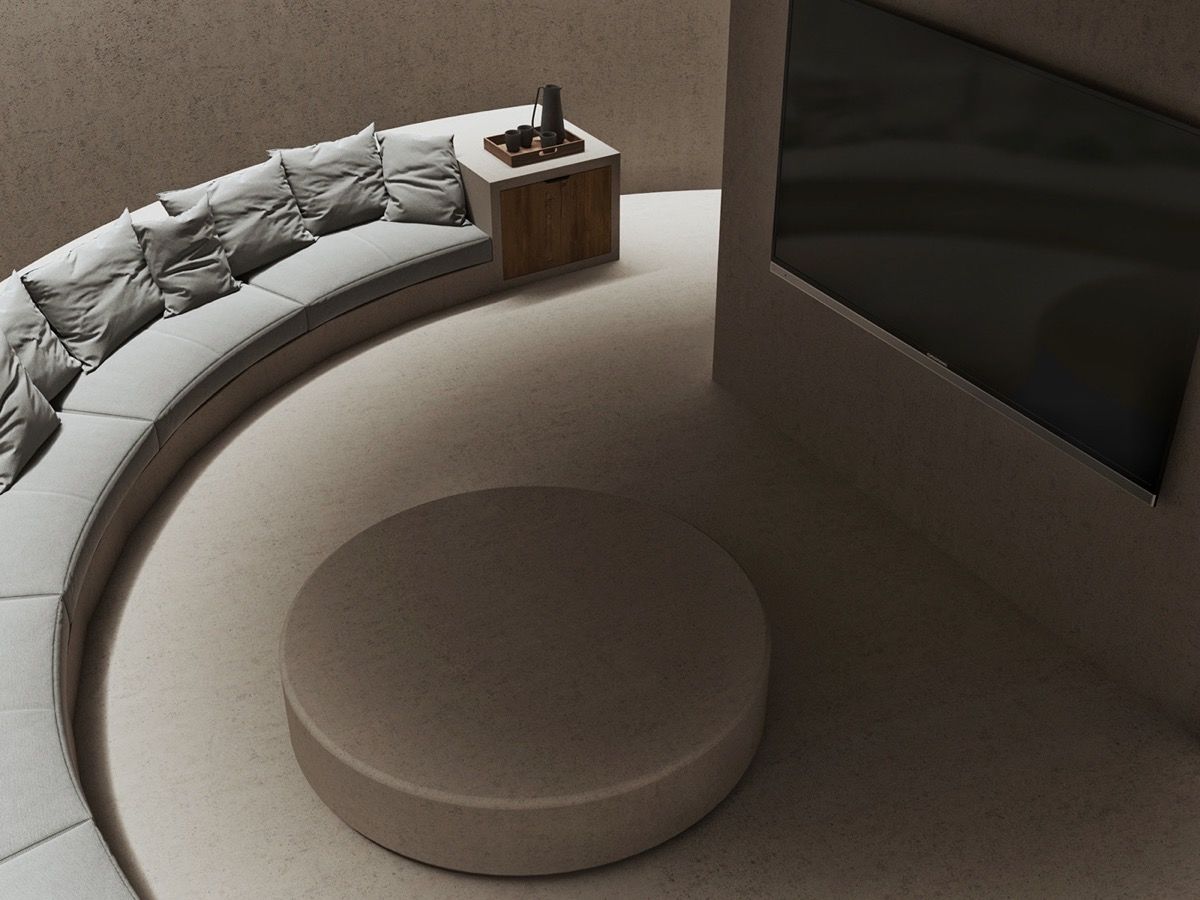 The recreation room is furnished with a show-stopping curved sofa that's been custom designed to follow the bend of the wall. A round coffee table nestles within its arch.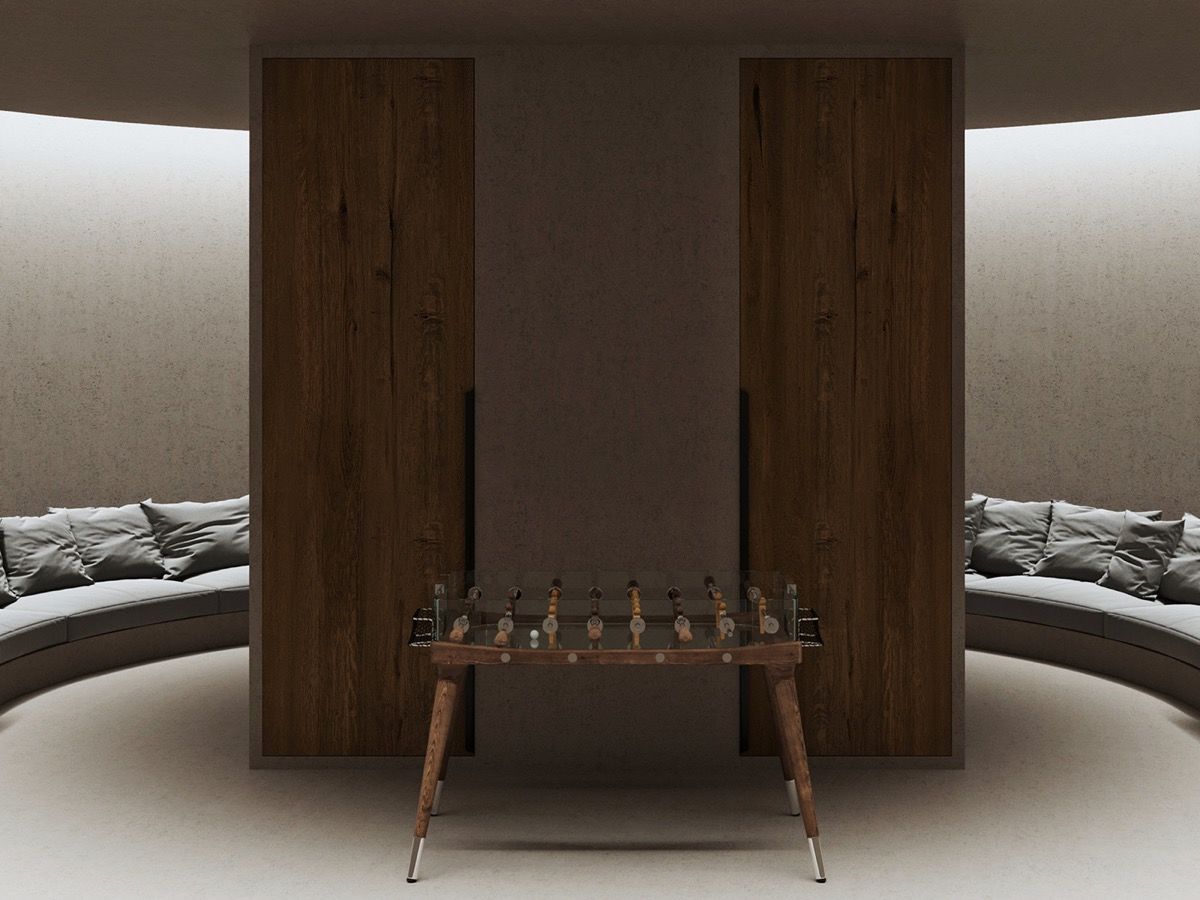 Behind the TV wall, storage units are on hand to stow away board games and consoles. A stylish foosball table completes the fun zone.

In Turkey, a large living room is accessorised with a multitude of natural and black wicker pendant lights, which dangle between exposed wooden ceiling beams. Down on the concrete floor, a pale grey modular sofa makes up a multi-sided seating arrangement.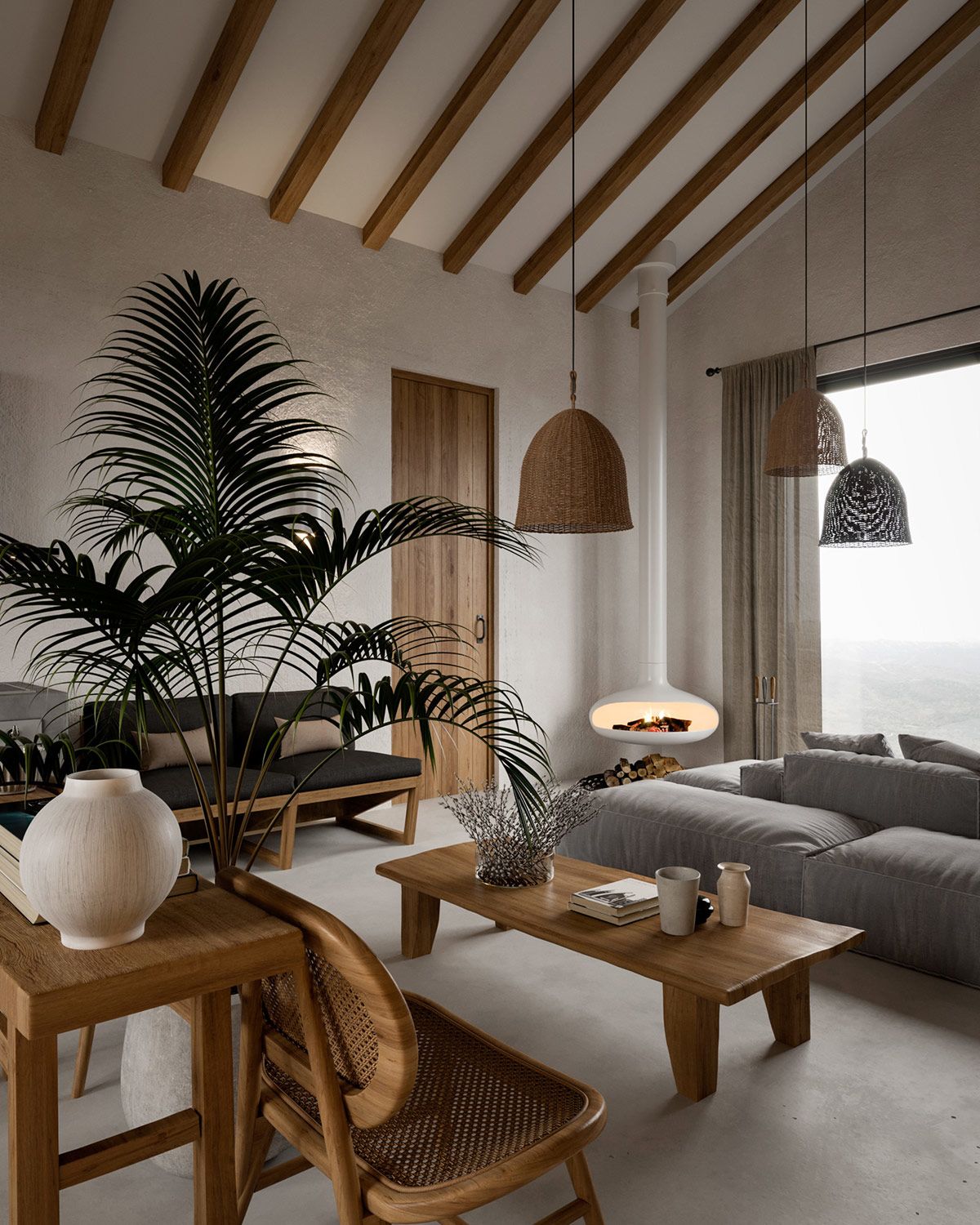 A ceiling mounted modern fireplace gives the rustic living room a cosy glow.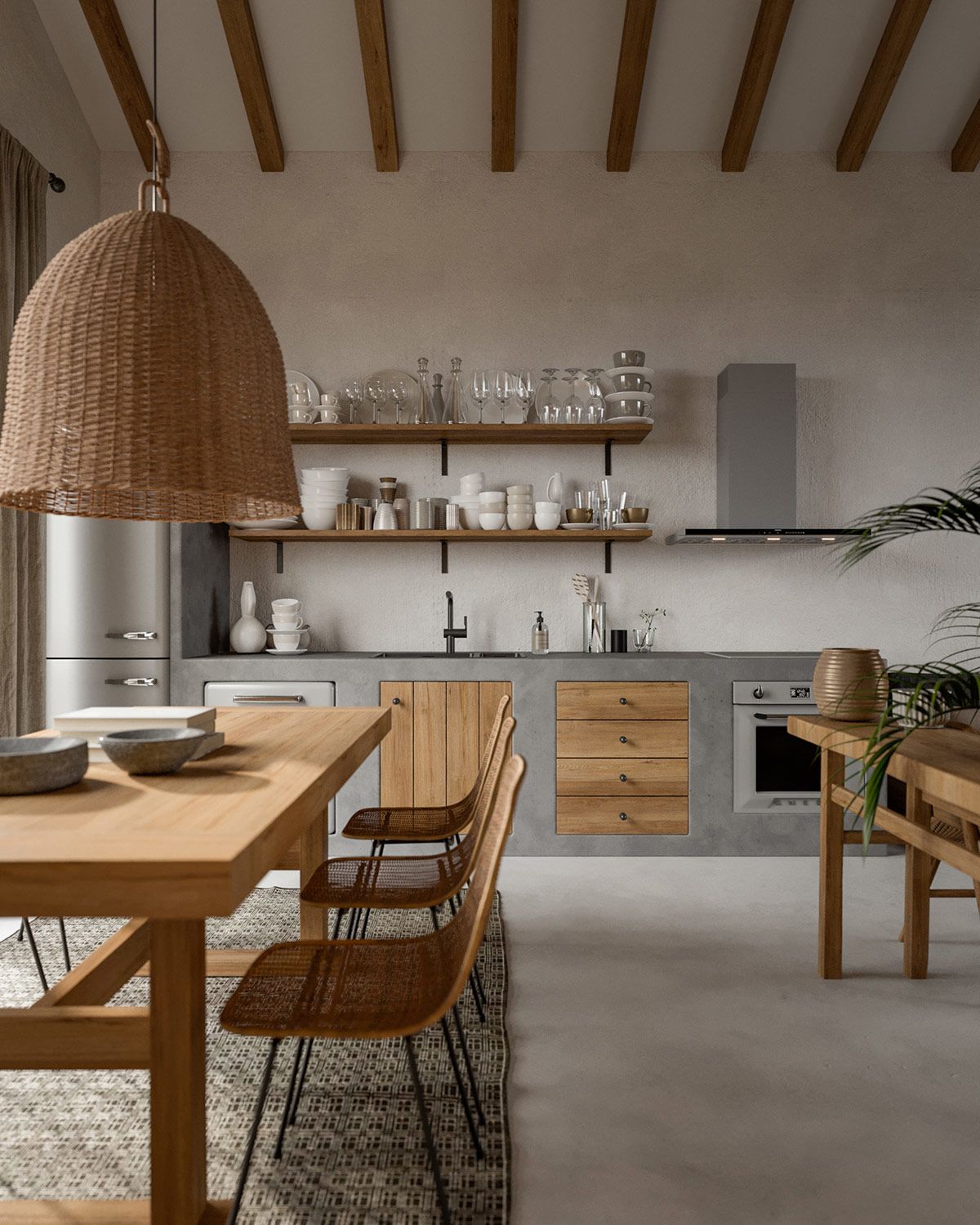 A wooden console table separates the lounge area from an open plan kitchen diner. The kitchen cabinets are a bespoke concrete composition. Wooden cupboard doors and drawer fronts are complemented by wooden open kitchen shelving.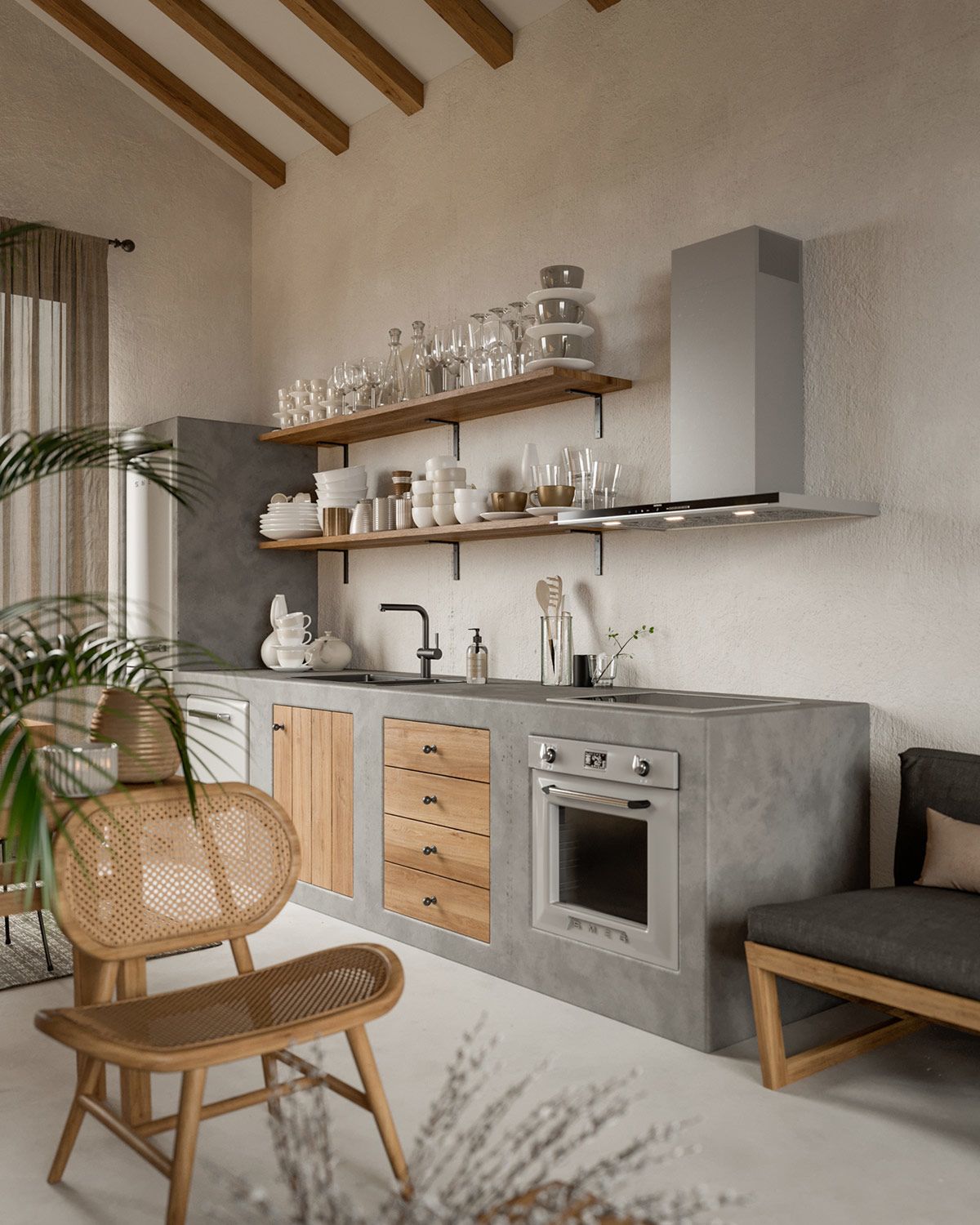 The set of wooden wall shelves provide most of the kitchen storage. Ceramic dishes and glassware are packed and stacked tightly along their length to create an engaging focal point.

Bathroom storage cabinets are composed in the same concrete composition as the kitchen, which morphs into a concrete vanity unit at one side. A simple, black-framed vanity mirror contrasts darkly against the light wall render.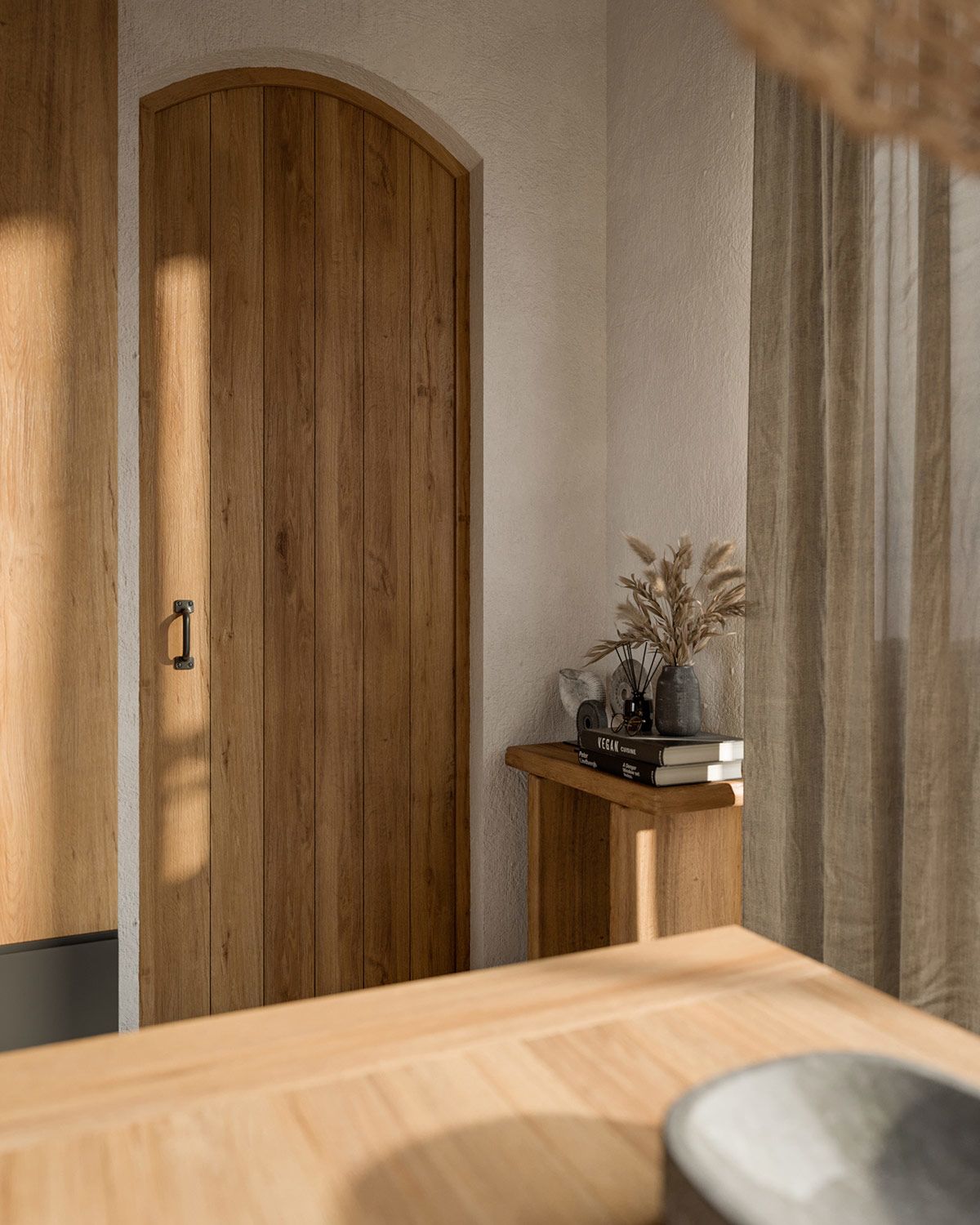 Linen curtains allow natural light to softly filter through. Sun beams fall upon a beautiful arched wooden door.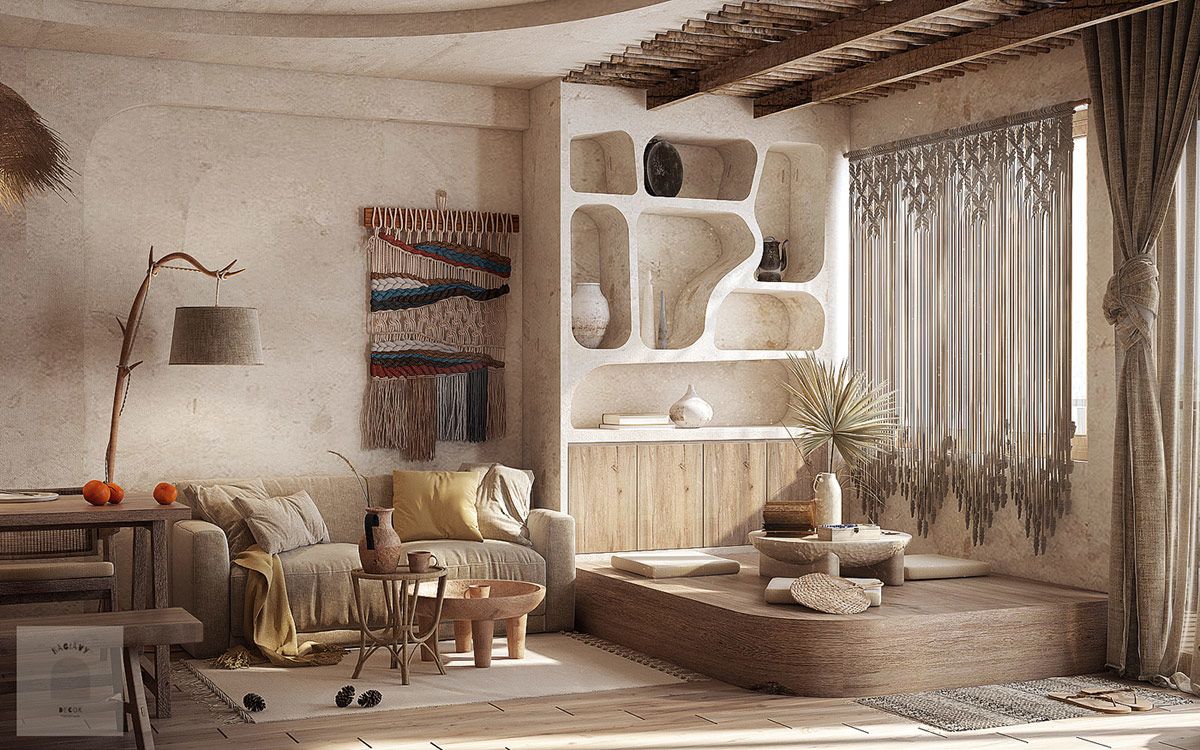 Our final home design, located in Vietnam, is personalised with a fabulous freeform shelving unit installation that merges with the lime wall stucco. A raised platform floor elevates a cosy tea room area at the food of the built-in unit. Macramé window dressings double as an eye-catching art piece.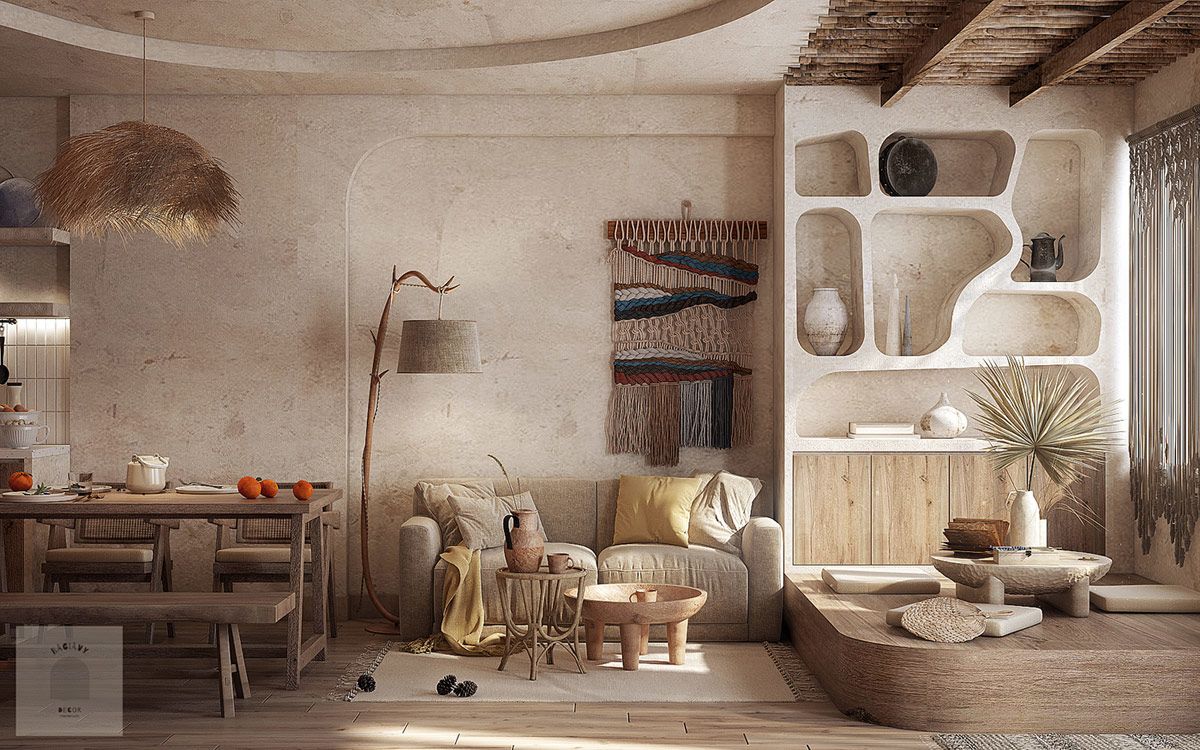 Next to the custom shelving unit, a small sofa and a rustic floor lamp fashion a cosy lounge area. Woven wall decor adds colour and interest. Two small coffee tables fashion a quaint, mismatched pair upon a small area rug.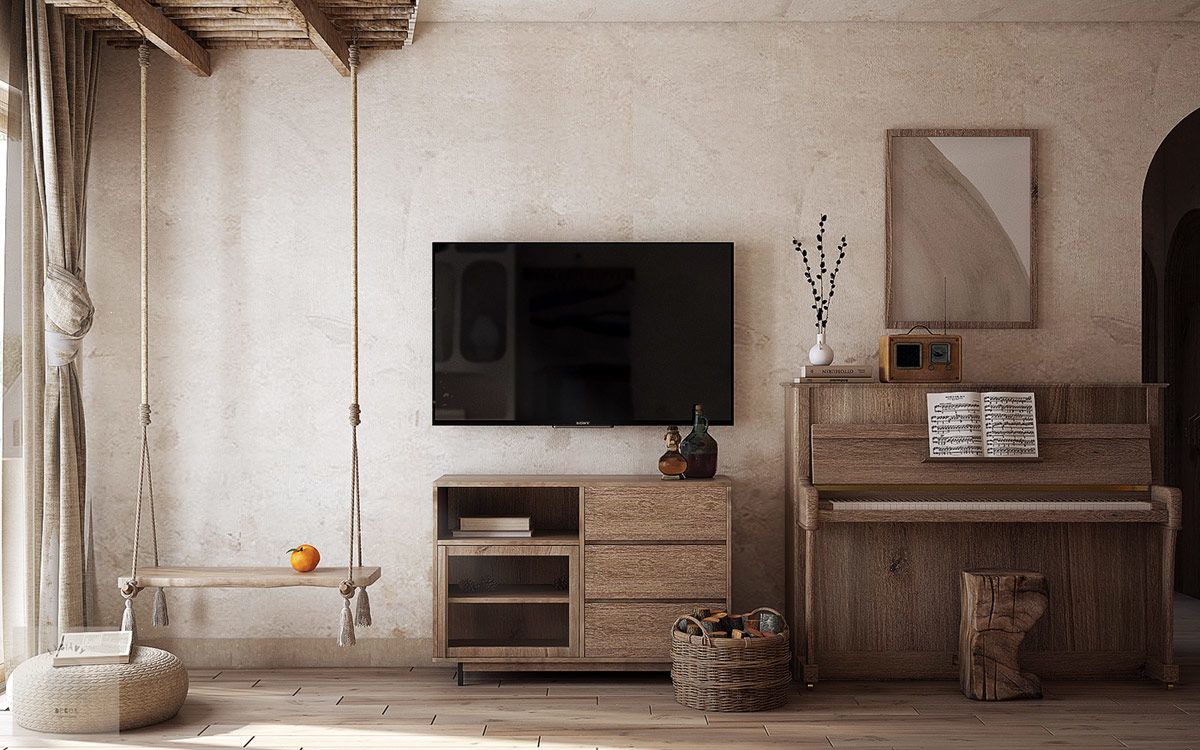 An indoor swing adds a fun touch to the lounge. The small seating solution also maintains the open and airy atmosphere of the room, and allows light to flow in unobstructed from the large windows.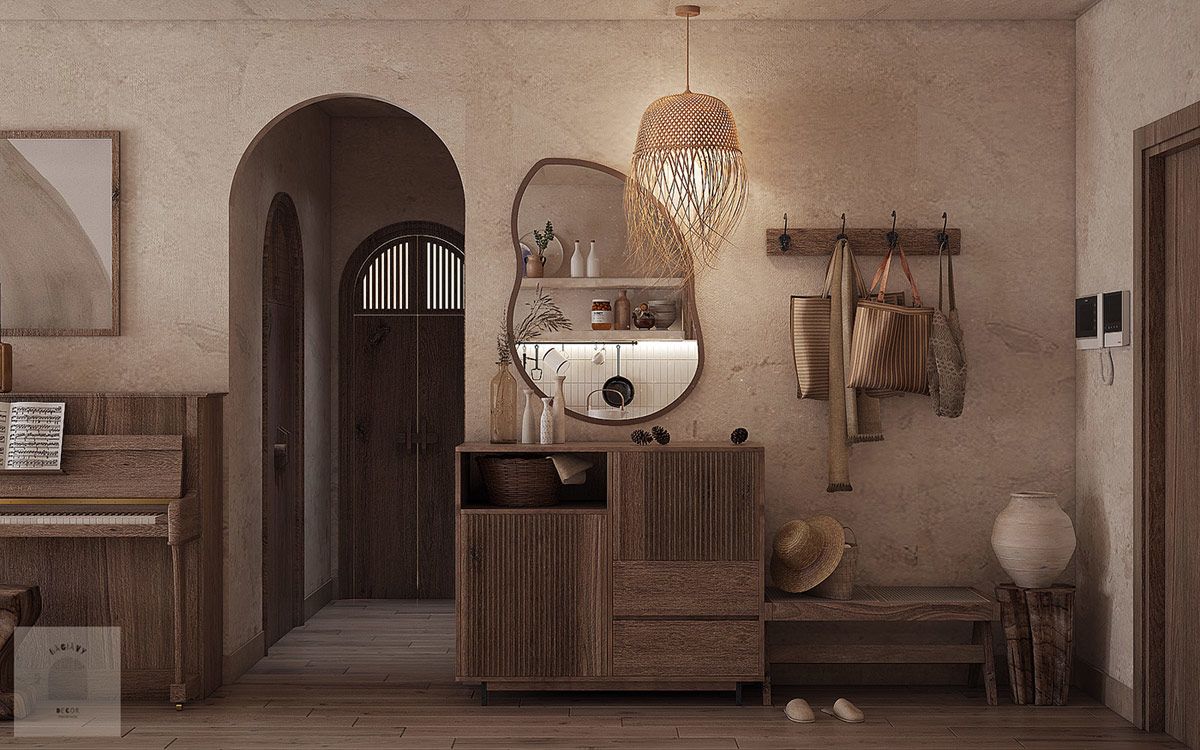 A freeform mirror echoes the fluid shapes that sculpt the unique shelving unit on the opposite side of the room. A wicker pendant light warmly illuminates the home entryway. An entryway stool and bench provide flexible pieces on which to sit and to display items.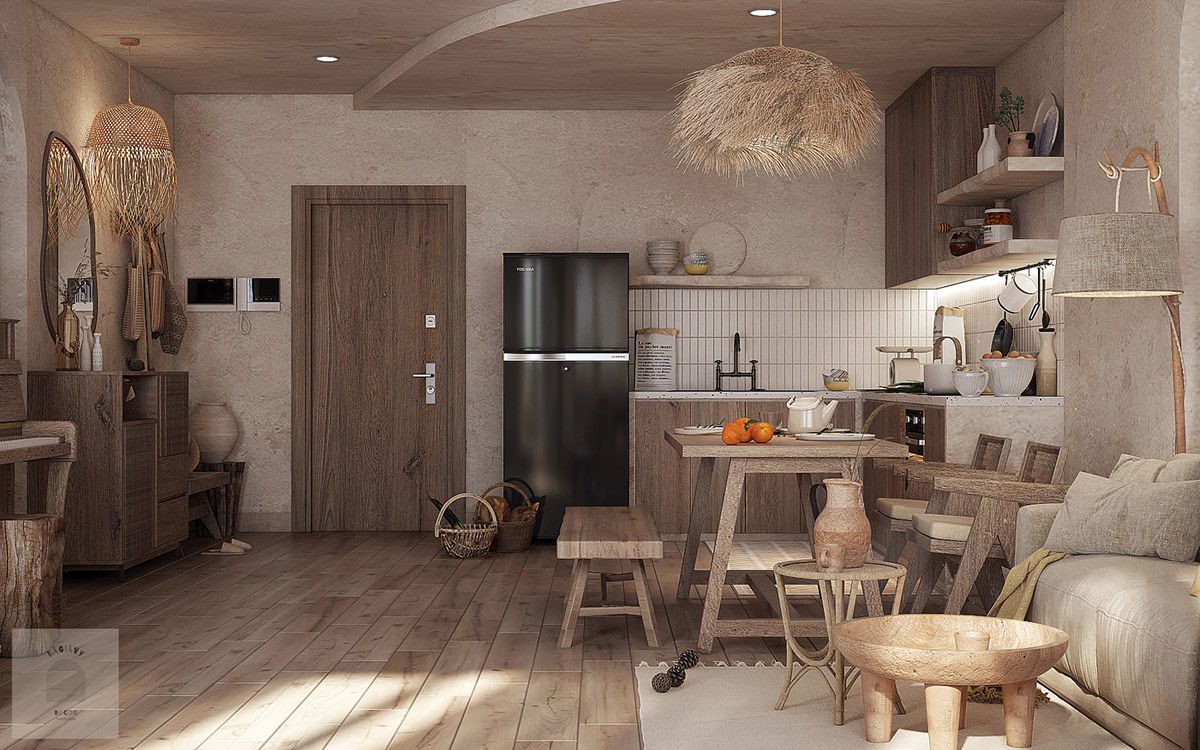 The rectangle wooden dining table fits neatly into the L-shaped kitchen layout.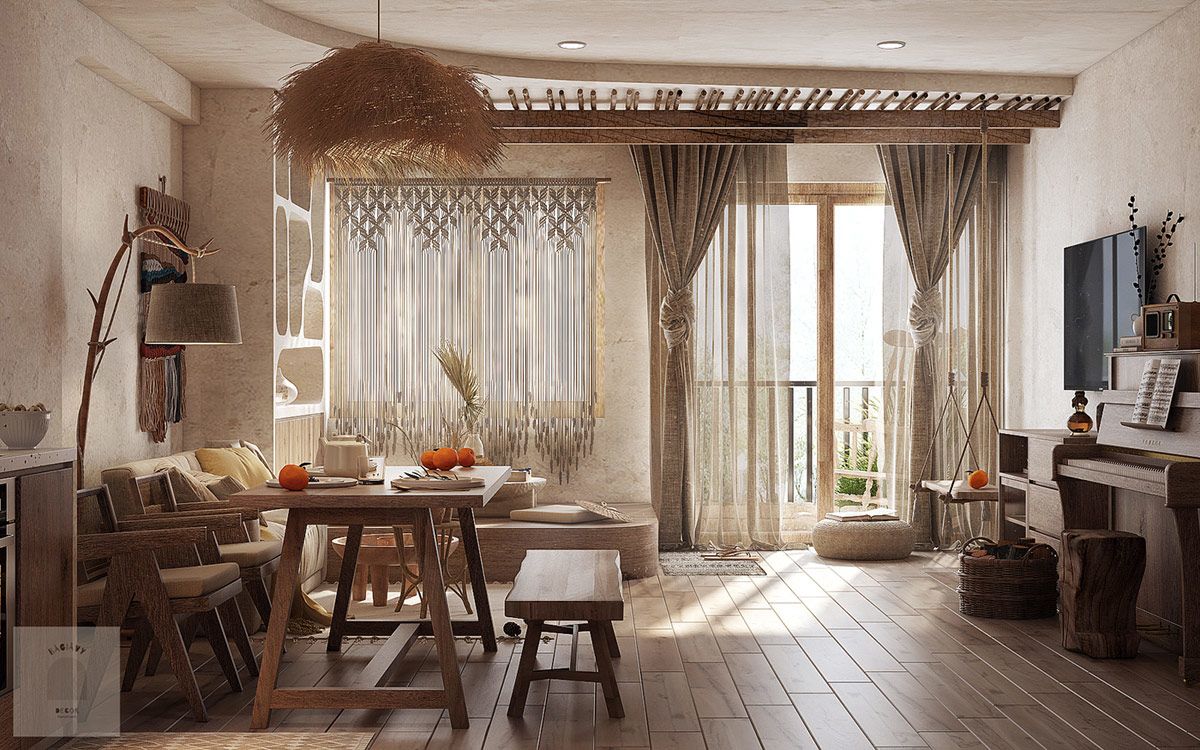 A wooden dining bench furnishes one side of the table to help the room layout to remain open and unobstructed, whilst Pierre Jeanneret's Easy Chairs complete the other side. A large wicker pendant light shade makes a textural statement overhead.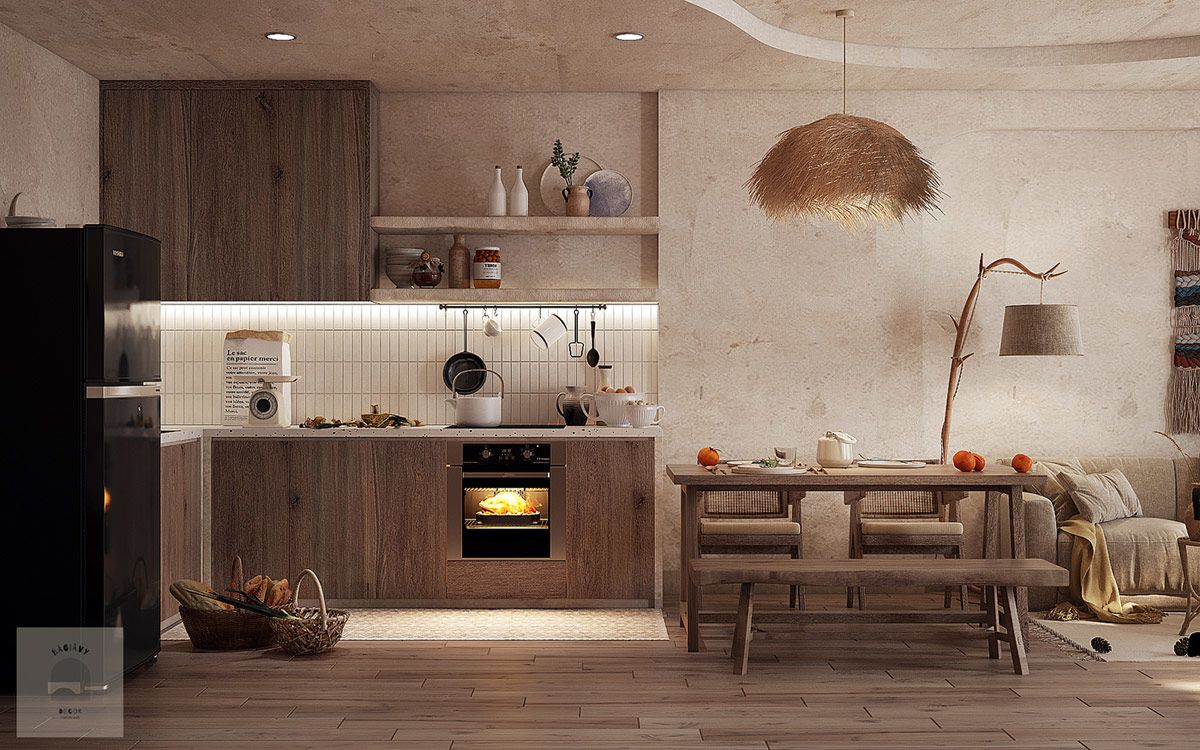 The L-shaped kitchen arrangement is broken up by a run of open kitchen shelving, which display a just few decorative items of kitchenware.