A Supreme Court justice's wife expressed regret for her texts fanning conspiracies about the 2020 presidential election - in one among dozens of witness transcripts rushed out in the final days of activity by a congressional inquiry into last year's riot at the US Capitol.
The committee is racing to make the disclosures this week before it is expected to be disbanded by Republicans when they take over the House of Representatives in four days.

Former President Donald Trump, a Republican, has called the investigation a "witch hunt".

His son, Donald Trump Jr; his son-in-law Jared Kushner; former adviser Stephen Miller; his lawyer, Rudy Giuliani, and White House aide Cassidy Hutchinson were among the 56 witnesses featured in this week's disclosures.

The committee placed the blame for the riot squarely on Mr Trump's shoulders when they released their final, 845-page report last week; many of their conclusions were based on the interviews they are now publishing in full. Taken together, the new transcripts show a White House in disarray after Mr Trump lost the election, and paralysed into inaction as his supporters laid siege to the Capitol on 6 January 2021.

Here are a selection of interesting details from the committee's interviews with Mr Trump's family members, aides and allies.

'I regret all of these texts'

The panel released interviews with right-wing activists and candidates who had backed Mr Trump's false claims that the 2020 election had been stolen from him.

One of them, Virginia "Ginni" Thomas, a conservative operative and wife of US Supreme Court Justice Clarence Thomas, came under intense scrutiny after the Washington Post and CBS News reported that she had texted White House chief of staff Mark Meadows urging them to continue challenging the election results.

Her texts raised ethical concerns over the wife of a Supreme Court justice engaging in partisan activity.

"I regret all of these texts," Ms Thomas told the January 6 committee when interviewed about these communications.

"It was an emotional time," she said. "I was probably just emoting, as I clearly was with Mark Meadows somewhat."

In her testimony, she told the committee that, "I worried that there was fraud and irregularities that distorted the election but it wasn't uncovered in a timely manner, so we have President Biden."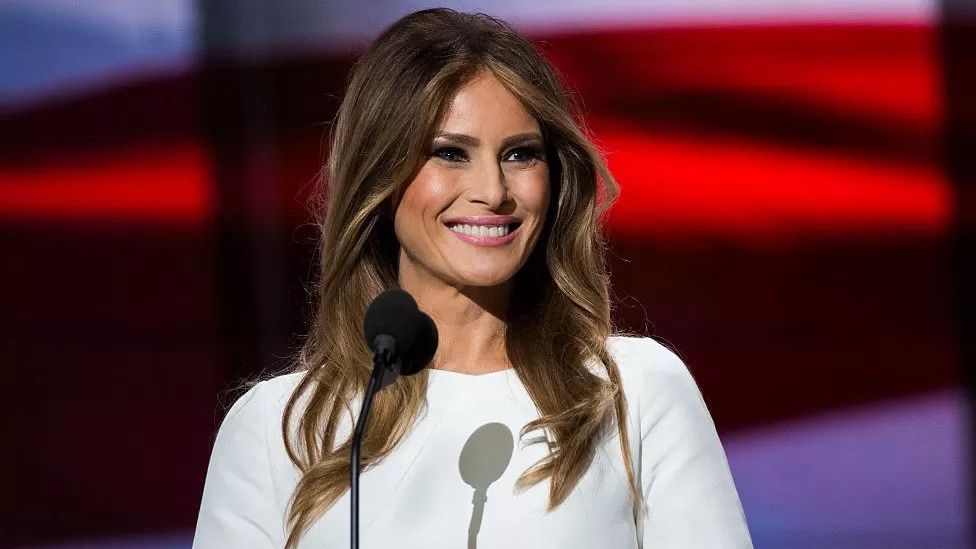 Melania Trump
Melania Trump said to have snubbed Jill Biden

US media had previously reported on Mr Meadows' alleged practice of burning documents.

Stephanie Grisham, the former chief of staff for Melania Trump, testified that the first lady pushed back against a suggestion that she invite her incoming successor, Jill Biden, to the White House for tea.

Instead, she testified, Mrs Trump wanted to be on the "same page" as the president's office, which was resisting some transition efforts.

During the attack, Mrs Trump also refused to send a tweet that encouraged her husband's supporters to engage in "peaceful protest" and not "lawlessness and violence", Ms Grisham told investigators.

Trump thought Capitol rioters looked 'very trashy'

Ms Grisham also gave insight into Mr Trump's actions while the riot unfolded.

She told investigators that she had "heard from several people in the West Wing" that Mr Trump "was sitting in the dining room, and he was just watching it all unfold, and that a couple of his comments - some of his comments were that these people looked very trashy, but also look at what fighters they were".

"He was kind of revelling in the fact that these people were fighting for him. But he also didn't like how they looked," Ms Grisham said.

Documents allegedly burned in White House fireplace

The transcripts show the source material for many significant revelations, which trickled out steadily throughout the 18-month investigation and during 10 high-profile hearings this year.

For instance, in a newly released transcript, White House aide Cassidy Hutchinson, said she had seen her boss, chief of staff Mark Meadows, burn documents in his office fireplace between December 2020 and January 2021.

Ms Hutchinson, who provided some of the inquiry's most damning testimony about 6 January, said she did not know what the documents contained.

With the committee likely to disband in the coming days, it remains to be seen how much more of their trove of evidence they will make public before the new Congress begins on 3 January, 2023.
Watch dramatic new footage of police under attack at the Capitol riot