Sex trafficker Ghislaine Maxwell has said it was one of the 'greatest privileges' when she met the Queen and chatted about horses.
Maxwell, 61, is serving 20 years behind bars for her sex crimes, and the part she played in the crimes of her close friend Jeffrey Epstein.

She was also famously close friends with the Queen's son, Prince Andrew, and has had a major part to play in the sex scandal around the Duke and Virginia Giuffre.

In a tell-all interview with TalkTV she has spoken publicly for the first time about how she met Her Majesty.

In additional audio footage from the interview, Maxwell said: 'I thought that the Queen was one of the most exceptional women I ever had the honour and privilege of briefly meeting and I think anybody of her stature, the longevity of her reign, her elegance and her sheer capacity for dedication to her work and to her job really was just astonishing.

She said it was one of the 'greatest privileges' to meet her and said she had a 'warmth and sparkle' in her eyes.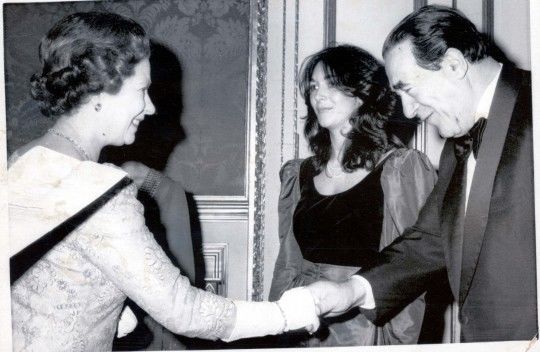 Ghislaine Maxwell met the Queen along with her father Robert (right) when she was younger
She said: 'And it was one of the greatest privileges of my life to have that honour to meet her.'
She created a warmth and a sparkle in her eyes that was just mesmerising really and I shared, the story that we shared was about horses because I love horses and she loves horses and so we talked about horses briefly, I remember, and just shared a love of horses. And that was one of her great loves.'
Speaking of her links to Prince Andrew and the now infamous photo of her standing with the royal and Virginia Guiffre, she said: 'Well, it's a fake. I don't believe it's real. In fact I'm sure it's not…
'There's never been an original… Further, there's no photograph, I've only even seen a photocopy of it…'I don't believe it happened, certainly the way as described.
'It would have been impossible. I don't have any memory of going to Tramp. Certainly it's not an outfit I would have worn. Her stories have changed so many times, what happens, when it happens, how it happens with different versions…
'Each time she speaks there's a different version. In fact, if you look at her BBC interviews, on Panorama, I believe she said he, I can't remember, either he or…he puked on her face.
'That's the only time she ever said that.'