The chief executive pictured surrounded by women officials makes for a nice social media post for International Women's Day. But celebrating women, supporting their needs and efforts to give them a seat at the policymaking table must extend beyond an annual celebration.
Chief Executive John Lee Ka-chiu's public relations team has been hard at work, I'm sure, and kudos to them for a nice touch on his social media and in his speech at the International Women's Day reception hosted by the Home and Youth Affairs Bureau and Women's Commission last week.

For those who missed it, images were posted of Lee with the six female principal officials of his administration. The six make up more than 23 per cent of his principal officials. Not bad.

For his speech, he shared – in Cantonese – that "from personal experience, I have to obey my wife's wishes at home, cooperate with the arrangements by the female director of the Chief Executive's Office Carol Yip Man-kuen; and I have to listen to the opinions of the convenor of the Executive Council, Mrs Regina Ip Lau Suk-yee."

Lee delivered that speech with a rare lightheartedness. And he can afford to let loose a little, coming from the high of being singled out by President Xi Jinping just days earlier, at the opening ceremony of the National People's Congress' first plenary session in Beijing. To be among a sea of suits and have the president stop to greet you is no small matter.

More than two decades ago, then president Jiang Zemin also singled out a Hongkonger in the Great Hall of the People, for a handshake. That was Tung Chee-hwa, and having been anointed by the president, he went on to be Hong Kong's first chief executive.

Xi's greeting of Lee, in an assembly of the most powerful people that make up the highest organ of state power, is much more than a reception handshake. And the significance has not been lost on the media and the public.

If anyone were worried about Tung's retirement from the country's top advisory body, the Chinese People's Political Consultative Conference, and having no one to fill his vice-chairman seat, fear not. Hong Kong will not lose its place in the country's halls of power. The presidential greeting bestowed on Lee means Hong Kong will be playing quite a role in the coming years.
But I can't help but be struck by the juxtaposition of the image of the chief executive flanked by his six women principal officials and of the camera panning across the testosterone-filled Great Hall of the People during the largest political gathering of the year, known as the "two sessions". China has sent women into space yet we can't give them more seats when it comes to leading the country.
And, closer to home, more than half – actually more than 60 per cent – of the Hong Kong government's permanent secretaries are women. All of a sudden, having six female principal officials doesn't look too handsome a number. There's a gap that needs filling.
Recall the all-male line-up at the launch of the "Hello Hong Kong" campaign and it must strike all as obvious that celebrating women and recognising their contributions to humanity must extend beyond March 8 every year.
Yes, women hold up half the sky. But what should worry us is how far we are from truly recognising women by giving them a seat at the table. It's all well and good to set up a Women Empowerment Fund and pump HK$100 million (US$12.7 million) into promoting women's development, but empowering women cannot fall only to the Women's Commission.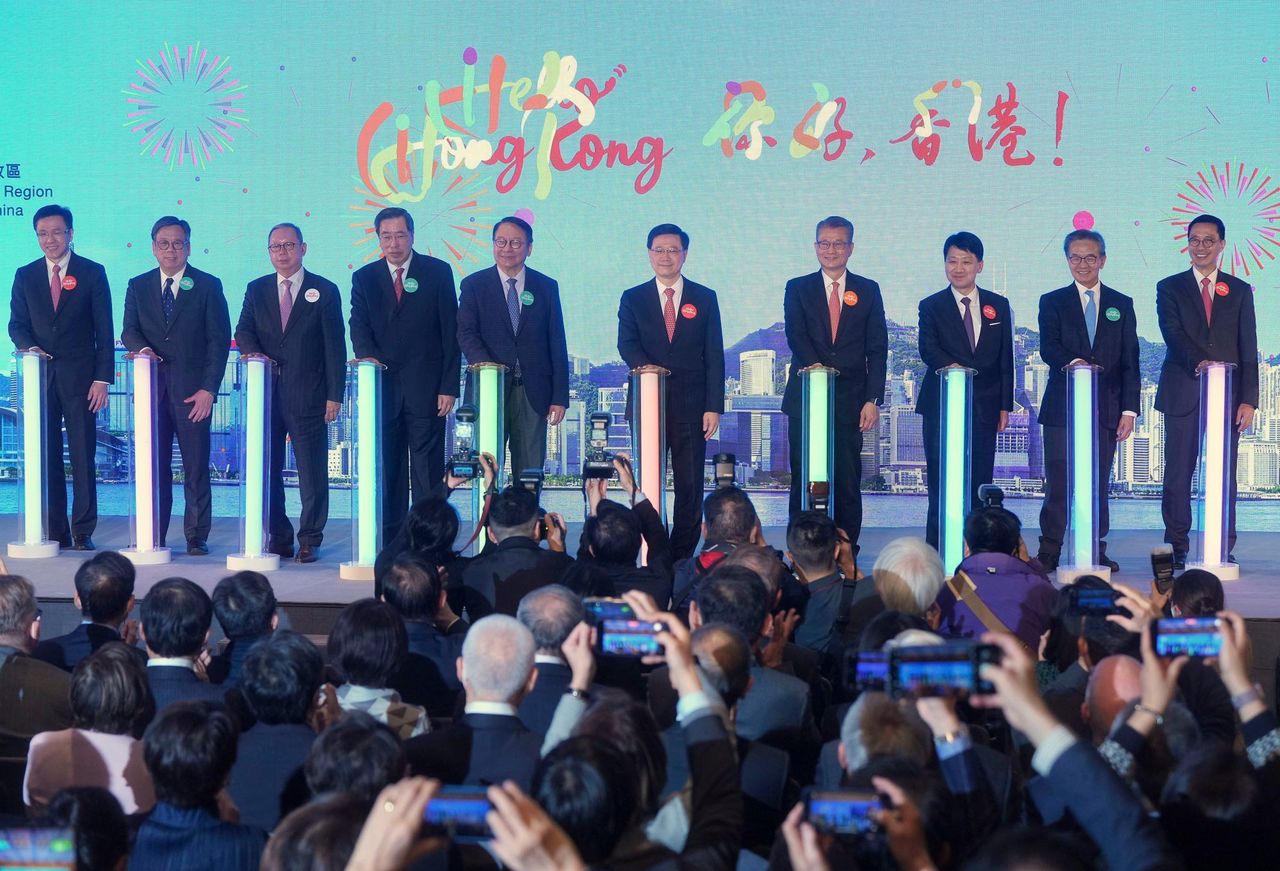 From the left, Sun Dong, Algernon Yau Ying-wah, Paul Lam Ting-kwok, Andrew Leung Kwan-yuen, Eric Chan Kwok-ki, Chief Executive John Lee, Paul Chan Mo-po, Pang Yiu-kai, Jack So Chak-kwong and Kevin Yeung Yun-hung at the "Hello Hong Kong" campaign launch ceremony on February 2.

Supporting and giving women the recognition they deserve shouldn't just be a "nice touch". Considering the needs of women must be a permanent part of policymaking. Measuring the impact of policies on families would address a lot of the problems women face.

As the government pushes for residents to take up opportunities in the Greater Bay Area, has it considered how that would affect those who are holding up half the sky? Will they be strapped down by more family-care duties, shut out from all that the future holds for others?

An interesting survey released by the Hong Kong Women's Union found that women feel more content when they have higher educational attainment, a bigger home and as they grow older. Surely, happiness and a sense of fulfilment should not be withheld from women, or treated as delayed gratification.