Rustic doesn't have to mean dark and clunky. Read our guide to design a warm, rustic-style lounge for yourself - using a range of stylish looks and furnishings.
Think rustic, and you might imagine a wooden ski lodge or historic, half-timbered home. Rustic design doesn't have to involve chunky, dark timber, thick lines or even a roaring fire.
Keeping weathered wood, hand-stitched fabrics and a cosy frame in mind, rustic designs create a feeling of warmth and love, evoking the phrase 'the home is where the heart is'. Re-use old furniture, rummage around the antiques in your local market and avoid the over-polished look, with our detailed guide on how to create – and find pieces for – your own rustic living room.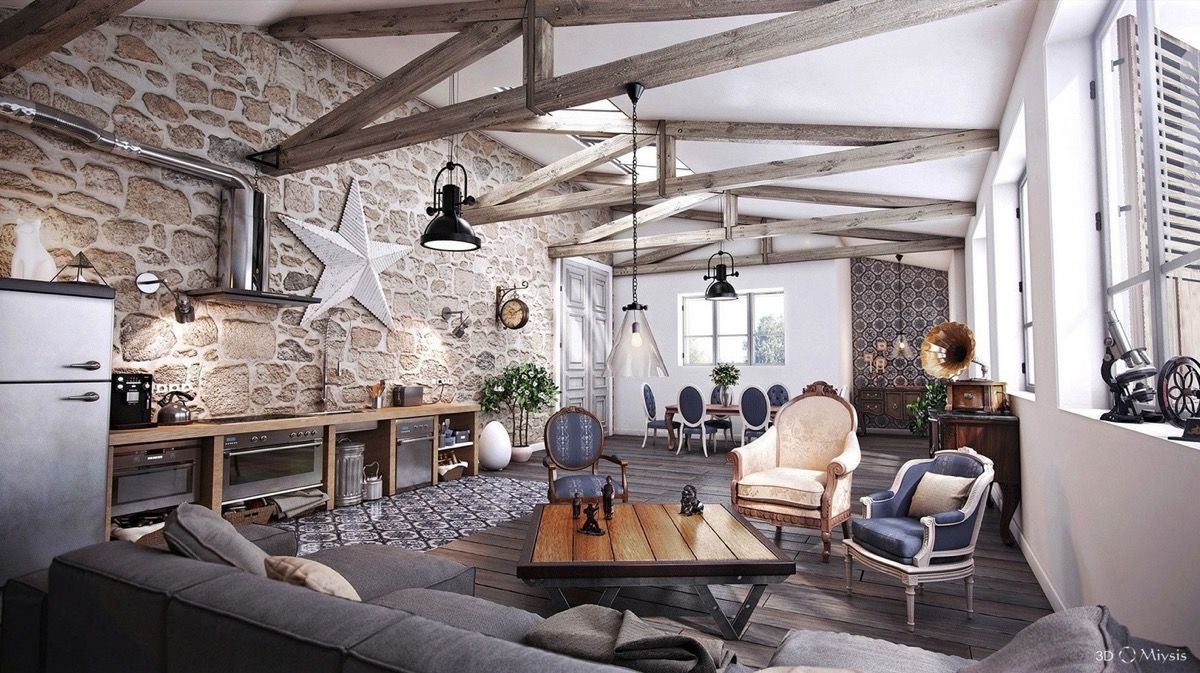 Create your own rustic interior staples. Celebrate a high-trussed ceiling by adding faux-stone wallpaper and dark wooden flooring. Throw in industrial pendant lights, a winding pipe extractor fan and bold steel fridge, keeping an element of surprise with Victorian chairs and a gramophone. A large wall feature, like this room's star, works with Moroccan-style tiling panels for an eclectic interior.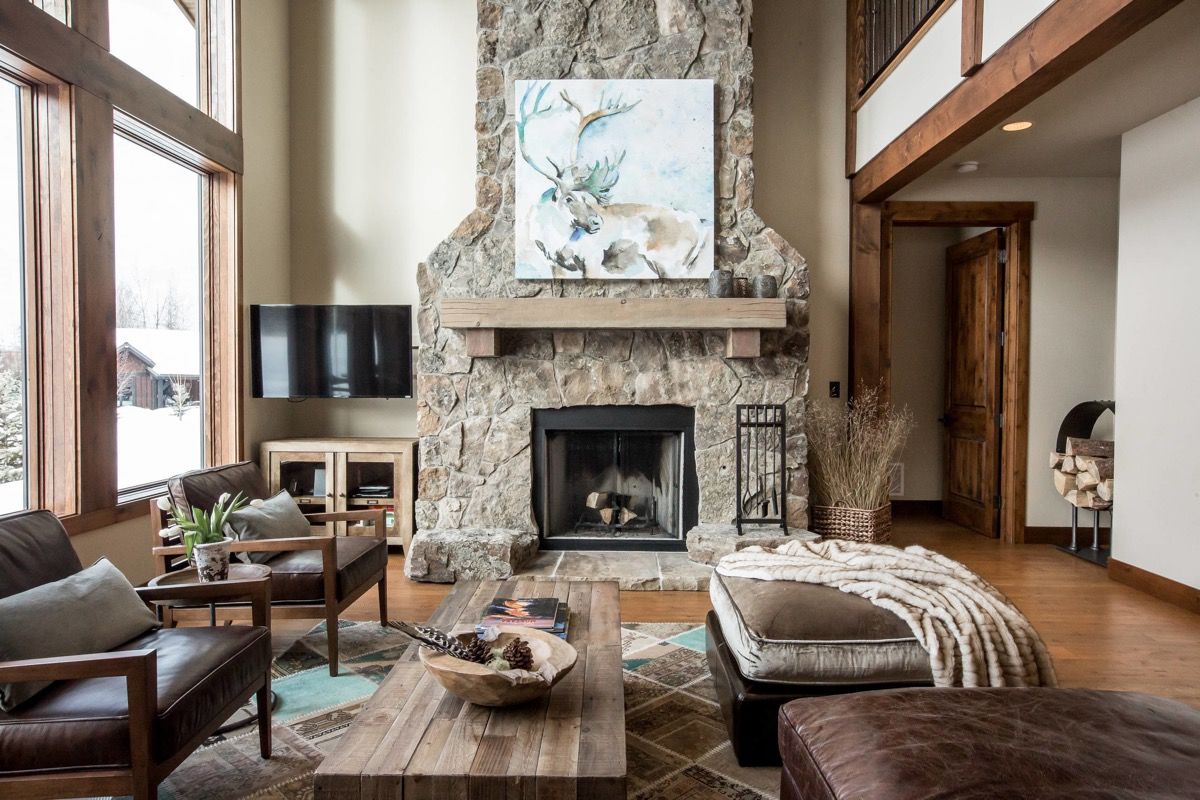 Make the most of your lounge's rustic feature. Place warm wood below a stone chimney and hearth, the star of your interior. Use weathered, unvarnished woods in your dining table, TV cabinet and wood stack, making it cosy with a patterned woollen rug. Paint your walls in white and your chairs in leather, accenting the style with a wildlife artwork at its centre. The rustic bowl on the coffee table stays true to the theme.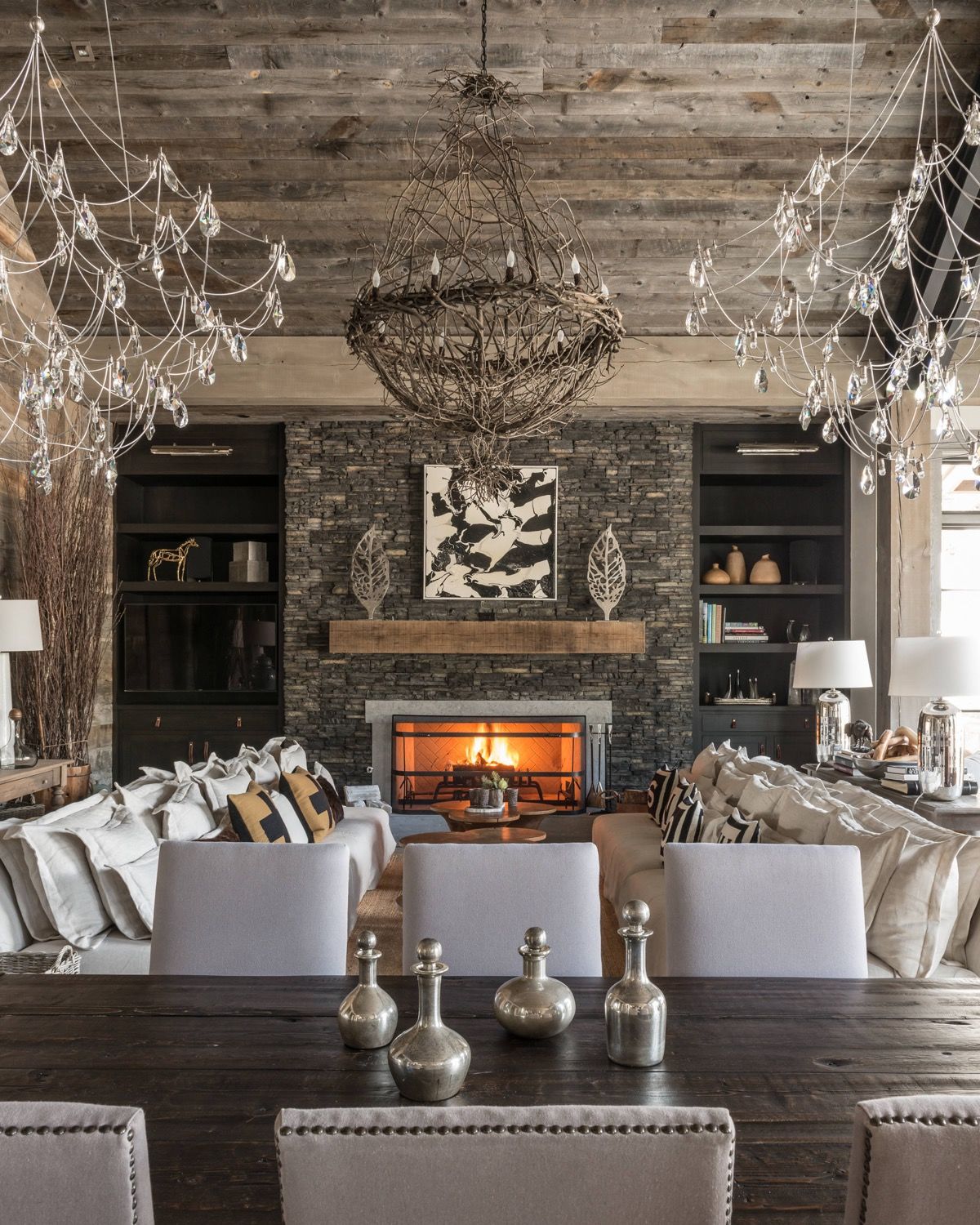 Build magic in your interior. Achieve a warm, contemporary feel with a modern fireplace and streamlined fireplace screen, or wall in stacked stone. Bring in outside materials and make art from them, like this rattan chandelier and vase full of wicker cane. Keep it modern with non-cluttered bookcases and one-colour couches. Let cushions and ornaments in metallics and prints have the final say.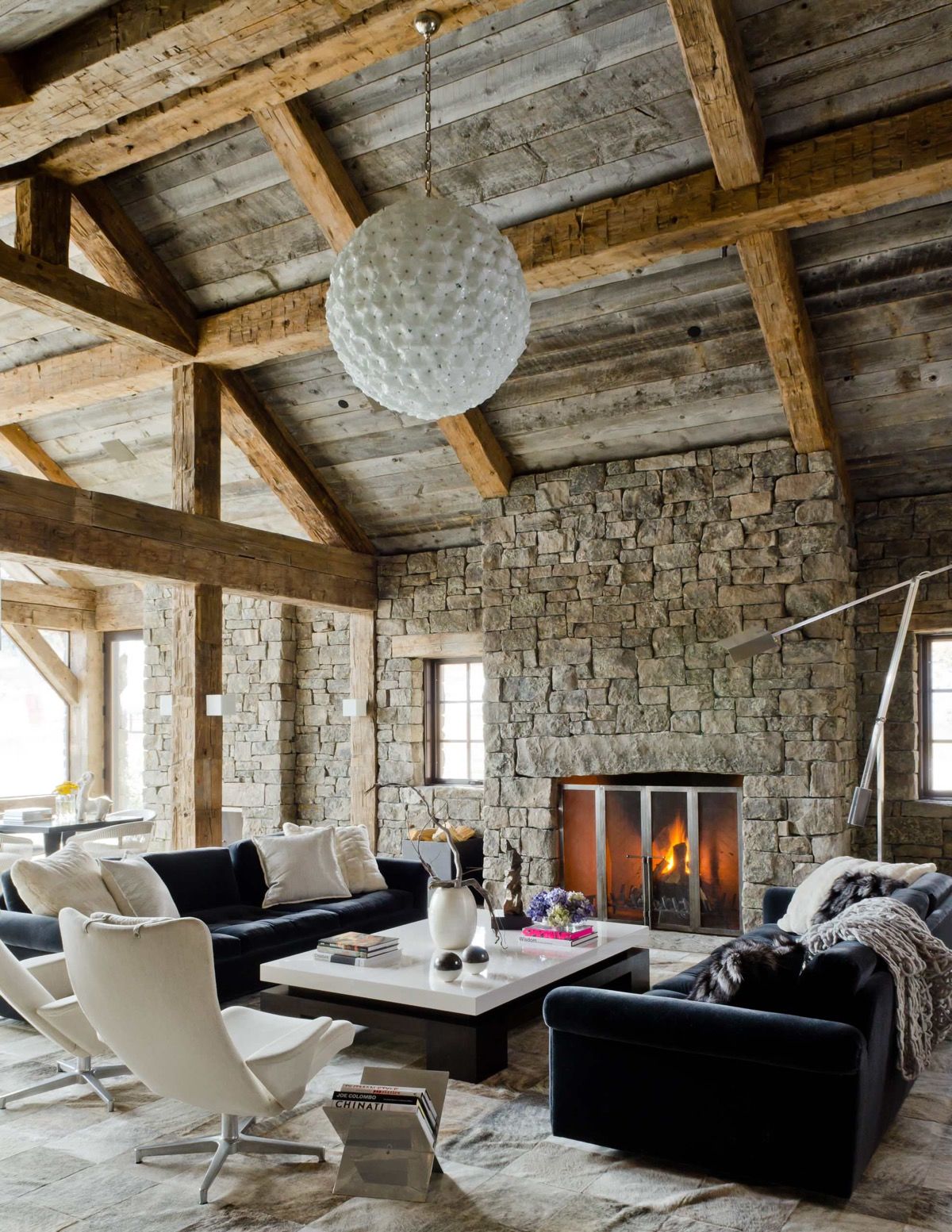 Lucky enough to have a wall in stone? Place wooden beams above and monochrome furniture below it. Hang a floral chandelier from your rafters and draw your furniture with sharp angles, like this black and white coffee table. Tie in the modern and classic with a lightly-checkered rug and perching standing lamp, introducing a different kind of glow to this quasi-contemporary space.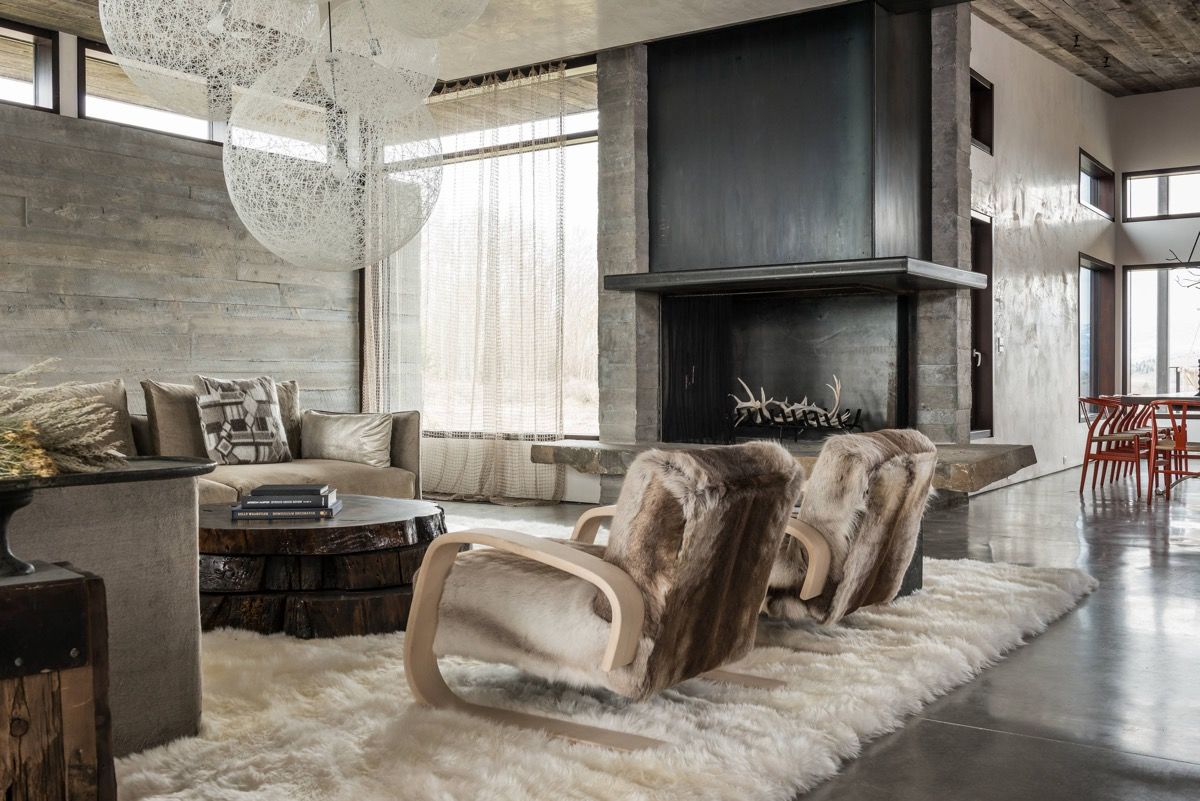 Coat your living room in fur. An Alvar Aalto Tank armchair is the perfect canvas to clothe in hide, the white rug beneath it the perfect accessory. Experiment with different types of wood in a black-coated fireplace, weathered wall and tree-trunk coffee table. Keep it mellow with beiges and greys, centring your room with a light pendant or three.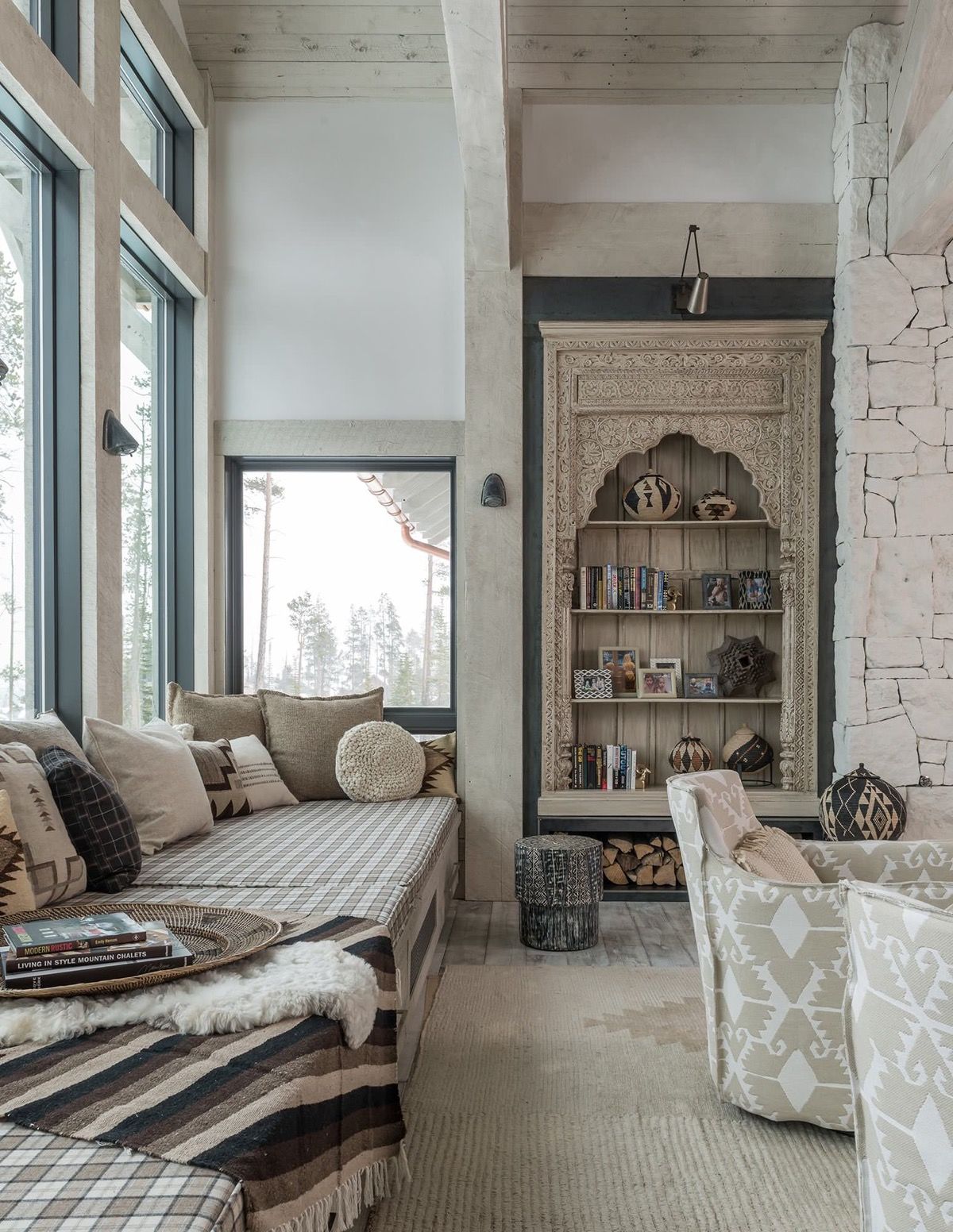 Design your lounge in the rustic farmhouse style. Using a base colour palette of white paint and wood, construct a crockery cabinet with intricate edges. Upholster your couch in gingham, scattering patterns across your lounge in chair upholstery, cushions, rugs and throws. To introduce a travelled look, accessorize with ethnic fixtures in a large serving platter, African-style vases and a distressed wooden stool.

Situate your lounge in imaginary Indonesia. Upon a light wooden floor, set a simple grey rug, white L-couch and tree log coffee tables, creating a feeling of calm framed by tall banana palms. Shroud the windows behind with muted beige curtains, offering a place to sit in a Victorian dining chair. Bring in your feature at the very last moment, with large wicker pendant lights that truly light up the scene.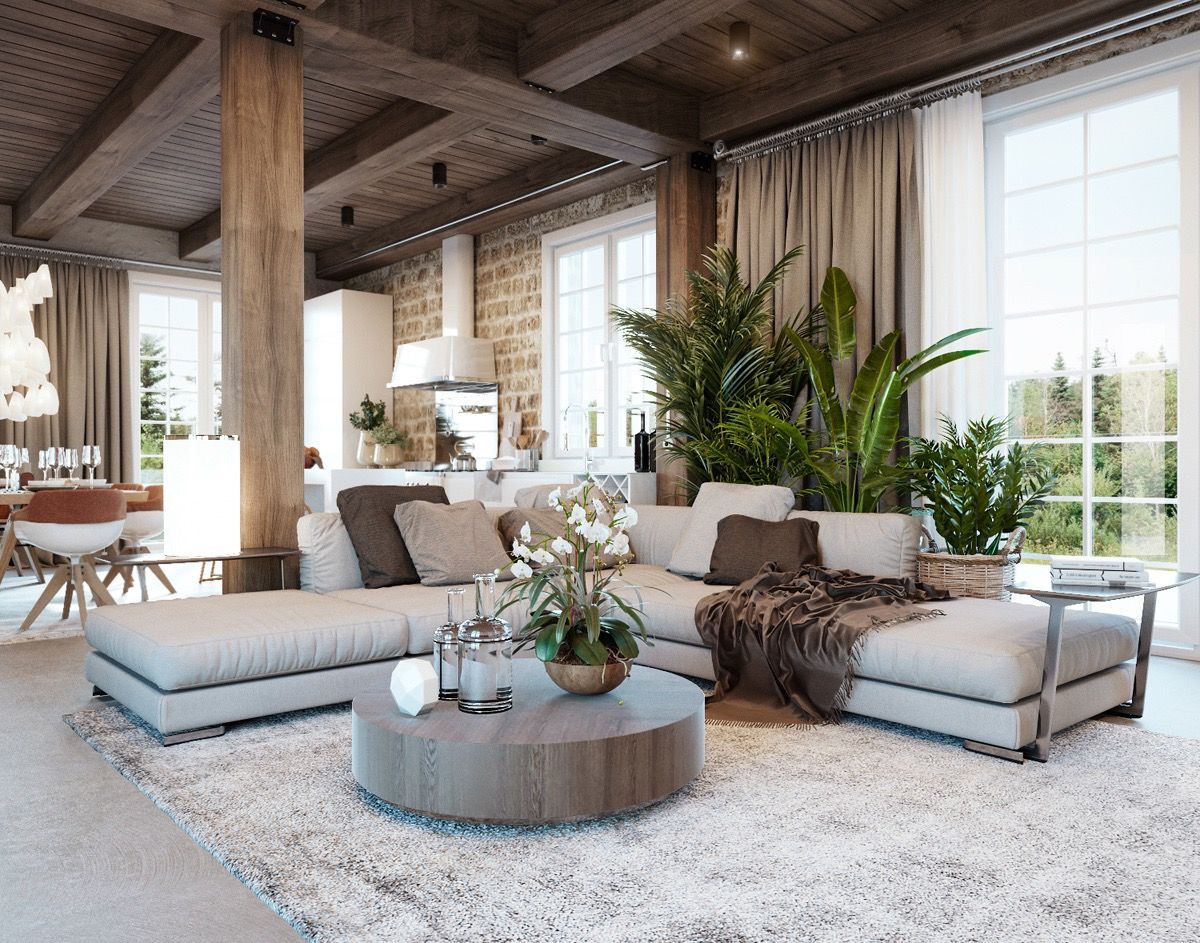 Achieve the rustic look with a Mediterranean twist. Place a bevy of different ferns behind a mushroom L-couch, a greyed tree trunk before it. Make it cosy with a plush grey rug in a similar hue and a smattering of brown cushions. Polish off the setting with flowers in a coconut and two glass vases. See our Mediterranean rustic chic-style article for more interiors in this style.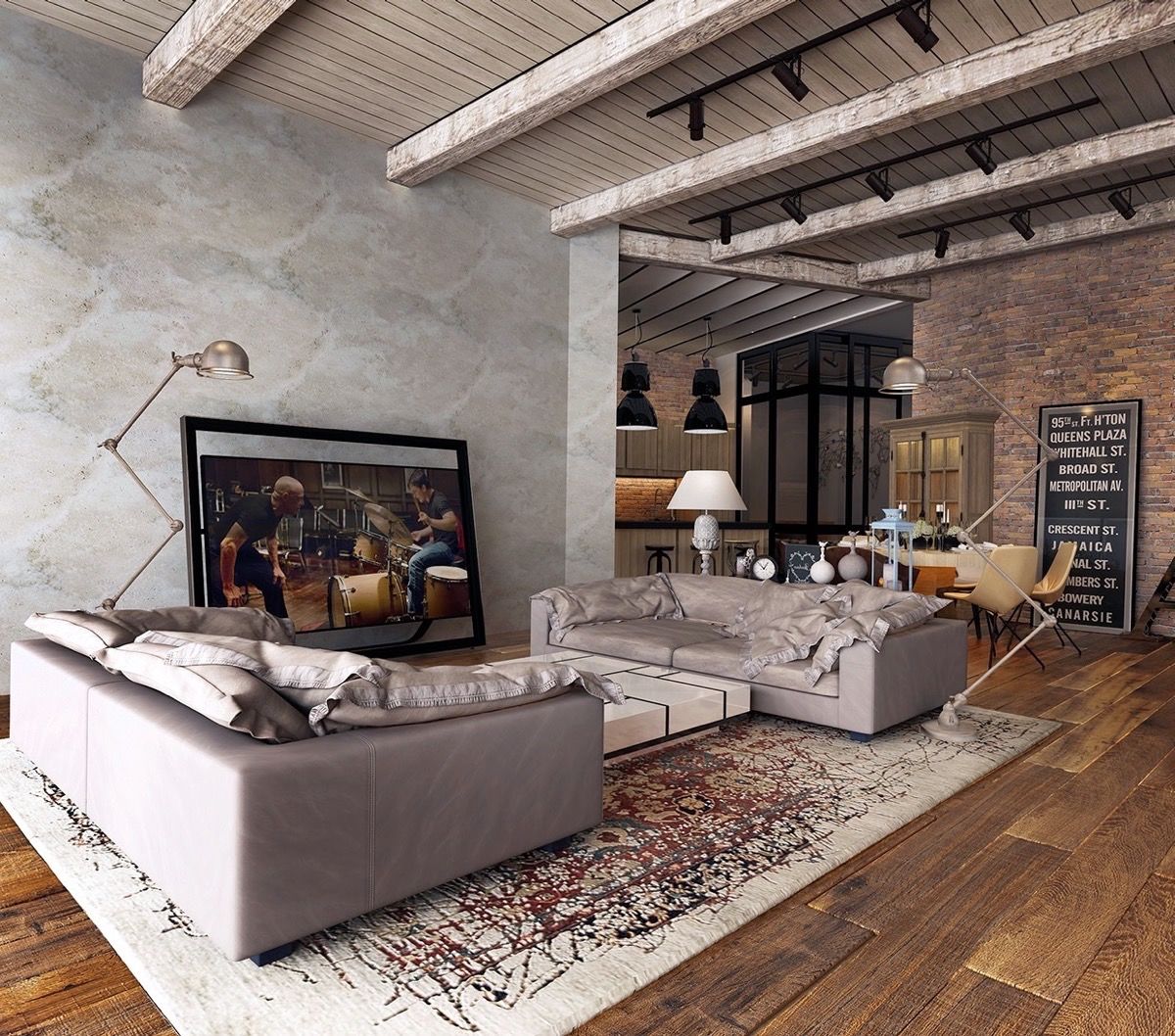 Take your rustic living room into the 21st Century. Make full noise with an exposed brick wall and rough wooden rafters, flooring your space with varnished wood. Stand two silver lamps beside your couches, joining them with a geometric coffee table in black and white squares. For a funky edge, lean a vivid band photograph against your wall, flick a rug in paint splatters and create your own itinerary in a monochrome board to the side.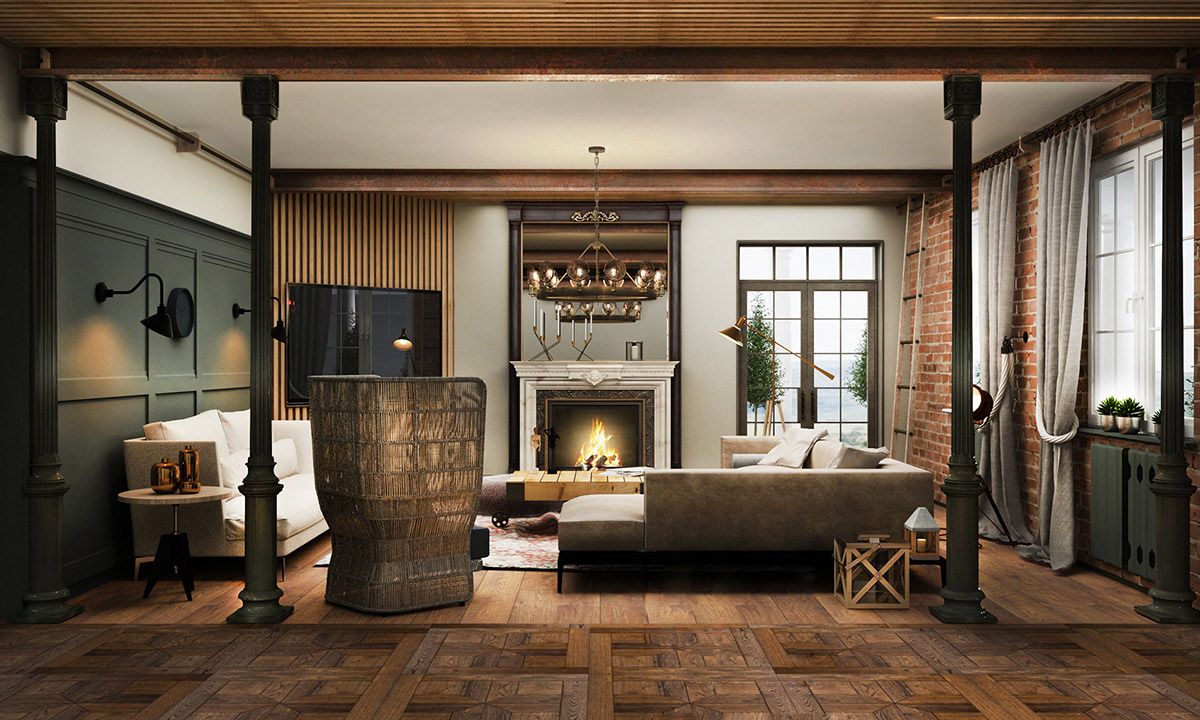 Make wooden patterns. Structure wood into slivered bands on your wall, cross-hatches on your floor and wide planks on your main stage. Inject French flavour with charcoal wall panelling and radiators, adding structure with sofas in a bright white hue. Create warmth with a distressed fireplace and candelabra chandelier competing for a flame, and handwoven accent chairs to keep guests guessing.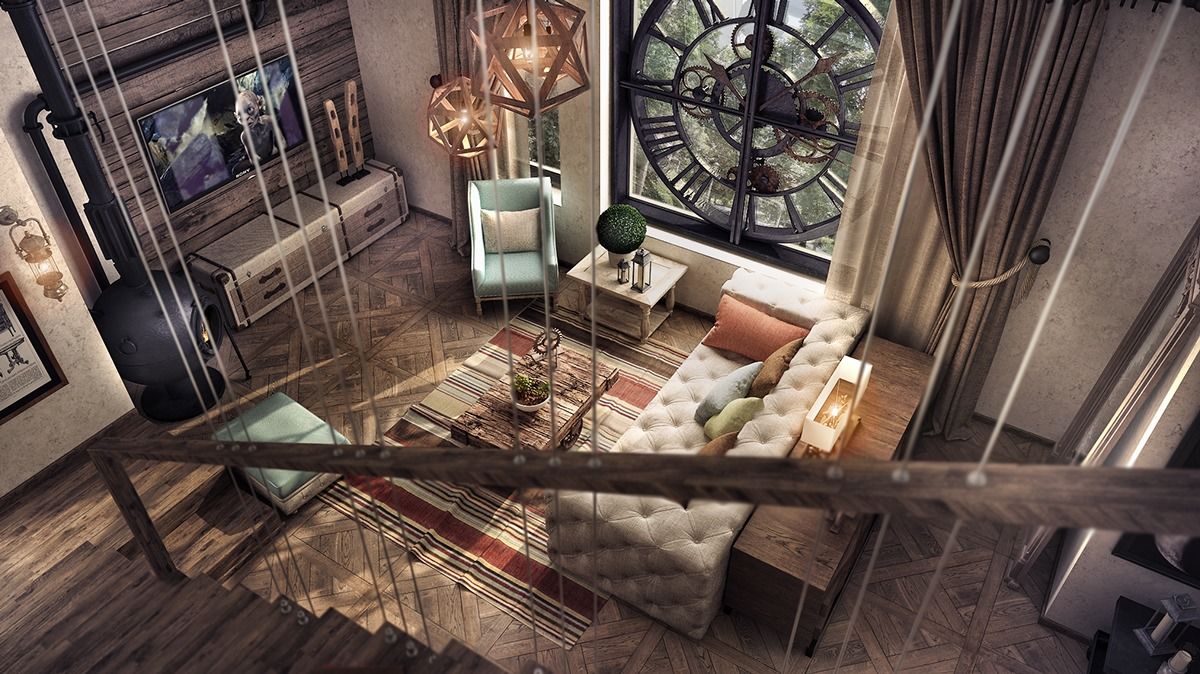 Simulate a time machine in the rustic style. Place a large metal clock over your window, letting the light stream onto a dimpled cream sofa and pastel blue armchair. Place a coffee table with wheels upon a striped rug, as geometric wooden pendant lights hang over a potted hedge. Floor the space with cross-hatched wood, making a bauble of a fireplace appear the spaceman.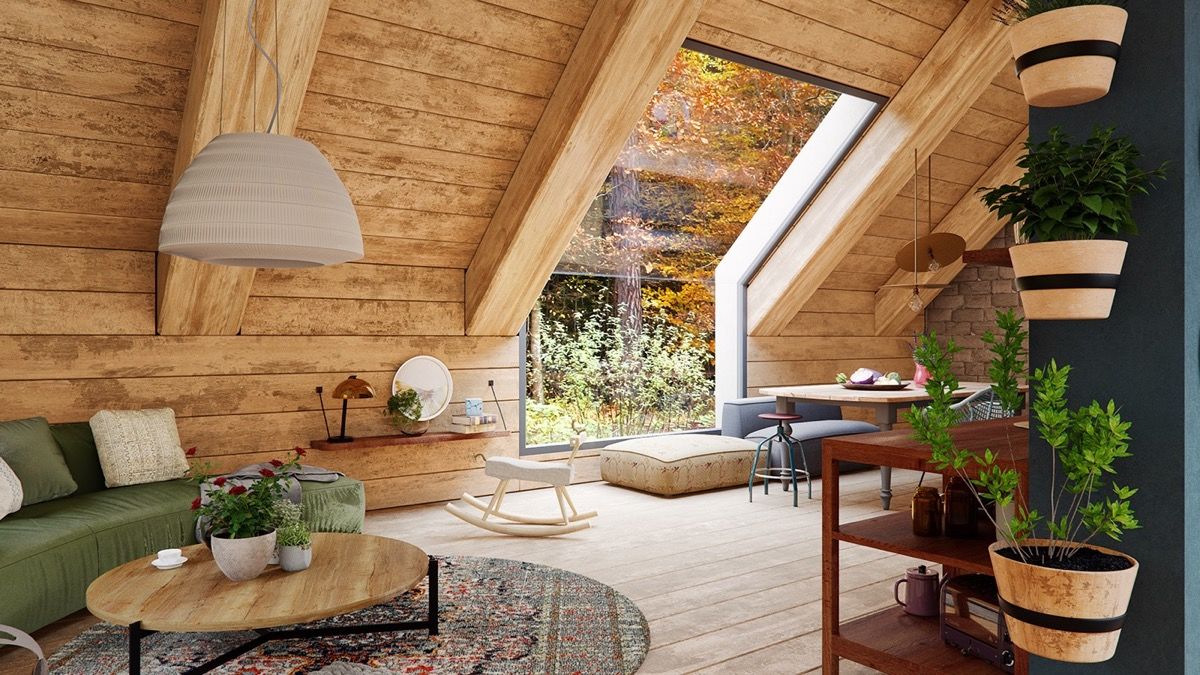 Celebrate attic roofing with rustic décor to suit. Construct a window spanning your floor and ceiling, making a feature of the outside in a larger-looking space. Frame your corner with a pea green sofa, adding a selection of rounds in a Turkish rug, mid-wooden coffee table and modern Chinese lantern. Leave a white rocking horse for the kids, whilst you blend your cabinet and pot plants into the panelling.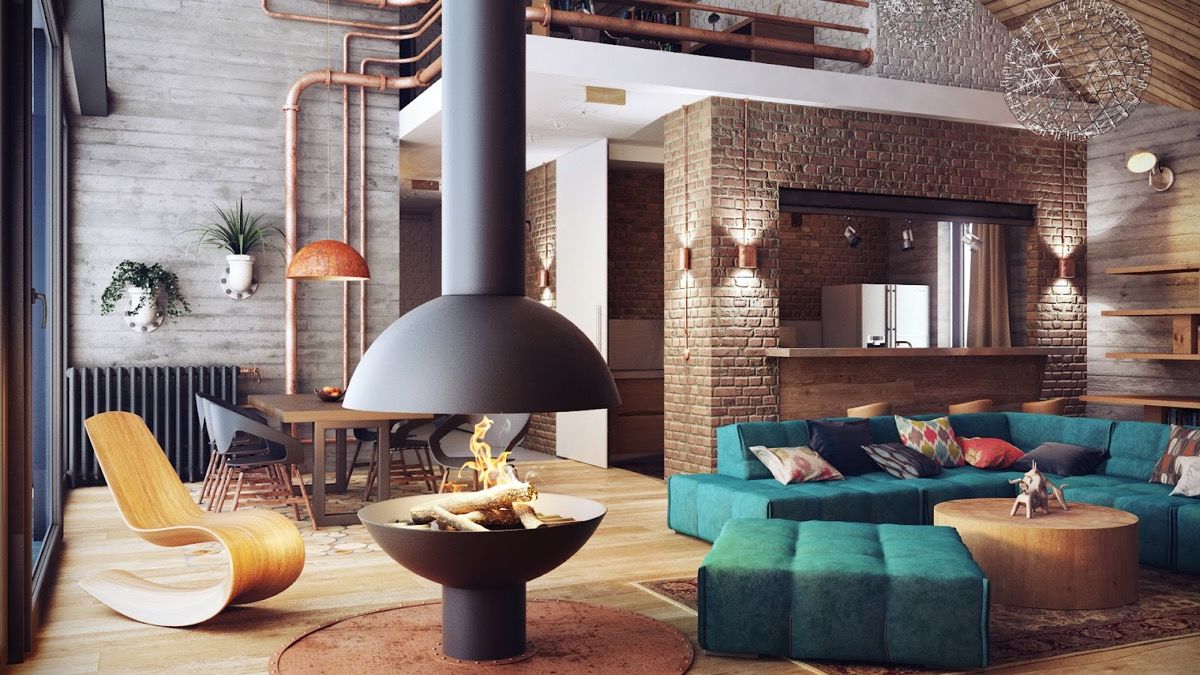 Make the rustic and industrial come together. Light up your industrial living rooms' exposed brick wall with two modern sconces, the main space with an open goblet fireplace. Set a curved seat on wood, while your floor mis-matches heavy wooden coffee and dining tables. Let copper pipes run around your space, adding sofa blocks in turquoise for colourful charm.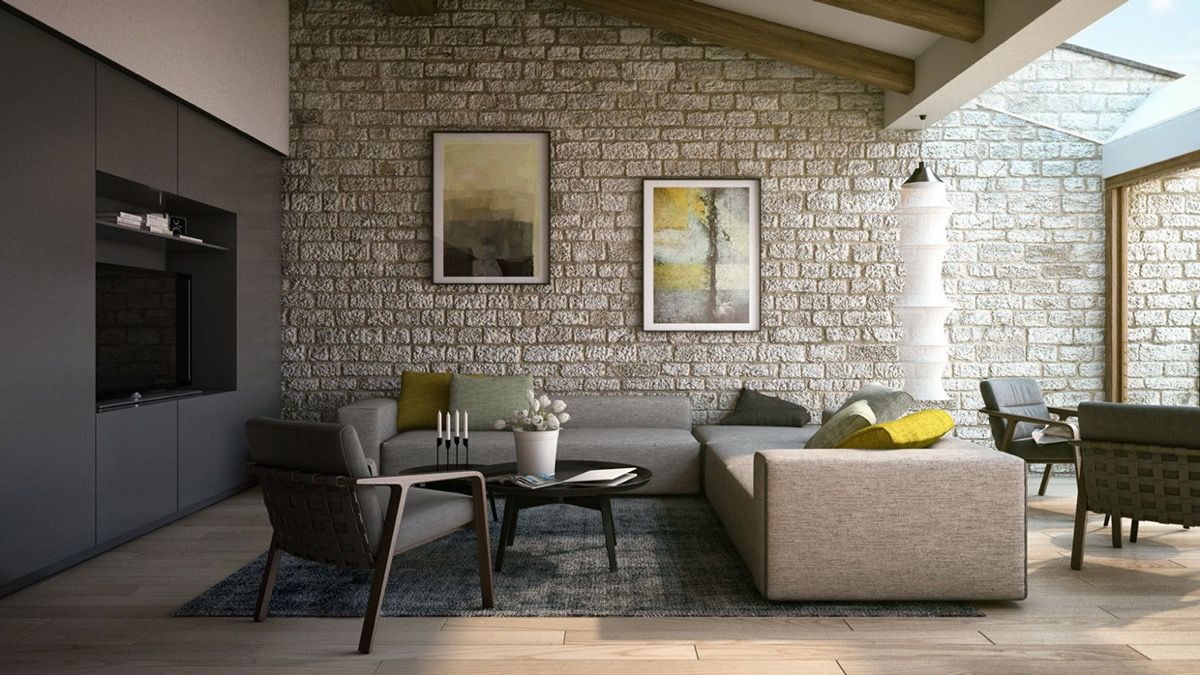 Let your rustic living room be bathed in grey. Head your feature wall in exposed brick, popping a couple of coloured abstracts on for size. Clothe your floor in muted wood, lounge and TV cabinet in charcoal, tying a long cylindrical light onto their backs. Throw mustard and mint cushions and a vase full of flowers into the finish.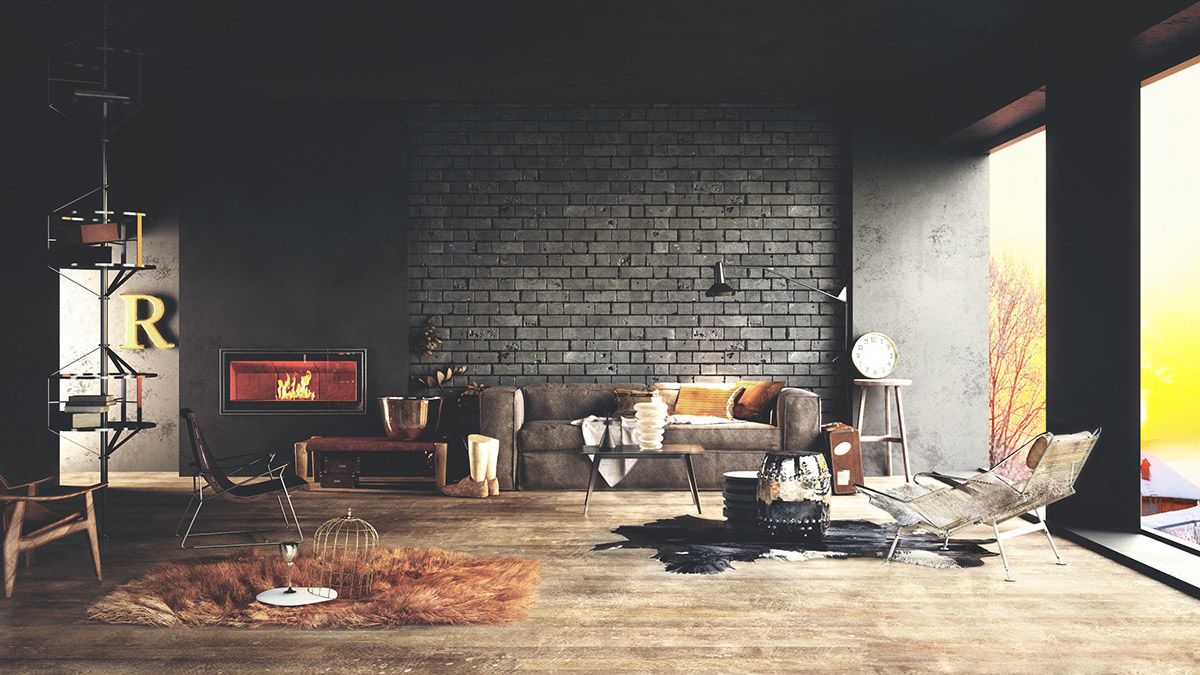 Design your loft in the rustic style. Colour exposed brick and plaster walls in dark grey, letting a swing arm wall lamp and fireplace provide light. Affix a pole bookcase to your wall and floor, offering a selection of books over animal hides. Seat a Flag Halyard chair afront a drum and clock, to watch the time while by.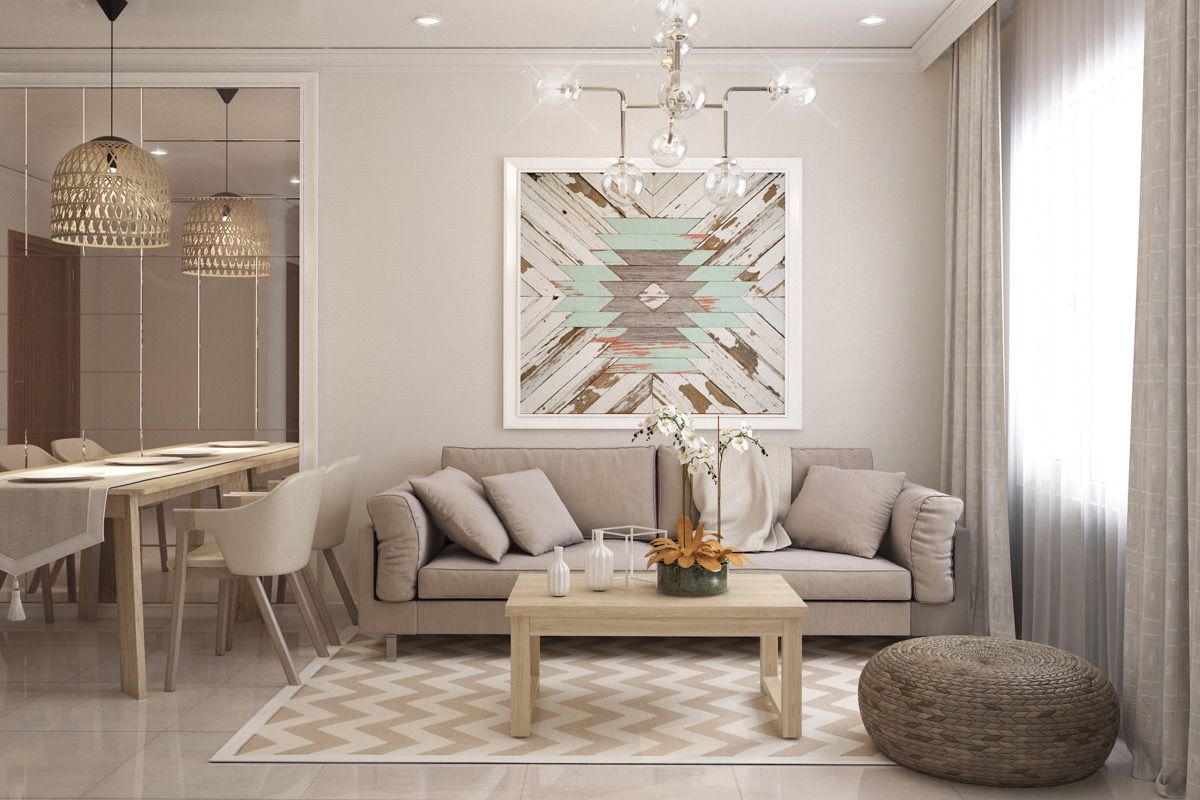 Rustic living rooms can be white and bright. Make your living room brand new again, with a wooden wall decor centrepiece of the older, recycled variety. Colour your furniture in mushroom and stone, with a zigzag rug keeping it cosy. Hang a chandelier above the scene, sitting a potted orchid and vases on a light, unvarnished table.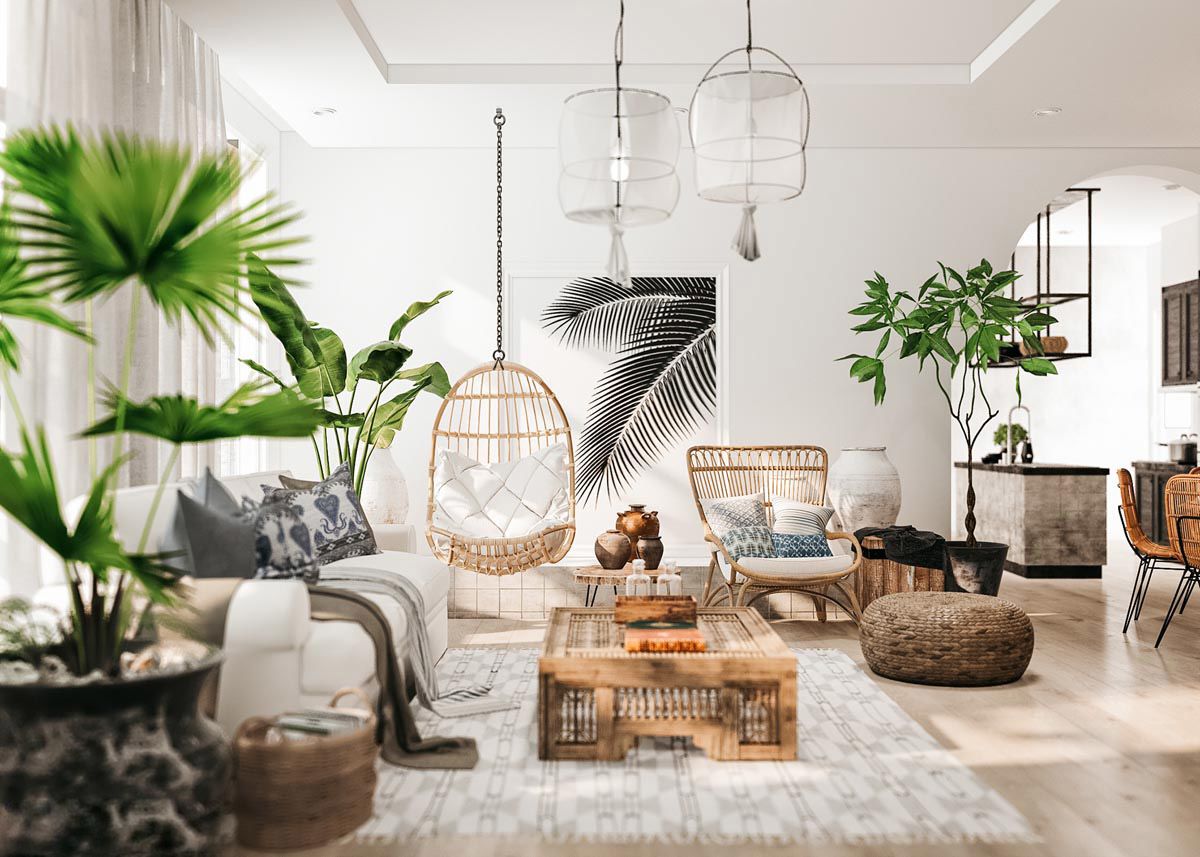 Celebrate the caged look. Lay a fluffy woollen rug beside a white couch, making the snug look luxurious. Hang a rattan swing chair from your ceiling, another rattan chair beside it, matching their bars with an antique-looking coffee table. Dot ferns across the room in clay pots and vases, mirroring them in a monochrome canvas. Polish off the look with two cage chandeliers above Florentine-style cushions.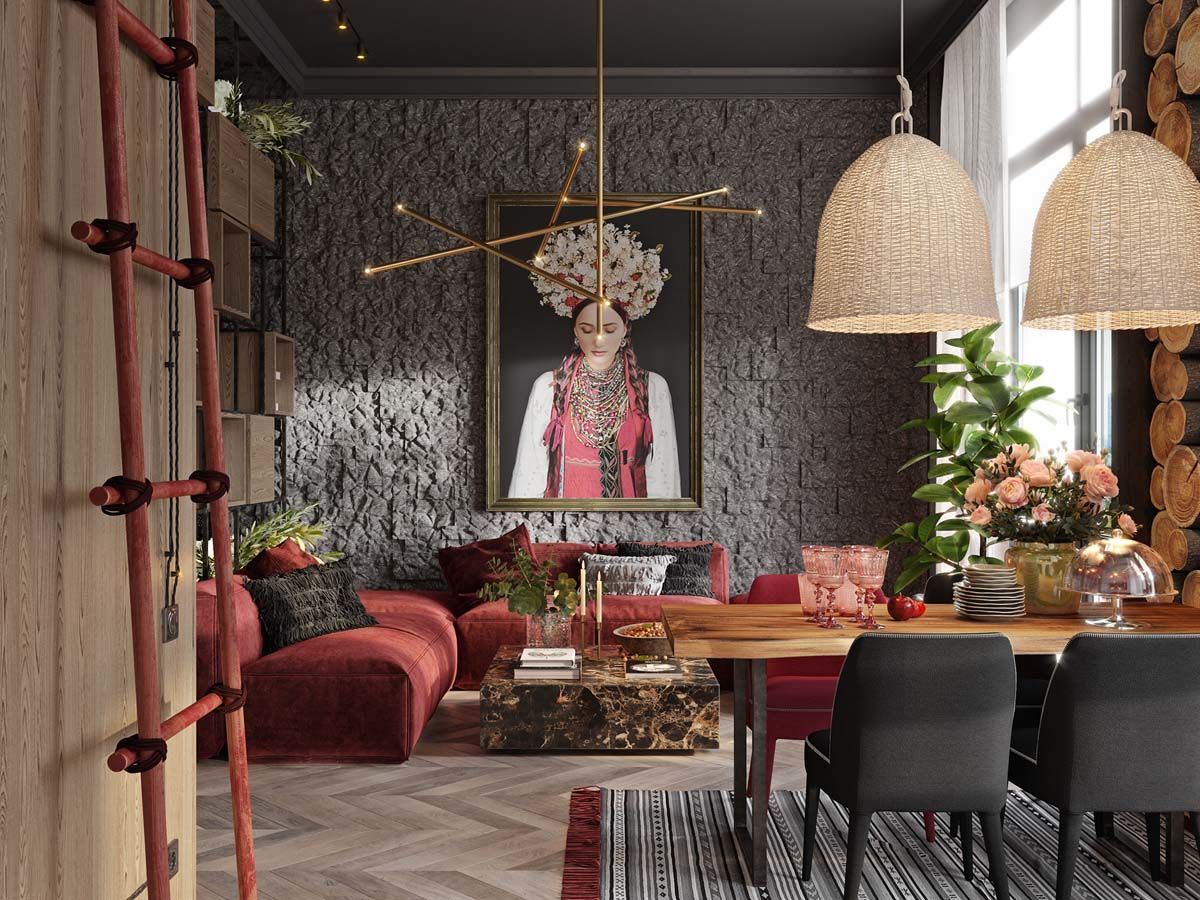 Think rustic style can't support Asian fusion? Think again. Create your own Eastern haven with a painted clay feature wall and golden frame of an idol. Make cubbies in a wooden bookcase, covering your floor in zigzagging wooden patterns. Provide Orientalism in red velvet couches, woven pendant lights and a tortoiseshell table.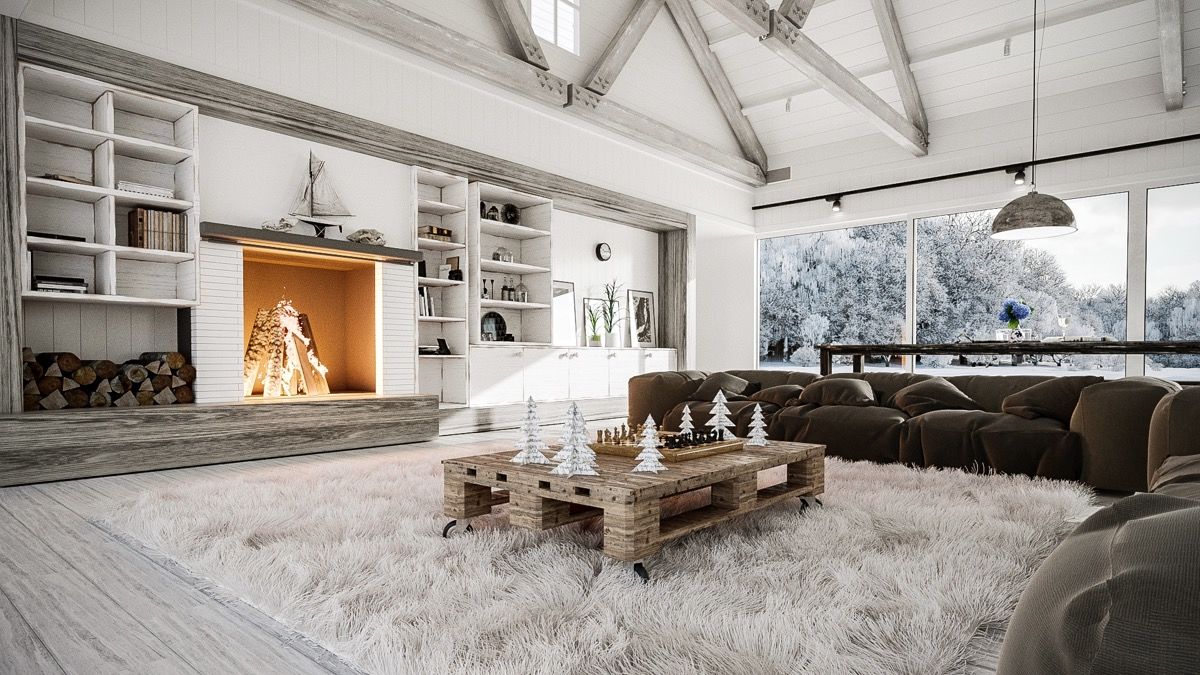 Make your rustic living room almost-monochrome. Set a Jenga-style coffee table upon a white shagpile, matching white rafters, shelves, exposed brick and pine trees. Dark brown appears in two lounge suites, a pendant, logs of wood and books, the perfect accompaniments to a roaring winter fire.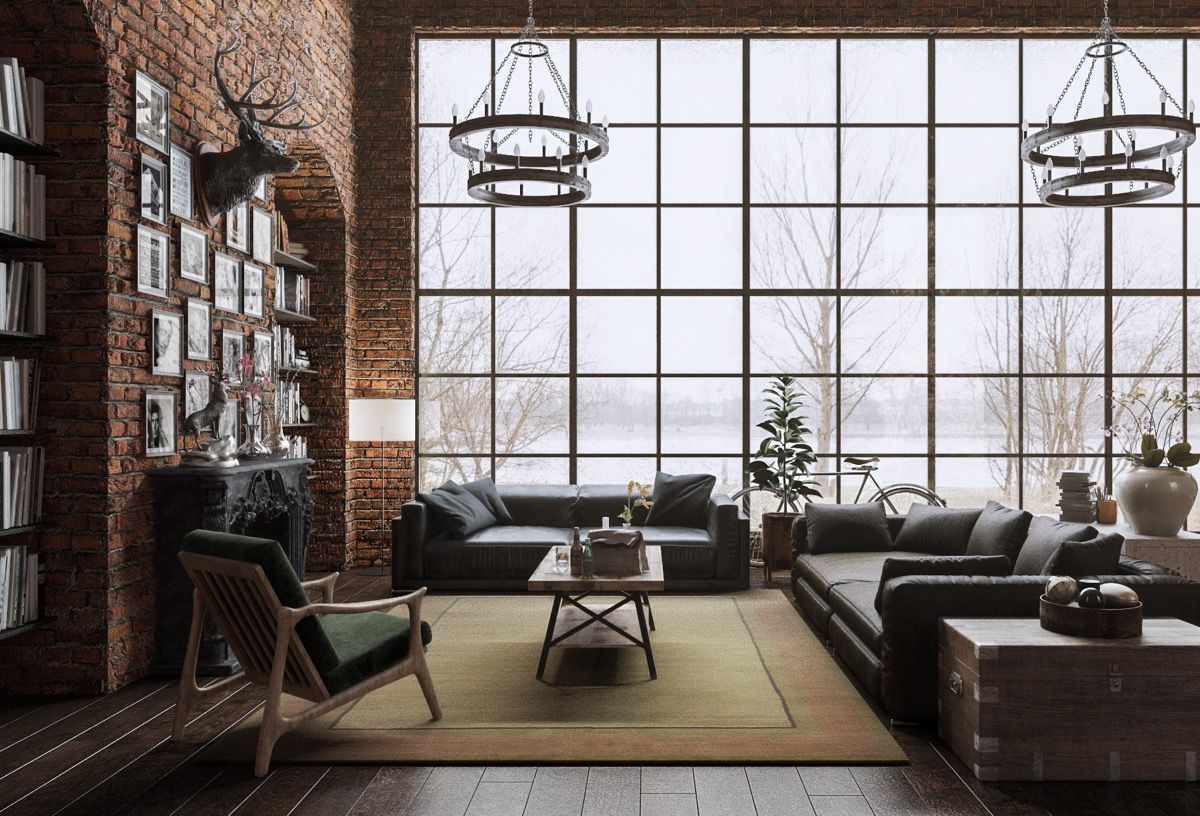 Rustic living rooms can look ever-so-romantic. Accent yours with an exposed brick wall, Japanese loft windows and faux deer head. A neat woollen mat, slick leather couches and iron two-tier chandelier provide the feeling of a lodge astride a bevy of personal photo frames. A steel and wood coffee table nods to a latched wooden chest.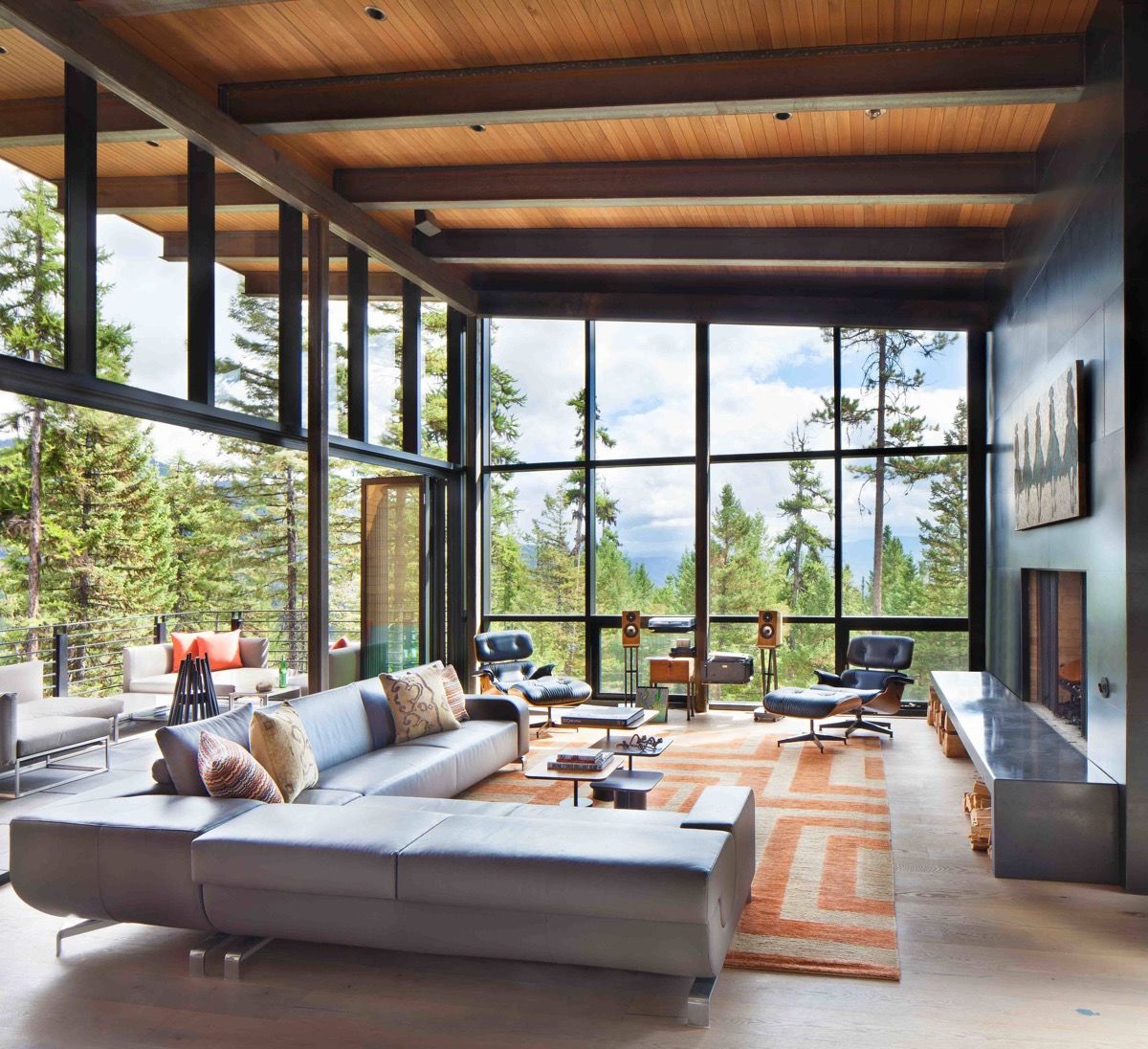 Structure your rustic living room into a set of squares. Open up with wide windows and a geometric rug. Frame your smooth floor beams with a silver-hued sofa, and two Eames loungers for a lesson in comfort. Stand small, square coffee tables aside a fireplace to complete.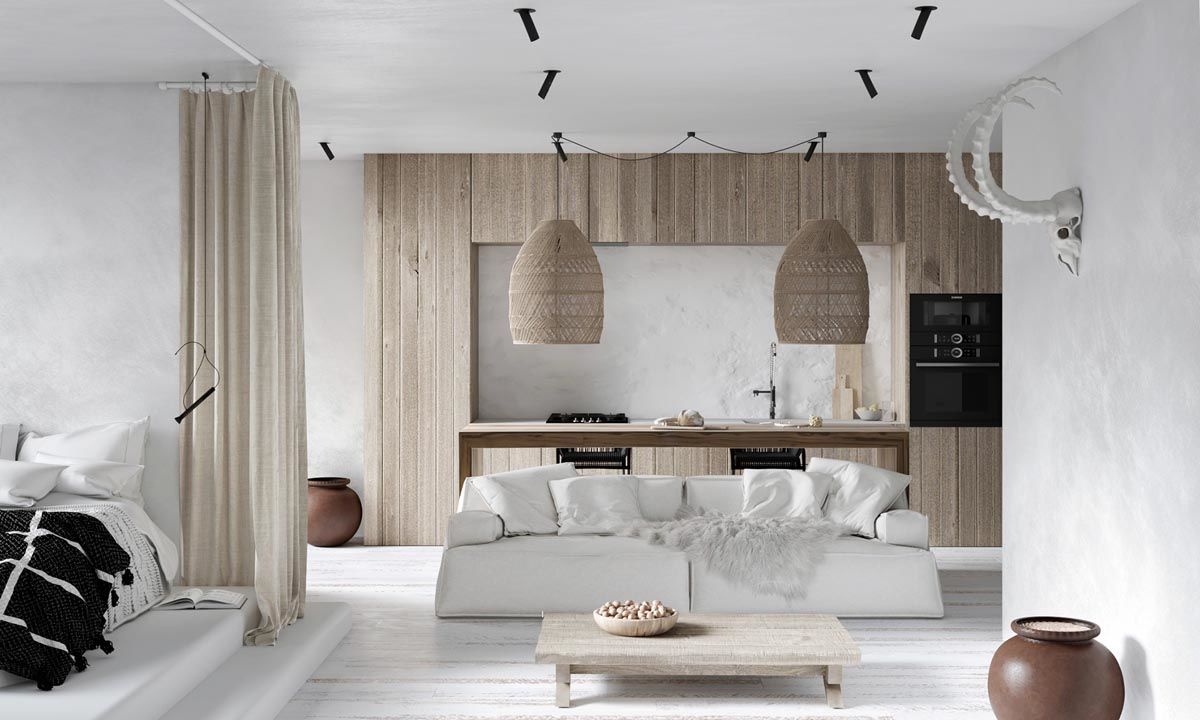 Only have a small space to play with? Enclose your kitchen bench in a wooden frame, with two woven hanging pendants above a wooden island. Enlarge the space with a light wooden floor and white-coloured sofa. Add ethnic elements, with a glazed brown pot and wall-mounted antlers. Check out our tribal chic-style article for more ideas in this theme.

Design a modern rustic living room that just looks effortless. Using white walls and wooden panels, lie a white, flat rug under navy seating and a tree trunk coffee table. Scatter wooden elements around the room, in small stools and a make-it-yourself stag head. Fill your table lamp with corks and standing wood burner with heat and voila! Your very own living room with a rustic twist.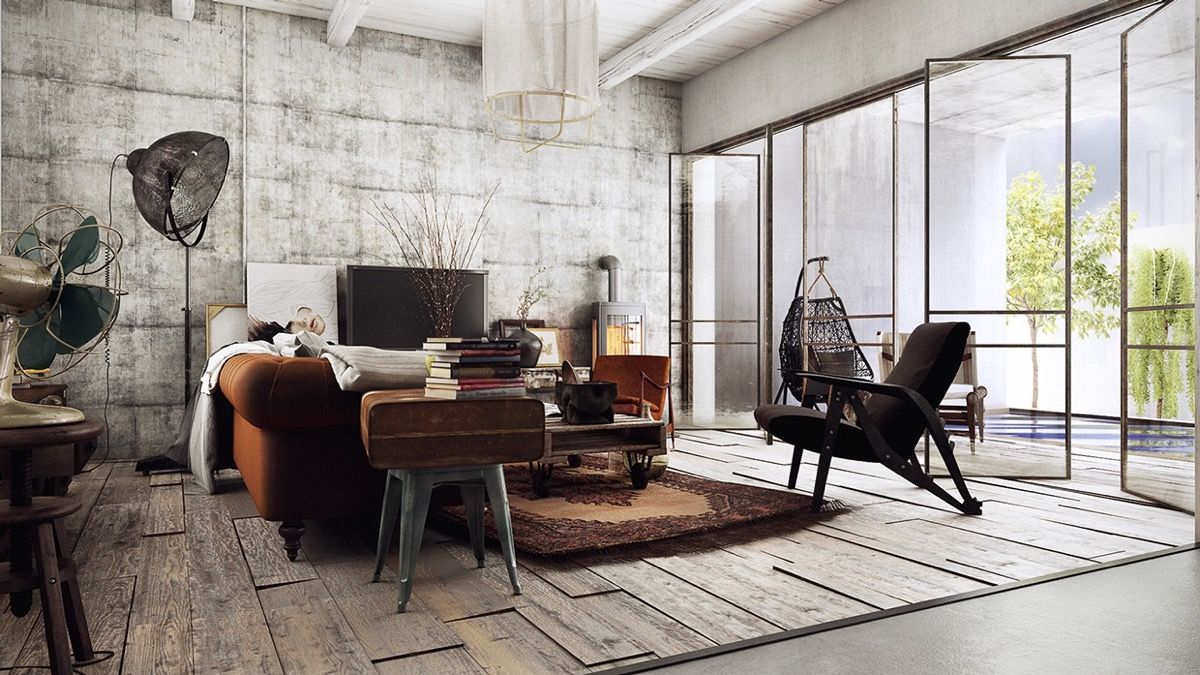 A rustic lounge doesn't need dark wood. Design your lounge with concrete walls and lighter-wooden floors, seating a warm brown lounge suite and Turkish rug upon its setting. Find older articles, like a hanging woven chair, leather suitcase and standing hairdryer lamp, to achieve vintage heaven.

Want a look that's a little more simple? Use white-painted, distressed walls and an old carpet floor to base beige couches and a wicker chair. A faux-antler living room chandelier can offer a sprig of light, while old figure abstracts and boxes decorate the room. Add an old crate for a coffee table and Roman bust for personality.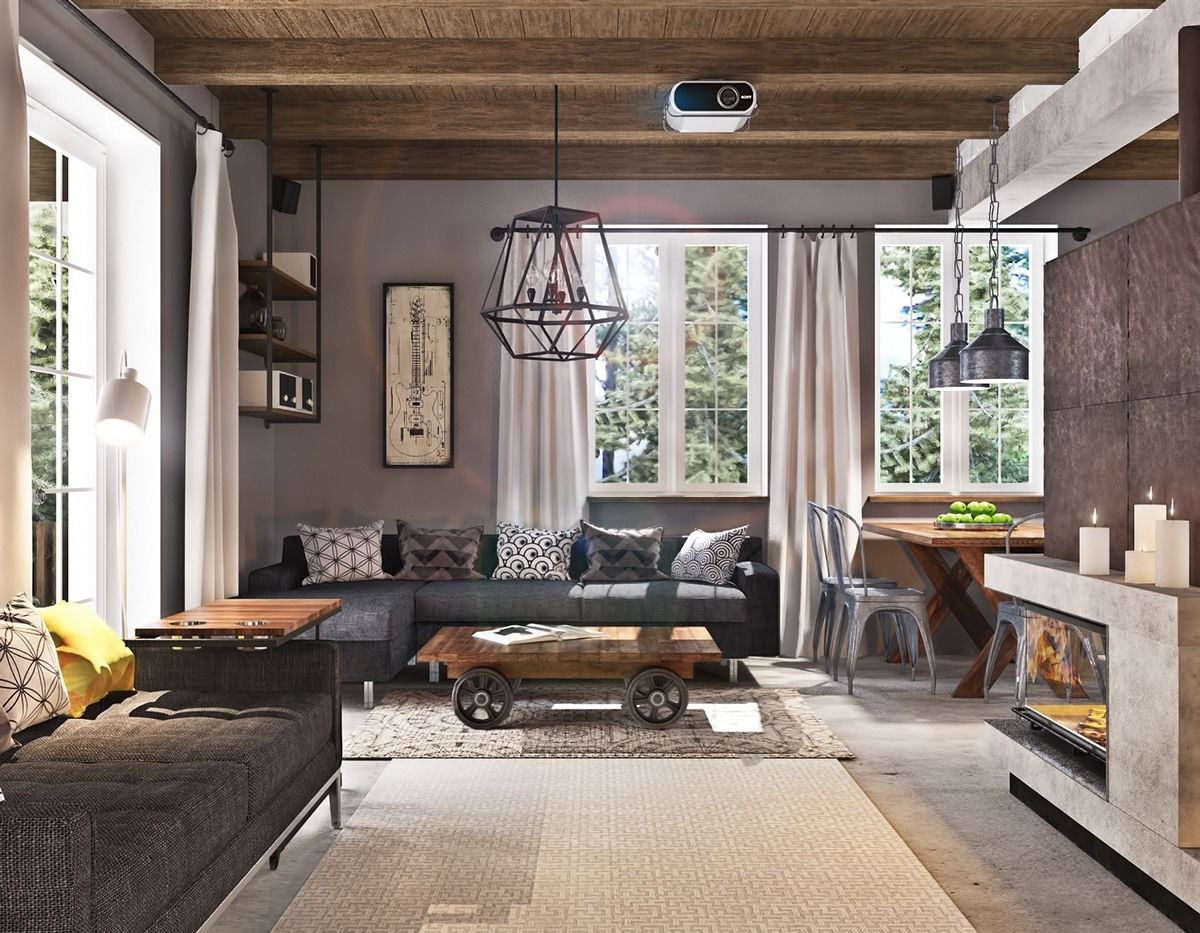 Rustic living rooms are perfect for a family. To get the look, cover your concrete floor in mis-matching rugs, sitting a country coffee table on a set of wheels.
House a fireplace in marble, a bulb in a caged pendant light overhanging the space. Add pops of interest in patterned couch cushions, a guitar patent artwork and floating bookcase in wood and iron.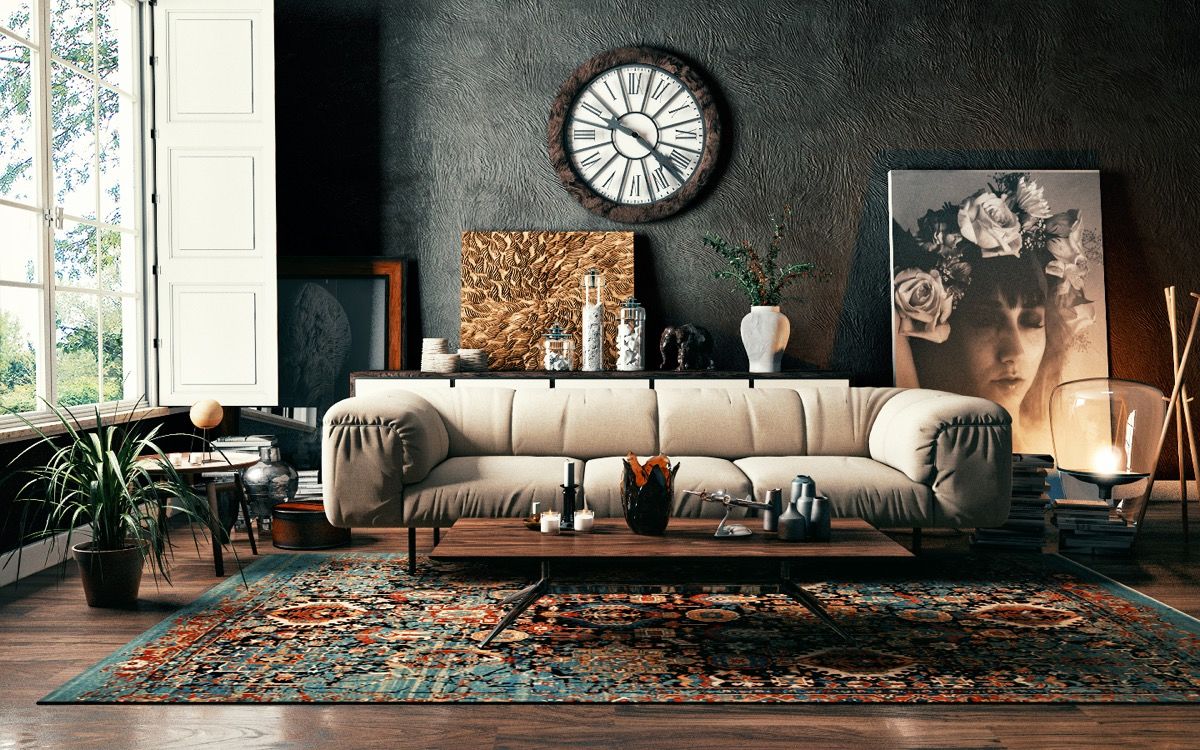 The rustic style is perfect for a lounge that feels like home. Achieve something similar with a polished wooden floor, rough charcoal wallpaper and padded leather lounge suite. Lie a colourful Turkish rug afront a vintage photo made large. Throw in a medley of pot plants, distressed clock and vases.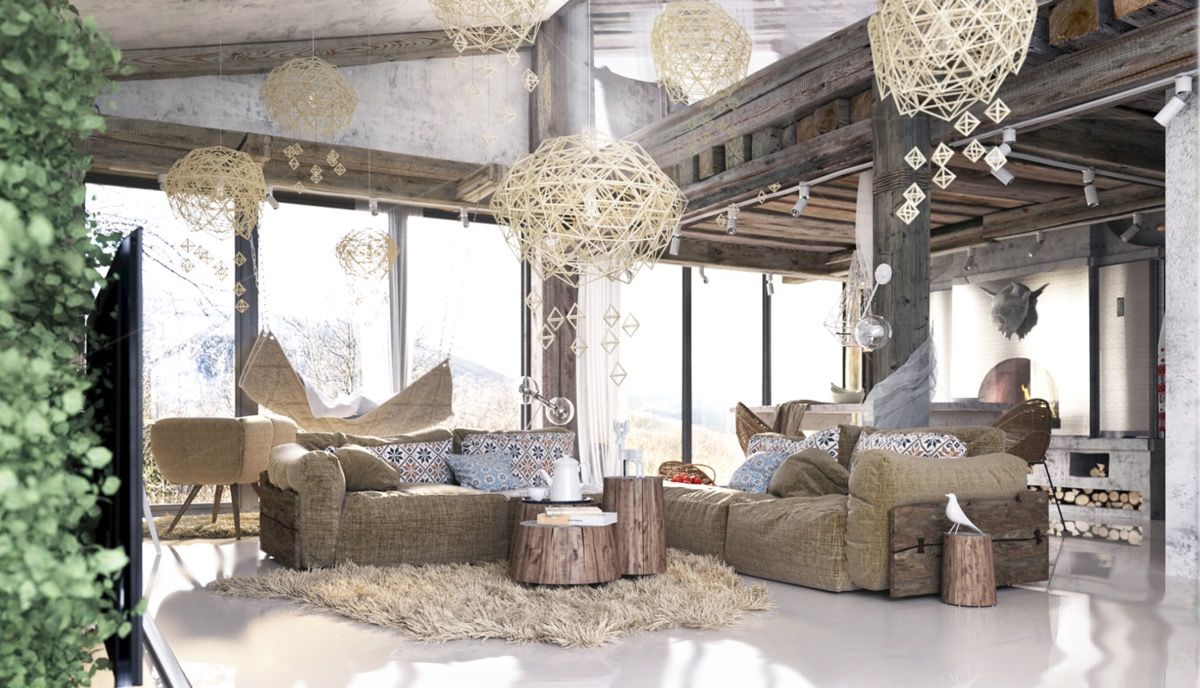 The rustic lounge can appear magical. Paint your floor in shiny white, peppering your rafters with rattan pendants at varying heights. Stand tree trunks afront Eames bird replicas, adding a shaggy rug to warm up the place. Relaxed couches in light brown and columns of green find favour with blue and brown Moroccan cushions.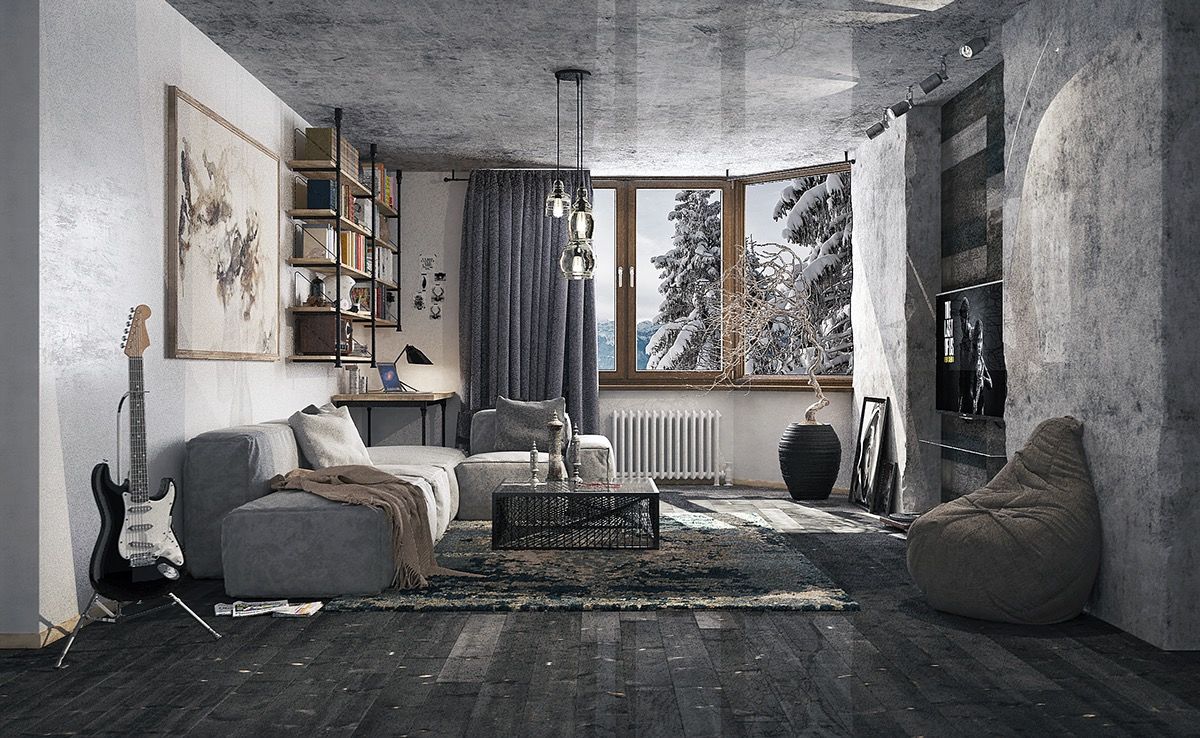 Channel the artist's flat in your next living room design. Base your wooden floors, walls and ceiling in grey, with wooden-framed windows and an abstract letting the light in. Use three pendant lights as a centrepiece, warming it up with a vintage Turkish rug and slouching grey sofas. A standing guitar is an easy way to add more character.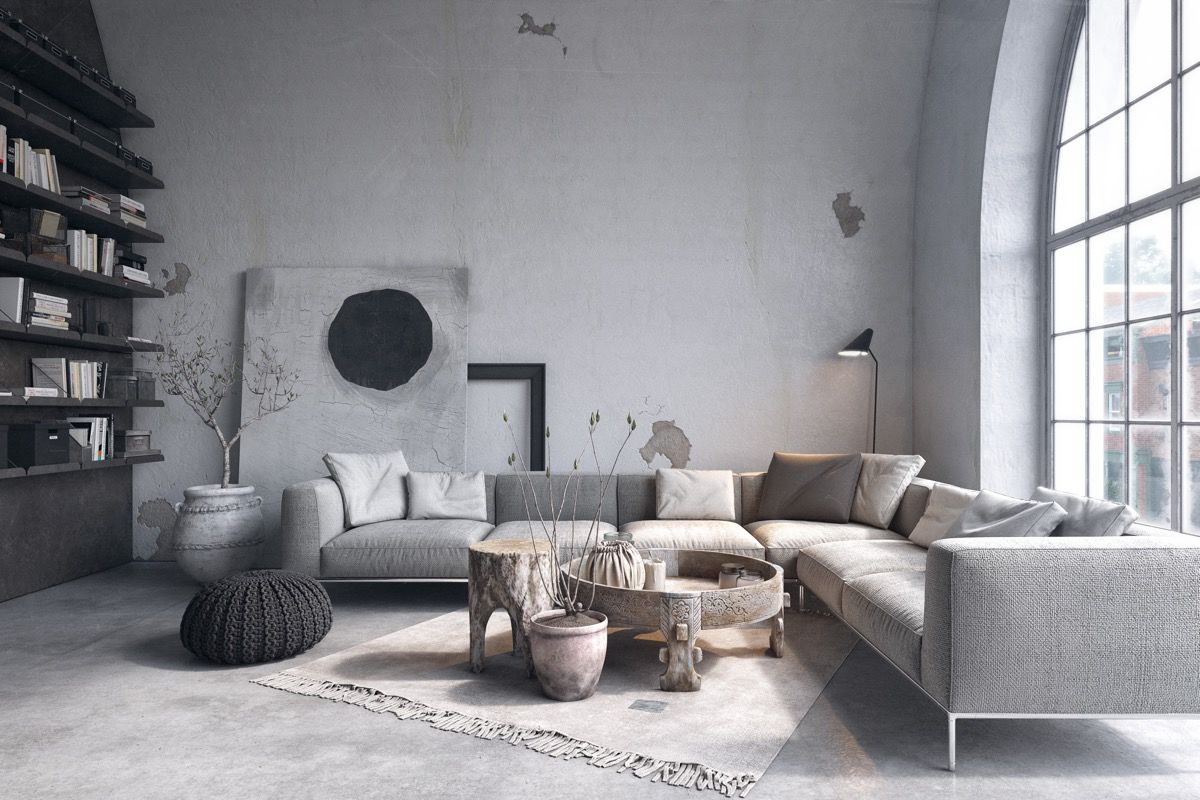 Like grey, but not the artist's look? Structure your room with a large L-sofa in grey, a simple abstract and clean, matching walls and floors. Black can draw the eye in a high bookshelf and knitted pouf, while adding a trio of distressed wood and clay items helps you favour more traditional elements.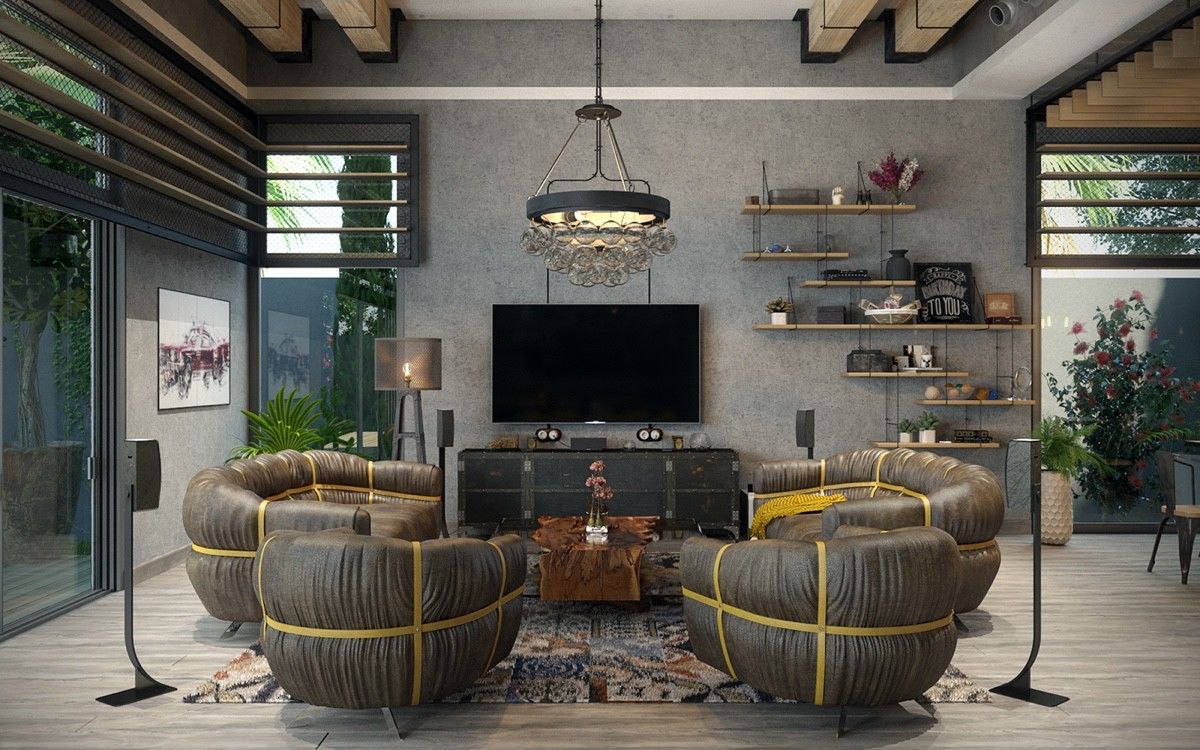 Make the rustic look your own. Conference four grey-and-yellow seats around a rustic coffee table and colourful Turkish rug. Let a caged floor lamp interact with a many-baubled chandelier and trunk TV stand. A series of wooden shelves snake up the wall to finish, offering trinkets and pot plants as parting gifts.