More is more in this fun-loving Vancouver home.
When interior designer Ben Leavitt first tours a potential project, he has a tried-and-true process. "It really sounds cheesy," he says, "but I usually put in my headphones, get a sketchbook, and just see what comes to me."

This artistic methodology is no surprise, given that Leavitt, the lead designer and cofounder of Vancouver, British Columbia–based design studio PlaidFox, was trained as a photographer and furniture designer. For him, each project is less about conveying one signature style and more about executing a vision inspired by its setting or his clients. "I never know until I walk through the project whether it's going to spark something in me," Leavitt says.

A hillside project in West Vancouver lit that spark. Overlooking the Burrard Inlet, the 8,000-square-foot home had the benefits of a high-up mountain retreat and a seaside escape, with large windows offering bird's-eye ocean views from nearly every room. The house was a relatively new build, but the interiors felt generic, lacking personality and charm.
The clients—a mother and adult daughter duo—commissioned Leavitt to make the interiors as enticing as the stunning setting. And though their previous home had been more traditional, here they were hungry for something playful and new. Leavitt delivered just that—and more—in his fun-loving yet sophisticated scheme, defined by bold colors, sculptural furniture, and geometric motifs.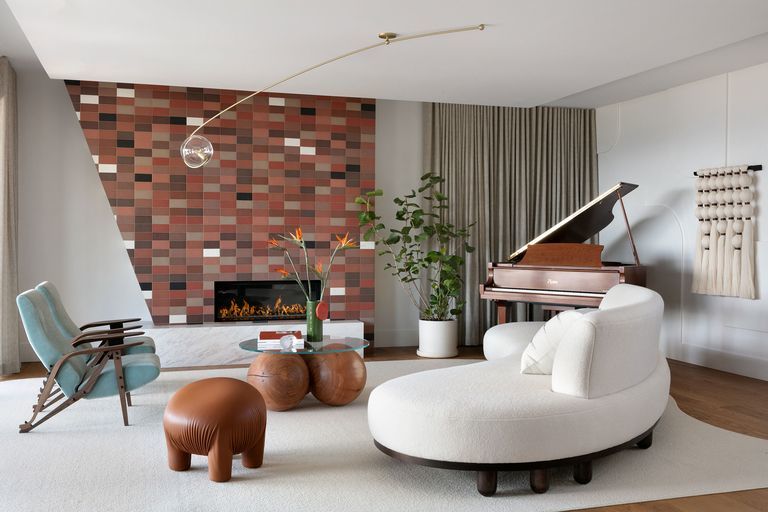 Fireplaces became even more of a focal point in the living room, thanks to bold shapes and color choices.
On walk-through day, Leavitt (headphones in and sketchpad in hand) noted that the home contained several fireplaces. In the completed scheme, he and the PlaidFox team elevated them from room anchoring to show stealing: In the living room, for instance, he dreamed up a 1970s-inspired, angular chimney breast that became the jumping off point for the room's punched-up retro vibe. Clad in red- and pink-toned Italian terra-cotta tile by Mutina, the asymmetrical scheme provides a bright backdrop for a suite of curving furniture silhouettes, including a Boston grand piano made of satin walnut. The team hunted far and wide for just the right instrument, one that was up to snuff for the musical family's talents yet worked with the design of the space. "A lot of times you see a grand piano and it's really for decoration," Leavitt explains. "This is a piano that really is used."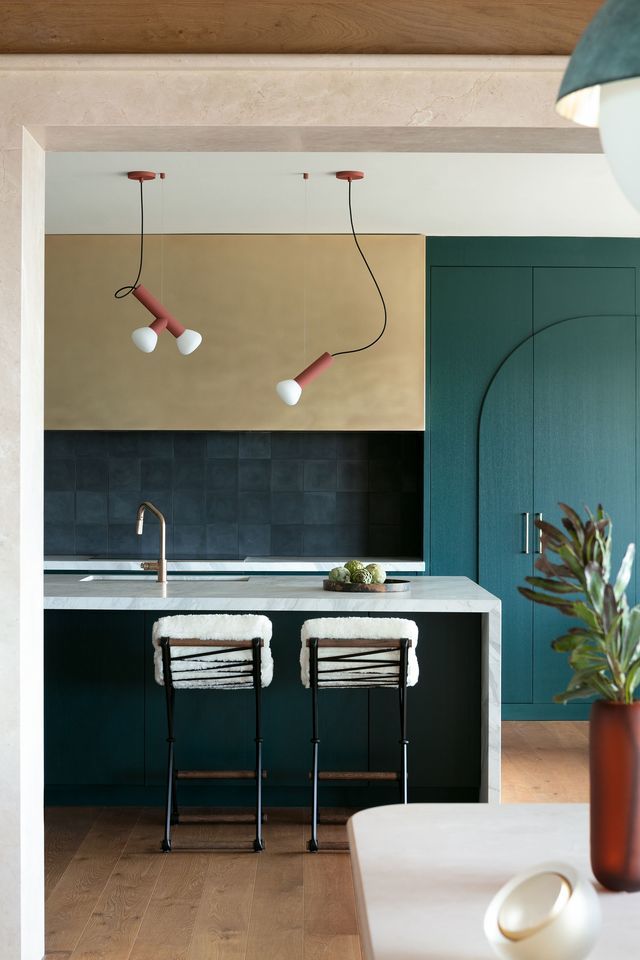 The kitchen was spruced up with all-new tile and colors.

In the adjacent dining room, the PlaidFox team clad the walls in timber, giving the space a cozy Pacific Northwest feel. But here, once again, formality was turned on its head—in some cases, literally, as with a buffet table shaped like an inverted triangle. A creamy, asymmetrical travertine table is surrounded by eight identical, rounded chairs by NOOM furniture, though two are upholstered in a fiery red for a fun, topsy-turvy kick. A life-size, 1920s-era jaguar statue, meanwhile, slinks in a corner (it was originally made for a casino; Leavitt finally snatched it up at a local antique shop after eyeing it for years). "The guiding principle for the home was more is more," Leavitt says, "so we wanted the rug to be interesting. We wanted the chairs to be interesting. We didn't want a rectangle table, so we went to one with an interesting shape."

The bold kitchen, surprisingly, made use of the home's original fittings and cabinetry, though one would never know. "As much as we wanted to reinvent the house and give it a new life, we didn't want to be wasteful," Leavitt explains. The team painted the cabinetry gold and teal, added a black tile backsplash, plus new postmodern-inspired lighting and barstools to make the room gel with the rest of the home.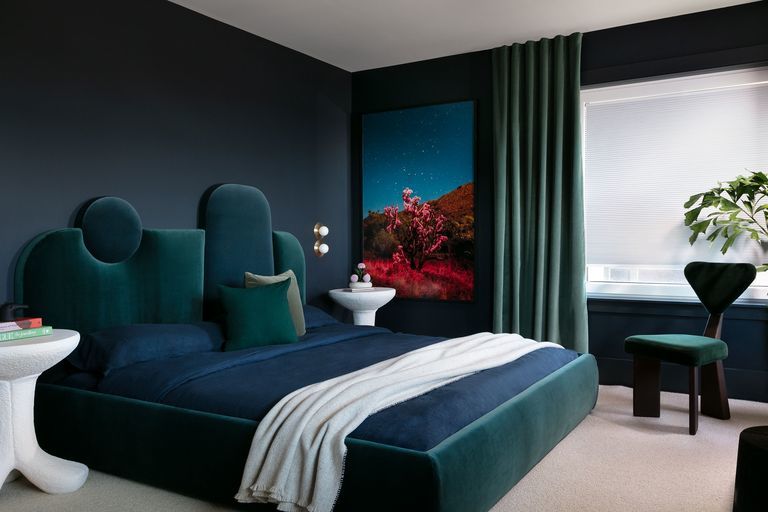 The daughter's glamorous room features a custom bed in three shades of Kravet velvet.

On the third level, the two striking primary bedrooms encapsulate the style of their inhabitants. Painted in a smoky blue, the daughter's room feels cozy yet avant-garde. A custom asymmetrical velvet bed frame paired with floor-length curtains adds to the luxe cocoon. The mother's room is light and airy, with low-lying furniture all around.

Contrary to popular belief, Leavitt says, bold design choices don't compromise one's feeling of peace. "We all go into restaurants and hotels and love the design, and honestly it's because designers often really go for it," he says. "I think that the truth is, when you go more bold, you actually love the space a lot more, and living it is way more exciting."
See More of This Sophisticated Mother-Daughter Abode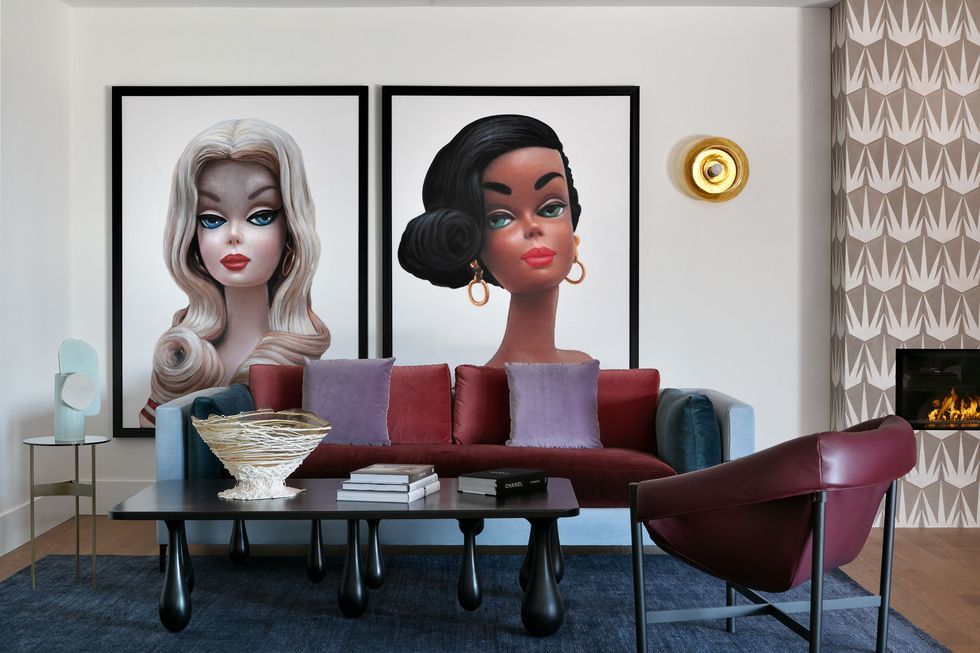 The basement—which doubles as a pool and music room—is one of the most daring spaces in the home. Leavitt commissioned oversize paintings of vintage Barbies, which pair with a multicolored velvet sofa and a dripping mahogany coffee table by Noir.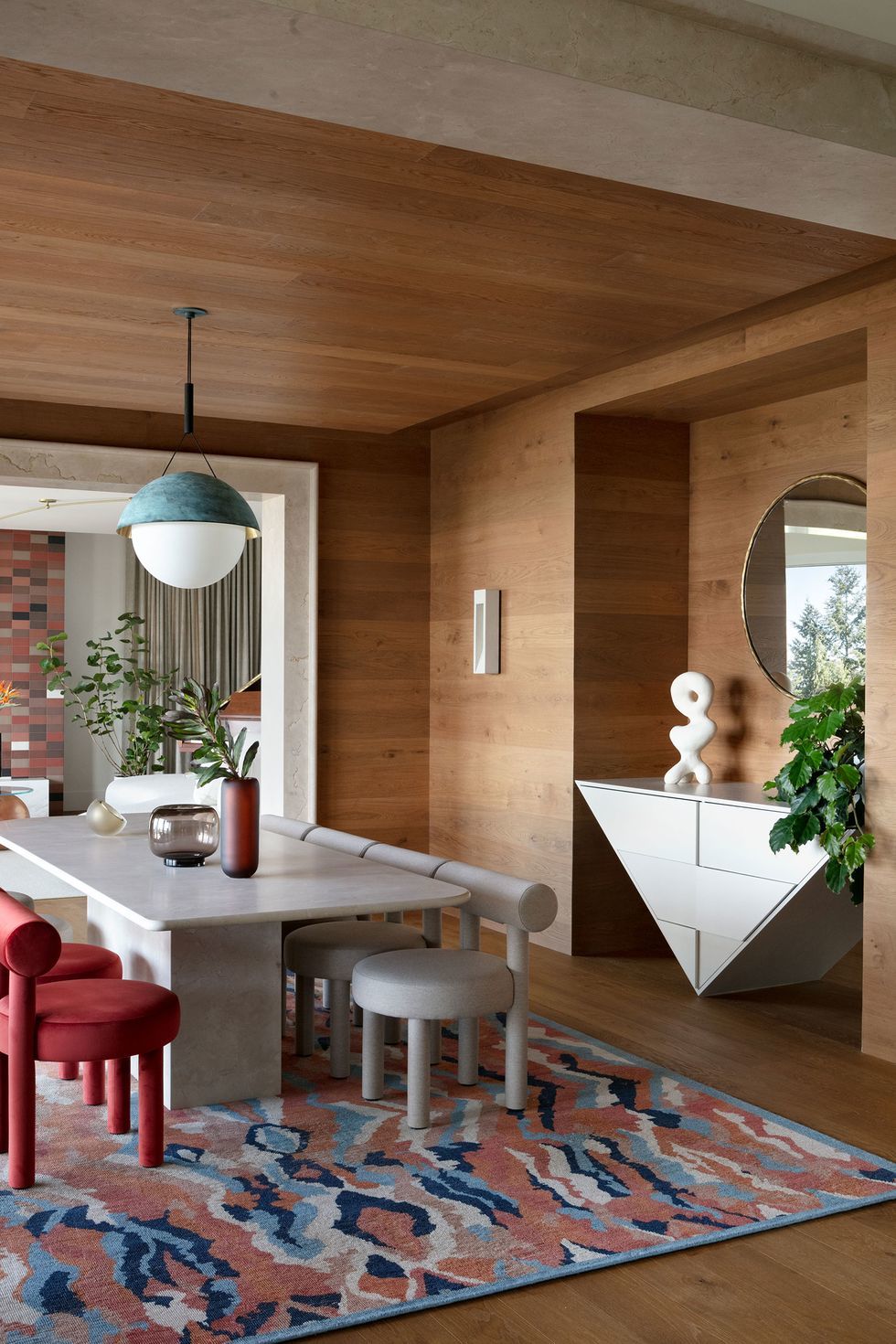 Leavitt wrapped the dining room's walls and ceiling in the same smoked oakwood as the floor to create a warm feel. The pendant is by Allied Maker, and the chairs are by NOOM furniture. The triangular hutch is custom.
The life-size leather jaguar in the dining room—found at an antique store—is one of Leavitt's favorite pieces in the home. "It sets the precedent for every room in the house," he says. "Every corner is going to have something interesting."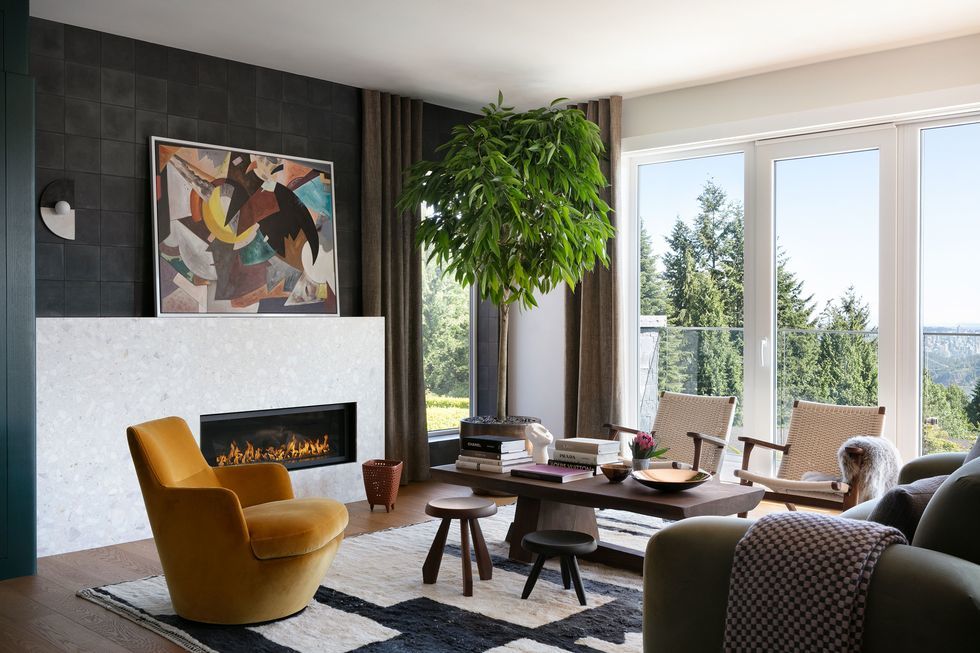 Most family rooms have TVs, but this one is all about the view. Retractable glass doors open onto a deck that offers sweeping views of the ocean below.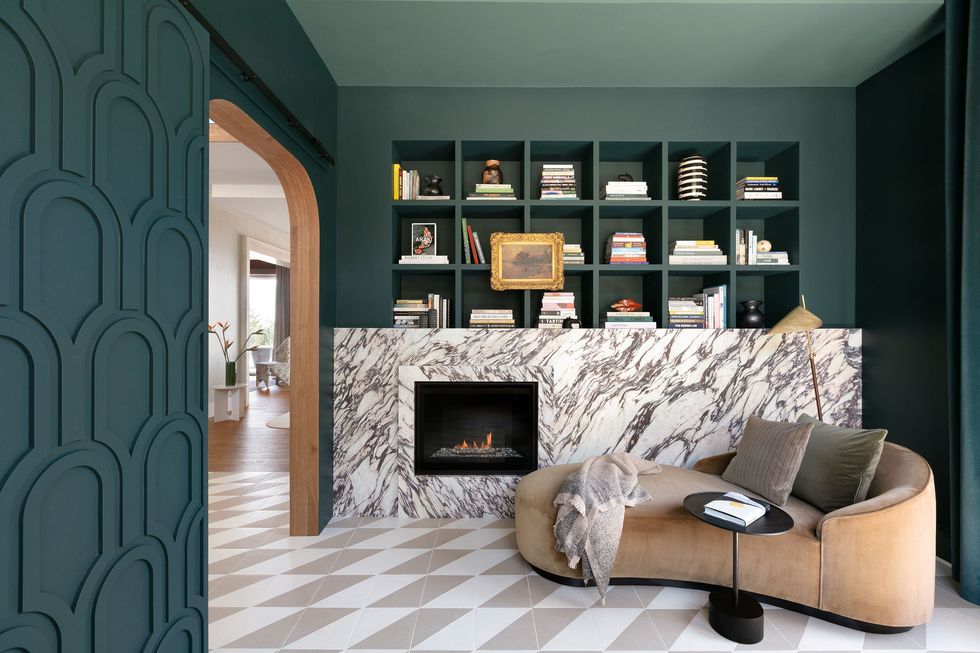 Office : An Arteriors chaise, wrapped in mohair, beckons in the home office.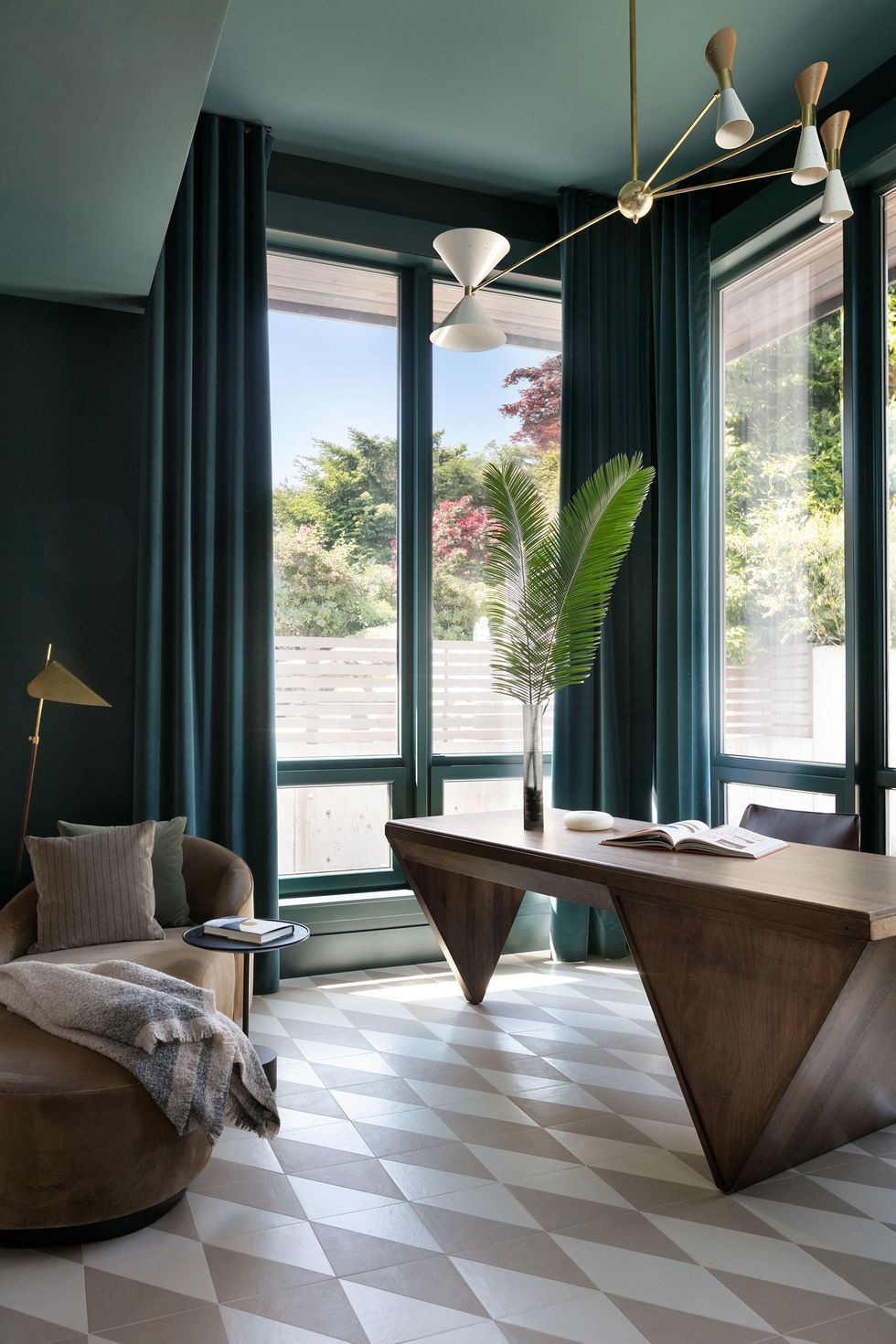 The home office was previously sheathed in white faux marble, which made the room feel flat. Leavitt added oyster and white triangular floor tiles that still hew on the minimalist side, but add more visual intrigue.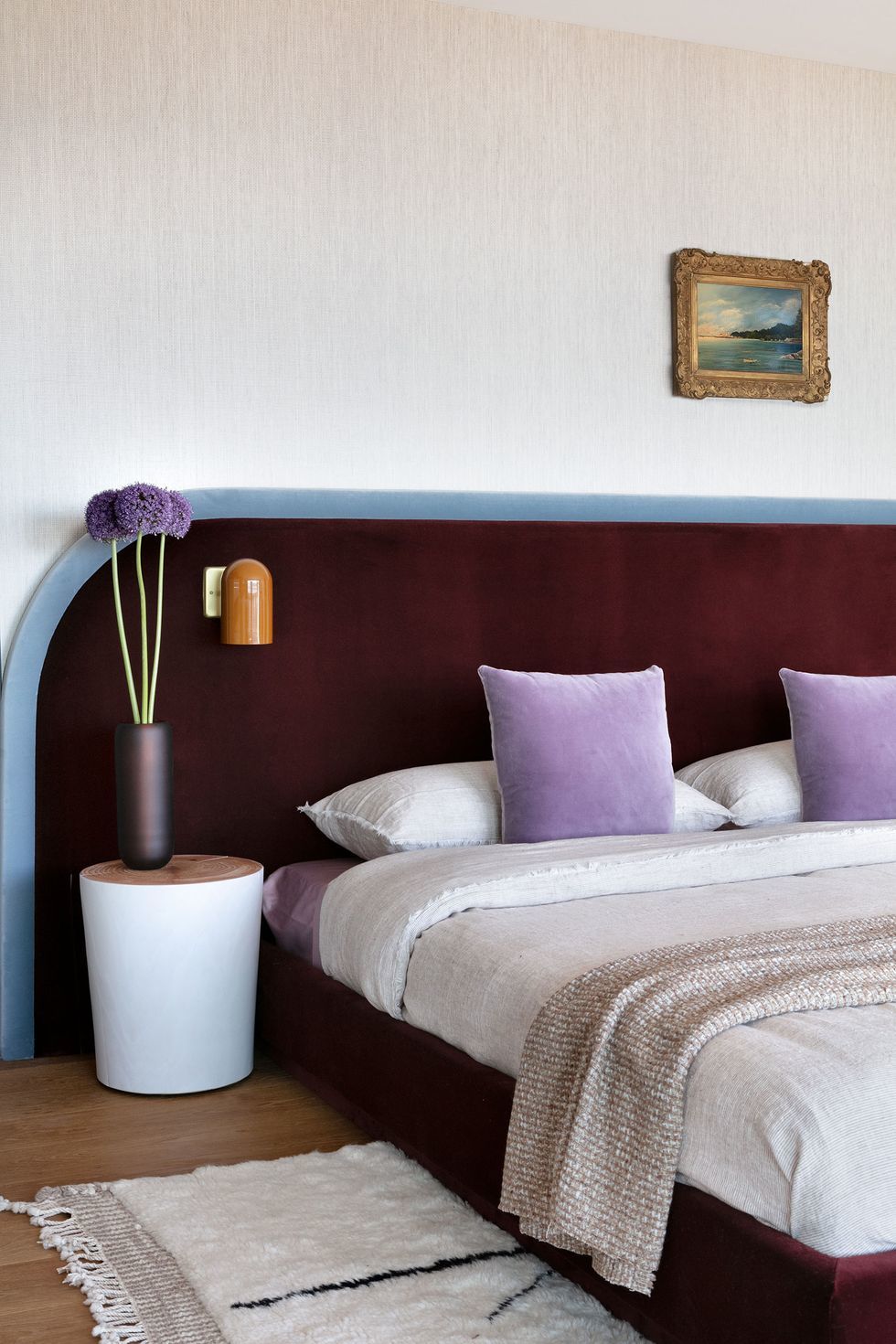 The furniture in the mother's bedroom was intentionally low to the ground so, as Leavitt says, "when you're lying in bed, you see nothing but the ocean." A Philip Jeffries woven grasscloth covers the walls, and the custom bed is in a burgundy and light blue Kravet velvet.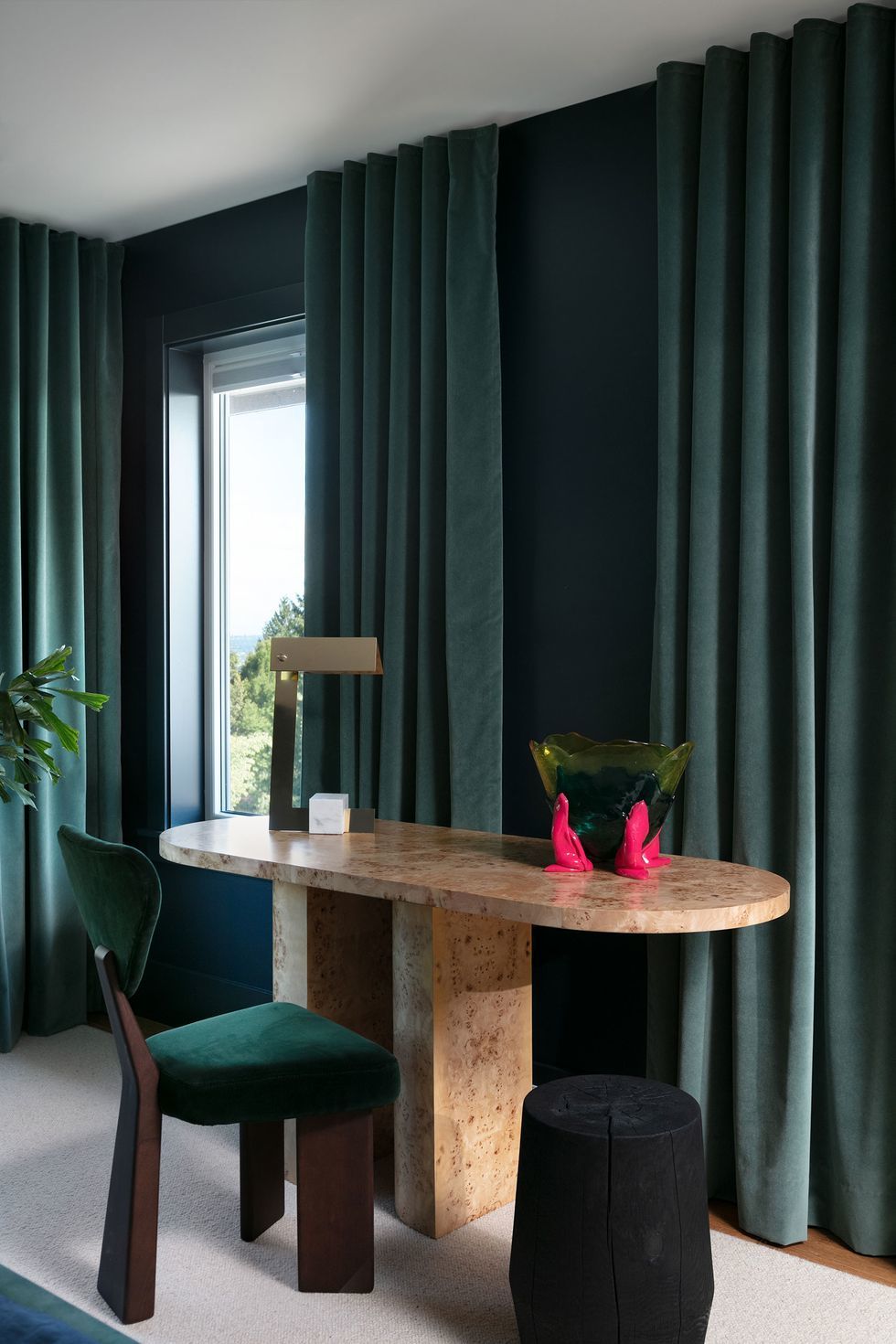 A Gaetano Pesce bowl and a lamp by Lambert & Fils sit atop the custom burl wood desk. The chair is by Juliana Vasconcellos.