Hundreds of police officers who should have failed vetting checks may be in the job in England and Wales, a damning report has found.
The police watchdog looked at eight forces and found decisions on officers which were "questionable at best".

One officer convicted of domestic abuse and one accused of sexual assault were among those accepted.

"It's far too easy for the wrong people to get in," said Inspector of Constabulary, Matt Parr.

Of 725 sample cases closely examined in the review, there were concerns about 131 officers cleared to serve in police forces - but the watchdog said the true total could be much higher.

The report also highlights misogyny and sexual misconduct, and was commissioned after the murder of Sarah Everard by a serving officer, which raised questions about police recruitment and vetting.

Speaking to BBC Radio 4's Today Programme, report author Mr Parr said: "I think police leaders need to understand that unless they're much tighter with who they recruit, much tighter with who they transfer between forces, and have a much lower tolerance for the normalised, sexualised bad behaviour towards women, both members of the public and in the force… they're going to keep getting scandals and public trust is going to continue to erode."

Former Home Secretary Priti Patel commissioned the report last year from His Majesty's Inspectorate of Constabulary, Fire and Rescue Services (HMICFRS).

The authors questioned 11,000 officers and staff - and of the women who responded, "an alarming number alleged appalling behaviour by male colleagues", raising concerns about risks to people outside the police.

"Almost without exception, they'd been on the receiving end of behaviour which absolutely has no place in the modern workplace," Mr Parr added.

The survey found that most respondents thought their force's culture "discouraged prejudicial and improper behaviour", with men in general more positive about the culture.

But the report adds: "Despite these results, we found a culture where misogyny, sexism and predatory behaviour towards female police officers and staff and members of the public still exists."

Vetting is meant to be carried out when candidates apply to join or transfer to a police force and then every 10 years, or every seven for sensitive roles.

Instead, the review found officers passed despite having criminal records, being suspected of serious offences, having substantial debts or having family linked to organised crime.

Mr Parr said that he could understand why some police forces would want to take a risk on some applicants, but said police forces were not providing the close supervision and monitoring needed for applicants with family members linked to organised crime.

"If the police are to rebuild public trust and protect their own female officers and staff, vetting must be much more rigorous - and sexual misconduct taken more seriously," said Mr Parr.

"I think the public will find [it] extraordinary that some of these people were allowed to join," he told BBC's 5 Live Breakfast programme.

"If [police leaders] don't get these basics rights, they're storing up problems for themselves in the future and creating risks for the public."

The inspectors also found examples of police officers transferring between forces despite complaints or misconduct allegations.

Most officers were unaware they should report major life changes which trigger more vetting, such as divorce, financial trouble or a new partner.

Social media checks are increasingly important but comments made online by some of the 131 highlighted candidates were found to be discriminatory, inflammatory or extremist.

"Worryingly, the cases we examined didn't result in rejection," says the report.

Inspectors found measures to reduce the risk of professional misconduct in borderline cases were too often not implemented.

During the pandemic, a move to online recruiting meant some people became police officers without face-to-face interviews.

Currently, the report says, forces are under enormous pressure to recruit more people.

Cuts to public spending brought in by the Conservative-led government since 2010, combined with experienced officers leaving, mean an extra 50,000 recruits are needed. The government promises 20,000 new recruits by March - so far 15,000 have joined.

But Mr Parr said there was "simply no excuse" for lowering standards to meet recruitment targets.

"Given the risks involved with recruiting officers at the scale and speed required by the uplift programme, it is essential police leaders act now on our recommendations," he said.

Longstanding failures

As long ago as 2011 a Northumbria Police officer was jailed for rape, indecent assault, and misconduct in public office. The vetting process did not reveal allegations made against him during his Army career.

Of the 131 vetting cases that the report raised concerns about, it said 68 of the officers should never have been allowed in at all. In the other 63, the report understood why police forces might have taken a risk on them - but said they needed special supervision and monitoring which did not happen.

Efforts to tighten the rules followed, but the HMICFRS investigation reveals ongoing cases where candidates should not have been cleared to serve as police officers, including:

*  a candidate linked to drugs, guns, burglary and violent robbery

*  another convicted of drink-driving, accused of intimidating a witness and of domestic abuse, where two women were both allegedly left with marks to their necks

*  a man who had appealed his rejected application, claiming he had distanced himself from his criminal brother - but was later found to be living with him

*  an officer allowed to transfer to a police force despite several allegations of sexual assault

*  a man who had received a final warning for robbery after knocking an 80-year-old woman to the ground and stealing her handbag

*  a man who exposed himself to the same woman on seven separate occasions and was convicted of indecent exposure when he was a juvenile. Six years later in the mid-1990s, the same man received an adult caution for making threats to commit criminal damage

*  an applicant who had been investigated five years earlier for an alleged sexual assault offence at a nightclub - the victim's account included allegations of non-consensual kissing and touching of her breasts and vaginal area

*  an applicant who was sub-letting a flat to a woman who used it for soliciting sex - he was inadvertently granted clearance on his third application due to an administrative error

*  A police officer was allowed in despite having previously been convicted for attempted theft abroad

*  A police officer who faced allegations over a number of years of improper sexualised touching of a member of the public and junior officers was successfully transferred to another force, based on the grounds the transferee would make the force more diverse.

Recent figures obtained by BBC News suggest at least 1,600 allegations of sexual or domestic abuse by police officers or staff have been investigated in the last three years in England and Wales, with 625 the subject of Metropolitan Police inquiries in August 2022.

Sex with victims

In one case, Nicola Brookes says a Sussex Police inspector targeted her for a sexual relationship in 2015 because she was in bad health and a victim of stalking. He had been dealing with her case, but no longer had any legitimate involvement.

Although she consented to sex on one occasion, the officer was sacked for gross misconduct in 2020 because he "abused his position to deliberately engage in intimate relations" with several women, an investigation found.

Ms Brookes says if he had been regularly vetted, a relationship with another woman in 2012 could have been investigated earlier.

Growing numbers of police officers are accused of sexual and domestic abuse, says Ms Brookes, who wants more spent on vetting.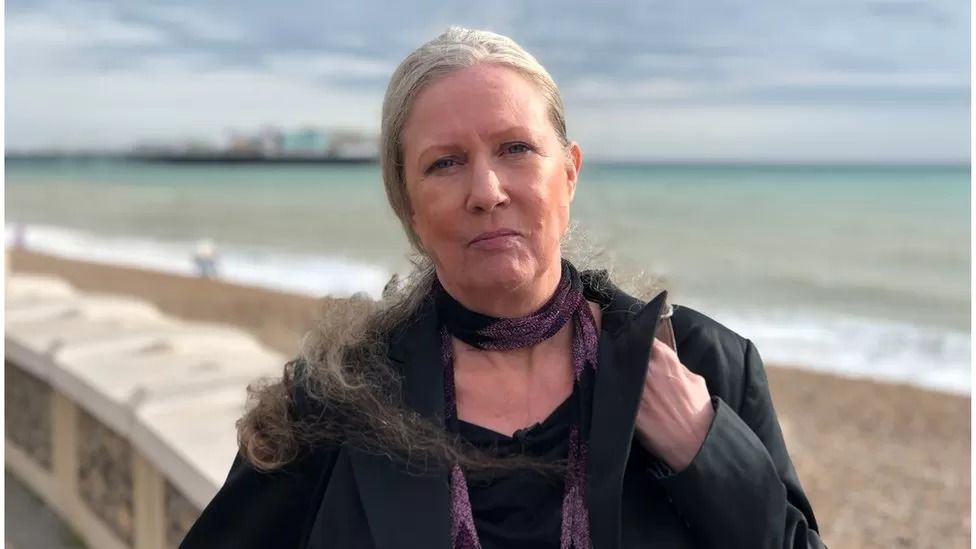 Nicola Brookes argues for better, more consistent vetting

"They'll vet at the start of the careers but there's clearly not any vetting going on throughout the officers' careers, which is what I think is what needs to be done," she said.

Sussex Police said it worked actively to root out police officers who abused their positions of trust, and in Ms Brookes' case, the vetting complied with national policies.

Martin Hewitt, National Police Chiefs' Council Chair, told BBC Breakfast that police chiefs were determined to deliver the recommendations of the report, adding that a "lot of work has gone on, but it clearly hasn't been enough".

"We play a pivotal role in keeping society safe and everyone needs to feel confident that when they call 999 or call the police that the person turning up there is going to look after them, is going to protect them and do the job properly," he said.

The report was commissioned following the conviction of Wayne Couzens, who abducted, raped and murdered 33-year-old Sarah Everard in March 2021 while a serving Metropolitan Police officer.

Couzens had been transferred to the Met from another police force despite a link to an alleged flashing incident in 2015. The police watchdog is also investigating alleged failures by the Met to investigate alleged indecent exposure incidents linked to Couzens in the months before the murder of Ms Everard.

He has pleaded guilty to four indecent exposure charges but is yet to enter a plea for the other two.

What vetting do I need to become a police officer?

Recruitment Vetting is the first level and includes searches of:

*  the Police National Computer and other police databases

*  criminal records

*  terrorism intelligence

*  credit status

*  search engines and social networking sites

Management Vetting is for more sensitive police jobs and includes checks on:

*  all family members, partners, associates and co-residents aged over 10, on police databases and the Counter Terrorism Unit

*  personal finances

*  business interests

*  gambling and alcohol use

*  appraisals from former supervisors

The watchdog HMICFRS says vetting should not simply take account of whether a person has committed an offence, but should check the nature of any unproven allegations or intelligence about a person's life.