Chancellor Rishi Sunak has set out a £1bn fund to help businesses hit by the rise in Covid cases, including the leisure and hospitality sector.
Hospitality businesses like pubs and restaurants will be able to apply for cash grants of up to £6,000 per premises.

The government would also help some firms with the cost of sick pay for Covid-related absences, Mr Sunak said.

And he announced an extra £30m to help theatres and museums.

Many hospitality and leisure firms have been hit by a collapse in bookings and reduced footfall due to people's fears over the spread of the Omicron variant.

Mr Sunak said the new support was "generous" and recognised the situation facing businesses in the run-up to Christmas.

Some industry figures have welcomed what they described as "unprecedented" support, but others said the measures do not go far enough.

Businesses other than hospitality and leisure can apply for some of the funding.

However, the chancellor would not be drawn on whether more help would come should further restrictions be announced, as ministers come under pressure to tackle the rapid rise of Omicron.

Tough new rules have been brought in in Scotland, with a limit on the number of people allowed to attend large events and Edinburgh's Hogmanay street party being cancelled.

Another 90,629 new Covid cases were reported across the UK on Tuesday - slightly down on the all-time highs announced last week.

The announcement on Tuesday means:

*  Restaurants, bars, cinemas and theatres can apply for a grant of up to £6,000 for each of their premises. The Treasury is setting aside £683m for these grants and it will be provided under existing council-run schemes

*  Other struggling businesses outside leisure and hospitality can apply to local councils for a different grant under the Additional Restrictions Grant, which has been topped up with £102m

*  The Statutory Sick Pay Rebate Scheme is being reintroduced, meaning business with fewer than 250 employees can claim money to cover sick pay for employees who are affected by Covid

*  An extra £30m for arts organisations through the existing Culture Recovery Fund.

Asked if more support would be offered, the chancellor said he would "always respond proportionately and appropriately to the situation we face".

But he added that he thought the new measures announced were comparable to the grants that were on offer when businesses were fully closed earlier this year.

The UK's devolved administrations are also receiving £154m of funding to cover all three schemes, with around £80m for Scotland, £50m for Wales and £25m for Northern Ireland. This money is part of a fund announced earlier this week.

Challenged on whether he could rule out any more restrictions before the new year, Mr Sunak said he understood people's frustrations but the UK faced a very uncertain situation over Omicron.

He echoed the prime minister's comments on Monday, saying ministers were keeping the situation under review and monitoring the data "day-by-day, hour by hour" but ruling nothing out.

However, Labour's shadow Treasury minister Pat McFadden described Mr Sunak's announcement as "a holding package from a government caught in a holding position".

Mr McFadden said the support was "welcome" but that it should have been announced last week when MPs voted to pass the government's Plan B measures.

Support as good as it gets for now

In the past, government support has been extended when government policy has restricted businesses ability to trade - so this is an important recognition that consumer caution can be almost as damaging as mandatory closure.

The question then is - is this it?

The chancellor said that the government has always responded when necessary but he was also at pains to point out that this level of grant funding was similar in generosity to those given during lockdown.

A hint perhaps that this is as good as it gets - for grant funding at least.

Business groups have welcomed today's move, but are clear that plenty of hardship lies ahead in the next year when business rates bills (albeit discounted) come due and the VAT discount wears off on 1 April.

The British Chambers of Commerce and others would like to see a sector specific furlough scheme if firms are forced to close their doors.

Perhaps most crushing of all for business confidence is the ongoing uncertainty, and with Covid-19 that is something over which the chancellor has little control.

The reaction from businesses has been mixed.

Shevaun Haviland, director general of the British Chambers of Commerce, said the new support would provide "welcome respite" to many firms affected by Covid measures, but warned that more could be needed if restrictions persist or are tightened.

And Kate Nicholls, chief executive of UK Hospitality, welcomed the "unprecedented support" announced by Mr Sunak.

But Michael Kill, chief executive of the Night Time Industries Association, said "mixed" government messaging and further restrictions had had a "catastrophic impact" on nightclubs and other late-night venues over the past two weeks.

He described the chancellor's support package as "far too little" and said it bordered "on the insulting" in the face of failing businesses, lost livelihoods, and a "crippled" industry.

A pub owner from Stoke-on-Trent has said he expects to receive just under £2,700 in support, rather than the headline £6,000 - as the system is based on business rates, so larger chains will be the ones to benefit from the top end of support.

Rob Ledgar told BBC Radio 4's PM programme he was around 40 to 60% down on his normal festive turnover and the funding only represents "about seven to 10 days worth of trade over Christmas".

Meanwhile, other business owners have urged the government to provide certainty about the Covid situation, rather than handouts.

Nathan Godley, from restaurant supply firm Premier Seafoods in Grimsby, Lincolnshire, said that while he did not qualify for or want government support, he wanted certainty so he could plan orders in advance and avoid losing money or stock.

He told BBC Radio 4's World at One there had been a drop in orders from restaurants in the last week as people cancelled bookings and that he would have to make "contingency plans" to preserve and freeze the fish until it could be sold in the new year.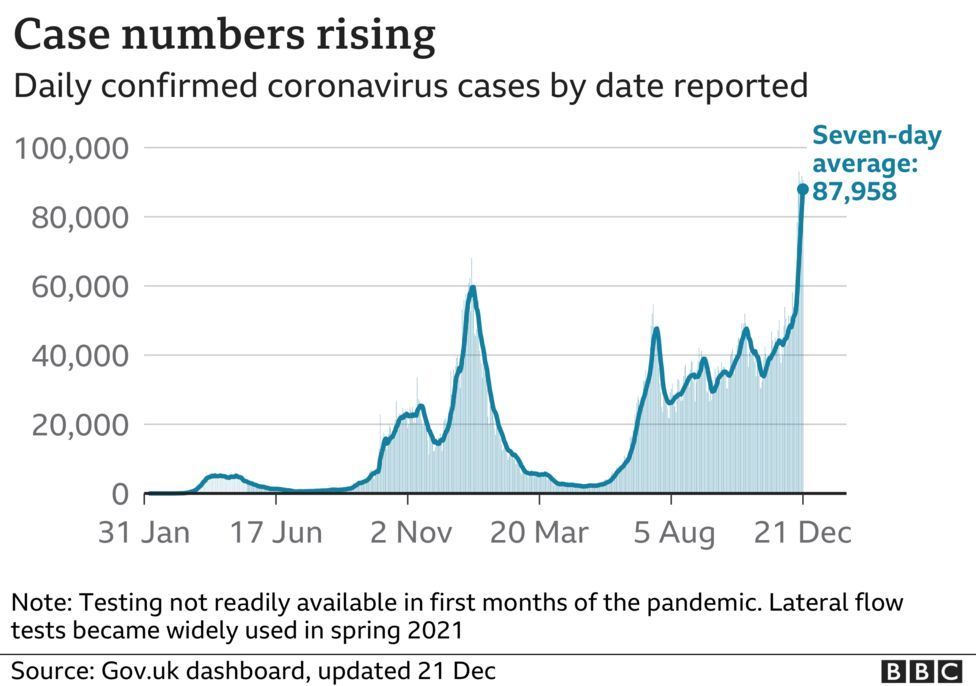 Meanwhile, the UK's devolved nations have already announced extra measures to combat the surge of the Omicron variant:

*  In Scotland, from Boxing Day all outdoor events will be limited to just 500 people and the numbers at indoor events will also be cut to 200 if seated and 100 if standing. The rules will be in place for at least three weeks

*  In Wales, spectators will be banned from all sports events from 26 December, nightclubs will close from 27 December and social distancing will return in shops and workplaces after Christmas

*  In Northern Ireland, there is a limit of 30 on people mixing from different households in homes, face coverings are compulsory in shops and other venues and a Covid passport is needed to enter nightclubs, bars and cinemas

Last week, Mr Johnson advised people to "think carefully before you go" out to socialise. England's chief medical officer Prof Chris Whitty also urged people not to "mix with people you don't have to".
Watch Rishi Sunak discuss the government's stance on any potential Covid restrictions this Christmas