Burberry unveils its latest nature-loving campaign and a new pop-up shop experience. 
Did you know Thomas Burberry invented gabardine? The tough, tightly woven fabric is now a staple for the fashion house, used in everything from coats to trousers. Now, the brand is debuting a new twist on the classic textile, a lightweight gabardine crafted in the UK using compact twill.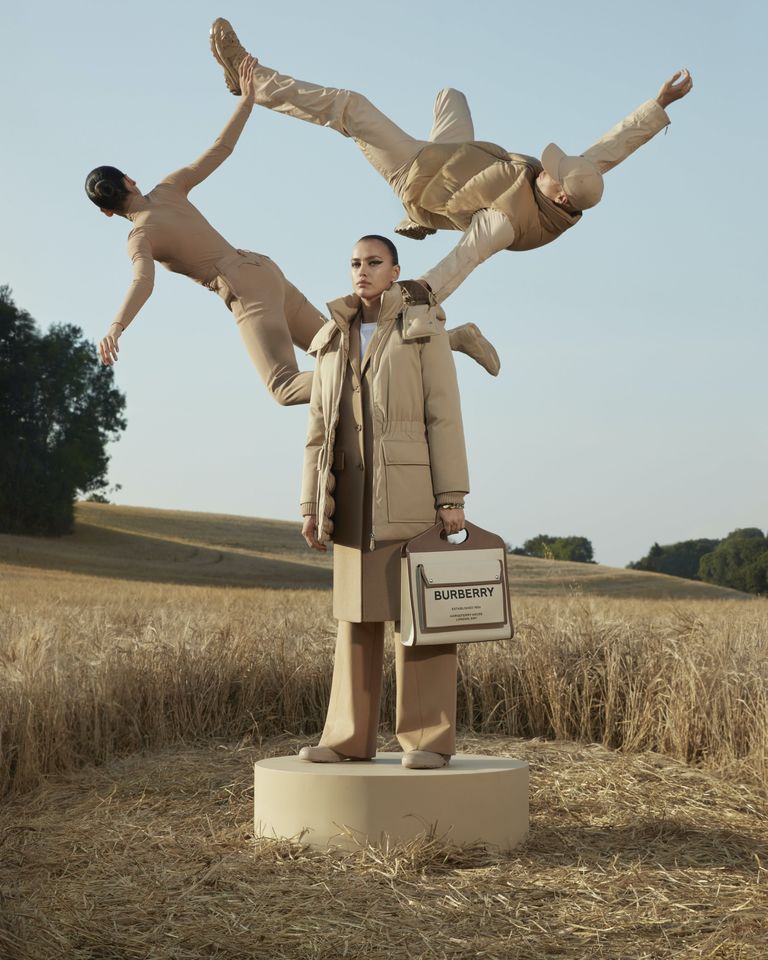 The fabric is used to fashion quilted coats and puffer jackets in its latest installment of its outerwear campaign, Open Spaces. Working with photographer Danko Steiner, Burberry styled models Irina Shayk, Nic Minwoo, Miles Gardner, and Niclas Baker on plinths in the English countryside.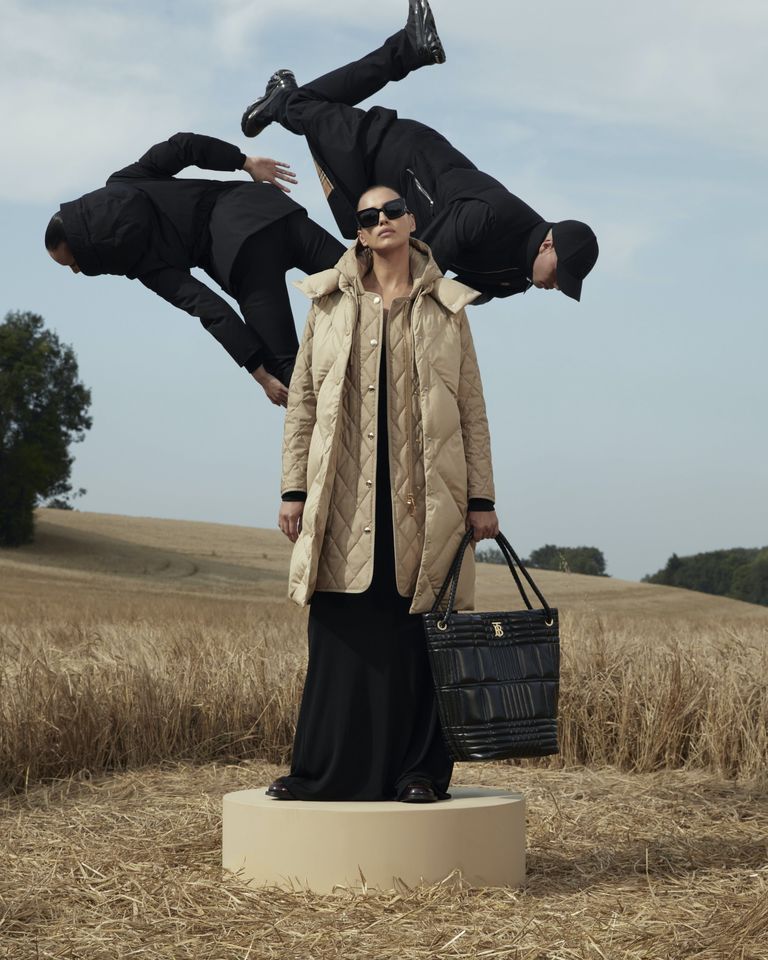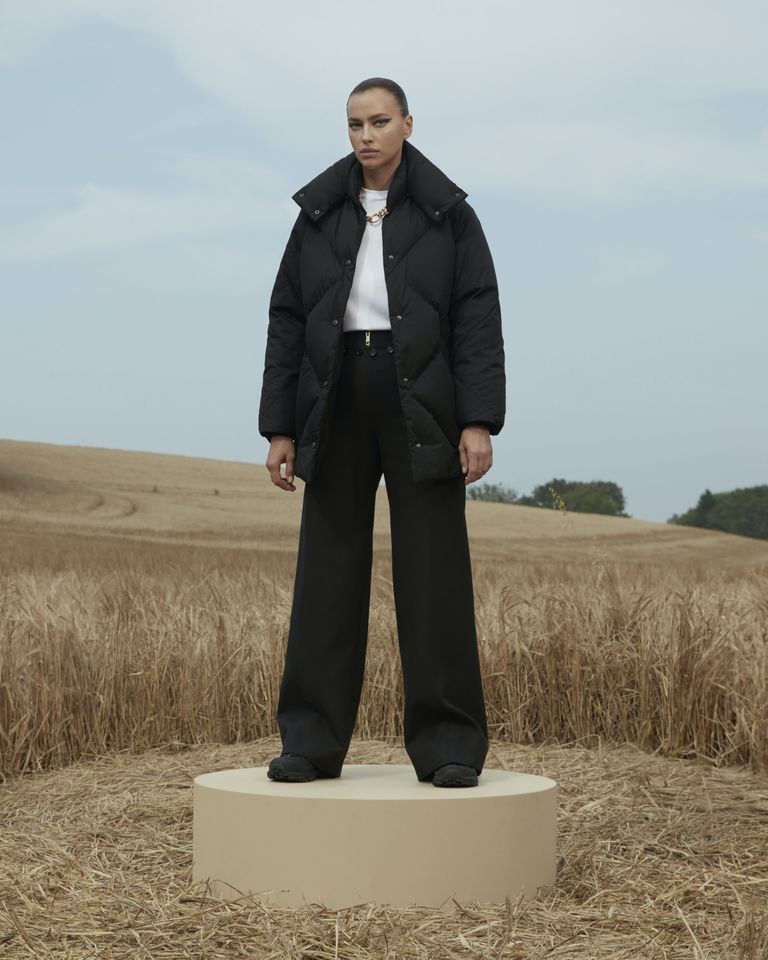 To celebrate the release of this year's outerwear collection, Burberry launches a series of pop-up spaces, called Imagined Landscapes. They can be found at Burberry's locations on Spring Street in New York, Rodeo Drive in Los Angeles, Michigan Avenue in Chicago, and its Troy, Michigan shop, along with Neiman Marcus Beverly Hills. Topographic, mirrored sculptures are set against photos of the English countryside, bringing natural landscapes to city shoppers. Those who visit will be able to unlock additional branded experiences online by scanning in-store QR codes.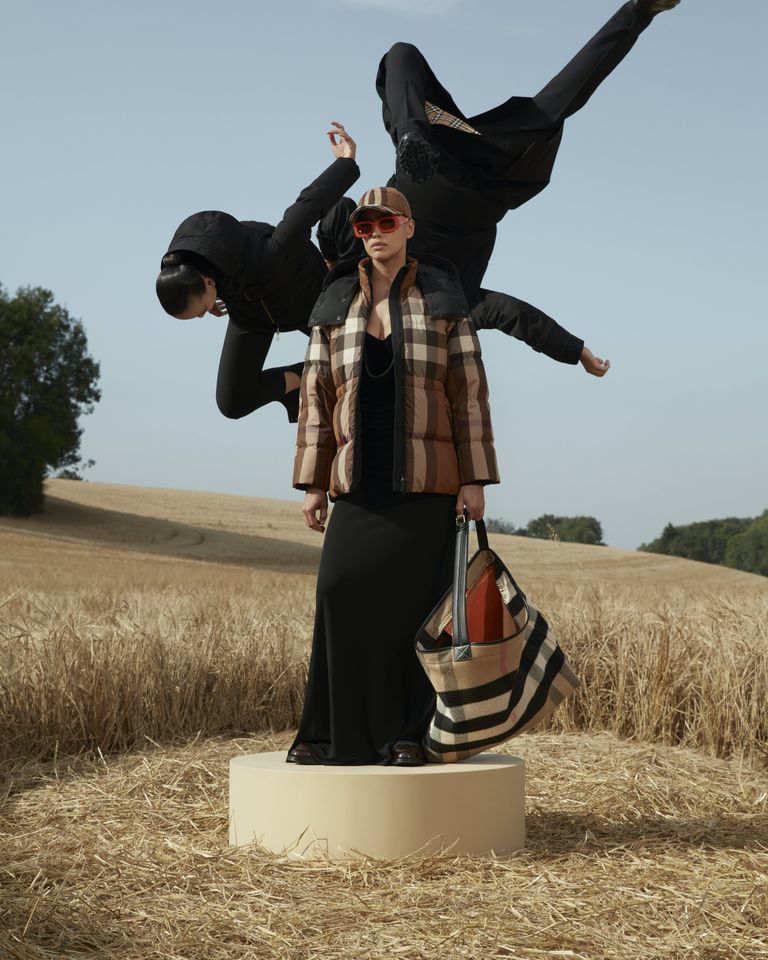 The space highlights both men's and women's offerings. For the former, Burberry remakes its relaxed-fit trench coat in tumbled tropical gabardine and complemented it with its checked pattern for the lining and undercollar. The puffer coat, in black nylon, comes with a cozy hood and an appliquéd logo. The black, padded parka is fashioned in the trademark gabardine and given a contemporary, oversized fit. The cotton gabardine puffer is set to retail in both black and honey.

For women, Burberry offers its gabardine trench coats in black and honey, accented with signature check lining. The coat comes with a drawcord waist, detachable hood, and rib-knit cuffs. The brand's quilted styles include a gabardine gilet, check nylon puffer, and a corduroy-collared barn jacket. For puffers, honey is the color of the season.