The best designer belts will elevate any outfit
The best designer belts are a statement accessory that can help pull a whole outfit together. From timeless classics to trend-led iterations, these are pieces you can keep for a lifetime.

Offering an instant style injection to any look, the best designer belts can easily become part of your capsule wardrobe and whether you like a belt for style or for practical fit reasons, the top designer iterations add extra polish to your look. Usually cheaper than buying one of the best designer bags, they're what is termed as a 'great entry point' to a brand, as even if you can't afford the best designer heels, a belt can be a more realistic item to aspire and still gives a fashion-forward finish to your outfit.

Often underestimated, a belt can transform an ensemble. Over-achieving way beyond the traditional functions of holding your trousers or skirts in place, they can be used to help balance and alter proportions making otherwise shapeless outfits seriously flattering or simply adding greater detail. Their potential is huge, which is one of the reasons why so many people are investing in designer belts as they offer added luxe and style. When it comes to the fashion trends 2022, logo belts are having a moment, offering a subtle way to wear branded pieces - although it almost goes without saying that the bigger the motif, the more eye-catching the belt will be.


Best designer belts: What to consider before purchasing

Fabric: Fabric is important to the longevity of your belt, as you want it to age well. With designer belts, quality fabrics typically come as standard, and most are made from leather which will only become softer and more detailed with continued wear. Of course, not everyone will feel comfortable wearing leather, making synthetic options a great alternative.

Color: The more neutral your belt, the more opportunity you'll have to wear it. Black and tan are always the most popular choices, as they have the benefit of coordinating with any look, however, a bold colored belt will play into the fashion color trends 2022 and offer some mood-boosting brightness in the form of 'dopamine dressing'. A brighter color might date quicker but is also ideal for teaming with black to give your outfit a lift.

Shape: Which shape of belt will work hardest in your wardrobe depends a lot on your style. But, as a general rule, anything that can be worn on the waist or hips, and is narrow enough to be worn with jeans, will offer the most possibilities for wear. You might also want to consider your own body type as a wide waist belt can be a handy styling tool to draw attention to hourglass body shapes.

Size: Belts are not one-size-fits-all, and come in a variety of different lengths. It's not as straightforward as browsing by dress size, so you may need to measure your waist to get an idea of the best fit. The size you choose will also depend on where you intend to wear your belt. For example, you'll want to go smaller or larger depending on whether you plan to wear it around your waist or hips. It is possible to have new holes added to fabric and leather belts if your shape fluctuates over time, but belts with metal straps or clasps are trickier to alter.


1. Gucci Leather Marmont Belt
Best Gucci belt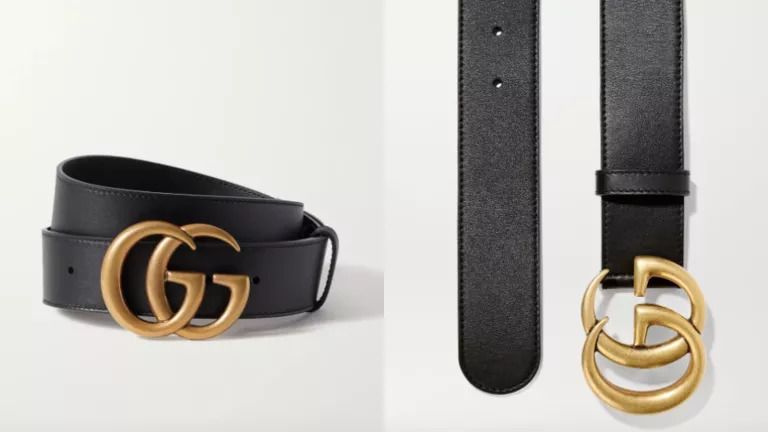 Italian clothing brand Gucci is well known for its accessories. Leaders when it comes to the handbag trends 2022, the best Gucci bags are some of the best handbags on the market and are often spotted on front row fashionistas at fashion shows all over the world. The brand's best-selling belt 'The Marmont' (named like the bag), utilizes the iconic "GG" logo at the central fastening. With an abundance of replicas at straight-to-market brands, you can give the illusion of the famed Gucci belt without splashing the cash, but those in the know can spot a real Marmont with ease. The Gucci Marmont belt uses buttery soft leather and Italian craftsmanship and is available in a number of widths and colorways, ensuring the belt can be worn on the hips or waist. Particularly good when styled with any of the best jeans for women you can also use it to nip in your waist over any of the best dresses.

2. Isabel Marant Zap Embellished Leather Belt
Best casual belt
Known for its bohemian feel, French clothing brand, Isabel Marant manages to offer a belt that feels both luxury and laidback all at once. The smooth leather is peppered with silver-toned studs and red and white beads in the tan version, replaced by blue and pink beads in the black version. A summer-ready design, you could style this over anything from the best midi dresses in floaty floral to stone-washed jeans, floral blouses, and suede ankle boots.

The size range shouldn't be notable, but it is not always common for a designer brand to cater up to a US size 16, although it's of course a shame they don't go further.

3. Alaïa Leather-Trimmed Stretch-Webbing Waist Belt
Best wide belt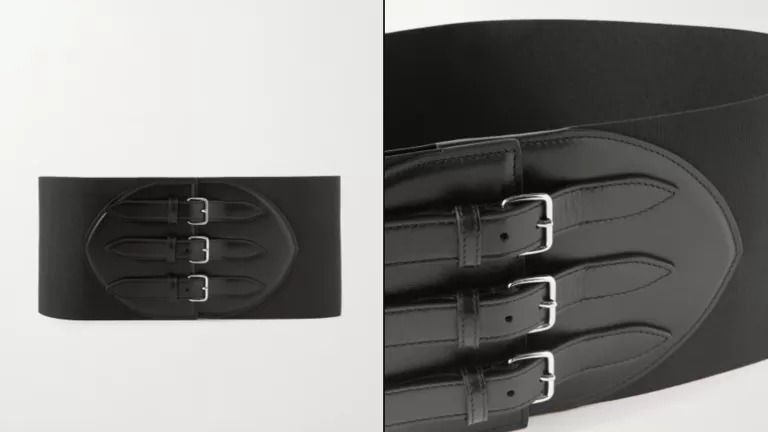 Originally founded by sculptor Azzedine Alaïa, the eponymous brand has always focused on accentuating and celebrating the female form. Its wide waist belts have become something of a cult favorite, used to highlight the waist and give dresses a fresh update. Acting like some of the best shapewear, it's ideal for creating or spotlighting hourglass figures, this design also works well for pear-shaped bodies who want to draw attention to their midriff. This style features stretch webbing to the main body to give a fitted finish, with a statement leather front panel and three silver-toned buckles on the front. With a burlesque aesthetic, wear this belt over more voluminous items, to help maintain your silhouette, it's an ideal pairing for how to wear oversized shirts. This style of belt goes in an out of fashion, so you may be able to find non-designer iterations that are more budget-friendly, depending on current fashion tastes. As it is designed to be worn on the waist, keep this in mind when selecting a size.

4. Loewe Obi Leather Belt
Best Obi Belt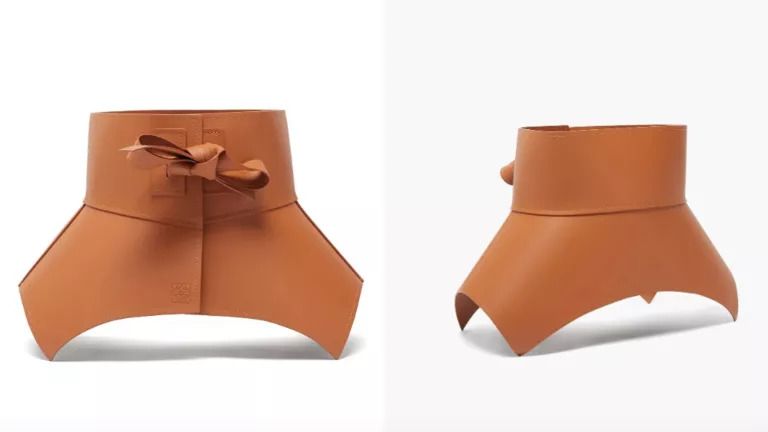 Sculpted, structural and seriously statement, the Loewe Obi Leather Belt is a real scene-stealer. Featuring the kind of puzzle-piece craftsmanship that Creative Director JW Anderson is known for, it beautifully smooths the waist and accentuates the hips. Crafted from leather, the peplum shape holds itself well and is secured with a bow in the same fabric at the back. Letting the design grab attention rather than the logo, the only nod to the label is a small embossed emblem at the back.

An absolute work of art, it's important to let the belt take center stage. Team with one of the best shirt dresses in white, as it will really pop against the tan. Alternatively, wear over a tulle maxi skirt and tucked-in white blouse for an elegant but directional look.

5. Balenciaga BB Croc-Effect Leather Belt
Best leather belt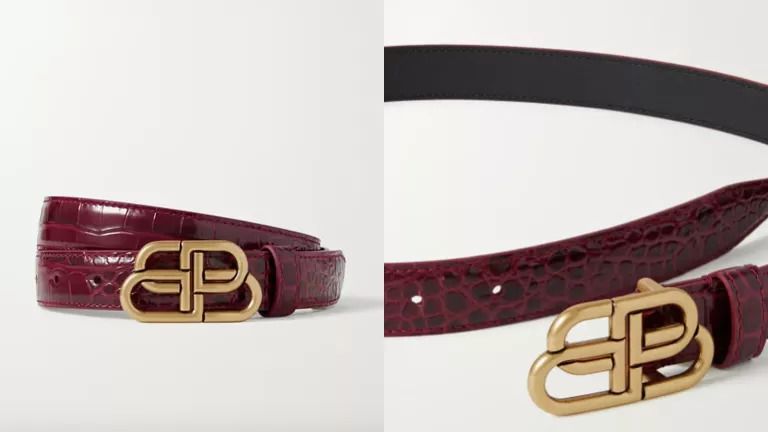 Who said the best designer belts had to come exclusively in black and tan leather? Balenciaga's BB Croc-Effect Leather Belt is re-writing the rule book when it comes to color, with the design available in emerald green or burgundy. Although they wouldn't be considered neutral, both shades are incredibly versatile, thanks to their darker hue. The narrow width allows this belt to be weaved through trouser loops or worn with dresses. A slim waist belt design is ideal for slipping on to mom jeans or other high-waisted styles. A good width for an apple-body shape it doesn't draw too much attention to a midsection but does subtly draw the eye into your most slender part, creating the illusion of an hourglass silhouette. But this isn't any ordinary belt, just like the Gucci Marmont, logo detailing plays an important role in making this piece stand out from the crowd. The interlocking BB logo is the main focus, making sure all eyes are on your new buy.

6. Jacquemus Leather Belt and Card Holder
Best black belt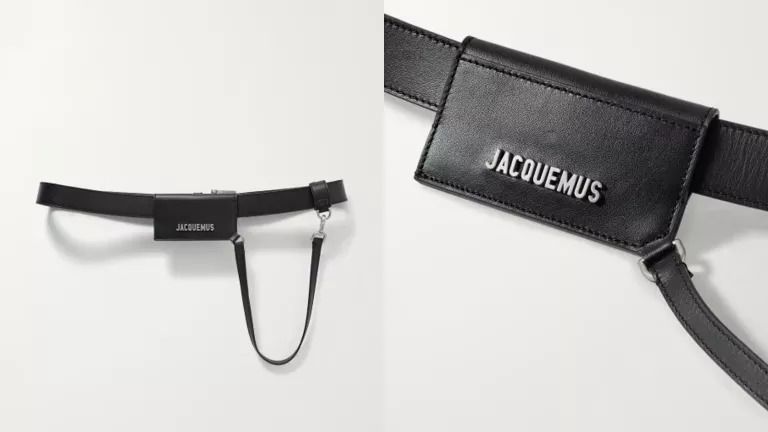 Part belt, part best designer card holder, Jacquemus is not known for doing anything by halves. Already sparking a micro bag trend, the French fashion house is continuing to try and make us carry less with this nifty belt that features a cardholder too. With an almost utilitarian feel, the belt is ideal for keeping your cards on you at all times and certainly more stylish than a nostalgic bumbag or fanny pack. The card holder is also detachable, for those days you just want a classic, go-with-everything belt too, although, as this has the logo embellished on it, it's unlikely you'll want to leave it at home.

7. Celine Small Triomphe Belt in Smooth Calfskin Velvet Red
Best slim belt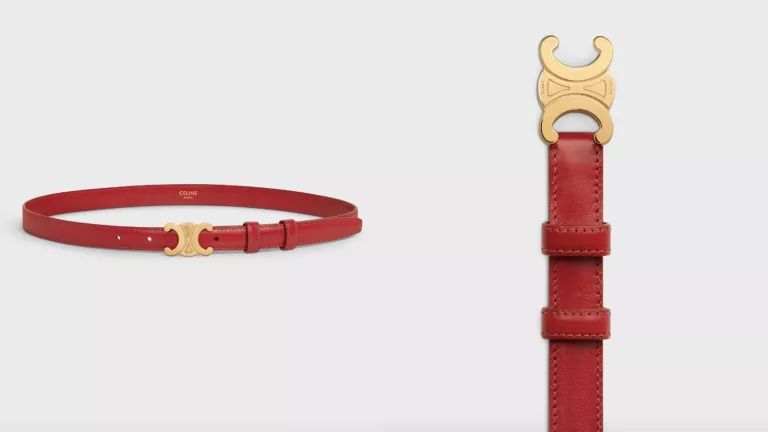 When it comes to investing in designer goods, buying a belt is a great way to dip your toe into shopping with a brand you like without breaking the bank. This particular belt features the same Triomphe logo that can be found on the bag of the same name. So if a Celine tote is out of reach, this really is the next best thing. It's chic and understated, with a narrow width that makes it incredibly versatile. The beautiful calfskin leather is impossibly smooth, with the feeling it will only look, and feel better, the more you wear it. If red feels too bold, plump for neutral black or tan instead - although we suggest rocking the red with your best skinny jeans in dark indigo and a Breton top for a classic summer look.


8. Loewe Anagram-Buckle Leather Belt
Best tan belt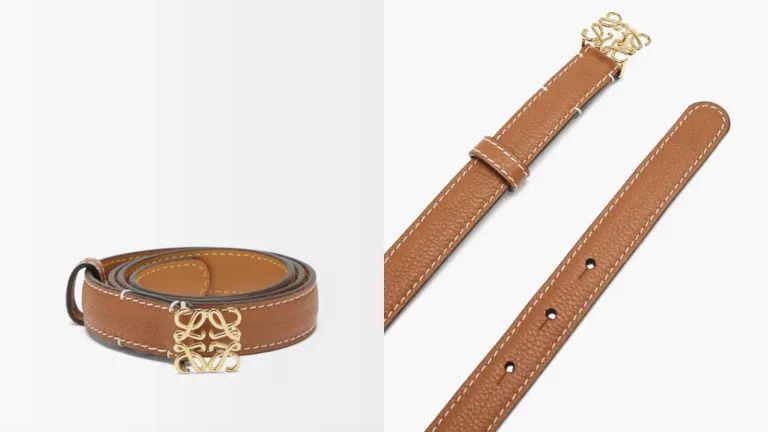 It's the second time a Loewe belt has graced this list, and for good reason. The Anagram-Buckle belt is a beauty, featuring the brand's intricate, swirling motif front and center in gold. Already decorating one of Loewe's best beach bags, the logo will be instantly recognizable to anyone who knows their fashion brands. The bulk of the belt is made from a grained calfskin that's deliciously textured and given a laidback feel with contrast white stitching across the edges. Tan offers a more relaxed, and summery mood, and works beautifully with the gold buckle. Less harsh than black, it's also a good neutral alternative and if you wear a lot of black, opting for a tan belt is a smart move, as it will create contrast in your outfit. Team with everything from tailored trousers and jeans to boho-inspired summer dresses.


9. Fendi FF Suede Buckle Belt
Best suede belt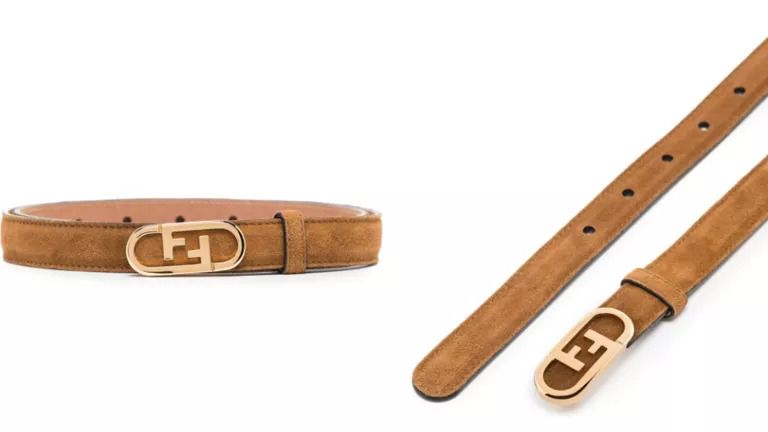 One of the leaders of the monogram trend, Fendi has championed its logo as a central part of its accessory designs for over 50 years, being introduced in 1965. The iconic FF is recognized the world over, so if you choose to invest in this belt, you're buying into a part of fashion history. If you're not sure where you've seen the FF logo before, if you've ever wanted to learn how to dress like Carrie Bradshaw, and binged on Sex and the City, the style TV character is well known for having a Fendi Baguette bag tucked under her arm, which features the FF design as its central clasp.

Here it is in gold, sitting proud in the center of the belt to complement and contrast with the camel-toned fabric. Opting for suede, rather than smooth leather, gives the belt a more laidback, bohemian feel, as well as making it feel more daytime appropriate. For a luxury look, wear with other textured fabrics such as wool and linen.


10. Saint Laurent Monogram Textured-Leather Belt
Best belt for jeans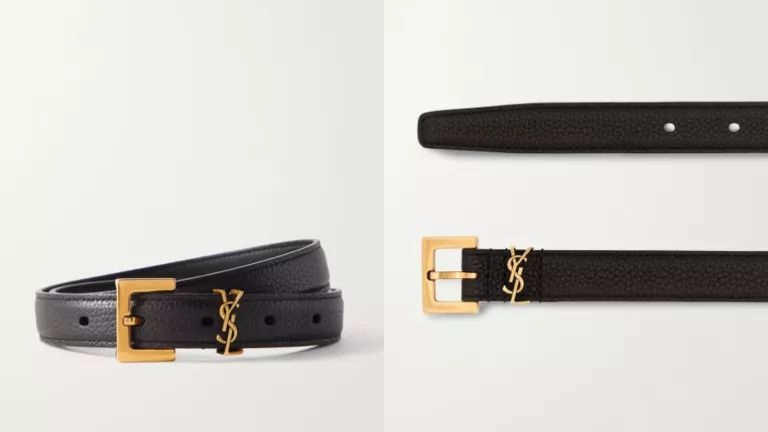 Saint Laurent always adds a touch of class to everything they do and this belt design is no different. While the brand opted to largely drop the Yves several years ago, the Y remains part of the brand's heritage logo and the YSL metal embellishment adorns everything from clutch bags to sandals and a host of other accessories. This designer belt has universal appeal. In a timeless black and gold combo, you can dress it up or down and will elevate the simplest of outfits in a flash. A stylish piece of hardware, instead of being the largest part of the design, the motif sits next to the buckle. Made in Italy from black textured leather with gold hardware, this belt will co-ordinate seamlessly with black and indigo denim, and stand out on light wash and white jeans outfits.


11. Bottega Veneta Grasp Leather Belt
Best bright belt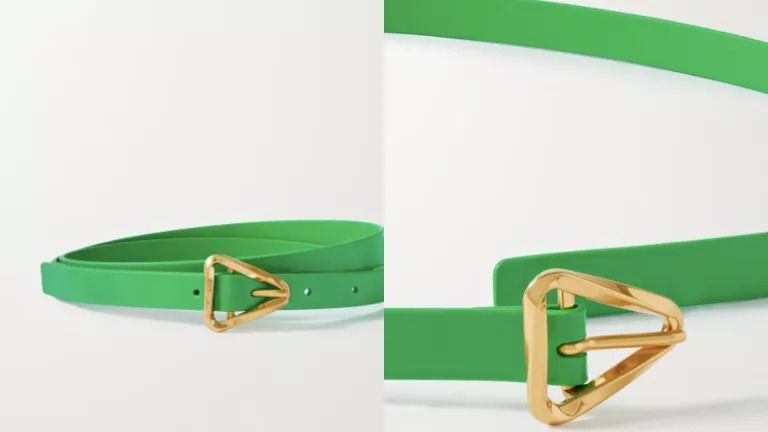 If you wear a lot of darker colors, adding vibrancy through accessories is a great way of creating contrast and injecting personality into a look. Bottega Veneta's Grasp Leather Belt in vibrant apple green is the ideal candidate for adding some zing to your wardrobe essentials. While this is a bold look, the color perfectly complements the gold hardware, drawing the eye to the center, making it a good choice if you want to create an hourglass silhouette.

A very subtle logo, the triangle design is much less recognizable than many of the other brand monograms on this list, meaning, that despite the bold hue, in designer belt terms, this is actually a rather discreet style. As the price tag suggests, the belt is crafted from high-quality leather, ensuring longevity out of this buy.


12. Chanel Calfskin Belt
Best luxury belt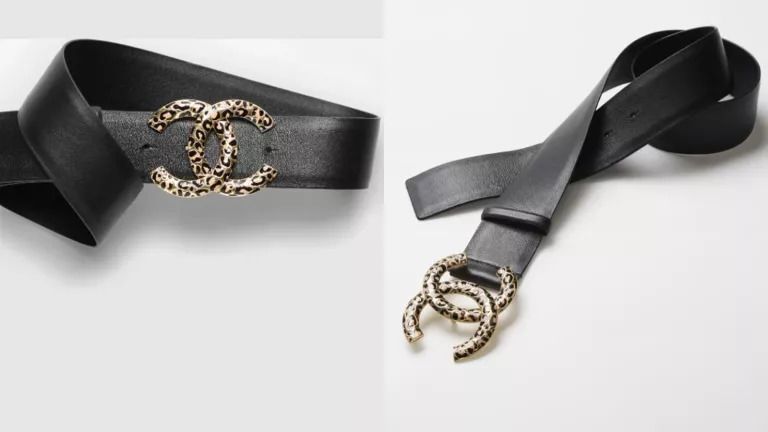 No brand does luxury quite like Chanel. If you're a fan of the best Chanel bags, then you'll love the brand's equally showstopping belts. Utterly elegant, there is no mistaking the large double C buckle that sits at the front of this belt. With an almost eye-watering price tag, a Chanel belt will still set you back less than one of the brand's 2.55 quilted bags. The French fashion house brings elegance to everything from pretty blouses to boucle jackets, and this belt is no exception. The sleek black calfskin leather frames the brand's iconic gold metal logo, which has been updated and embossed with resin leopard print detail. It's a classic with a twist and one that is guaranteed to steal focus in your wardrobe for years to come. If the belt is still out of reach, check out Chanel's best designer sunglasses which cost around £400.