A stunning Mykonos property named after the mythological Greek idea of immortal paradise — Elysium.
It takes a certain amount of confidence to name a property "Elysium," the mythological Greek idea of immortal paradise. One step inside this expansive mansion on the island of Mykonos and there is no doubt that such confidence -- and such a title -- is warranted. This sprawling mansion covers 700 square meters (7500 square feet) on a 4000 square meter (43,000 square feet) property and includes nine bedrooms and ten bathrooms. In addition to unparalleled views of the crystal blue ocean, Elysium has two private pools, a helipad, gym, and an iPad-operated home control system.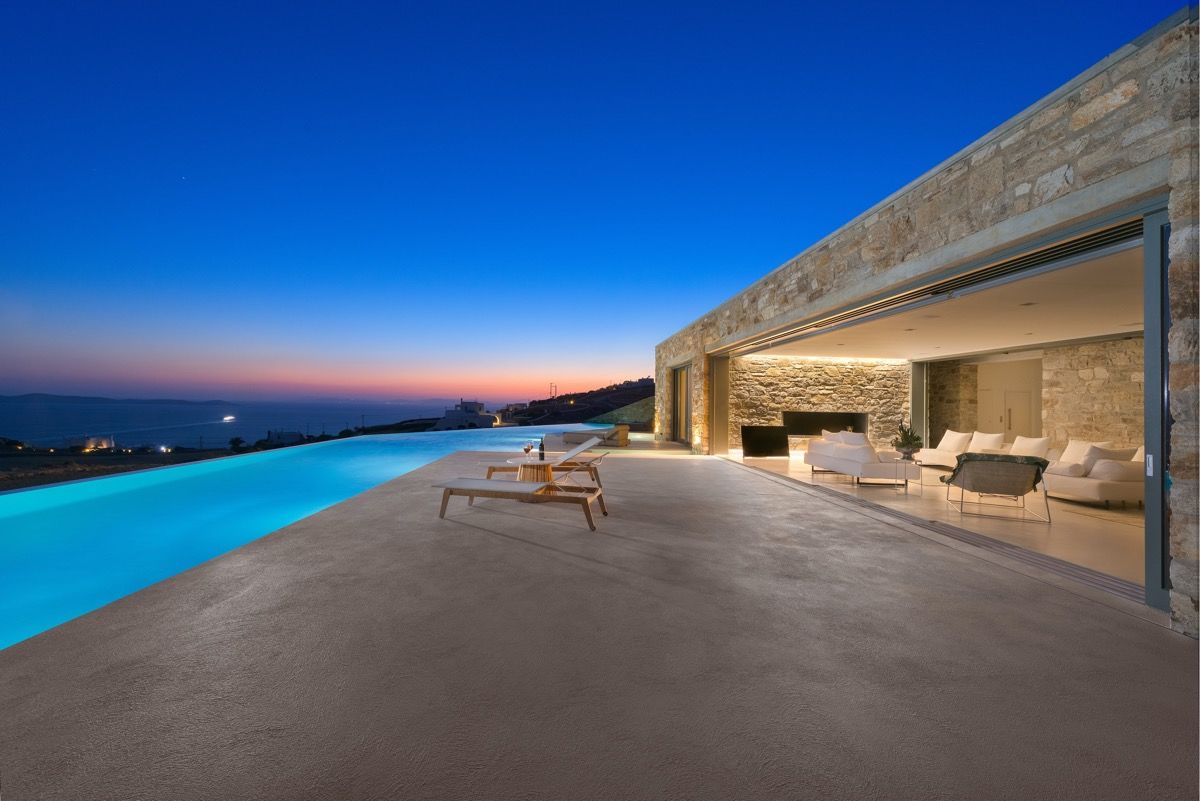 This hilltop retreat has the unique advantage of allowing its resident to see their yacht docked below.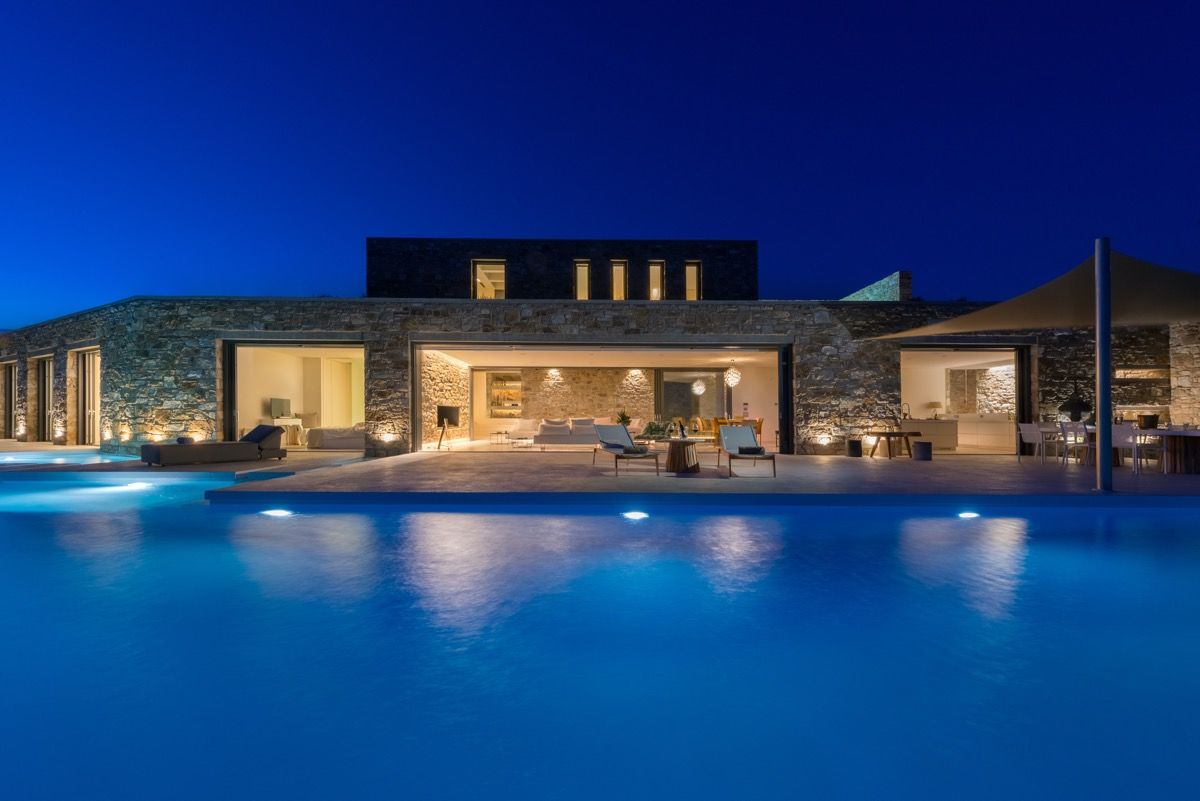 Day or night an expansive infinity pool offers the perfect relaxing oasis.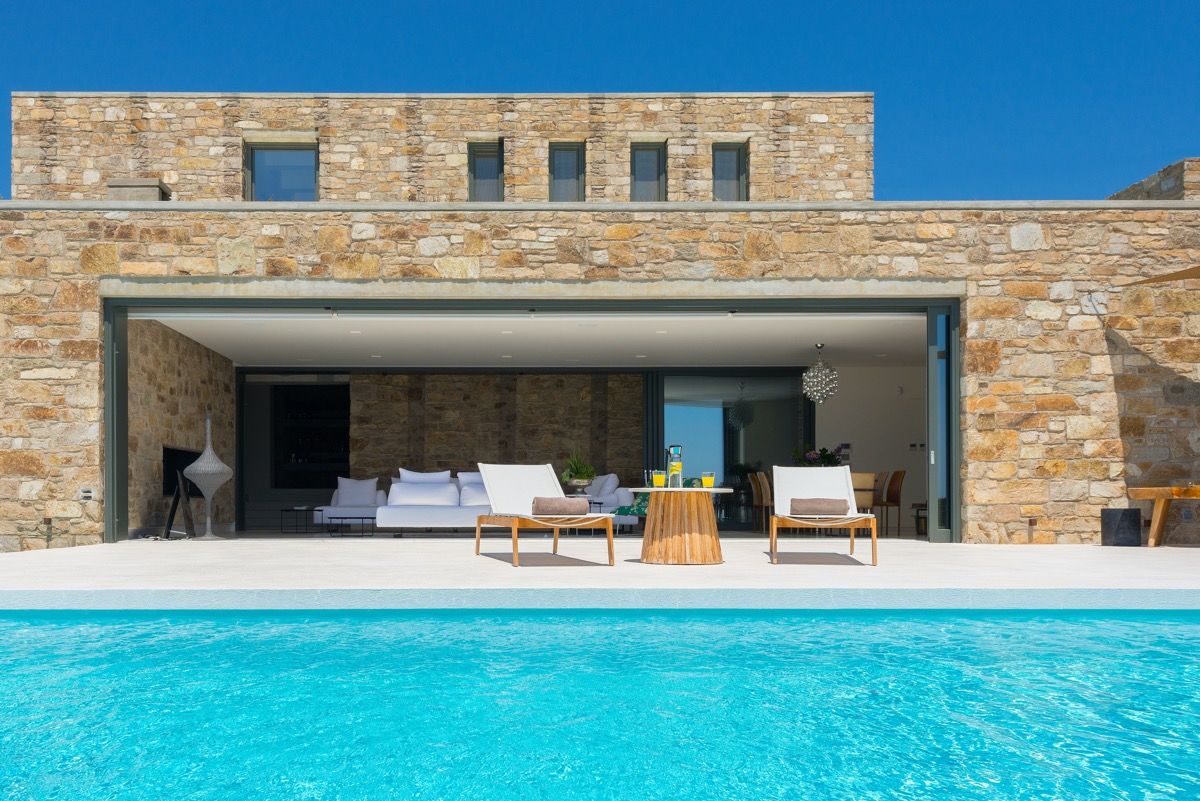 The home's design was inspired by Ancient Greek Cycladic architecture, evidenced in the materials chosen for the stunning exterior.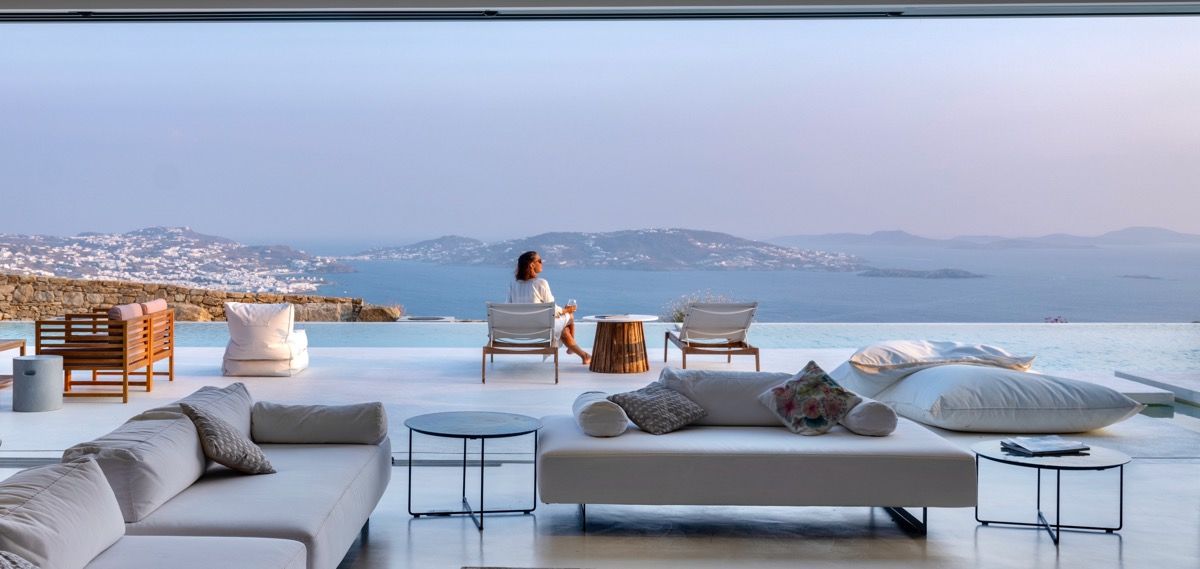 The indoor and outdoor spaces are entirely integrated.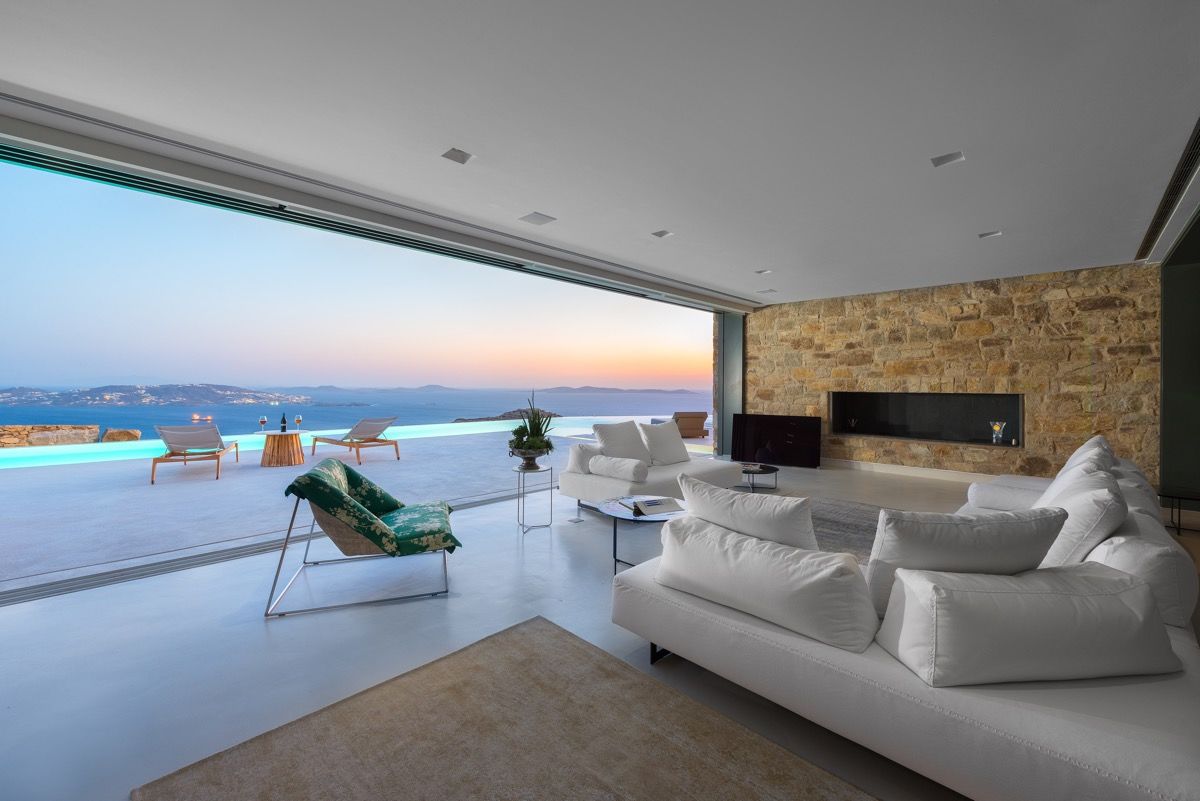 While most of the furniture consists of gleaming white, a unique accent chair provides contrast.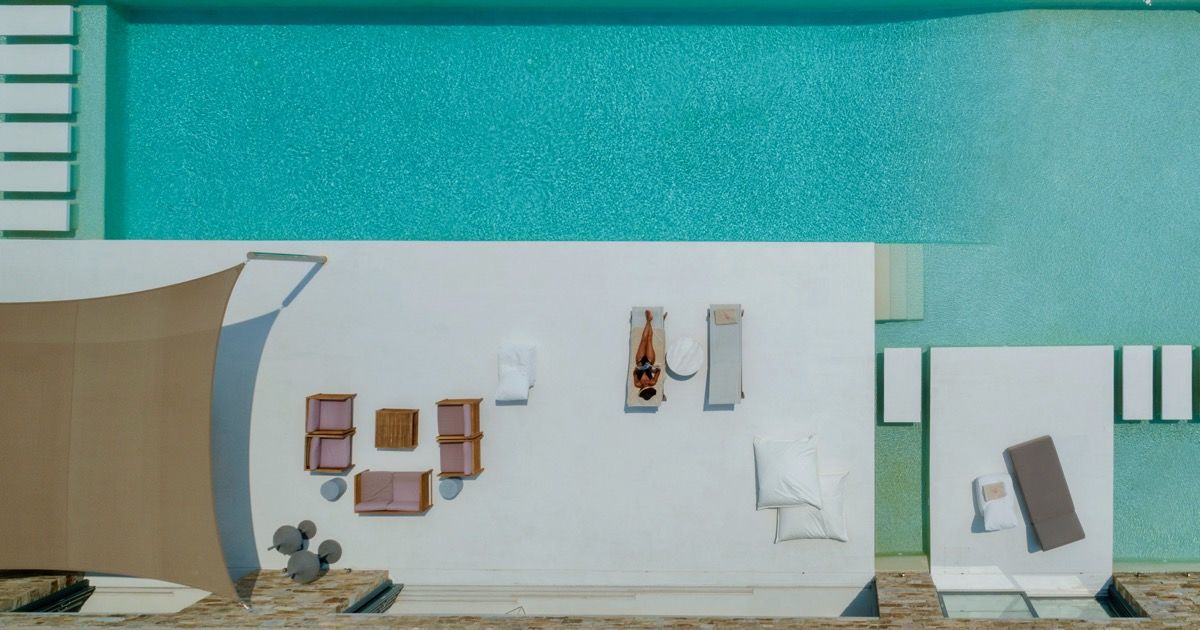 A beautiful home looks great from any angle, including from above — which is exactly the view one would have when landing on the home's helipad.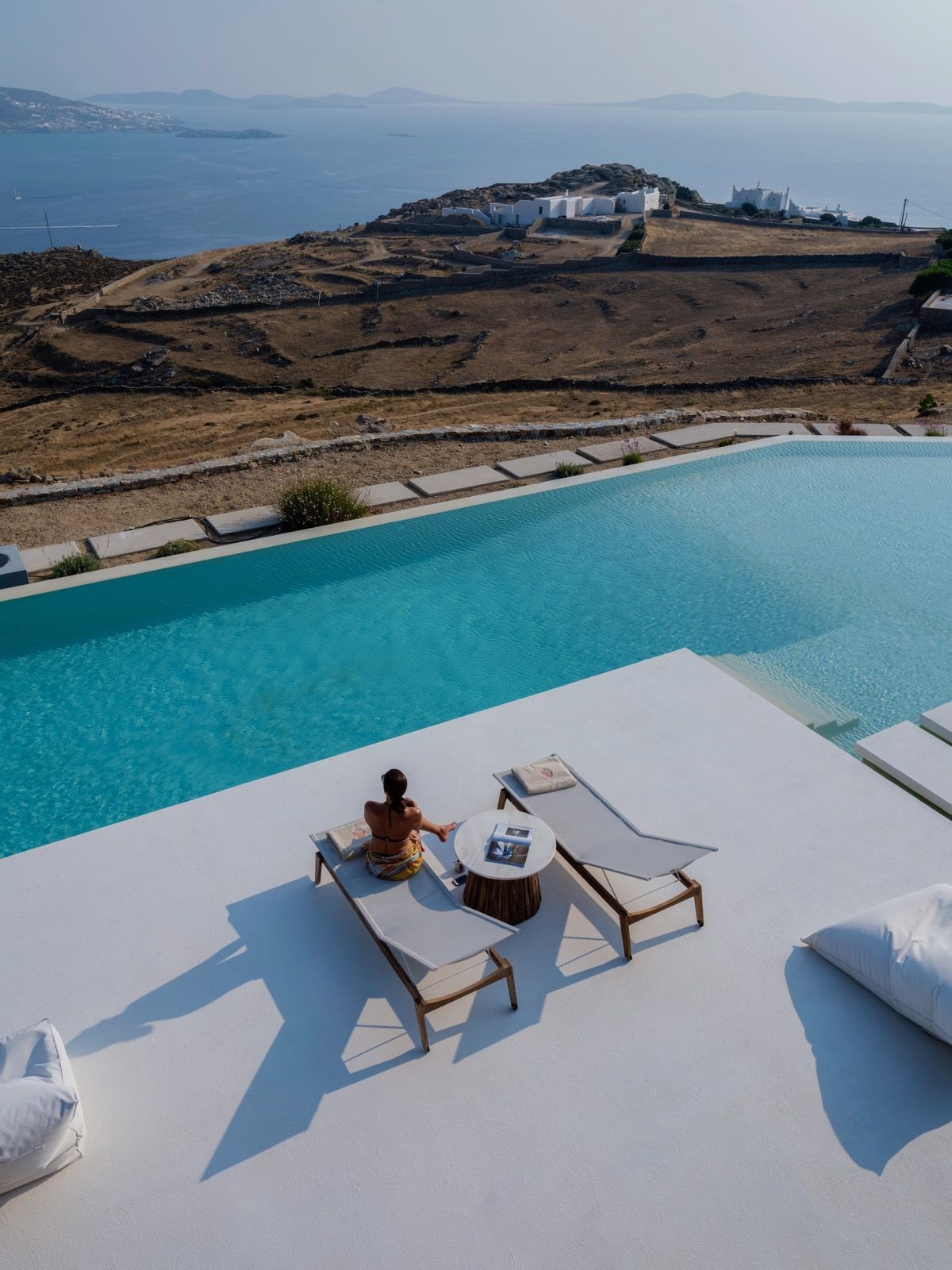 The temperate climate means al fresco dining and relaxation is possible for much of the year.
Simple stone steps take visitors stylishly from one area of the expansive terrace to another.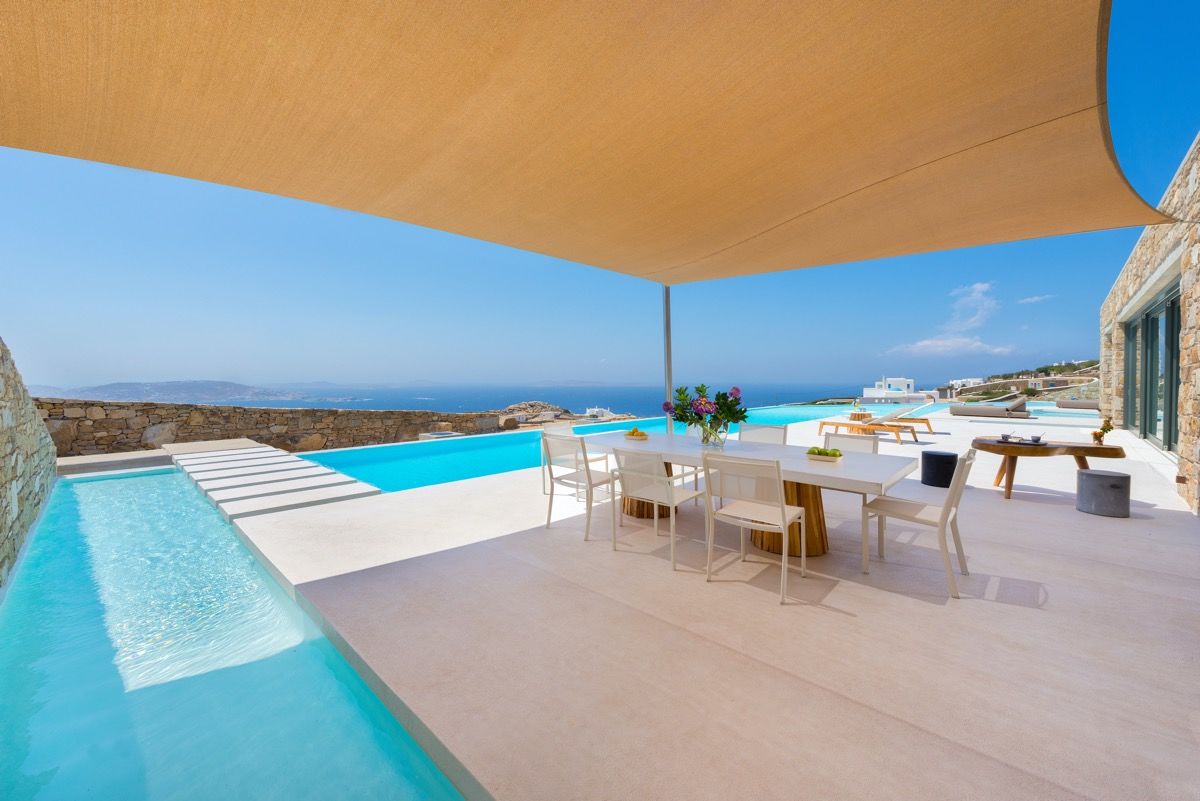 Being outdoors needn't mean being baked by the sun with a simple, modern outdoor shade.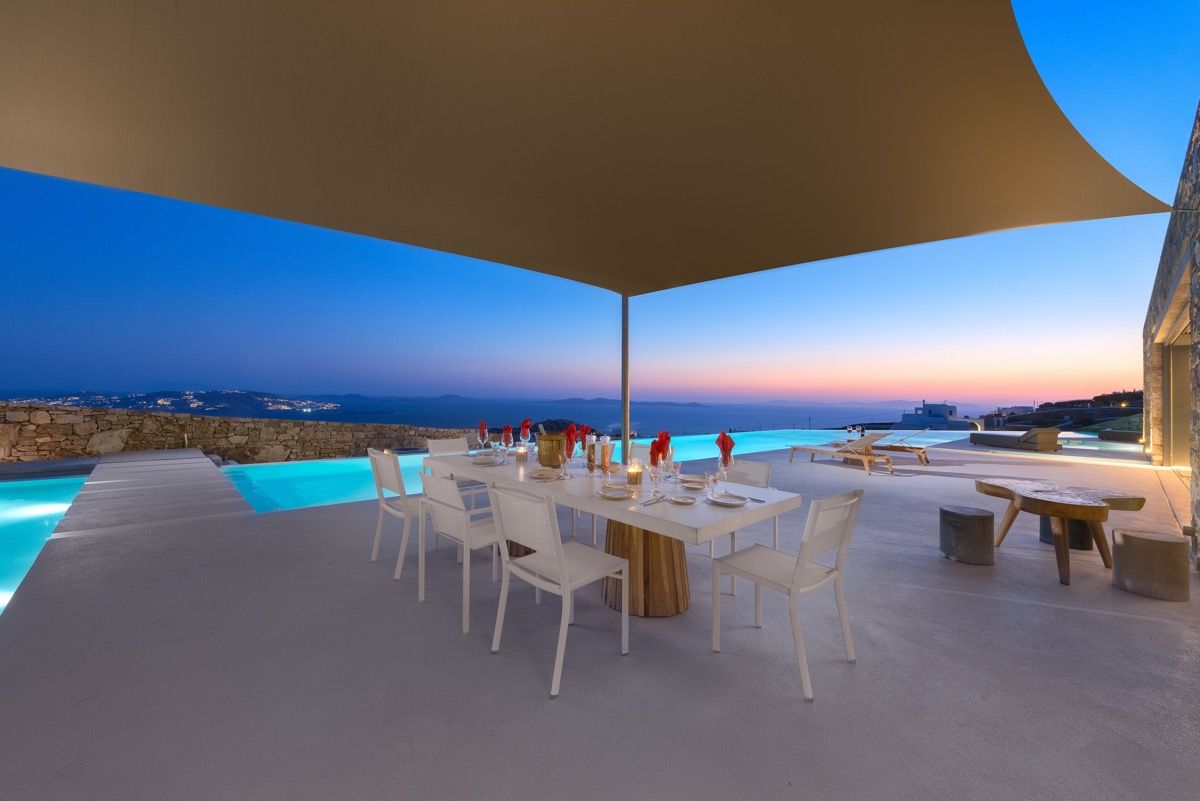 Being outdoors needn't mean being baked by the sun with a simple, modern outdoor shade.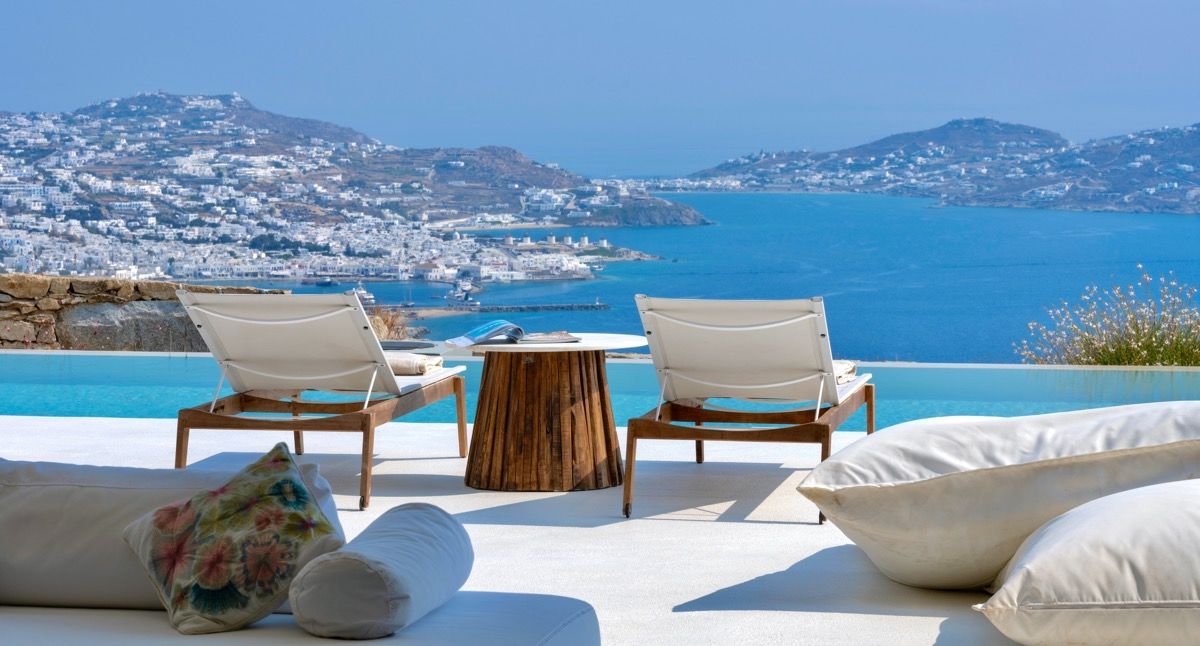 White and unadorned wood are the natural choices for much of the decor in this home.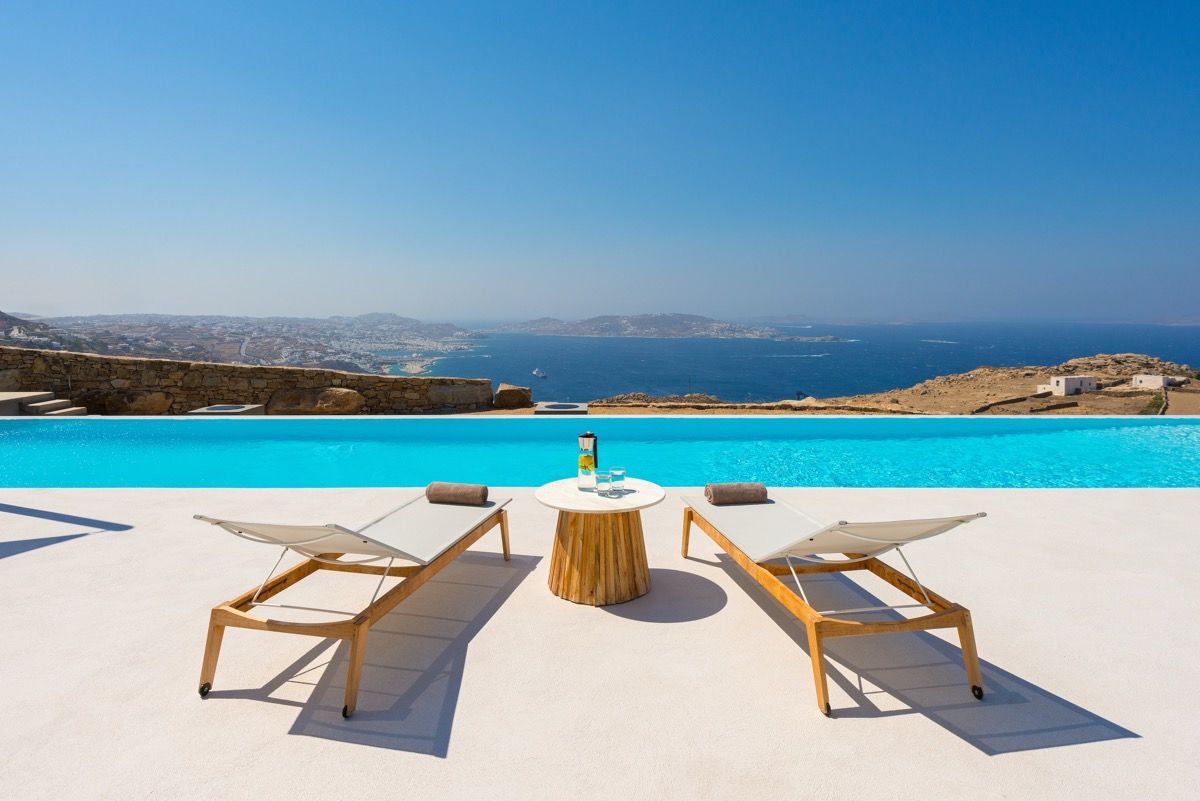 These design choices, as seen here in the outdoor chaise lounge chairs, highlight rather than detract from the surrounding natural beauty.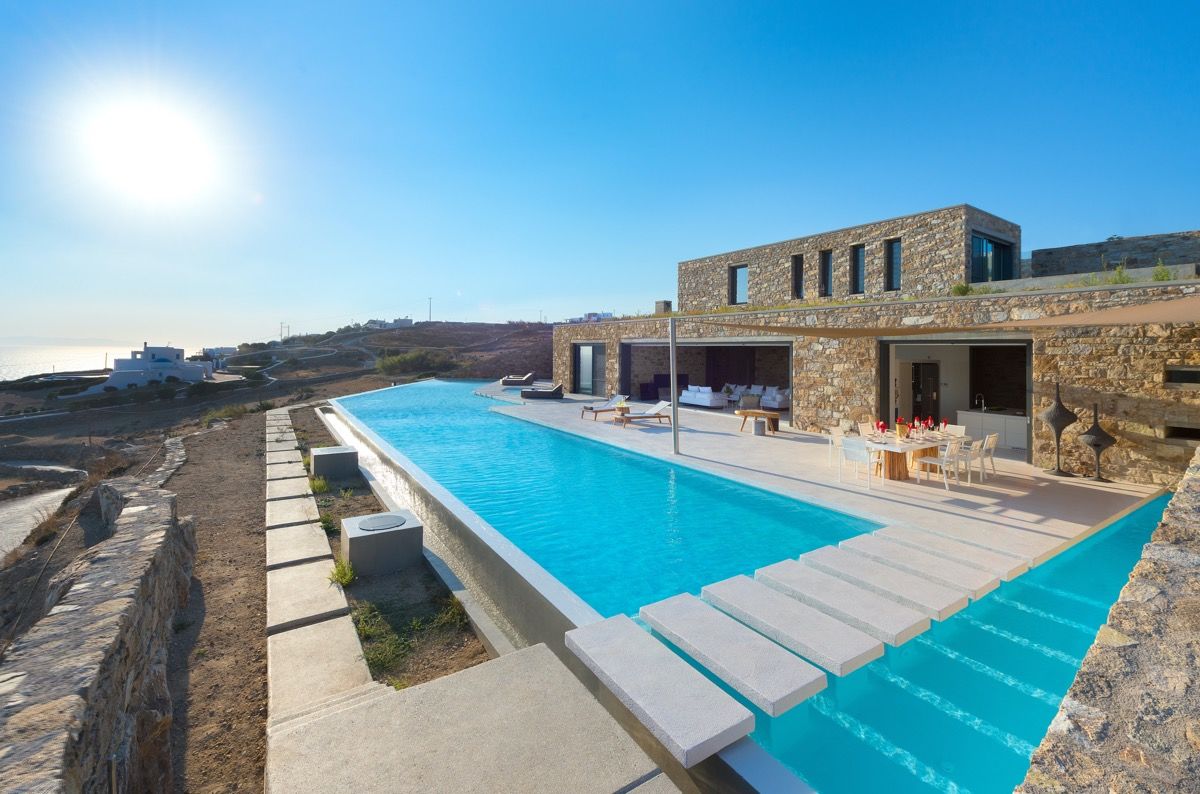 An oversized pool means every dip feels like a private one, no matter who else is also going for a swim.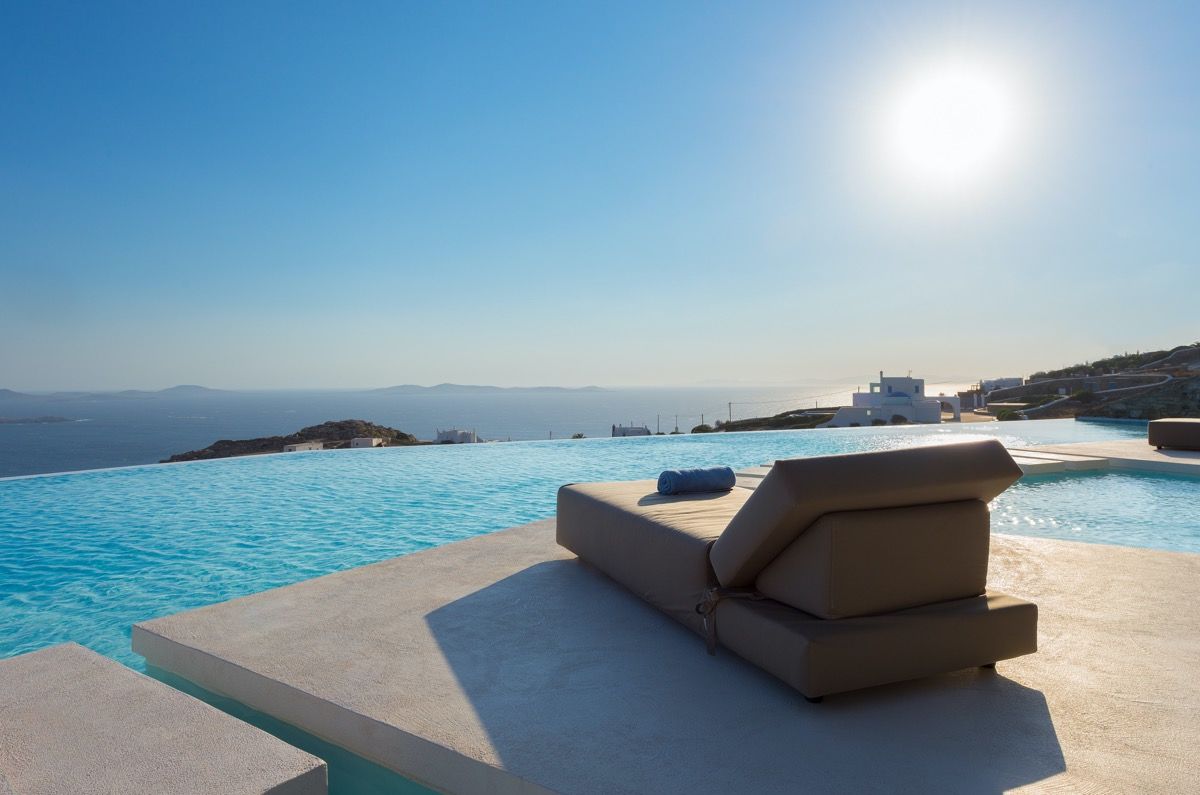 Sunbathing with ultimate privacy and a view of the sea is certainly a luxurious option.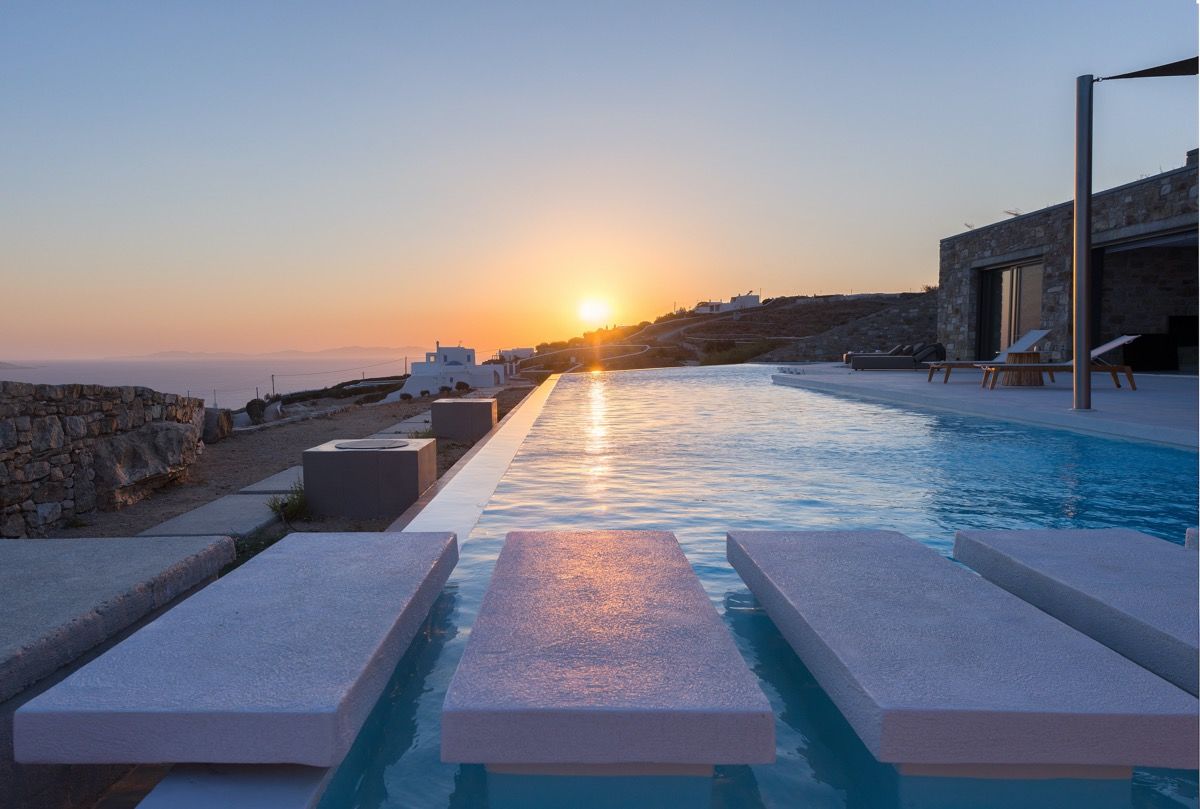 White stone slabs in the pool offer an alternative to the poolside chaises.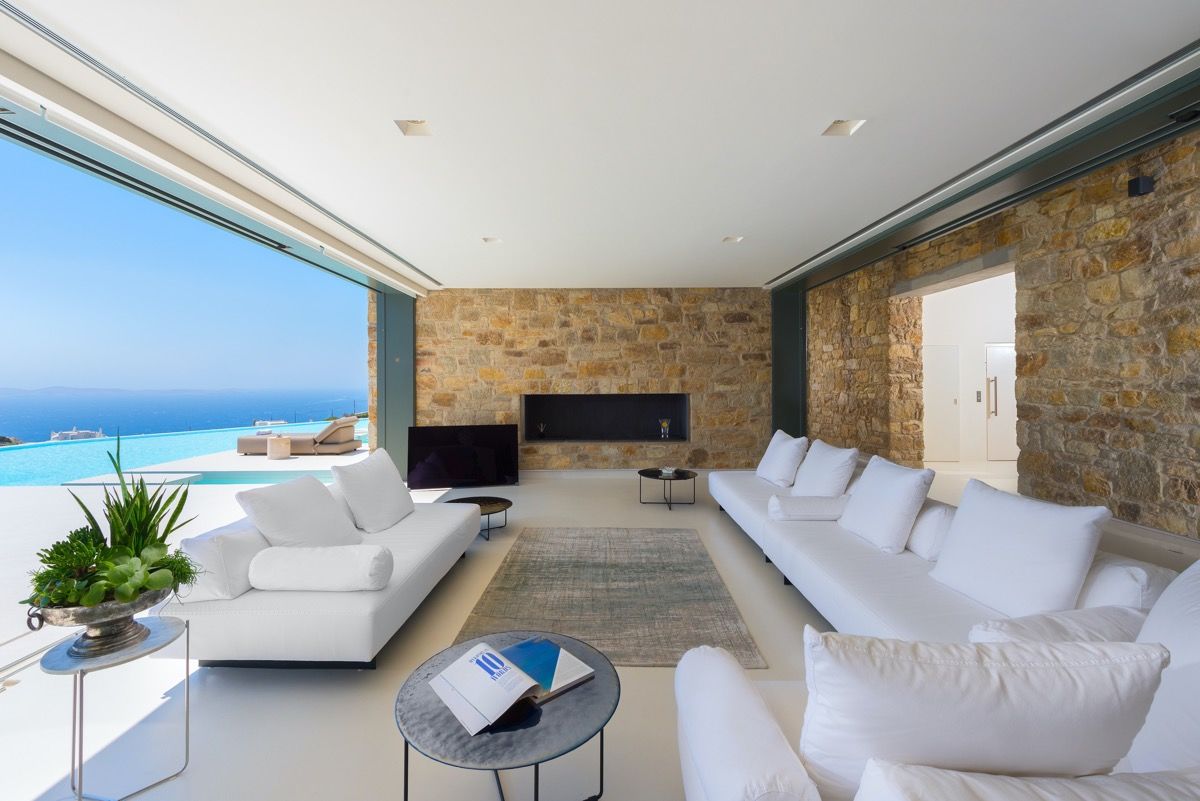 A large white sofa and complementary chairs is a natural place to retreat from the sun.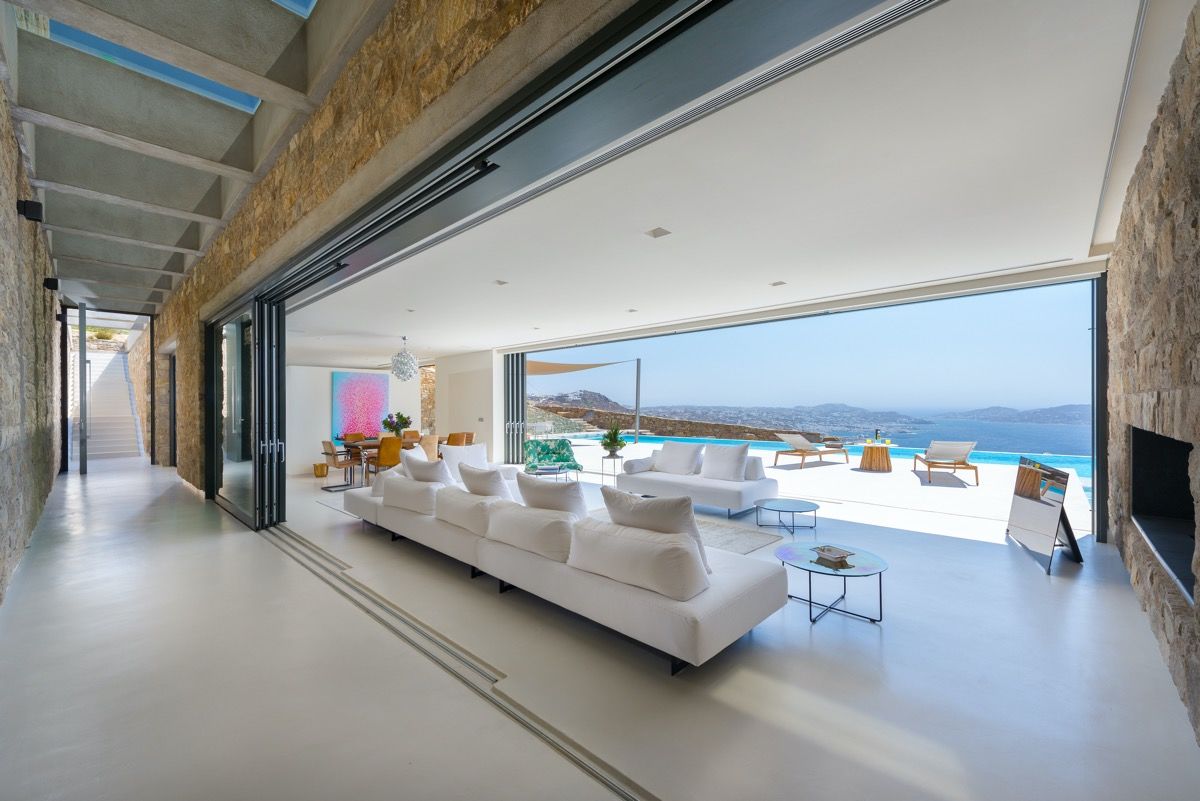 The home's luxurious living room opens directly onto the terrace for a seamless transition from indoor to outdoors.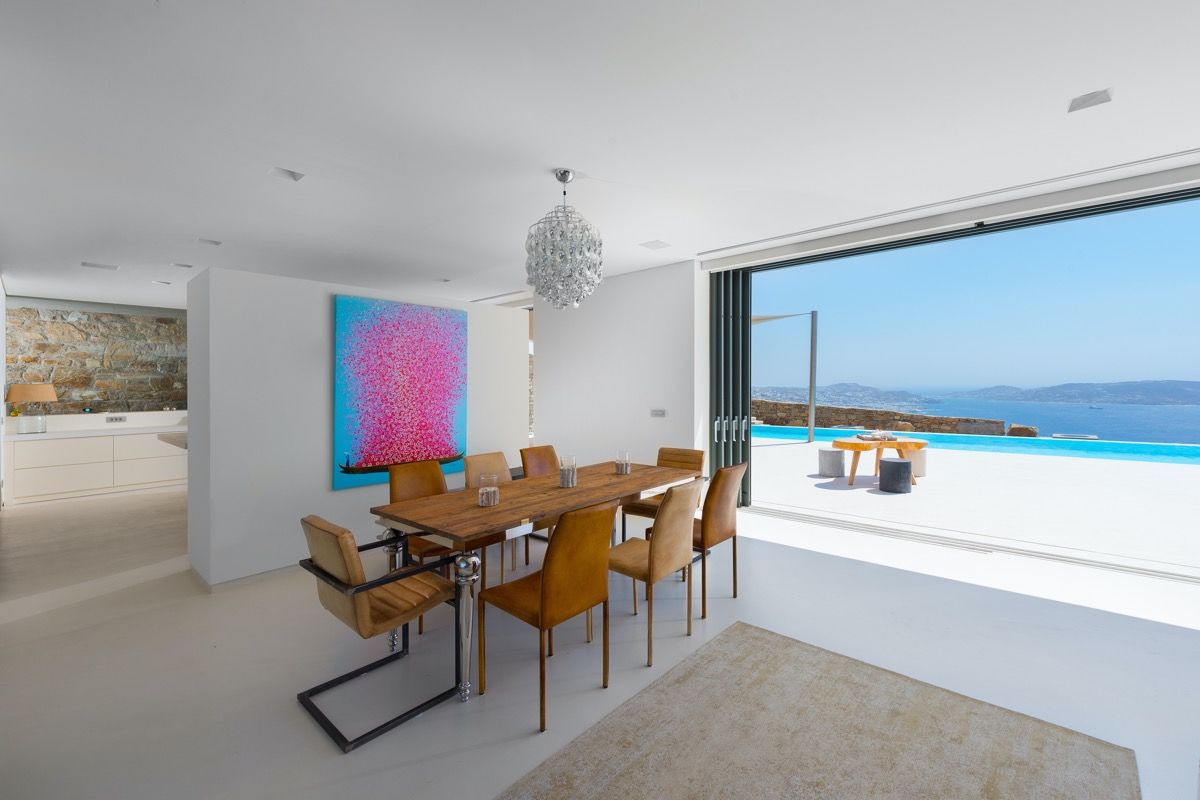 Leather is another natural choice for this type of design, with leather chairs making a warm choice for an indoor dining area.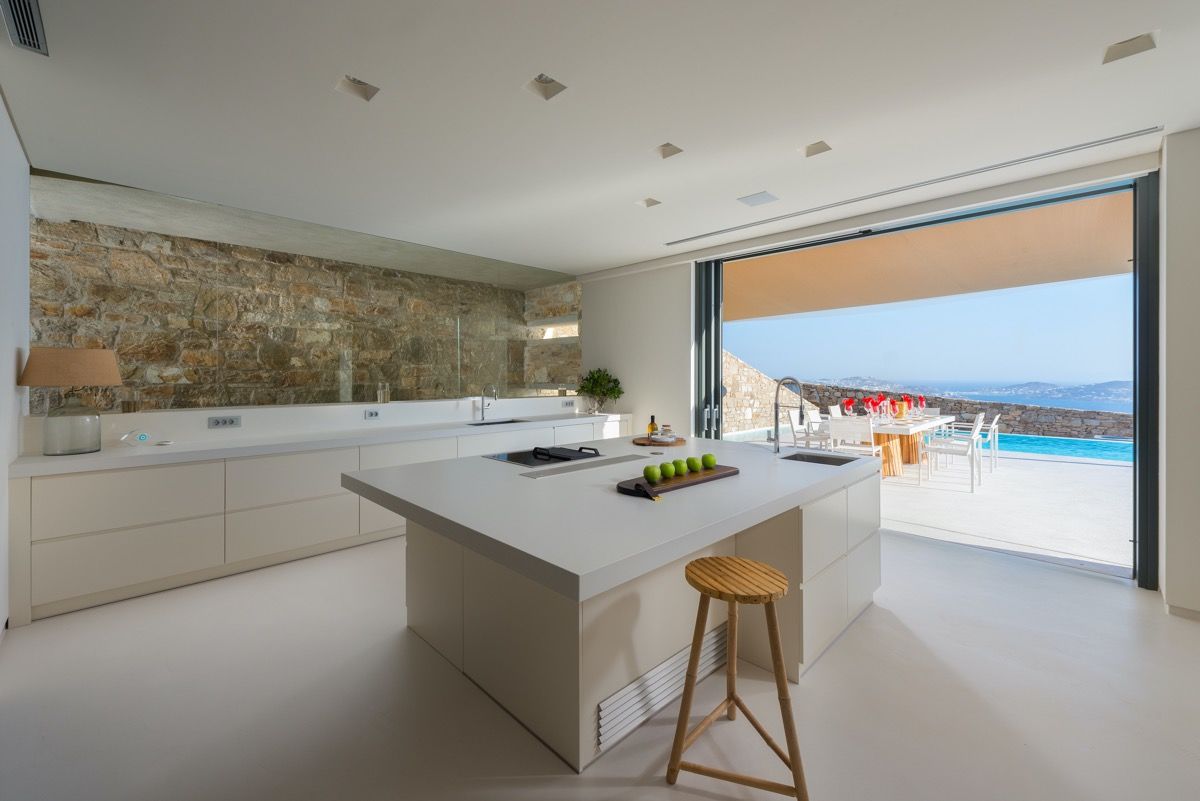 And a luxury kitchen is a must for all the entertaining that would be required of such an abode.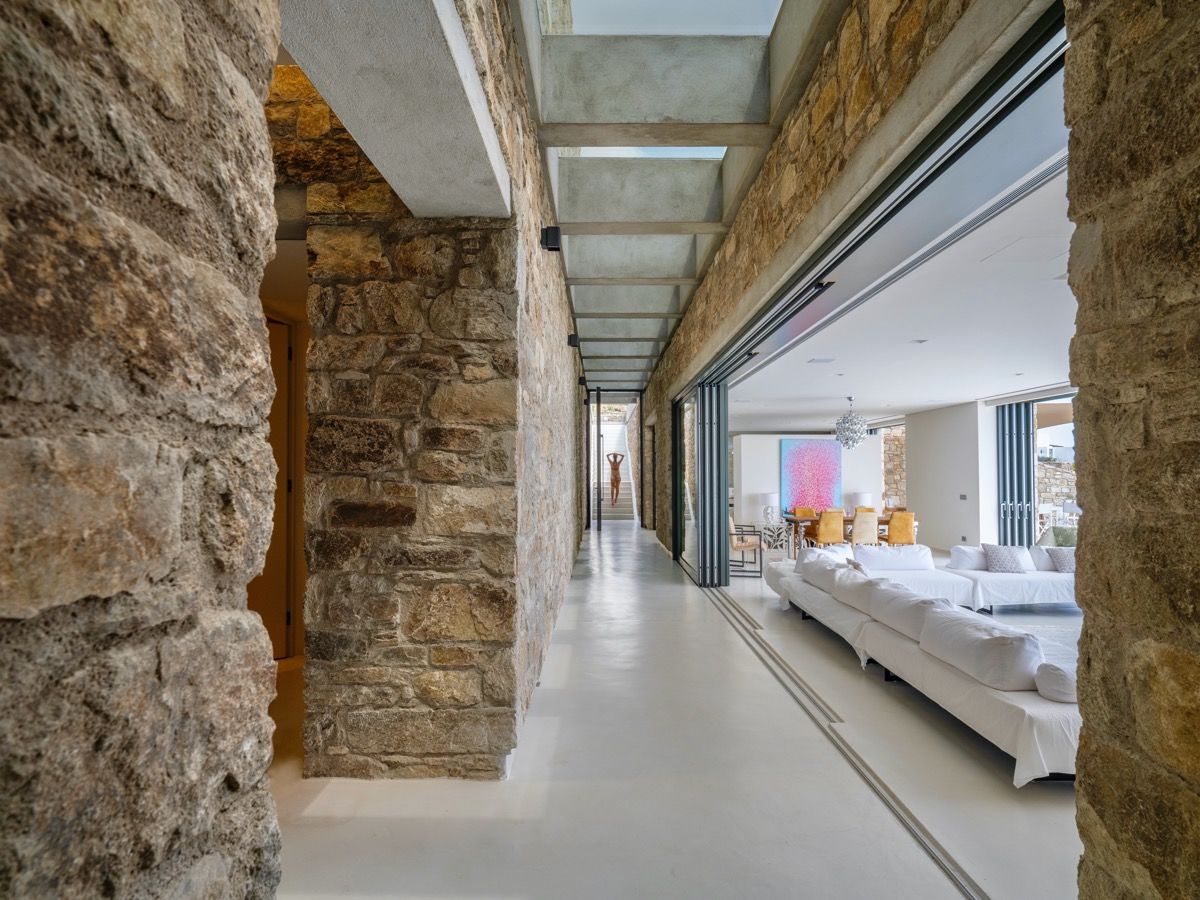 As alluded to earlier, the stone exterior does not stop outdoors and instead carries through to the interior of the house.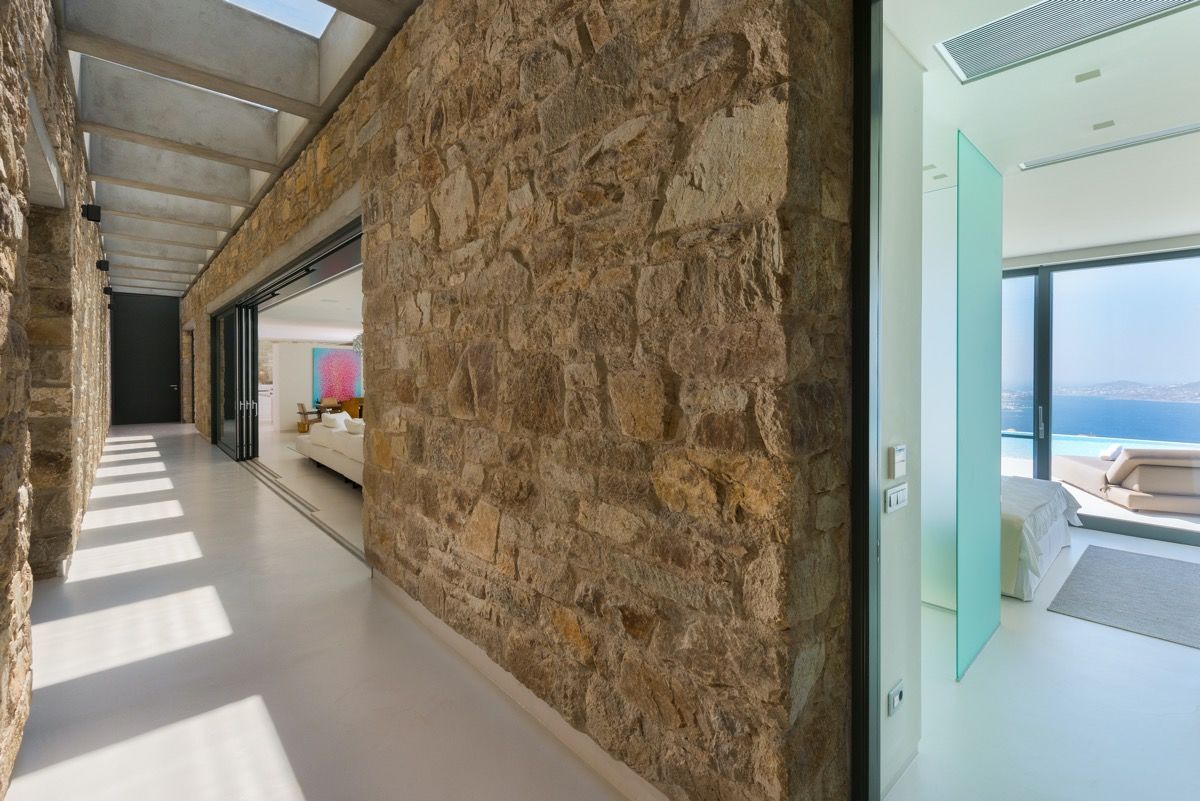 The rough stones contrast with smooth white walls in the living areas and guest rooms.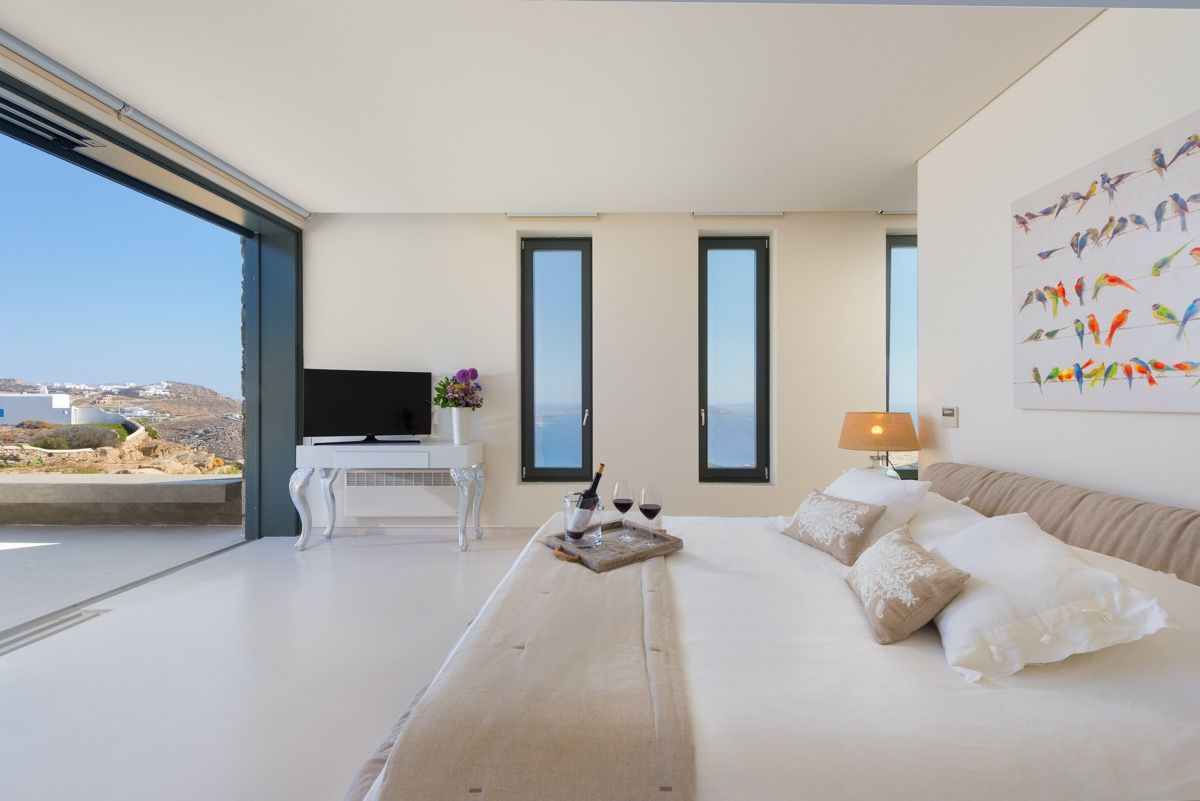 An impressive master suite looks directly out onto the terrace.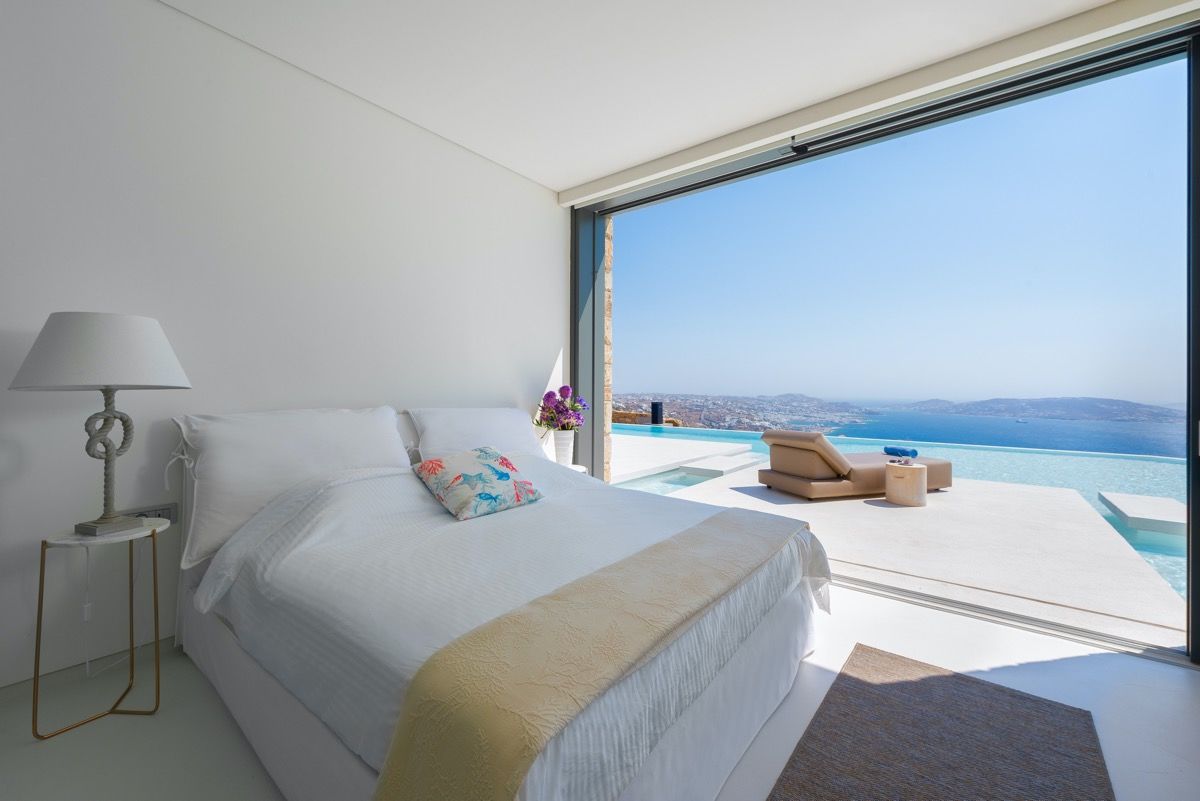 But smaller guest rooms, like this one with an upholstered bed, have their own impressive views.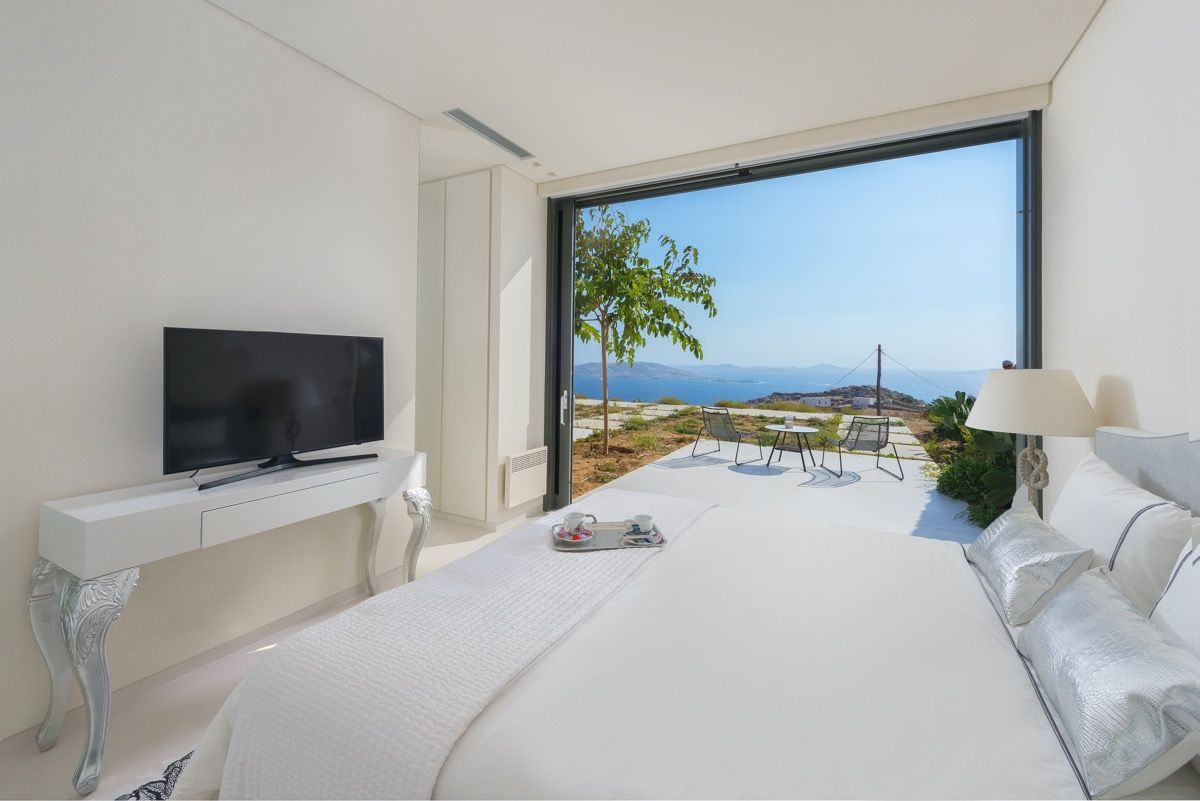 After sunset, a bit of unwinding with a flatscreen propped on a modern TV stand may be in order.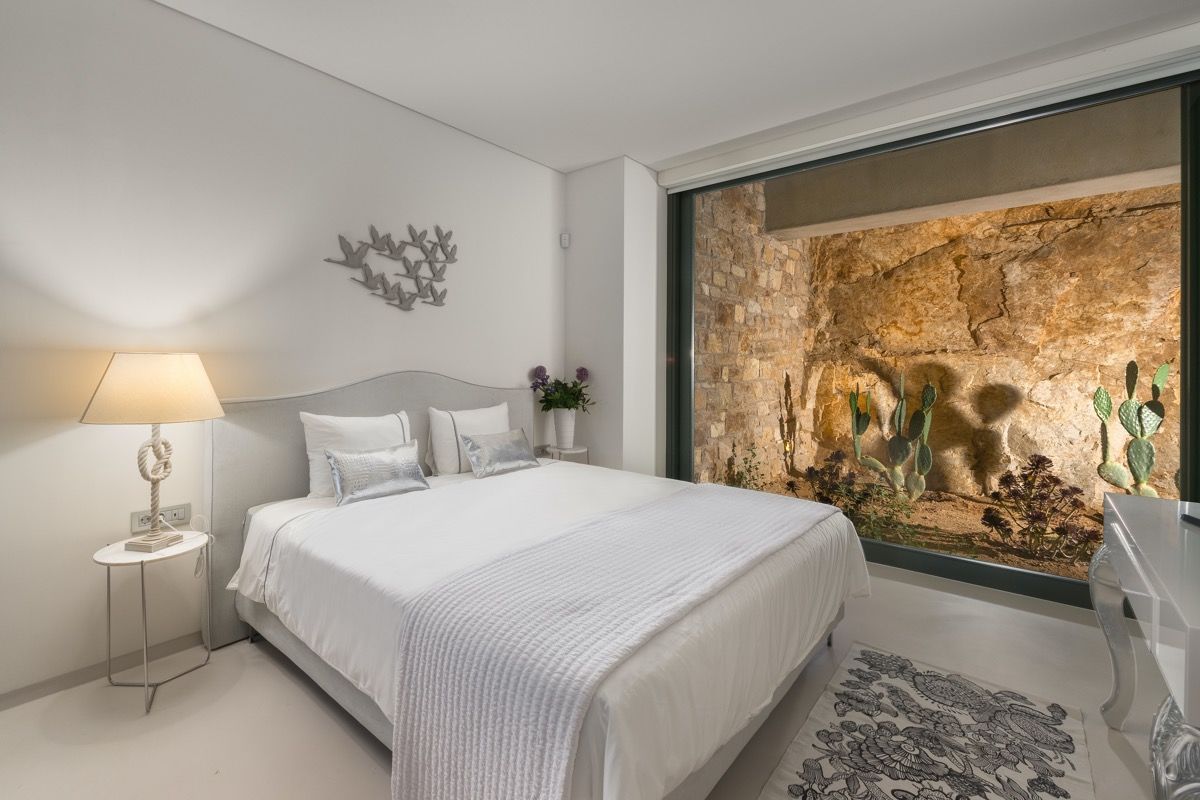 This unique guest room includes a simple bedside table lamp and bit of bedroom wall decor as well as a private cactus garden.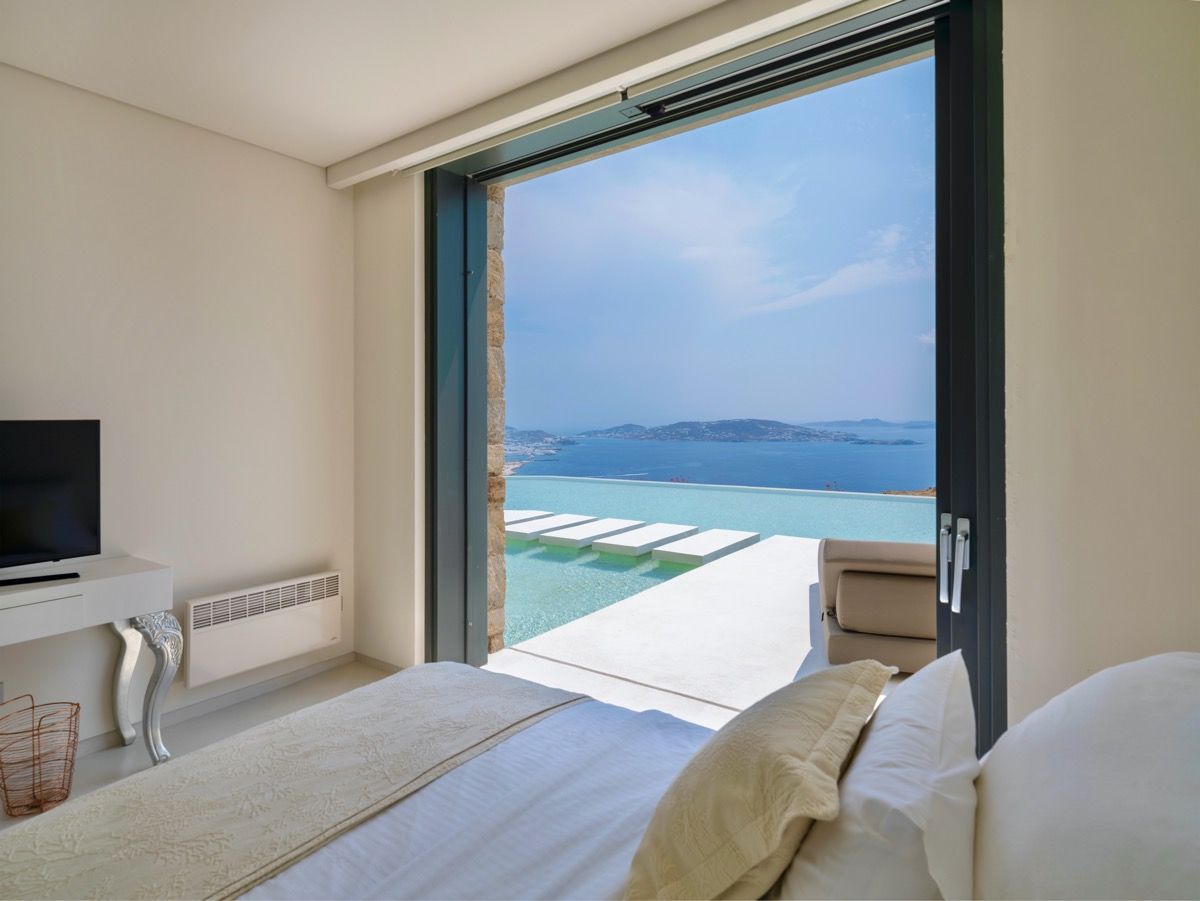 Walking directly out for a dip at noon or midnight it just one perk of a stay at this luxurious estate.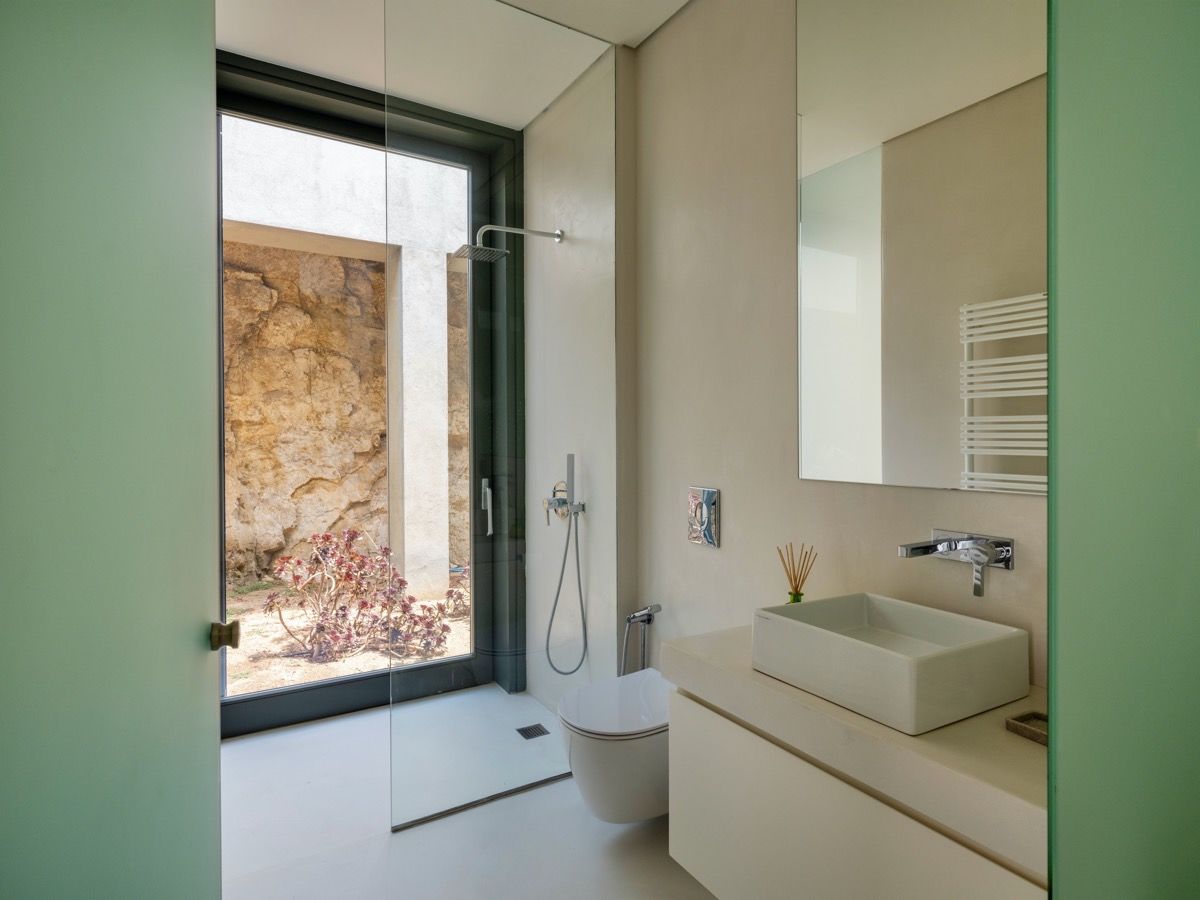 Each guest room has a private bath, this one with green tinted glass panels for privacy.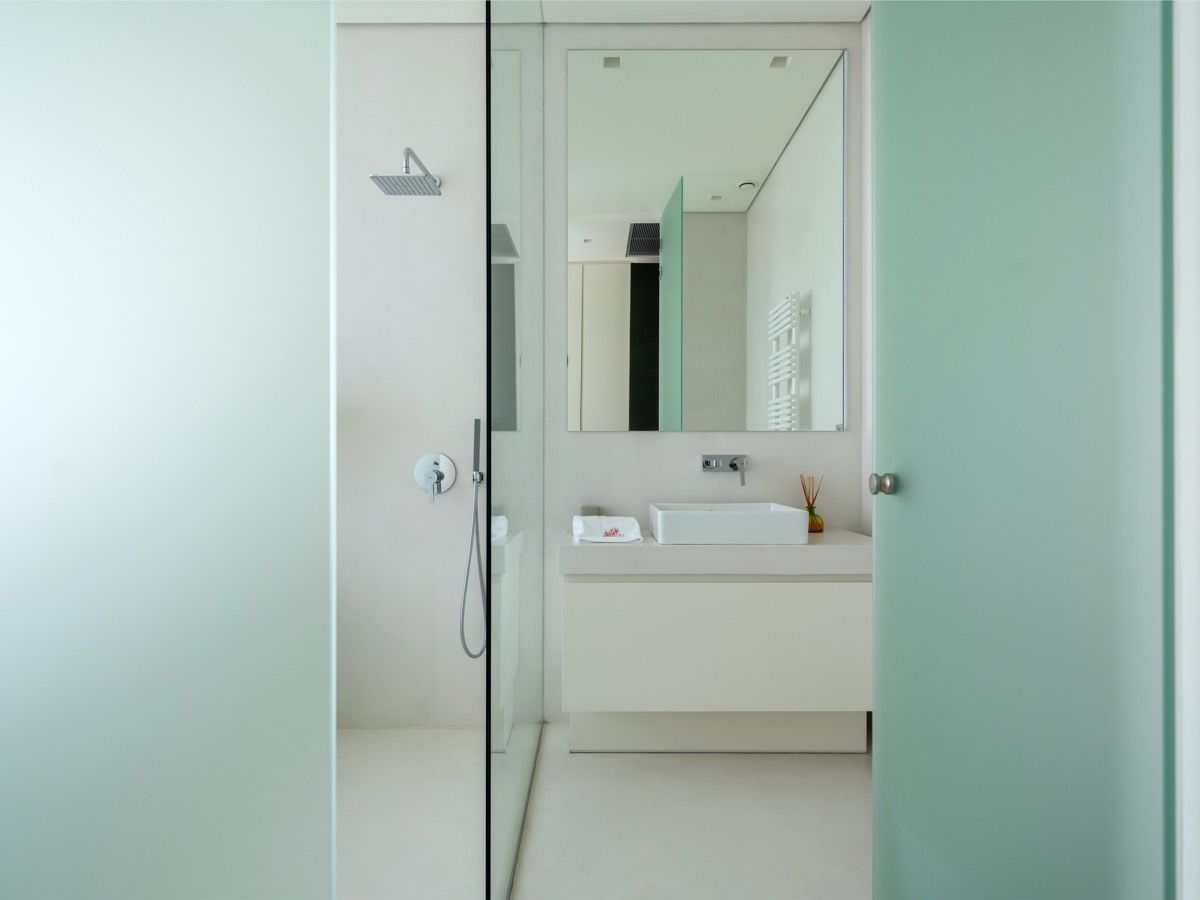 Simple, clean lines are a modern choice.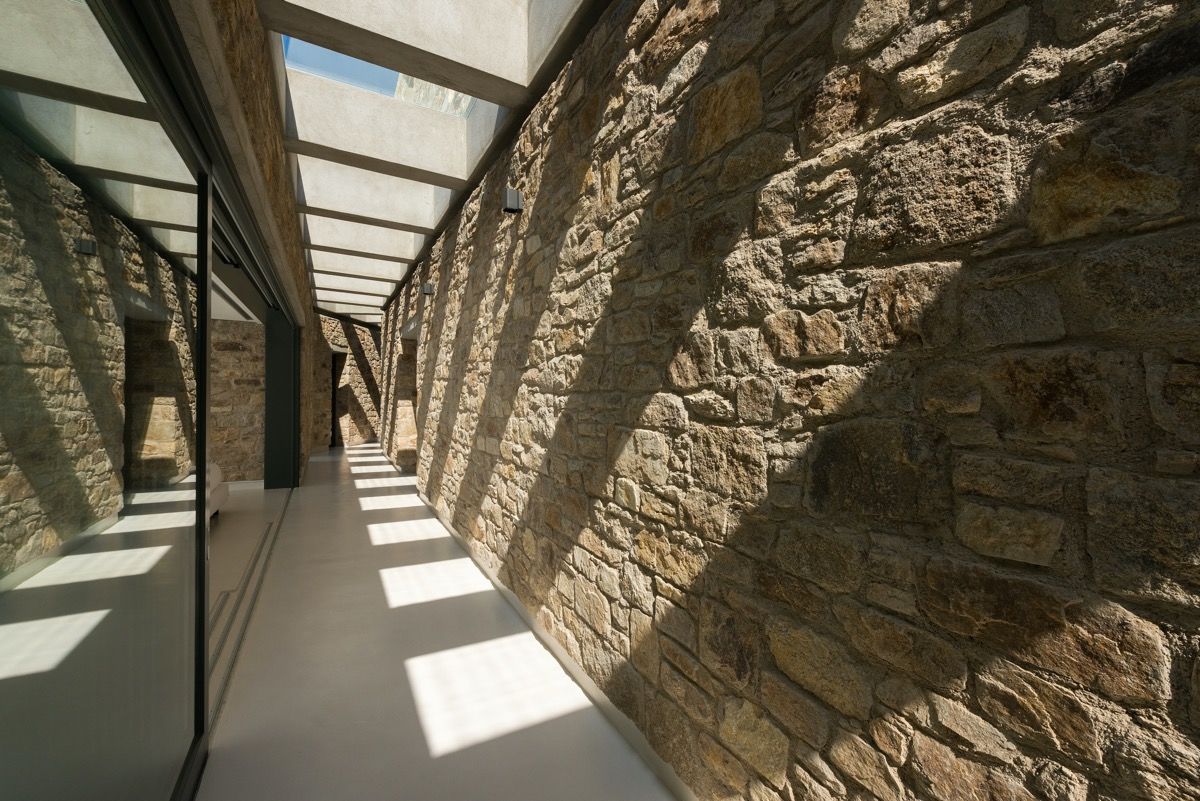 Stone-lined hallways include open-air skylights above.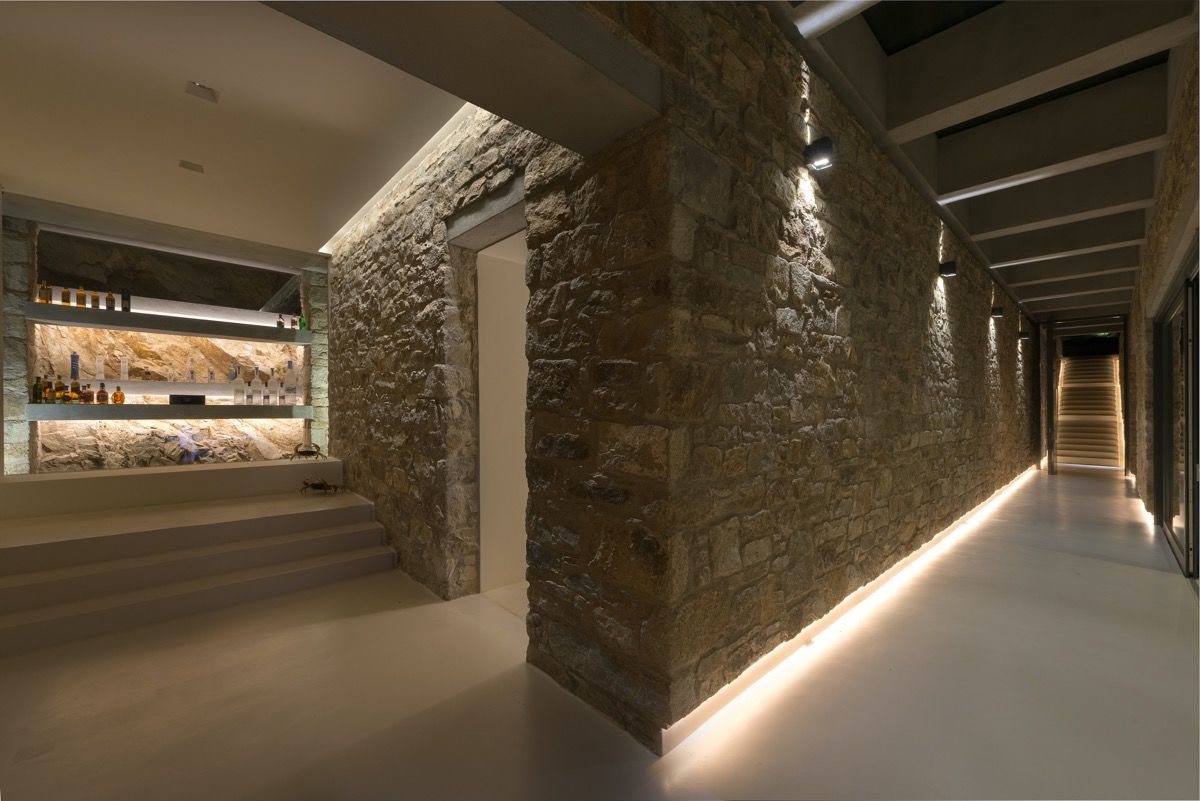 Light from above and below give passageways an ethereal feel.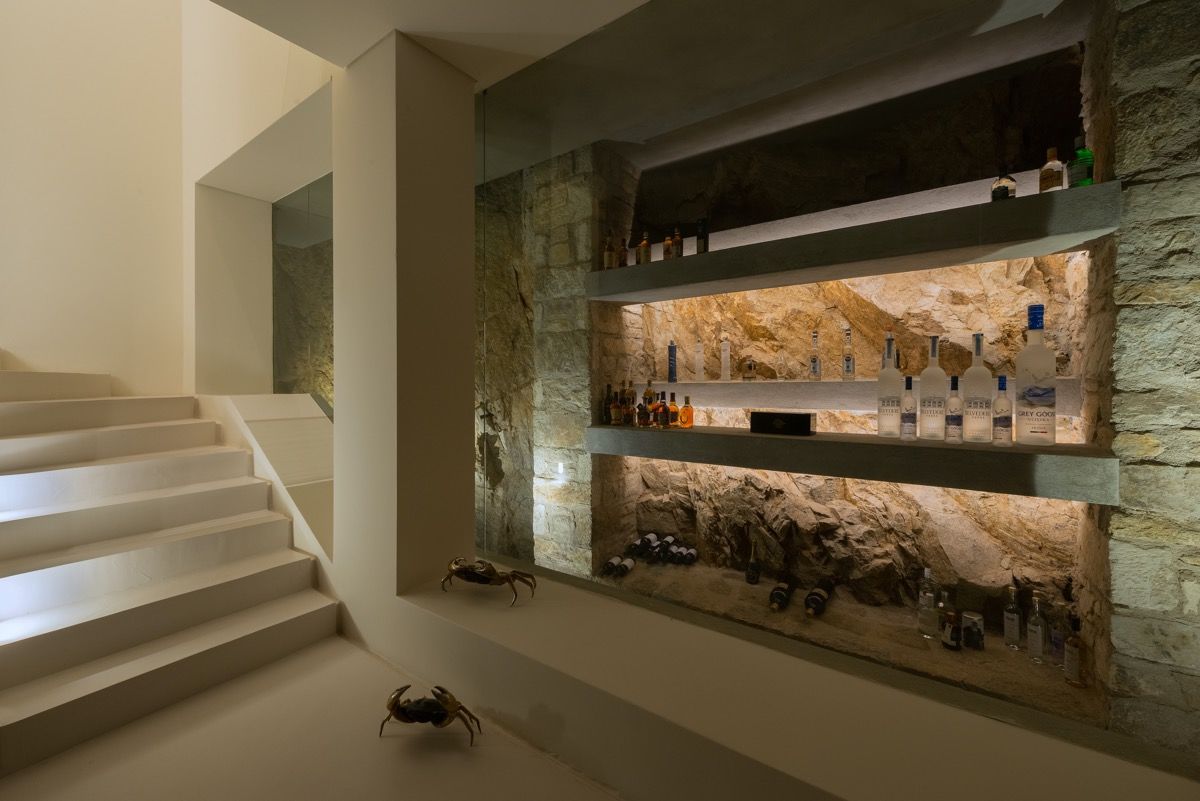 Any good host will have easy access to wine storage and a bar for her guests.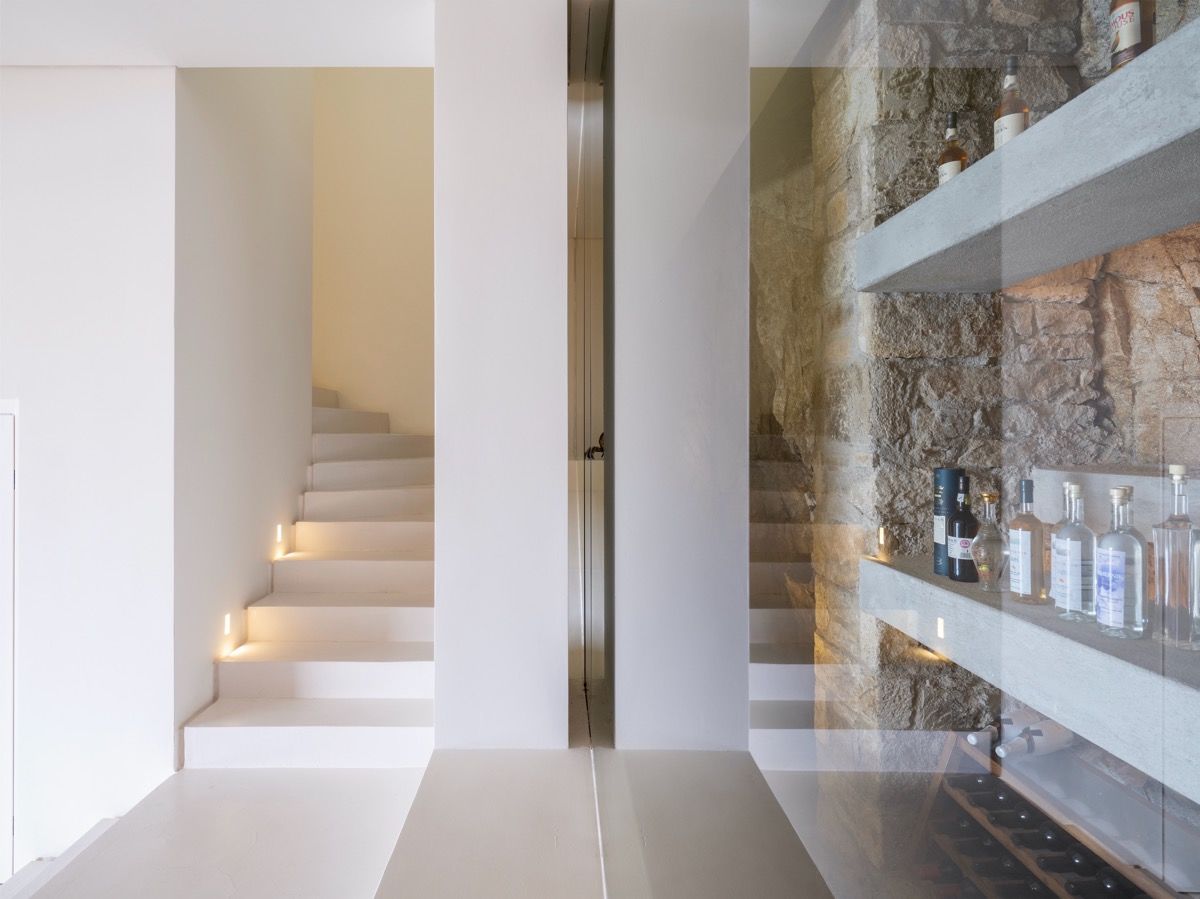 More recessed lighting up the stairway will ensure no errant steps after tasting a glass or two.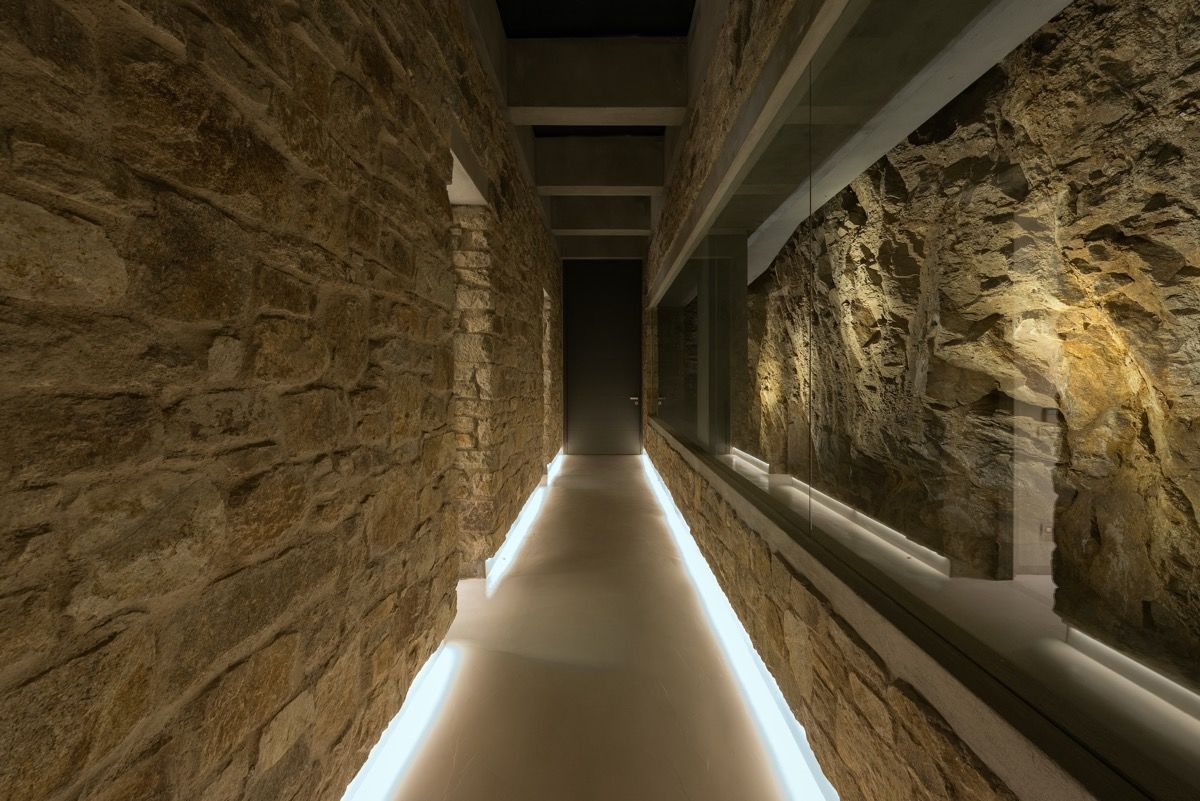 Although lined with stone walls, there is a certain warmth in the design of the halls.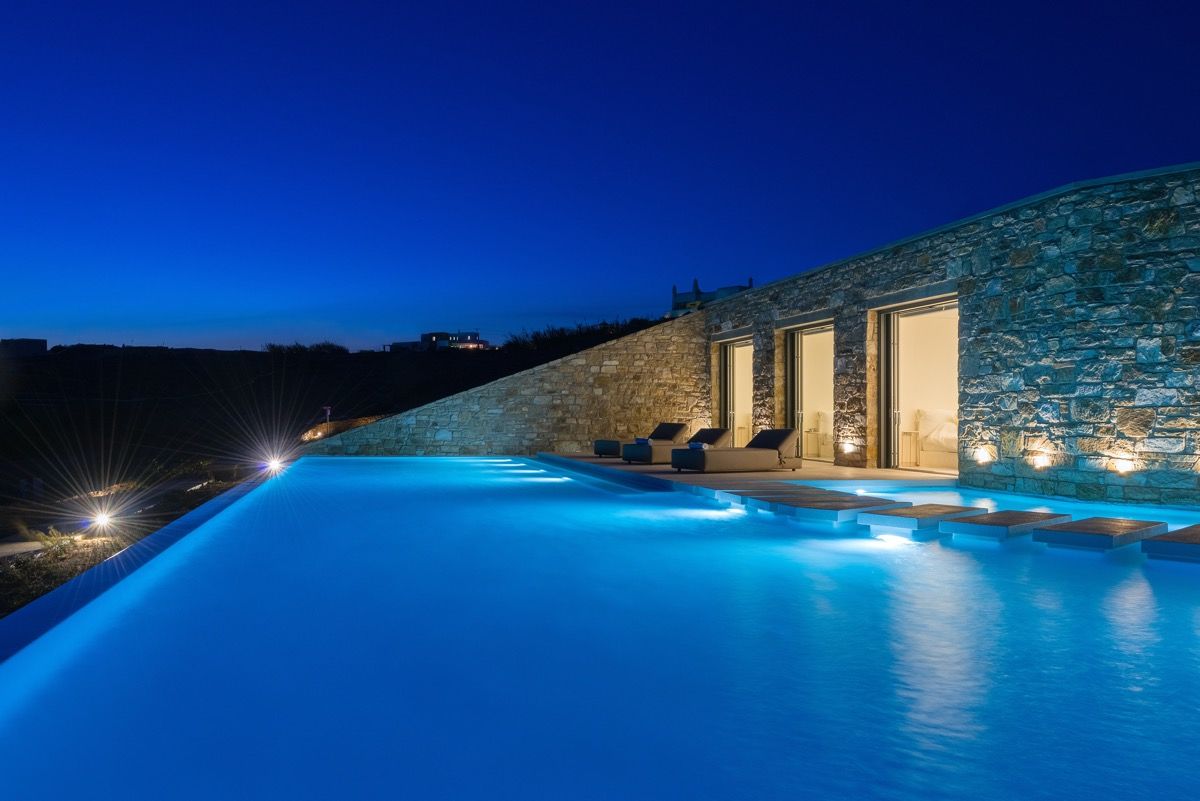 At the right time of evening, the sky seems to melt into the pool below.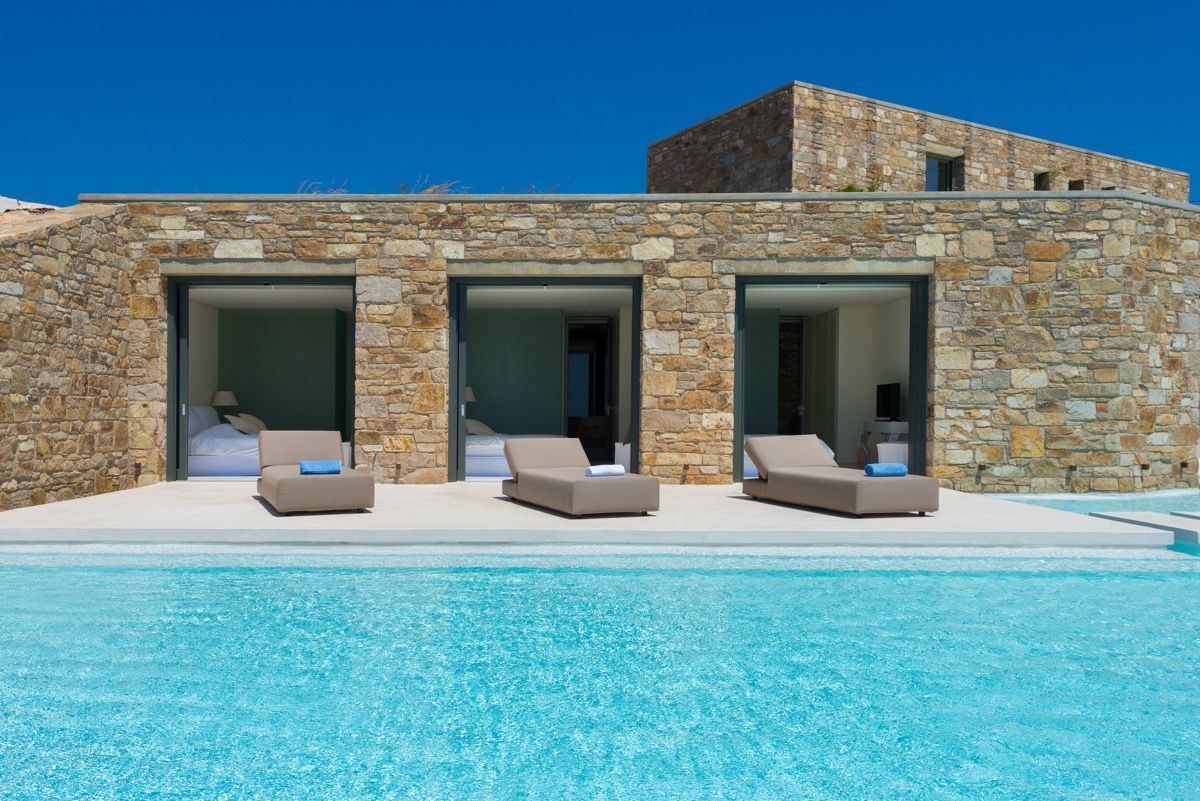 Each private door to the terrace offers just enough space for a feeling of aloneness, even among other guests.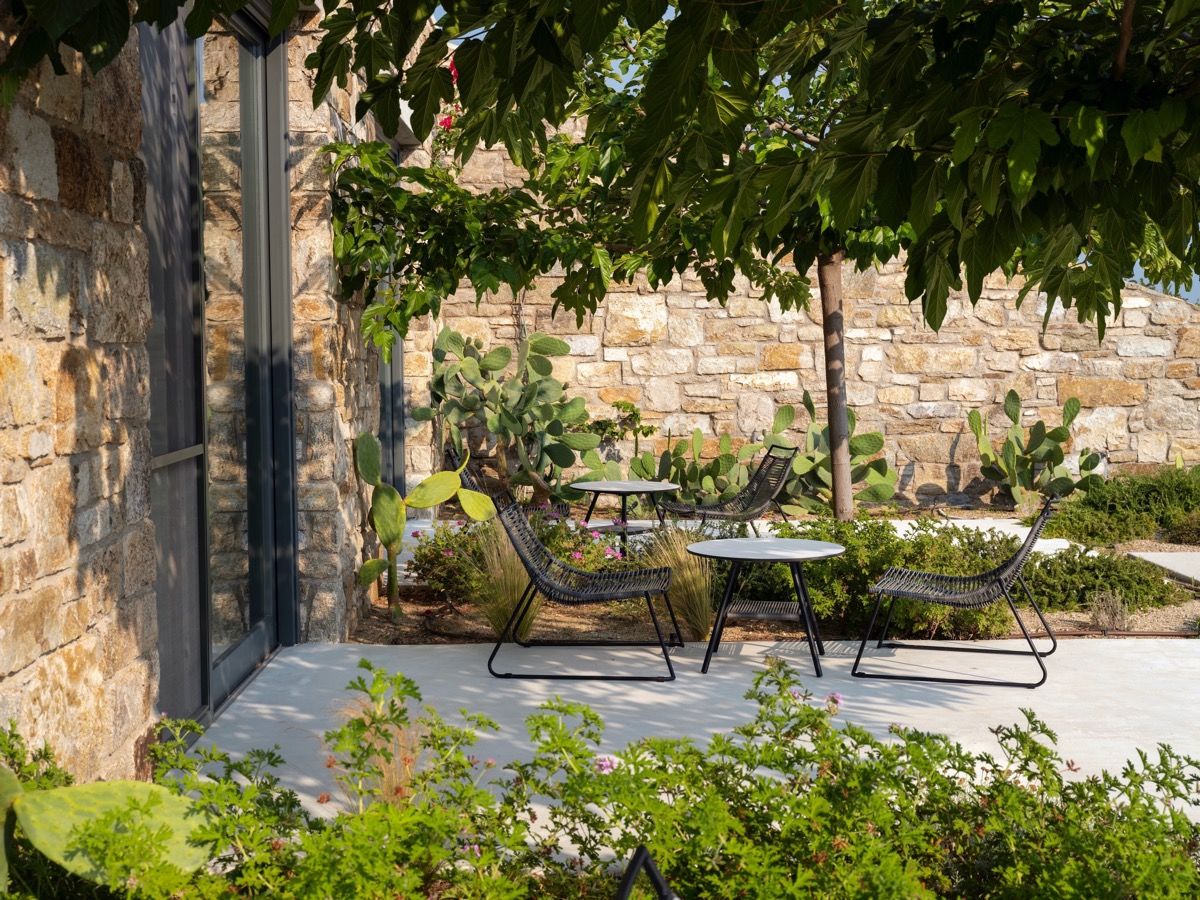 In a green outdoor dining nook, modern outdoor chairs provide a perfect place to start the day with a cup of coffee.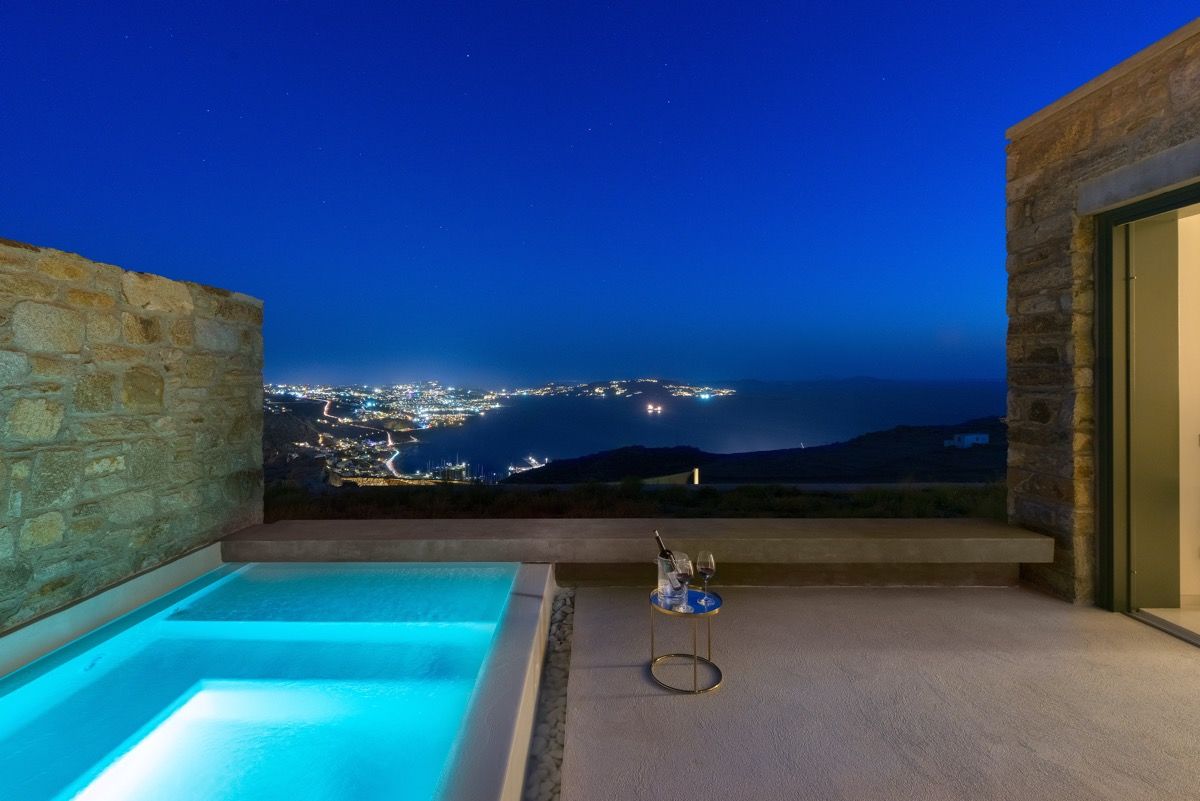 And what better way to end a stay then a dip in a Jacuzzi with a stunning view.
Check out the home tour video: