Tru Form Tiny creates 12 little cottages and three cabins that tie into the coastal landscape of Marin County.
When three northern California families-the Goebels, the Smiths, and the Shipseys-came together to create Dillon Beach Resort, a seaside retreat on the northernmost tip of Marin County, they were determined to breathe new life into a very special place.

Located on 55 coastal acres between Tomales Bay and Bodega Bay, the resort looks out on the Point Reyes National Seashore and features almost a mile of private beach that the families work to preserve and protect. "The community of Dillon Beach is home to only 300 full-time residents," co-owner Mike Goebel says. "It's close to the greater northern Bay Area, but it feels like you've escaped to another country. It's small and remote, and it feels like the end of the earth."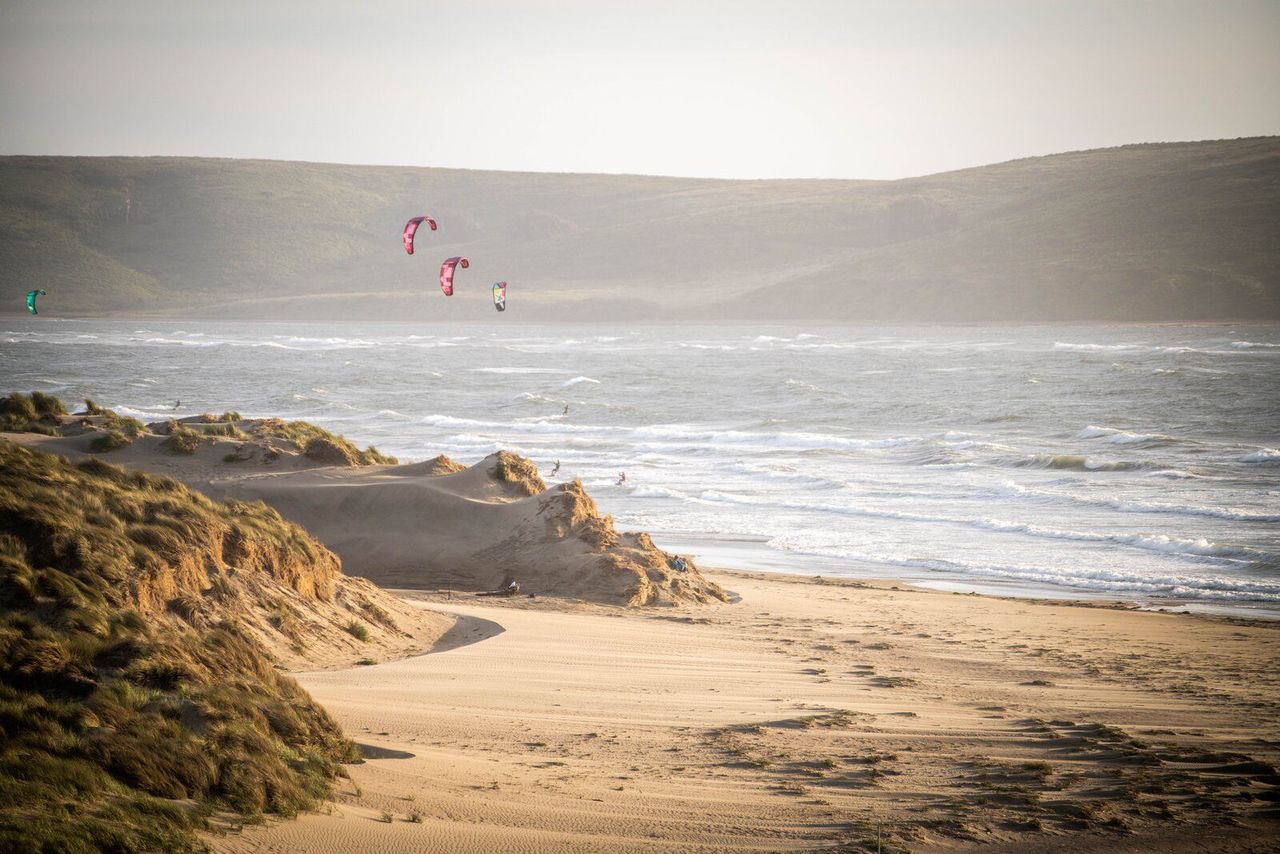 A view of the dunes at Dillon Beach, a private stretch of coastline in Marin County, California, and home to Dillon Beach Resort.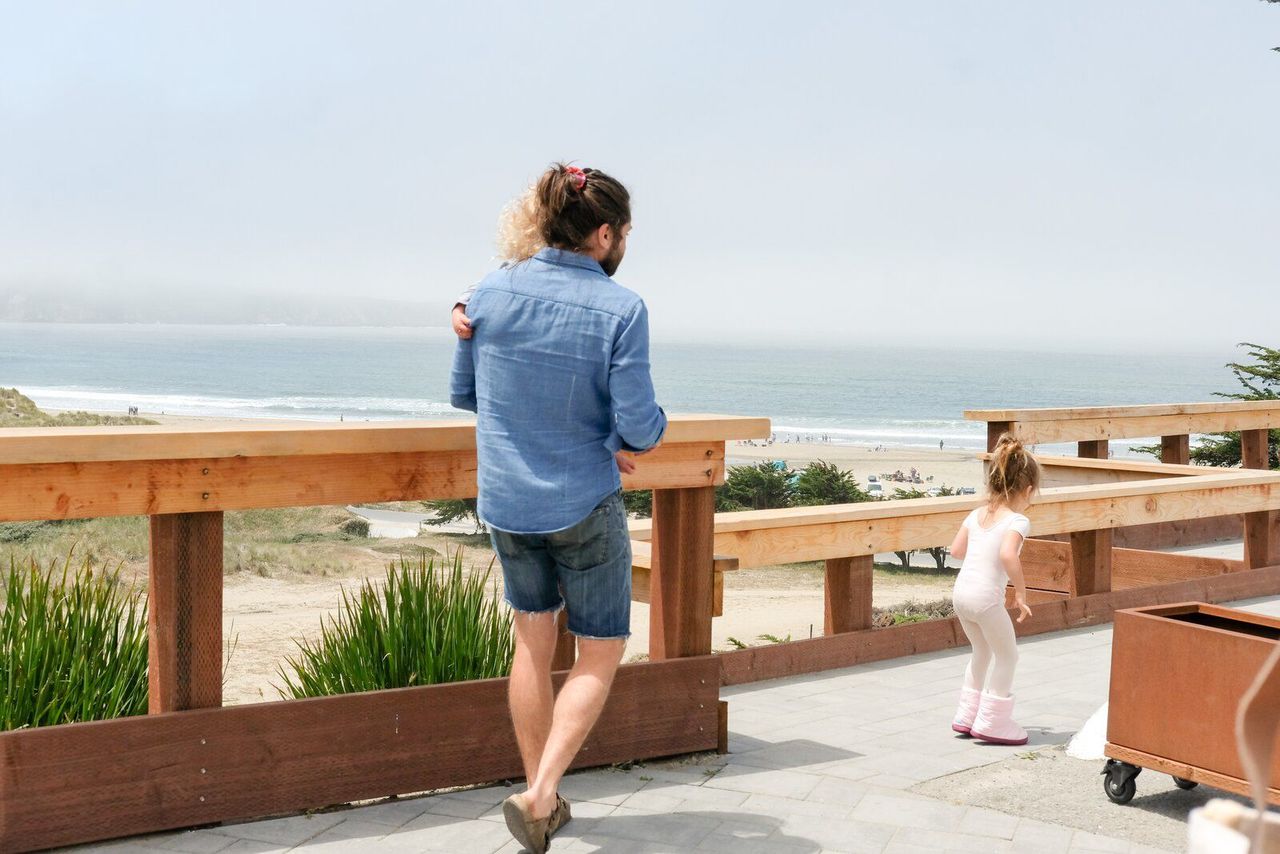 The community of Dillon Beach has only 300 full-time residents, and welcomes year-round guests, who come to experience the cinematic landscape.

Originally built by George Dillon in the late 1800s from first-growth redwood trees, the hotel has changed hands only three times in more than 130 years. "We wanted to bring clean design and a modern sensibility to the property while paying homage to its historic roots," Goebel says.

The owners created a new, open-and-airy aesthetic for the resort with white-painted walls, textured details, and vintage-style touches. They initially considered Airstreams as accommodations, but then they discovered Tru Form Tiny and were taken with the company's Craftsman-style designs. "We fell in love with the quality of construction, the attention to detail, and the efficiency of Tru Form Tiny homes," Goebel says. "They helped us find that balance between a clean and open coastal feeling, and something that's still intimate and unique."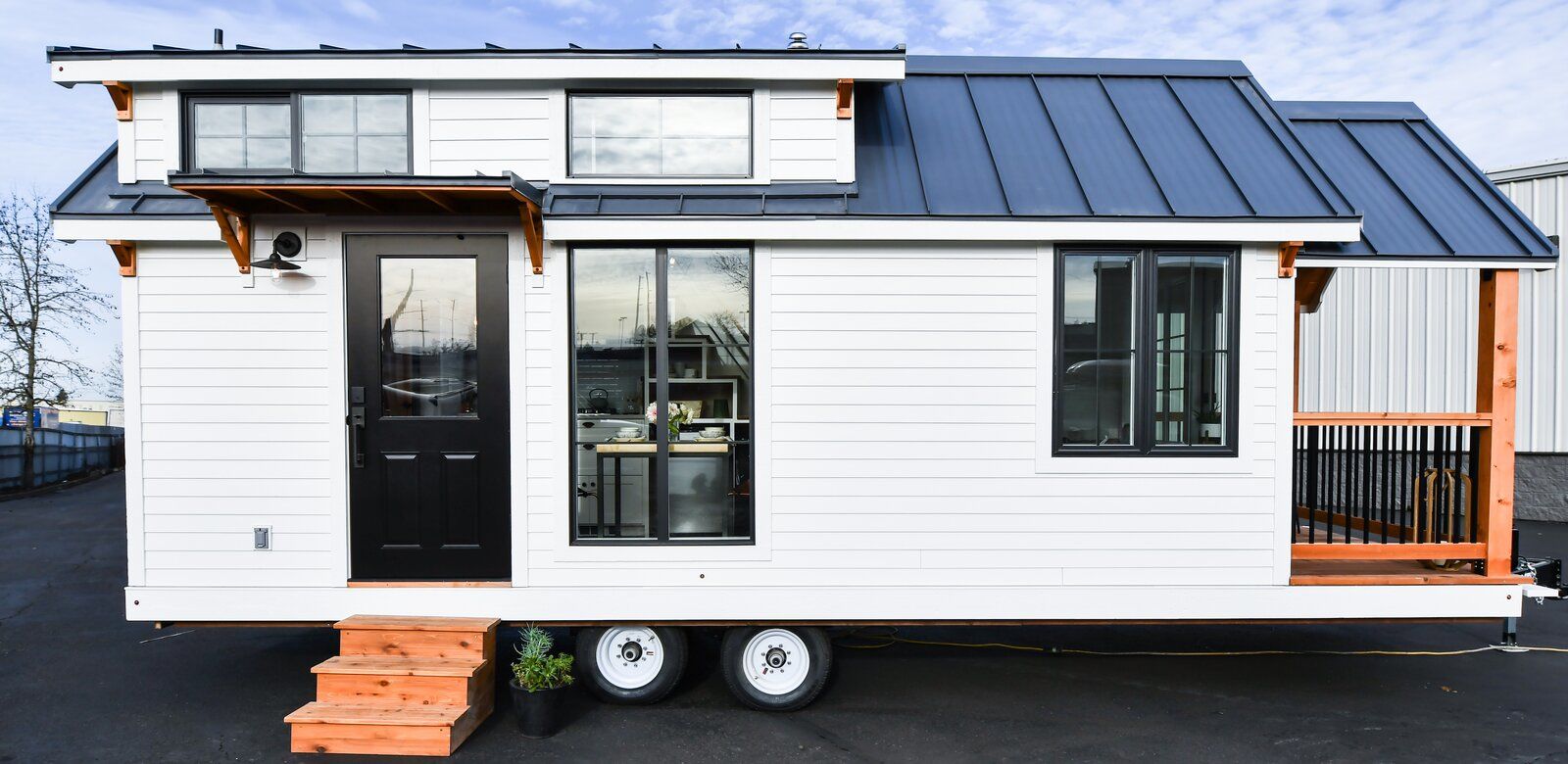 The tiny cottages, designed by Eugene, Oregon–based Tru Form Tiny, are wrapped in fiber cement board that can withstand the coastal climate.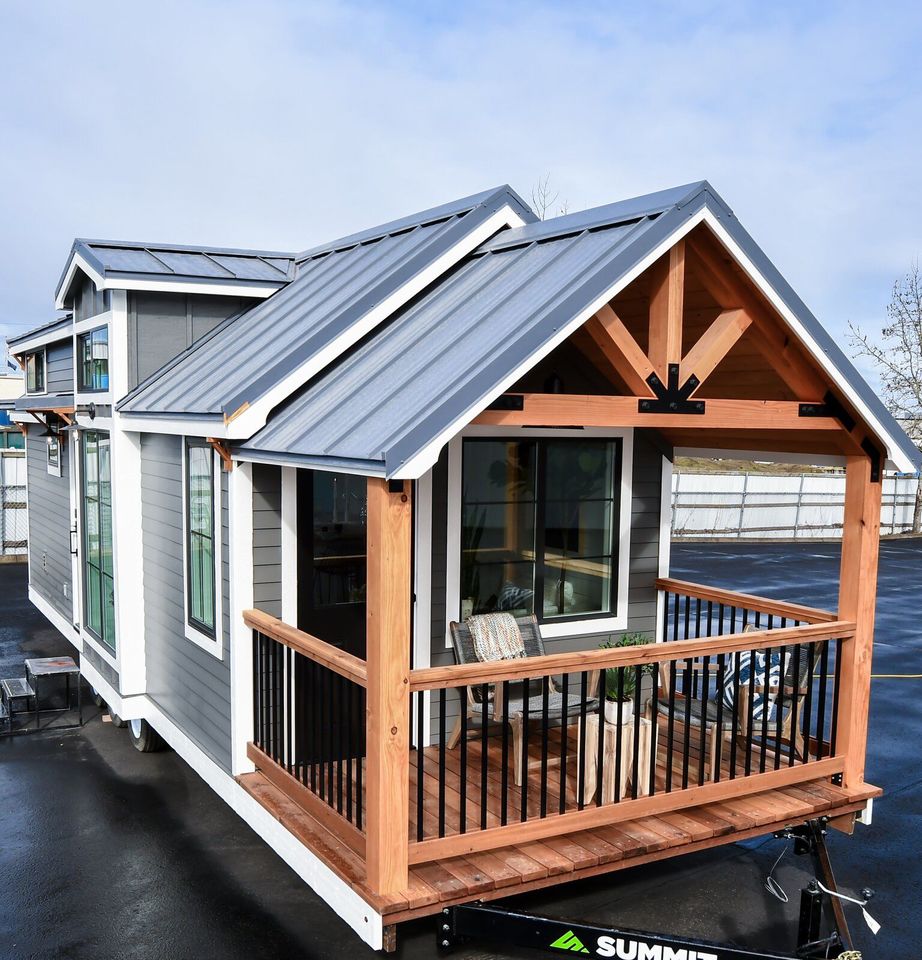 On of the tiny cottage models features a wood deck that's attached to the home.

"Our homes are RVIA certified, but have the look and feel of a real home, which the client preferred," says Malia Schultheis, co-owner and lead designer at Tru Form Tiny. "The client needed tiny homes that vary in height and size to maximize views," Schultheis explains. "We were able to accommodate that and create multiple models with eaves and window gables."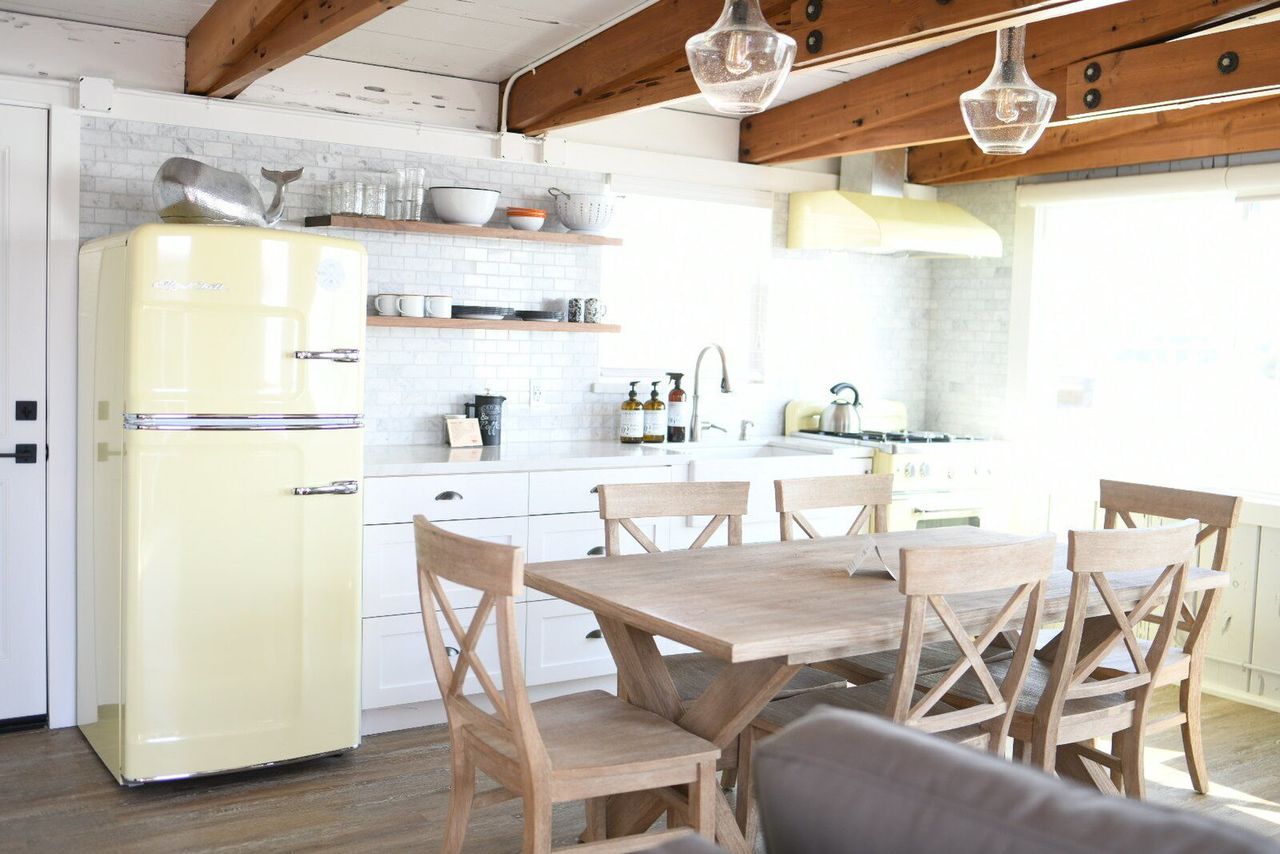 The tiny home interiors feature colorful, vintage-style refrigerators by Big Chill, bright-white walls that reflect sunlight, and wood furnishings that lend warmth.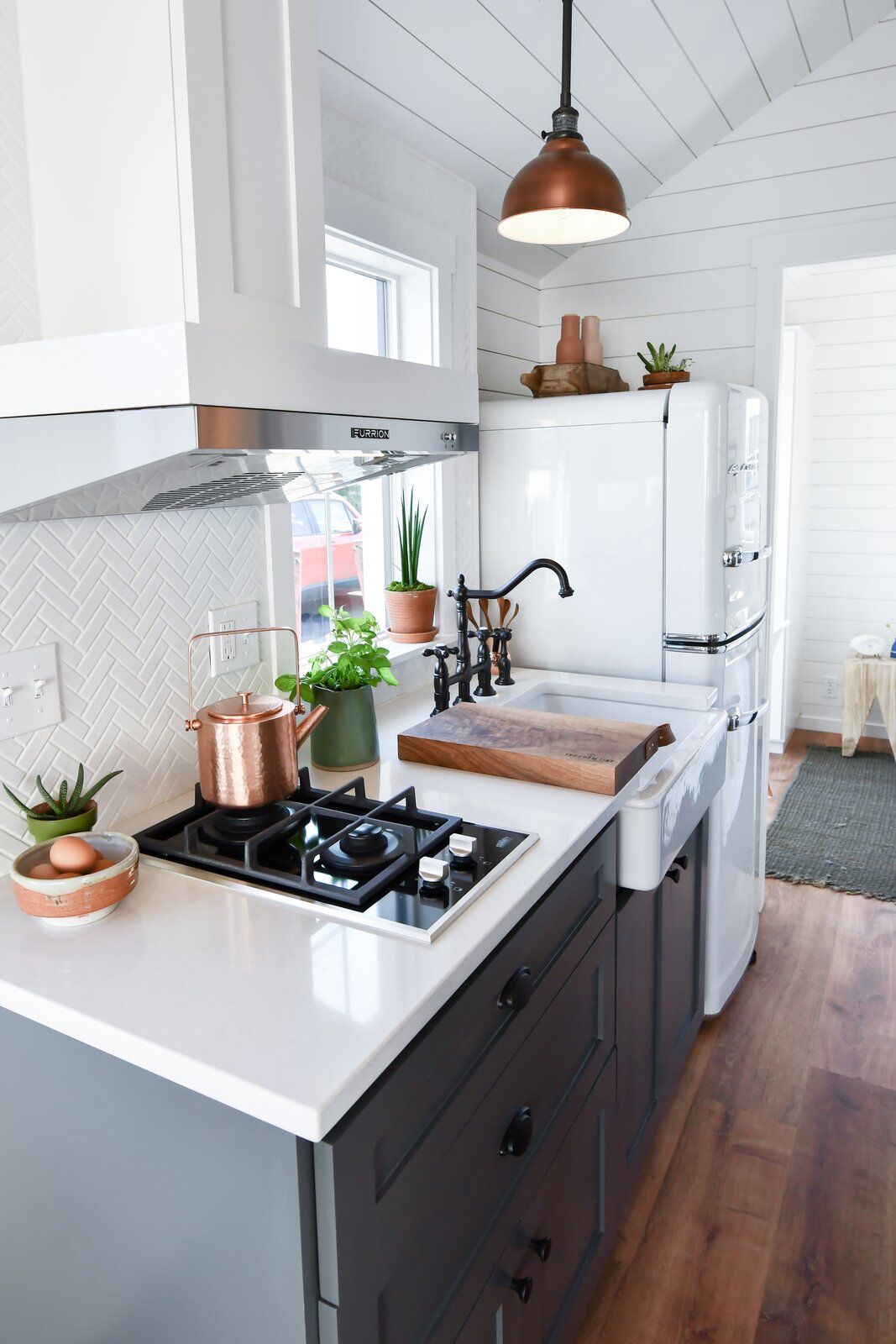 Steel-blue cabinetry in one of the tiny cottages references the color of the ocean.

Schultheis and her team constructed the tiny homes with durable, marine-friendly materials that are able to withstand salt, wind, sun, and rain. The dwellings are clad with fiber cement boards (with 50-year warranties for erosion protection) and topped with weatherized aluminum roofs. "The materials had to be strong and resilient, but they also needed to flow naturally with the environment of sky, sand, and sea," Schultheis says. "We wanted them to add beauty to the beach, not take away from it."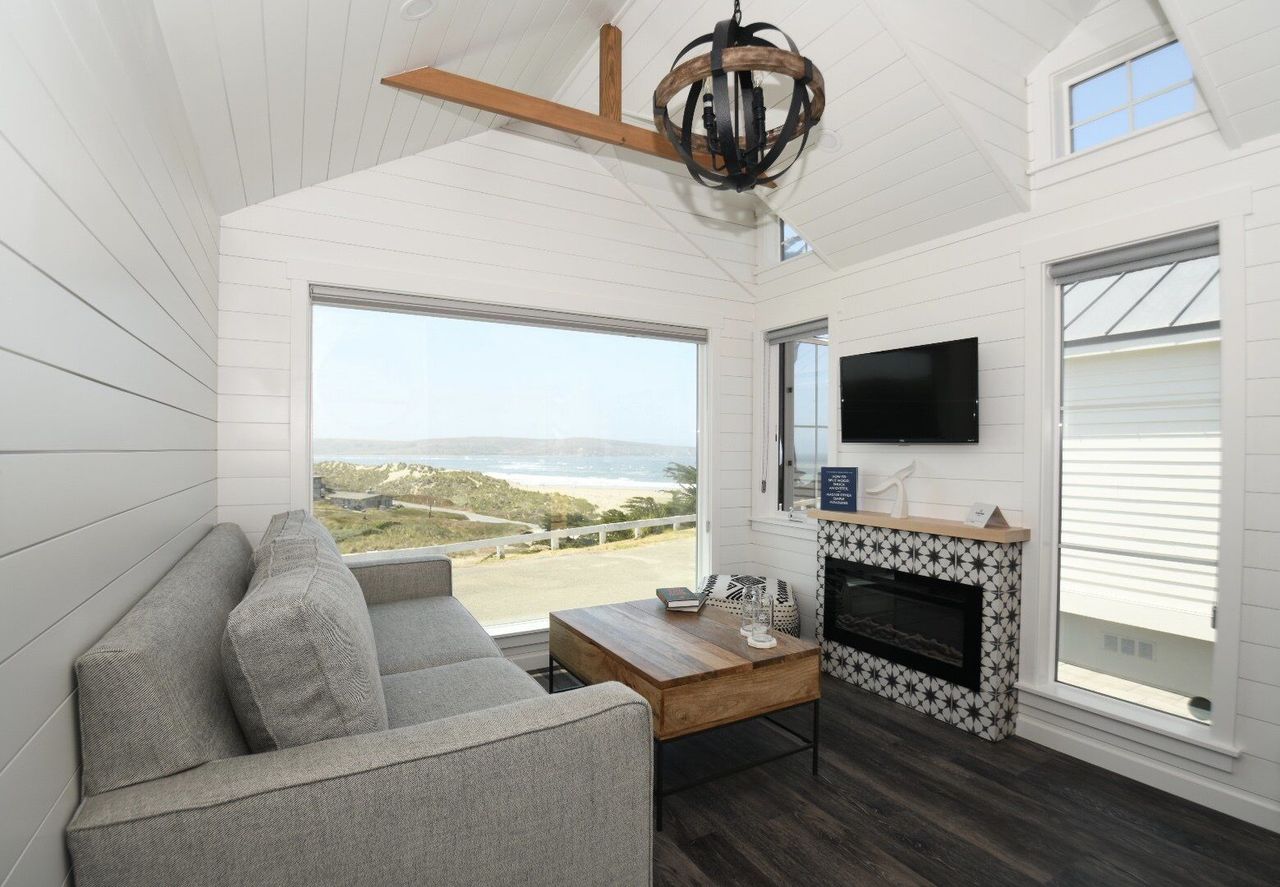 Each cottage and cabin is equipped with a fireplace and large windows that showcase the epic natural surroundings.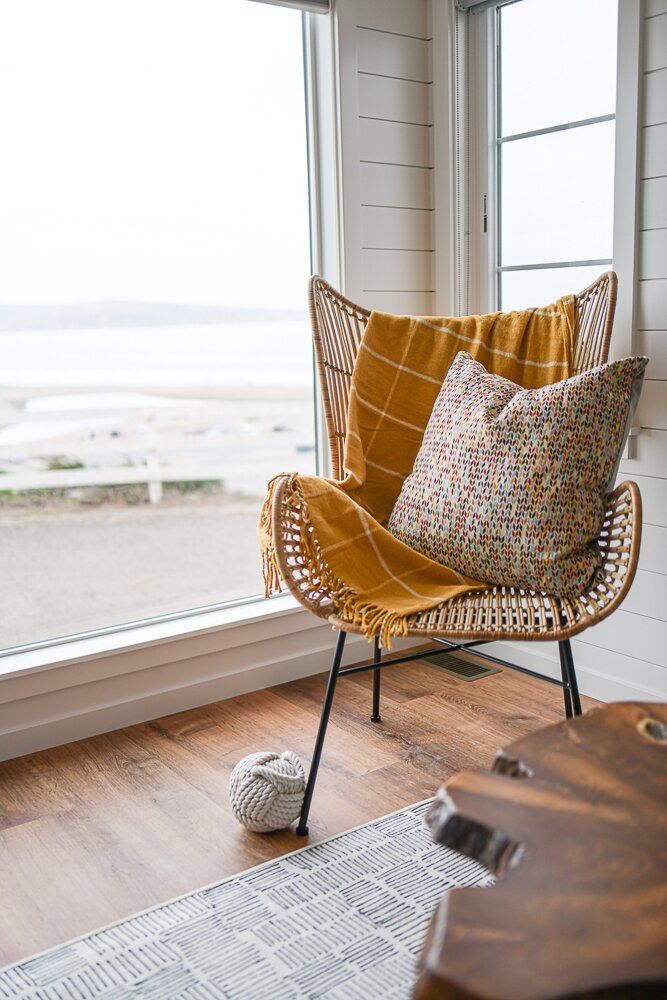 The dwellings are furnished with textiles and organic materials that tie into nature.

The bright-white interiors feature pops of sky blue alongside warm tones and rich textures-the material palette includes wood, linen, wool, copper, and jute. Each accommodation features a fireplace for cooler weather, a vintage-style refrigerator by Big Chill, a farmhouse sink, and patterned tilework in the kitchen and bath. "White walls and ceilings maximize natural light, which is especially important in small spaces," Schultheis says. "And because we had less need for storage, there was room for more windows to bring in sunlight."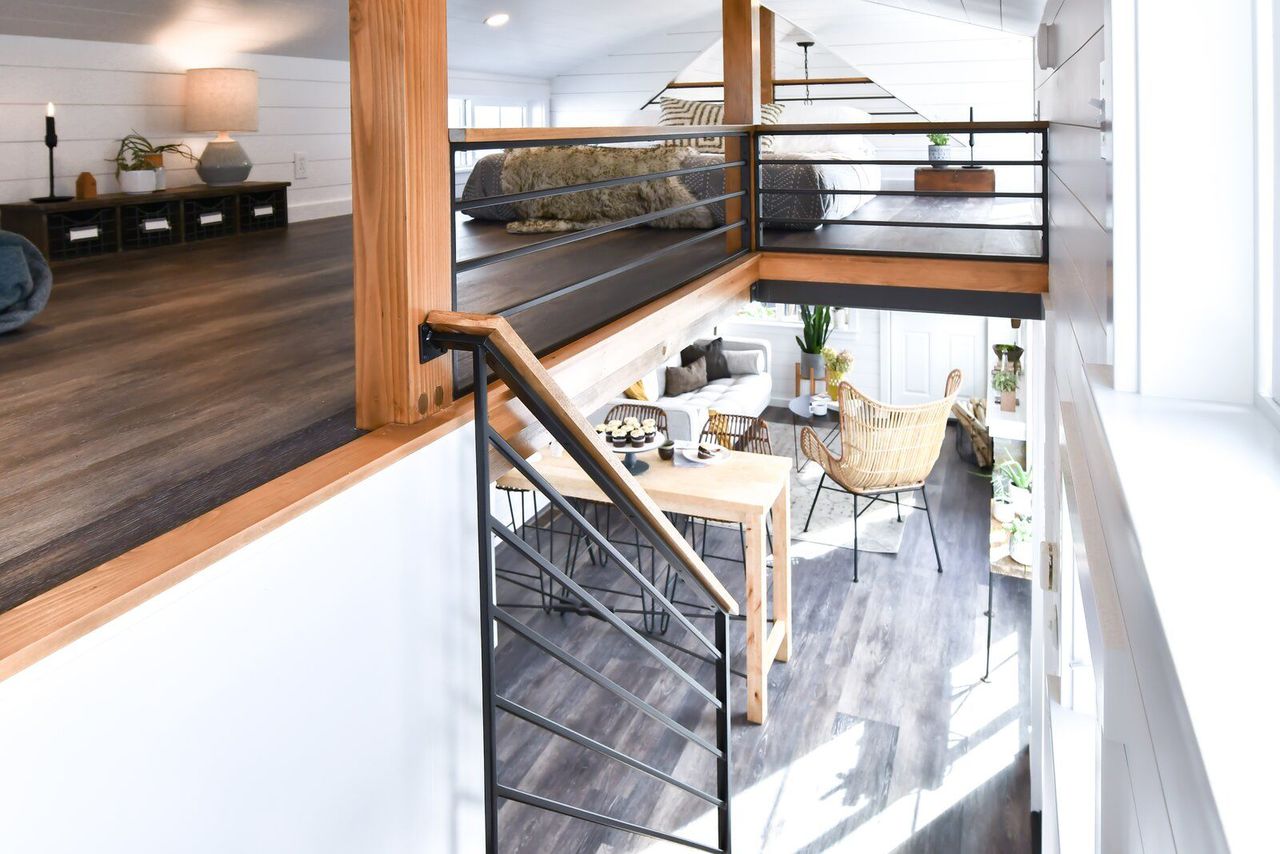 Tru Form Tiny designed different floor plans and configurations for the tiny cottages and cabins. Some accommodations offer main-floor bedrooms, while others feature large, loft-style sleeping quarters.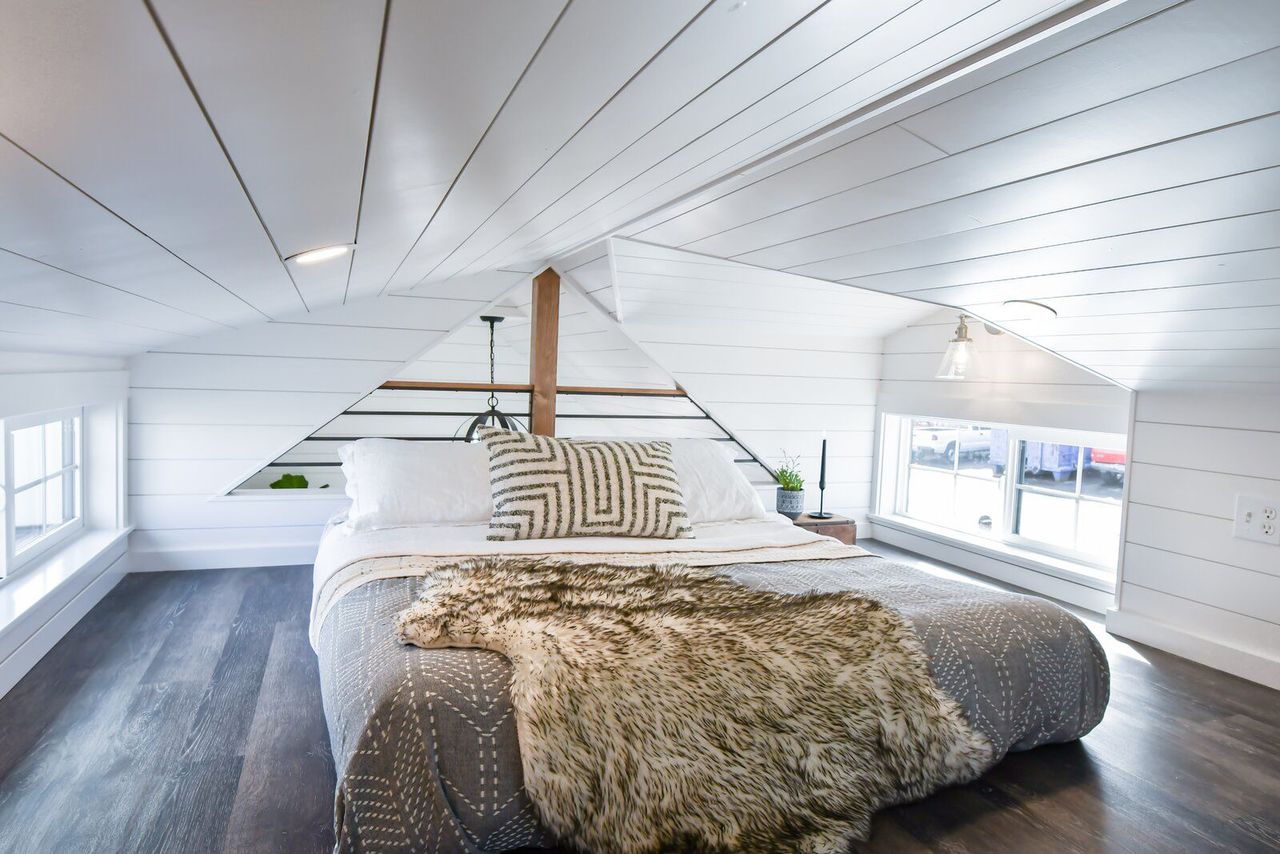 The sleeping areas feature Tuft & Needle queen-size beds dressed in linen sheets.

Dillon Beach Resort offers four different tiny cottages, ranging in size from 265 square feet to 500 square feet. Their smallest unit is the Cypress Cottage, which sleeps two people in a loft-style bedroom, and their largest unit is the Coho Cottage, which can sleep up to six people. The latter features one bedroom with a queen-size bed, a loft-style area with a second queen-size bed, and an open-plan living area with a pull-out sofa bed.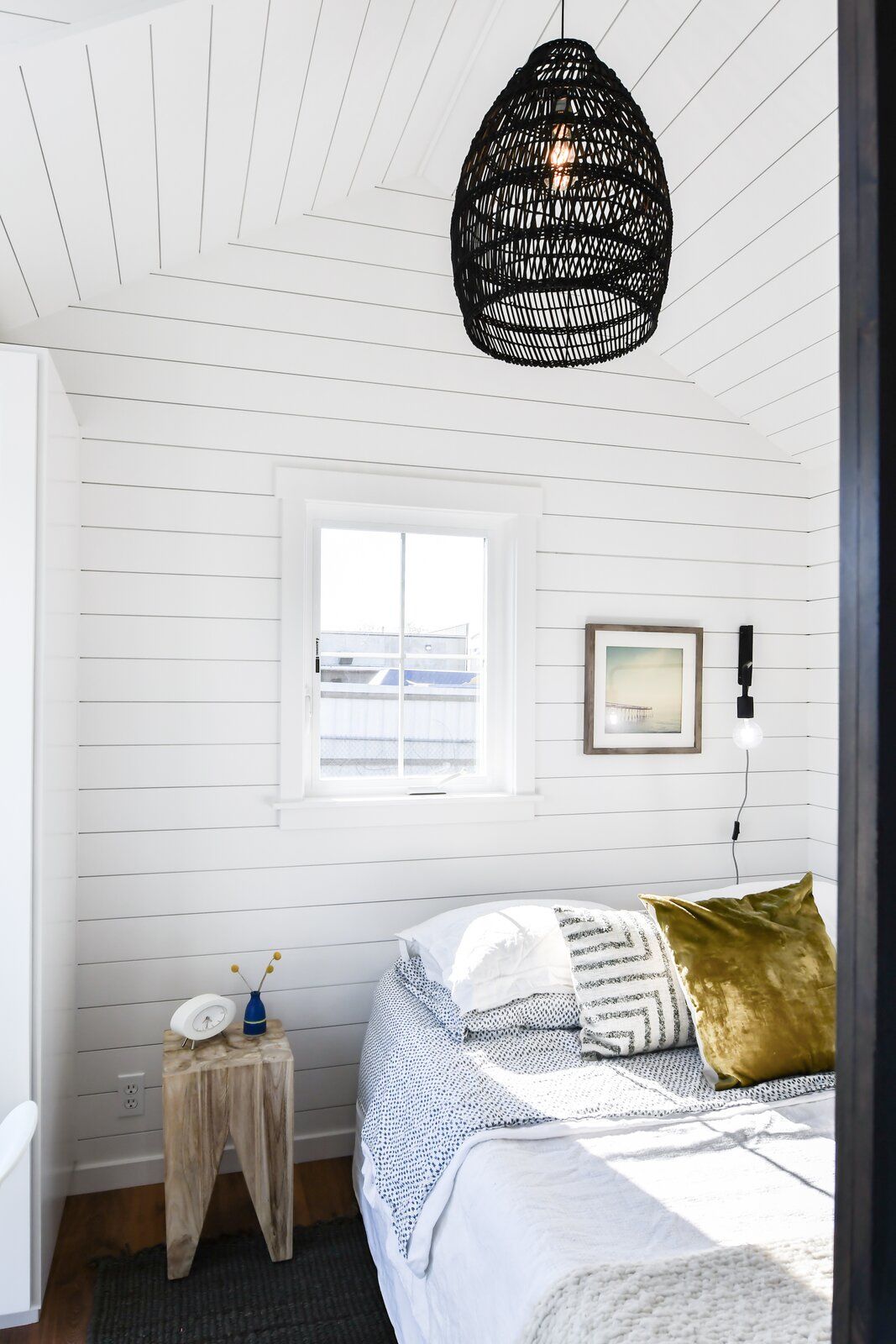 A wooden bedside table sits beside a queen-size bed in one of the main-floor bedrooms.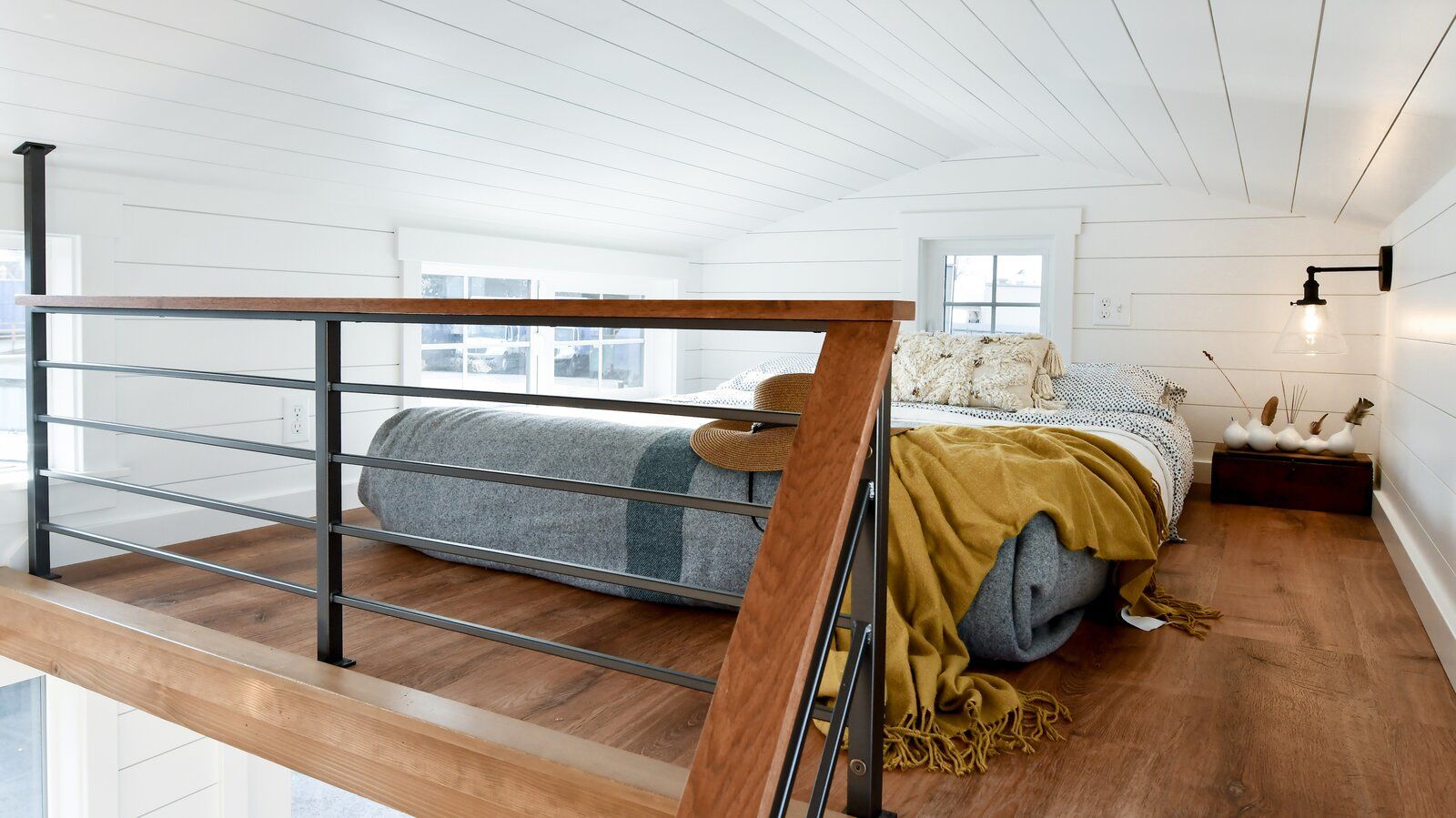 A collection of bud vases sit on a nightstand in one of the loft-style bedrooms.

The resort also offers three Coastal Cabins, which each measure 800 square feet and offer two bedrooms for up to six guests. "A fenced-in outdoor area with a picnic table and a charcoal grill looks to views of the Point Reyes Peninsula, the mouth of Tomales Bay, and Bodega Head," Goebel says.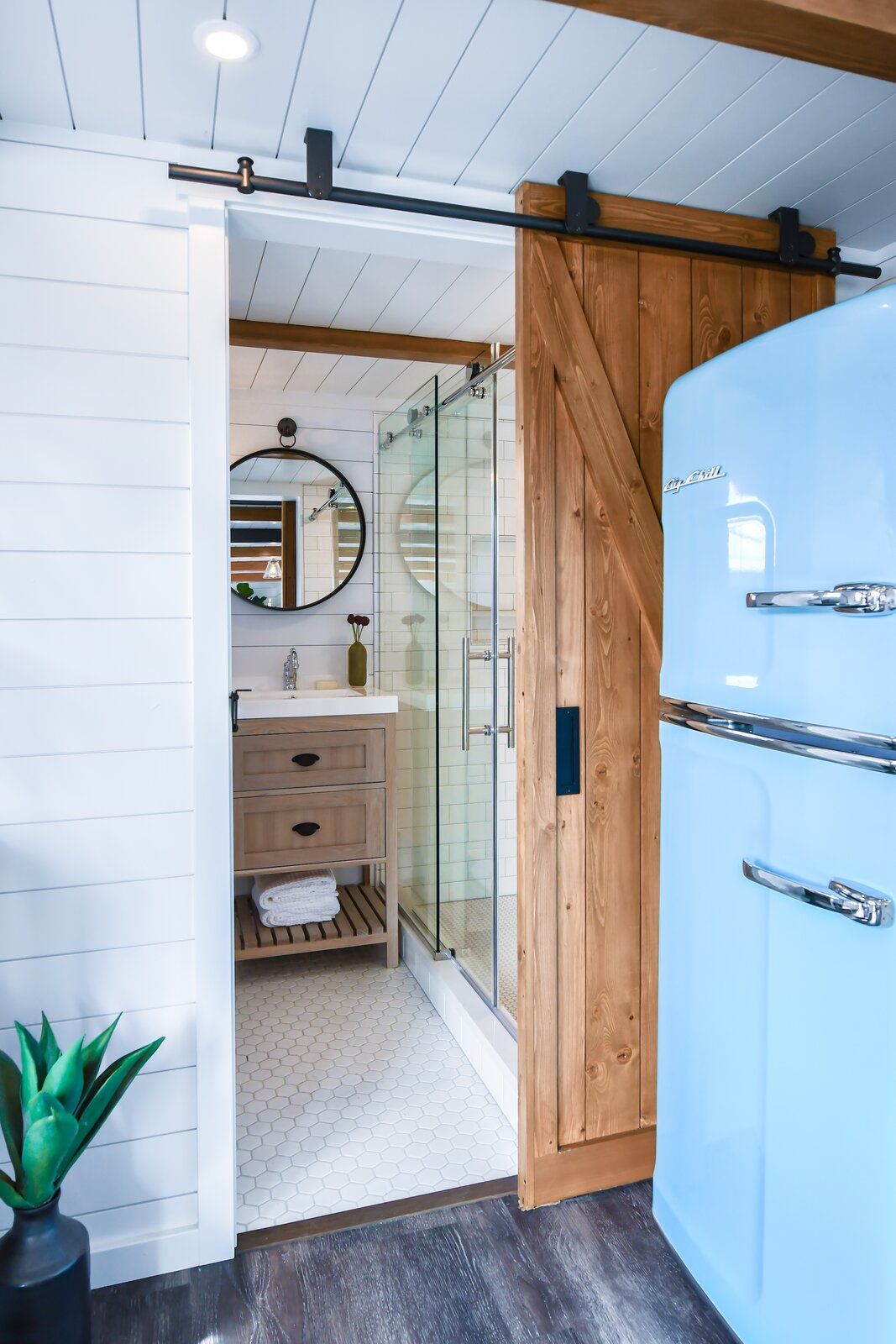 A sliding, barn-style wood door leads to a bathroom in one of the cottages.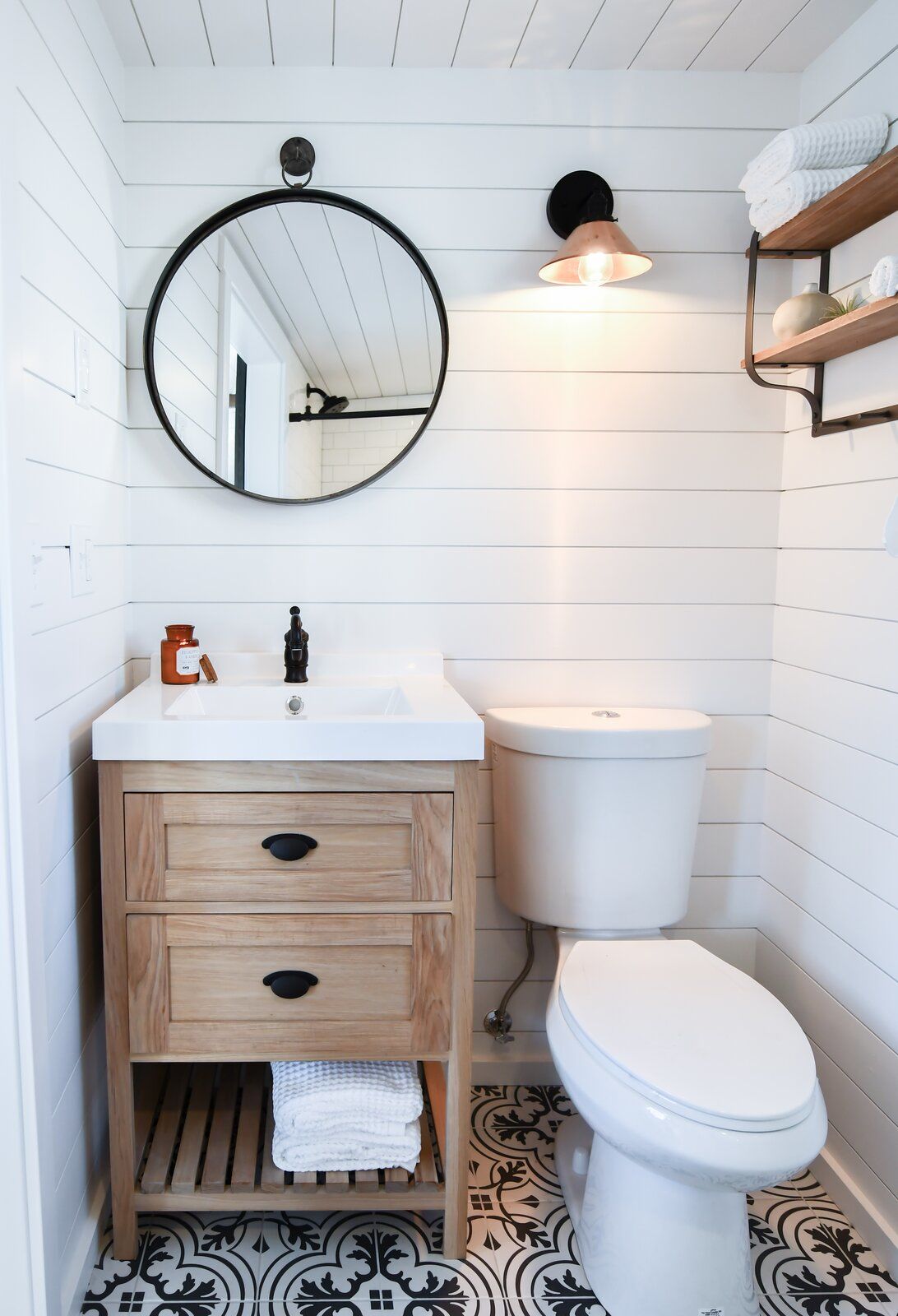 Graphic floor tile adds a playful note to one of the tiny cottage bathrooms.

Dillon Beach Coastal Kitchen, the resort's restaurant, offers local and seasonal dishes inspired by the sea and nearby farms. "We're advocates for our local food shed, and we thoughtfully and almost exclusively source proteins, produce, and products directly from farmers, ranchers, foragers, and fishermen in Northern California," Goebel says.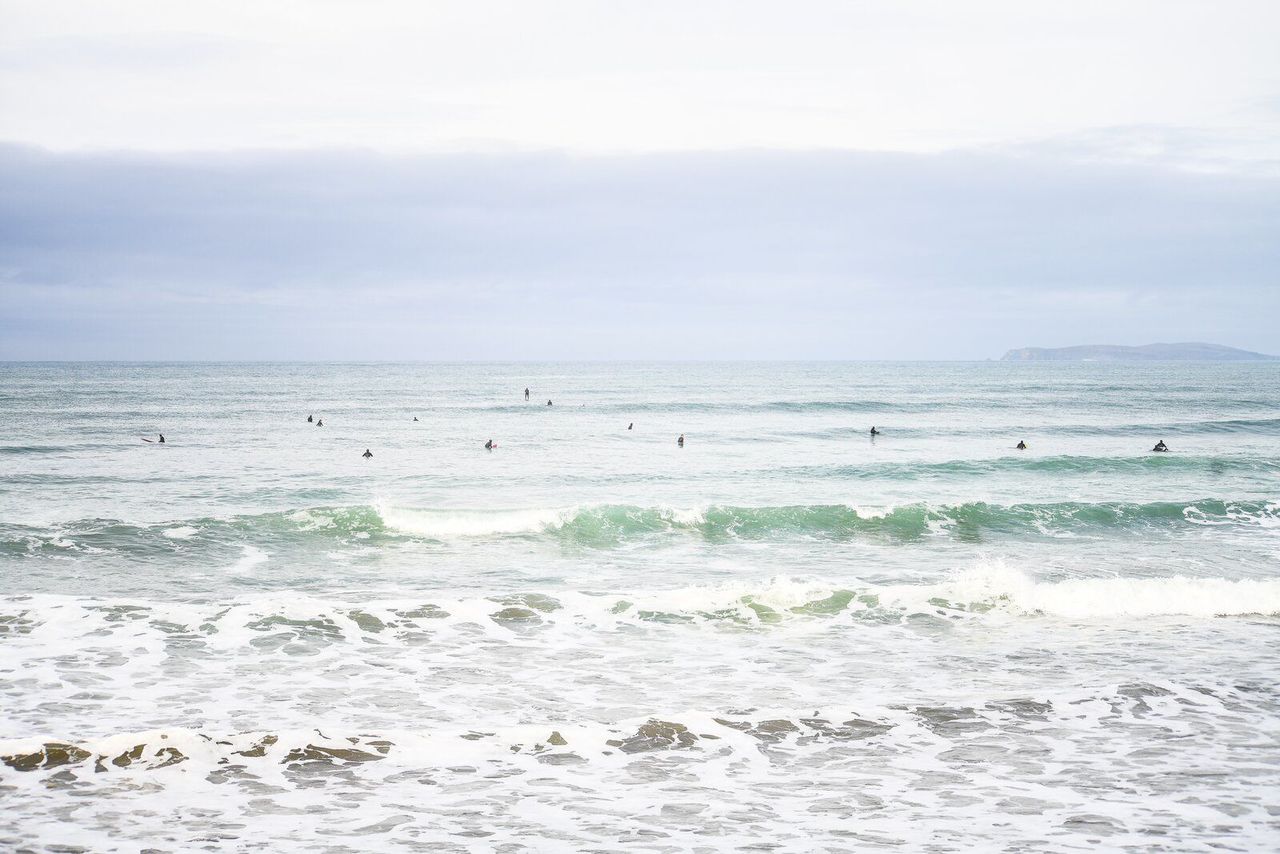 A group of surfers await the perfect wave at Dillon Beach.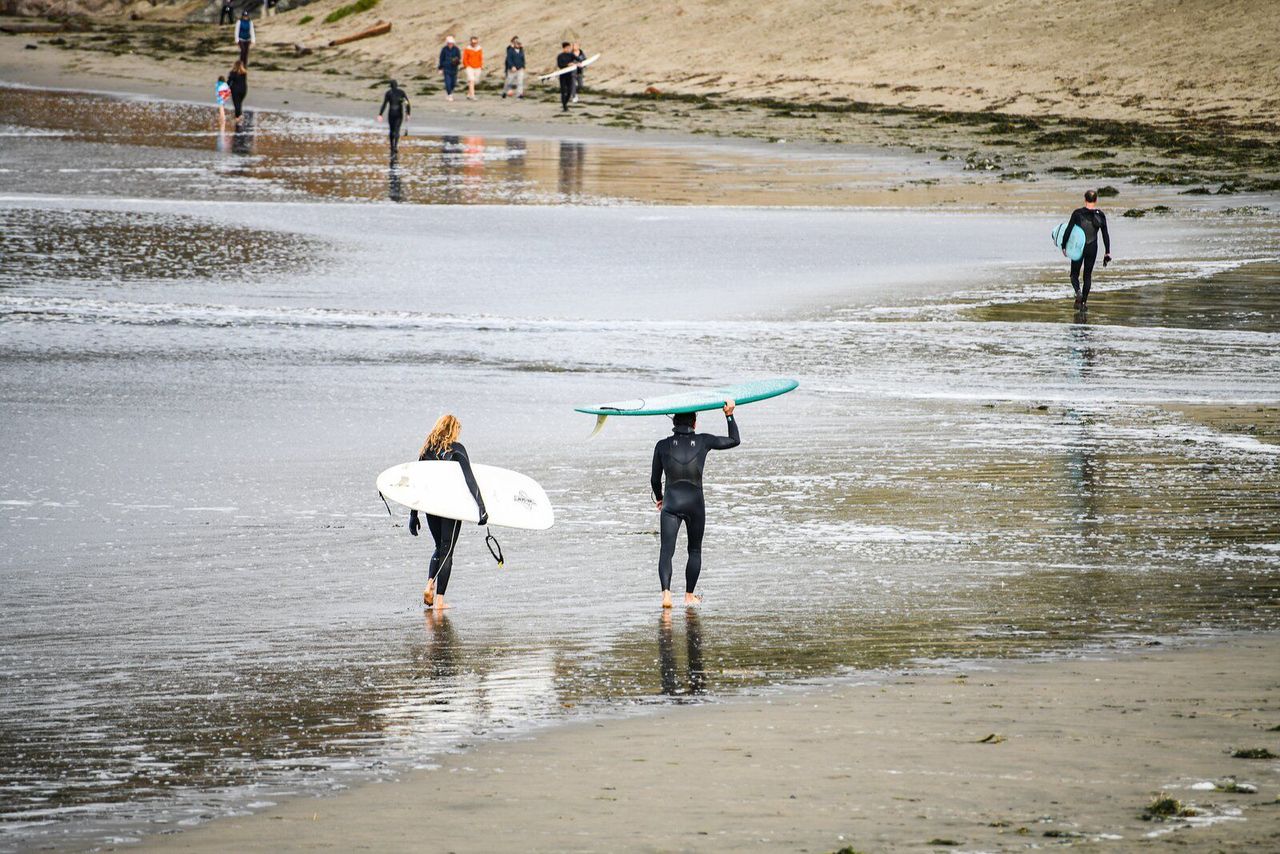 The resort offers surfing gear for guests who want to catch some waves during their stay.

"We offer hospitality, food, and beverage, but it's our people, our practices, and our philosophy that make us proud," Goebel continues. "For us, sustainability is a fundamental and necessary endeavor. We partner with organizations that work tirelessly to make a difference-whether it's those who care about the quality of our ocean, or artisans and makers, like Tru Form Tiny, who provide thoughtful and bespoke products and details."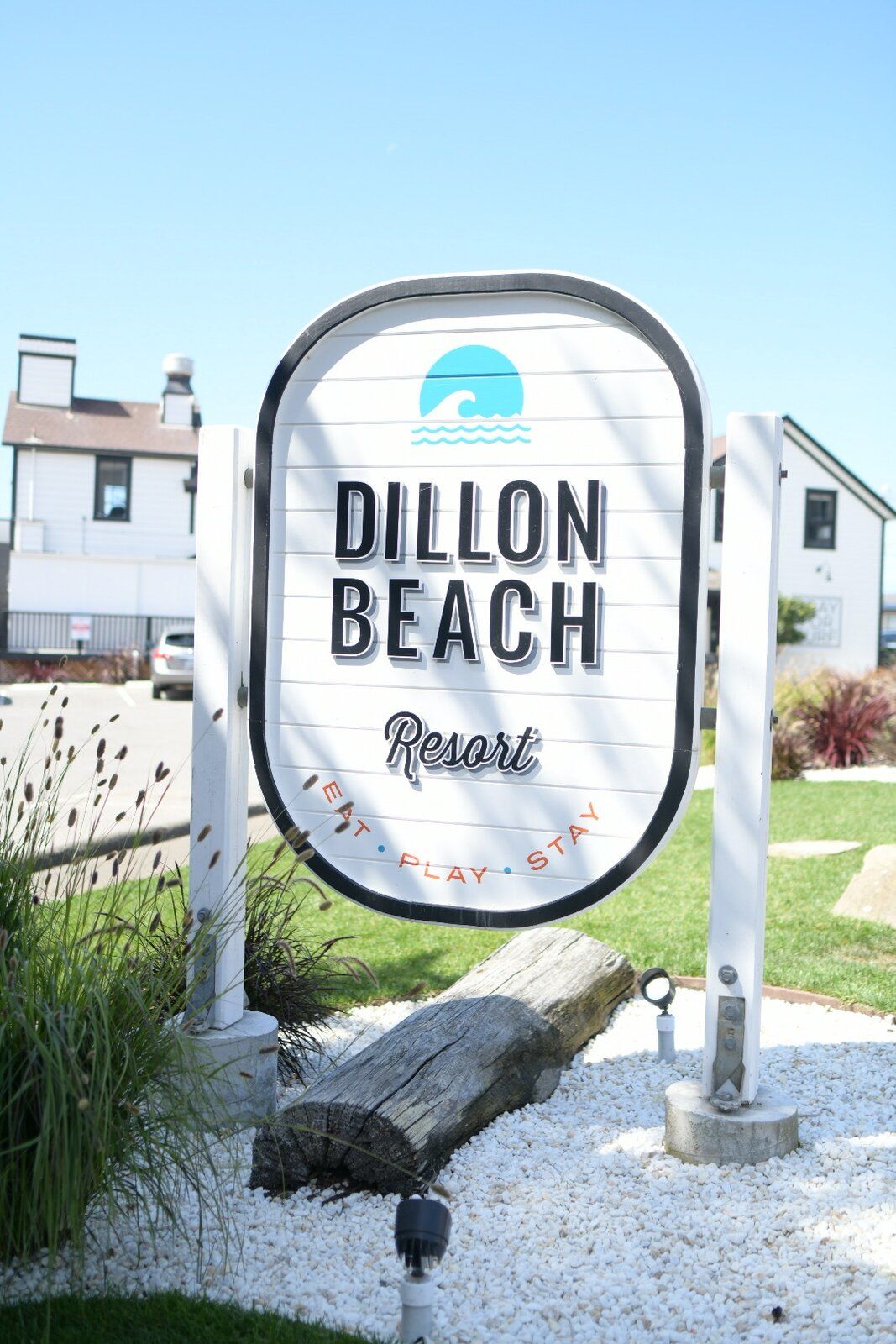 The historic resort, originally built by George Dillon in the late 1800s and now owned by three native Marin County families, features a new, light-and-bright aesthetic.