Transported in a single shipping container and raised in two weeks, this clam-shaped cabin nestles against a rocky outcrop outside Sydney.
The idea of a prefabricated cabin, with components light enough to carry and assemble without heavy machinery, had long had a siren call for owner and architect Mark Fullagar. After many nights sketching and dreaming of the perfect solution, Fullagar came up with the Fabshack-a 540-square-foot cabin with 90 percent of its structure built off-site.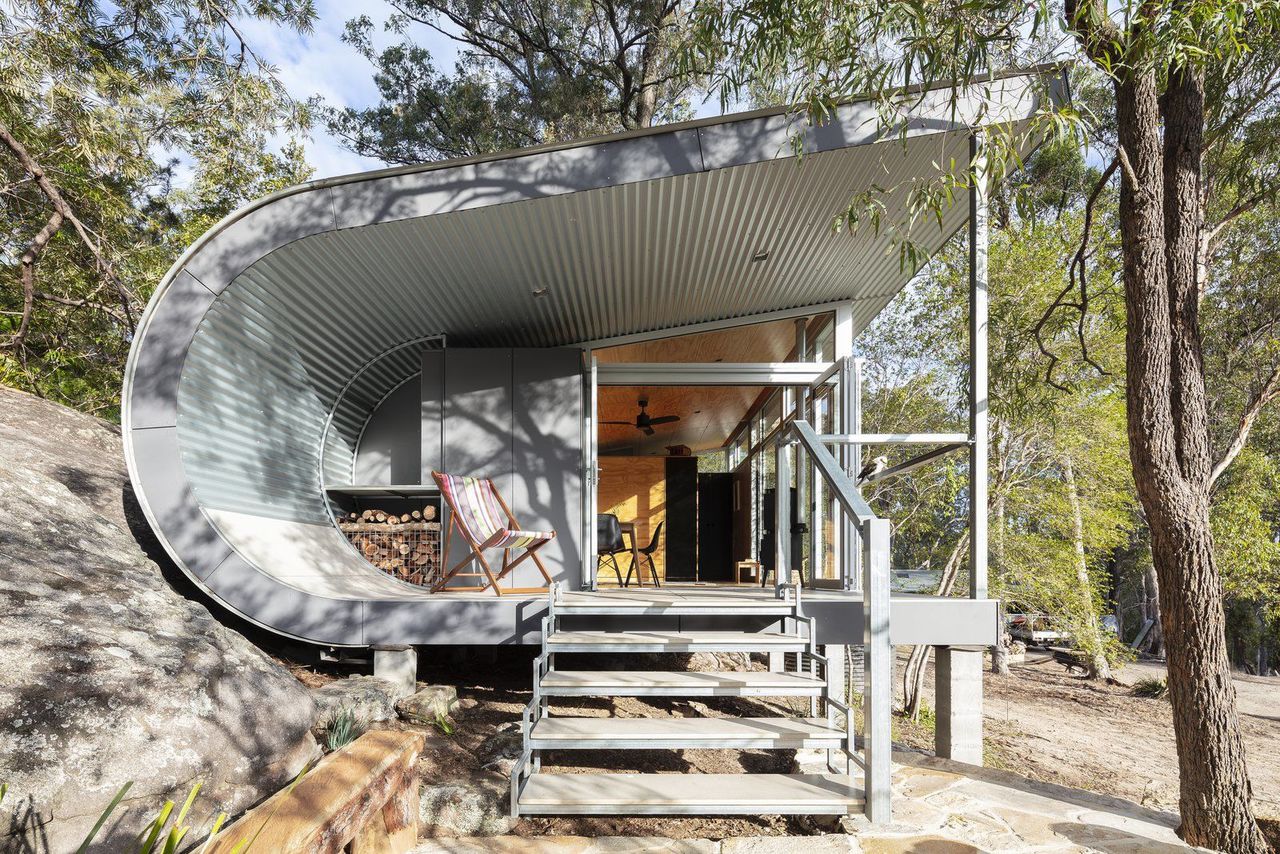 Architect Mark Fullgar chose corrugated steel, aluminum window frames, and strengthened glass-cost-effective, non-combustible materials, given the cabin's location in a rural fire zone.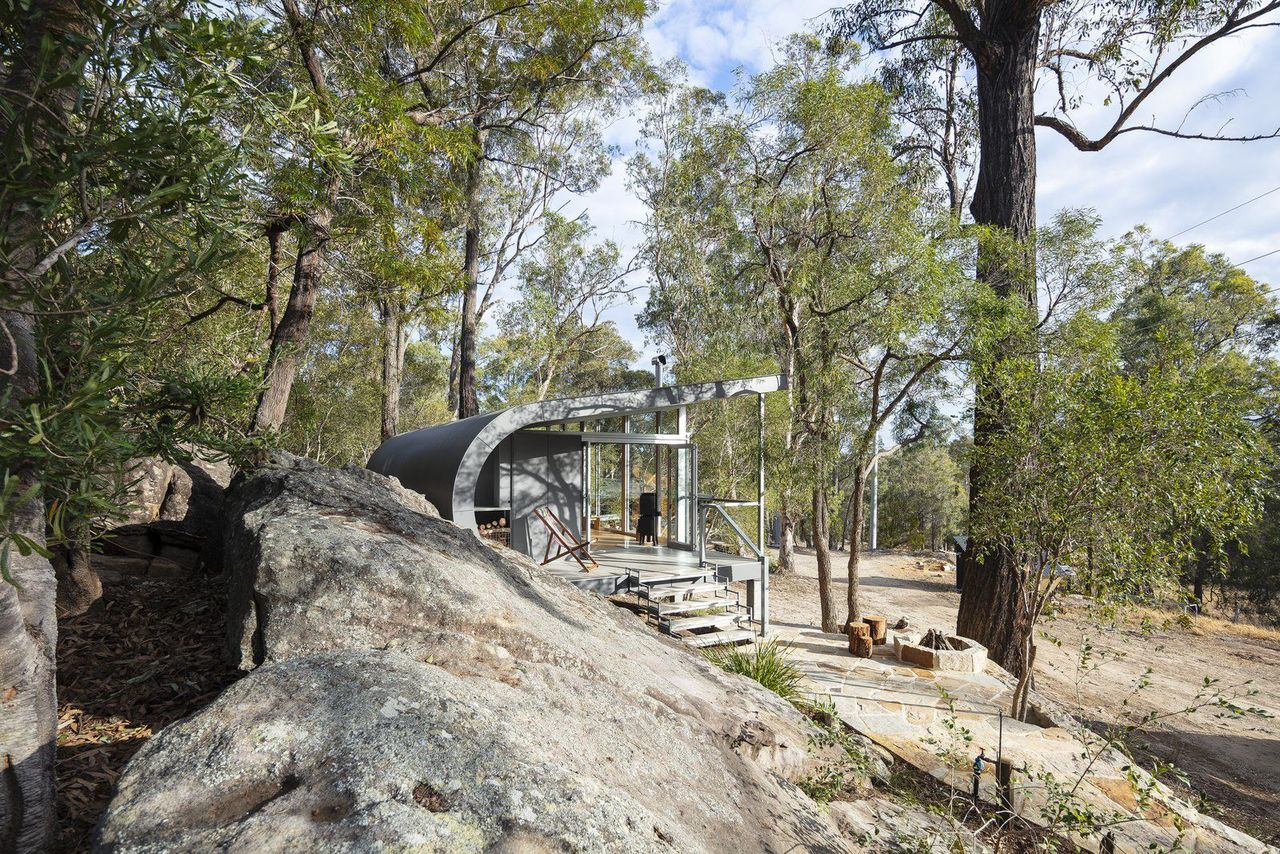 Fabshack is designed to be adaptive to many different site configurations. In this instance, it nestles into a rock outcropping on the architect's property northwest of Sydney.

Designed and built by Fullagar, the compact, comfortable cabin has a queen-size Murphy bed, seating area, storage, open kitchen and dining room, bathroom, laundry room, and deck from which to enjoy mountain views on his 26-acre property in Cattai, a suburb of Sydney, Australia.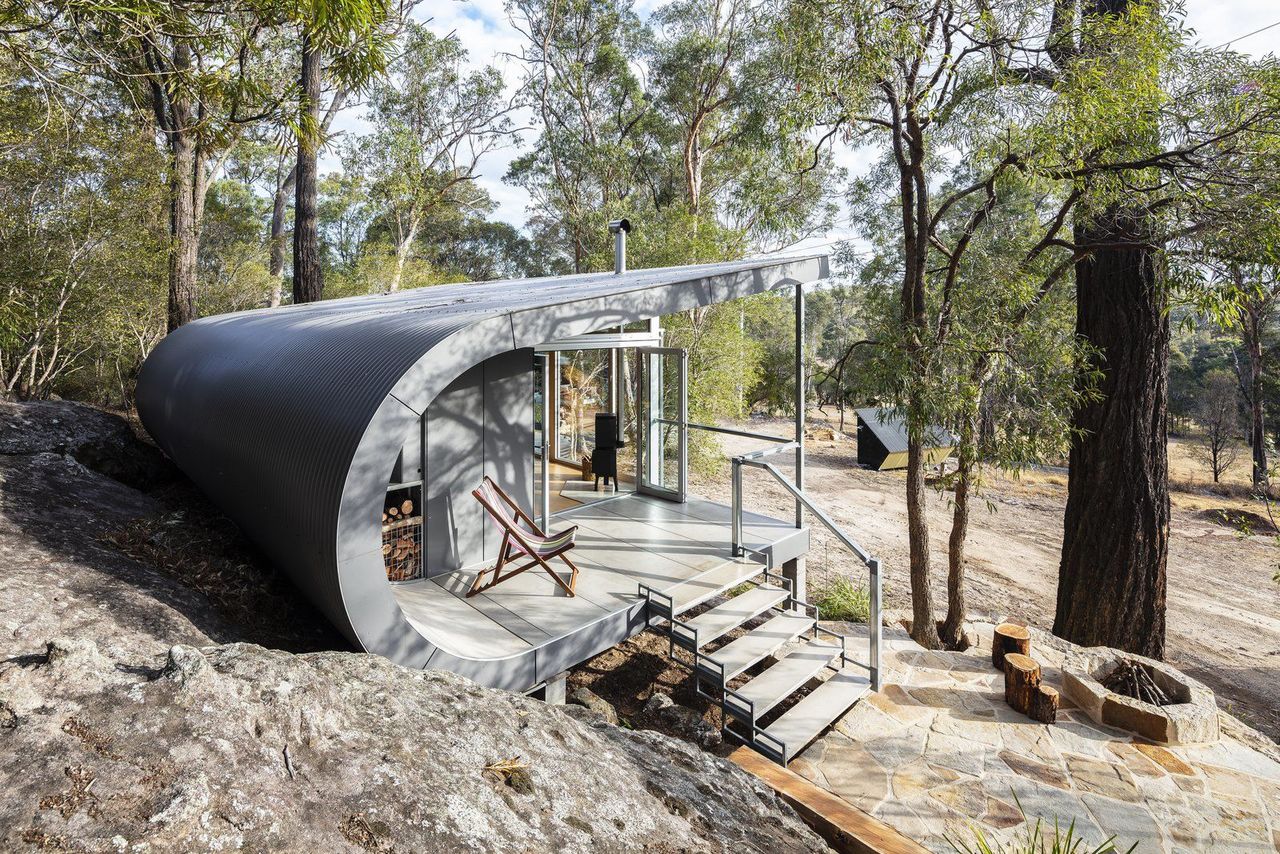 A north-facing veranda includes an outdoor seating area adjacent to a stone fire pit.

The cabin is constructed of cost-effective, non-combustible materials in 8-foot-wide bays. Each bay consists of hollow-insulated plywood panels nestled within a steel frame, elevated on piers that lift the structure above the ground. Insulated plywood forms the continuous ceiling and curved wall of the cabin, creating a soft interior while facilitating necessary rainwater drainage on the outside.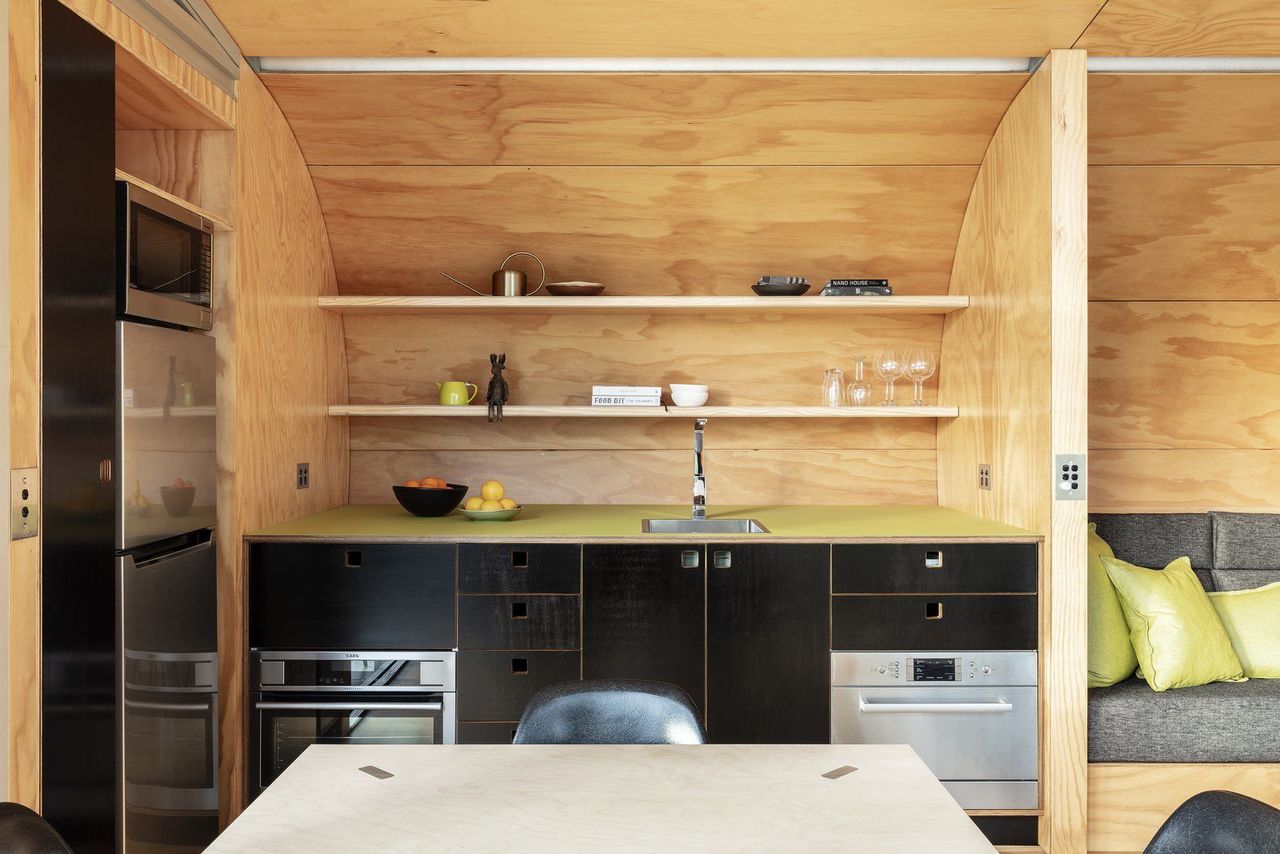 The kitchen is fully equipped with appliances and storage, and accommodates a small table.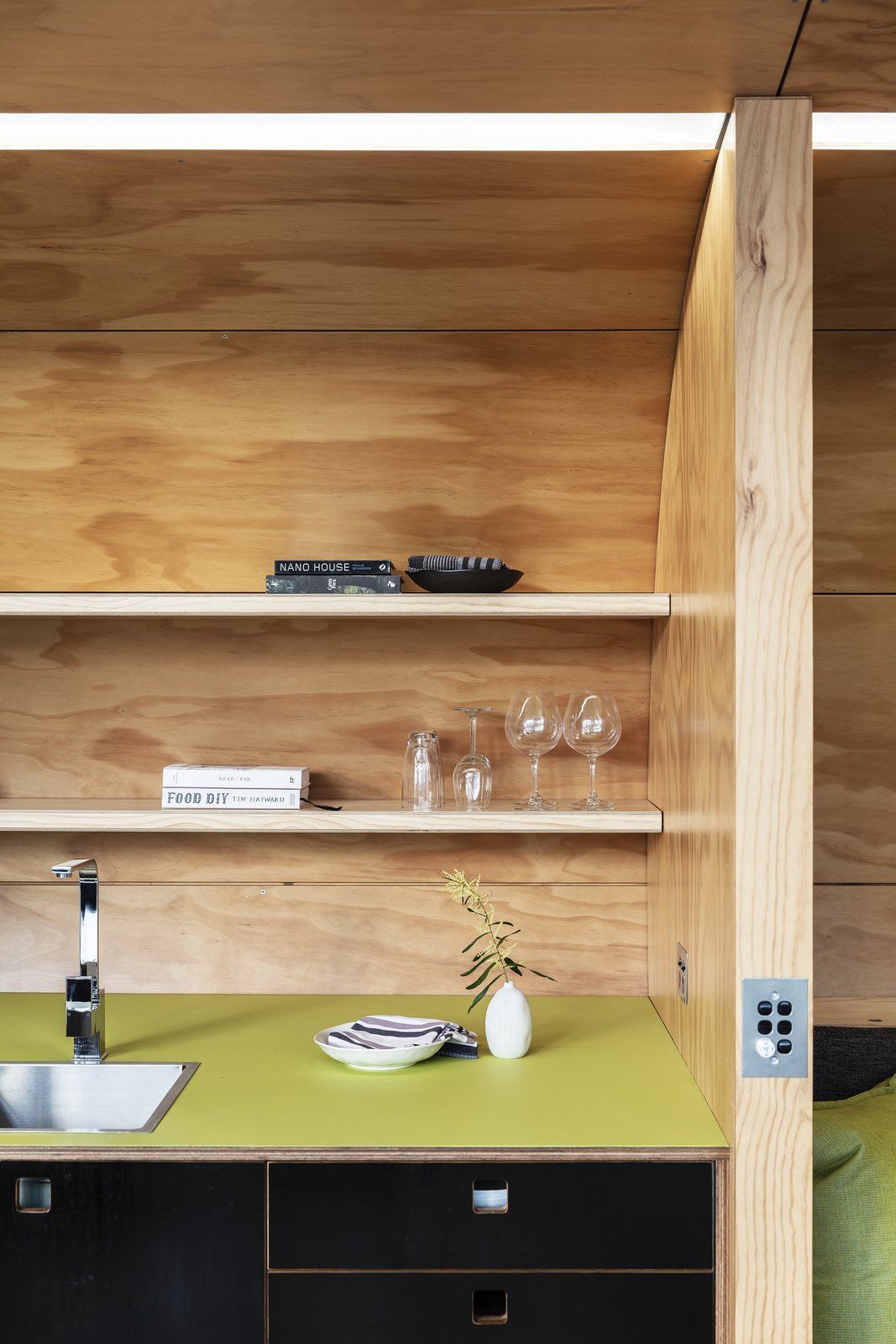 A green linoleum countertop and black cabinets add a pop of color to the wood interiors. Open shelving provides additional storage.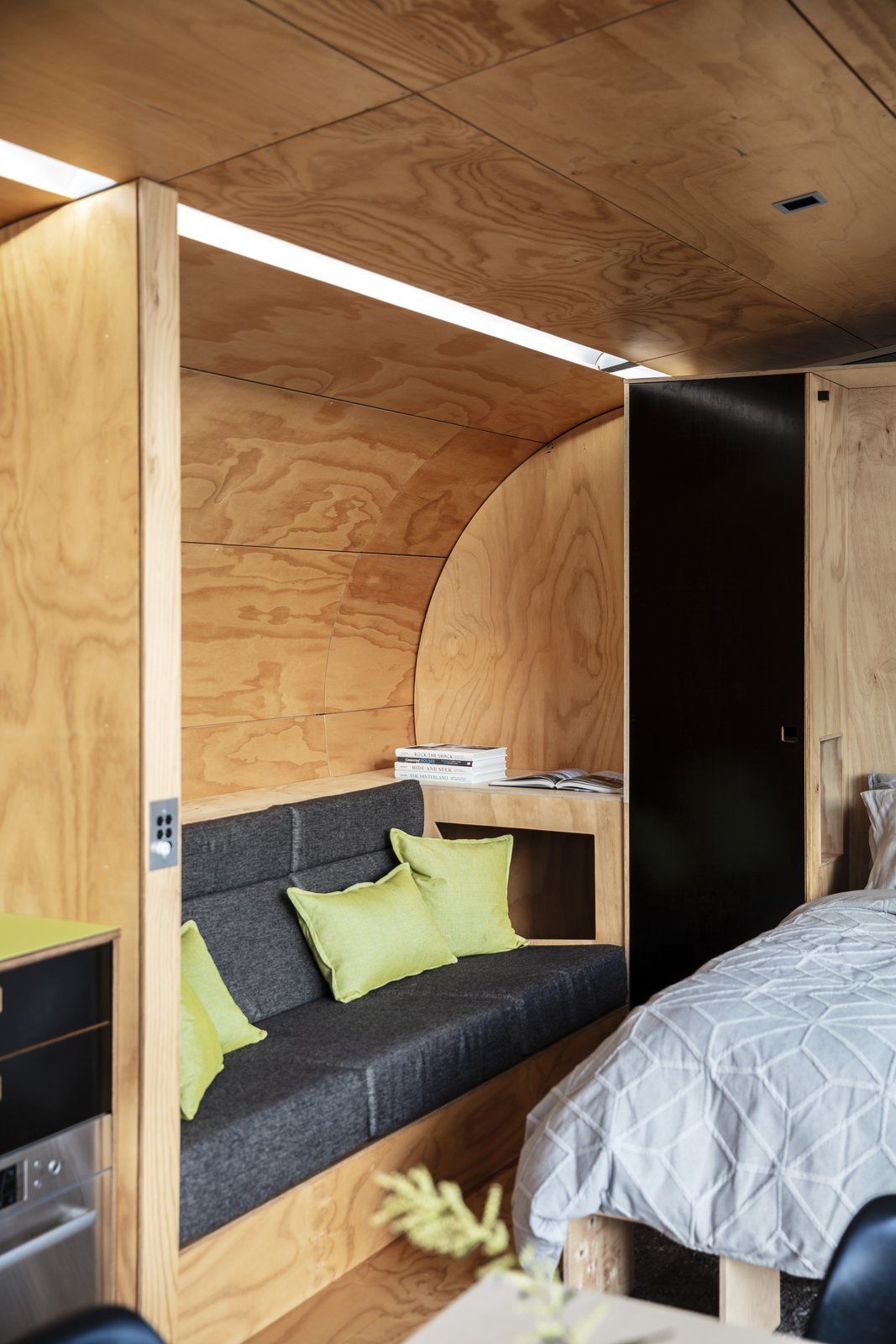 A recessed light extends along the length of the cabin, from the kitchen through to the living room.

Corrugated steel, aluminum window frames, and strengthened glass create an industrial exterior. By contrast, the plywood-wrapped interior adds warmth and texture to complement the natural setting. Green linoleum countertops and black millwork enliven the muted palette. Large windows face west to take in the mountain views, with sliding shutters that protect against the afternoon sun.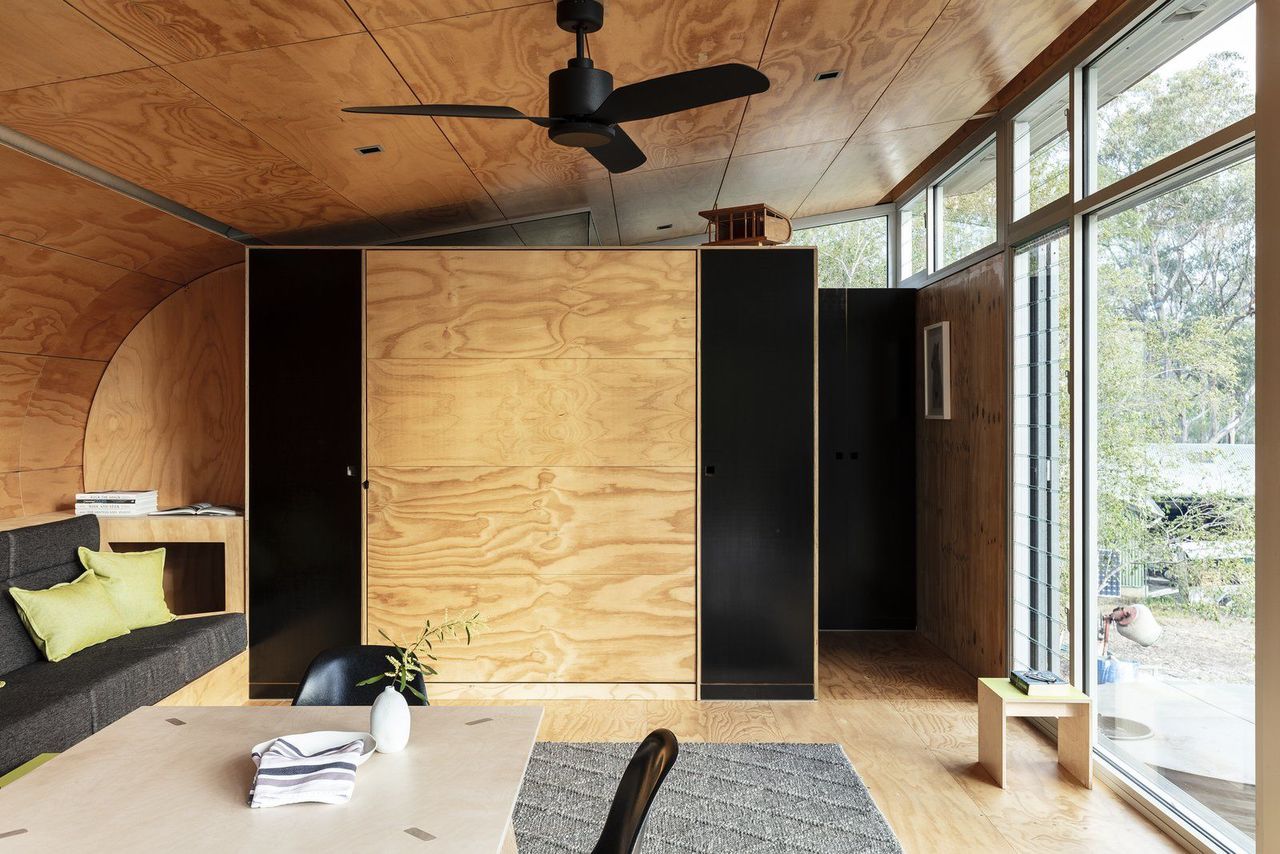 Large windows face west, providing uninterrupted views of the valley below and mountains beyond. Sliding exterior shutters and low-E glazing protect the interior from afternoon sun.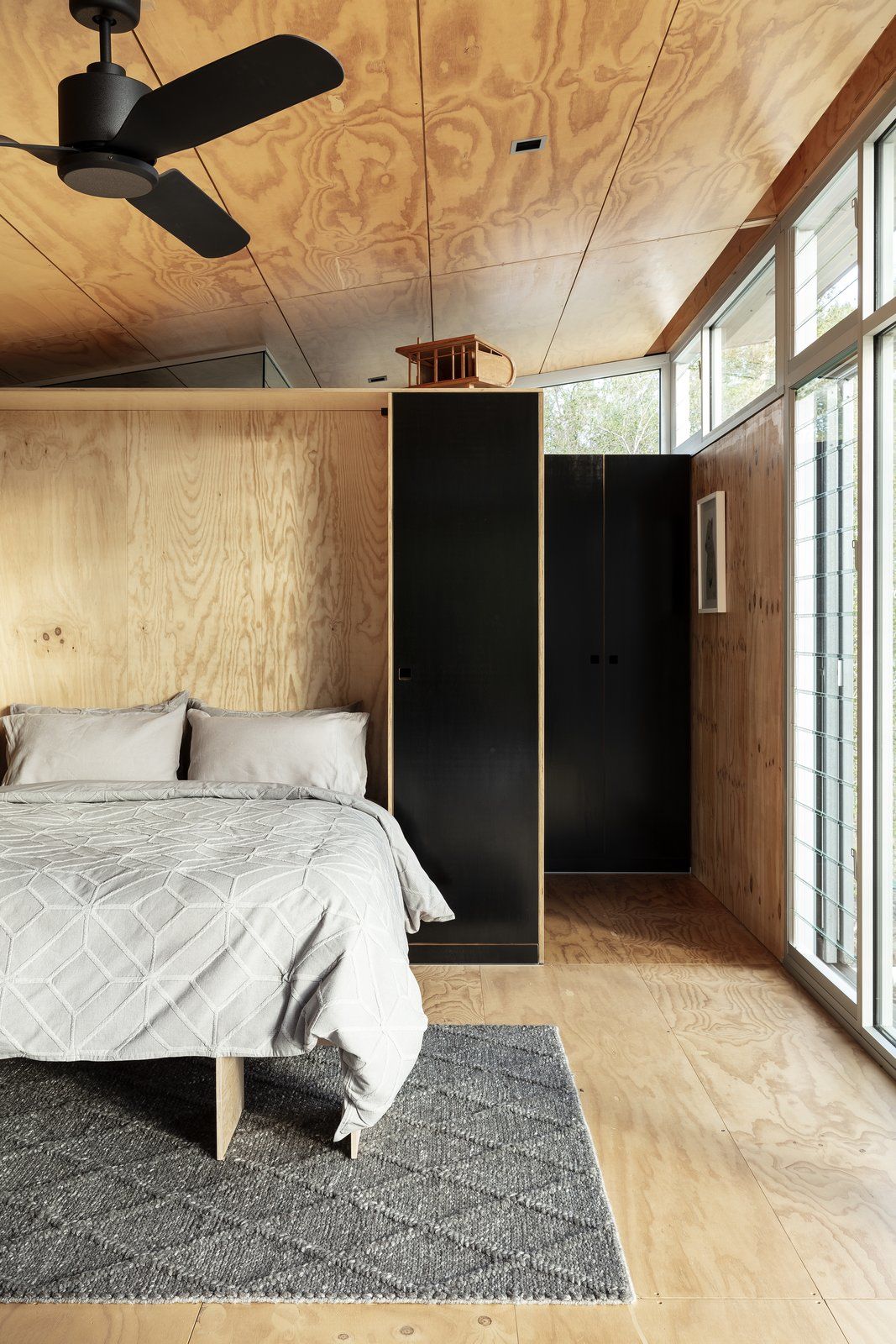 A queen-size Murphy bed folds down from this interior wall, transforming open living space into a bedroom.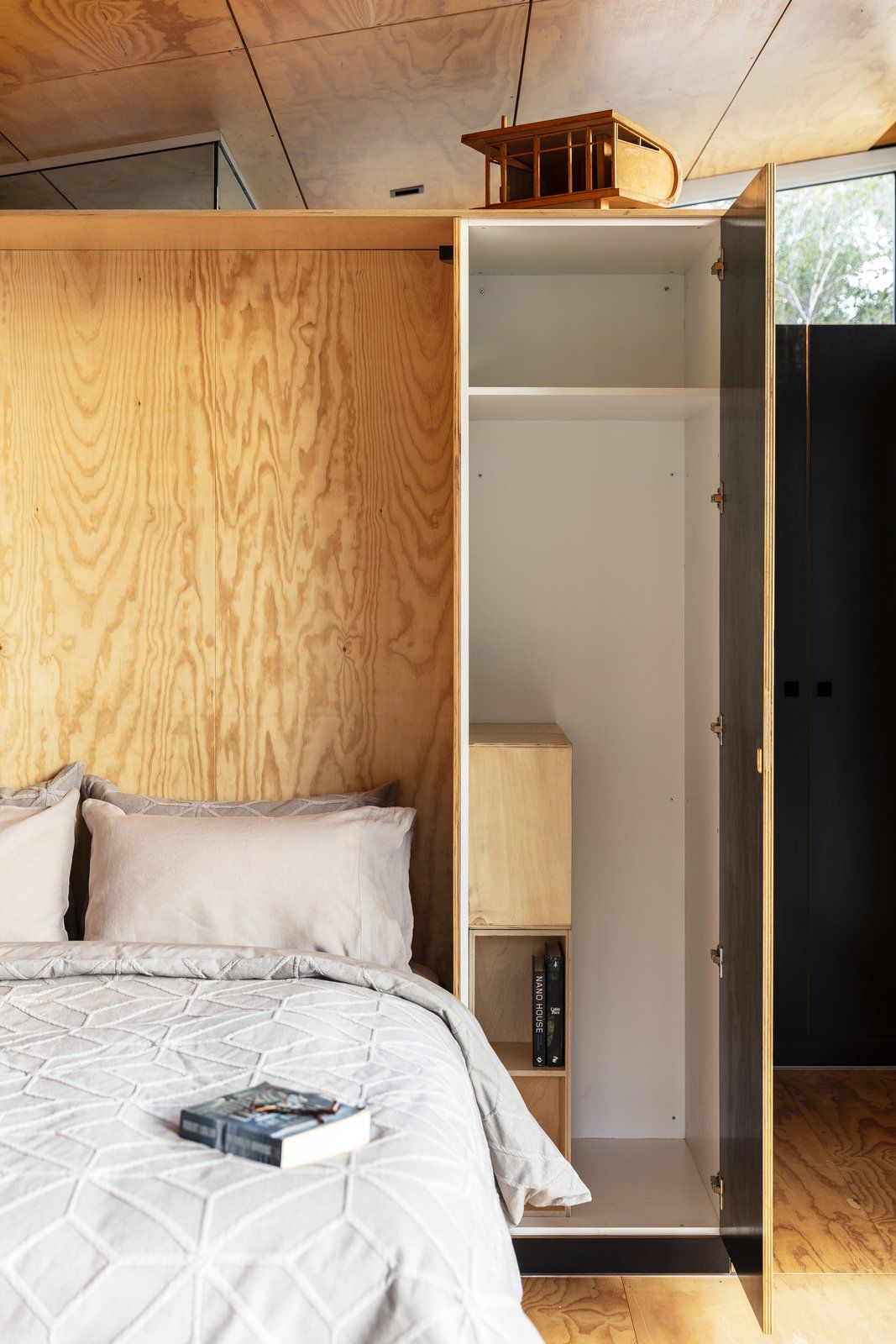 Wardrobe storage flanks either side of the built-in bed.

Ninety percent of the work was completed in a workshop, meaning minimal labor time was spent on site. All components were packed in one shipping container, and each component was carried by one or two people to the site.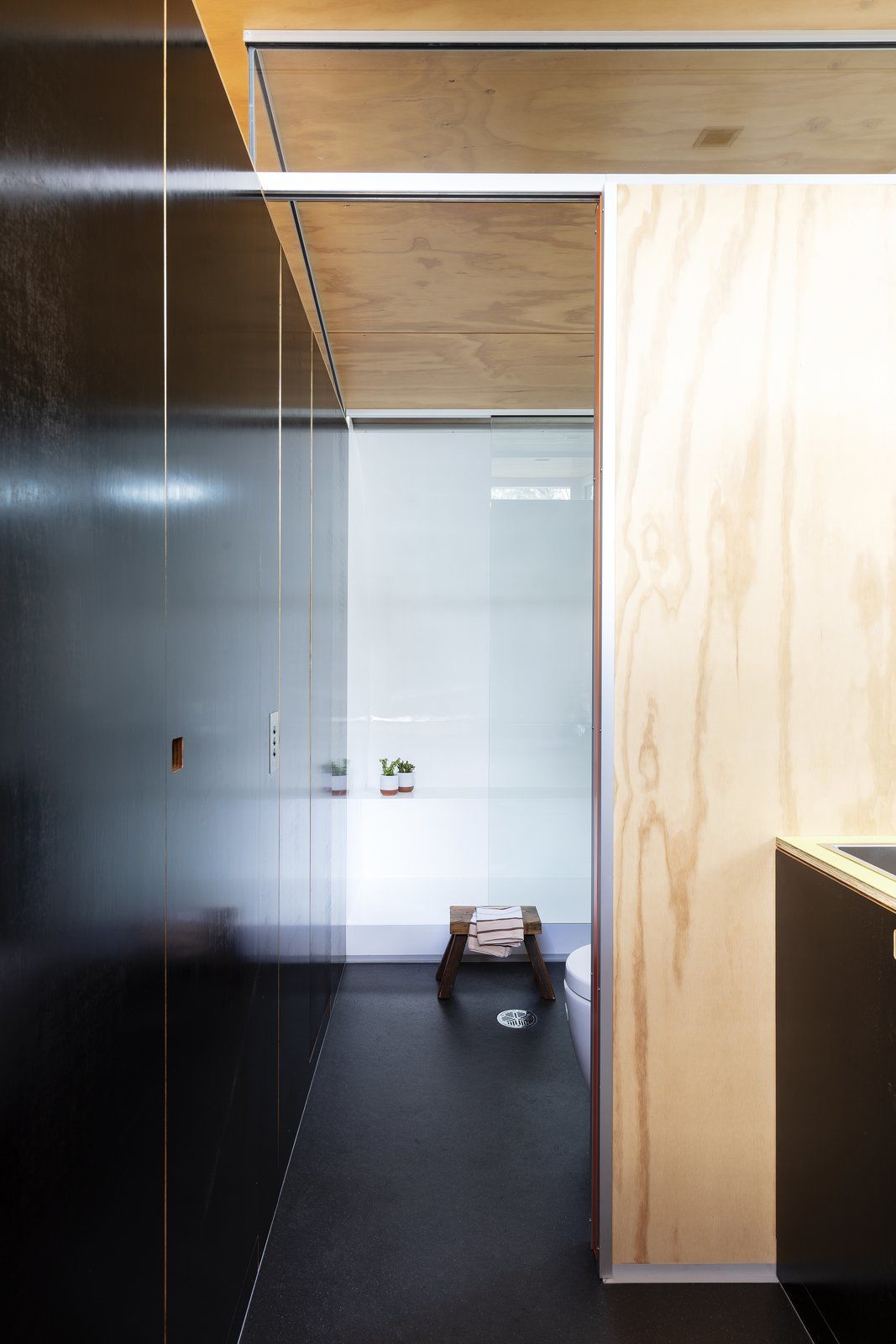 The shower is built into the curve of the structure, maximizing the unique space.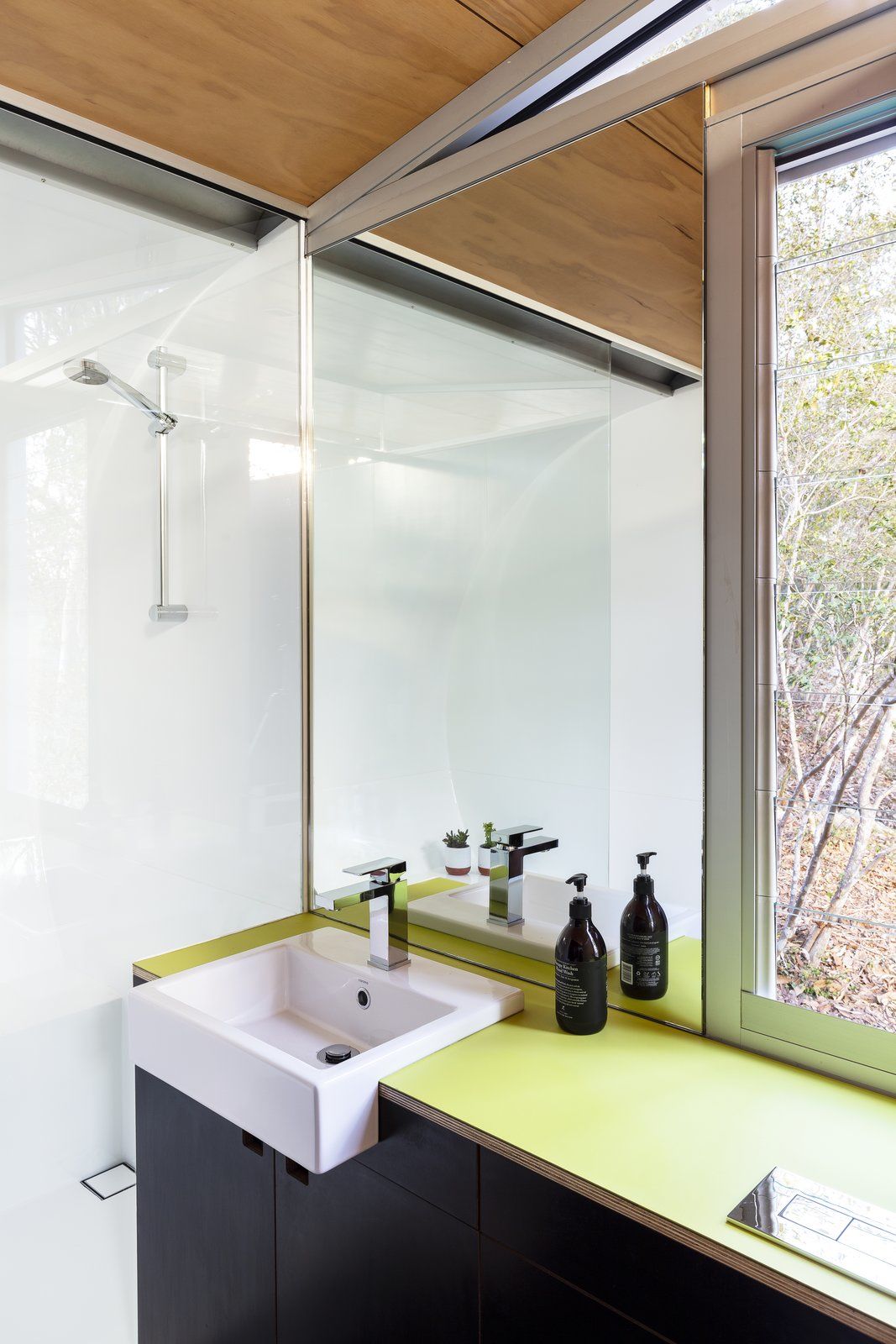 Green linoleum countertops and black cabinets reappear in the bathroom. A south-facing window draws in plenty of natural light. Even the cabinetry and plumbing fixtures were built in the workshop.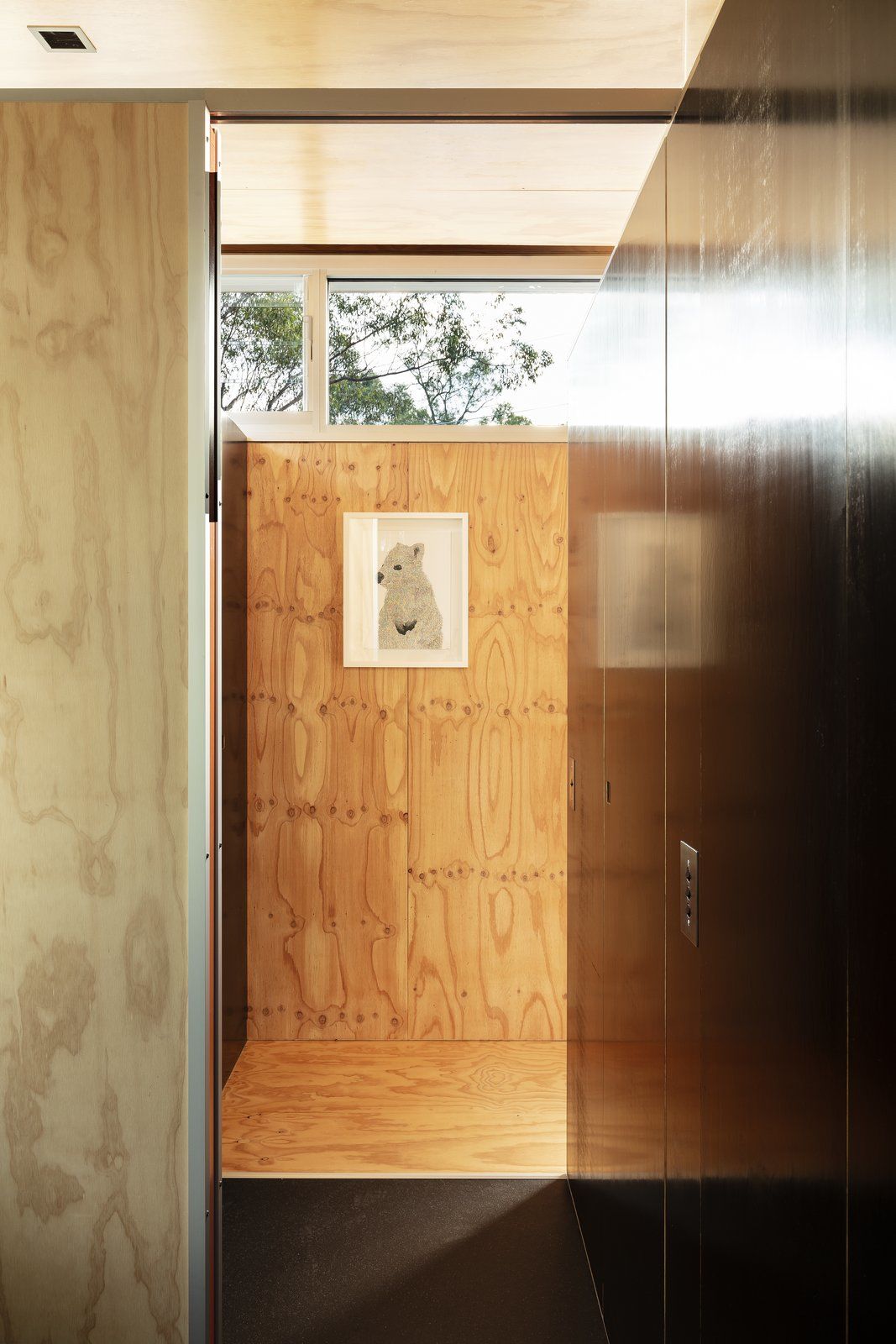 Clerestory windows draw in additional daylight while still providing privacy.

The Fabshack demonstrates the flexibility and adaptability of prefab construction. Since the cabin is comprised of modular bays, it can be modified for different purposes or sites, its components easily dismantled and recycled, and its materials upgraded depending on preferences and budget.