The most beautiful living rooms. Styles covered include modern, mid-century, minimalist, Scandinavian, rustic, eclectic, industrial.
A place of relaxation and intimate get-togethers, the living room is a hub in the home that deserves top design priority. Get inspired with our curated collection of beautiful living rooms that feature everything from modern minimalist lofts to luxury ocean side showrooms. Whether you're looking to switch up your living room's color scheme or planning on a complete reno, this modern living room collection is just what the design doctor ordered! Filled with a variety of décor styles, living room layouts, modern color palettes, unique furniture and much more, you are sure to find something to inspire your next living room project.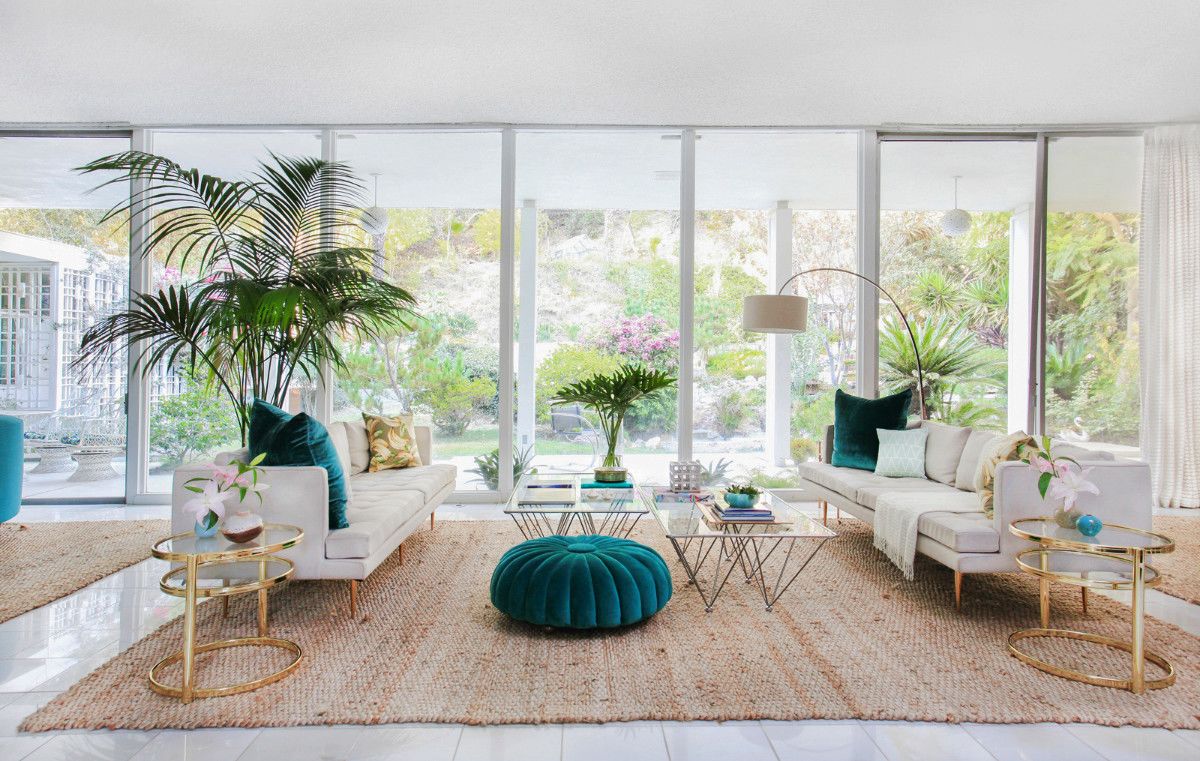 Mid-Century Modern gets adorned with a pinch of Art Deco flair in this fresh and vibrant living room. The mix of turquoise textiles with simplistic furniture, like the mid century modern coffee tables, is absolutely divine.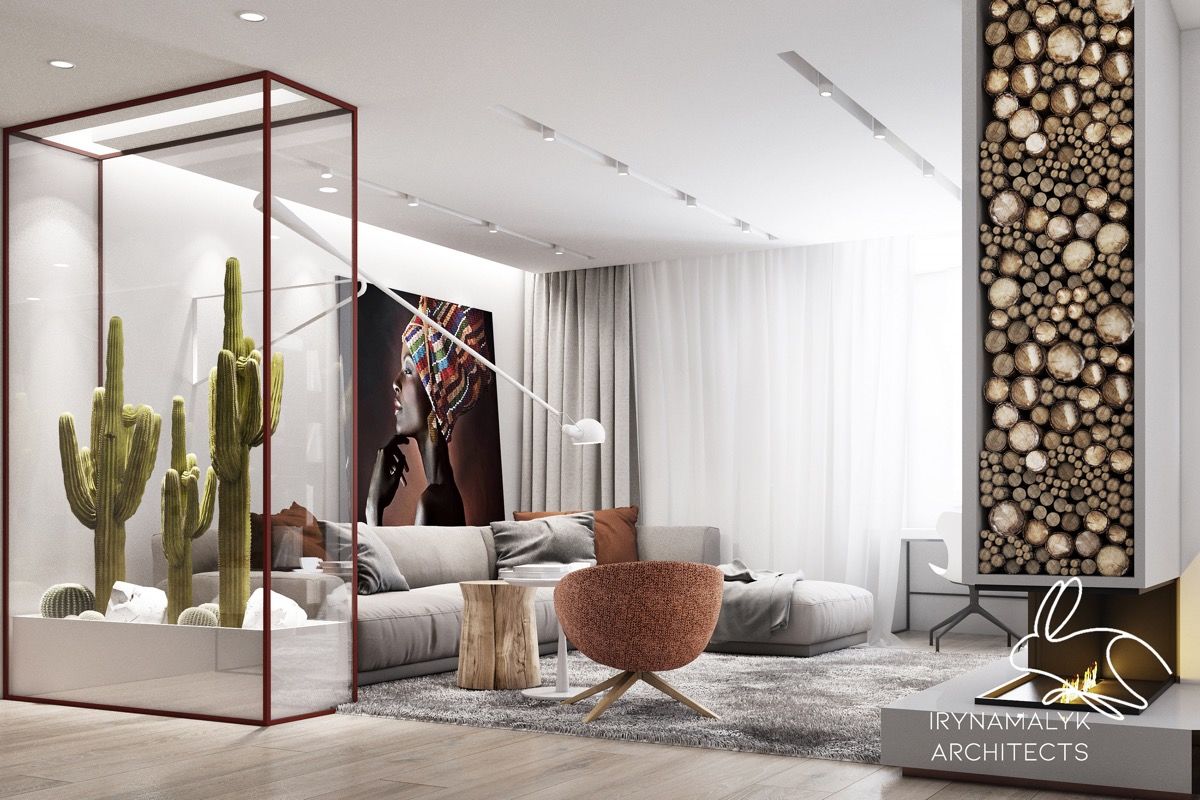 From the oversized cactus terrarium to the log motif accent wall, Mother Nature undoubtedly played a large role in inspiring this beautiful living room. The abundance of natural light beaming in through the expansive window is truly the cherry on top of this striking design.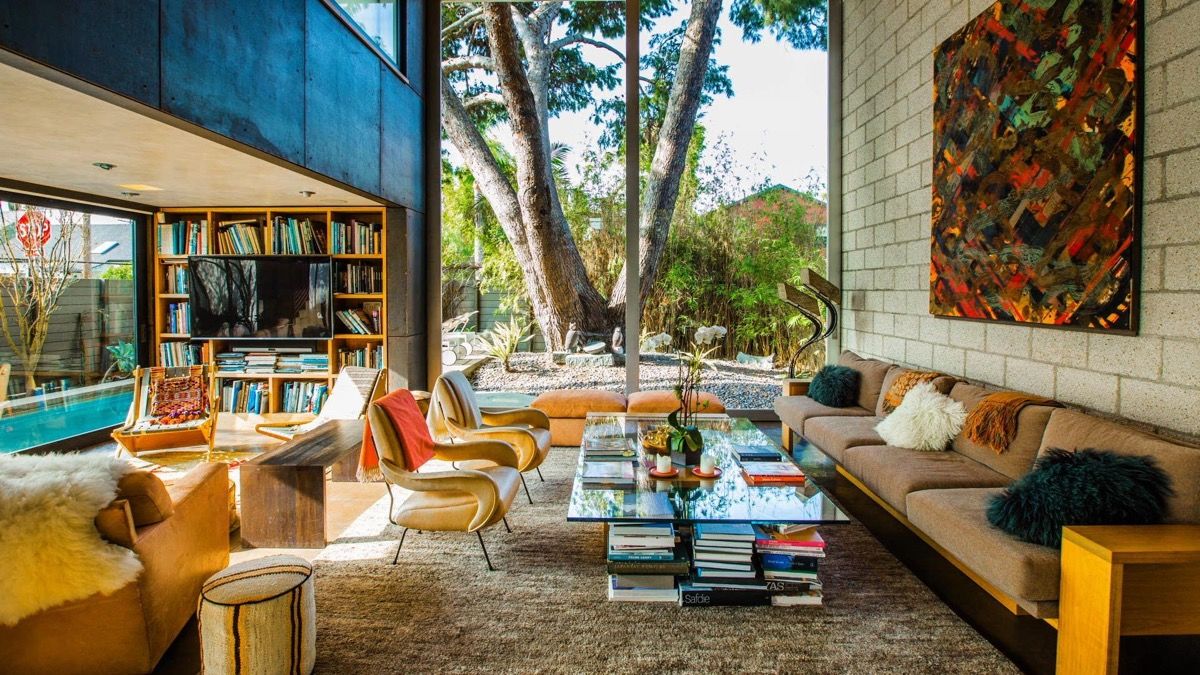 With lots of natural light illuminating the bold and bright sunshine yellow accents, you can't help but to feel happy while looking at this cheerful living room. Plus, a grand view of nature may be the best accent wall ever.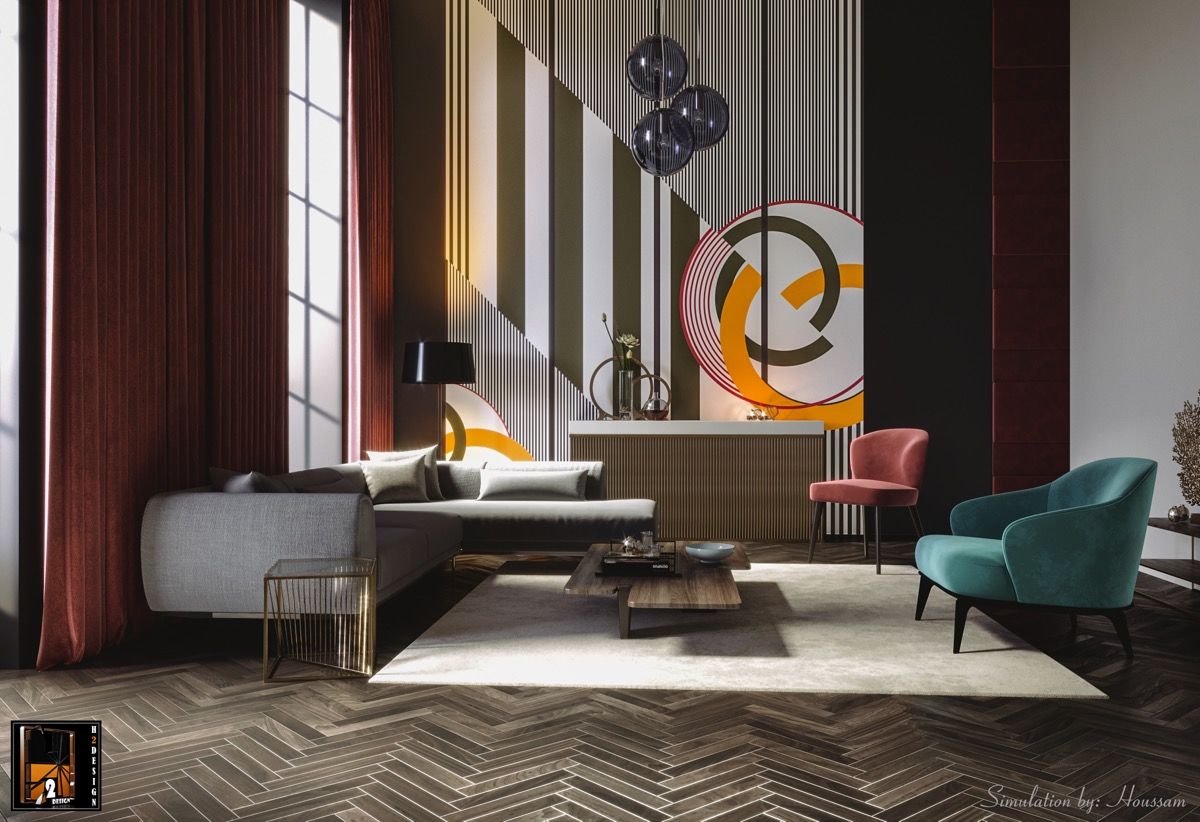 Big and bold patterns is a way of life for this Art Deco living room. A bold accent wall and herringbone wood flooring is perfectly offset by a cozy white area rug and an arrangement of simple furniture.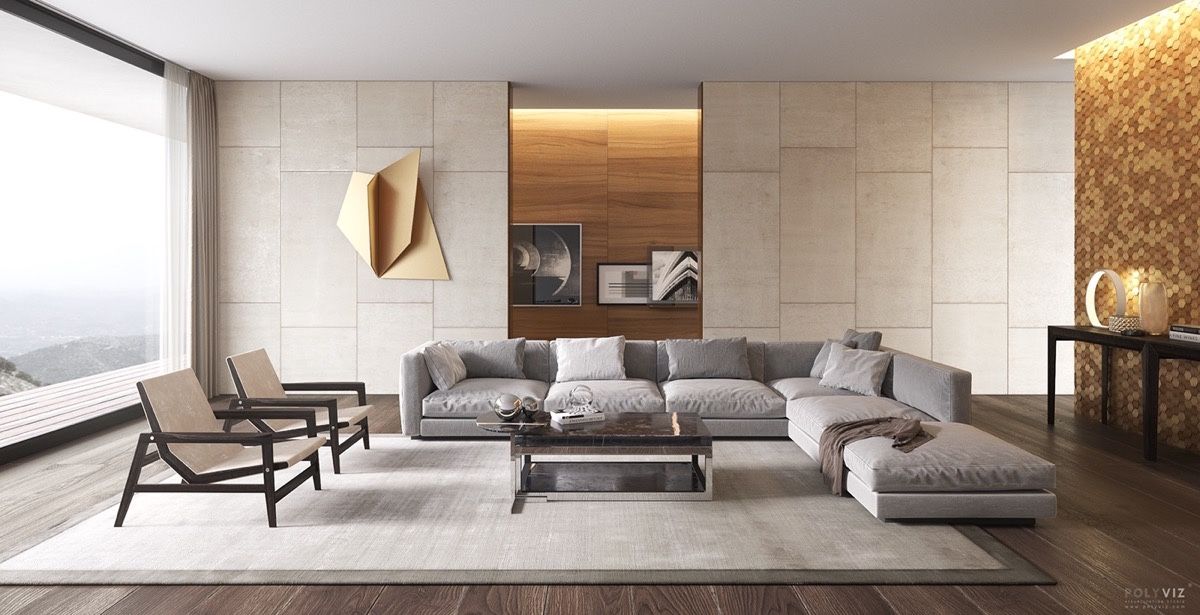 Stealing center stage in this white and gold living room is an oversized modern sofa. Not only does this sofa perfectly fill the space, but it allows for maximum seating within this Art Deco influenced living room.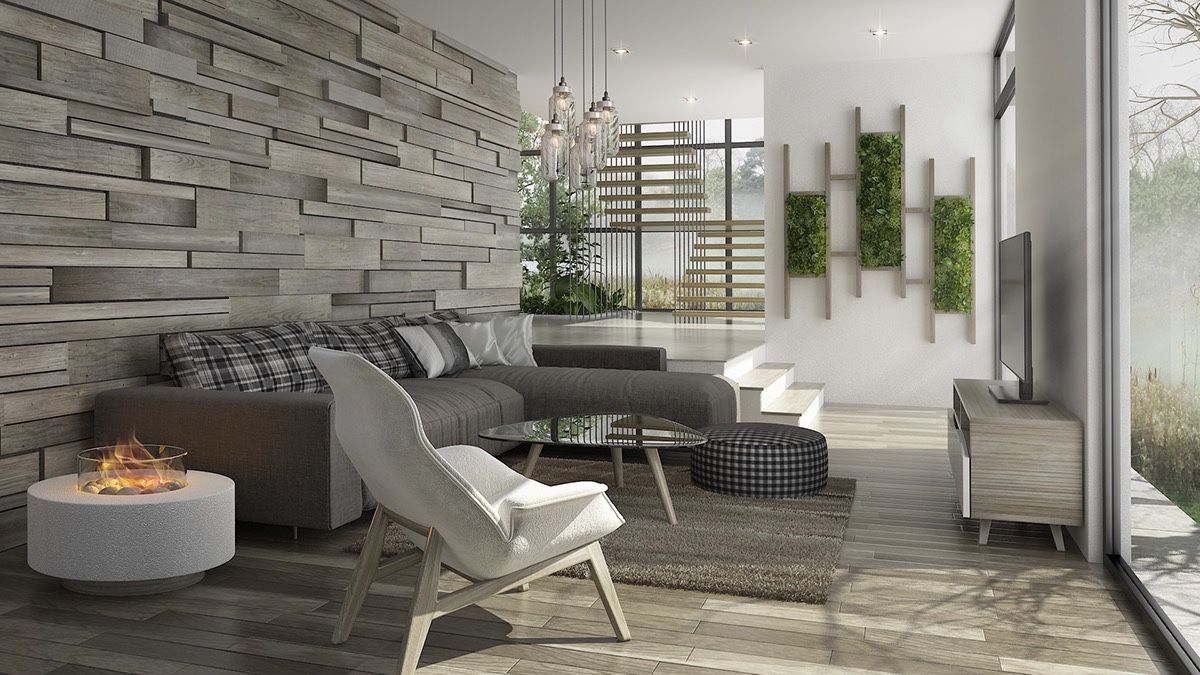 An accent wall doesn't have to mean bold color, this living room goes for a more elegant aesthetic by utilizing varied shapes and depths. A poignant design choice for this modern neutral room.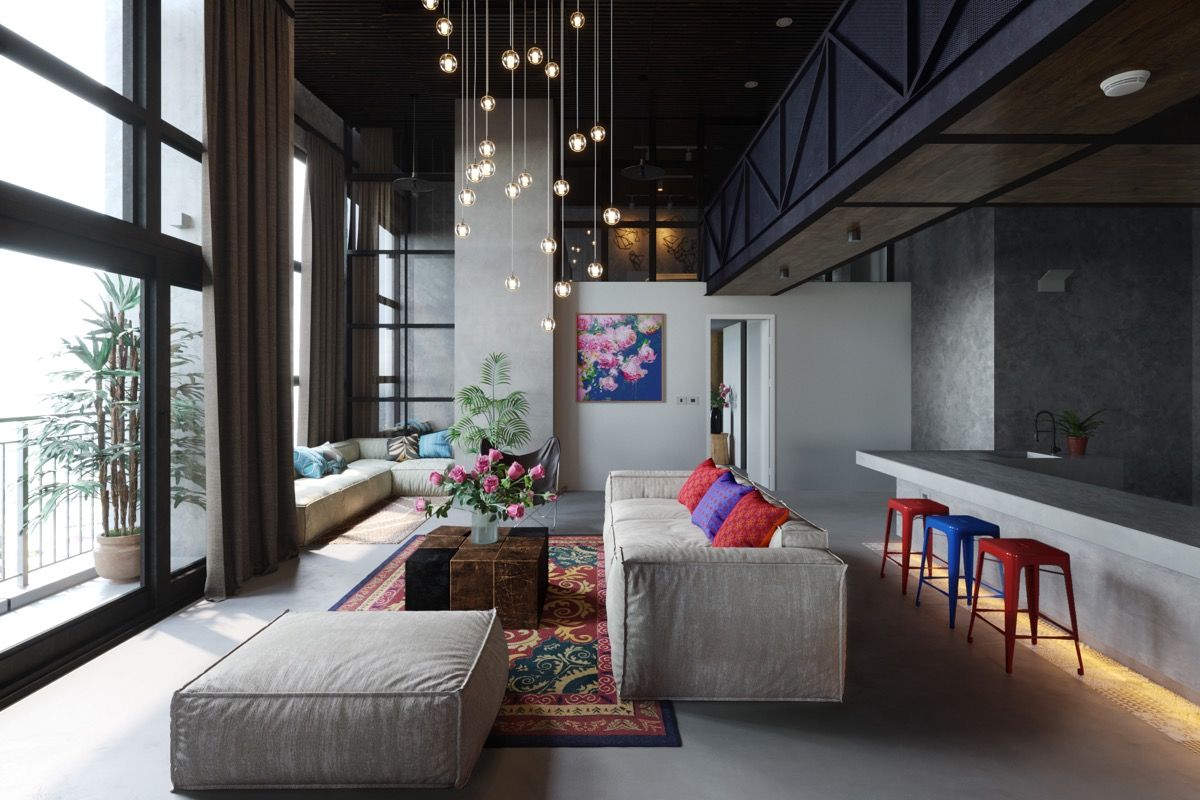 This open-concept design creates the perfect layout for social gathering among friends and family. Two large couches and bar stools make for the perfect seating arrangement for intimate conversation. We especially love the small touches that make this living room pop. such as the blue and red accents and the unique modern chandelier.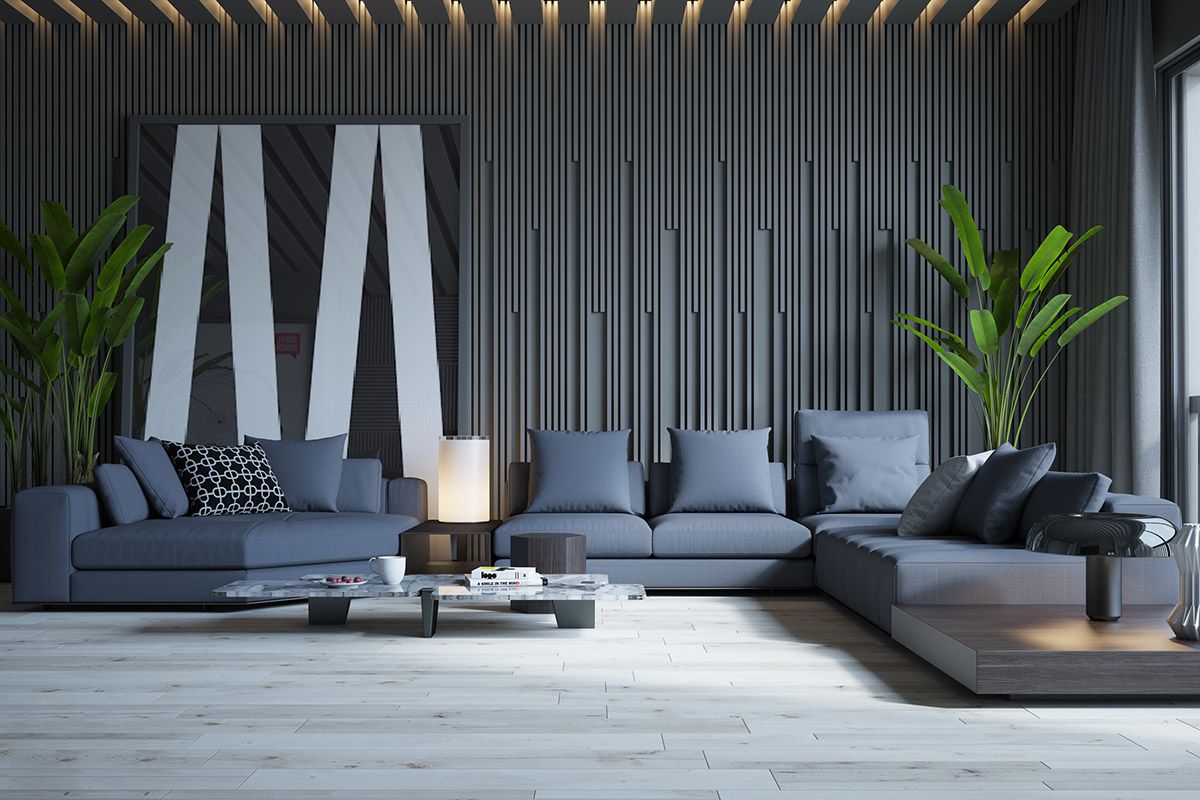 A monochromatic color scheme is offset by two bright Bird of Paradise plants in this living room. The modern coffee table helps bridge the two couches and makes good use of the expansive floor space.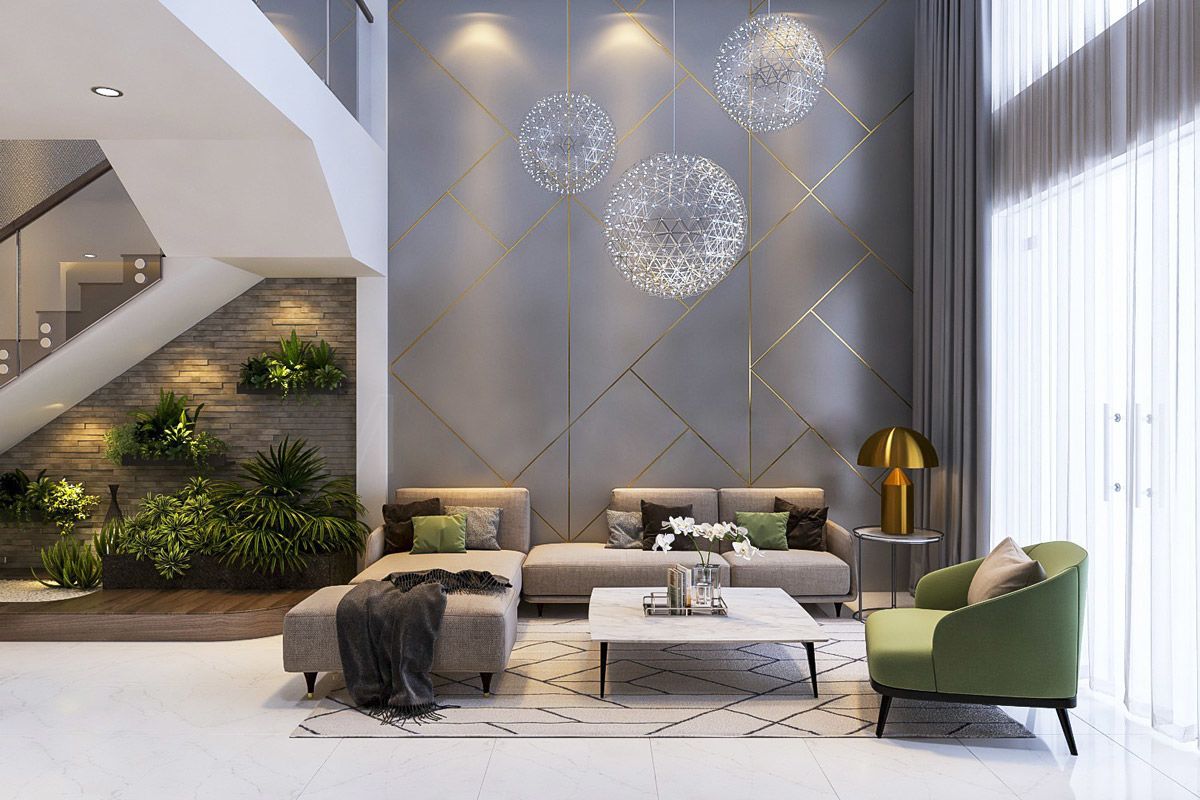 This grey living room utilizes accents of both gold and green to create a striking design that is Modern meets Art Deco. The oversized windows climbing up toward the high ceilings creates the perfect environment for the small indoor garden to thrive.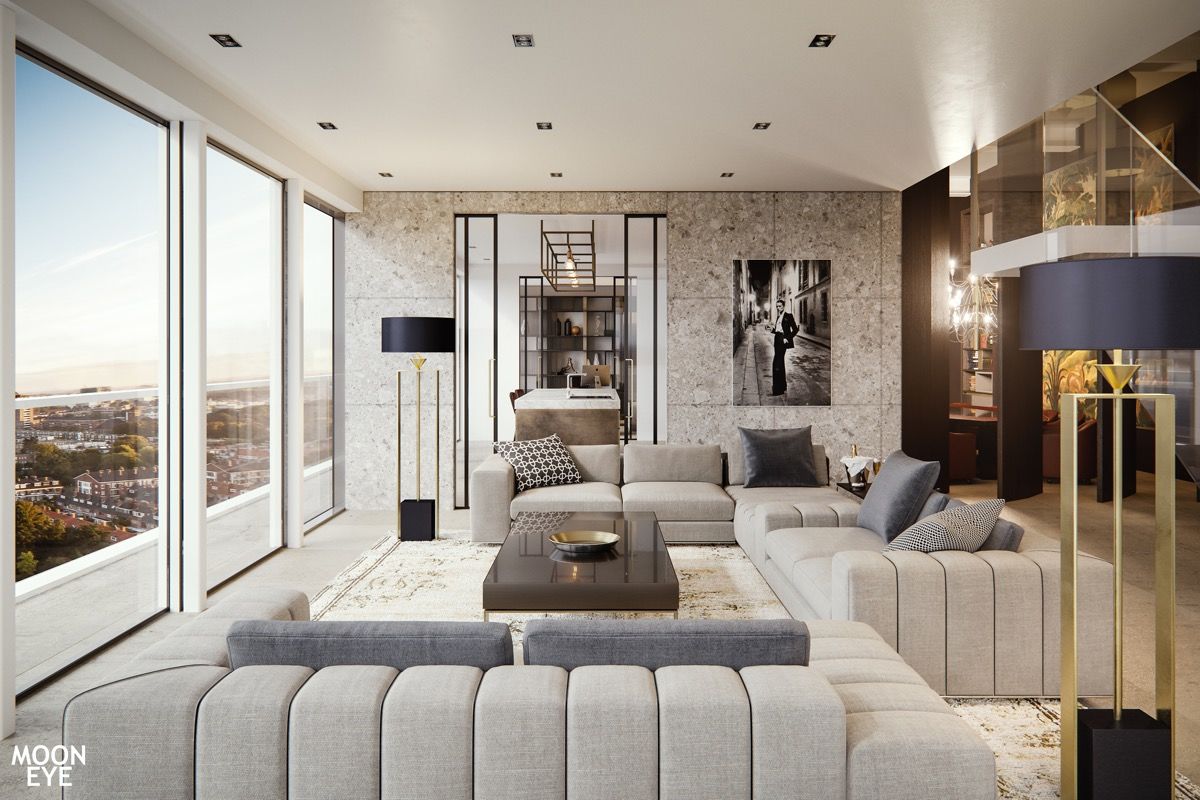 Contemporary apartment living at its best! This light and bright living room is a vision in grey hues. The floor lamps were an especially astounding design choice with their contrasting black & gold finish and unique shape.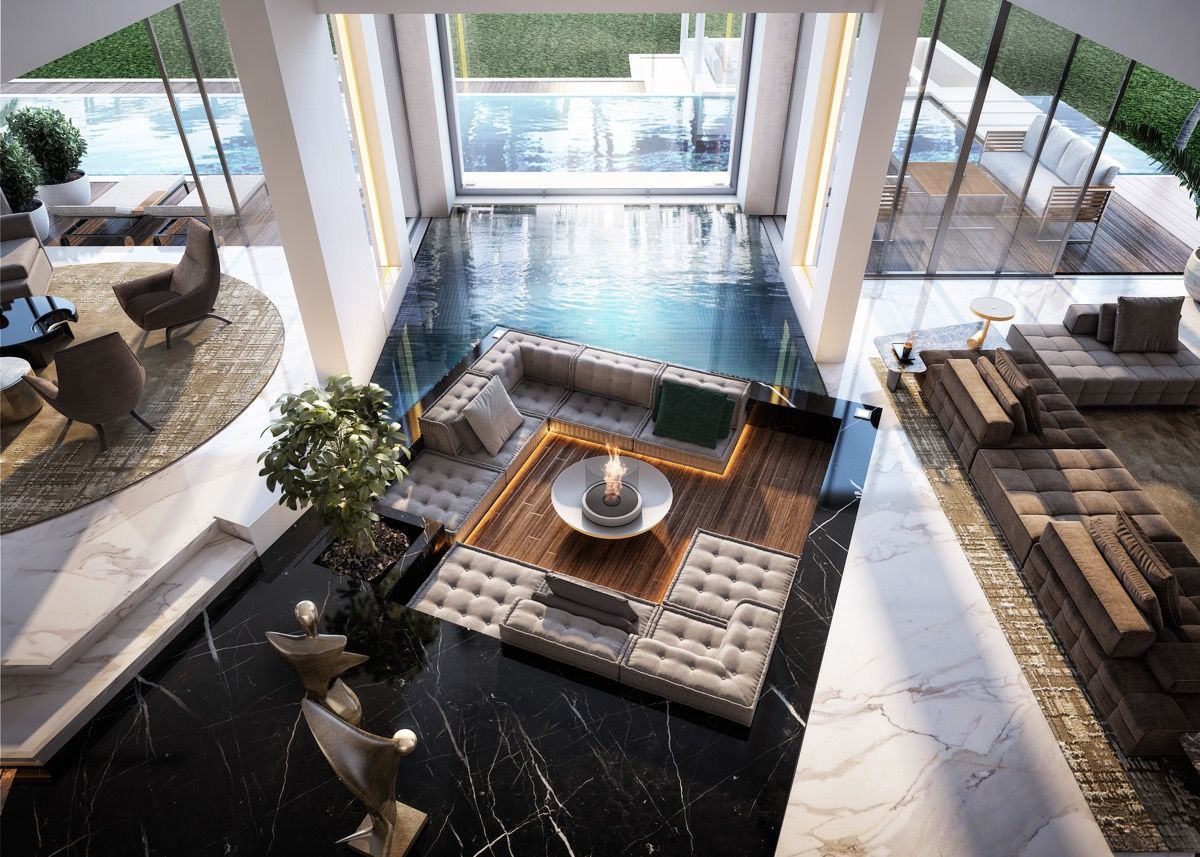 The sunken seating area surrounding a cozy fire bowl creates a modern conversation pit in this luxury living room. With a pool off to the back and more seating to the left and right, this home is just begging for a party!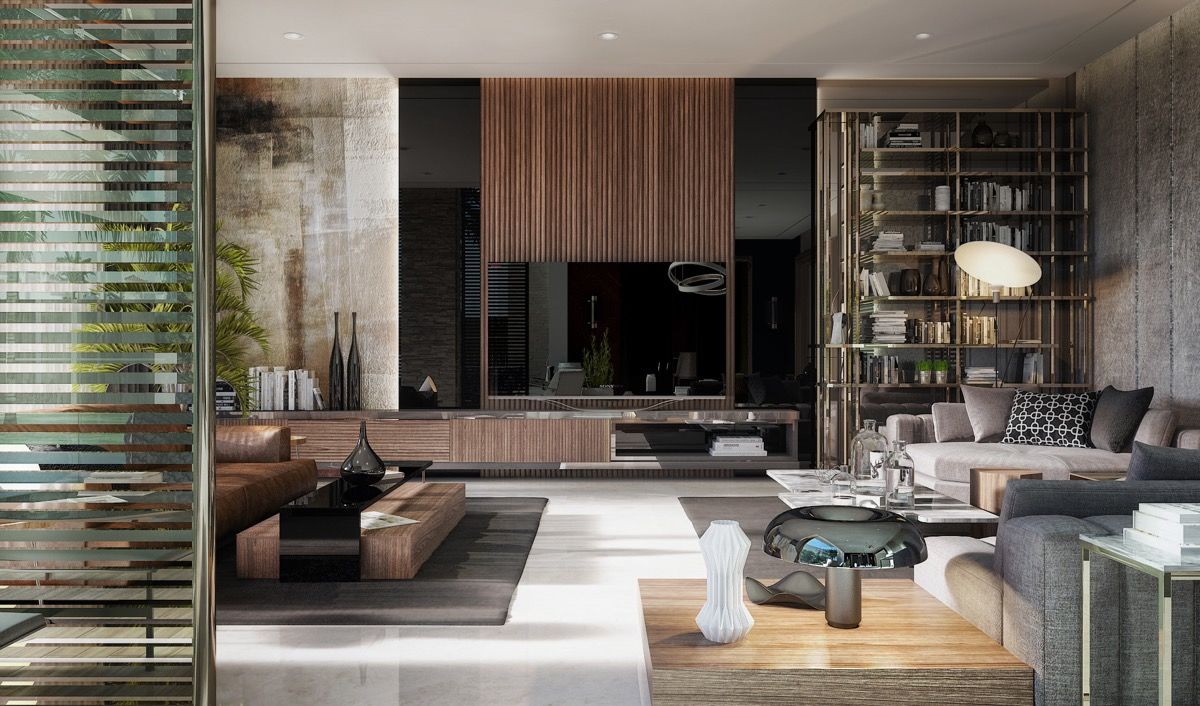 This room emanates an earthy aura with its wood accents and neutral color palette. A coastal-inspired living room that flawlessly executes a neutrally colored design.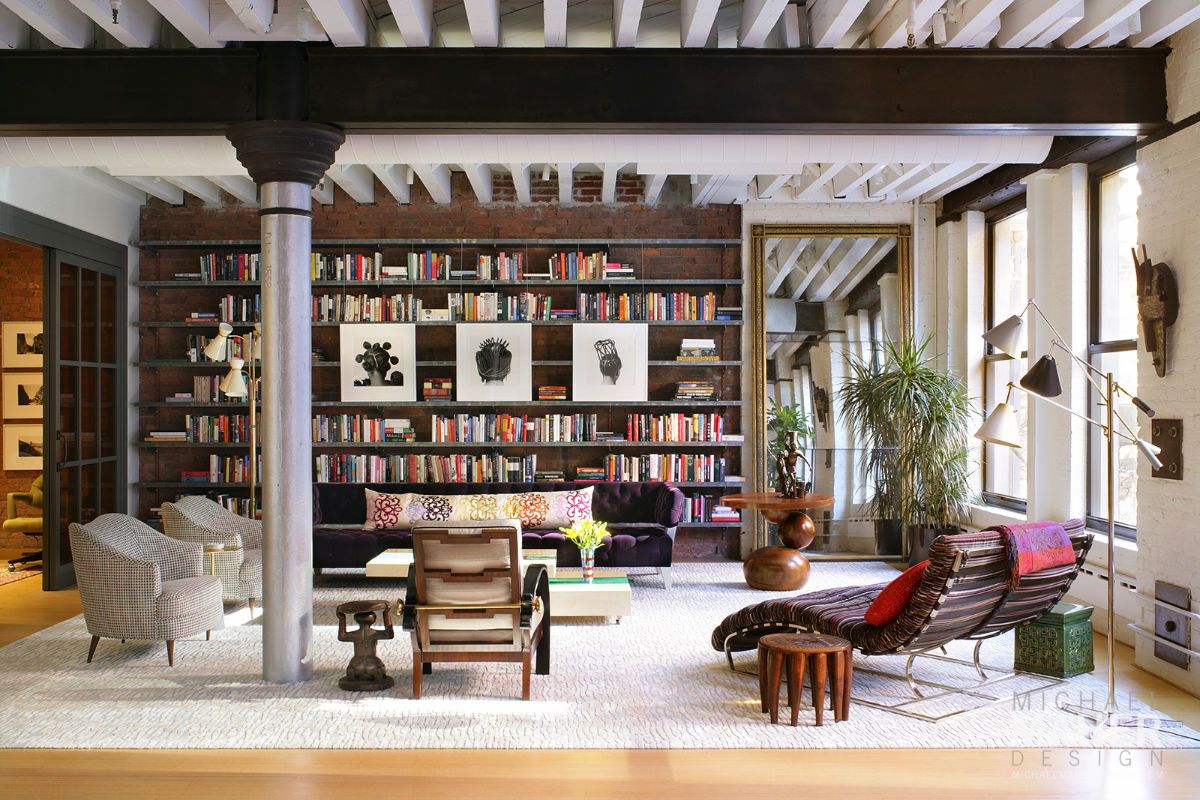 The full-wall library in this loft living room is every book lovers dream! With multiple colors of books displayed across the shelves, it is not only functional, but also quite eye-catching. The black and white artwork wired from the ceiling creates an exceptional contrast to the shelves of bold colors and overall contributes to this room's eclectic aesthetic.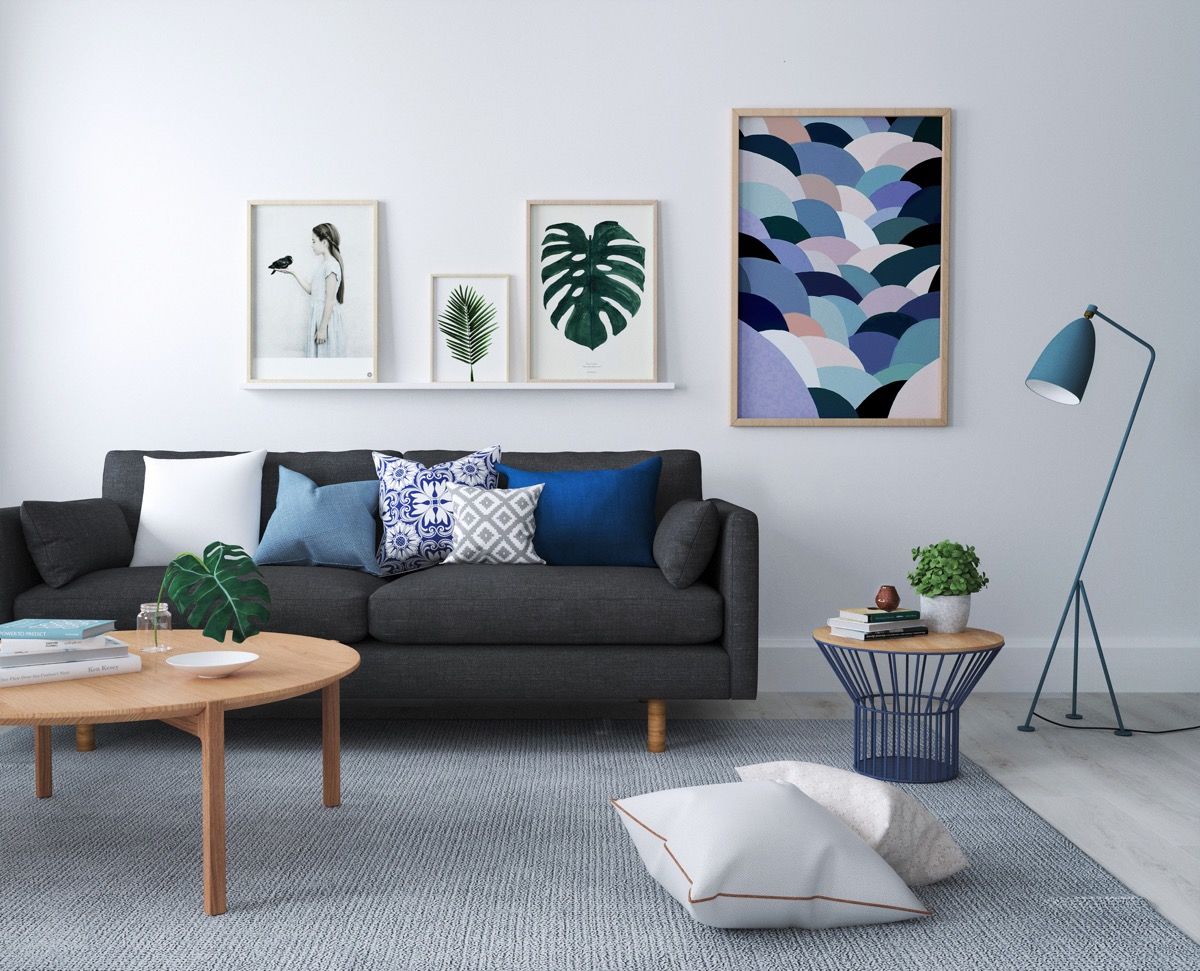 Tranquil blue weaves itself through this small living room. The variety of prints displayed across the simple white walls adds extra flair to this Scandinavian-inspired space. A youthful design that truly knows how to utilize bold color, without going overboard.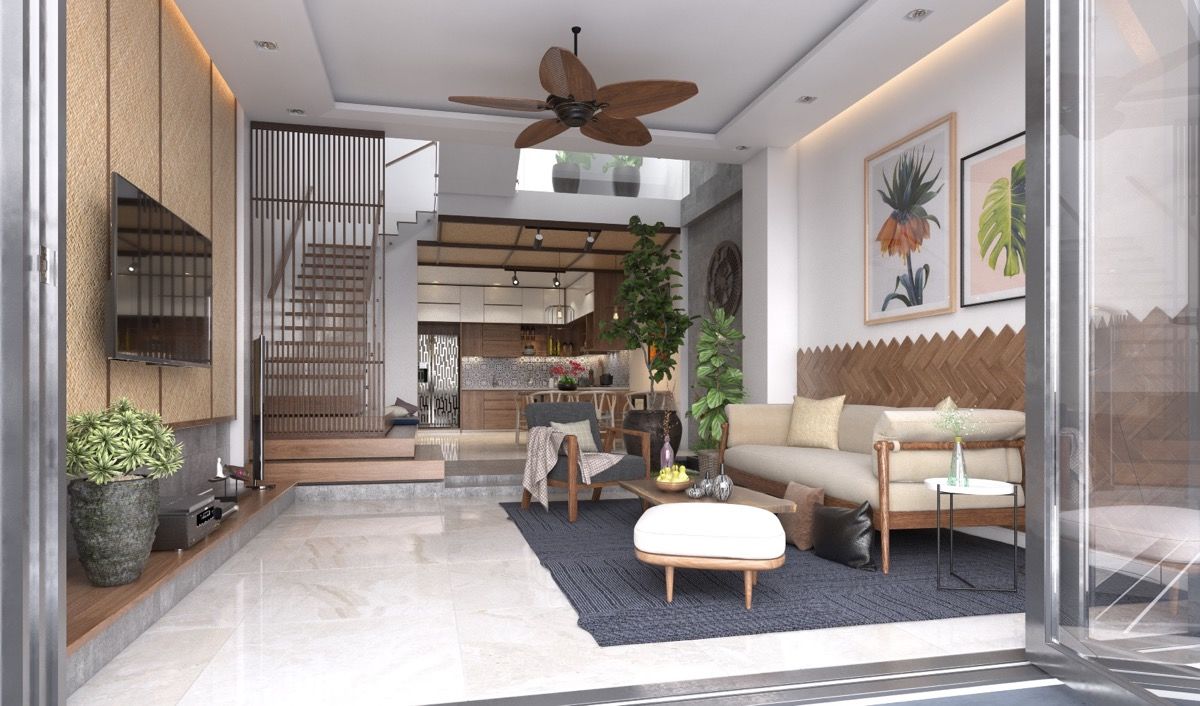 A unique ceiling fan keeps things cool in this tropical living room. Potted plants have been spread throughout the layout, as well as depicted in the wall art hanging above the couch. Part of the earthy charm of this airy living room though, is definitely thanks to the unique, herringbone wood design on the accent wall.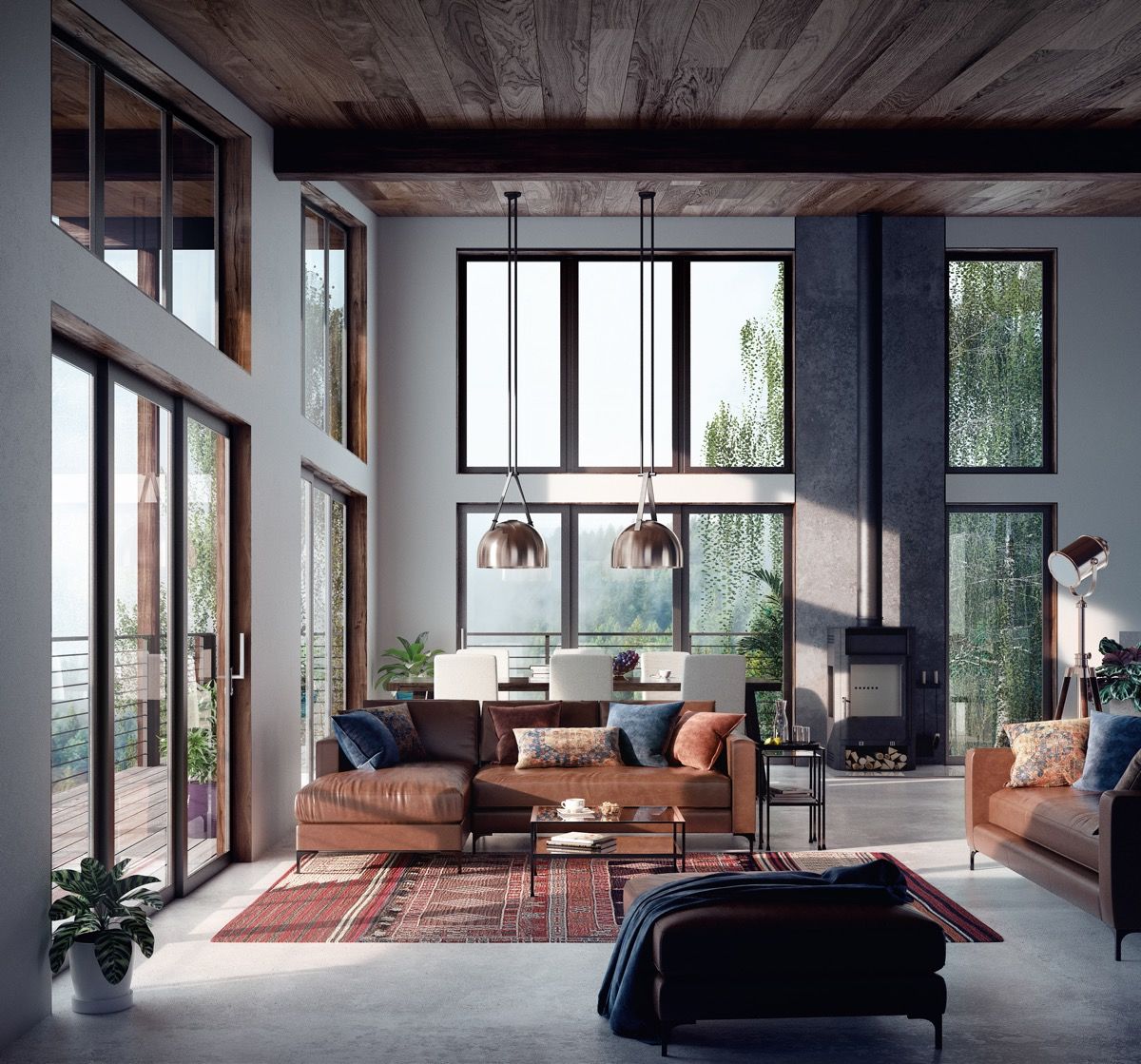 This rustic living room has no lack of windows or charm! Its brown leather couches are perfectly offset by a boho-inspired rug and a wood paneled ceiling to create a design that is brimming with an elegant, yet masculine charisma.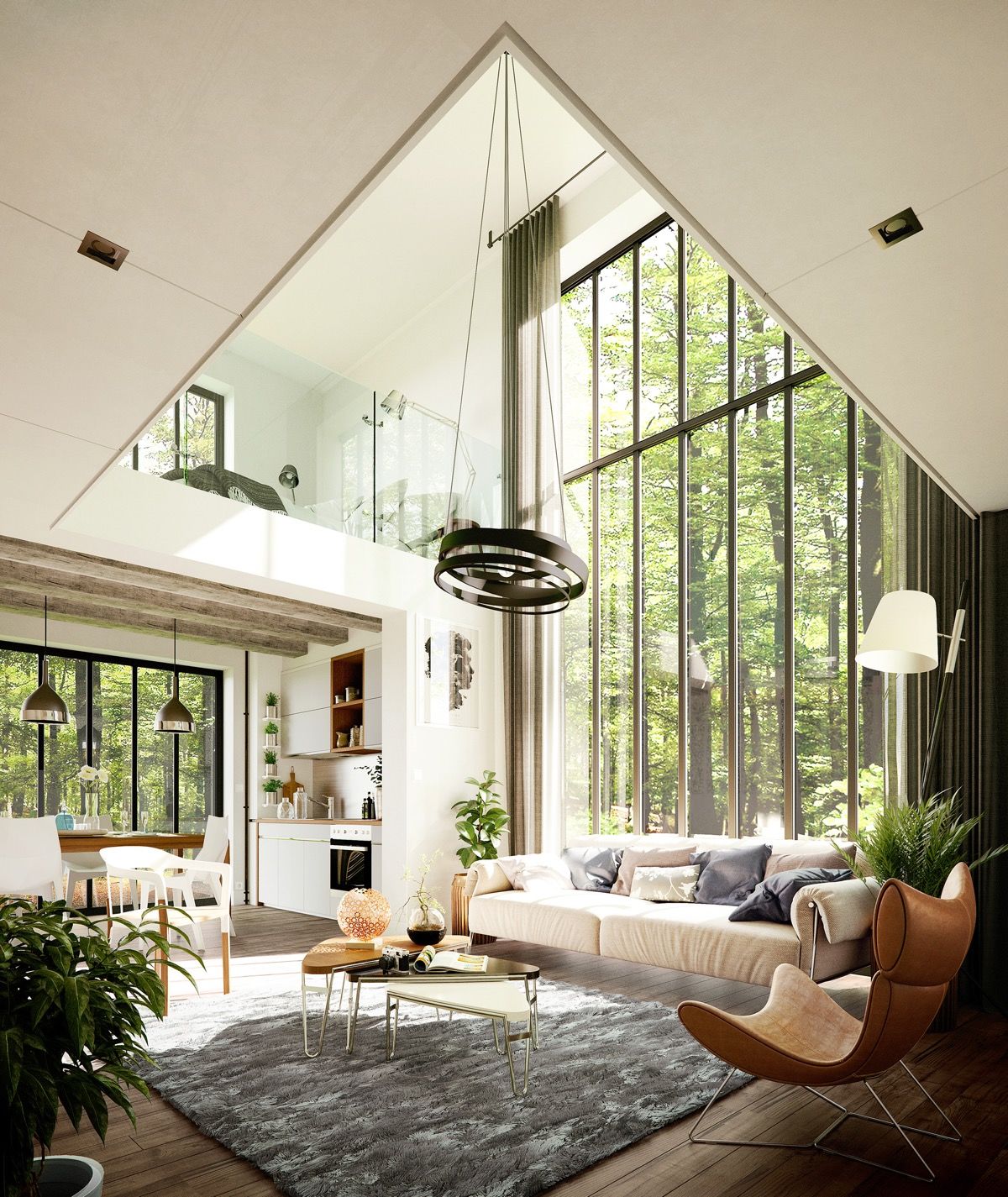 Mid-Century Modern, open-concept, and amazingly stylish! Just a few of the first things we thought about this light filled living room. Influences of Mid-Century decor can be seen in both the small and large furnishings in this room, especially the nesting coffee table and accent chair.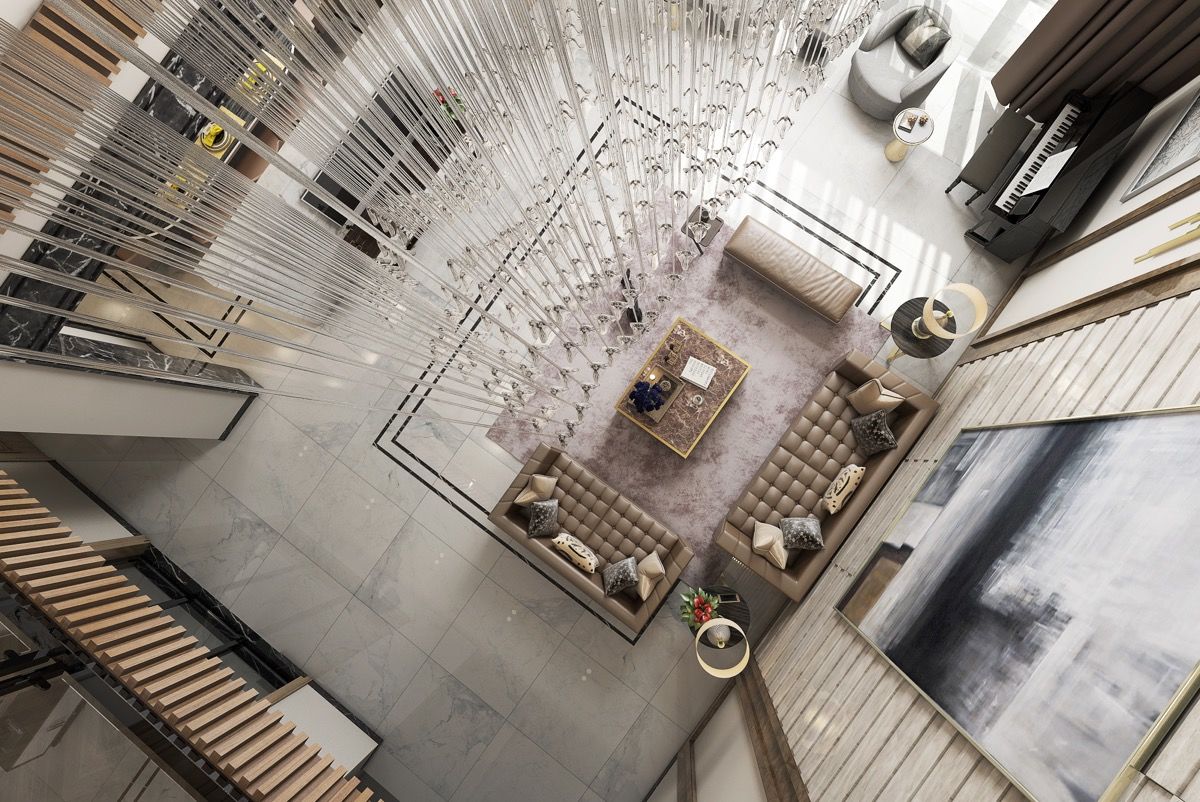 We hope you aren't afraid of heights! This double height living room is kept simple with its tan and beige color palette and tufted leather couches. The height of this room is accented with the multitude of pendant lights cascading from the ceiling and the extra tall black and white painting above the couch.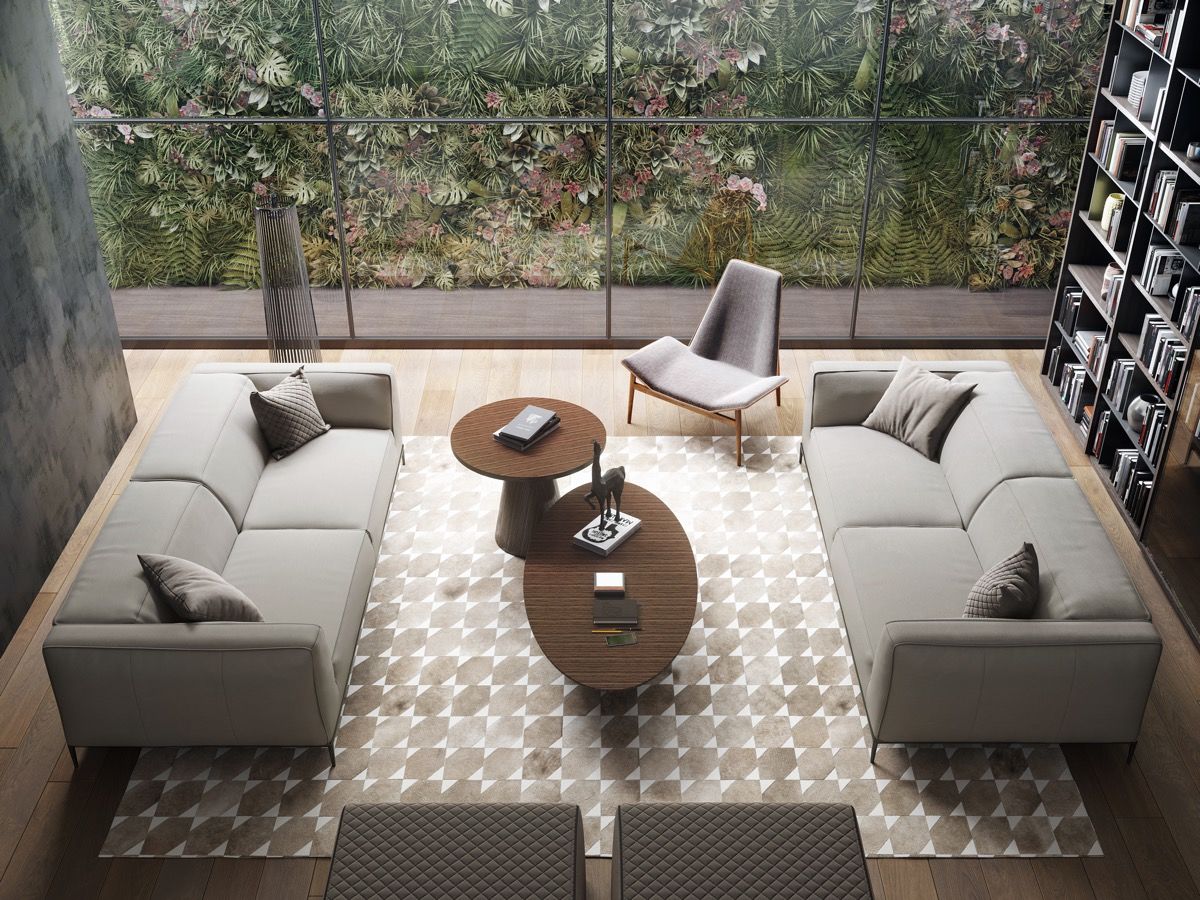 A transitional style living room with a touch of Mid-Century pizzazz. A neutral color scheme blankets itself over this intimate layout that is great for family time or any other socialization. This design is also fantastic because it feels extra spacious thanks to the wall-to-wall window that lets in tons of natural light, all while giving a stunning view of the outdoor greenery.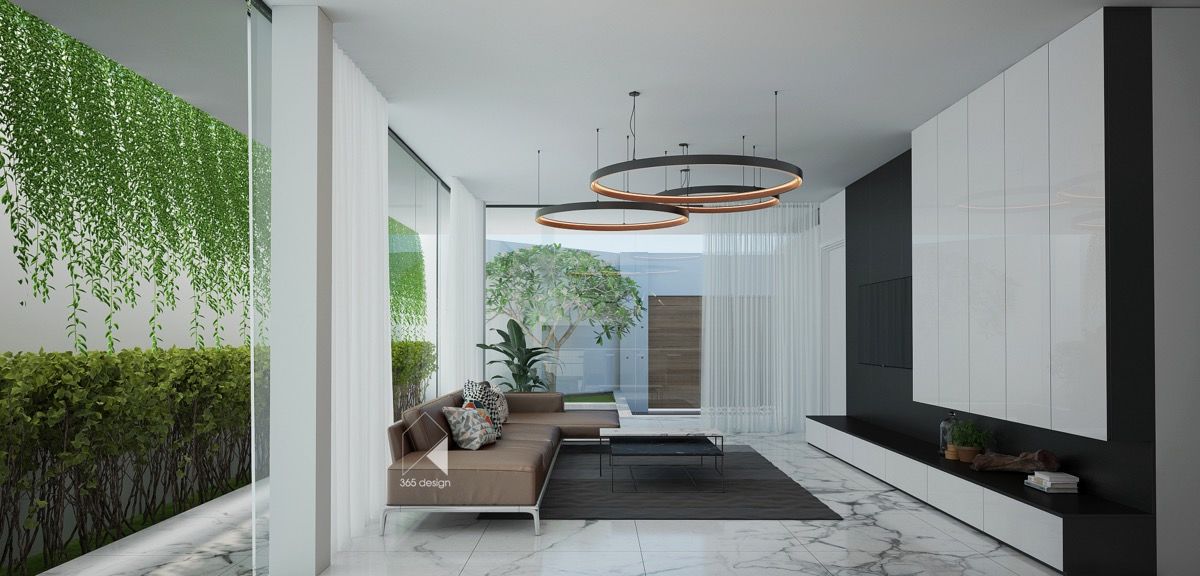 A clean and simple design is taken up a notch due to unique hoop shaped lighting and elegant marble floors. This living room feels extra airy and open thanks to its light color scheme and abundance of windows.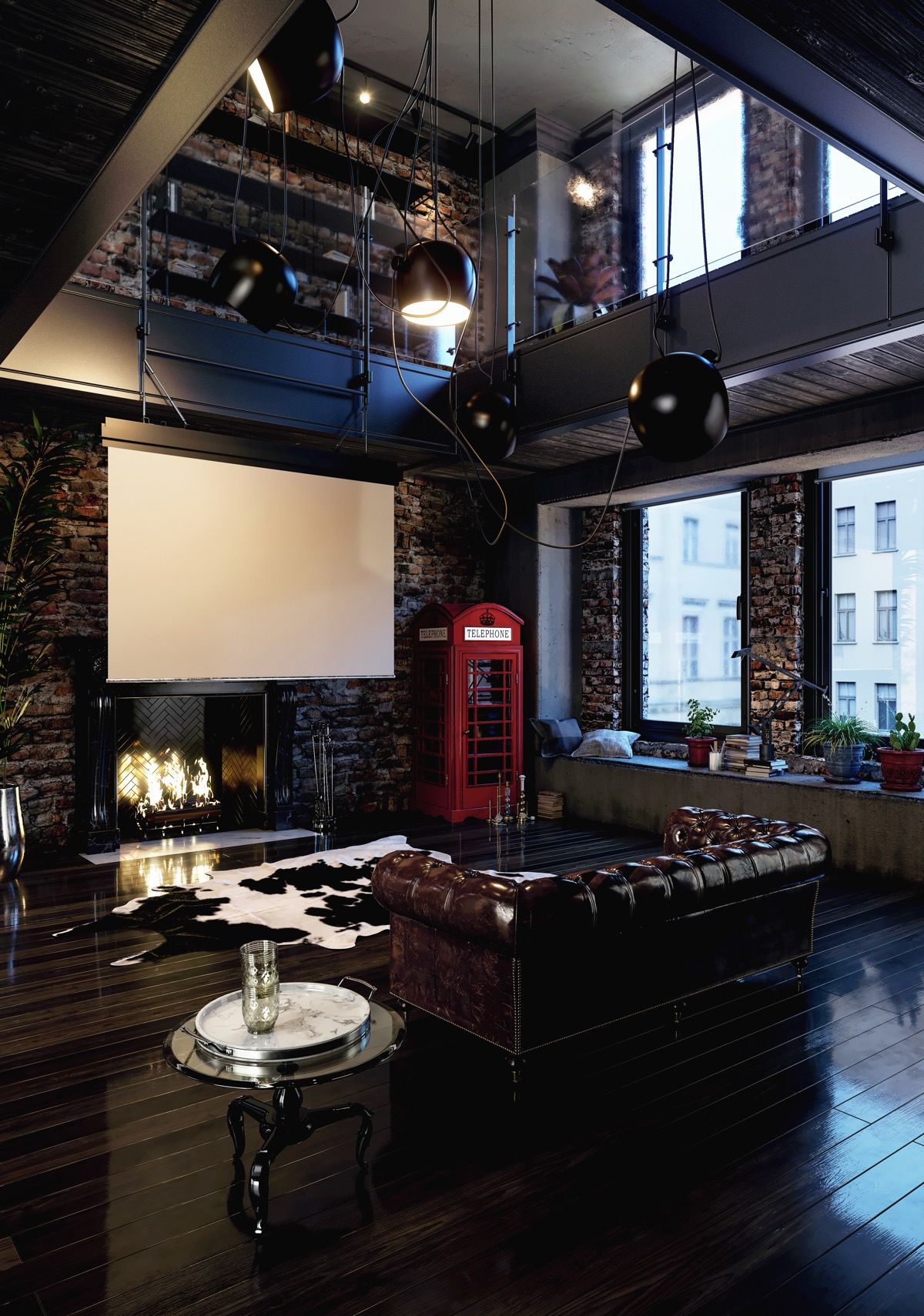 Welcome to the man cave of modern living rooms! This loft is a combo of edgy meets elegant with its brick walls, leather couch, cow skin rug, and red telephone booth. We imagine that a living room with this much character must have an owner with quite the big personality!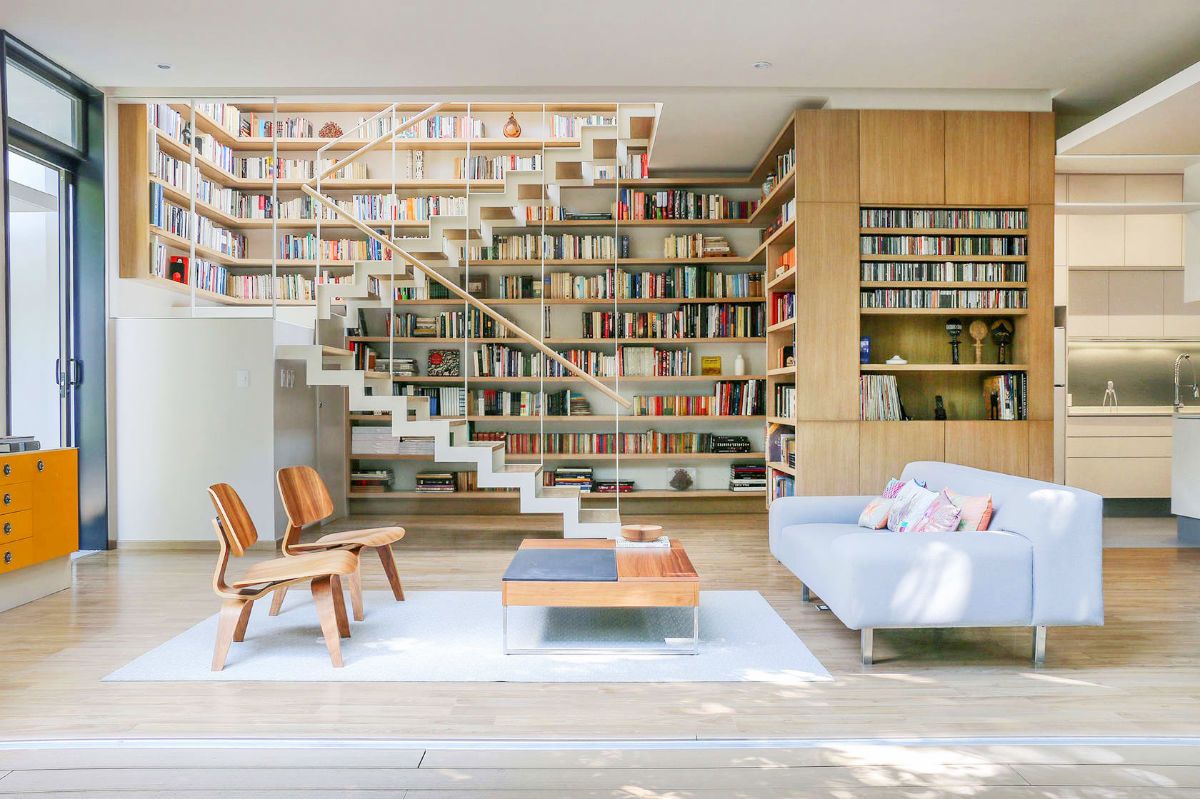 A light and airy design with a living room made for book lovers! With over 100 titles to choose from on the full shelved wall, this is the perfect living room to spend a lazy afternoon.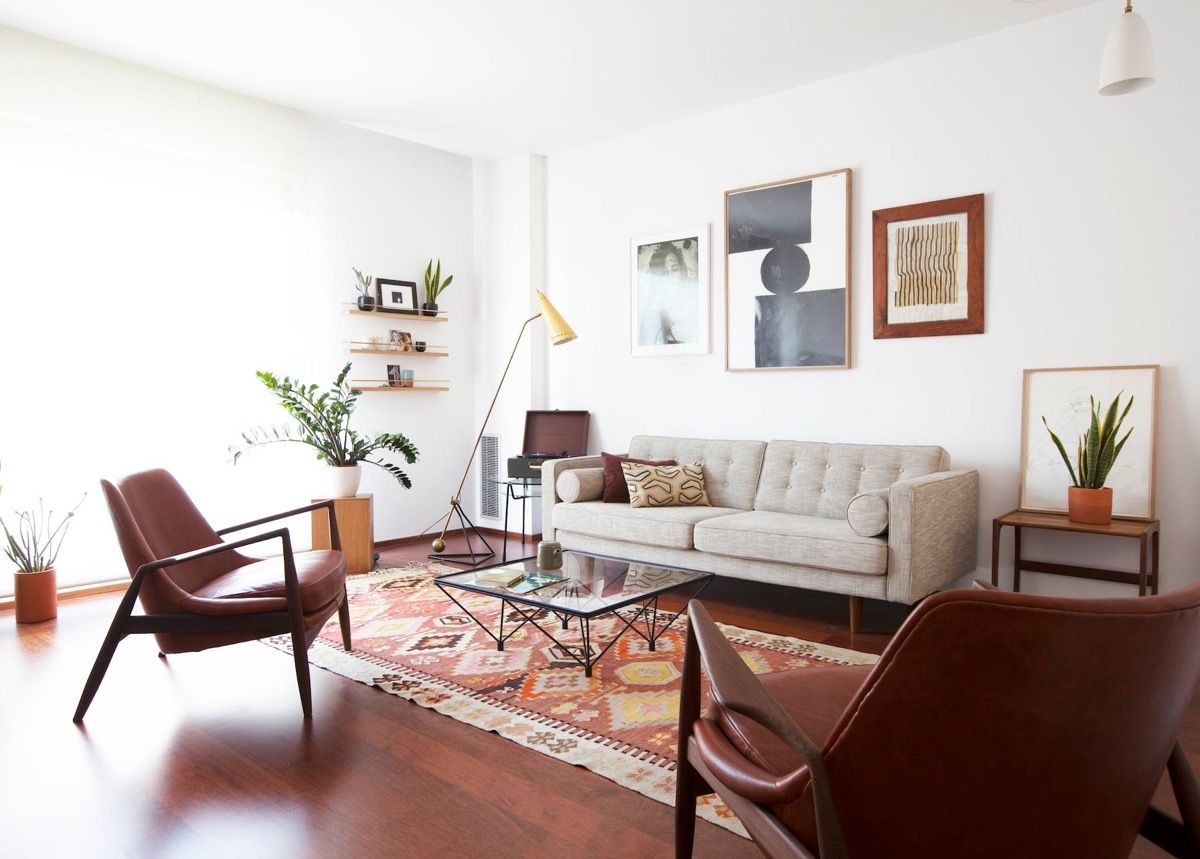 A Mid-Century Modern living room with fierce style! Various patterns are at play in this room, whether they are bold or subtle. For example, the dynamic accent rug, the framed art prints, and the throw pillows on the Mid-Century Modern sofa. This mix of patterns interspersed with the plants and leather chairs create a modern and stylish living room.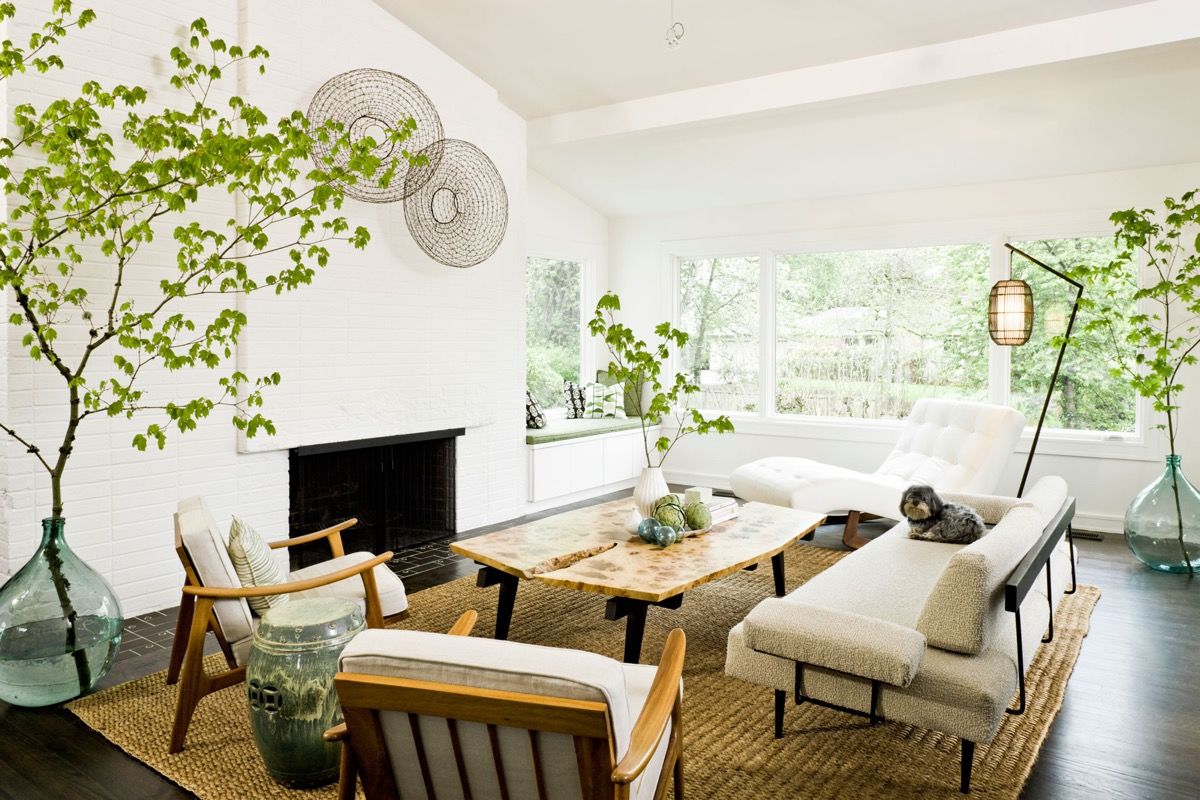 Another Mid-Century Modern living room, but this time the patterns are replaced with bright white, a jute rug, and raw edge wood. The similarity? The use of multiple plants and a setup involving two comfortable reading chairs.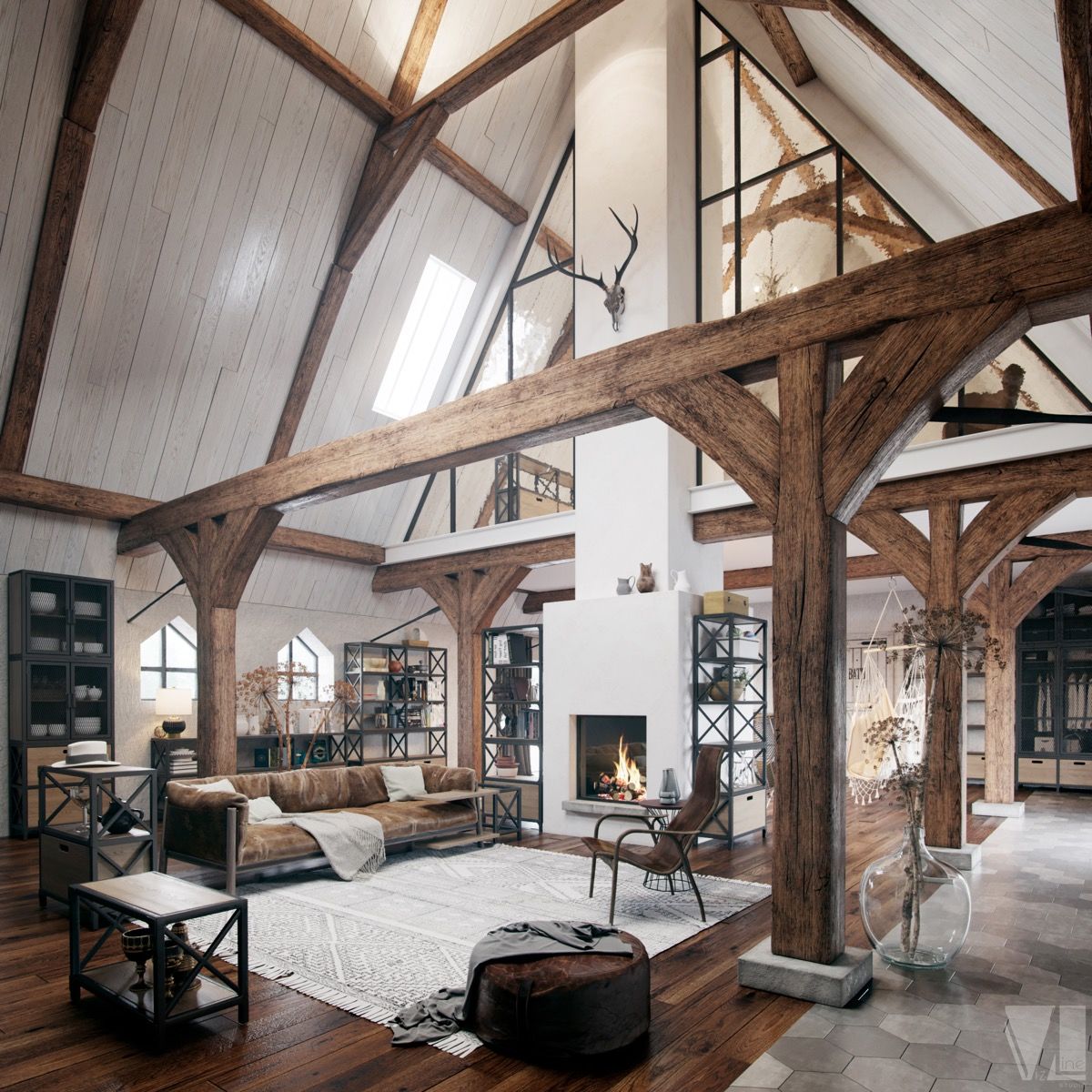 This Farmhouse style home with its prominent wooden beams and rustic decor feels like an ultra-stylish lodge. The warm tones and fireplace make it extra cozy, while the use of metal legged tables and shelving help string the design together.

Naturally finished wood, like the wide plank flooring, keep things nice and airy in the open-concept living room. The navy blue couch and pendant lights provide just the right amount of color, especially when contrasting against the winter wonderland outside!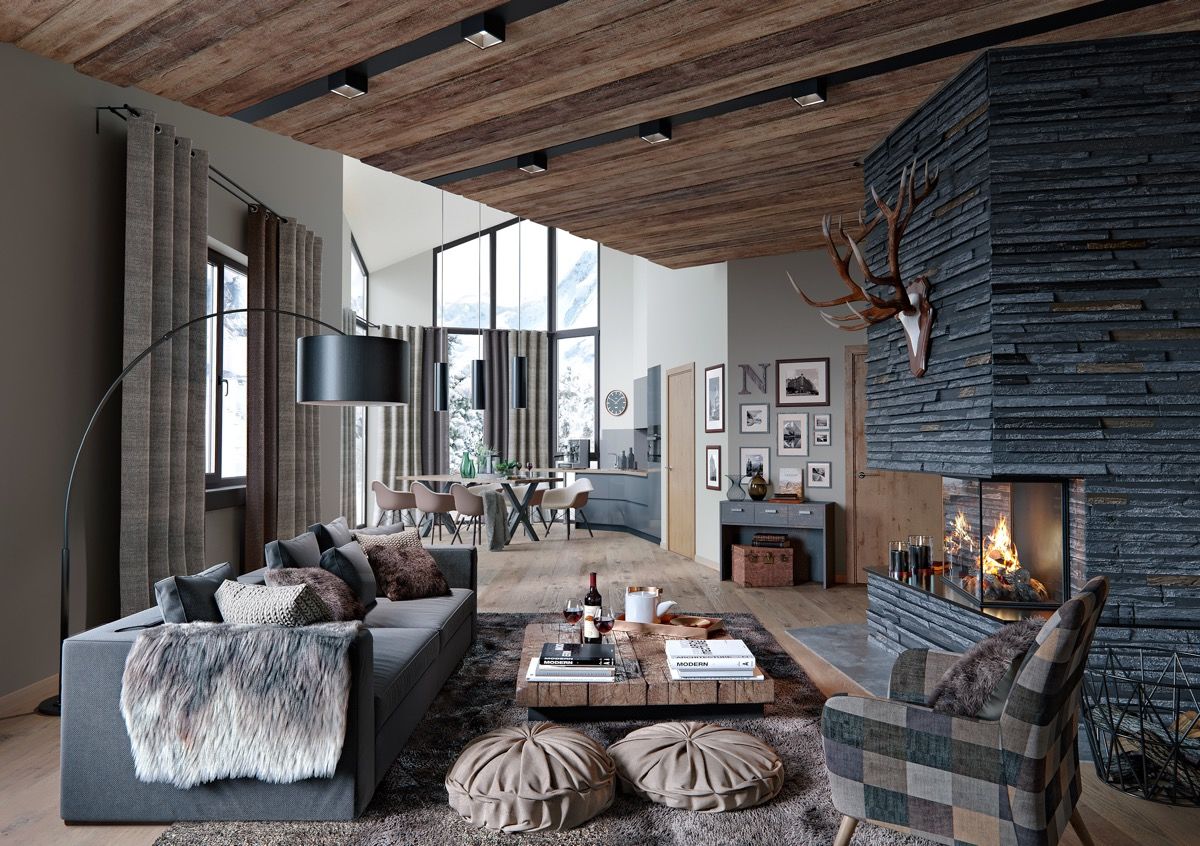 When entering this rustic living room, you are greeted by a finely curated mix of Cottage and Modern decor. The rustic appeal of this layout is made possible by not only the larger elements like brick and wood, but also the smaller ones, such as the fur throw and mounted antlers.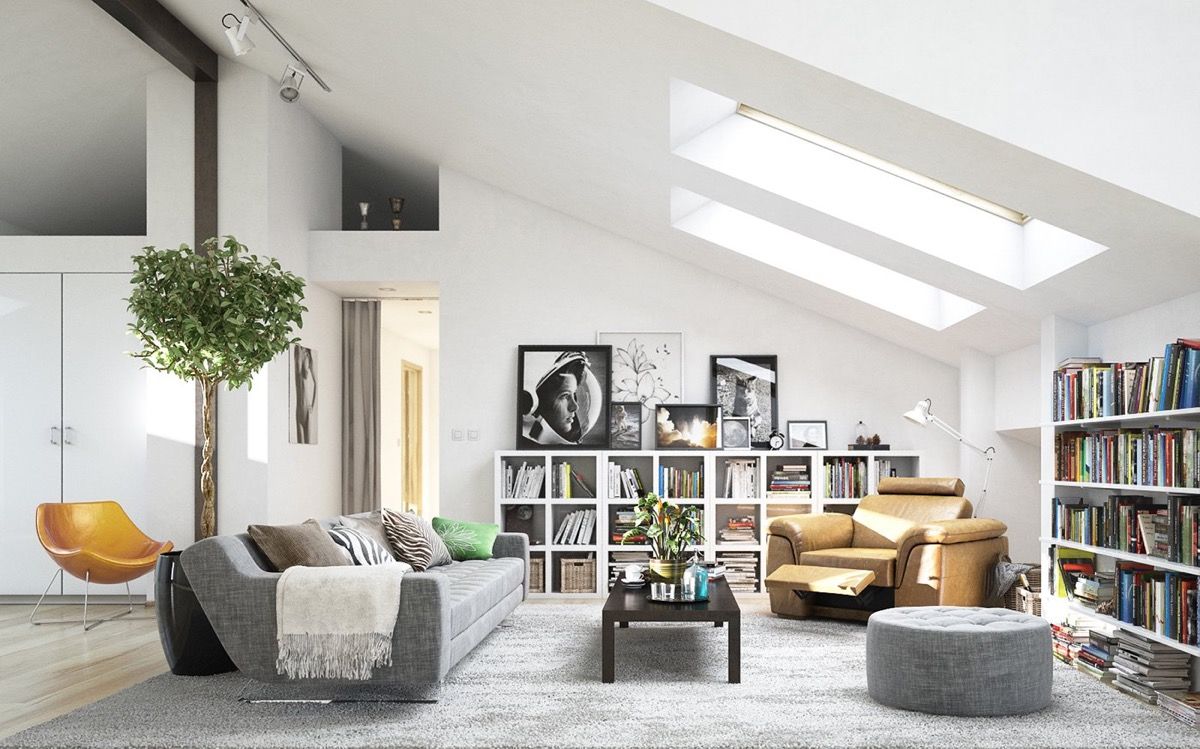 In this Scandinavian living room, the sloped ceiling features two skylights. This genius incorporation leaves room for bookshelves along the walls, bookshelves that may not have been possible with regular windows. When wall windows aren't an option, skylights can be a lifesaver. This becomes especially true when you have limited space to work with.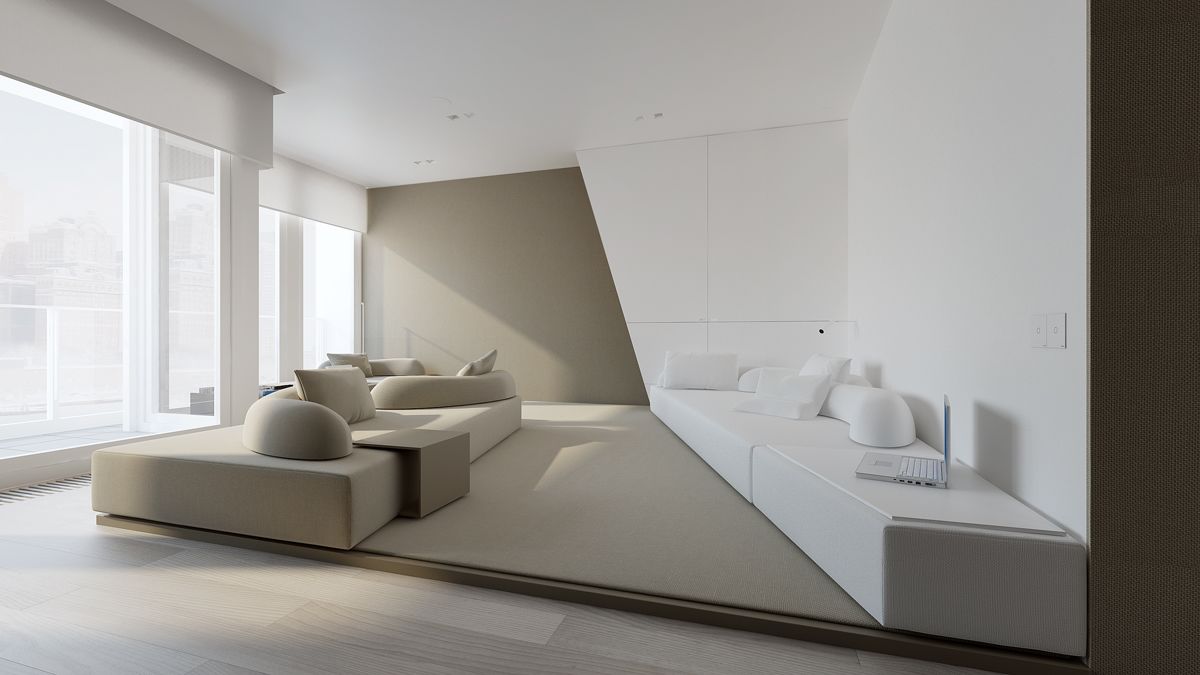 This minimalist living room takes things to the extreme and strips everything down to the bare minimum, including color. The color blocked design of this room is highly unique and is sure to turn a few heads.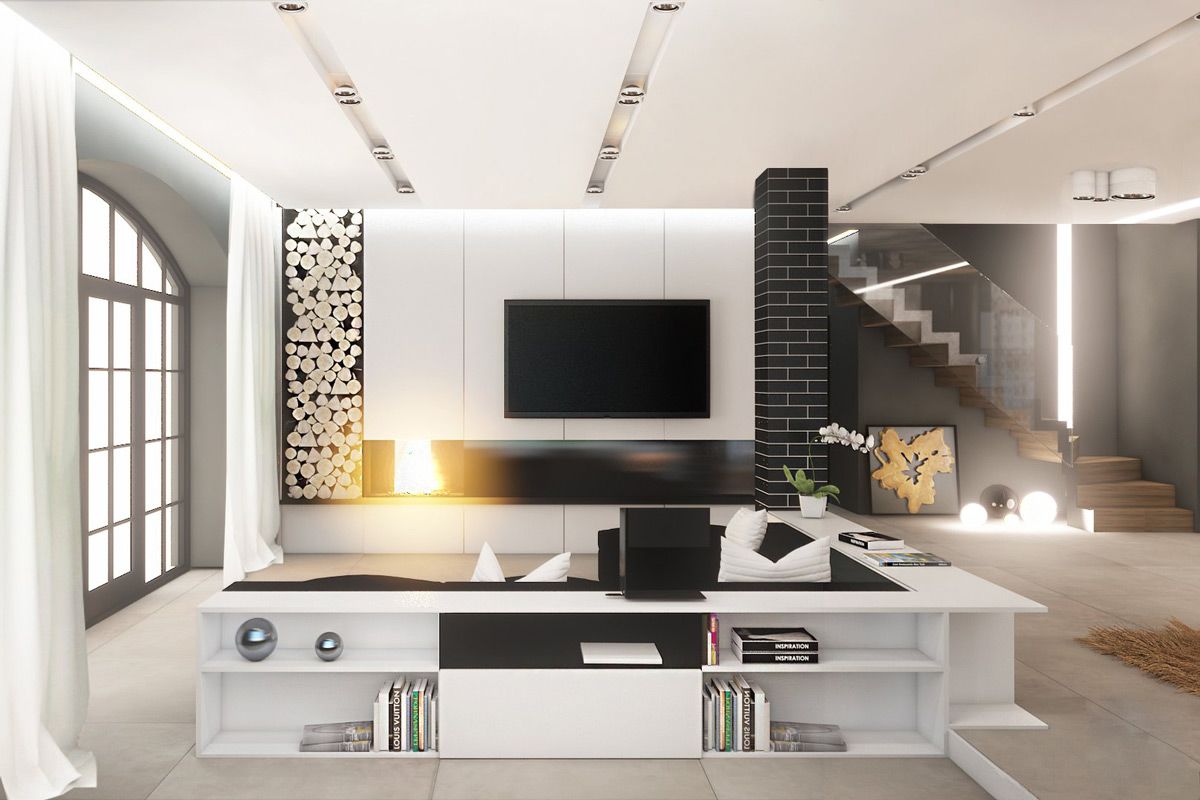 Monochrome designs are arguably one of the hardest color schemes to pull off, but this black and white living room makes it look oh-so easy. This chic color scheme is a timeless combo that will age gracefully with this home.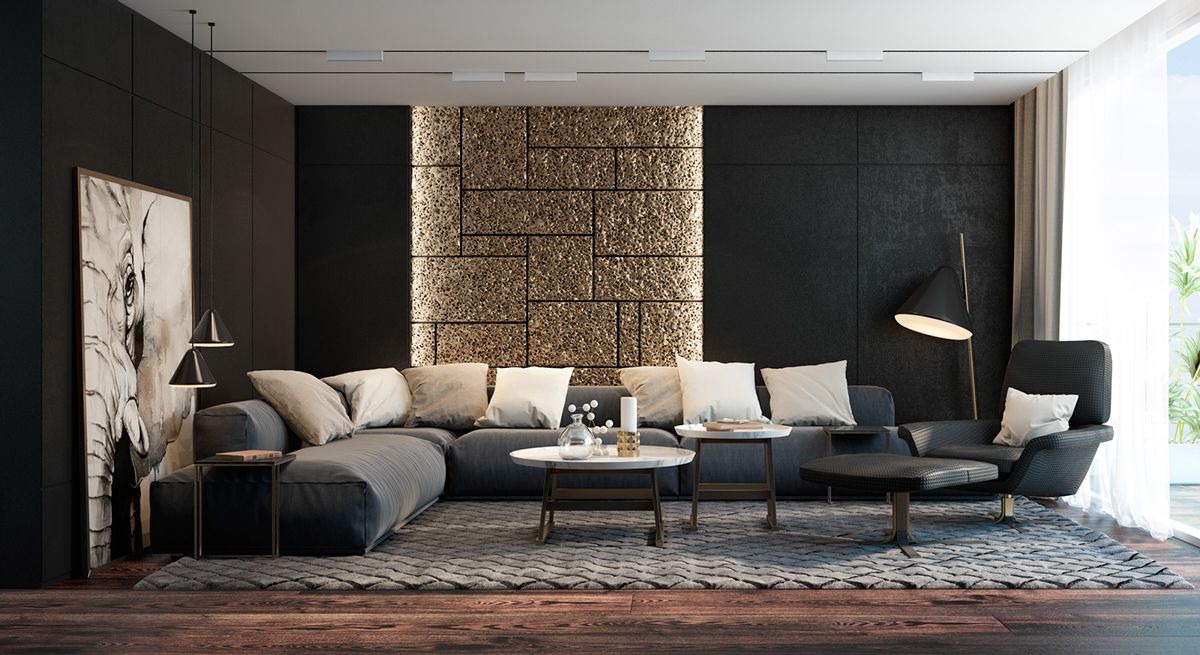 This regal black living room is fit for royalty with its rich hue and dazzling gold accent wall. Black can be dicey to work with as it often makes a room feel less spacious, but this design made sure that wouldn't be the case by only accenting two walls and leaving one entire wall open to a window.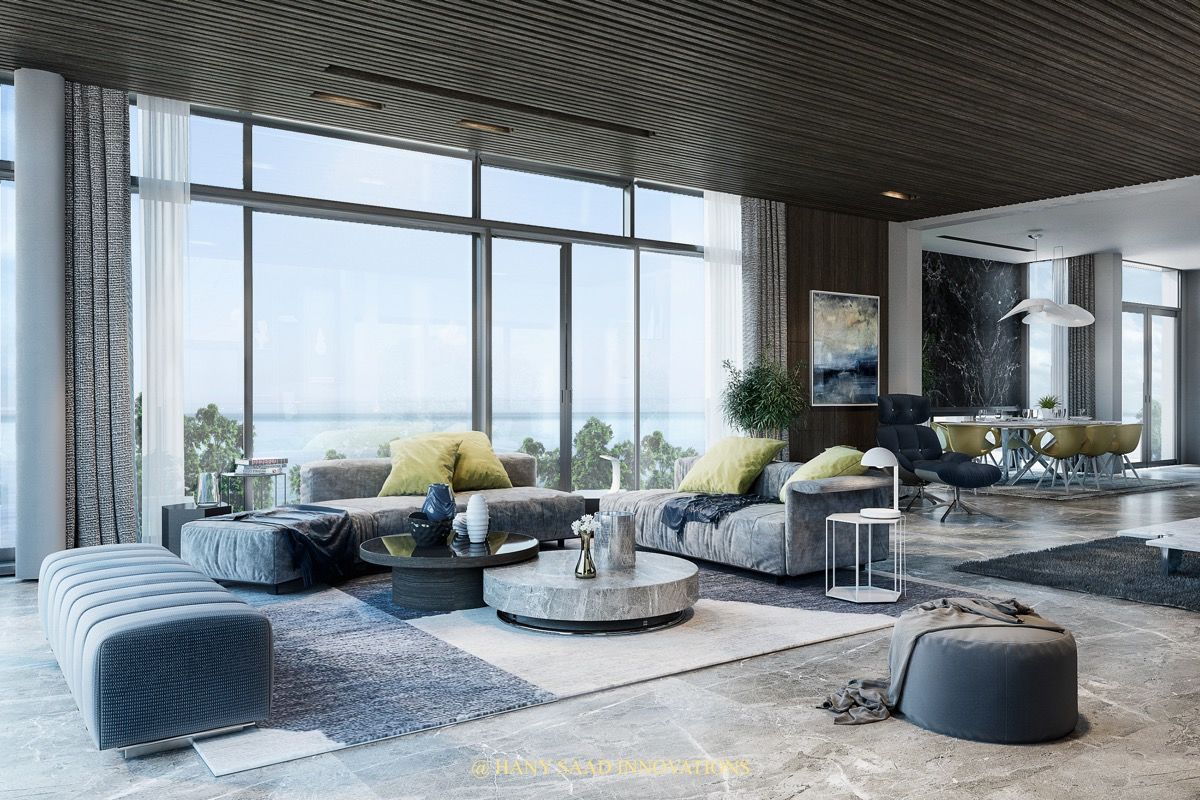 The tranquil blues mimic the colors of the ocean found right outside this living room's window. Blue upholstery soothes the harshness of the grey floors and plays wonderfully off the wood slated ceiling. This whole design feels like an ultra-modern beach house!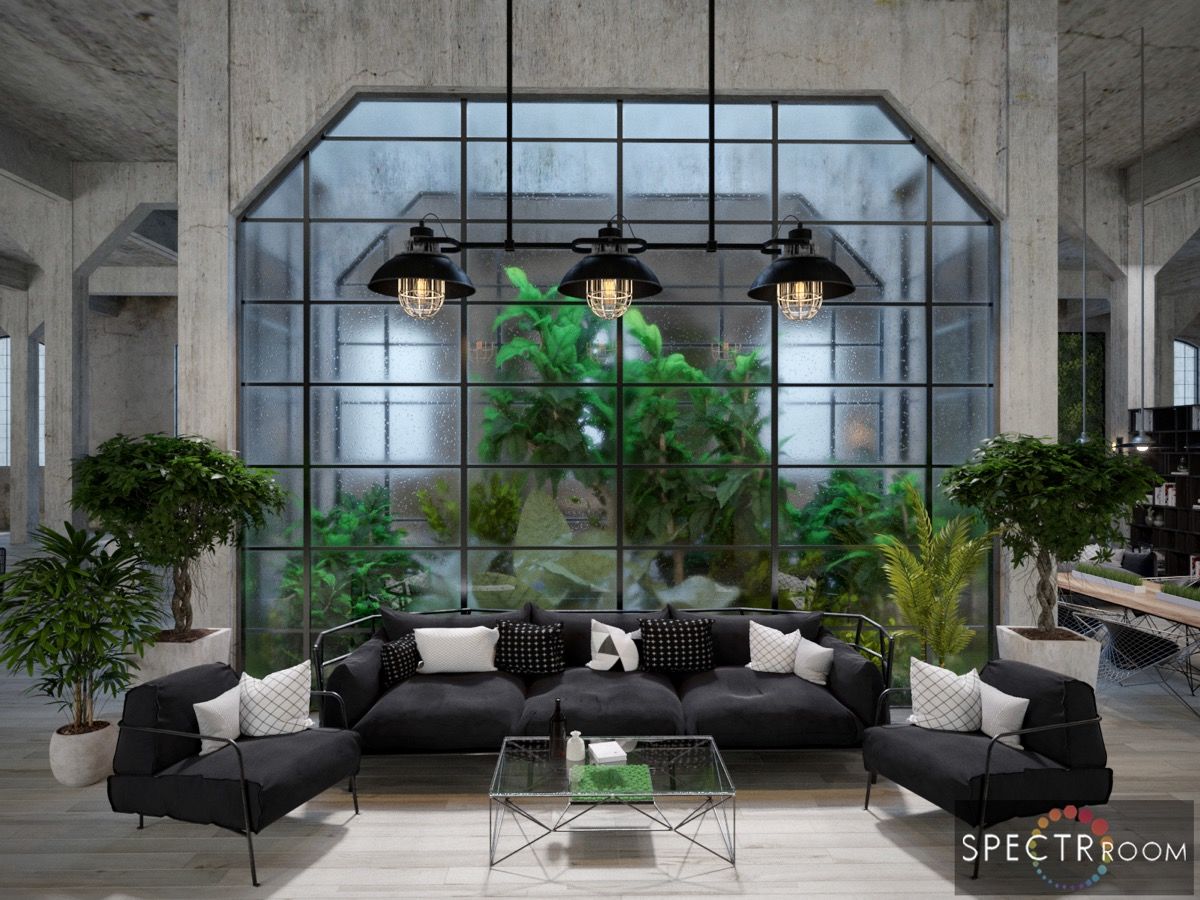 For those who can't get enough of plants, an atrium may be the way to go. Not only does it provide a backdrop of lush greenery for this living room, but it also looks rather elegant paired with the black furniture.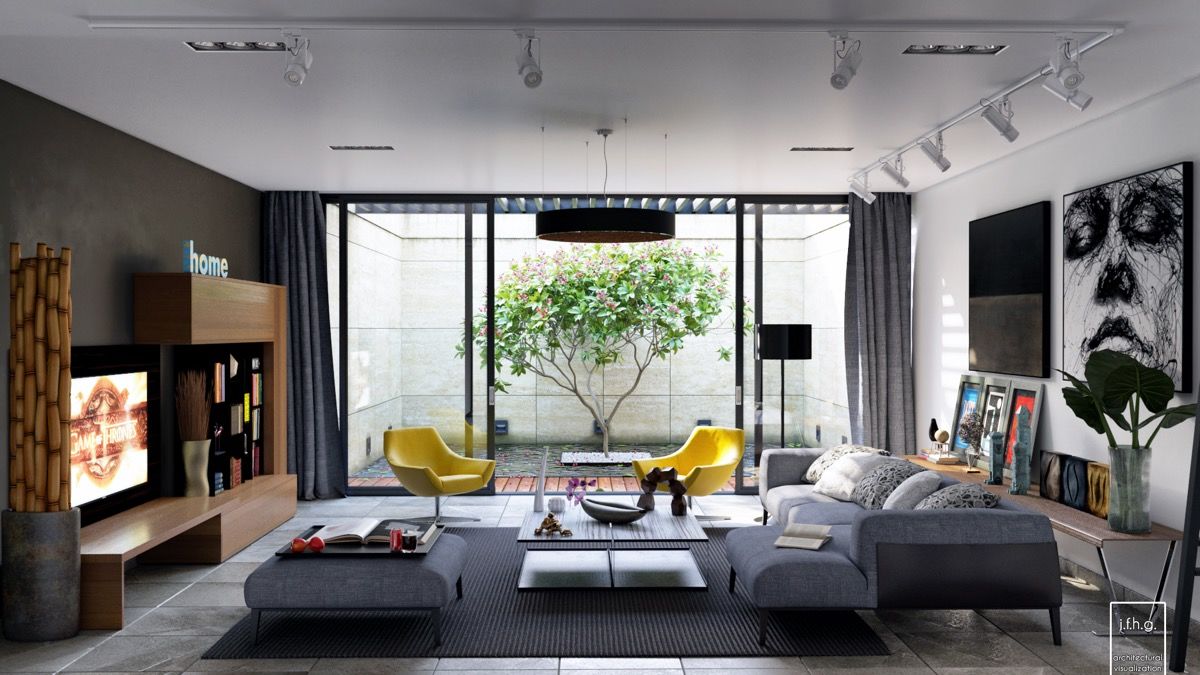 This atrium doesn't steal center stage like the last one, but it does add a touch of nature to this urban living room. With a modern grey sofa, black and white wall art, bright yellow chairs, and a flat screen television, this modern home mixes both practical and stylish with an envious ease.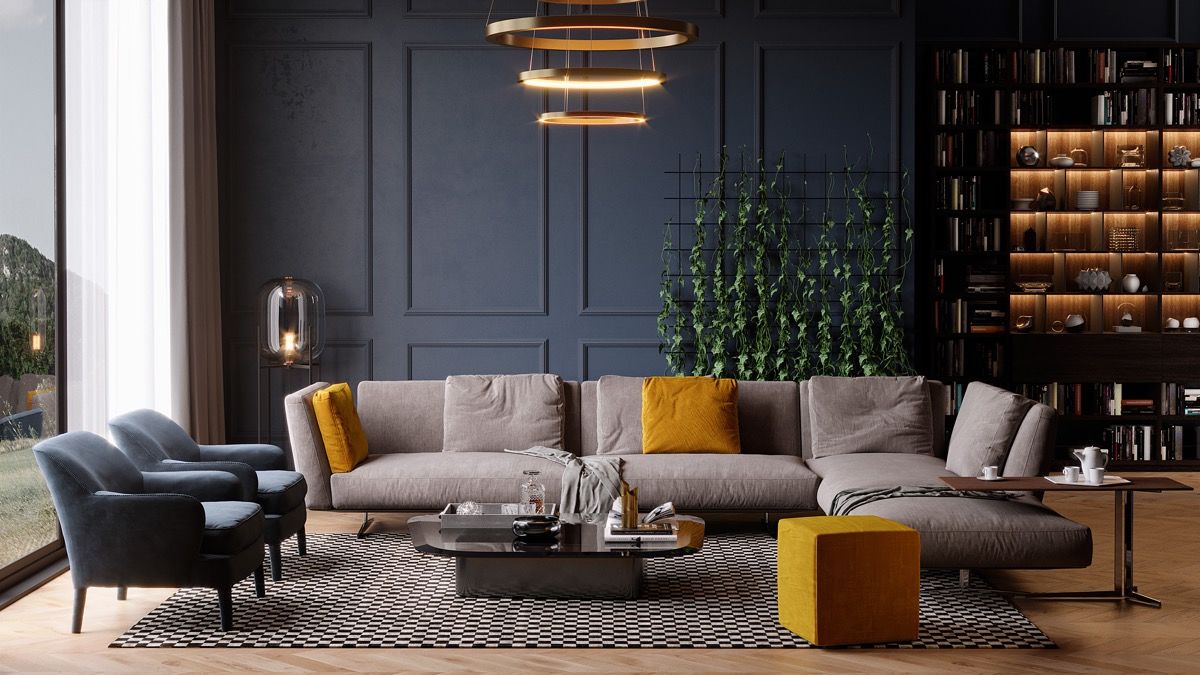 A blue paneled wall contrasts against the bustling bookshelf to the right of this lively living room. Fun elements like the bright yellow cushions and checkered carpet are much welcome and give this space a youthful charm.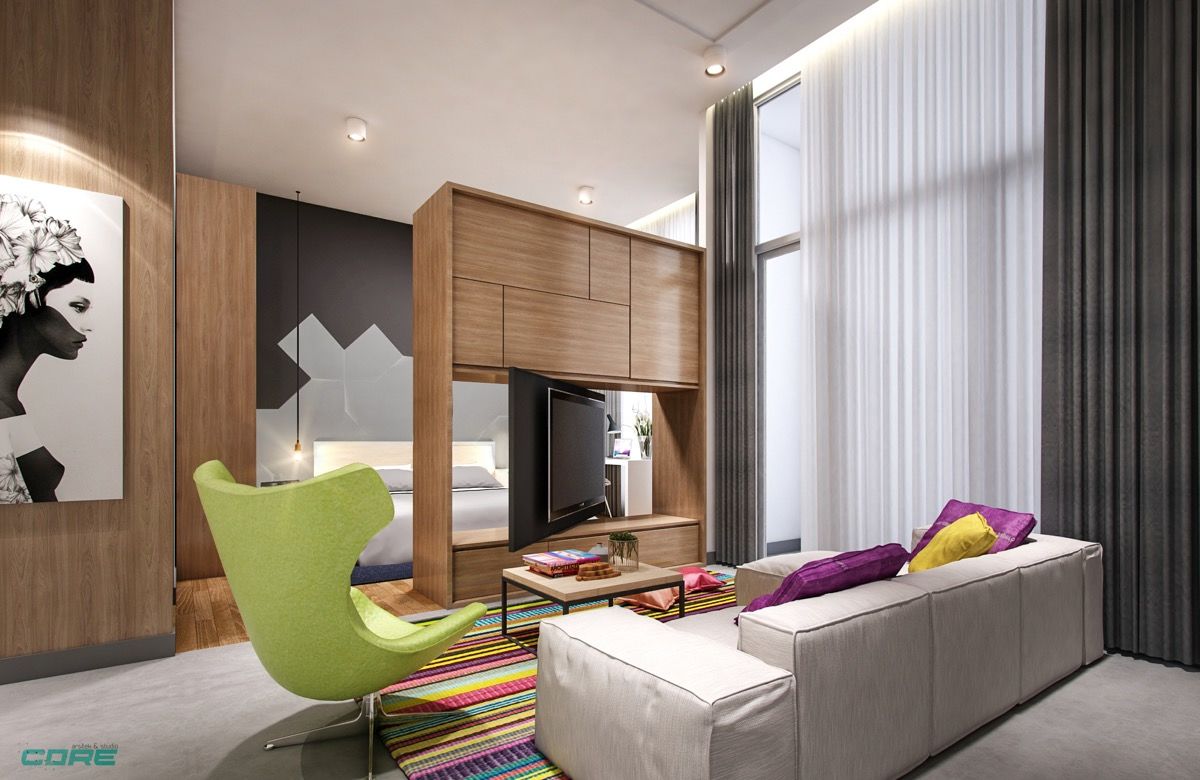 Small living layouts can be incomparably fierce and this living room proves it! This unique design utilizes a swivel TV that gives you the option of viewing from either the living room or bedroom. We also adore the use of bold colors in the couch pillows, throw rug, and accent chair. Some small spaces tend to veer away from color, but not this one!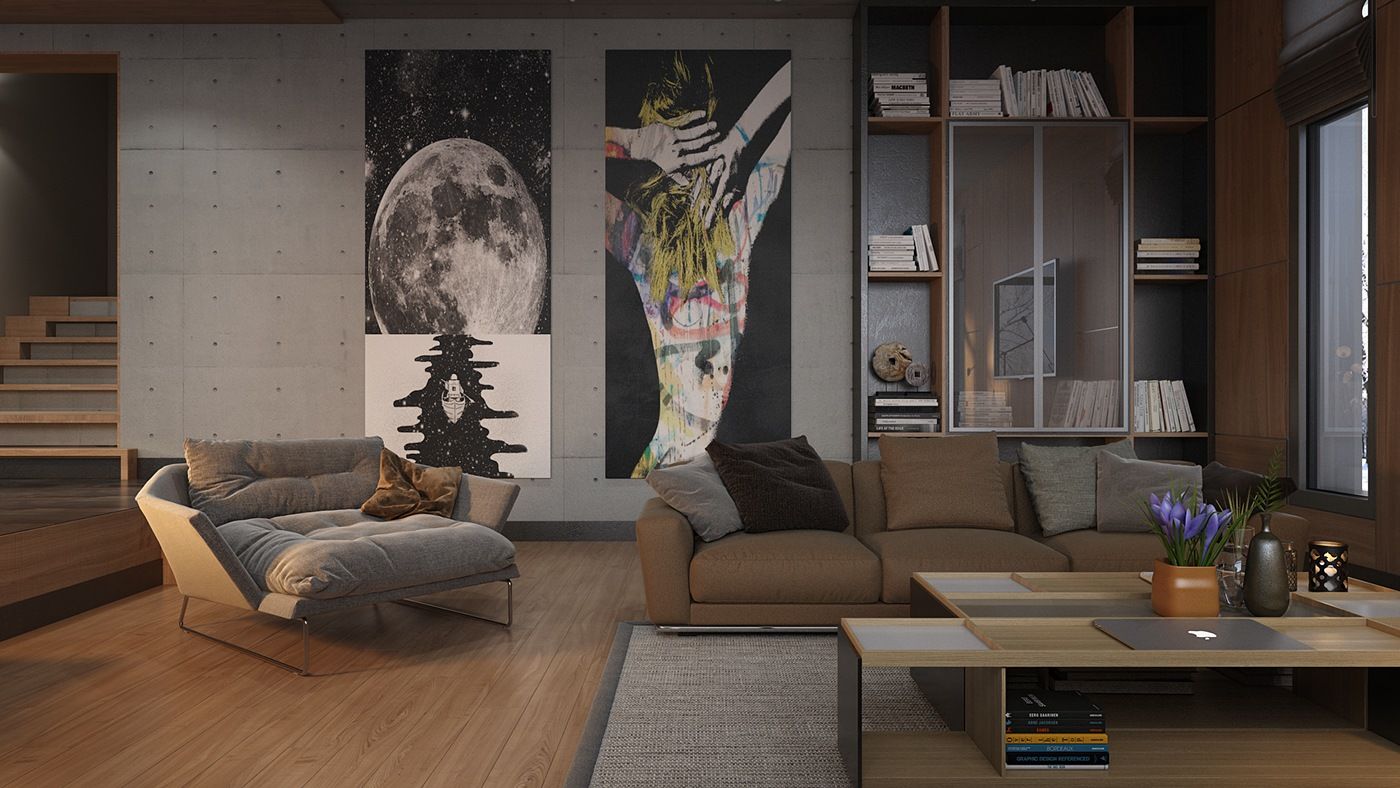 As far as living rooms with large wall art go, this one might be one of our favorites! The large demeanor and color palette of the art truly elevates this room's design to the next level. This living room wouldn't be anywhere near as captivating without the addition of the wall art.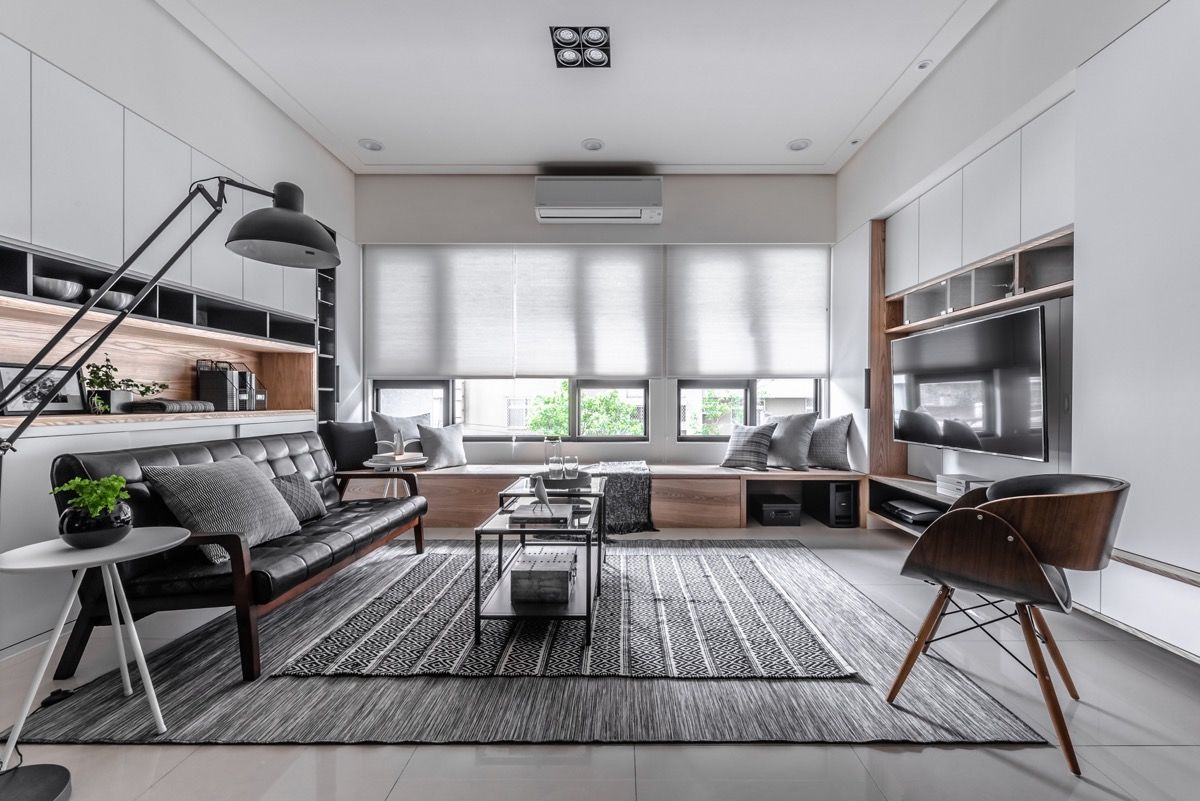 Clean lines and a Mid-Century Modern aesthetic make for quite the modern living room design. We love the incorporation of the window seat, as well as the built-ins that surround the flat screen television.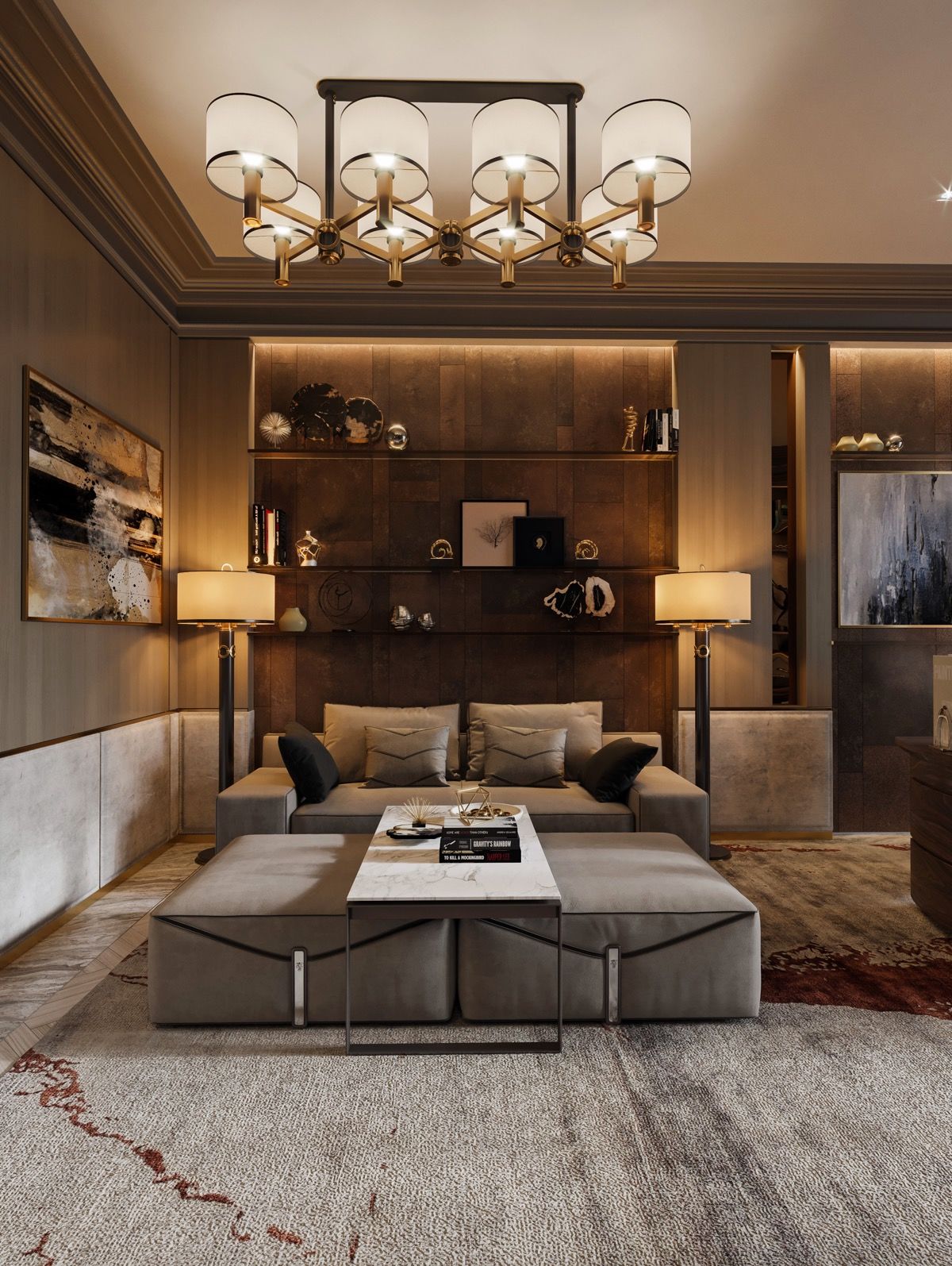 This traditional living room made for two looks both beautiful and functional. Built-in shelf lighting, floor lamps, and a shaded chandelier give this room a romantic ambiance. The mix of textiles throughout flow together effortlessly to create a poignant design.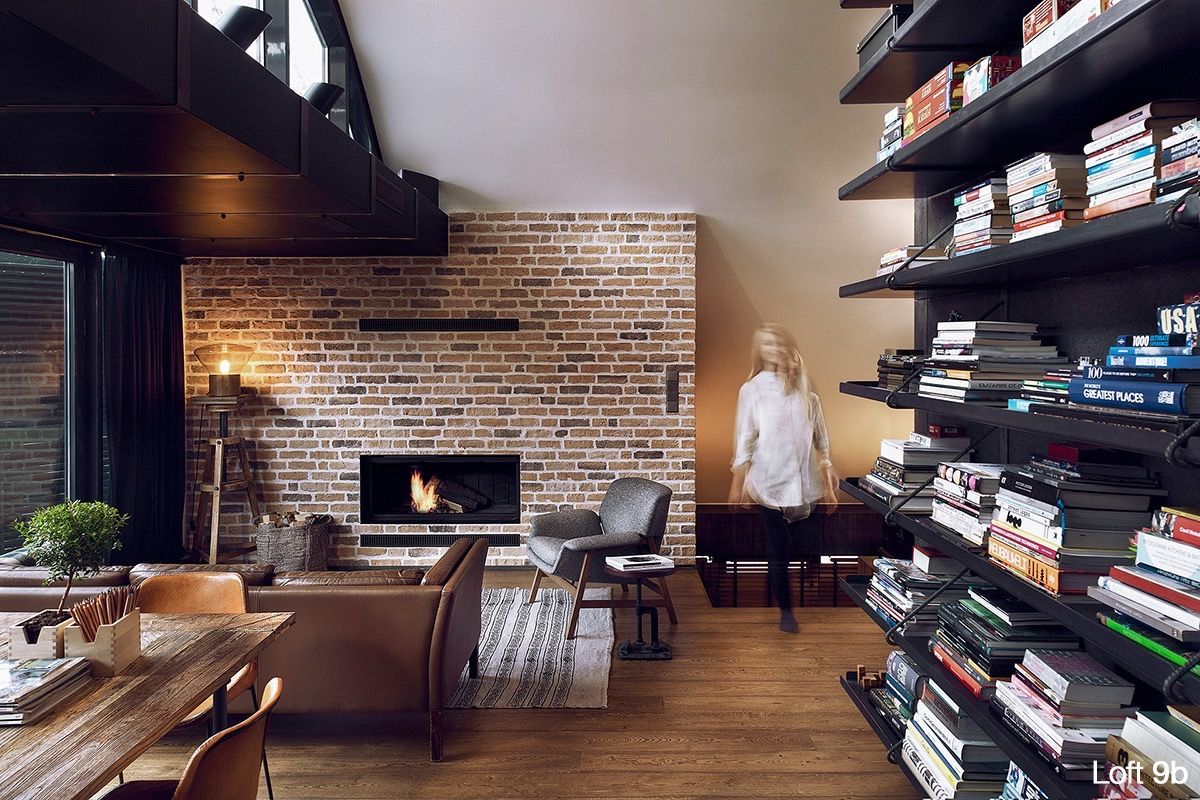 This brick wall living room can't help but to radiate a cozy vibe, especially when paired with a fireplace and an overflowing bookshelf. The warm brown tones used throughout the room only add to its soothing aesthetic.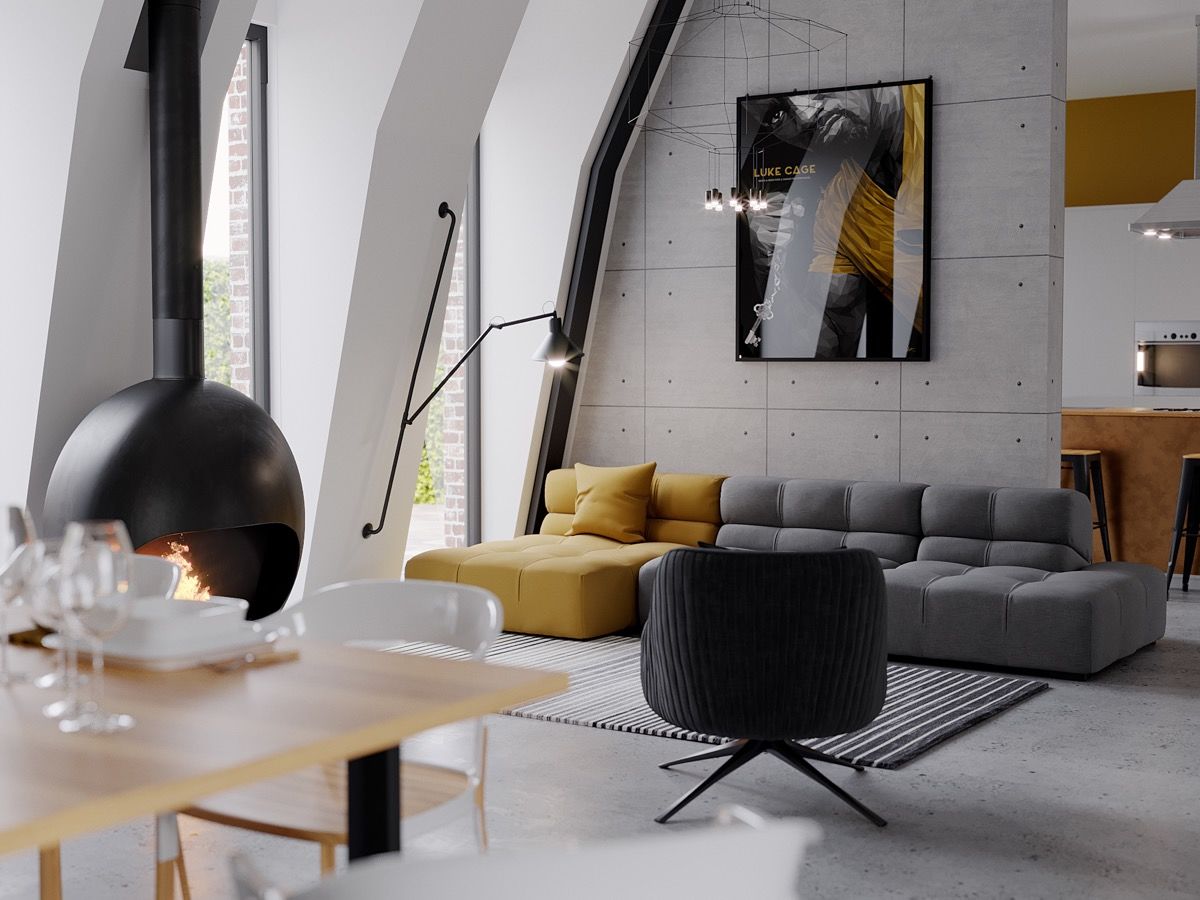 A pop of color can make all the difference and we can definitely see that notion in play in this living room. The end of the sectional, highlighted by a swing arm wall lamp, is extremely captivating in this design. It pairs especially well with the wall art that hangs above it.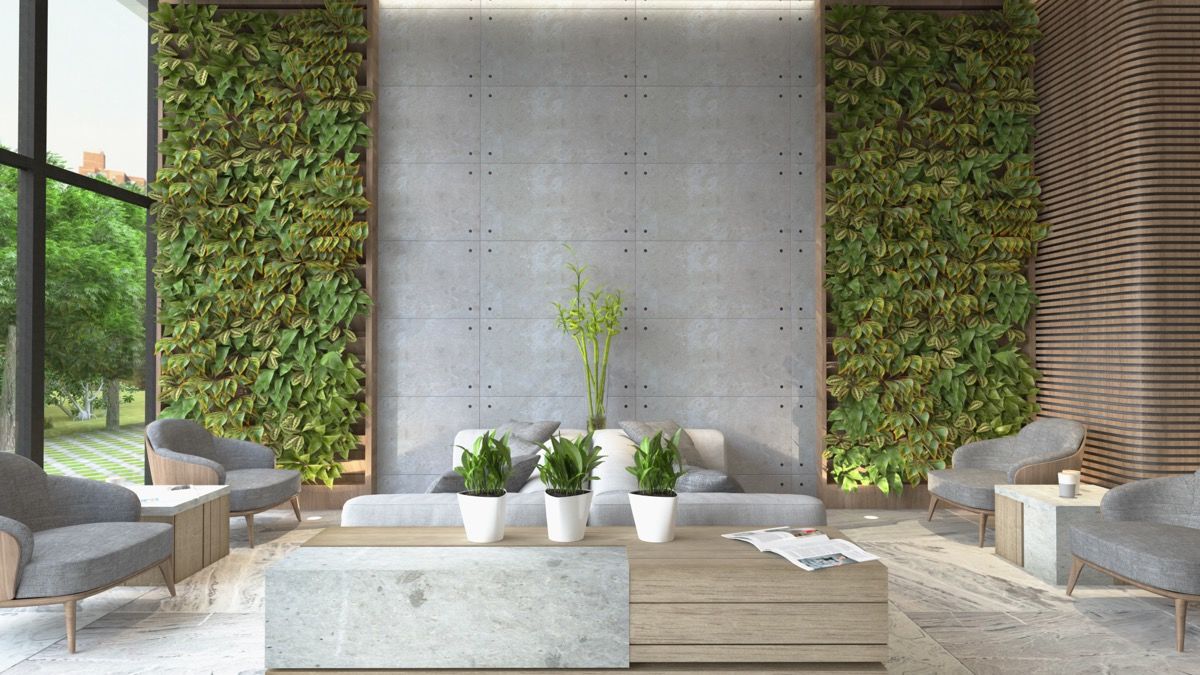 This is undoubtedly not your average design with its floor-to-ceiling plant wall divided by concrete. We'll definitely be adding this to our collection of living rooms that use concrete to stand out!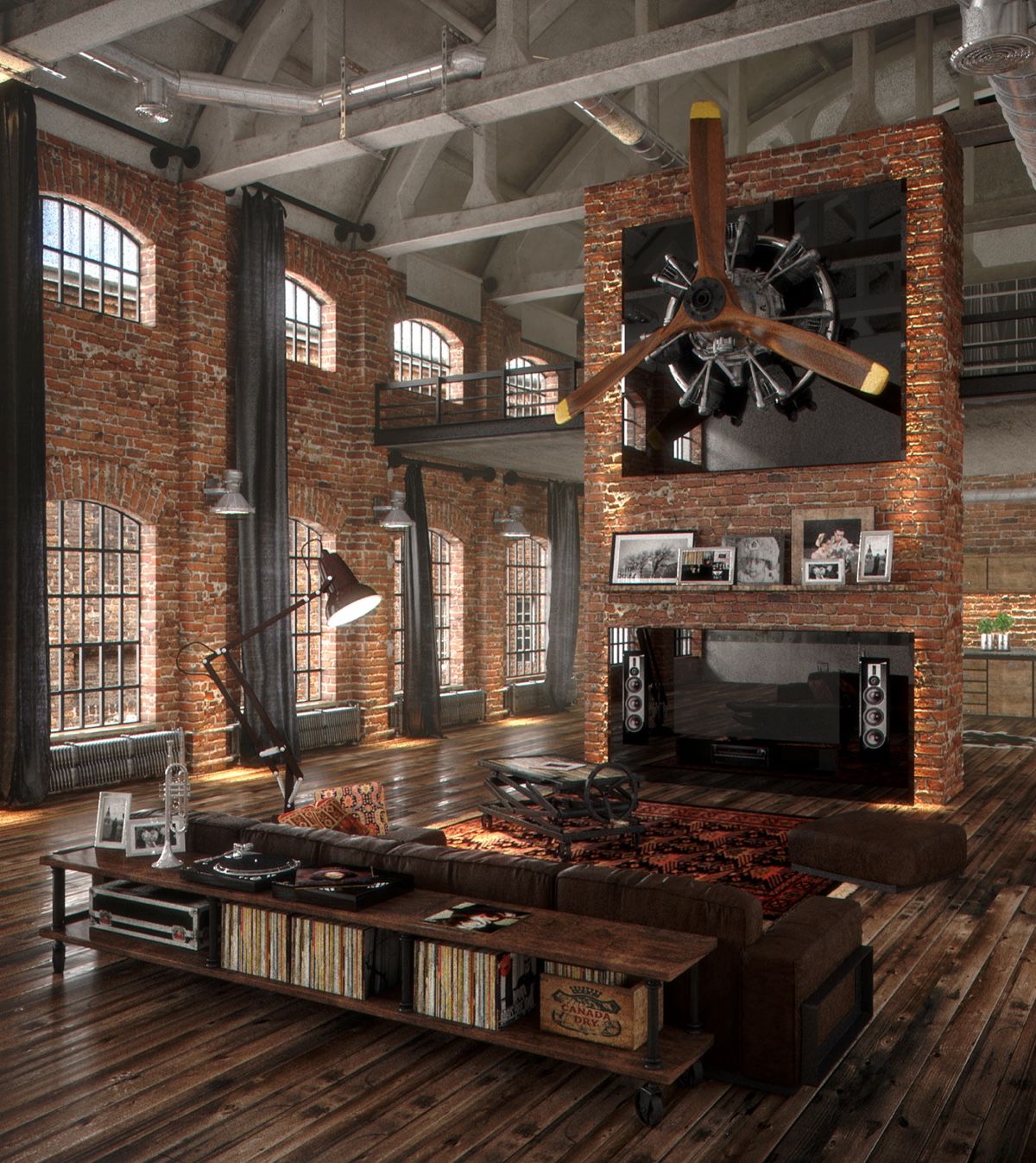 Industrial living rooms are great at emulating rustic charm, but this one really hits it out of the park! The large wooden propeller is an exceptional choice of statement art that really highlights the extra high loft ceilings.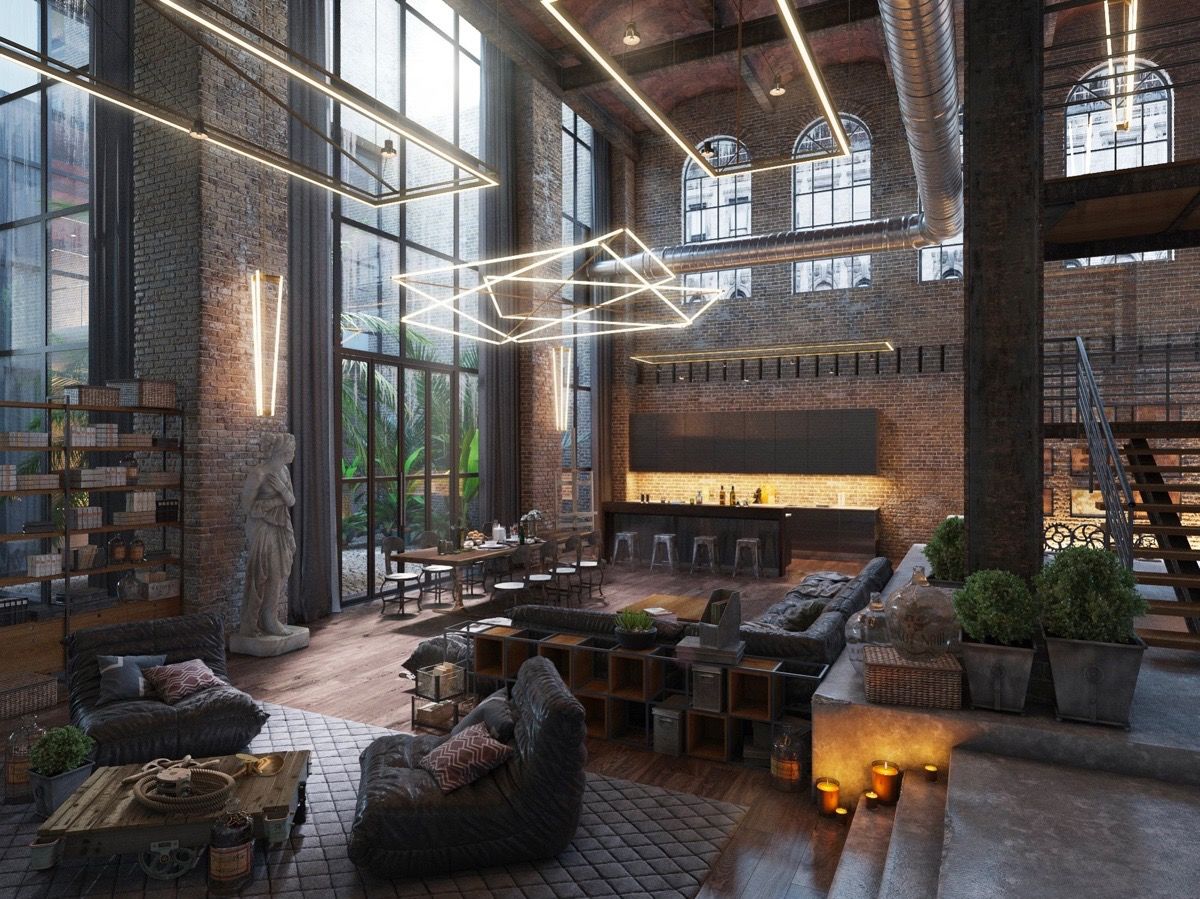 Another industrial loft with a fabulous open-concept living room, complete with concrete, brick, metal, and wood. To create a bit of division in this home, wooden crates were used behind the couch. Those crates not only help keep things a bit more separate, but they are also a fantastic storage solution.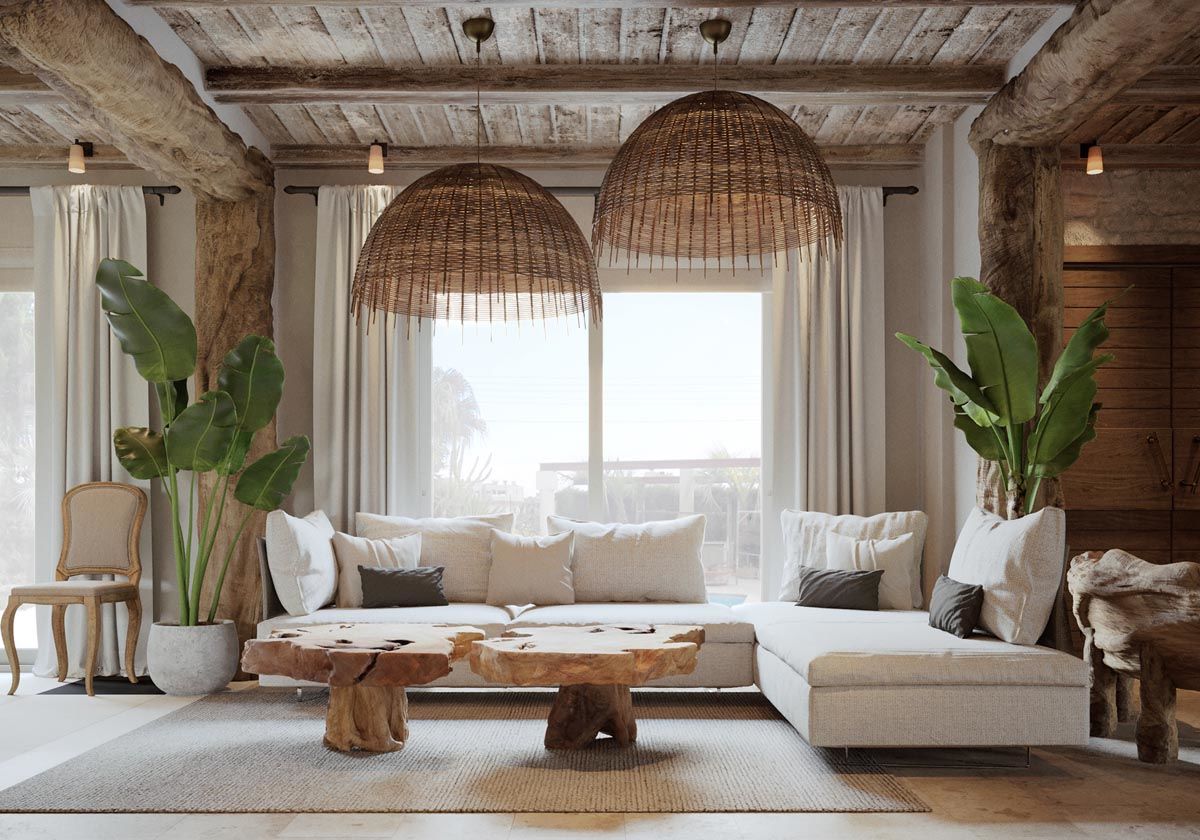 This little piece of paradise makes good use of natural wood, potted plants, and wicker to create a calming, coastal living room. To make sure that the spotlight stays on the beachy elements of this design, a simple white sectional couch has been used as seating.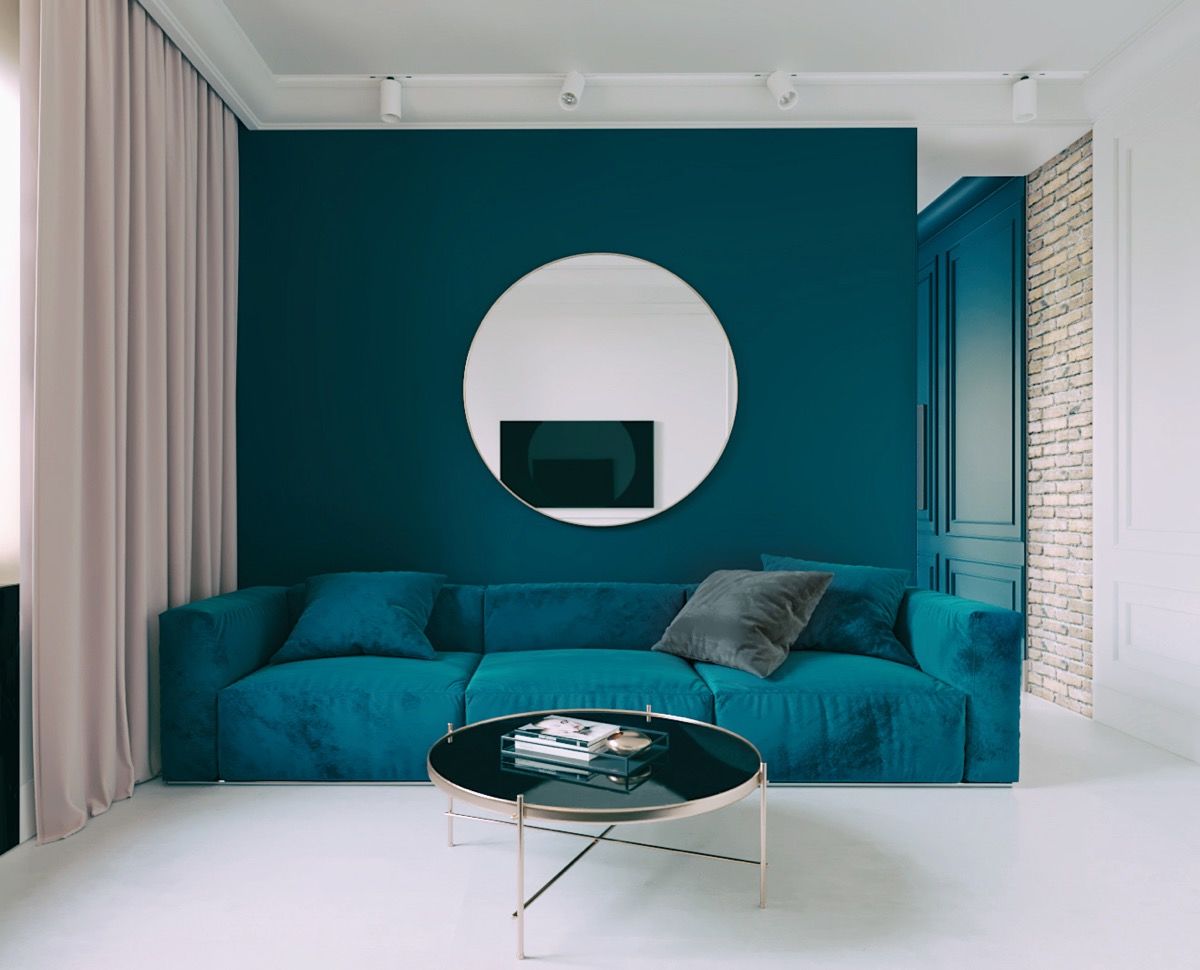 This bold, blue living room is youthful and vibrant with its minimalist design. In lieu of artwork above the couch, which may have made this design too busy, a round decorative wall mirror has been used to help highlight the couch and give the illusion of more space in this room.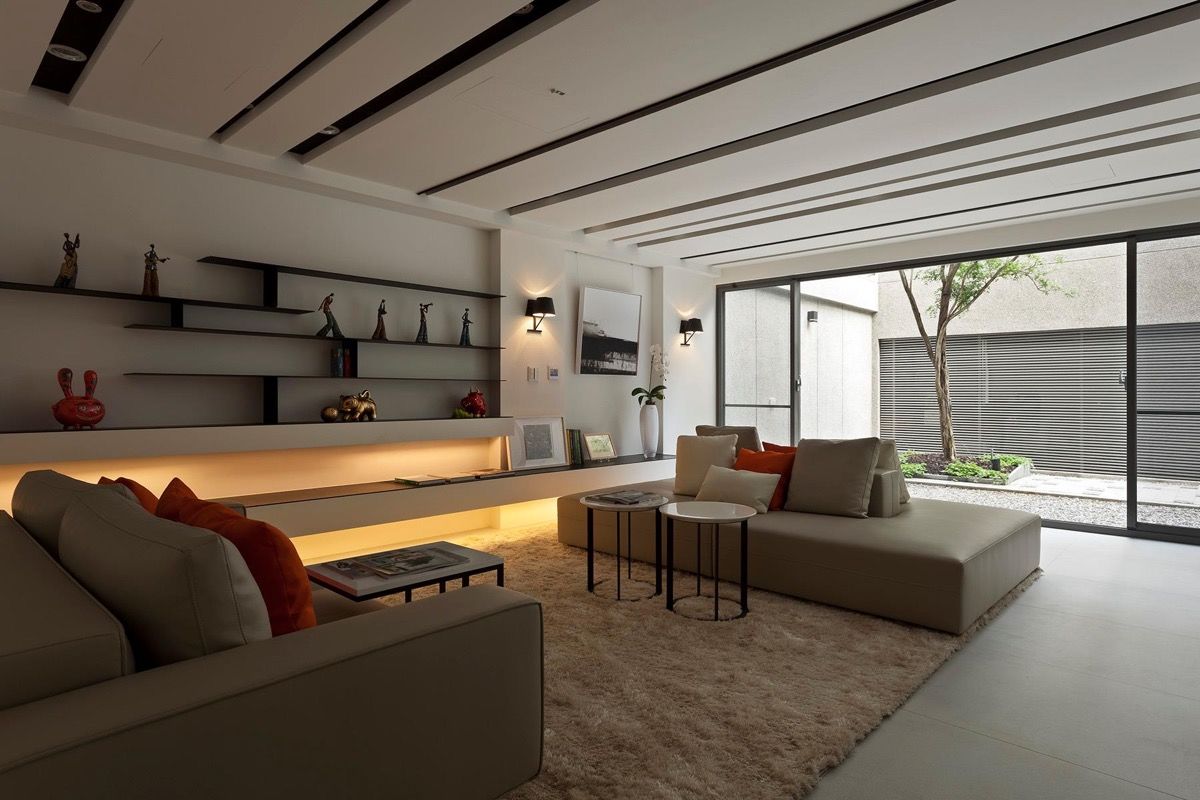 A Contemporary Asian fusion that has an undeniable minimalist appeal. This simple design draws attention to the figurine collection on the shelves, as well as the bright orange accents strung throughout this living room.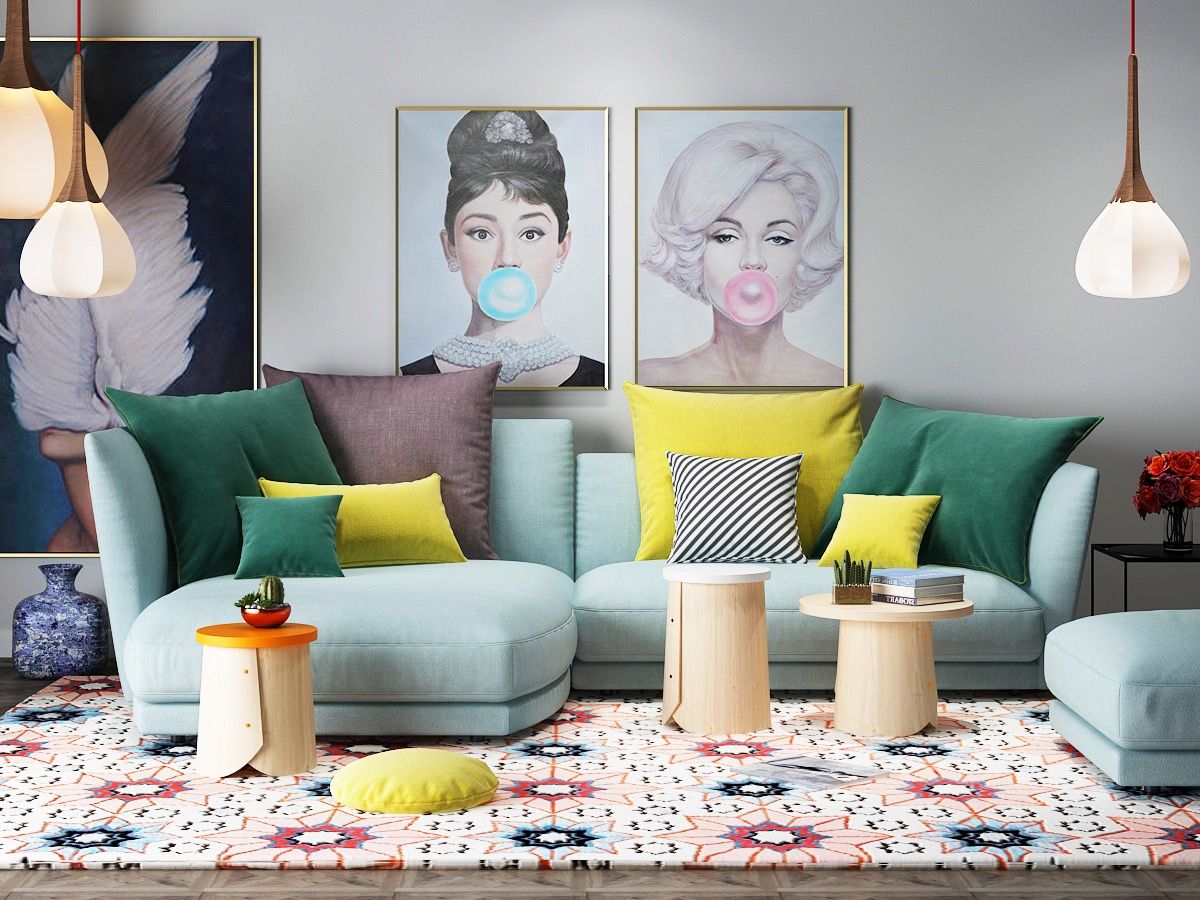 Retro and Modern collide to create this poignant design that is overflowing with a youthful charisma. The iconic pop art on the wall and the powder blue couch are notable choices in this design, but it definitely wouldn't be complete without the cluster of accent pillows and funky patterned accent rug. Everything in this room harmonizes absolutely effortlessly!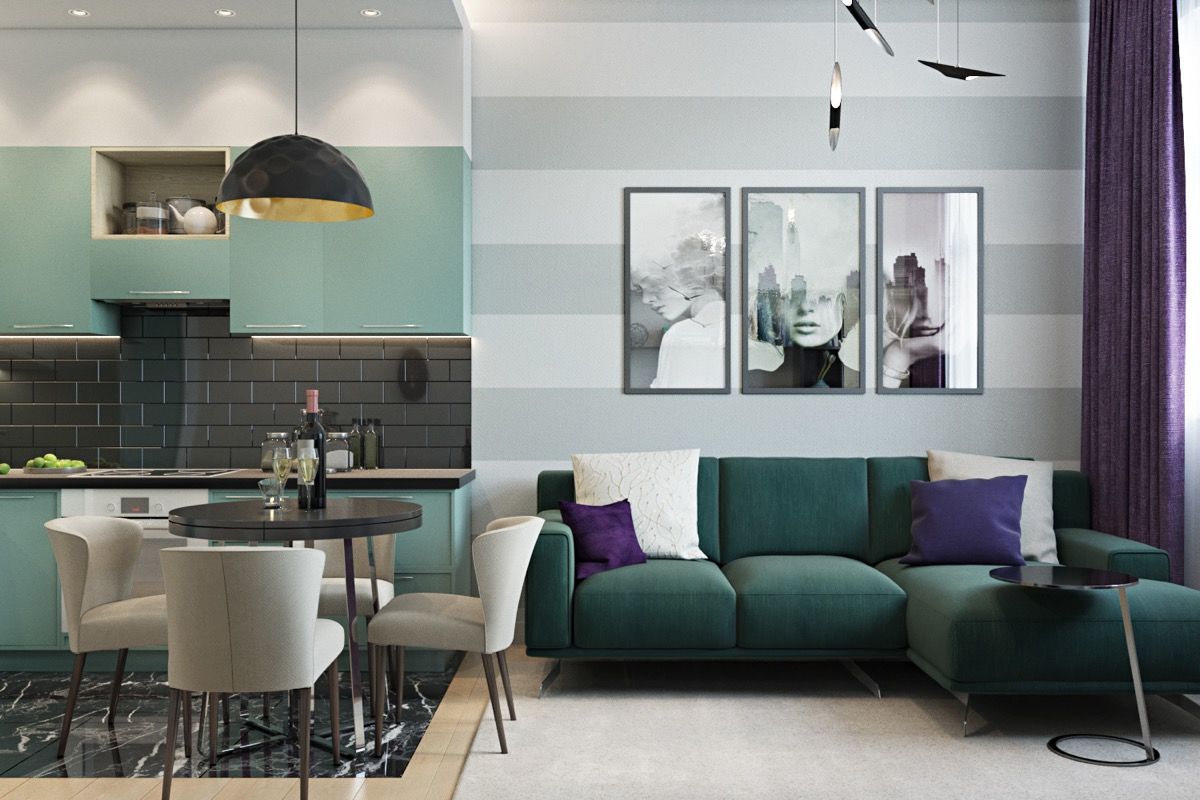 Small living encapsulated in an energetic design. Everything from the striped walls highlighted by black and white pop art to seafoam green kitchen cupboards scream youthful in this layout.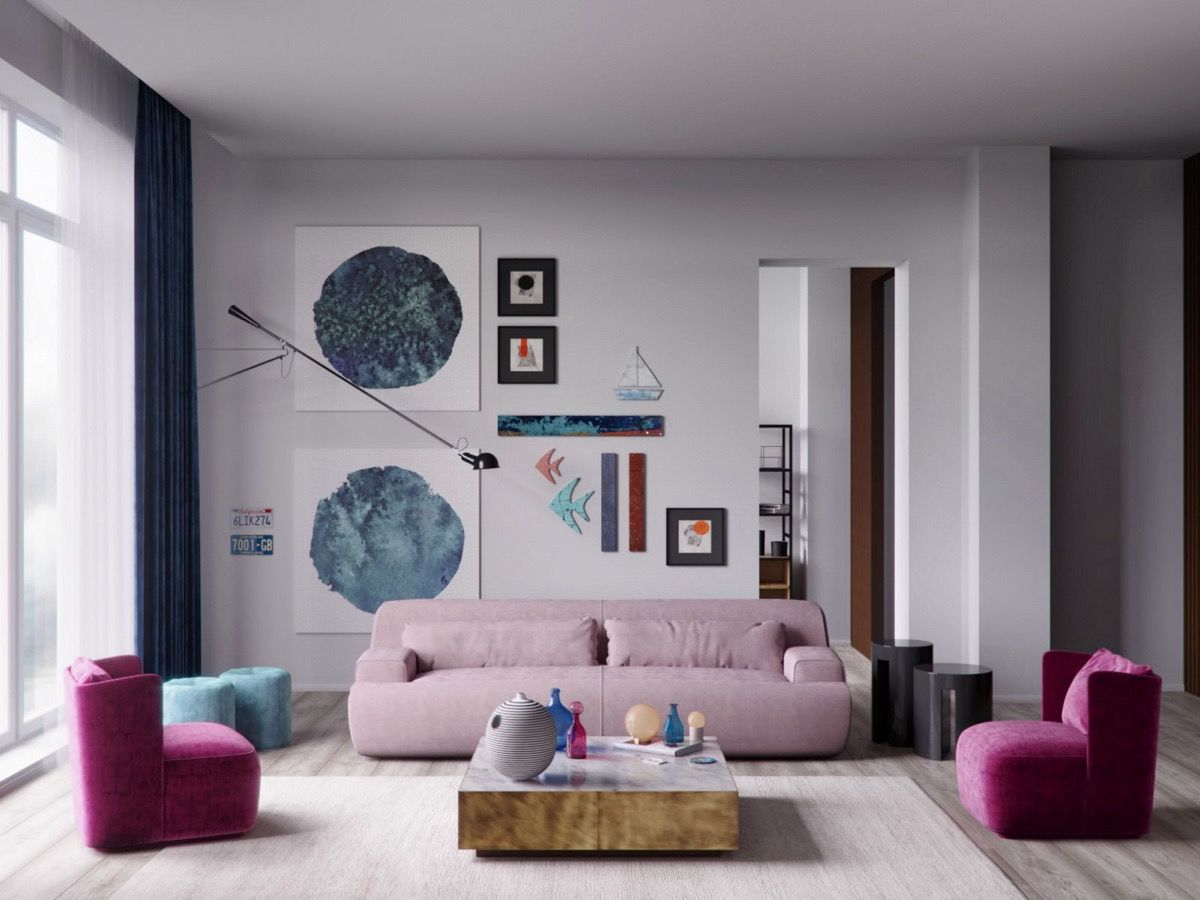 A quirky gallery wall stands loud-and-proud behind a contrasting soft pink couch. This low living room design has also been accented with two magenta chairs, as well as deep blue curtains that play off the wall art. Low furniture is exceptional for living rooms with low ceilings, as it can make them feel like they have more headspace than they actually do.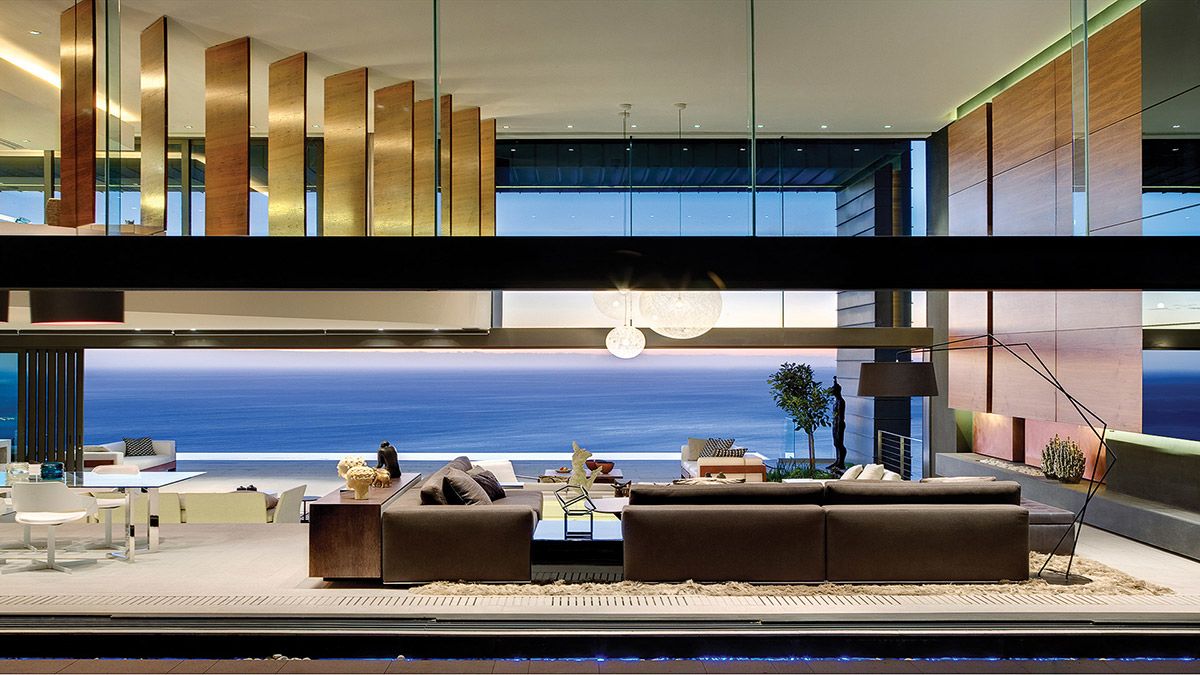 A luxurious living room with a spectacular view that few can compete with. While many living rooms with this level of exquisiteness are a computer rendered mockup, we should note that this one is not a render! You can find more images of this gem of a home here.