Leather is the go-to material for creating a chic, refined look when giving your home a "glow up." People making the leap from fabric to leather for the first time wonder about the best type of leather for furniture after realizing that there are so many options.
Factors like budget, pets, kids, and lifestyle all influence how to pick the right leather furniture for your home. Read more for the different types of leather and their pros and cons:


Full-Grain Leather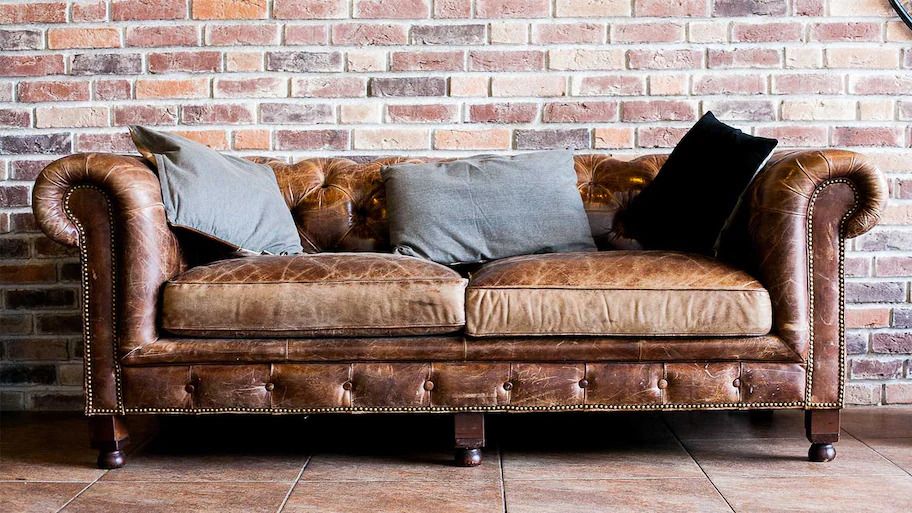 Let's call this the premium of the premium. With full-grain leather, there's no sanding or buffing to remove marks and imperfections. The furniture makers simply use unprepared hides that go straight to the tanning process.

Ultra-luxury, genuine leather couches are often made of full-grain leather. There are big perks to splurging on full-grain leather for your furnishings. First, this is the strongest leather. It creates beautifully durable furniture that you can enjoy for the long haul as long as you're caring for your furniture properly.

Full-grain leather also has the magical quality of looking nicer as it ages. The reason is that "unprocessed" top-grain leather will eventually form a patina from wear and tear that creates a beautiful finish.

While this is the fanciest leather choice, it's also the most practical in terms of keeping couches and chairs lovely in a busy household. The tight grain of full-grain leather serves as protection against moisture.

This is the most natural option. It also has the softest feel. Many people find that full-grain leather is the most comfortable material when settling into a sofa because of its breathability.

There are two potential "cons" to remember when selecting full-grain leather. As a premium option, full-grain leather is the most expensive option. The second is that the "unprocessed" nature of this leather makes it more sensitive to fading and damage from sunlight.


Benefits of full-grain leather:

* Closest to natural

* Ultra-soft feel

* Breathable

* Comfortable for sitting

* Strong and durable

* Longevity

* Ages beautifully


Drawbacks to full-grain leather:

* Expensive

* Vulnerable to sun damage and fading

* Fairly limited style selection


Top-Grain Leather

Love a couch that looks as posh and valuable as a designer handbag? While top-grain leather is used commonly for designer handbags, it also makes high-end furniture.

Top-grain leather gets its name from the fact that the top layer goes through a process of sanding, buffing, or shaving. This primes it to take a variety of finishes. You'll find textures and specialty finishes that fit your vibe while shopping.

While available in many colors, the buffed top layer does make this leather more vulnerable to scratches. It's also among the priciest leathers. A good top-grain leather sofa can last 10 to 15 years once you know how to clean a leather couch.


Benefits of top-grain leather:

* Consistent finish

* Relatively durable

* Easy maintenance


Drawbacks to top-grain leather:

* Expensive

* Vulnerable to scratching

* Buffing decreases durability

* Not breathable in hot weather

* Doesn't absorb oils

* Can crack


Split-Grain Leather

Proof that leather furniture doesn't have to cost a fortune, split-grain leather is actually derived from a "secondary" layer of the hide. It's the product left behind once the outer layer of the leather has been stripped away.

Split-grain leather is a top pick for households with kids and pets for a variety of reasons. First, its densely locked fibers help to resist abrasion. Its flexibility also helps to create a very comfortable feel. The downside to split leather is that it's a little harder to maintain because it is usually treated with pigments that wear out over time.


Benefits of split-grain leather:

* Affordable

* Often has stylish embossing

* Can be made to look like top-grain for less money


Drawbacks to top-grain leather:

* Poor breathability if patterns have been sprayed on

* Slightly tough

* Lack of water resistance makes it harder to clean

* Lacks durability


Bonded Leather

Here's the real budget pick. Bonded leather is made by combining "scraps" of different leathers. It's basically a material that's made from leather that's left over from other projects.

Furniture manufacturers combine assorted leather pieces with an adhesive material to create a cohesive material that looks like it was made from one type of leather. Typically, a polyurethane coating is added to create an embossed texture that looks just like a premium leather finish.

The big perk is that you're getting a very low-cost leather piece that achieves a leather look without turning to faux leather. Most furniture pieces made with bonded leather contain just 20 percent actual leather.

People love bonded leather for its smooth and consistent finish. It doesn't have the imperfections of real leather. It's also available in a wide variety of colors and finishes.

Bonded leather has that real "leather smell" that faux leather never will. That doesn't mean bonded leather gives you a "free lunch" in terms of getting a leather product without paying for a leather product. Bonded leather is tough to clean because many common cleaners strip away the finish.

It's also known for scratching, peeling, and flaking. That's simply something that would never happen with genuine full leather. While bonded leather is a great value for furniture you don't plan to keep forever, it doesn't have the longevity of high-quality leather.


Benefits of bonded leather:

* Affordable

* Smooth, luxurious finish

* Comes in many colors and looks


Drawbacks to bonded leather:

* No "real" leather smell

* Finish can strip off with cleaners

* Only about 20 percent actual leather

* Can scratch, peel and flake

* No longevity


Faux Leather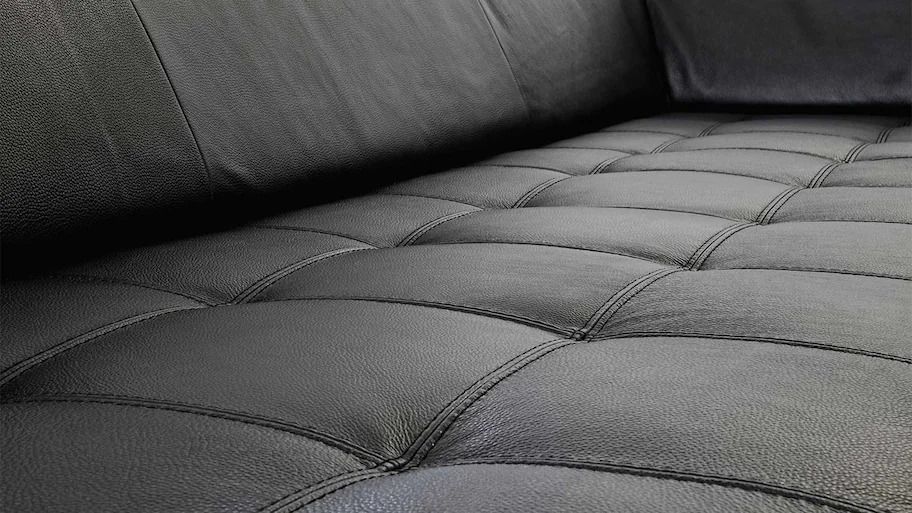 Great for creating a polished, high-gloss look in a home, faux leather is a popular choice due to its price. Faux leather doesn't contain any actual leather. It's actually made from a plastic base that's coated with wax, dye, or polyurethane to create a "leather" finish.

Faux leather is great for busy homes with pets and kids because it offers the durability of plastic. It requires almost no maintenance. You'll also breathe easy knowing that faux leather resists stains. It can also be placed in sunny areas because it's not subject to fading from UV rays like real leather!

Faux leather is the vegan choice. Many people love that it's sold in an array of colors and finishes.


Benefits of faux leather:

* Budget option

* No maintenance needed

* Repels stains

* Usually waterproof

* Won't fade in the sun


Drawbacks to faux leather:

* No actual leather

* Made from plastic

* Synthetic coatings

* Cheaper products may contain chemicals

* Can be "squeaky" against skin

* Not breathable