Björk's swan dress and Céline Dion's infamous white tux make the list.
The upcoming Academy Awards ceremony on Sunday, March 27 is the most-anticipated event from this year's awards season—and if the Golden Globes, Critics Choice Awards, and other events from these past months are any indication, it's bound to be a night filled with memorable fashion looks. In anticipation of the big night, Vogue is taking a look at some of the most controversial and iconic choices in the show's history—specifically, the looks we can't help but discuss year after year.

Past award ceremonies have spurred some of the most debated moments in fashion. Was Bjork's swan dress genius or plain mad? Did Angelina Jolie's #RightLeg social media moment overshadow her Atelier Versace gown? Was Jennifer Lawrence's Dior gown worth the stumble it caused? Many of the style choices have rich backstories, such as the reason why Billy Porter wore a gown and not a tux in 2019, which add context and depth to the red carpet moments.

The truth is fashion is subjective. What is best dressed to one person may be worst dressed to another. But one thing is clear: These looks had people talking.

Below, 16 Oscar fashion moments that caused a big stir, in chronological order.


Barbra Streisand, 1969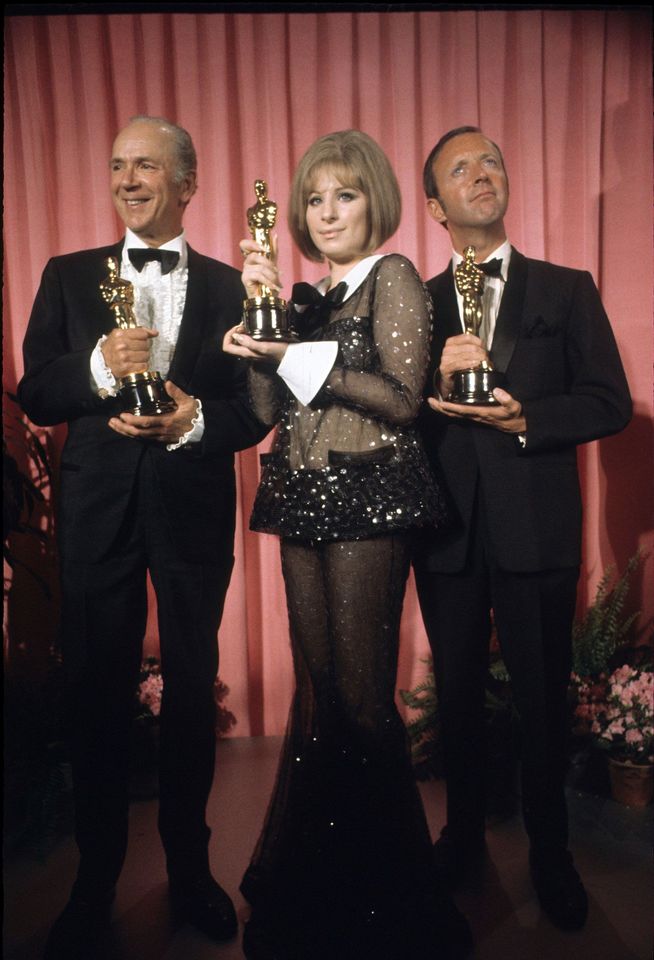 When Barbra Streisand took home the best-actress award for her performance in Funny Girl, the singer-slash-actress wore a sequined pantsuit by Arnold Scaasi, fitted with flared legs and tuxedo cuffs. The ensemble, which happened to be almost entirely see-through, caused quite a stir, and the then 26-year-old later said she hadn't considered the outfit's unique vulnerability on the Oscars stage. "I had no idea that when the lights hit that outfit, it would become transparent," she said in a later interview. "I thought to myself, I'm going to win two Oscars in my lifetime, and I'll be more conservative next time."


Cher, 1986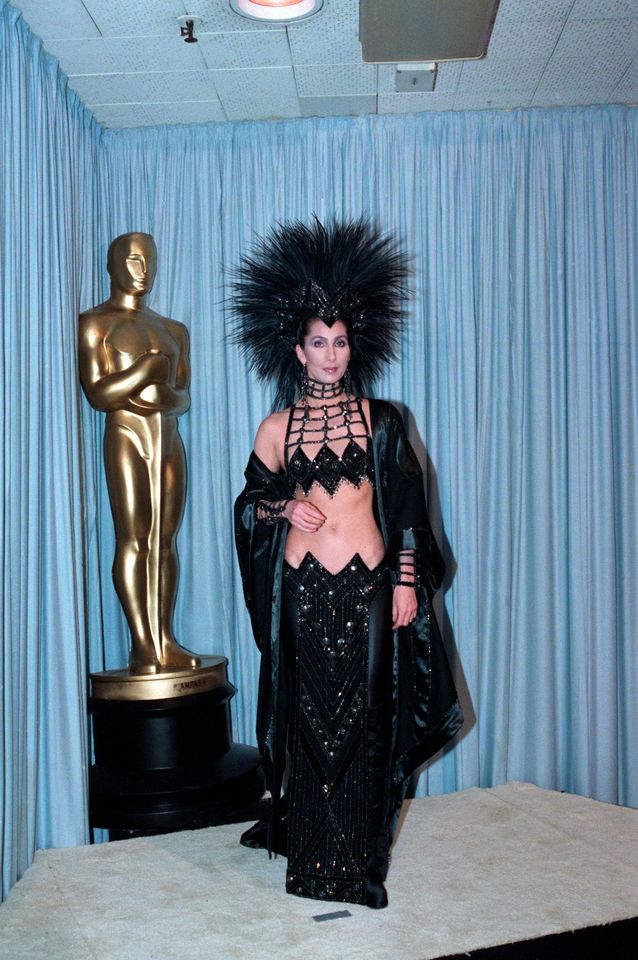 Cher, the queen of theatrics, undoubtedly stole the red carpet that year. She wore a design by her longtime collaborator Bob Mackie: a midriff-baring black sequined gown, complete with a dramatic feathered headpiece. It was a full-on Las Vegas showgirl look that had people talking for years. She reportedly wore the outfit as a defiant move against the Academy, which failed to nominate her for her turn in Mask. Though Cher may regret the choice, it remains iconic nonetheless. "I knew some people in the Academy didn't think that I was a serious actress," she said to British Vogue. "I always felt a bit sad that I presented Don Ameche with his best-supporting-actor award in that outfit. It seemed to make him a little nervous."


Kim Basinger, 1990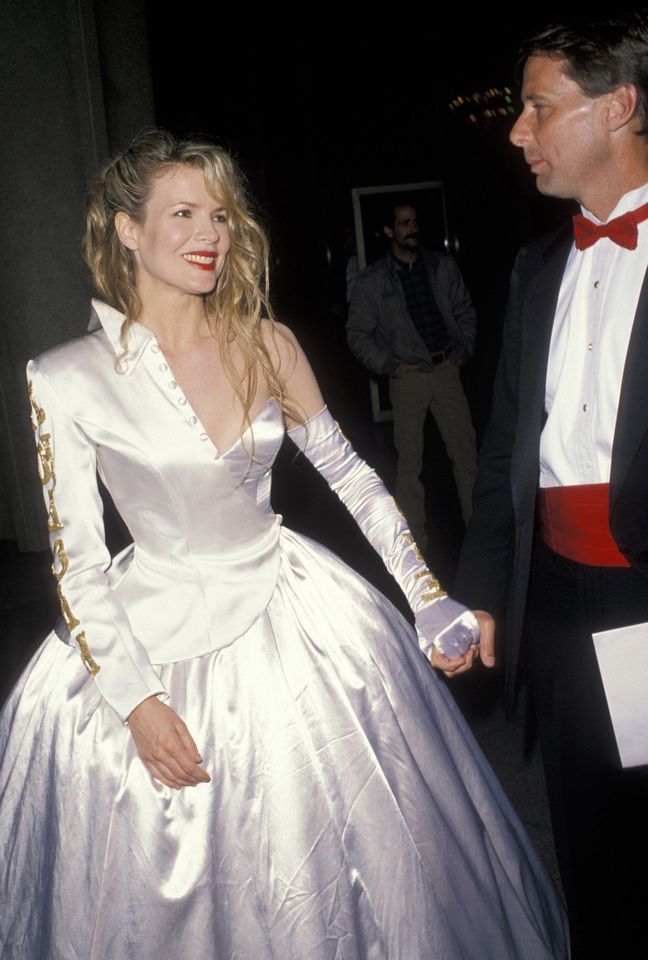 Half gown, half tuxedo, Kim Basinger's Frankenstein-like ensemble (styled with one single white glove) had critics divided. Not many people are aware, though, that the white satin design was not a creation from a high-luxury label: The actress actually designed it herself.


Whoopi Goldberg, 1993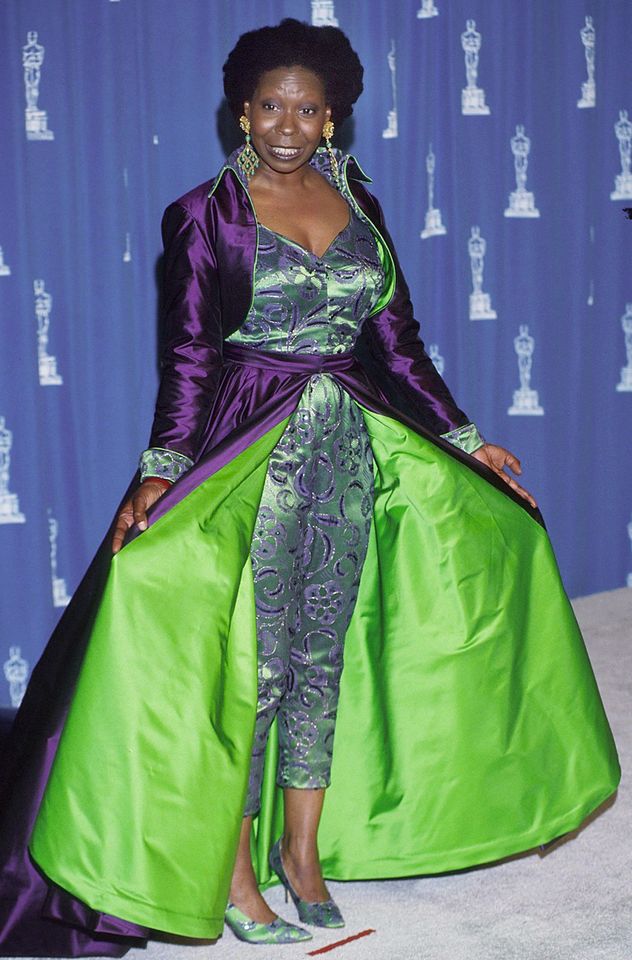 Whoopi Goldberg certainly turned heads when she wore this purple and green brocade jumpsuit (with matching shoes!) to the 1993 Oscars—the ensemble even complete with a dramatic cape, too. The outfit got mixed reviews, but you can't knock her for attempting to venture outside a sea of too-safe gowns!


Lizzy Gardiner, 1995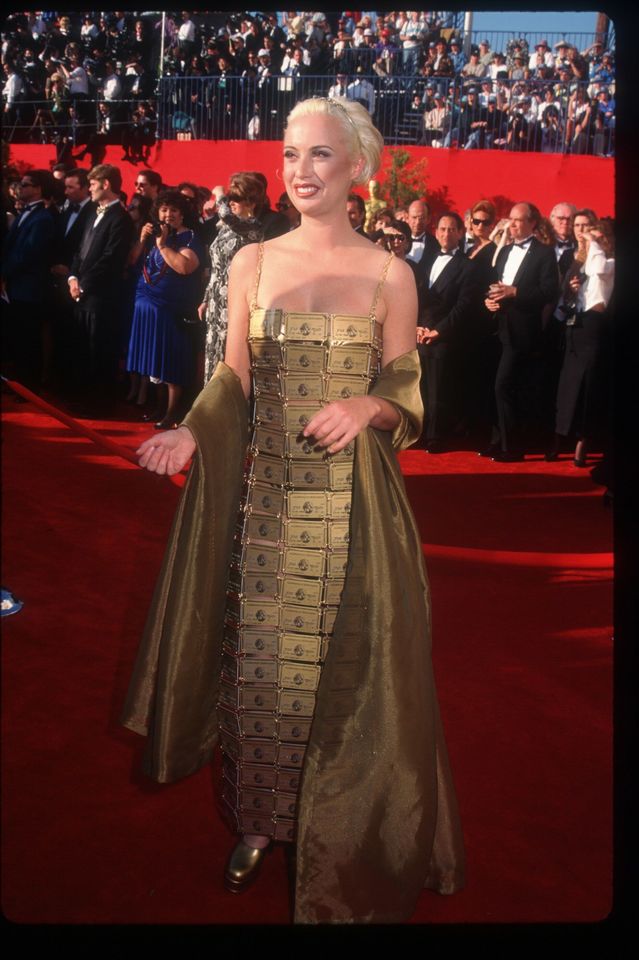 Lizzy Gardiner, an Australian costume designer who won the Oscar that year for best costume design, showed up to the red carpet in her own unexpected design. Her dress was made out of 254 American Express Gold cards, all joined together by wire. "On the night it really upset a lot of people," Gardiner later reflected. "A lot of women, I think they felt upstaged or pissed off that I wasn't taking things as seriously as I should."


Céline Dion, 1999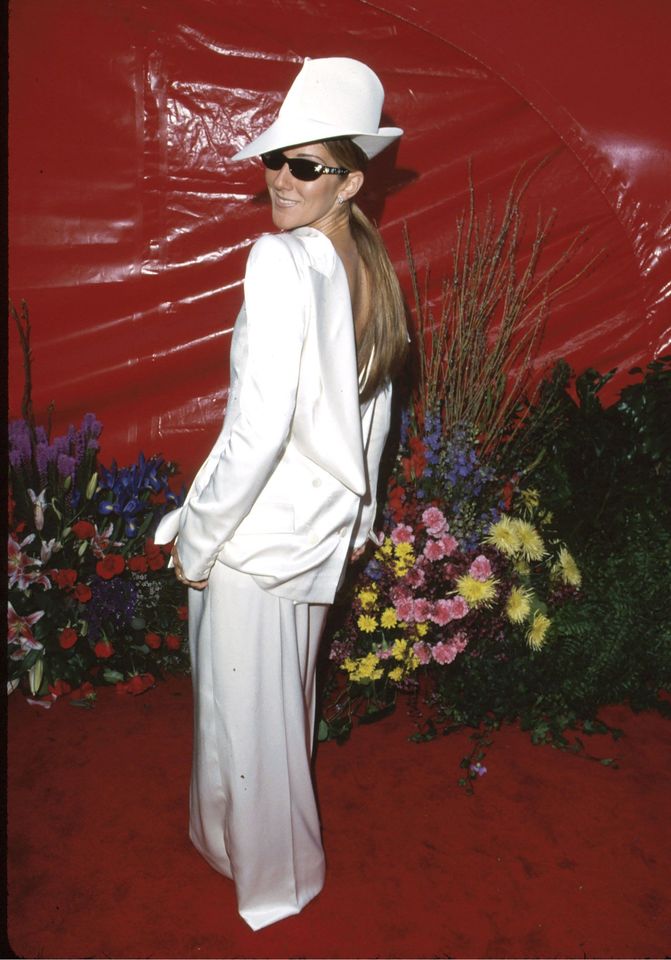 On the fashion front, the 1999 Oscars were arguably one of its most interesting years on record. But an undebatable highlight was Céline Dion's backwards tuxedo, designed by John Galliano and paired with a dapper slanted-brim hat. It was quite a departure for the time period, when the red carpet was still very much dominated by traditional gowns. "When I wore that, everyone was wearing dresses, not pants," she later recalled. "I was the only one with pants in a backward suit from Galliano, and if I would do this today, it would work. It was avant-garde at the time."


Björk, 2001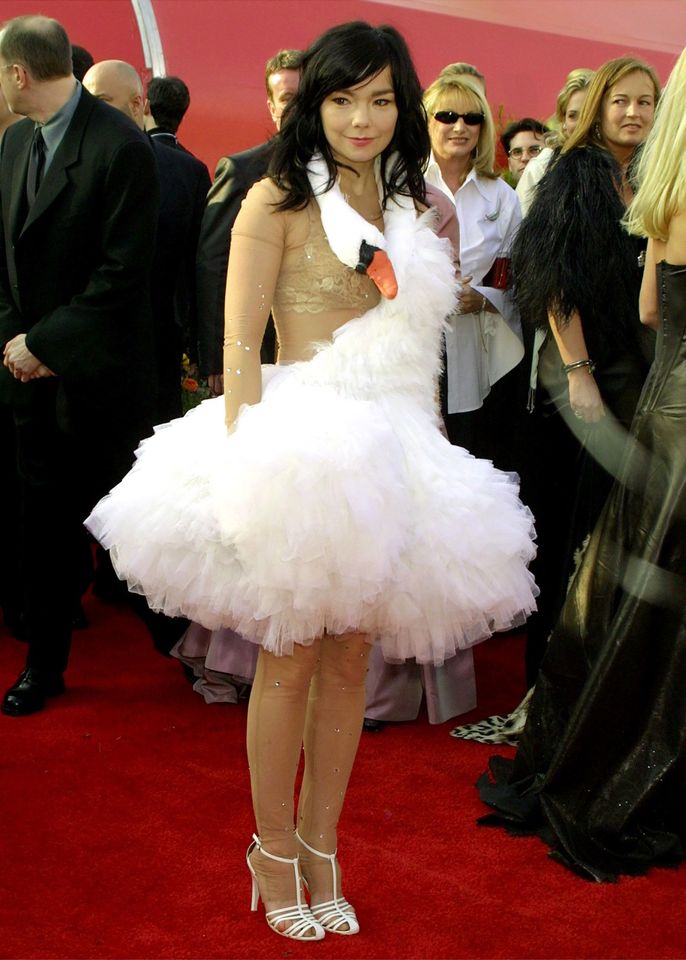 It was the dress that shook the globe: Icelandic singer Björk spurred one of the biggest pop-culture moments of all time when she wore a swan dress by Marjan Pejoski to the 2001 Oscars. The frock's full skirt and long swan neck, wrapped around Bjork's own like a scarf, have since been preserved in museums around the globe. The controversial look even came with an egg-shaped purse to match. The singer brought six ostrich eggs with her and scattered them on the red carpet. "Other people's bodyguards kept picking them up and saying in their thick American accents, ''Scuse me, ma'am, you dropped this,'" she told GQ.


Gwyneth Paltrow, 2002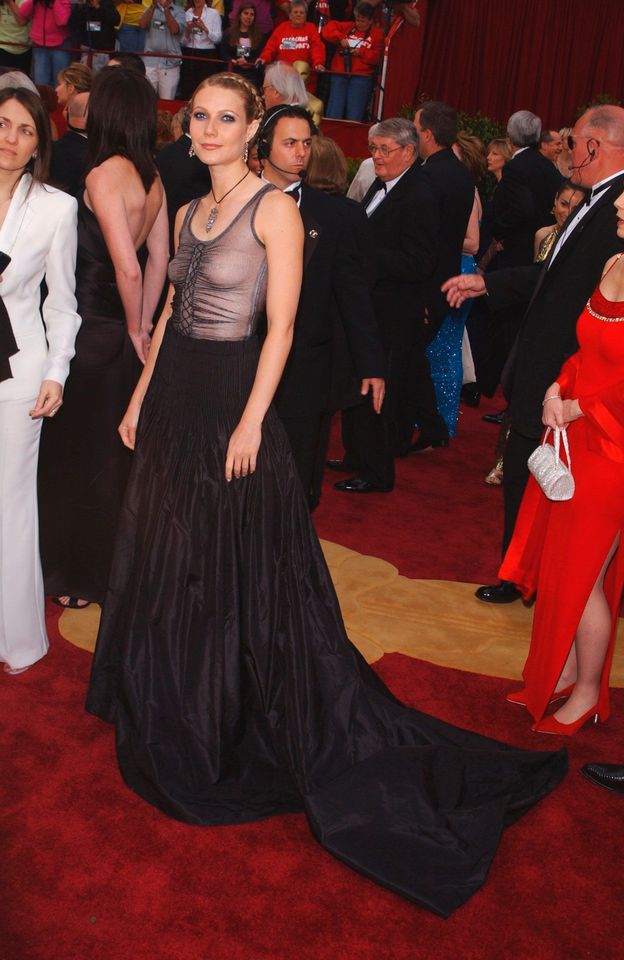 Gwyneth Paltrow departed from her elegant, and oftentimes sweet, red-carpet looks in 2002 by going glam goth. She wore an Alexander McQueen dress with a tight, ruched top and full taffeta skirt. The surprising style moment was panned by critics, and Paltrow herself had some regrets. "I still love the dress itself, but I should have worn a bra, and I should have just had simple beachy hair and less makeup," she later said. "Then it would have worked as I wanted it to—a little bit of punk at the Oscars."


Angelina Jolie, 2012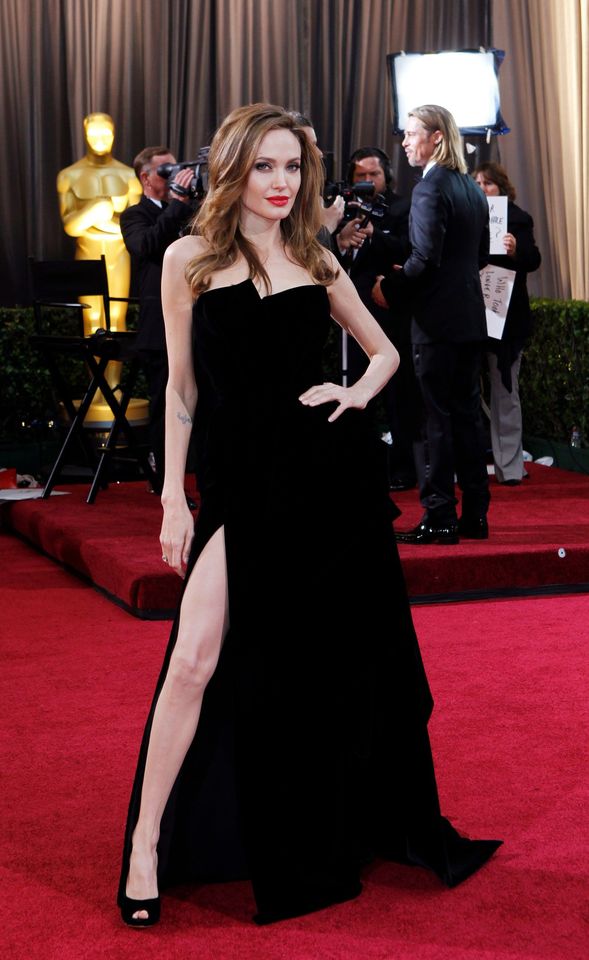 Angelina Jolie's 2012 Oscars look is definitely the most meme'd in recent history. The actress fully committed to the dress's thigh-high slit, showing off her right leg on the red carpet so much that her exaggerated pose spurred a whole social media movement dubbed simply #AngiesRightLeg. There is even a Twitter account for her left leg, because her right "got all the spotlight."


Anne Hathaway, 2013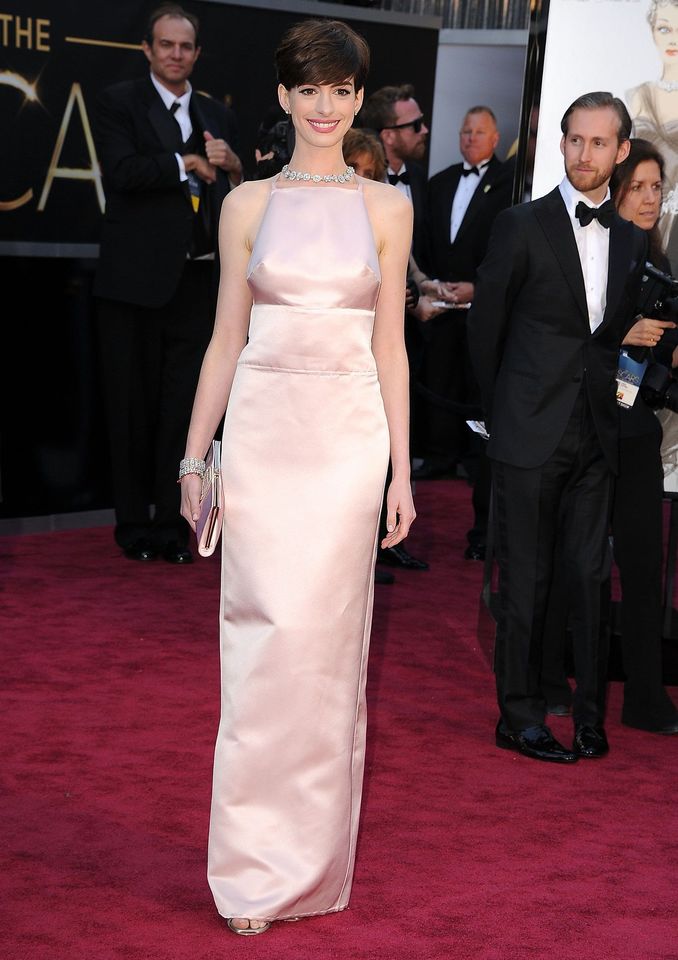 Anne Hathaway's ill-fated Prada dress for the 2013 Oscars brought some drama to the red carpet. The actor, who won the best-supporting-actress award that year for her performance in Les Misérables, made a last-minute decision to wear the pink Prada gown just hours before the show when her original Valentino dress was deemed too similar to another actress's. But Valentino had already sent a press release confirming Hathaway would wear the house's design. Not only did critics slam the gown's awkward bust silhouette—Hathaway later joked, "It looked like my nipples were hard"—but the last-minute change was also widely perceived as a snub to Valentino. Hathaway eventually apologized. "Though I love the dress I did wear, it was a difficult last-minute decision as I had so looked forward to wearing Valentino in honor of the deep and meaningful relationship I have enjoyed with the house and with Valentino himself," she said. "I deeply regret any disappointment caused."


Jennifer Lawrence, 2013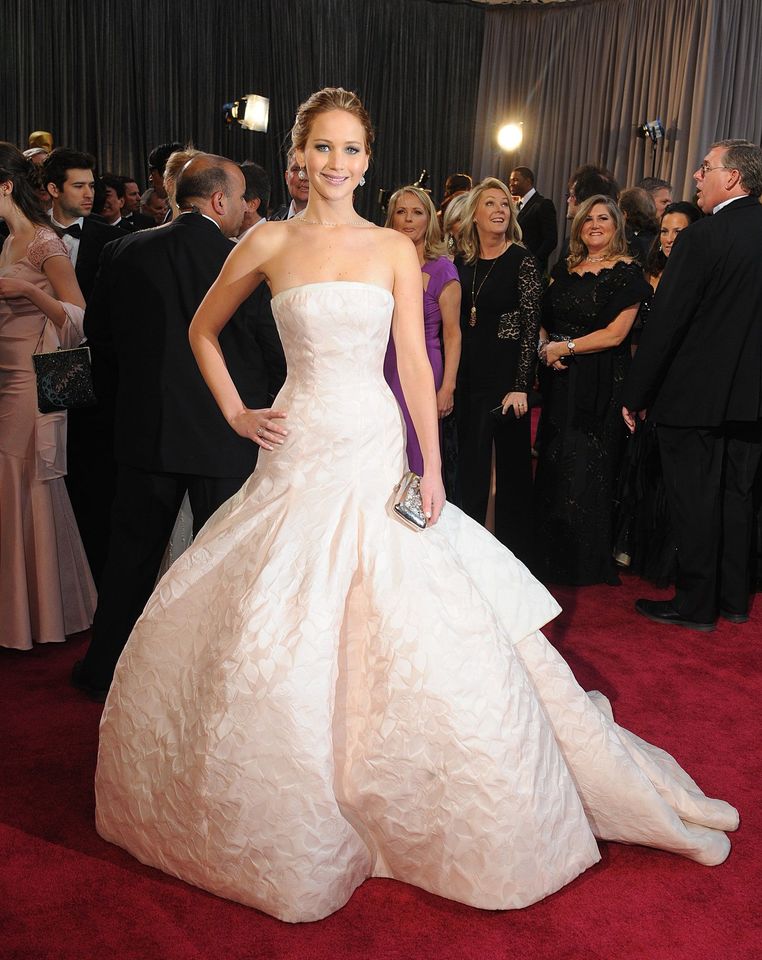 Winning best actress for Silver Linings Playbook in 2013, Jennifer Lawrence chose a strapless Dior gown by Raf Simons for the occasion. Its full, voluminous train undeniably stunned on the step-and-repeat—but when she later climbed the stairs to accept her Oscar during the ceremony, it caused her to trip and resulted in a viral sensation.


Pharrell Williams, 2014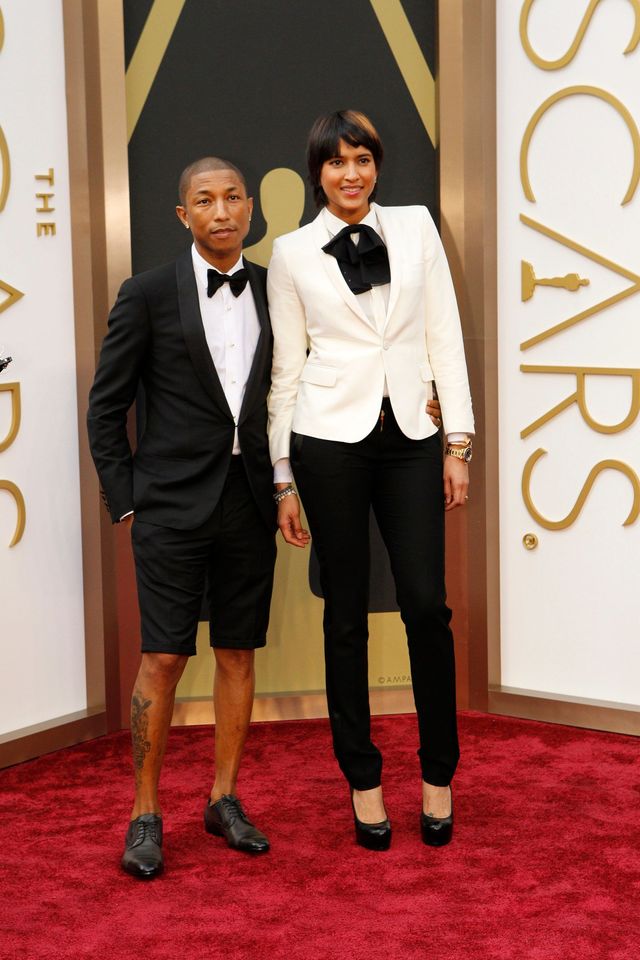 In 2014 Pharrell ditched traditional menswear codes in favor of a shortened Lanvin tuxedo, complete with shorts—not trousers. He also wore shoes without socks. The daring look had critics divided but cemented the singer as one of Hollywood's biggest risk-taking men.


Rita Moreno, 2018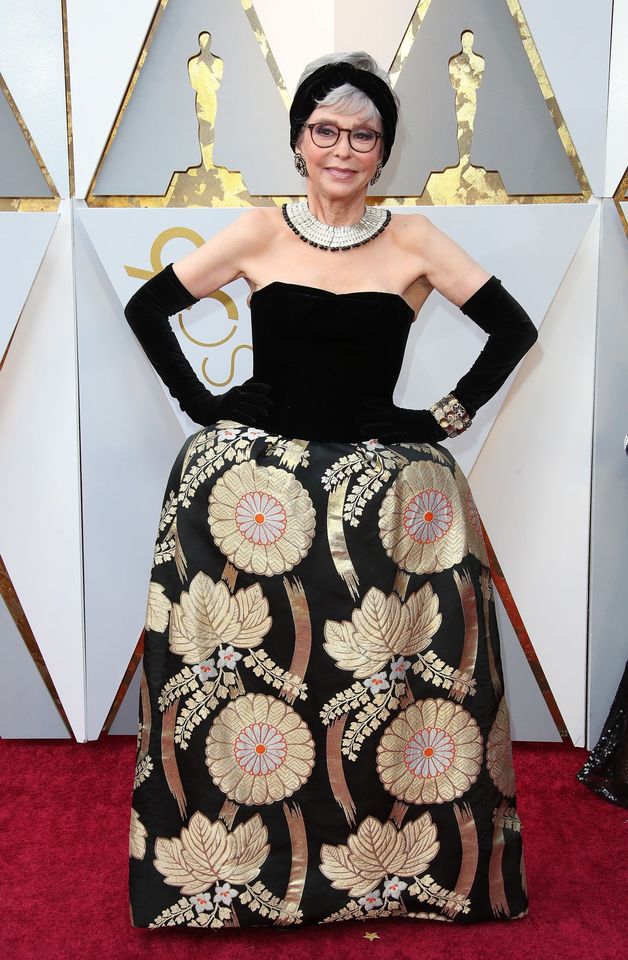 In 2018 actress Rita Moreno had fashion fans talking after she chose to recycle the Oscars gown she originally wore in 1962, when she earned the best-supporting-actress prize for her role in West Side Story. The gown was altered slightly for its second appearance: The neckline was made strapless, and Moreno added a heavy gold necklace for dramatic effect.


Billy Porter, 2019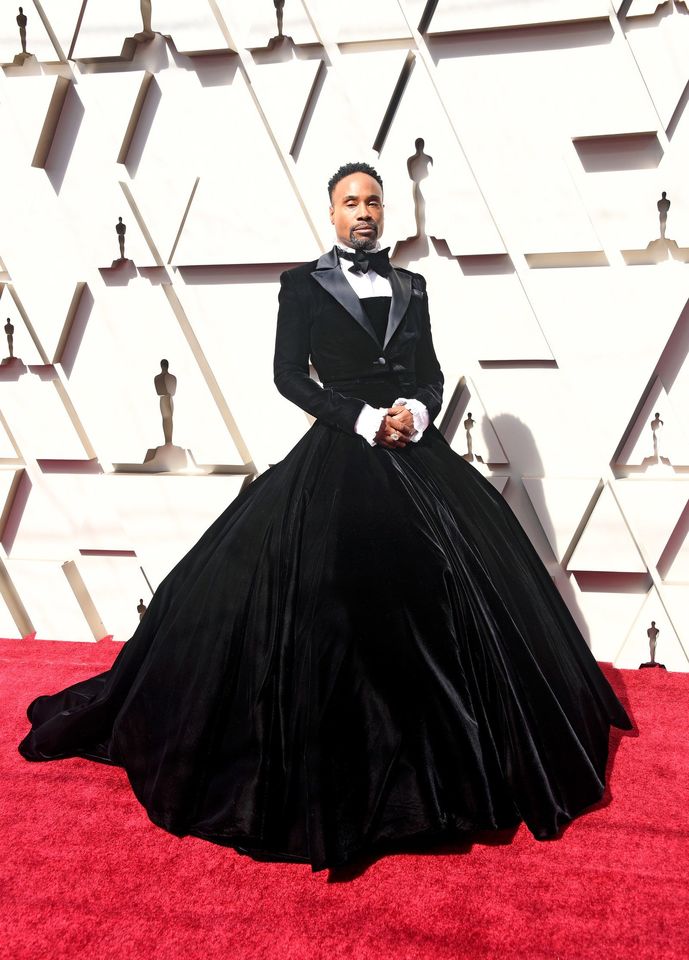 Billy Porter stole the spotlight when he attended the 2019 Oscars in a custom ball gown, not a tuxedo, by Christian Siriano. "I've always wanted to wear a ball gown, I just didn't know when," Porter told Vogue of the look. "I want people to understand that you don't have to understand or even agree with other people's authenticity or truths, but we must all respect each other. People are going to be really uncomfortable with my black ass in a ball gown—but it's not anybody's business but mine."


Sandy Powell, 2020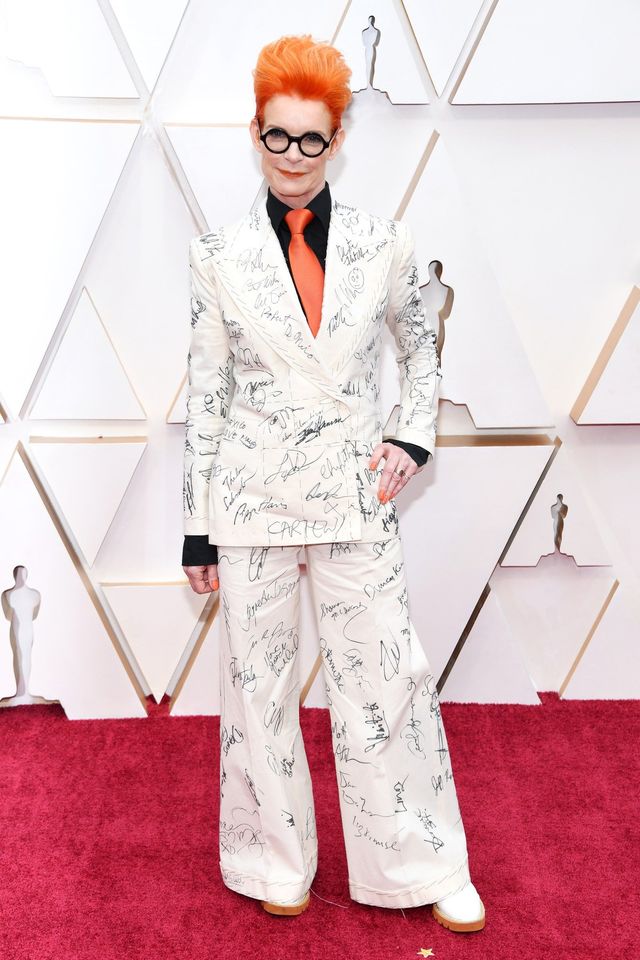 British costume designer Sandy Powell wore a cream suit to the 2020 Oscars that had a bunch of signatures all over it. She collected them from A-list stars throughout awards season, such as Robert De Niro and Renée Zellweger, and then later auctioned off the suit for an Art Fund charity, which hoped to help preserve and maintain the home of late friend and mentor Derek Jarman, an English filmmaker and artist. (It ended up fetching roughly $22,230 USD at auction.)


Halle Berry, 2021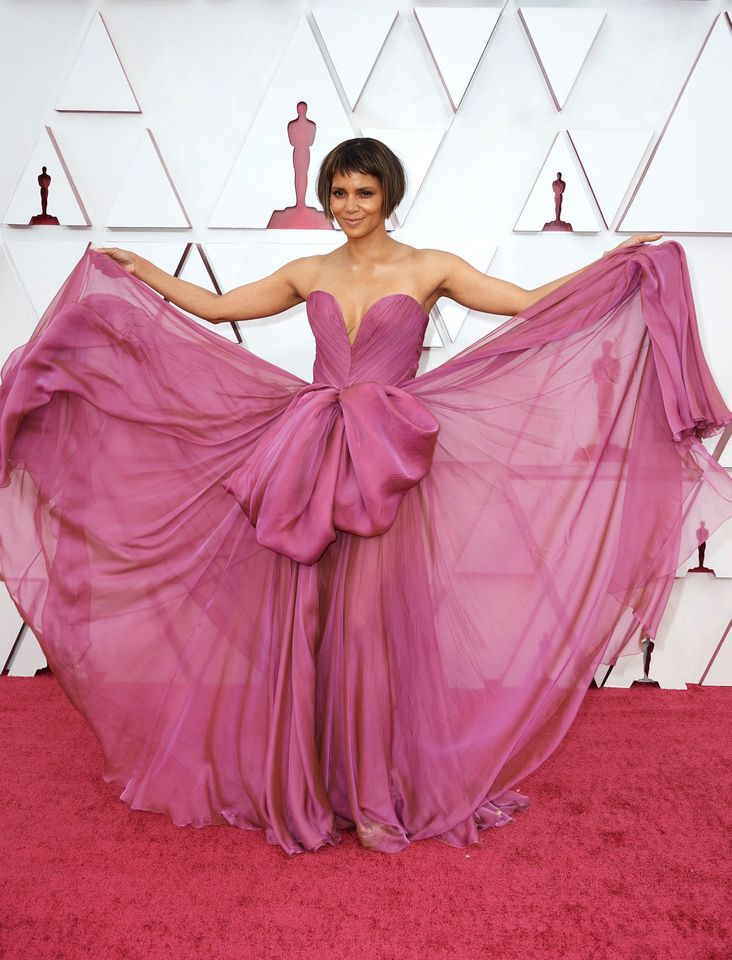 When Halle Berry wore her pink, floor-length Dolce & Gabbana gown to the 2021 Oscars, the internet erupted in conversation around one particular element of her look—her new haircut. In dramatic switch-up from her long, shoulder-length locks, the actor appeared on the red carpet with a freshly-snipped A-line bob, replete with a micro-fringe. While it turned out to be a wig, it didn't take long for Twitter and Instagram users to begin sharing memes about her new statement hair. The look went so viral that Berry herself even ended up responding to the moment: She simply re-tweeted a meme of herself with a few laugh-crying emojis.